Aug. 03, 2017 08:54AM EST
Bob Fosse in the studio (courtesy Dance Magazine Archives)
It's important to know about the artists who paved the way for us—especially in the musical theater world, which has been driven from the beginning by charismatic dancers and choreographers whose work continues to inspire Broadway babies. If you're a Great White Way fan, you should get to know these legendary artists, some of whom are still making moves.
Popular
Mar. 23, 2017 07:58AM EST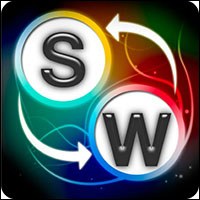 Today in This Might Actually Be Game-Changing news:
Choreographer/director Jeff Whiting, who's worked all over Broadway, has created an app that streamlines the choreographic process. It's called Stage Write, and it sounds awesome.
Apparently it's simple to use, too. The idea is to create icons for every performer in your piece or show, assigning each one his/her own shape and color. After you sketch out the shape of the stage (including set pieces and other obstacles), you can arrange your performers in the space and move them around—and the app will record it all for you.
No more trying to remember what you worked on last week! No more bizarre diagrams scribbled in notebooks!
OK, a little real talk: The app is kind of pricey right now—$199.99—so at the moment it's mostly used by high-powered Broadway peeps, including Susan Stroman. But we have the technology! (And hopefully as the app becomes more popular, the price will drop a tad.)
Nifty, right? If you do have the funds, you can purchase Stage Write from the iTunes store.
Oct. 29, 2014 10:36AM EST
When I was maybe 10, a museum near my hometown exhibited a bronze cast of Edgar Degas' Little Dancer Aged Fourteen sculpture. I went to visit her, and quickly discovered that my first impulse—to imitate her iconic fourth-position pose—was shared by dozens of other baby ballerinas. There was a whole crowd of us gathered around the statue, hanging out in fourth, snapping photos. It was almost instinctual.
Susan Stroman's brand-new musical, Little Dancer, which tells the story of the girl who inspired the statue, opens on Saturday at the Kennedy Center. In tribute, the original Little Dancer sculpture is currently on exhibit at D.C.'s National Gallery of Art. And last week, the cast of the musical—which includes New York City Ballet star Tiler Peck and our friends Juliet Doherty and Sophia Anne Caruso—went to pay their respects to Degas' masterpiece.
Naturally, they all immediately assumed fourth position. Looks like that instinct never dies.
(All photos by Margot Schulman)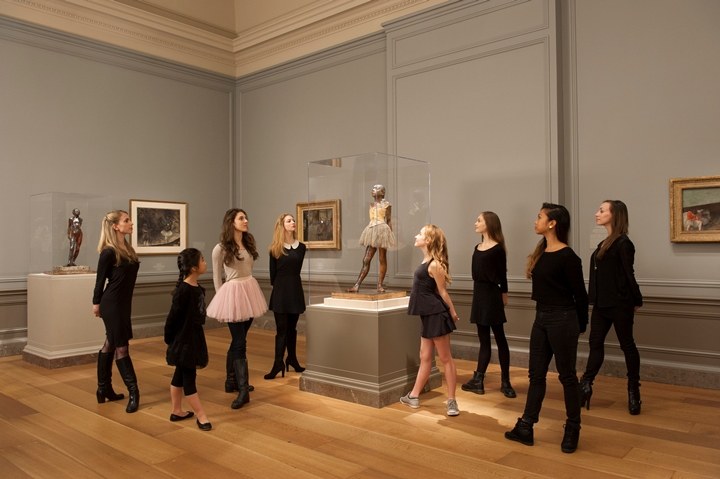 The musical's cast. Peck is adorable in her pink tutu—but did your eye go right to Juliet (third from right) and her gorgeous turnout, like mine did?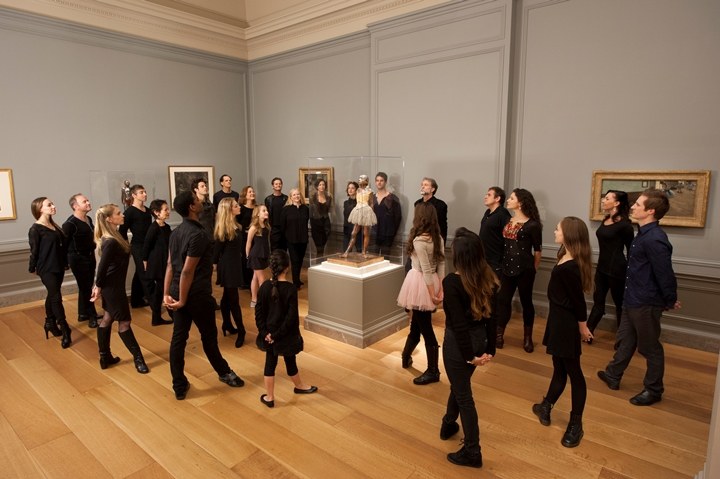 The whole company. So many Little Dancer doppelgängers!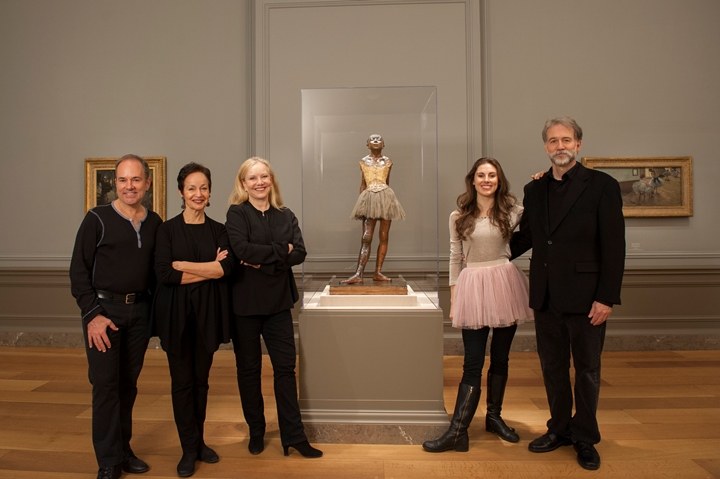 The musical's stars and creative team (from left): Stephen Flaherty, Lynn Ahrens, Susan Stroman, Tiler Peck and Boyd Gaines. Even non-dancers end up hitting some version of fourth position!
Merde (or in musical theater terms, break a leg) to the Little Dancer cast! For tickets and more info about the show, click here. Can't make it to D.C.? You can still get an insider's look at the show, via our interview with Peck about what happens when statues come to life.
Dance News
Oct. 03, 2014 11:08AM EST
In our October issue, we talked to New York City Ballet principal Tiler Peck about her musical theater turn in the brand-new show Little Dancer. Inspired by Degas' famous sculpture and directed and choreographed by Broadway guru Susan Stroman, the musical is set to open at Washington, D.C.'s Kennedy Center later this month.
Little Dancer was custom-tailored to Peck, and naturally she'll be bringing all her ballerina amazingness to the part—including her experiences dancing famous ballets. "It's just like doing Romeo and Juliet," she said to us of playing the young Paris Opéra Ballet student Marie von Goethem, who inspired Degas' Little Dancer Aged 14 sculpture. "No one who plays Juliet is actually her age. The key is your mannerisms and the way you hold yourself." Given that Peck also has serious musical theater cred—she made her Broadway debut at age 11 (!) in Stroman's production of The Music Man—we're guessing she'll be pretty darn convincing.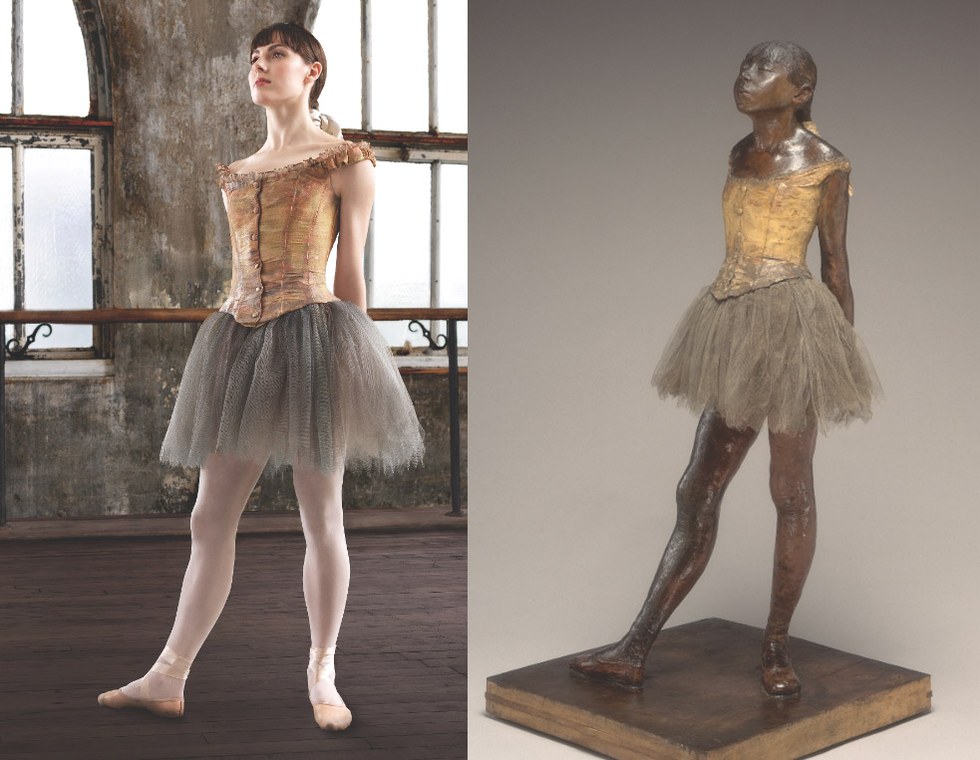 Also, she kind of looks just like the statue! Eerie.
(Both photos courtesy The Kennedy Center. Left: Matthew Karas; right: Edgar Degas, Little Dancer Aged Fourteen (1878–1881), yellow wax, hair, ribbon, linen bodice, satin shoes, muslin tutu, wood base, National Gallery of Art, Washington, collection of Mr. & Mrs. Paul Mellon)
Wondering what all of that dance-drama goodness will actually look like? This Sunday night, the Guggenheim Museum will be offering a sneak peek when its Works & Process series goes inside Little Dancer. The event will include a bunch of excerpts from the show (Peck will be dancing, of course!) and a discussion with Stroman, Lynn Ahrens (who wrote the musical's book and lyrics) and Stephen Flaherty (the composer). And the whole thing will be live-streamed at guggenheim.org/live, starting at 7:30 pm EST.
Little Dancer in your living room—not a bad way to end the weekend, amirite? While you're waiting for Sunday night to roll around, take a look at this behind-the-scenes video from Peck's official Little Dancer photo shoot:
Dance News
Oct. 01, 2014 02:50PM EST
Tiler Peck in Little Dancer (photo by Matthew Karas, Courtesy The Kennedy Center)
You know the sculpture: A young girl in a tutu stands in an open fourth position, gazing up in awe as if she's watching a prima ballerina leap before her. But you probably don't know the story behind the sculpture—the story of ballet student Marie von Goethem, who, at age 14, became the muse of renowned artist Edgar Degas. This month, Marie's tale will come to life onstage at Washington, D.C.'s Kennedy Center, in Little Dancer, a brand-new musical directed and choreographed by Susan Stroman. None other than New York City Ballet principal Tiler Peck will star as Marie. Peck is no stranger to the world of musical theater: She first played Gracie Shinn in Stroman's revival of The Music Man on Broadway at just 11 years old. Dance Spirit caught up with Peck to find out more about Little Dancer.
Dance Spirit: How does working on this show compare to your experience when you were younger?
Tiler Peck: The Music Man was such a surprise for me. I don't think I really grasped what Broadway meant. Now, being in Little Dancer means so much more. Not only am I working with Susan Stroman again, but Rebecca Luker, who was also in Music Man, is playing Marie's older self. It's like I've come full circle.
DS: What's challenging about playing a young girl?
TP: Well, it's just like doing Romeo and Juliet. No one who plays Juliet is actually her age. The key is your mannerisms and the way you hold yourself. I've also been looking at tons of Degas' works, and I've been reading as many books as possible to find out about Marie's life. She was very witty!
DS: Why should people see the show?
TP: For dancers, the show is easy to relate to because you see Marie face so many of the challenges that both young dancers and professionals go through today. And Broadway people will love the music. It's so beautiful; you just have to dance to it.
DS: What's the best part about being in Little Dancer?
TP: Marie is a starring role, and the whole show revolves around her. Getting to create the part—being the first person ever to play it—has been so special.
Taking Flight
A crumpled, torn magazine photo of a ballerina sparked a 4-year-old orphan's dream of becoming a professional dancer. That orphan was Michaela DePrince, now a rising talent at Dutch National Ballet. (You may know her from the 2011 documentary First Position.) DePrince's new memoir, Taking Flight, recounts her incredible journey from war-torn Sierra Leone to the ballet world. There are moments that will leave you in tears—yet her inspiring story (co-written with her adoptive mother, Elaine DePrince) is one you'll never forget. —Sophie Moyer
Dance Spirit spoke with DePrince about her writing process.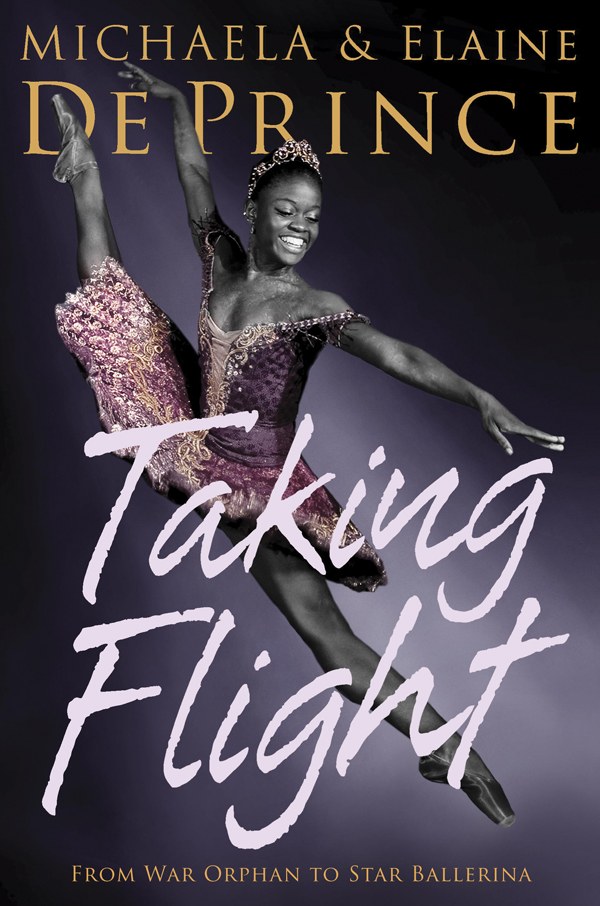 (Courtesy Random House Children's Books)
The events you describe early in the book are unfathomable. What was writing about them like for you?
I wrote everything in small snippets—thoughts, memories, feelings.
They were like bits of clay that I handed to my mother, who organized them and turned them into a beautiful piece of art. In a way, it was therapeutic—I was able to get all of the happenings out of my head and onto paper. But even more therapeutic was reading the final product. Although it all came from my memory, it still moved me to tears.
Why did you write Taking Flight?
I'm especially interested in reaching kids who are feeling hopeless because their life circumstances aren't ideal. I want to inspire them to grab onto a dream and find ways to make it come true.
Have you met the woman who inspired your own dream—Magali Messac, the former Pennsylvania Ballet dancer on the Dance Magazine cover you found in Sierra Leone?
I've communicated with her online, but I haven't actually met her in person. We live so far away from each other—she's in Washington State and I'm in the Netherlands! Oddly, though, without having met her, I still feel like she's not real—just the ballerina in the picture.
Where do you see yourself in 10 years?
Right now, I'm with the Dutch National Ballet, and love everything about it. I'd like to stay here as long as possible, and I hope I'll rise through the ranks. I'd also like to start a free school for the arts in Sierra Leone. I feel deeply about the children there who lack opportunities—I want to share my good fortune with them.
Jun. 20, 2014 10:39AM EST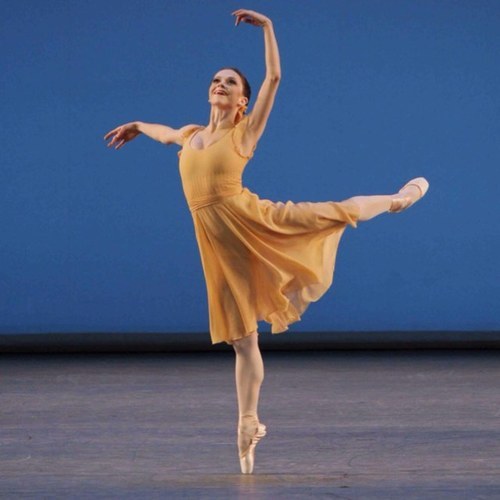 Megan Fairchild in ballet mode in Robbins' Dances at a Gathering (photo by Paul Kolnik)
We love, love, love ballet dancers who are decidedly not bunheads. There's nothing cooler than a world-class ballet professional who's excited to take on other dance styles—or other sides of the dance world entirely.
Yesterday, it was announced that beautiful New York City Ballet principal Megan Fairchild will make her Broadway debut this fall in the revival of On the Town, playing Ivy Smith. You know she's going to be great: Not only is she one of NYCB's most charismatic actresses, but On the Town is also a sort of expanded version of the Jerome Robbins ballet Fancy Free, and as a NYCBer, she's well-versed in the Robbins style.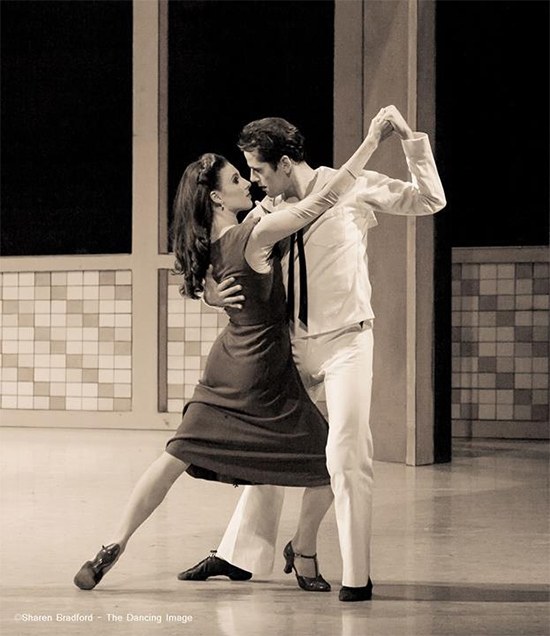 Tiler Peck and Robert Fairchild in Robbins' Fancy Free—a.k.a. the ballet on which the musical On the Town, which Robert's sister Megan is about to star in, is based. It's like an endless loop of too-good-to-be-trueness! (photo Sharen Bradford/The Dancing Image)
What makes this news even more exciting? Megan's brother Robert, also an NYCB principal, is about to take on Broadway, too. He'll star as Jerry Mulligan—the Gene Kelly role—in Christopher Wheeldon's stage production of An American in Paris, which is set to premiere in Paris (of course) this fall before coming to Broadway next spring.
But wait! There's even more cuteness/awesomeness. Robert's fiancée, fellow NYCB principal Tiler Peck (they're getting married this weekend!) is also about to star in a major musical: Susan Stroman's Little Dancer, based on the Paris Opéra Ballet student who posed for Degas' famous sculpture. The new show premieres at the Kennedy Center in Washington, D.C., this October.
Now that's what we call a Renaissance family. Merde/break a leg, all of you!
Dance News
Jun. 03, 2014 12:52PM EST
The Tony Awards (airing this Sunday night!) recognize a lot of Broadway talent: actors, directors, sound designers, lighting designers, writers, composers, and our favorites, choreographers. But we all know that the true muscle behind every amazing musical is the dancers. And they rarely get Tony nominations. (Unless they happen to be the fabulous Karine Plantadit, who earned a best featured actress nomination in 2010 for her dance-heavy role in Come Fly Away.)
Enter the Fred & Adele Astaire Awards. Each June, the Astaire Awards recognize Broadway's best of the best—in jazz, tap, or character shoes. The 2014 ceremony was held last night in NYC, and the star-studded event didn't disappoint. Here are the best moments from the oh-so-dancey evening: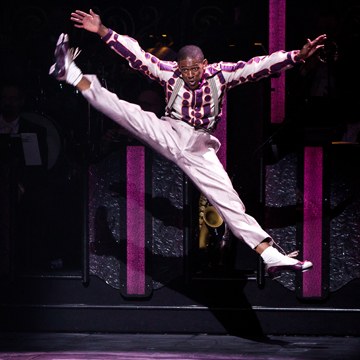 Jared Grimes in After Midnight (photo by Matthew Murphy)
1. Jared Grimes' performance. Grimes currently stars in After Midnight. He opened the show with a display of his signature lightning-fast tapping and hip-hop swag fusion that later earned him the Astaire Award for best male dancer. (After Midnight was the big winner of the entire evening: Plantadit and Dormeshia Sumbry-Edwards tied for best female dancer, and lanky Englishman Warren Carlyle won the award for best choreography. Seriously, go see this show!)
2. Angel Inniss' stellar layouts in her jazzy solo "Mr. Paganini." Man, can this senior dancer from Spotlight Studio of Dance in Maryland work a stage! Angel took home the New York City Dance Alliance Foundation's Adele Astaire College Scholarship. Congrats, Angel!
3. The presentation of the Outstanding Contribution to Dance Education Award to Luigi, the father of jazz dance (and the father of "5,6,7,8"!), and presentation of the Douglas Watt Lifetime Achievement Award to Patricia Birch. You know Patricia Birch for this choreography: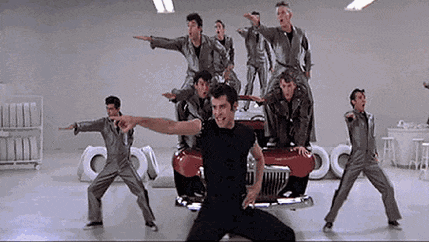 Greased Lightning! John Travolta and company in Grease
And this choreography:
Steve Martin and Gilda Radner cut a rug in "Dancing in the Dark" on "Saturday Night Live"
Of course, these are just two small snippets of this choreographer's CV, and Patricia Birch hasn't stopped moving (to quote Luigi) or choreographing. Her work can currently be seen on HBO's "Boardwalk Empire." Which brings us to top moment 4:
4. Legendary actor (and star of "Boardwalk Empire") Steve Buscemi making a surprise appearance to pay tribute to Patricia Birch for her work on the show. Best of all? We got to see a stage rendition of one of the acts from "Boardwalk." Take a look at the number in this clip from the show, and see if you can find our gal Chloe Arnold. Spoiler alert: Jared Grimes also performs!
5. Nancy Chippendale's Dance Studio tappers big finale. These teen dancers—there were more than 45 onstage!—from North Andover, MA, sure know how to stay in formation, while flapping and tapping in perfect unison. Their number "Glam" was the perfect finish to a truly glamorous event.
Let's hope Sunday's Tony Awards (8 pm on CBS) includes at least half this much dancing!
Dance News
Nov. 01, 2013 05:30PM EST
When Dance Spirit first spoke to Lauren Lovette for our September 2010 cover story, she was an 18-year-old apprentice with New York City Ballet—a great feat considering she didn't start training until she was 11. Since then, this vibrant dancer has come a long way: She joined the company's corps de ballet the month her DS cover was printed and was promoted to soloist in February of this year. Lovette has danced the Sugar Plum Fairy in The Nutcracker and Princess Florine in The Sleeping Beauty, and originated feature roles in Peter Martins' Mes Oiseaux and Susan Stroman's Frankie and Johnny...and Rose. But what we loved most about Lovette as an apprentice hasn't changed: her magnetic personality, sparkling technique and undeniable star quality. Want to know more? Read on for The Dirt. —RZ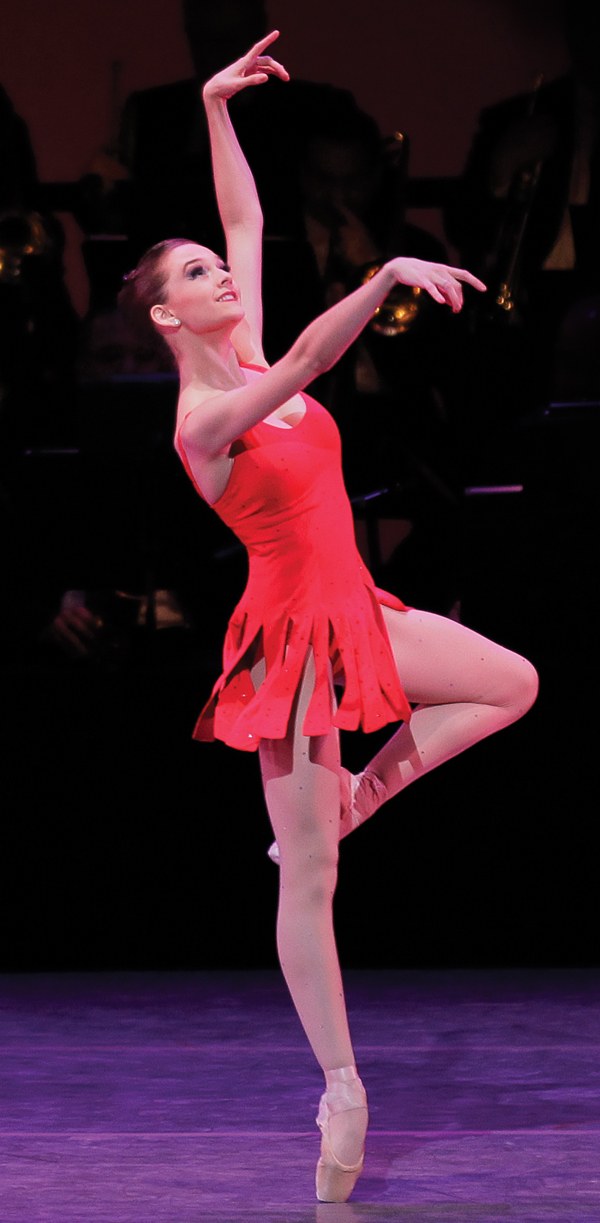 Lovette in Susan Stroman's For the Love of Duke (by Paul Kolnik)
What did you want to be when you were a little kid? "I wanted to work at an ice cream shop."
Dancer you would drop everything to go see: "Julie Rent. I watched ABT tapes of her from the library growing up."
Biggest guilty pleasure: "I guess chocolate. But I don't feel guilty about it."
Favorite food: "A big steak with mushrooms and potatoes of any kind. I have had it every birthday I can remember."
Something most people don't know about you: "I am a huge fan of animated movies!"
Favorite city in the world: "I think New York is still my favorite city. It was a dream to move here, and it still is."
Do you have any pre-performance habits or superstitions? "Good hair--good show!"
What's your most embarrassing onstage moment? "Once I forgot my choreography on stage and made up twelve counts on my own. I will never forget that show!"
What has been your proudest career moment so far? "My first Sugar Plum Fairy with the New York City Ballet! That was a dream come true."
Dancer to Dancer
Oct. 01, 2013 05:43PM EST
Edward Bloom, a teller of tall tales ("big fish" stories), tries to reconcile with his skeptical son from his deathbed: It may not sound like a promising premise for a Broadway musical. But with a little stage magic and a lot of dancing, director and choreographer Susan Stroman is able to bring Edward's stories to vibrant life onstage in Big Fish. The Broadway adaptation of the 2003 film opens October 6 at the Neil Simon Theatre in NYC. Stroman talked to DS about what makes Big Fish worth seeing.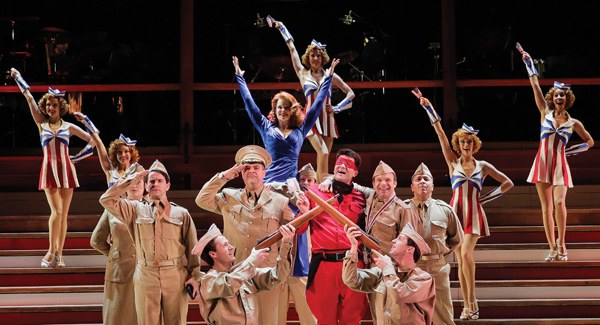 Big Fish on Broadway (by Paul Kolnik)
It's a story full of great stories.
"All of us ended up in theater because someone told us big-fish stories when we were growing up," Stroman says. "Those stories inspired us to tell our own stories. But this musical isn't just about the fantastical elements—it also has a lot of heart."
The special effects are awesome.
"It's this great combination of old-world stagecraft and new technology," Stroman says. "There are solid props made out of wood—and then a digital projection will transform that wood into something else. It's almost a metaphor for the larger story: Something real becomes something fantastical."
Pretty much every kind of dance imaginable is involved…
"Each of Edward's stories has a different type of dance that goes with it," Stroman says. "There's a big USO number with tap dance, and then there's a ballet piece where the dancers represent fire and air, and then there's a good old Alabama stomp, because the show takes place in Alabama. Usually a musical just uses one dance form—it's all tap or all jazz. But this particular story opens up ways to incorporate many styles."
…and the dancers are top-notch.
"I have some of the best dancers on Broadway," Stroman says. "Sarrah Strimel, Lara Seibert, Bryn Dowling, Angie Schworer—these people are very accomplished and well respected. There's always joy when they're onstage. I think dance fans will have fun seeing them take on different roles and styles. There are a lot of lovely surprises in store."
Sep. 06, 2013 10:52AM EST
It's been a big news week for our favorite New York City Ballet couple, principals Robert Fairchild and Tiler Peck!
First, it was announced that Peck will star in Susan Stroman's new musical, Little Dancer, next fall at Washington, D.C.'s Kennedy Center. Last year we heard that she was workshopping the title role, but we didn't even dare to hope that she'd take it on in the finished production—girl's got a pretty packed schedule with NYCB, after all—so we were extra excited when this press release landed in our inboxes. Peck, by the way, is a musical theater veteran: At 11 she appeared on Broadway in The Music Man, and a few months ago she performed in the New York Philharmonic's concert performance of Carousel—as did Mr. Fairchild.
OK, that's part one. Part two: The October issue of Vanity Fair, out today, features a dual profile of Peck and Fairchild. Written by former NYCB principal and current Vail International Dance Festival director Damian Woetzel, it describes the power couple as "the dancers of today" who "hav[e] no boundaries." Right on. Oh, and the photographs are by super-famous photog Bruce Weber, naturally. Take a look:
[portfolio_slideshow nowrap=0 thumbs=true timeout=4000 showtitles=true showcaps=true showdesc=true]
Get Dance Spirit in your inbox
Apr. 18, 2013 10:40AM EST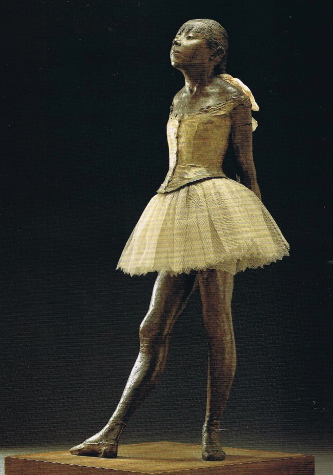 The Degas sculpture that inspired it all.
If you're an eagle-eyed reader of DS (and why wouldn't you be?), you probably noticed an interesting little aside in our April "You Should Know" story about 14-year-old prima-in-the-making Madeleine Gardella.
The pint-sized ballerina, we learned, recently participated in the workshop for a new musical, Little Dancer, directed and choreographed by Broadway legend Susan Stroman. And Madeleine's co-star in the workshop was none other than New York City Ballet principal Tiler Peck. Intriguing, no?
Well, now it's official: Little Dancer, which was inspired by Edgar Degas' world-famous "Little Dancer, Aged Fourteen" sculpture, is coming to D.C.'s John F. Kennedy Center for the Performing Arts in October 2014. The show will "weave real history and fiction" to tell the story of Marie van Goethem, the young student who inspired Degas' piece.
No casting for the show has been announced yet, but the use of talented ballerinas in the workshop wasn't a fluke: Apparently the lead roles are built for serious dancers. And let's just say no one at DS would be upset if Madeleine and Peck reprised their roles. Talk about a dream team!
May. 29, 2012 12:19PM EST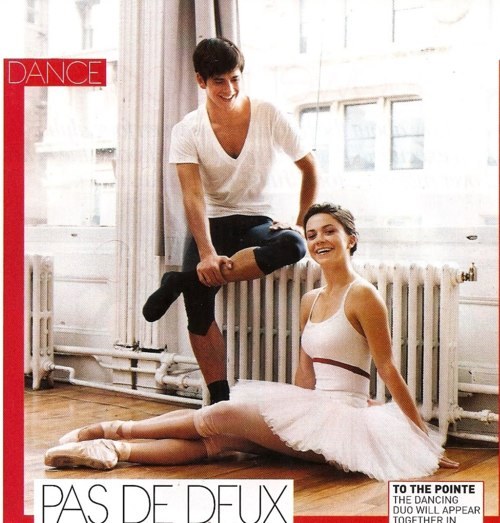 I love dancing families. Whatever pitfalls may come with training alongside a brother or a sister (or a mother, or a father), there's something really neat about watching family members work and perform together. They just get each other. And talk about a built-in support system. (Can you tell I'm the only one in my family who danced? No, I'm not jealous of sister acts like the DelGrossos. Not at all. *quiet sob.*)
New York City Ballet is full of sibling duos, and while they frequently share the stage, one pair—Robert and Megan Fairchild—had an especially awesome moment this Sunday. It was a performance of Susan Stroman's Double Feature, a slapstick-funny, Broadway-inflected homage to old-school silent films. The story of its first section, "The Blue Necklace," is a little complicated, but here's all you need to know for now: Robert was dancing the part of Billy Randolph, a dashing (and, of course, dancing) movie star. Megan was playing Florence, a dopey non-dancer with an ambitious mom. At one point in the ballet, the mom forces Billy and Florence to dance together.
In other casts, their clunky pas de deux is polite-chuckle funny: It has some cute little wow-this-girl-really-can't-dance gags, there are lots of flexed feet and missed lifts, nyuk nyuk nyuk. But Robert and Megan had me on the floor with their spot-on comic timing. They just know how to goof off together—probably thanks to years and years of practice in their living rooms. I kind of hope their mom got to see that particular performance, because I'm guessing it would have felt awfully familiar!