via Freeform
Anyone else still not over the fact that the show "Bunheads" was so cruelly cancelled? Yeah, us too.😭
But as of last Friday, everyone's favorite dance show is now available to stream on Hulu. All 18 episodes of Season 1 are available for the taking. IT'S A HOLIDAY MIRACLE!
Keep reading...
Show less
Popular
Aug. 03, 2017 08:54AM EST
Bob Fosse in the studio (courtesy Dance Magazine Archives)
It's important to know about the artists who paved the way for us—especially in the musical theater world, which has been driven from the beginning by charismatic dancers and choreographers whose work continues to inspire Broadway babies. If you're a Great White Way fan, you should get to know these legendary artists, some of whom are still making moves.
Keep reading...
Show less
Mar. 23, 2017 05:03AM EST
It's Fleet Week here in NYC—that one magical week when the city is flooded with cute sailor boys. Here at DS, that means it's time for:
Pick Your Favorite Musical Sailors!
In the running:
South Pacific's rowdy mariners. There ain't nothin' like 'em!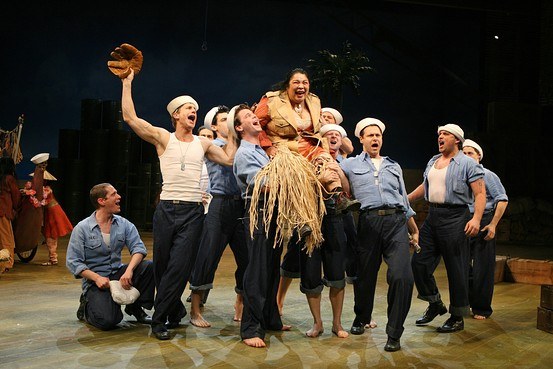 Anything Goes' tapping tars. They're the top!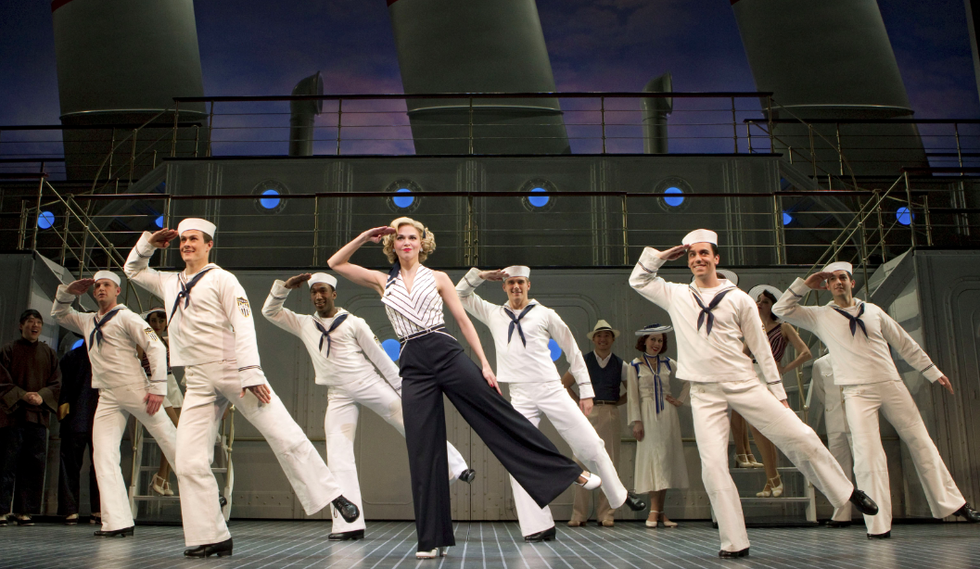 The old-schoolers: Frank Sinatra, Jules Munshin and Gene Kelly in On the Town. They make New York, New York a wonderful town!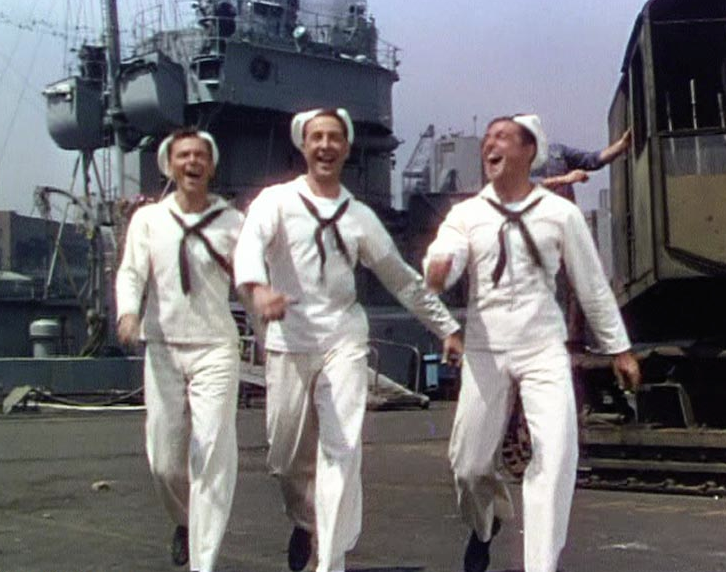 Cast your votes in the comments, mateys.
Sure, we're all suckers for pool parties, BBQs and extravagant (and Instagrammable!) fireworks displays. But the real winners this Fourth of July were the Broadway stars who performed at "A Capitol Fourth," which aired on PBS.
Hamilton's Christopher Jackson sang, Broadway darling Sutton Foster danced, and the cast of On Your Feet had everyone, well, on their feet. If you missed the show on account of catching your own local fireworks, here's a look at the best performances from the night.
Ballerina brides are the bestest brides, amirite? The three qualities that make for a beautiful bride—elegance, poise and a killer bod—happen to be qualities ballet dancers have in spades. And few people can rock elaborate wedding gowns as well as ballerinas, who've spent their lives performing in similarly elaborate costumes.
That's why we're stupid excited that Richmond Ballet dancer Valerie Tellmann is scheduled to appear on TLC's "Say Yes to the Dress" tomorrow night. A gorgeous dancer trying on a whole bunch of gorgeous dresses? We're in. We're wayyyy in. Tellmann is also bringing fellow RB dancers Maggie Small and Lauren Fagone along with her, which means Kleinfeld is about to experience a veritable ballerina takeover.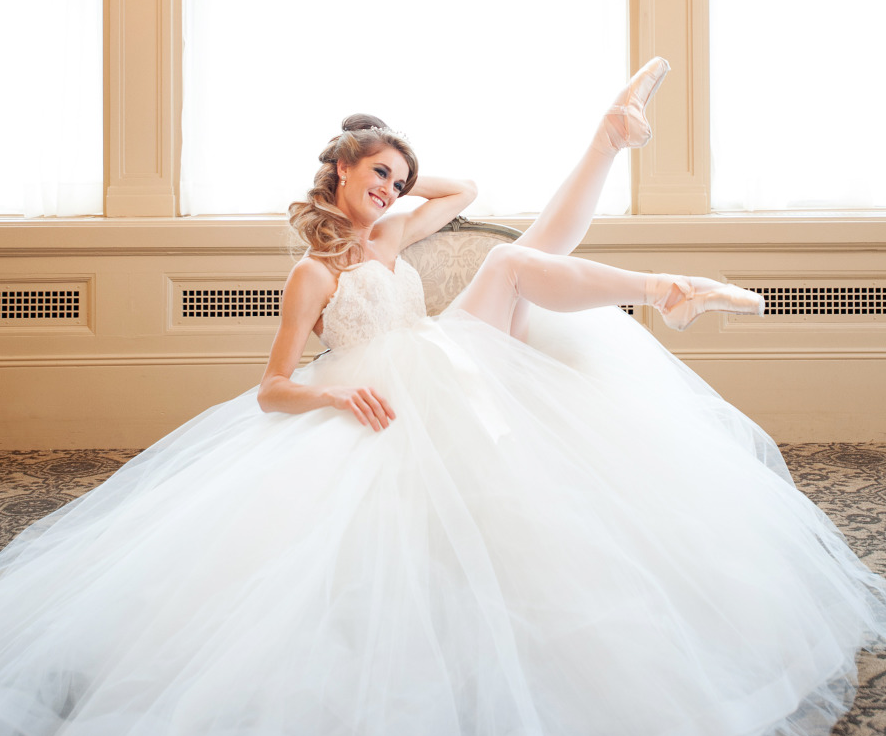 Tellmann had a sort of "SYTTD" trial run a few months back, when she was the model bride for a Style Me Pretty ballet-themed wedding shoot . How perfect is that? (photo by Jessica Maida for Style Me Pretty)
This isn't the first time a pro dancer has appeared on "SYTTD," btw. Last fall, Broadway baby Sutton Foster said yes to a seriously high-drama (naturally) dress, and was (also naturally) utterly delightful. While you're waiting for Tellmann's episode to air—tomorrow night at 10:30 pm EST on TLC!—take a look at Foster's bridal moment:
In case you missed the best night on TV—a.k.a the live broadcast of the Tony Awards—Dance Spirit's got your back. Here's a rundown of the show's highlights, a couple of its more cringe-worthy moments, and some of our favorite (and least-favorite) red carpet outfits.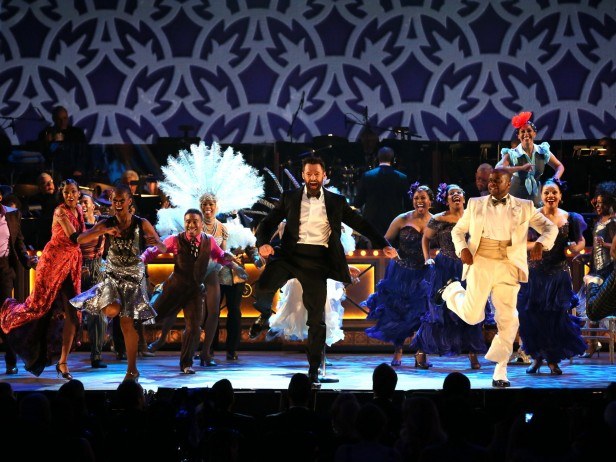 Hugh Jackman with the cast of After Midnight
(photo Sara Krulwich/The New York Times)
The Highlights: 
–Hugh Jackman as host. It's great to see Wolverine back on the Radio City Music Hall Stage, singing and dancing with the stars of Broadway. He even cut a rug with Dulé Hill and the fabulous cast of After Midnight. Sure, his opening number (with all that awkward hopping) wasn't as fabulous as NPH's extravaganza last year, but his serenading of the female best actress nominees—in both the play and musical categories—stole my heart.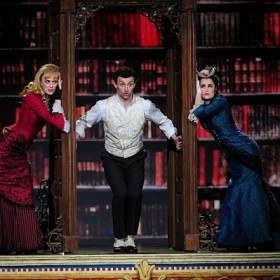 Bryce Pinkham (center) and the cast of A Gentleman's Guide to Love and Murder
(photo Heather Wines/CBS)
–The performances, obv. After Midnight, Aladdin and Bullets Over Broadway were especially impressive—so. much. tap. dancing.  And here's to genie James Monroe Iglehart's win for best featured actor in a musical. But I was especially enamored with the performance from A Gentleman's Guide to Love and Murder—the Tony winner for best musical. In case you chose to take your bathroom break during the number, you can re-watch it here. There's not much movement, but the witty trio really brought down the house.
–The crazy Music Man rap. My viewing party went pretty nuts when Hugh Jackman busted some rhymes from The Music Man—and then even more nuts when LL Cool J and T.I. joined in. The beats—commemorating the song "Rock Island" from 1957's The Music Man, supposedly the first-ever rap—came courtesy of Questlove of The Roots. (Pretty cool.) Here's the song in the 1962 film; compare it to the Tony Award shenanigans here.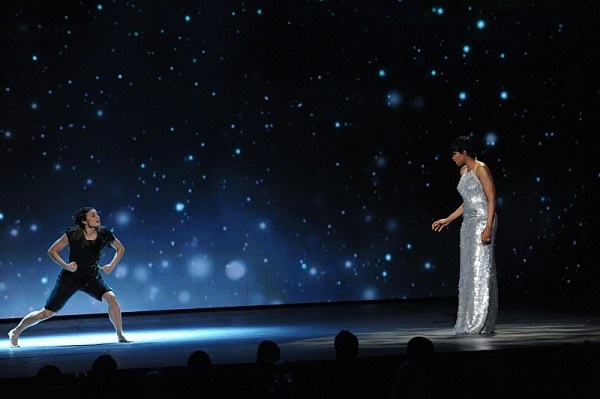 Melanie Moore with Jennifer Hudson in Finding Neverland. (photo Heather Wines/CBS)
–Melanie Moore as Peter Pan. When Finding Neverland hits the American Repertory Theater in Cambridge, MA, this summer, "So You Think You Can Dance" Season 8 winner (and DS cover star) Melanie Moore will get the opportunity to work with Mia Michaels again: Mama Mia will be choreographing the new musical. The full cast has been announced (helloooo, Jeremy Jordan!). Unfortunately, Jennifer Hudson, who sang in last night's preview, is not in the show.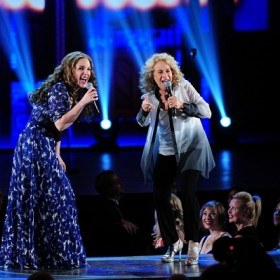 Jessie Mueller (left) with Carole King. (photo Heather Wines/CBS)
–Jessie Mueller and Carole King together (again) on one stage. I certainly felt the Earth move under my feet during this performance. Jessie Mueller is fantastic as the iconic singer/songwriter Carole King in Beautiful, and I suspect she'll be fantastic in roles to come. Congrats on your Tony for best leading actress in a musical, Jessie!
–The dreamy Matthew Bomer announcing a new Tony Awards partnership with his alma mater, Carnegie Mellon University. Next year the Tonys will celebrate one elementary, middle or high school theater teacher who really makes a difference. Know someone who you think deserves special recognition? Read about the new award here.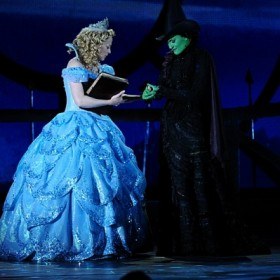 Jenni Barber (left) and Christine Dwyer (photo Heather Wines/CBS)
The Missed Opportunities:
–Wicked's 10th anniversary performance. Yes, Christine Dwyer and Jenni Barber sang an amazing rendition of "For Good." But weren't you just a little disappointed that Idina Menzel and Kristin Chenoweth didn't pop out to sing a line or two? I mean, we know Idina was there—she sang something from her new musical If/Then. Lame, Tony Awards. Lame.
–The absent-from-TV award for best choreography. Remember last year, when we got to see Jerry Mitchell accept his choreography award on TV? Apparently the producers forgot about that precedent, and After Midnight's Warren Carlyle received his award for best choreography during a commercial break. Boooooo! Maybe if we give his acceptance speech video a ton of online views, the producers will get the point for next year.
The Best Dressed: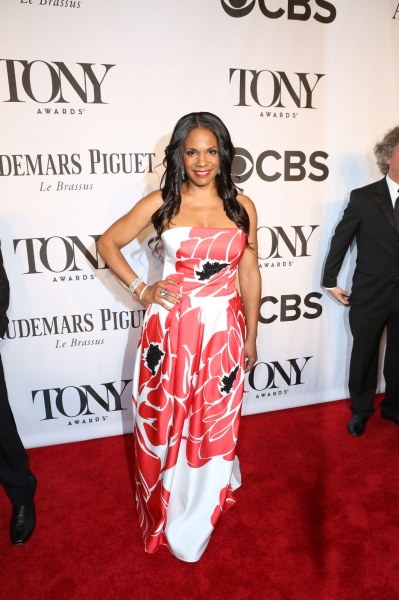 The history-making Audra McDonald, who took home her sixth Tony Award. She also became the first performer to win in all four acting categories (featured musical, featured play, leading musical and leading play). Yeah, she's legendary—and stylish to boot, in this pretty printed gown. (photo Walter McBride/Broadway World)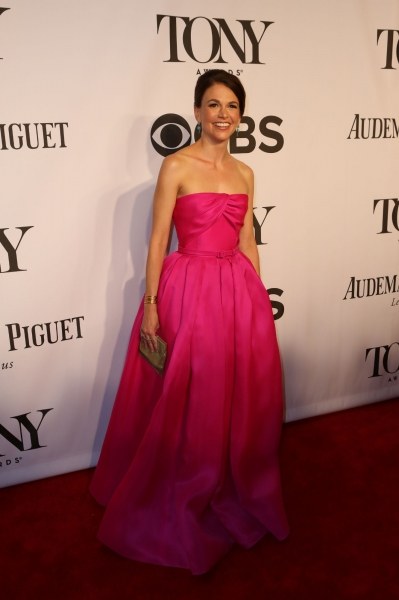 The always effortlessly gorgeous Sutton Foster. She didn't leave with a win, but her performance for Violet was strong.
(photo Walter McBride/Broadway World)
And the Worst: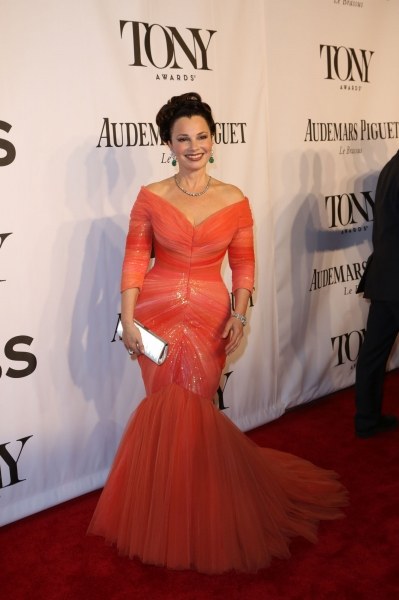 The flashy Fran Drescher. She may be on Broadway in Cinderella, but believe it or not, this over-the-top tangerine dress is not a costume.
(photo Walter McBride/Broadway World)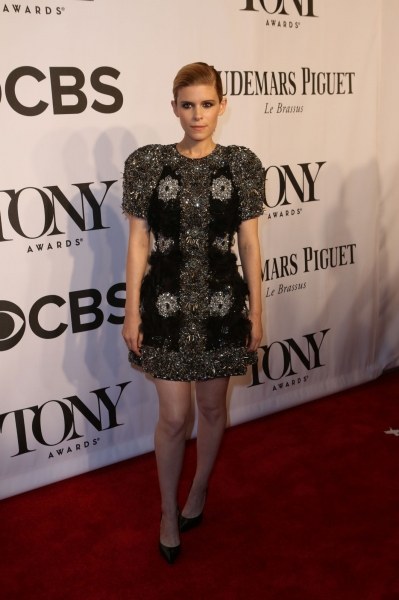 The weighed-down Kate Mara. This dress just looks heavy. Here's hoping Netflix turns "House of Cards" into a musical so Kate can redeem her look as a Tonys presenter next year.
(photo Walter McBride/Broadway World)
What did you think of the telecast? Which performance was your favorite, and who did you think was best dressed? Was any show or artist robbed of an award? We want to hear what you have to say!
Feb. 22, 2012 11:32AM EST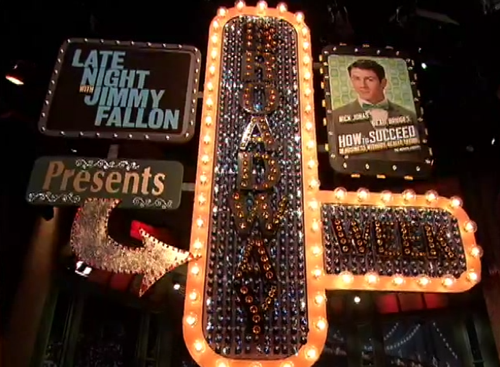 Totally forgot to blog about this yesterday: As I was channel-surfing around late Monday night, mourning the end of my long weekend, I happened to flip by "Late Night with Jimmy Fallon." Lo and behold, there was pop star-turned-Broadway baby Nick Jonas singing "I Believe in You" from How to Succeed in Business Without Really Trying! (And doing a pretty great job, too.)
Turns out it's "Broadway Week" on Fallon's show. Every night features a musical number from one of the fantastic shows on Broadway. If you're just hearing about this now, you've missed Nick and the cast of Porgy and Bess (sad face)—but you'll still be able to catch Ghost the Musical tonight, Sutton Foster from Anything Goes tomorrow and Sister Act on Friday (happy face!).
And none of those "but it's a school night" arguments: a) that's what magical, magical DVR is for, and b) if you don't have DVR, you can still catch the performances the next day on Hulu.
Happy Broadway week, everyone!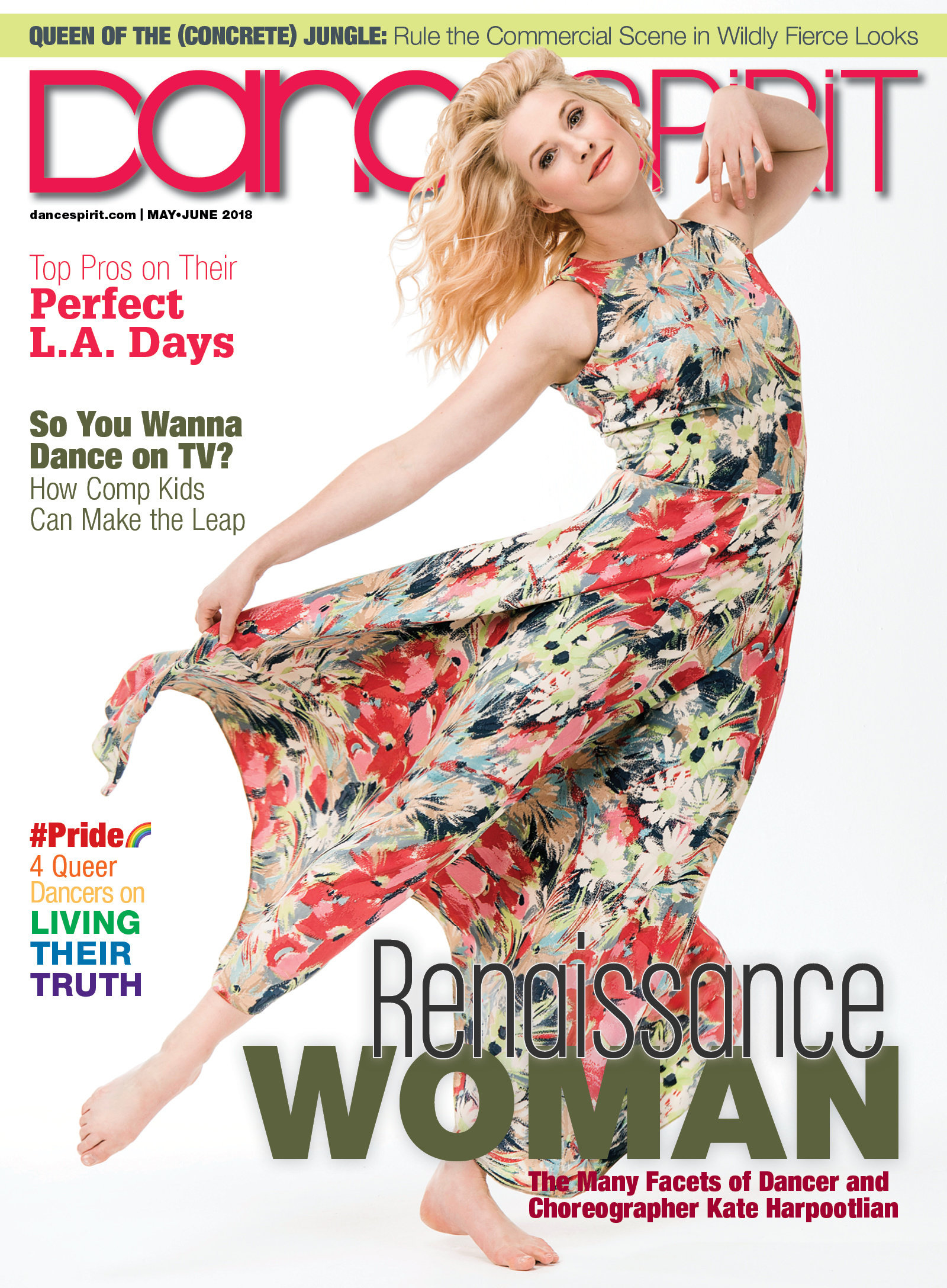 Get Dance Spirit in your inbox