Jul. 20, 2018 11:14AM EST
Mar. 23, 2017 09:42AM EST
The Russians are coming! The Russians are coming!
Actually, they're already here: Moscow's famous Bolshoi Ballet has arrived in NYC for more than two weeks of performances.
"Bolshoi" literally translates to "big"—which is perfect, because this company doesn't do anything small. They've brought three huge productions with them to the Big Apple: classics Swan Lake and Don Quixote, and an over-the-top man-candy festival known as Spartacus.
It's a chance for New Yorkers to see ginormous stars, especially the world-renowned Svetlana Zakharova.
Zakharova being her usual unreal self in Don Quixote (photo by Gene Schiavone)
We'll also finally witness Zakharova's much-talked-about partnership with David Hallberg, the American Ballet Theatre star who's made the Bolshoi his second home.
High drama: Hallberg and Zakharova in Swan Lake (photo by Damir Yusupov)
And we'll get a good look at up-and-comers like gorgeous Olga Smirnova, who at just 22 has already earned thousands of rabidly devoted fans.
Classical perfection: Smirnova in "Diamonds" from Jewels (photo by Damir Yusupov)
Time for some real talk: The past couple of years haven't been so great for the Bolshoi. Early in 2013,  director Sergei Filin was attacked by a masked man who threw acid on his face, leaving Filin nearly blind. The resulting investigation revealed a lot of disturbing—sometimes downright scary—information about Bolshoi politics.
But Filin, who after many surgeries has regained some of his eyesight, is back at the Bolshoi's helm. (He was even a judge at the Youth America Grand Prix finals this spring.) And it's a good sign that most of the press the group has been getting recently concerns dancing, rather than scandal. Here's hoping that the company's ugliest moments are past—so we can get back to obsessing about its truly fantastic artists.
The Bolshoi Ballet performs through July 27 at Lincoln Center. Click here to learn more!
Jul. 25, 2015 11:00AM EST
Happy National Dance Day, fellow dancers! We asked you the other day how you'd be celebrating our favorite holiday, and while it seems like a lot of you will be taking classes, performing and dancing anywhere and everywhere you can, we're here to suggest an alternative: Ballet binge-watching marathon, anyone?
Nothing's more frustrating than searching for a ballet on YouTube only to find a bunch of short clips. Well, we've done the hard work for you! Behold, our National Dance Day YouTube roundup of the best ballets presented in their entirety. Excuse us while we sit in a dark room with a bowl of popcorn for the next 8 hours:
1. Paris Opéra Ballet performing Jerome Robbins' Dances at a Gathering
This beautiful, light and energetic piece by Robbins is set to a gorgeous Chopin piano score. The stunning étoiles of the Paris Opéra Ballet effortlessly dance their way through this technically demanding choreography—and they do it with grace, musicality and presence.
2. Paris Opéra Ballet performing George Balanchine's Agon
Another stunning display of artistry from POB. This Balanchine classic is widely considered to be one of ballet's most timeless, masterful works.
3. The former Kirov Ballet performing Swan Lake
Yulia Makhalina absolutely shines as Odette/Odile in this Kirov Ballet production of Tchaikovsky's classic Swan Lake.
4. Svetlana Zakharova and Roberto Bolle in Giselle
Superhuman Zakharova and her drool-worthy feet are picture-perfect in the Bolshoi's version of Giselle. Throw Roberto Bolle and his star quality into the mix and you've got an hour and a half of ballet brilliance.
5. George Balanchine's Tchaikovsky Pas de Deux 
The sublime Darcey Bussell and Zoltán Solymosi dance Balanchine's 8-minute piece, filled with excitement, fish-dives and fouettés.
Jan. 21, 2015 11:42AM EST
Do you like ballet? Are you obsessed with the superhuman Russian ballerina Svetlana Zakharova? Do you live near a movie theater? If you answered "yes" to any (or all) those questions, and you're free this Sunday afternoon, start getting pumped now. The Bolshoi Ballet will broadcast its January 25, 2015 performance to more than 500 movie theaters across the U.S. and Canada.
So what'll Zakharova be bringing you to tears in this time, you ask? Only the most classical and fantastical and romantic-al ballets of all time: Swan Lake (swoon).
Yes, please! Svetlana Zakharova and Alexander Volchkov in Swan Lake (Photo © Dave Morgan)
Sunday's broadcast begins at 12:55pm—though check your local listings here, since some theaters will present the show at alternate dates/times over the next few months. A word of warning: The production is 160 minutes (of pure ballet awesomeness)—so you might want to get to the theater early and buy some popcorn.
And before you go, check out the "Bolshoi Ballet in Cinema" trailer for Swan Lake, in which Zakharova and Denis Rodkin (who will perform Prince Siegfried on Sunday) talk about the ballet and its challenges.
This "Bolshoi Ballet in Cinema" broadcast is presented by Pathe Live and BY Experience, and lucky for us, the season isn't over yet. Romeo and Juliet and Ivan the Terrible are up next; click here for more info.
May. 08, 2012 03:12PM EST
How amazing is the treasure trove of dance videos available online? This morning, DS editor Michael Bailey stumbled upon a gem: Clips of superstar ballerina Svetlana Zakharova as a 16-year-old student at the Vaganova Academy (she begins on the left—and sorry, embedding has been disabled):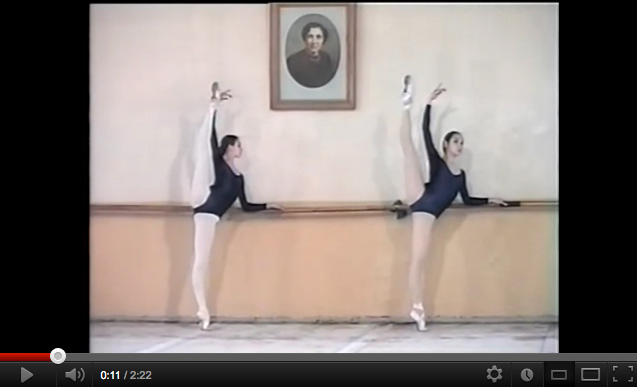 It's incredible! So young, and already so polished. It's clear she's going to be a beautiful artist.
And that got me thinking: What other "before they were stars" videos are out there? Plenty, it turns out. (Unfortunately, embedding has been disabled for most of them—but I PROMISE they're worth the click-through.)
Here's one of 14-year-old Sylvie Guillem—front and center—at the Paris Opéra Ballet School. She'd only been training for 3 years at this point!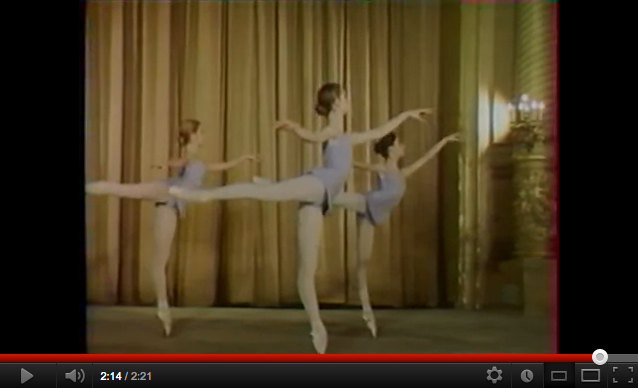 Old competition videos also provide great peeks at famous-ballerinas-to-be. How cute is current Royal Ballet principal Alina Cojocaru in this clip from the Prix de Lausanne? (She was 15. And she won.)
And here's international superstar Diana Vishneva as a 17-year-old Prix competitor: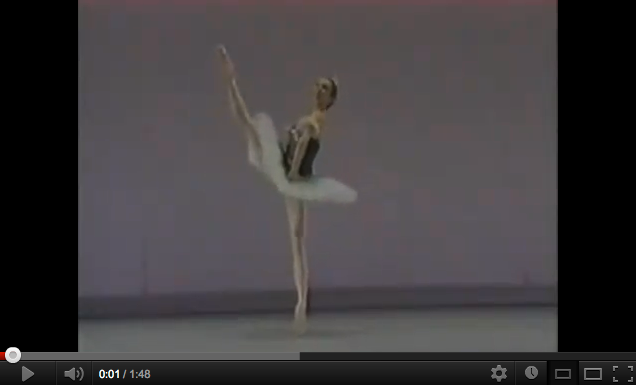 Those legs! That panache!
There's something irresistible about these videos. They show us a more vulnerable (and adorable) side of dancers we know as mature artists, for one. But you can also see the seeds of greatness in these students. I'm not just talking about their natural gifts, though yes, all of them hit the genetic lottery. I'm talking about star power—that magical, ineffable quality. Even as teenagers, they've got it.
May. 02, 2012 03:51PM EST
Nothing says "dancer" like a borderline-unhealthy obsession with feet—beautiful, pointy, archy feet. Ballet dancers are particularly foot-centric. In fact, some serious bunheads (*cough cough* 15-year-old me *cough*) pride themselves on their ability to identify a dancer solely by her feet.
Well, I'm putting you all to the test. Below are the feet of four famously foot-tastic ballerinas: Paloma Herrera, Svetlana Zakharova, Alessandra Ferri, and Sylvie Guillem. Can you guess which drool-worthy tootsies belong to which dancer?
(Experiencing the agony of de feet? Click here for the answers!)
1)

2)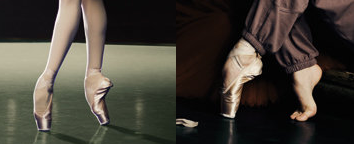 3)

4)

Feb. 29, 2012 02:05PM EST
Are you guys familiar with Studio 5 at City Center? It's an excellent series of performances/talks held in one of New York City Center's rehearsal studios. Each event gives you an up-close-and-personal peek at a fantastic artist. And since the project is helmed by former NYCB principal Damian Woetzel, the dancers they bring in tend to be extra fantastic.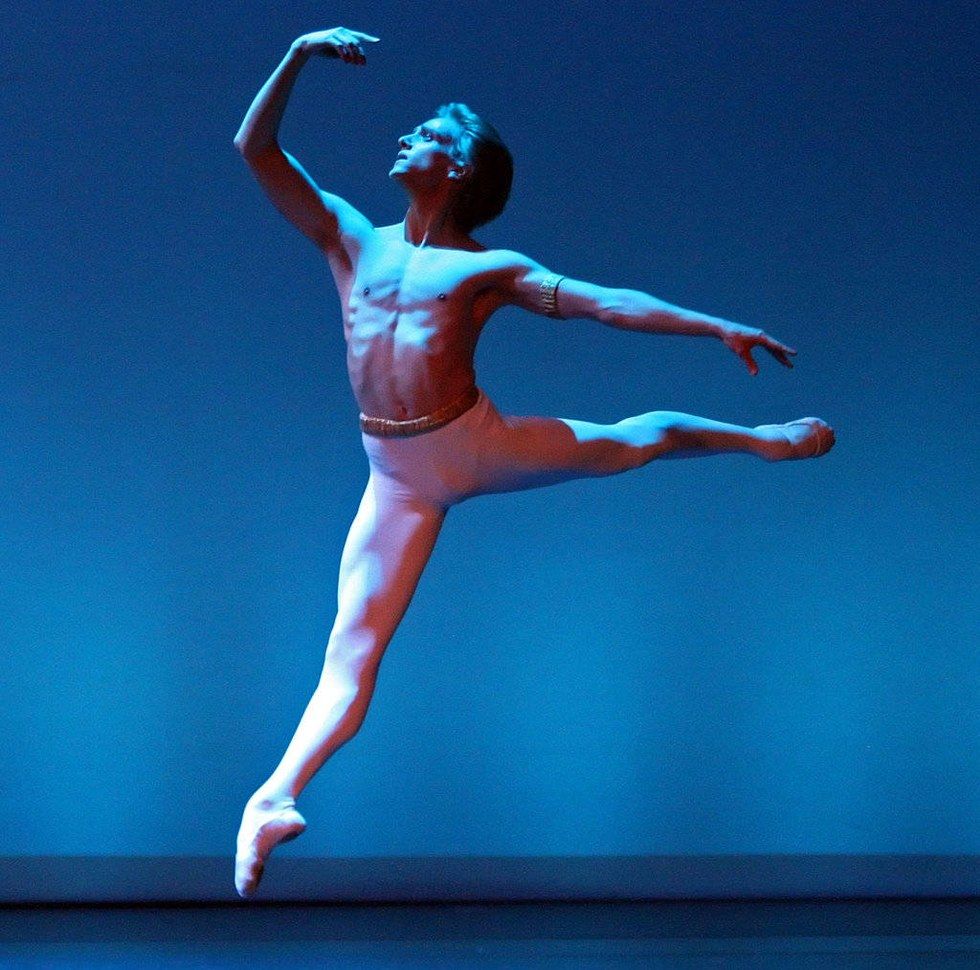 On Monday night, Woetzel's guest was ballet superstar David Hallberg. Hallberg performed excerpts from Swan Lake and works by George Balanchine—which, of course, was glorious. But he also discussed his unprecedented status as a principal at both American Ballet Theatre and Russia's Bolshoi Ballet. And boy, did he have some great stories about how that all happened. Here are five highlights.
1) Alexei Ratmansky told him to go to Russia. The day after Hallberg received the offer from the Bolshoi, he grabbed ABT resident choreographer—and former Bolshoi artistic director—Alexei Ratmansky for a coffee. Hallberg was feeling very conflicted about the whole thing, but Ratmansky wasn't. "This is historical," he told Hallberg. "You have to go. It's just too huge."
2) The other Bolshoi dancers are still feeling him out. Hallberg said that while most company members have been welcoming, there's still the occasional uncomfortable moment. "Sometimes I know that people are talking about me—they're pointing at me and gesticulating," he said. "In a sense it probably helps that I don't speak Russian..."
3) In Russia, the center barre is for principals only. During Hallberg's first company classes with the Bolshoi, he tried to stand at one of the barres that lined the walls of the room. "All the dancers around me looked incredibly uncomfortable," he said. "Eventually the teacher took me by the wrist and dragged me to the center barre, where all the other principals were standing. It's kind of crazy."
4) He's pretty bummed that Natalia Osipova left the Bolshoi. One of the things that drew Hallberg to Russia was the partnership he'd developed with then-Bolshoi principal Osipova during her guesting stints at ABT. But just weeks after he joined the Bolshoi, Osipova left it (and joined the Mikhailovsky Ballet). "I actually found that out in an interview, on-camera," he said. "This woman asked me how I felt about the fact that Osipova had left. She was Russian, so I guess I assumed something had been lost in translation." Hallberg will still be able to partner Osipova at ABT, and said that he understood that she "had to do what was right for her." But he was shell-shocked by the announcement.
5) Svetlana Zakharova is his new bestie. Hallberg partners frequently with the leggy prima, and said that she has been "incredibly sweet" to him. "She even sets up massages and chiropractor appointments for me!"
Get Dance Spirit in your inbox