Dec. 28, 2018 10:00AM EST
Photo by Jeremy Jackson, courtesy Sarah Reich
Sarah Reich's crystal-clear sounds, expert musicality, and vivacious energy have solidified her as one of this generation's tap greats. A Culver City, CA, native, Reich began tapping at age 5. At 12 years old, she started going to clubs to learn salsa, where she began mixing tap steps with salsa and merengue movement, creating what's become her signature flair. She's toured with Scott Bradlee's Postmodern Jukebox, and danced with Chloe Arnold's Syncopated Ladies and Jason Samuels Smith's Anybody Can Get It Tap Company. Reich also started her own company, Tap Music Project, in 2012, which puts on performances and workshops around the country, and recently released her debut tap-jazz album New Change. —Courtney Bowers
Dancer to Dancer
Jan. 23, 2018 08:55AM EST
Via @maudiepooh on Instagram
Maud Arnold is one of the busiest tap dancers on the planet. As a member of the Syncopated Ladies, Maud—along with her big sis and fellow tapper Chloé Arnold—is on constantly the road for performances, workshops, and master classes. For the average person, that kind of schedule could lead to a serious derailment of healthy habits. But Maud's far from average. Here's how the fit, fierce, flawless tap star stays stage-ready—no matter what time zone she finds herself in.
Dancer to Dancer
Nov. 07, 2017 09:24AM EST
Parris Goebel and her ReQuest Dance Crew (via Twitter)
Are your moves smooth and sexy like Chloé Arnold's tapping Syncopated Ladies, or is your dancing bubblegum sweet like the girls of Suga N Spice? Behold, the answer:
Quiz
Mar. 23, 2017 02:45PM EST
Since the untimely death of Prince last month, artists all over the world have honored the Purple One with heartfelt tributes—from the Hamilton cast's "Let's Go Crazy" post-show party to Madonna's (somewhat controversial) performance at the Billboard Music Awards last night. But there's something about dancers' Prince salutes that feels especially apt. Maybe because the man himself was such a great dancer. Or because he was instrumental in promoting the work of many talented dancers—Misty Copeland included—over the course of his career. Or because so much of his music just seems MADE for dance.
This weekend, the always fantastic Syncopated Ladies released a touching Prince tribute video. In true #SyncLadies fashion, it's a simple but tonally spot-on piece of pure-dance perfection—just seven of the group's members getting down to "When Doves Cry" (a vinyl recording, no less) in a sunlit studio. How did we never realize that this song was ideally suited to sexy, girl-power tap?
Thank you, Syncopated Ladies. Thank you, Prince. ????
Dance News
Mar. 23, 2017 09:50AM EST
Can we make #TappyFriday a thing? Earlier this morning we brought you the utter joy of Book of Mormon swing Christopher Rice's "Happy Tap Dance." Now, the Syncopated Ladies are turning up the heat with their latest tap video extravaganza, set to Katy Perry's "Roar."
It has everything you've come to expect from a Syncopated Ladies production—namely, Chloé Arnold's fabulous team of hoofers doing innovative choreography to an earworm of a girl-power anthem. But the cool thing about this latest video is that it's set in the desert, which means the Ladies are actually practicing the fine art of "sand dancing," as made famous by tapper Howard "Sandman" Sims back in the 1950s. The scraping sound of the sand under the dancers' feet adds a different kind of aural texture to the choreography.
Enjoy! And seriously, let's get this #TappyFriday thing going, guys.
Dance News
Mar. 23, 2017 07:57AM EST
It's #BeyDay (Beyoncé, y'all!) and we're celebrating here at Dance Spirit.
First, this.
Then, this:
You know Chloé Arnold, Her Holiness of tap, has worked with Beyoncé before, right? Maybe it's because they both have the "é" in their names. (BRB, renaming myself Alisoné, and perhaps I can get the hookup, too.)
The video—which has everyone here at the DS office dying to put on our tap shoes right this very second—also features former Dance Spirit cover girls Melinda Sullivan and Maud Arnold as part of the Syncopated Ladies. This isn't the first time this girl group has taken on a pop hit and made it sound even better.
I think we can officially state this for whatever record someone is keeping: Tap has never been hotter.
P.S. Who run the world? Girls. But, duh.
Dance News
Nov. 28, 2016 01:22PM EST
Any time Chloe and Maud Arnold—aka our favorite tapping sister duo—gift us with another Syncopated Ladies video, we get excited. Really excited. But today, they've given us something even better: stellar tapping, plus a discussion of the history of tap and why the art form still resonates. Their new video is part of TheRoot.com's Dances of the Diaspora series, which explores dances that originated in or were influenced by African culture.
We know, we know—any time you hear the word "history," you're inclined to roll your eyes and zone out. But the Arnolds' video is worth watching. You'll learn that tap is a purely American genre. You'll learn about its roots in slavery. You'll learn that it was passed down improvisationally, from foot to foot. "Nothing was written...unlike ballet, there is no syllabus," Maud says.
Check out the full interview below to learn more surprising facts, and for some fab footage of Chloe and Maud tapping a cappella—which we could watch them do for days on end.
Dance News
Mar. 14, 2016 10:21AM EST
Pretty much anything Chloé Arnold and her Syncopated Ladies get their hands/taps on is bound to be fantastic. But the crew seems to have a special affinity for Beyoncé—as confirmed back in the day by Queen B herself (remember the Share Heard 'Round the World?), and as confirmed once again yesterday by the group's latest video, "Formation."
The Ladies' take on Beyoncé's internet-melting hit doesn't involve much in the way of fancy production values. That's not the point. Instead, we get two delicious minutes of unflinchingly bold, ingeniously musical tap choreography that just dares us to look away. It's the perfect showcase for the unique voices of the dancers—Chloé and Maud Arnold, Anissa Lee, Assata Madison, Orialis Ashley, Melinda Sullivan and Melissa Tannus—who are, as ever, brilliant.
The best part? At the end of the video, we see clips of women from studios around the world performing the same routine. It's the Syncopated Ladies' way of wishing us all a happy Women's History Month, and it's exactly what we all need for #MotivationMonday.
Dance News
Jun. 10, 2015 03:02PM EST
It's a well-known fact that the Syncopated Ladies always slay. They're probably as flawless when they're doing their laundry as they are when they're dancing. You won't be surprised, then, to see their latest music video to Fetty Wap's "Trap Queen."
There are three main reasons to love this video: It's shot in Dubai (!); The ladies are looking fierce and sounding crystal clear; It's called T(r)ap Queens—get it? Puns #ftw!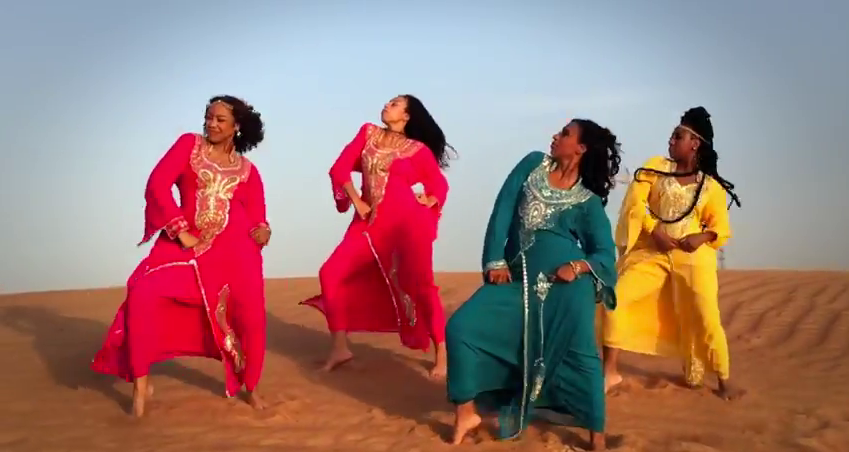 SLAAAAY!!
The video was inspired by one of Oprah Winfrey's quotations: "Think Like A Queen. A Queen is not afraid to fail, failure is another stepping stone to greatness." Fortunately, we have the Syncopated Ladies to show us some of the many ways queens can look: Grooving in the desert, strutting on the beach or showing off their skills on the dance floor.
What makes you feel like a dancing queen? Let us know in the comments! #girlpower
Dance News
May. 12, 2015 12:40PM EST
If you count yourself among the "Mad Men"-obsessed, this is probably an emotional week for you. On the one hand, you're stoked for Sunday's series finale, and you've already started planning your 1960s-inspired menu for the big event. (Ambrosia salad and shrimp cocktail, anyone?) But parting is such sweet sorrow, and you might not be ready to say "goodbye."
"Game of Thrones" fans need not feel such nostalgia; as long as George R.R. Martin keeps writing those books (which, albeit, is not a certitude...), there will be plenty more Sunday night suspense for them. (Disclaimer: Said fans should definitely be 17+!) But considering the fact that almost all the good characters have bit the dust, it's not all smiles and giggles for "Thrones" fans either.
So how do you console the melancholy TV viewers of America? Give 'em what they love: music, tap dance and PUPPIES! Syncopated Lady (and 2012 Capezio A.C.E. Award-winner) Melinda Sullivan teamed up with jazz chamber ensemble Rozalia, fellow percussionist Aaron Serfaty and her dog Wobbles to create a "Mad Men"/ "Game of Thrones" mashup, "Mad Game."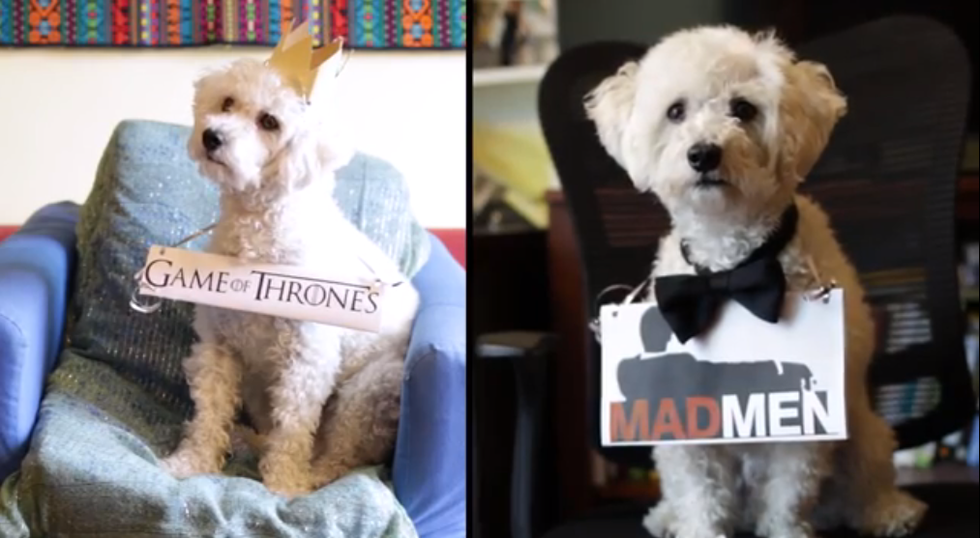 I can't.
Notice how I said, "fellow percussionist"? That's because this video really emphasizes the role of tapper-as-musician. Sullivan dons a head set, just like the rest of the performers, and the video doesn't only focus on her or her feet. It also focuses on Serfaty's hands, on pianist Nikos Syropoulos' fingers and on the bows of the cellists and violinist. That means that it's often just the crystal clear sounds of Sullivan's taps, accenting the appropriately epic combo of iconic theme songs, that let us know she's still there, tappin' away. Check it out!
Dance News
Get Dance Spirit in your inbox
Feb. 18, 2015 07:00AM EST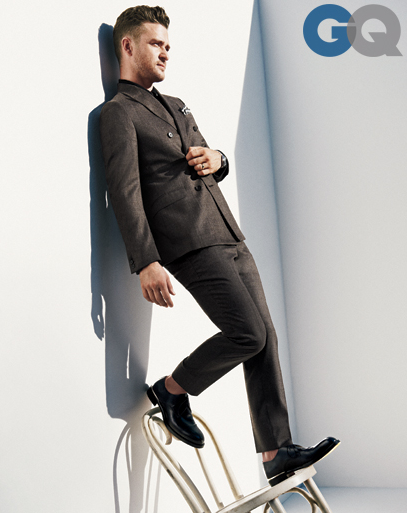 JT on the cover of "GQ" magazine as the 2013 Man of the Year (photo by Sebastian Kim, via GQ)
Valentine's Day may be over, but today, we'd like to talk about a couple things that make us #swoon.
First: Justin Timberlake. I'll admit I was slow to fall under his spell. (Back in the day, when you had to choose between the Backstreet Boys and *NSYNC, I was #teambackstreet.) But once JT started bringing sexy back as a solo artist, I realized the error of my ways—and I fell hard. He can sing (obviously), he can dance, he's funny, he's friends with Jimmy Fallon(!!!)...seriously, what more could you ask for in a man?
Buuut I digress, because today isn't #ManCrushMonday. It's #WomanCrushWednesday. Or should we say, #WomenCrushWednesday, because today, we're hard-core crushin' on The Syncopated Ladies. Yes, we basically freak out every time they release a new video. But can you blame us? Talk about bringing sexy back: These ladies show us how strength and power can go hand-in-hand with femininity and grace. Plus, they can tap like it's nobody's business...so there's that.
It's been a while since The Ladies have released a new video for us to swoon over. So when we found out Chloé Arnold and Sheryl Murakami released a new collaborative video on Saturday—to the music of none other than Justin Timberlake—it was pretty much the best Valentine's Day gift we could've asked for.
Enough gushy talk. Check out!
Dance News
Oct. 05, 2014 07:00AM EST
The Syncopated Ladies on set for their "So You Think You Can Dance" appearance (Courtesy Syncopated Ladies)
NYC, you don't know what's coming for you.
You've seen them battle it out on "So You Think You Can Dance," you've read about their incredible journey in our October issue and you've watched them beast video after video after video. To quote founder Chloé Arnold in her interview with DS, "The Syncopated Ladies are here, and [they're] here to stay."
Lucky for us New Yorkers, the Ladies' next stomping ground of choice is none other than the Big Apple. This November, they're bringing their wildly successful Syncopated Ladies Boot Camp to the East Coast. Intermediate/advanced and pro tappers will spend three days learning Syncopated Ladies repertory, taking technique, improvisation and specialty classes and hangin' with some of the fiercest women out there.
The boot camp will run from November 7–9. Click here to register, and check out their cute promo video of footage from their L.A. camp last spring:
Not a tapper? No worries—there's something for you, too. The Syncopated Ladies will host a concert after the first day of boot camp (November 7) at the Gerald Lynch Theatre. Oh, and btws, it's free! Click here to reserve your tickets, then check out the trailer below:
Dance News
Oct. 01, 2014 10:00PM EST
The Syncopated Ladies filming their "So You Think You Can Dance" appearance (photo courtesy Syncopated Ladies)
Elegance, precision, crystal-clear sound: They're the ingredients for a stellar tap performance. What do you get when you top them off with an effortless sexiness? The Syncopated Ladies.
From tap festivals to viral videos to the "So You Think You Can Dance" stage, these sassy, sultry tappers bring a distinct "girl power" vibe to everything they do—and the dance world is taking notice. Their current success has been more than 10 years in the making, but founder Chloé Arnold is grateful for every step along the way. "I've always wanted to bring female tap artists to the forefront," she says. "Now, I'm living what I've been dreaming, and that's a beautiful thing." Here's how her dream became a reality.
Starting Strong
The Syncopated Ladies trace their roots back to 2003, when they started jamming together at the Debbie Allen Dance Academy in L.A. "I was dancing with this amazing group of women," Arnold remembers, "and I realized we should do something bigger!" Some of the group's original members, including Sarah Reich and Arnold's younger sister, Maud, were still teens at the time. Nevertheless, Arnold says, they all brought something to the table: "Everyone was highly skilled at tap, but they also had training in other styles."
At first, Arnold focused on Latin-infused choreography. Then, after dancing in a video for rapper Sean Paul in 2006, she added dance hall moves to the mix. Bit by bit, the Syncopated Ladies started to come into their own. "As the group was developing, I was having these experiences in my solo career that changed my perspective and helped my choreography evolve," Arnold says.
Among those experiences was a job assisting her friend, director Melina Matsoukas, on a music video for Beyoncé in 2007. "I was so inspired watching Beyoncé," Arnold says. "The way she commands the space, her energy, her music, her movement. She has fire and passion and presence, while simultaneously being kind and an extremely hard worker. I said to myself, 'I want to see that in my choreography and dancing.' "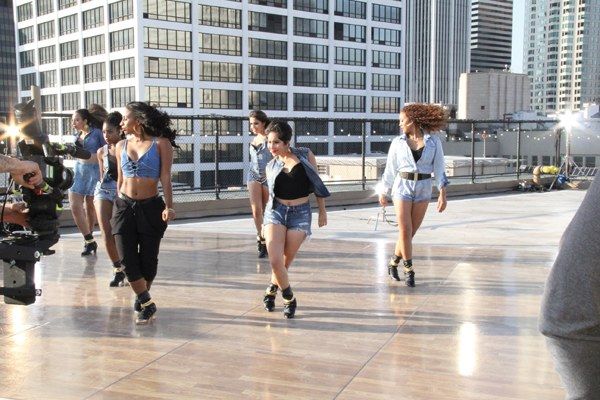 The Ladies working it for the "So You Think You Can Dance" cameras (photo courtesy Syncopated Ladies)
Picking Up Steam
Energized by working with Beyoncé, Arnold took her new ideas to the rest of the Syncopated Ladies. "I told them, 'I want to rock out!' " she says. Reich remembers that conversation as a turning point for the group. "Some of us were finishing up high school, and we knew that now was the time to jump in and do this," she says. "We thought, 'We really can change the way people see tap dance.' "
One of Arnold's Beyoncé-inspired thoughts was to raise the Syncopated Ladies' profile by making music videos. As a graduate of Columbia University's film school and as co-director, with her sister, of the production company Chloé and Maud Productions, Arnold had the tools she needed to create high-quality films. The Syncopated Ladies put out stylish video covers of Rihanna's "Where Have You Been" in 2012 and Beyoncé's "End of Time" in 2013. In between, the group created a full-length concert for the Vancouver International Tap Festival, showcasing its newfound style.
Their biggest break came courtesy of the same superstar who'd helped Arnold find the last piece of the Syncopated Ladies puzzle. Early in 2014, Beyoncé shared the Syncopated Ladies' "End of Time" video with her fans, along with three words: "They killed it." Within 36 hours, the clip had more than half a million views. "For tap, that's enormous. For ladies in tap, that's even more enormous. And for the Syncopated Ladies—it was everything," Arnold says. "Beyoncé brought us to the masses."
Standing in the Spotlight
Not long after Beyoncé sent their video viral, "SYTYCD" came calling to invite the Syncopated Ladies to participate in a new Season 11 segment, in which dance crews battled for chances to appear on the live show. "We were excited to get the opportunity not just to perform, but also to share the story behind what we're doing," Arnold says. The Ladies ended up dominating their first battle—against a crew that had already won "America's Best Dance Crew"—and gave a blazing-hot live performance on the July 9 show.
So what's next? The group is in the process of developing original music as a tap band, with the members acting as musicians, dancers and vocalists. It hosted its first Syncopated Ladies Boot Camp—an intensive workshop for female tappers—in L.A. this July, and plans are in the works for boot camps in other cities. In November, the Ladies will premiere their next concert in NYC, and they'll be at the D.C. Tap Festival in March.
"At this point, a decade after those jam sessions in 2003, I know what my vision is and how to bring it to life," Arnold says. "Although there have been many exceptional women in the history of tap, women haven't always had a leading voice in our art form. Now, the Syncopated Ladies are here, and we're here to stay."
Meet the Syncopated Ladies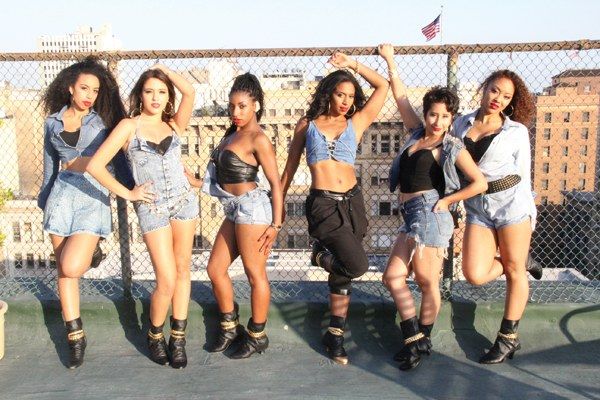 (Photo courtesy Syncopated Ladies)
Maud Arnold
Nickname: Maudiepooh
Years tapping: 20
Signature move: Cramp rolls
Dance idols: Gregory Hines and
Debbie Allen
Non-dance talent: Writing
Most memorable onstage moment: "Receiving the official Mayoral Proclamation making April 12 D.C. Tap Fest Day!"
Advice for Dance Spirit's readers: "Always love and believe in yourself first."
Melissa Naves Tannús
Nickname: Mel
Years tapping: 15
Signature move: Samba
Dance idols: "My Syncopated sisters"
Non-dance talent: Playing the guitar
Most memorable onstage moment: "Dancing a solo dedicated to my mom right after she passed away. I cried through the whole performance."
Advice for Dance Spirit's readers: "Believe in yourself. You are capable of doing anything you want if you believe in it."
Anissa Lee
Nickname: Charles
Years tapping: 10
Signature move: Over-the-tops
Dance idols: Clayton "Peg Leg" Bates and Mable Lee
Non-dance talents: Fashion illustration and design
Most memorable onstage moment: "My first time dancing with the Syncopated Ladies when I was 15 years old, during the L.A. Tap Fest."
Advice for Dance Spirit's readers: "Work hard now and play harder later!"
Chloé Arnold
Nickname: Chlo
Years tapping: More than 20
Signature move: Pull-back rhythm turn with a hair toss
Dance idol: Debbie Allen
Non-dance talent: Filmmaking
Most memorable onstage moment: "The closing night of my one-woman show—one of the scariest and most vulnerable endeavors of my life."
Advice for Dance Spirit's readers: "Love every minute of the journey—the ups and the downs. Dream beyond your imagination. Work your hardest at all times. Never give up!"
Sarah Adrianna Reich
Nickname: Sour or Saracita
Years tapping: 20
Signature move: Back crossing shuffles
Dance idols: Dormeshia Sumbry-Edwards and Anissa Lee
Non-dance talent: "I love painting! Another form of self-expression."
Most memorable onstage moment: "Sharing the stage for the last time with my mentor, Harold Cromer, at the D.C. Tap Fest in 2013. He passed away three months later."
Advice for Dance Spirit's readers: "Stay humble and be thankful for the people and opportunities in your life! It's all about perspective. Be nice to everyone."
Pamela Faith Yasutake
Nickname: Pammy
Years tapping: 15
Signature move: "Sigidigy soogoo dah DAH!" (double pull-back)
Dance idols: Michael Jackson and Jimmy Slyde
Non-dance talents: Singing and cooking
Most memorable onstage moment: "When the Syncopated Ladies performed at the Vancouver International Tap Festival in 2013."
Advice for Dance Spirit's readers: "Strive to be your best at all times."
Melinda Sullivan (Not pictured)
Nickname: "I am mistakenly called 'Melissa' so much that I will actually respond to that name. Now, I tell most strangers that I'm 'Mel.' "
Years tapping: More than 20
Dance idols: Ann Miller and Gregory Hines
Signature move: "Probably a step I've stolen from Ann Miller or Gregory Hines."
Non-dance talent: Eating
Most memorable onstage moment: "I was 7. My costume fell off at one of my first dance competitions. Unforgettable, in every way."
Advice for Dance Spirit's readers: "Dance like nobody's watching. Because nobody's watching—they're all on their phones."
Jun. 08, 2014 07:00AM EST
If America didn't already know that the Syncopated Ladies are EVERYTHING, it sure does now. By competing in the first "So You Think You Can Dance" crew battle (and winning, of course), Chloé Arnold and her ladies have reminded everyone that it's girls who run the world.
#SYTYCDLadiesFTW
But we've been mega-fans of these tantalizing tappers for quite some time. They've done so much for female hoofers by proving that tap can be feminine/flirty AND sexy/strong (at the same time!).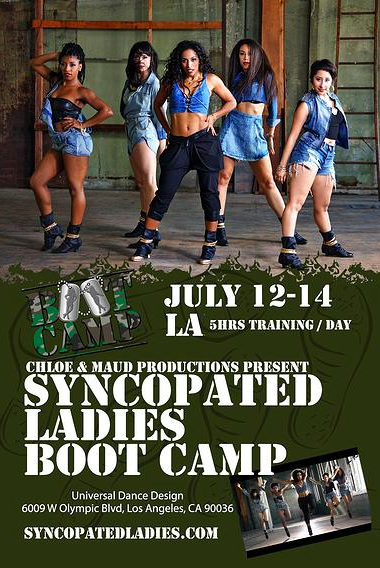 So that's why, today, we're asking: Can we be Syncopated Ladies when we grow up? Please?
If you have similar aspirations, we have good news. This summer in L.A., Chloé and Maud productions will host a Syncopated Ladies Boot Camp. From July 12–14, participants will get five hours of training per day, with lessons in Syncopated Ladies repertoire, tap technique, improvisation, hip hop, and Afro-funk. Plus, they'll enjoy additional events, like beach workouts (yes please!) and a Women Empowerment Workshop.
Interested? Click here for more information on what to expect and how to register—then get ready to get your #girlpower on.
Dance News
May. 29, 2014 09:56AM EST
Buckle up, dancers. "So You Think You Can Dance" has started, and it's going to be a wild ride until the winner is crowned. The Season 11 auditions kicked off with a bang in the Big Easy, and New Orleans certainly brought the talent. Here are the Top 5 moments from last night's two hour premiere event.
1. Battle of the dance dads. Dads were a big factor on last night's show. And while there was a truly touching storyline with second-time-around auditioner Caleb Brauner (whose father passed away this December, a few months after busting some moves with Caleb at last year's audition), I'm talking about the dad silliness that ensued. First, we watched bottle dancer Mike Rase, who, um, knows how to twerk. And then there was another dancing dad—which enraged Mike—and the two duked it out onstage. I'm glad at least daughter Shelby Rase made it to Hollywood with her gorgeous solo, because otherwise...embarrassing!
2. Megan Marcano.  Before we saw her dance, we heard Megan's back story, which really made me root for her. Megan's been living on her own since age 12—when her mom was arrested and her family split up—and now she's finishing up college (at Texas Woman's University). And then...she danced. And... HOLY SMOKES SHE WASN'T JUST GOOD, SHE WAS AMAZING. Mary Murphy said it best: Megan "flew across the stage with ease." I can't wait to see more of her this season. Take a look:
3. Trevor Bryce. With his not-so-subtle cocky attitude before his audition, I wasn't too sure what to expect. I'm not even sure what to call his contemporary-pop-lock fusion style, but, Nigel loved it. He called it "one of the greatest solo performances on 'SYTYCD'." I'm not sure I'd go that far, and I'd prefer less mugging in the future, but I think Trevor's really got the chops to back up all his hype. Watch the quirk here:
4. Caleb Brauner. This Missouri dancer first performed a lighthearted solo to celebrate his dad's life in New Orleans. It was solid enough to get him to the choreography round, but unfortunately, Nigel gave him a big no. (And not very nicely, I might add.) But Caleb didn't take "no" for an answer. He hopped on a plane to Chicago, and with a "dancers never give up" attitude, he competed with a heavier-hearted solo in front of the judges. He was again moved to the choreography round. But this time, with a stroke of luck—or perhaps persistence—he earned a ticket to Hollywood. Congrats, Caleb!
5. Rudy Abreu's power move. We first meet Rudy with Nick Garcia—best friends from Miami who are...something else. The dynamic duo competed separately, and they both nabbed tickets to Hollywood. Nigel was especially taken with a step in Rudy's solo that he called a reverse cabriole. Watch it here—it happens at about 1:47 and then it's replayed at 3:06. Look familiar? Alexia Meyer taught us how to do "The Super Cabriole" (or as her dad would call it, "The Flying Squirrel,") in Dance Spirit's April issue. Check it out here, and then watch her break it down below:
Bonus: Justin Bieber and his choreographer Nick DeMoura introduced the first two dance crews battling for a chance to appear on the show. We met L.A.'s Poreotics (supposedly a fusion of robotics and popping) and the East Coast's Syncopated Ladies. You already know just  how much we love Chloé Arnold and her crew. #SYTYCDladies.
Thoughts? Who are you most excited to see this season? What were your favorite moments of the evening? Leave it all in the comments and we'll see you back here next week.
Dance News