The Season 11 finale of "So You Think You Can Dance" had it all: Amazing performances, musical guests, guest dancers and guest judges, and plenty of cute Cat Deeley hijinks to last until #SYTYCDSeason12. Oh, and we got the RESULTS! But before we get to the big reveal (hint: Chace Crawford's twin!), let's talk about the rest of the show. Here are the Top 5 moments of last night's spectacular episode: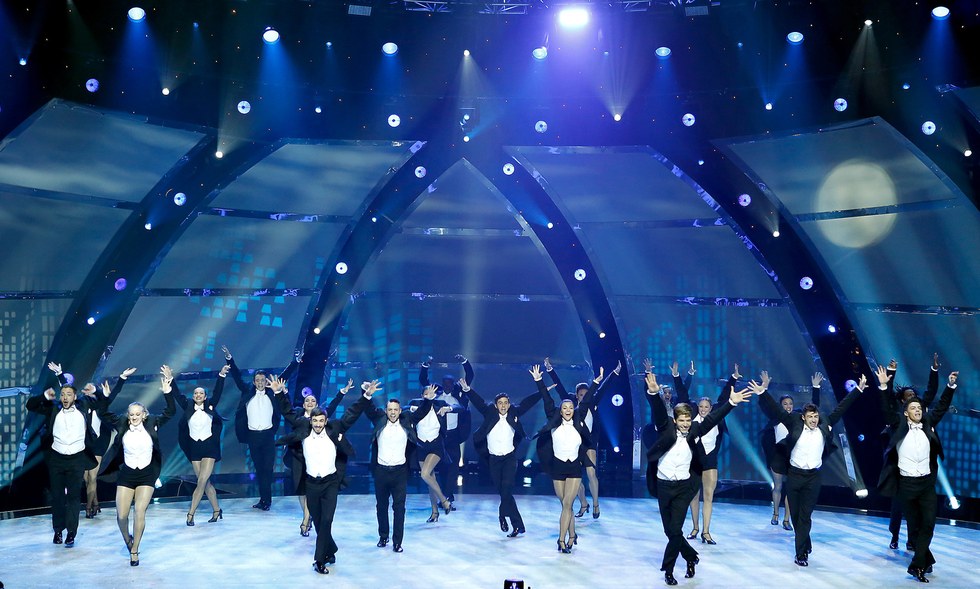 The Top 20 in Warren Carlyle's "Doctor Jazz" 
(photo by Adam Rose/FOX)
5. The opening group number. The evening started on a high note with Warren Carlyle's choreography to "Doctor Jazz" from Jelly's Last Jam. It was so great to see all the Top 20 dancers again (I'm still #TeamMarcquet)! And despite the vast amount of unison, the piece smartly showcased the Top 4 dancers without relegating the other 16 to the back of the corps, waving roses back and forth (I'm also still #TeamJodySawyer).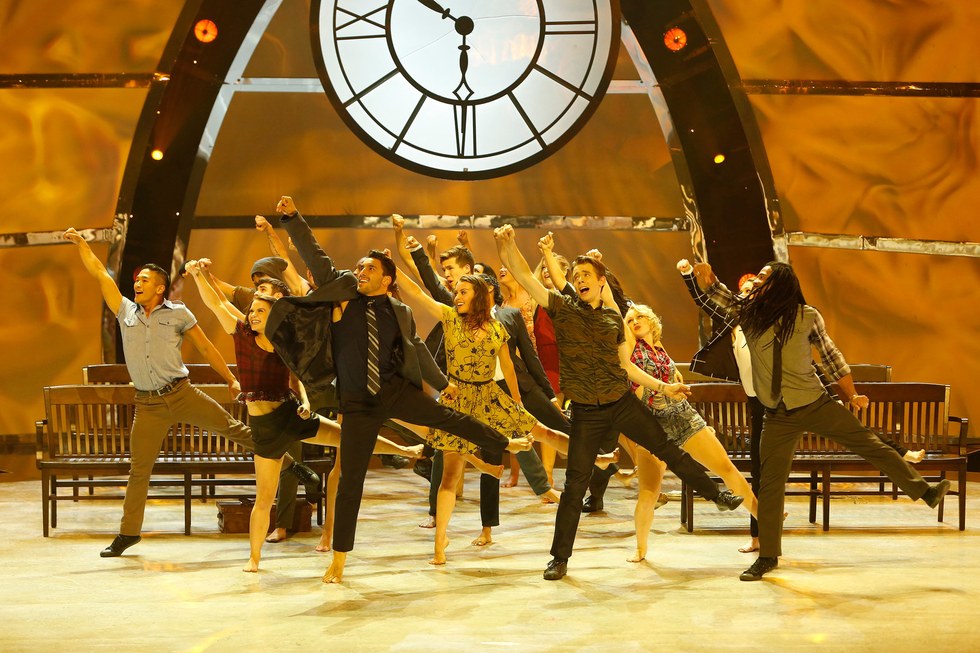 Sonya Tayeh and Christopher Scott's "Sweet Disposition"
(photo by Adam Rose/FOX)
4. Everything by Sonya Tayeh. The judges and the Top 4 dancers were asked to request encores of their favorite routines from the season, and three of them were from #TeamTayeh: Guest judge Jessica Dewan-Tatum chose Tayeh's "You Need" with Tanisha and Rudy; Zack selected to perform "Europe, After the Rain," the powerful duet with Amy Yakima; and Ricky brought back "Vow," his duet with Jessica. And as if that weren't enough, the group number, "Sweet Disposition," co-choreographed by Tayeh and Christopher Scott, really brought down the house. Set in a bustling train station, the piece combined Scott's ingenious use of storytelling with Sonya's impeccable eye for composition. Plus, we got to see the Top 10 dancers—and a few favorite All-Stars.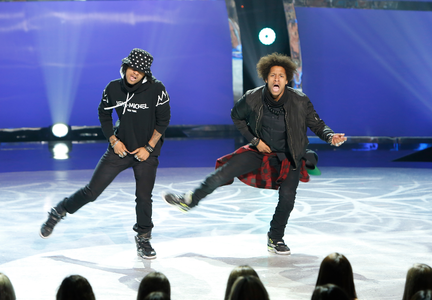 Les Twins being Les Twins
(photo by Adam Rose/FOX)
3. Les Twins' guest performance. These two. What can we say? We've been in love with Les Twins for a long time, and we're so happy they could take a quick break from killing it onstage with Beyoncé to appear on the show. Their duet was humorous, joyous and probably a little overheated—they were wearing so many layers!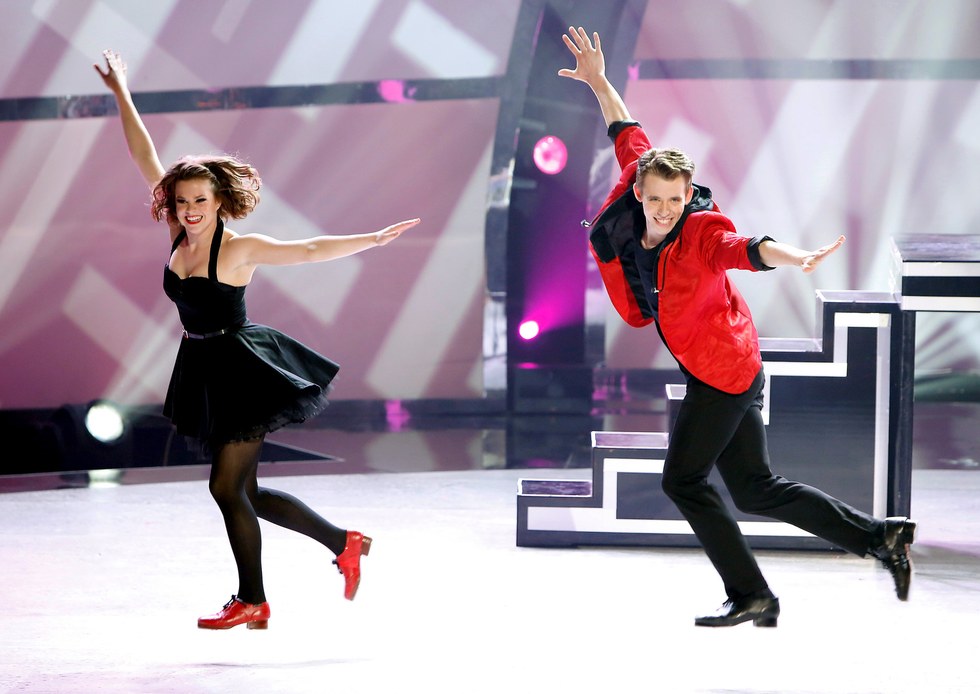 Valerie and Zack in Anthony Morigerato's tap routine "Sing"
(photo by Adam Rose/FOX)
2. #Teamtap's epic transformations. Zack and Valerie may not have been crowned America's favorites, but they earned a special place in our hearts for so daringly stepping out of their comfort zones and championing other disciplines. All the Top 4 dancers matured over the course of the season. (Jessica really developed and finessed her lines, as shown in tonight's soulful rendition of Travis Wall's "Like Real People Do" from earlier this season.) But Valerie and Zack didn't come into the competition with super-strong contemporary or hip-hop technique. So I'd like to take a moment to applaud their tenacity and their accomplishments on the "SYTYCD" stage.
OK, here it is! Drum roll, please...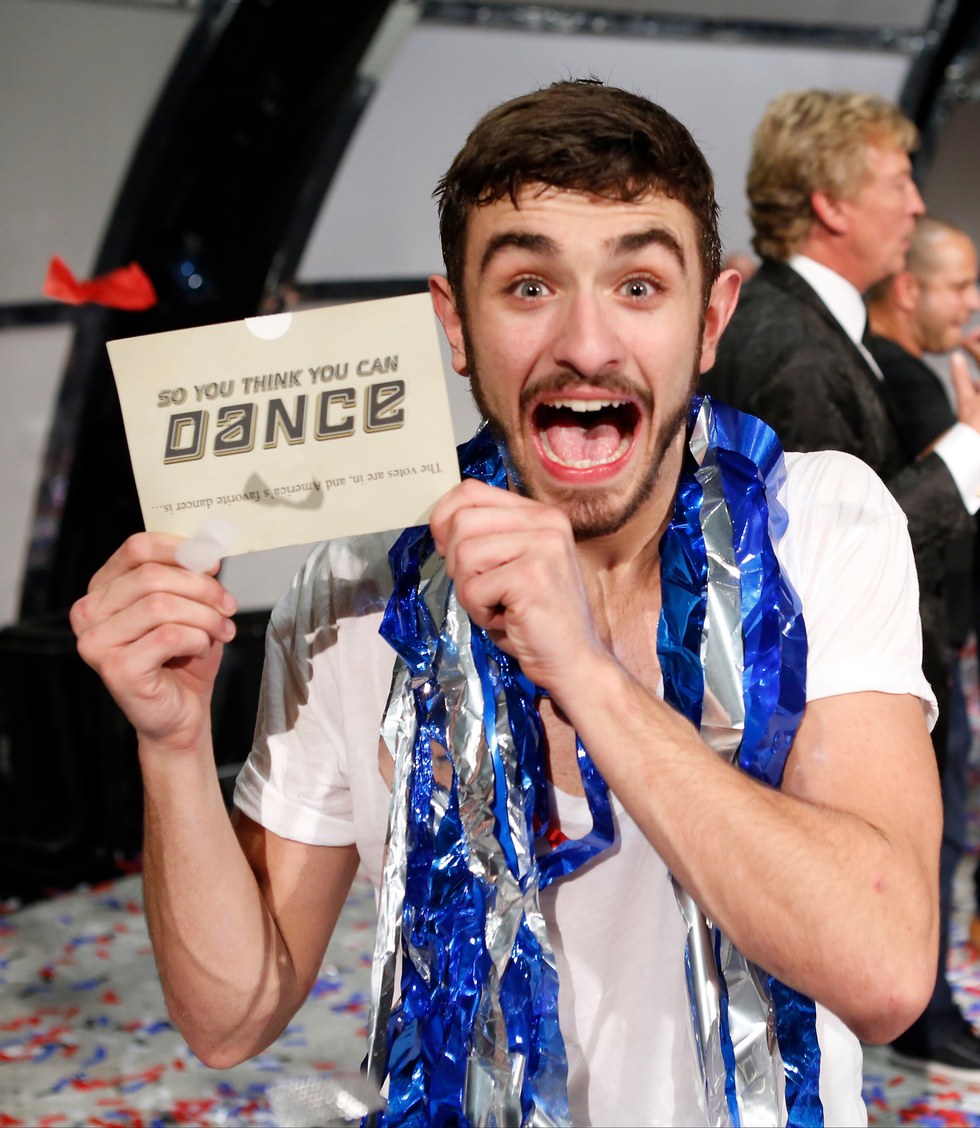 Ricky Ubeda!
(photo by Adam Rose/FOX)
1. Ricky Ubeda's moment of glory. From Dance Spirit Future Star winner to America's Favorite Dancer, 18-year-old Ricky Ubeda has grown into one heck of an amazing artist. We're so thrilled to celebrate his work and his spirit on the cover of our December issue, and we can't wait to see what awesome things he'll do next—that is, after dancing on Broadway in On the Town! Yay, Ricky!
Of course, we're sad to see Season 11 come to a close. Yet taking a cue from Nigel Lythgoe's on-screen and cross-network plug for #DWTS, we're happy dance won't be gone from TV too long—the ballroom competition starts September 15 on ABC! In the meantime, let us know what you thought of tonight's episode. And stay tuned for Dance Spirit's December issue. With Ricky on the cover, it's going to be an issue you don't want to miss.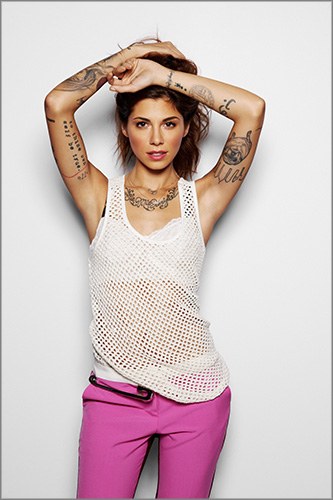 Christina Perri
(photo by Yu Tsai)
You probably remember Stacey Tookey's contemporary piece "Jar of Hearts" on "So You Think You Can Dance" Season 7—partly because of the ultra-gorgeous choreography, and partly because the song's been in your head ever since. (Click here in case you need a refresher.)
At the time, Christina Perri's song "Jar of Hearts"—and Perri herself—were virtually unknown. Cue the best Cinderella story ever: After it played on the show, "Jar of Hearts" was downloaded so much that it made iTunes' Top 20 song chart—that night. Two weeks later, "SYTYCD" invited Perri to play "Jar of Hearts" live (accompanied by Allison Holker and Neil Haskell), and the song took off—hitting number 25 on the Billboard Hot 100 chart and number 1 on Amazon's digital singles list.
Fast-forward four years, and Perri's career has been on a roll. Her newest album, Head or Heart, is available now; she's currently touring with One Republic; and this fall, she'll hit the road with Demi Lovato. Tonight, Perri will perform her latest single "Burning Gold" on "SYTYCD," and Tookey has choreographed a special performance for their four-year reunion.
Dance Spirit spoke with Perri about her second big night on "SYTYCD."
How did Stacey Tookey first find your work?
Keltie Colleen is the fairy godmother in this story. She and I have been friends for a long time—she dated my brother, and when they broke up, we kept hanging out. Up until "SYTYCD," she was one of very few people who had heard my music. She was always supportive and encouraging, and she was actually the one who helped me get a manager by posting a video of us on YouTube back in 2010. Three months after that, I emailed Keltie a song called "Jar of Hearts." I'd just recorded it, I and wanted to show her what I was working on. I asked her to keep it between us, but she immediately emailed Stacey Tookey—they grew up together and were friends—and suggested it for the show. Stacey replied, "How about this week?" I had five days to do a photo shoot and put the song on the internet. It was crazy. The night it debuted on the show, Keltie and I were in the audience. I quit my job as a waitress the next day, flew to NYC and my adventure began!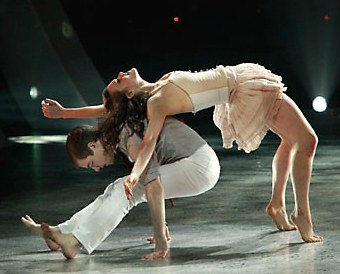 Billy Bell and Kathryn McCormick in "Jar of Hearts" on "SYTYCD"
(photo Kelsey McNeal/FOX)
What's your relationship with Stacey like?
She realized how much of an impact her work and the show had on my life. When I needed a choreographer for the "Jar of Hearts" video, I asked Stacey to work on it with Keltie and the cast of "SYTYCD" dancers. Since then, Stacey has used more of my songs on the show and we stay pretty close. I always send her champagne and flowers on June 30 (the date I was on the show). I can't wait to come back and perform "Burning Gold" with her choreographing.
What's the best part about choreographers using your music?
It's a magical combination. Dance elevates the emotional level of the song. It makes it into something brand new. I'll hear a song over and over, but when I see someone dance to it, it comes to life. I'm honored when someone dances to my music.
Do you have any advice for DS readers?
Say "yes" to the things that scare you. I was shy and lacked confidence, and there were always so many reasons to say "no"—excuses. But the moment I started saying "yes"—for instance, letting Keltie post that video online, or agreeing to play on TV—all of my dreams started to come true. "Yes" can change your life.
Be sure to watch Christina Perri tonight on "So You Think You Can Dance," and come back tomorrow to read our recap of the Top 10 episode!
Arg, it's the toughest cut yet. And, is it just me, or is everyone starting to look a little bit tired? But on a positive note, once we're down to the Top 10, every vote will really, really count—and we'll all find out that it's possible to get just a little bit more obsessed. Here are my Top 5 moments from last night's episode of "So You Think You Can Dance."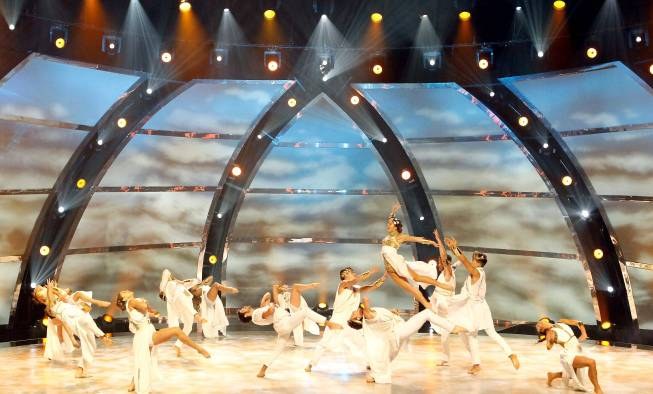 The Top 14 in Stacey Tookey's "Last Moment"
(photo by Adam Rose/FOX)
1) "Last Moment." You know we love Stacy Tookey. And I'm always a sucker for anything even remotely reminiscent of Greek goddesses. So, thank you, opening number, for putting those two great pieces together into one even better whole.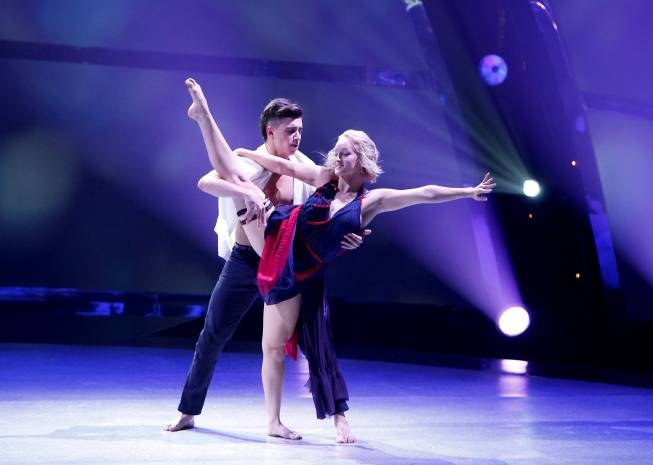 Rudy Abreu and Tanisha Belnap in "Seduces Me," choreographed by Mandy Moore
(photo by Adam Rose/FOX)
2) Mandy Moore's contemporary piece. Um, can you say commitment? Rudy and Tanisha completely abandoned themselves to Mandy's insane lifts, and the result was quite impressive. And as if that weren't enough thrill for one show, that throw (?) at the end of Travis' group piece, "Wave"? Ridiculous.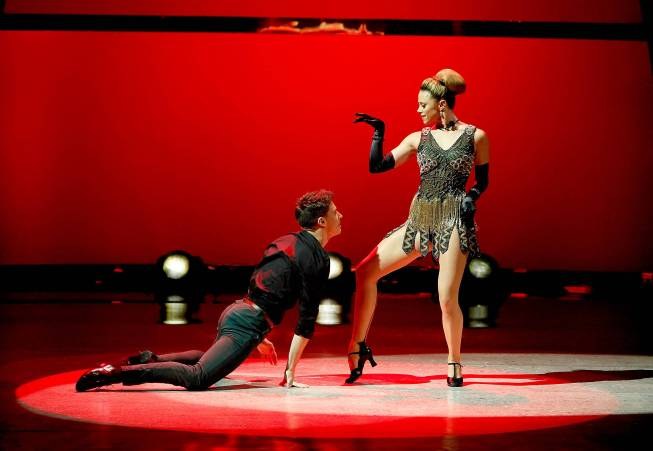 Teddy Coffey and Emily James in "From This Moment On," choreographed by Warren Carlyle
(photo by Adam Rose/FOX)
3) More Warren Carlyle Broadway! So maybe the judges didn't love Emily and Teddy in their "Kiss Me Kate" inspired Broadway number, but I sure did. And maybe I'm biased toward our former cover model, but I do think there's something to be said for a little bit of subtlety.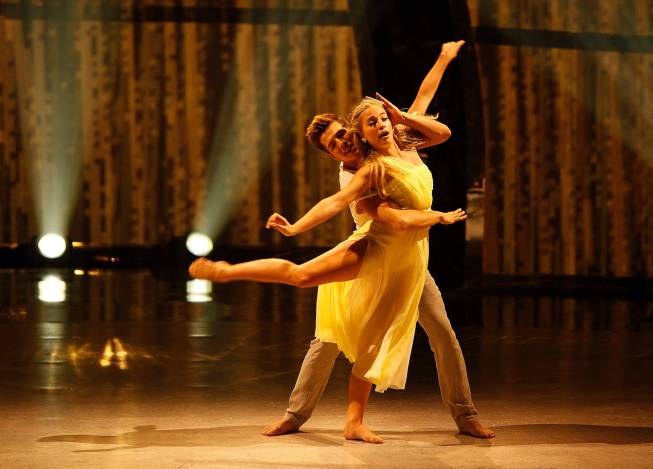 Casey Askew and Jessica Richens in "Like Real People Do," choreographed by Travis Wall
(photo by Adam Rose/FOX)
4) Travis Wall's "Like Real People Do." I called Jessica early, and I still think she has what it takes to win this thing. It was great to see her dance with Casey, and I think he's a partner who can not only keep up with her, but take her to the next level. And her solo! This girl's technique is beyond rock-solid.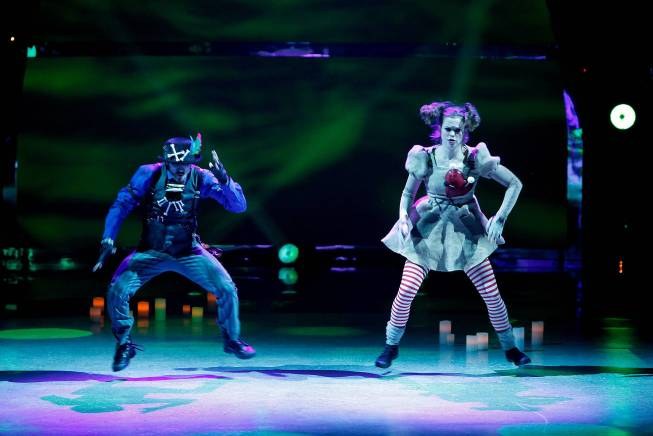 Ricky Ubeda and Valerie Rockey in "Turn Down For What," choreographed by Christopher 'Pharside' Jennings and Krystal 'Phoenix' Meraz
(photo by Adam Rose/FOX)
5) Valerie in "Turn Down for What." I'm going to be real and say that I just didn't like Pharside and Phoenix's music (hello, overplayed song!) or costume choices, but that doesn't stop me from thinking that Valerie's weirdo-split-puppeteering thing was AWESOME.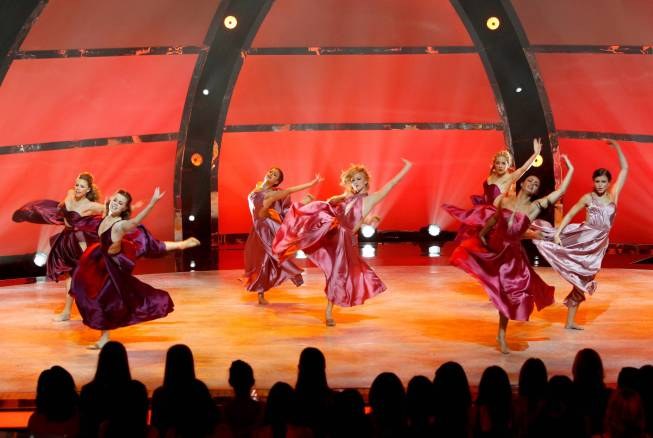 The Top 7 girls in Mandy Moore's work, "My Immortal"
(photo by Adam Rose/FOX)
It's so sad to see Serge, Carly, Emily and Teddy go home, though I'm excited to see Casey and Jessica go on to the next round. This far along in the competition, it's not really about talent—everyone is just so good, so it's hard to compare dancers. Like the judges said about the women's group number: You can't single anyone out.
But the dancers do start to stratify based on their ability to inhabit each choreographer's vision, as well as their ability to deliver week after week. What did you think of last night's episode? Did the right people get sent home? Let us know in the comments, and come back here next week for our recap of the best episode yet—when the Top 10 perform!
I've gotta say, " So You Think You Can Dance," last night's show was a little underwhelming. On a scale of 1 to 10, the Top 16's talent level is about a 13. But the choreography—on average—scored close to a 6 in my book. Obviously, there were the exceptions, like Mandy Moore's routine to "Foolish Games" by Jewel (#throwback!), and Nakul Dev Mahajan's spirited Bollywood number, "Dilliwaali Girlfriend." But a lot of the show was just, eh. So, let's just skip to the good, shall we? Here are my top five highlights from last night's show: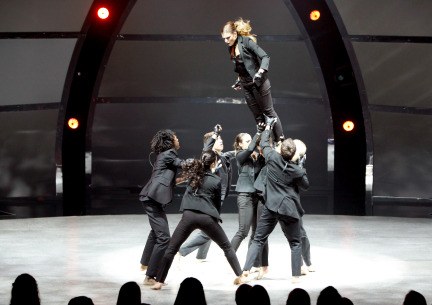 Bridget, Carly, Jacque, Jessica, Marcquet, Ricky, Rudy and Teddy in Travis Wall's routine to "Love Runs Out" (photo Adam Rose/FOX)
1. The group routines. Beginning with Mandy Moore's jazzy and sultry "Take Me to the River," the large and mini group pieces were the clear highlights of the evening. Travis Wall's band of outlaws dancing to One Republic's "Love Runs Out" was particularly captivating: The grittiness and raw intensity read really well on screen. After the performance, Nigel mentioned the Emmy Awards—could this be Travis' year (again)?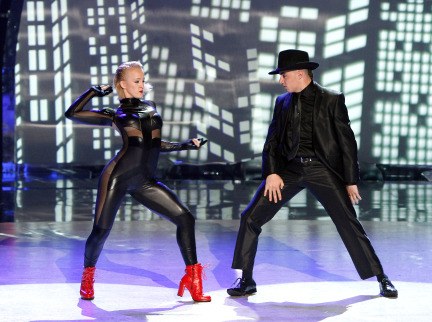 Work it, Tanisha! (photo Adam Rose/FOX)
2. Tanisha Belnap. This girl. Like guest judge Misty Copeland noted, it was clearly Tanisha's night. Not only did her performance in Dave Scott's "Good Kisser" completely kill it, her featured role in Sonya Tayeh's group number to Bjork's "So Broken (Live)" showed a completely different side of this young artist. She may have been in the bottom six this week, but this firecracker clearly isn't going home anytime soon.
3. Cat Deeley's one liners. It seems like Cat always knows just what to say, even when a duet totally tanks. But when things go well, Cat's humor is on point, and her jokes last night did not disappoint. From the line after Travis Wall's "The Leaving Song"—"Talk about getting up on the wrong side of the bed!"—to her Waynes World-esque scene change and her note about Ricky Ubeda's "guy-liner," the British babe had me laughing through it all.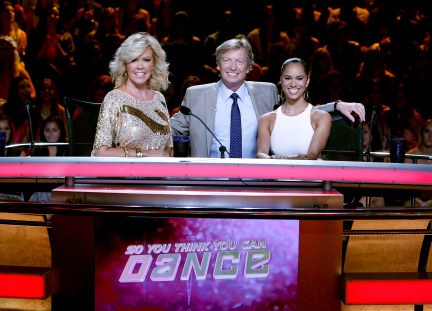 Mary Murphy, Nigel Lythgoe and Misty Copeland (photo Adam Rose/FOX)
4. Misty Copland as a guest judge. Last night, the American Ballet Theatre soloist continued her reign as best guest judge. Her criticism was spot on, and her corrections were specific enough for each dancer to apply next week. Also: Can I please have your arms, Misty?
5. Baby pictures! The episode included footage of each dancer as a tiny mover and shaker. Needless to say, everyone was adorable. But I'd like to make two special shout-outs: Jacque's pink fur get-up and Emily's march to her own drum. Awwww!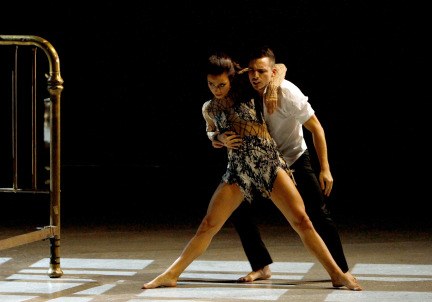 Bridget and Emilio—and the bed. But why was it even there?
(photo Adam Rose/FOX)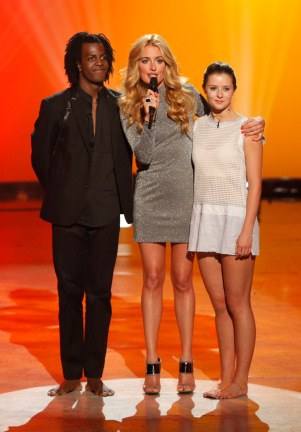 We'll miss you Marcquet and Brooklyn!
(photo Adam Rose/FOX)
Of course, there were also a few awkward moments last night. And I'm not just talking about Brooklyn and Marcquet's untimely leave from the show. (I know, I know, almost everyone has to leave at some point. But Marcquet had the chops to go all the way, and Brooklyn's hip-hop performance in Willdabeast's choreography showed her jaw-dropping versatility. #Unfair.) But the real awkwardness? The useless bed post in Travis Wall's "The Leaving Song," as well as the chair in Dmitry Chaplin's "I Put A Spell On You." We've asked what competition judges hate to see the most in dancers' routines, and uncorrelated and unused props almost always rank near the top. So what gives?
Next week, four(!) dancers will have to leave at the end of the show. Bummer, right? In the meantime, what did you think of last night's episode? What was your favorite moment? Let us know in the comments, and come back next week for our recap of the Top 14 episode.
Last night marked the fourth and final round of auditions for "SYTYCD" Season 11, and Atlanta was hearin' it for the boys. So far, this season has been a little girl-heavy—not that I'm complaining. (Let's go, ladies!) But I was starting to get a bit nervous that all the Top 20 partnerships would be lopsided without some manpower to back them up. Let's just say, we've got the power.
Another major highlight of this episode? More dance pros at the judges table. Night one of the Atlanta auditions featured the prolific Lil Buck. (I mean, seriously, this guy is everywhere!) I'm wondering whether the show's producers anticipated the level of hip-hop talent that would be flooding the Atlanta auditions. It is the home of "SYT" fave Dragon House Crew, after all. Night two featured the lovely Jenna Dewan-Tatum, who's certainly had her experience in the world of commercial dance. (Anyone else wish she'd brought Channing along?)
Sure, the evening had its not-so-hot moments (temper tantrums onstage are not cute, OK, Sideshow?). But all in all, the trend of celebrating incredibly—and sometimes surprisingly—amazing dancers continued. Here are my Top 5 moments from last night's show.
1. Tapper-turned-hip-hopper Erik "Silky" Williams did his homework. OK, this guy was a total surprise. He's auditioned for the show twice before as a tapper, and a couple years later, he decides to come back as a hip-hop dancer? Sounds like a recipe for disaster. But man, was I wrong! Silky really showed his versatility in his audition. His hip hop was on point, but he also demonstrated some technical potential. Sure, his pirouette, rond de jambe to the floor wasn't perfect, but he had the right idea! I don't know guys, I think Silky may have the potential to follow in Russell and Fik-Shun's footsteps.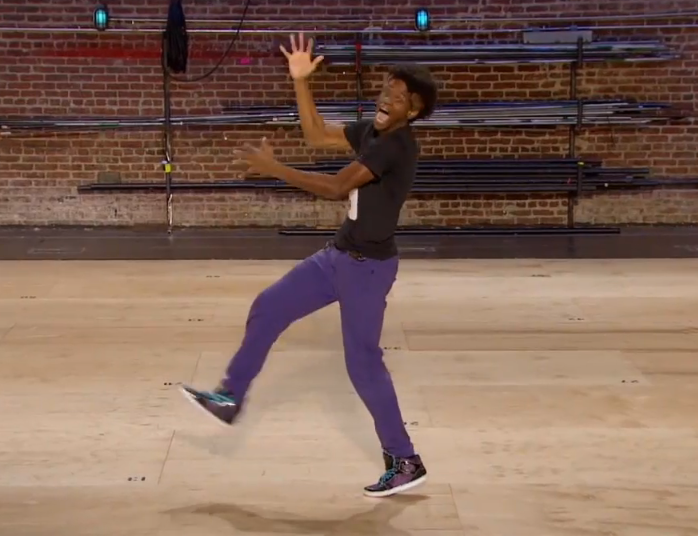 Nigel's first comment? "I like you." There's certainly something appealing about Silky's slice of crazy.
2. Christopher Griffin, a.k.a. Mr. Strange, a.k.a. Freak Show, represented for Dragon House Crew. First of all, I'm loving this guy's style: Cosby sweaters and hipster glasses are kind of my weaknesses. There was something so calm about the way he animated. It was like he didn't have to hide behind quick movement, because his isolations were that clear and precise. Oh, and did I mention he was a founding member of the crew? You couldn't help but feel warm inside when Nigel thanked him for that. I'm so glad his dancing lived up to the Dragon House rep, and that we'll be seeing him at California callbacks.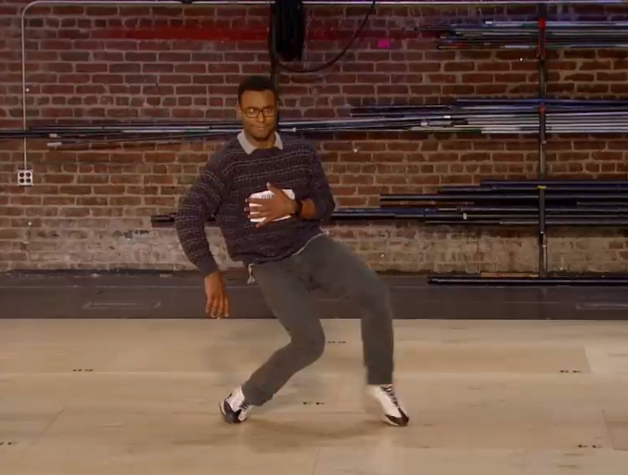 Not quite sure what he's doing with his legs...but I guess that's why they call him Mr. Strange. (?)
3. Contemporary Dancer Ricky Ubeda went from Future Star to future Top 4. I'm calling it right now, guys: I want Ricky in the finale. We've been following this young dancer on the comp circuit since 2013—and he's been following "SYTYCD" since Season 1. Now that he's 18, it's his turn. Not only is his technique #flawless, but he danced with a great deal of maturity. I was never nervous when watching him; I just enjoyed the whole thing. That maturity coupled with his mamma's-boy personality makes him 100 percent lovable. Plus, he "dabbles" in ballroom! (Right, Mary?)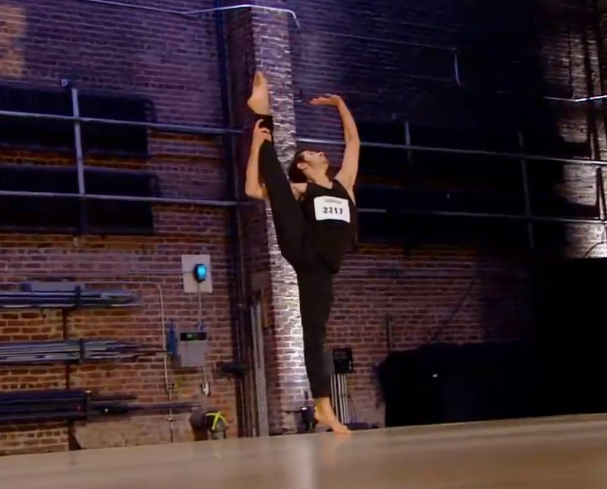 LINES.
4. Contemporary dancer Christina Moya-Palacios REPRESENTED for the ladies. OK, so it may have been wrong to say this show was all about the boys, especially when you've got a dancer like this in the mix. Christina began by pulling our heart strings with the sweet story of her brother, who was in and out of the hospital for 10 years. Dance was her escape from that heartache. Gah, this girl got to me. Yes, she has legs for days. But it was her port de bras that really carried the performance. She swam through the movement so fluidly—it was absolutely breathtaking.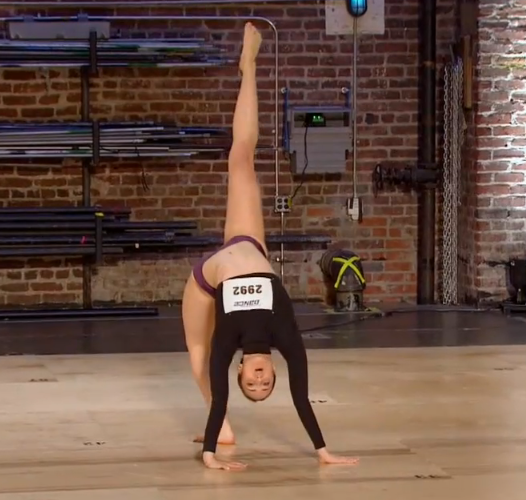 Get it, girl.
5. Colby brought the cute factor. The final contestant of the night may not have won over the judges, but his adorable 4-year old son sure did. Nigel woke him up from his nap to perform on the stage, and kid's got some moves. See you on Season 25, Colby!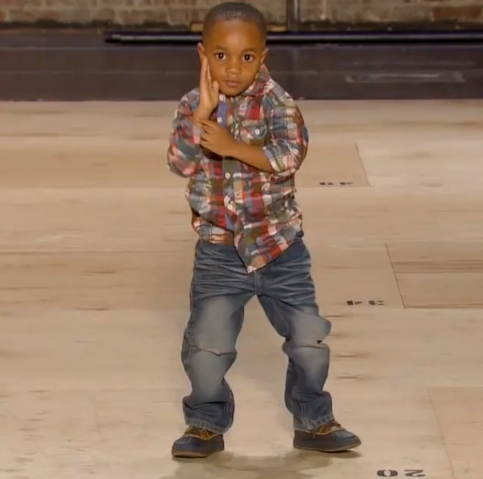 D'awwwwww
Who were your favorites of the night? Discuss in the comments, and check back here next week for a rundown of all the dramz that go down at California callbacks.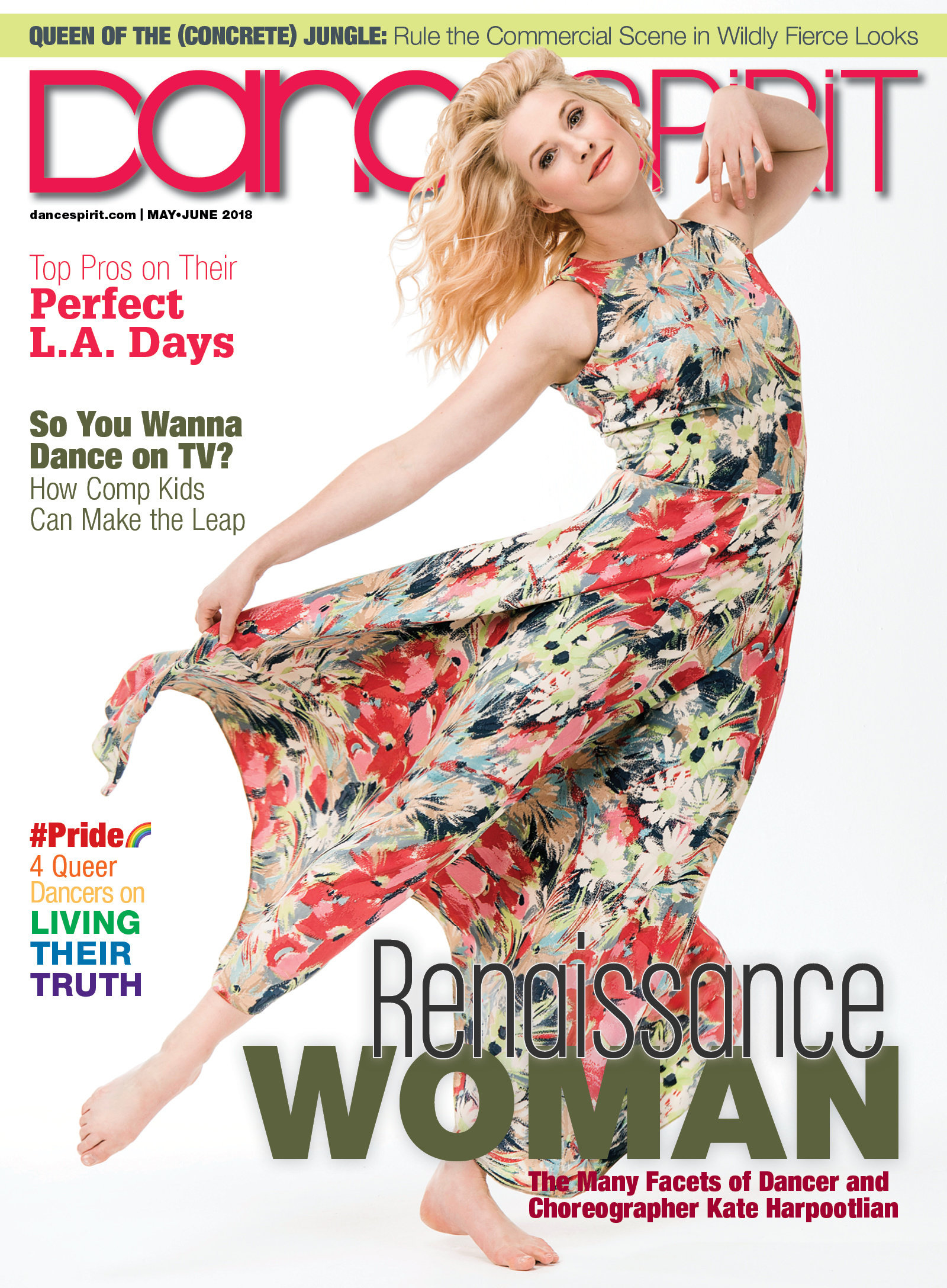 Get Dance Spirit in your inbox