Choreographer Wynn Holmes (center) on set with Canadian band FOXTROTT, shooting the music video for "Shields" ( Gaelle Leroyer, courtesy Holmes)
Adagio. Marley. Rosin. Switch leap. You're more than familiar with a lot of theatrical-dance terminology. But do you know what an industrial is? A session fee? If you're looking to break into the world of commercial dance—think music videos, TV spots, promotional events—you'll need to learn, and fast. We asked some industry heavy-hitters to clue us in on what you'll need to know to book jobs and communicate like a pro on set.
Keep reading...
Show less
Feb. 01, 2014 10:40PM EST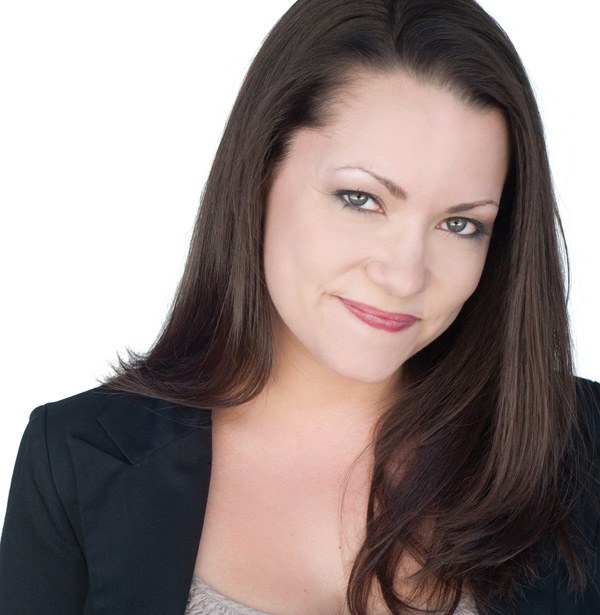 Shayna Brouillard is an agent with Clear Talent Group in L.A. She represents many of the agency's top clients. (Courtesy Shayna Brouillard)
Landing an agent in the ultra-competitive commercial dance world is no easy feat—but navigating the agent-dancer relationship can be even trickier. Shayna Brouillard has been a top dance agent with Clear Talent Group in L.A. for five years. (She currently reps Travis Wall, Nick Lazzarini, Melanie Moore, Tyne Stecklein, Chantel Aguirre and Comfort Fedoke, to name just a few.) We got this agent-in-the-know to answer dancers' most frequently asked questions about what happens after you sign on the dotted line. —Alison Feller
"My agent is awesome, but he reps tons of clients. How much of his time can I expect?"
Shayna Brouillard: Communication is key to any successful relationship, and most agents would rather hear from you too often than not enough. If you need something, schedule a time to discuss it. The most successful dancers are the ones who are constantly in contact with their agents, letting them know what classes they're taking, how they did at auditions or if they're going out of town.
Something to remember: Dance rosters at an agency need to be a certain size to remain a resource in the industry. The agency needs every "type" of dancer choreographers may be looking for at any time. But they also have to remain small enough to maintain personal relationships with their clients. While this can be a difficult balance, your agent should be willing to make time for you if there's something you need. If you're thinking of making a drastic change to your look, if your focus is shifting to school or other interests, like acting or modeling, or if you feel you're in a new place in your career, your agent is there to help you navigate the industry. We're the experts, so use us to your advantage!
"My agent also represents some really reputable choreographers. Am I more likely to get a job with those people since we're within the same agency?"
SB: No. Choreographers aren't agency-specific when choosing their dancers. They just want to create the best possible product for the job they're hired to do, in hopes they'll get rehired. If the best dancers for the job are all at different agencies, so be it. Ninety-five percent of the time, the major agencies are all receiving the same information about upcoming jobs and are submitting the dancers on their rosters who are appropriate. After that, it's up to the choreographer.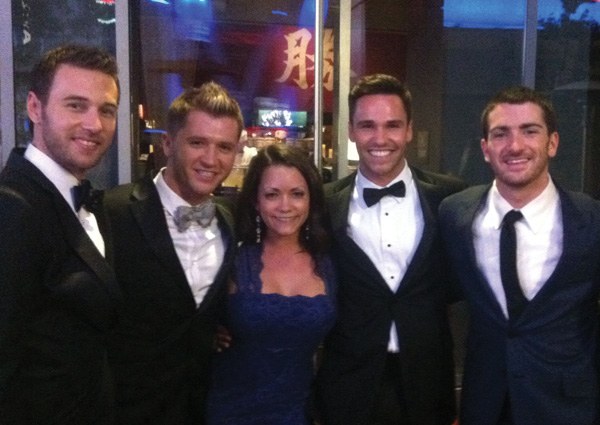 Brouillard with (L to R) Christopher Scott, Travis Wall, Nick Lazzarini and Teddy Forance at The Emmys (courtesy Shayna Brouillard)
"Do I have to go through my agent for every job I want to book? Or can I do side jobs on my own, too?"
SB: By signing with an agency, you're agreeing that all professional dance jobs will now be run through that agency. This helps build trust between the agent and the dancer that's necessary to a successful relationship. By giving us the opportunity to work on jobs for you, you're demonstrating your willingness to be part of a team, and you're increasing our faith in you as a dancer.
It's also for your own protection. If a project isn't willing to go through your agent, that's usually a red flag that there are going to be some issues with that job, such as low pay rates, failure to pay on time or at all or hazardous conditions. Professional companies should have no problem going through an agency to hire a professional dancer. Know your worth!
"My agent got me an audition for a job that I ended up booking. She thinks the gig would be great for me—but I don't want to do it. Do I have to?"
SB: No. The decision is always yours. Your agent is there to guide you and help you see the pros and cons of every situation, not to make decisions for you.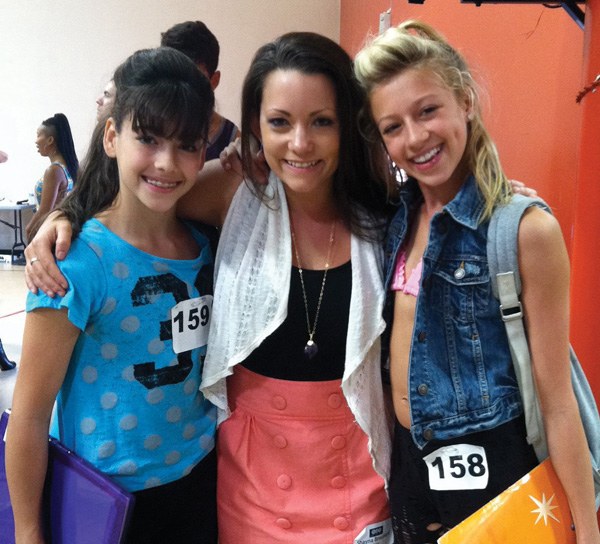 Brouillard with two of her clients: Kendall Glover (left) and Logan Hassel (courtesy Shayna Brouillard)
"I don't love my agent, and I'm thinking about switching to someone or somewhere else. What are the politics involved here?"
SB: When you sign with an agency, you're most likely signing a one-year exclusive contract for dance representation. This means you can have separate agents for other areas—or, in some cases, different departments within the same agency—like commercial, print, theatrical or voiceover. You can only have one dance agent at a time.
I advise regrouping with your agent several times throughout your contract to make sure you're on track with your career, and to make sure the two of you are on the same page. After your contract expires, you're free to explore representation elsewhere, but I suggest addressing any concerns with your current agency before making that decision. Building a relationship takes time. Just because your first year wasn't as successful as you'd hoped doesn't mean you have to jump ship—that's essentially starting from the bottom again when you could be furthering the growth you started where you initially signed. That being said, sometimes it just isn't the right fit, and that's OK! You have to find the place that's best for you.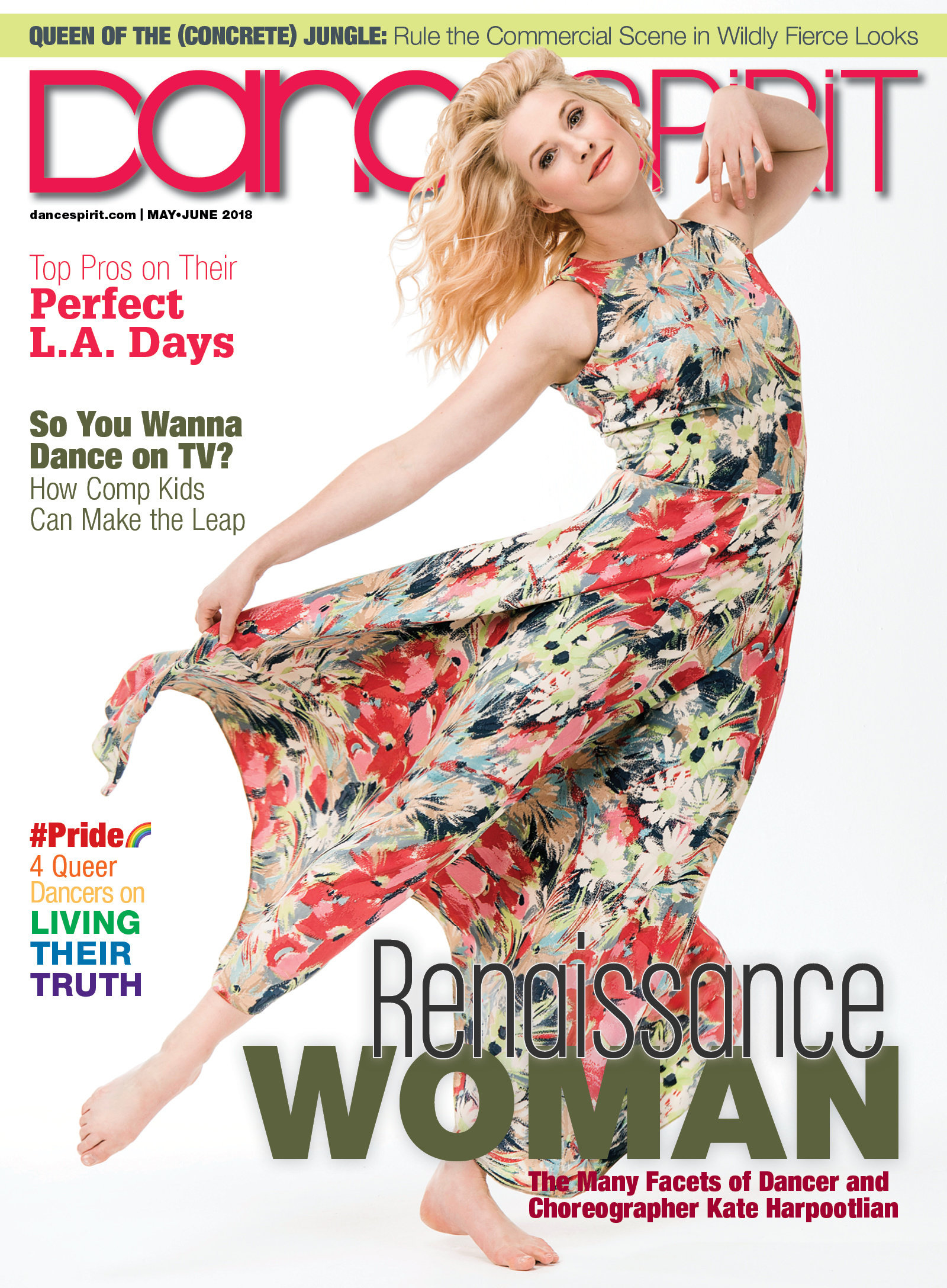 Get Dance Spirit in your inbox