Justin Boccitto relies on a grounded plié to create a smooth landing out of a turn. (photo by James Jin Photography, courtesy Boccitto)
You know that pirouette dream, when your placement is so perfect you can keep turning forever? That dream is the reality for highly technical tappers, who benefit from the decreased friction of their shoes. Get the placement right and, with a strong spot, they can pirouette for days.
But turning in tap shoes isn't all easy. In fact, those delightfully friction-free shoes bring their own set of challenges, and dancers can easily fall into the spinning-top trap by letting the turn control them, rather than the other way around. Here's how to harness your tap-turning potential.
Keep reading...
Show less
Feb. 13, 2018 05:00PM EST
The cover of Barbra Duffy's new book (courtesy Duffy)
Are you looking to improve your tap skills? Barbra Duffy's new book, Tap into Improv: A Guide to Tap Dance Improvisation may be just the thing to help you take your tap dancing to the next level. This book contains exercises and tips that will help you develop your musicality and artistry. With over two decades of experience, Duffy's performed in over 20 countries and has received numerous awards for her contributions to dance. Now she wants to shared what she's learned as a dancer with the next generation. Enter below for your chance to win this book!
Tap up-and-comer Nicole Scimeca with tap icon Ray Hesselink (courtesy Gail Scimeca)
Tap has always depended on one dancer passing her knowledge down to another. So when you watch a famous hoofer perform, you're also seeing—and hearing—her tap heritage. "In tap, through a teacher or a mentor, you're not just learning the steps or rhythm," says Jared Grimes. "You're learning who you are. And that identity is crucial."
Which young tappers today are branching out while paying tribute to the tradition that has helped shape them? We asked some of the biggest names in tap to talk about the up-and-coming dancers who are carrying the style into the future.
Keep reading...
Show less
Ray Hesselink teaching a class at Steps on Broadway (courtesy Hesselink)
In "Sunday Candy," one of Caleb Teicher's popular "Chance Raps | Caleb Taps" videos, the Bessie Award-winning performer has as much to say with his upper body as he does with his feet. In one section, his hands whack the air in front of him as though he's at a drum set; in another, they point skyward to accent Chance the Rapper's lyrics with the precise lines of a jazz or musical theater routine. His arms help propel him off the ground for a one-footed wing, but also add style to a mambo-inspired step. The grace and musicality of his upper body in contrast to such busy footwork is a multisensory delight. It's also a lesson in how tap dancers can use their arms to their full potential.
With so much focus on your feet during tap work, it's easy to forget the importance of using your upper body properly. "You need your whole body in order to achieve the sounds you're trying to make," says Ray Hesselink, a popular teacher at Broadway Dance Center, Steps on Broadway, and the Juilliard School in NYC. "When you dance, you're sending your energy in multiple directions, so when you don't use your arms, there's a certain heaviness, a slump, to your dancing."
Keep reading...
Show less
How To
Nov. 07, 2017 03:18PM EST
Luke Hickey tap dancing (Photo by Josh Avon, courtesy Luke Hickey)
These days, tap dancers can reach huge audiences through social media, where videos from stars like Chloe Arnold and Sarah Reich have gone viral. But in the 1920s and '30s, the best way for tappers to gain a following was to have an act on the vaudeville circuit, which allowed them to perform in theaters across the country. Every tap dancer had their own routine, but there arose a desire for a simple dance that all tappers could know and perform at any time—especially so local dancers at each tour stop could join in. One of those dances became known as the BS Chorus.
Keep reading...
Show less
Tap
Sep. 10, 2012 02:00PM EST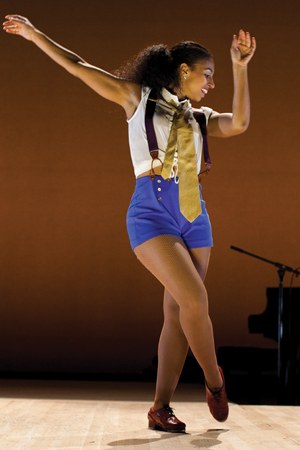 Chloé Arnold (by Matthew Murphy)
You walk onstage for your tap routine—click, click, click—and take your opening position for a performance a capella (without music). You begin to dance, each tap breaking the silence in the theater all over again. Clickety-clack, ka-lack click, a-kik-kik-kik-kik clap…
Tapping a capella can be exhilarating, but with no beats to back you up, it can also be nerve-racking. It's up to you to keep a steady pace—and the audience's attention. Master teacher Gregg Russell of Tap Sounds Underground says your first a capella tap performance can be like a first bicycle ride without training wheels. "You're not just dancing without a song," he says. "You're creating a song from scratch. With the true a capella masters, you feel their music. You can almost hum along with them."
Keep It Interesting
There'll be nothing to hum along to unless you inspire the audience with a broad range of textures, dynamics and changes in volume. Both Russell and Chloé Arnold, a dancer-choreographer who leads the all-female tap group Syncopated Ladies, recommend giving the steps you already know a good workout. Challenge yourself to choreograph a full minute of material using only heel drops, for example, and you'll quickly find that you need to get creative. It might be useful to give your different types of heel drops nicknames and write them down in a notebook. Repeat the exercise with another step, such as paradiddles, and before you know it you'll have page after page of secret weapons. The same applies to time signatures. (They're the basic groove you're working with, like a waltz, for example, or a classic 4/4.) Try to exhaust the possibilities in one before switching to another.
A capella tap is about knowing how to make each step come to life, Arnold says. "There are infinite variations on any theme. For a cramp roll, you can make the sound even, like a drum roll, or you can give two beats, hold back for the third, and hit the fourth a little later. You've got the steps; how do you take them and create musical patterns? That's what's going to be interesting."
Go with the Flow
You'll also have to make your own structure for each piece. Compose unique sections with smooth transitions, or bridges, between them. Pro tapper Anthony Morigerato thinks of a tune he likes—Duke Ellington's "Caravan" is a favorite—and plays it in his head. "That gives it form, some rhyme and reason, rather than just a bunch of steps thrown together," he says. Take mental notes when you hear a song that has a compelling beginning, middle or end. Ask yourself why it works and think of ways to create the same effect with your shoes.
"You'll start to understand flow," Arnold says. "You'll realize how many different paths you can take to get from one place to another."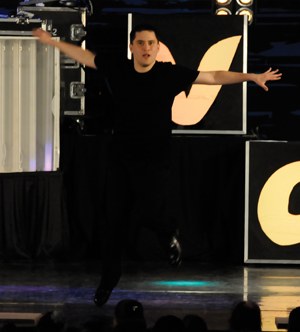 Anthony Morigerato (by Laura Haley)
Step in Time
Just don't take your eyes off of the "road": your tempo. A capella tappers tend to accelerate, especially in front of an audience. That might make the most complicated part of your routine impossible to pull off once you get to it. Relaxing your upper body and remembering to breathe can act as cruise control.
Steady pacing becomes even more crucial if you're sharing a stage a capella with other dancers. Ensemble choreography without accompaniment offers rich possibilities, like rhythmic counterpoint (different grooves layered on top of each other) and canon (the ripple effect sometimes called a "round"). Drift out of synch with your teammates, however, and that all falls apart.
Cartier Williams confirms that "the audience knows right away when you fall off time. It doesn't sound right." From age 4 to 10, the 23-year-old did almost all of his practicing without music. "I was just improvising, putting steps together on my own and figuring it out."
He says two and a half or three minutes is perfect for a solo. "Get them excited, keep it short and sweet, and then get out of there."
Whether an a capella number goes well or not, don't let it show on your face, and know how to bring it home, Morigerato advises. Try putting your own spin on a classic ending, like giving the crowd three repeats of a short combination, followed by a fourth with a twist. (That's called "three and a break.") "Repetition is something an audience can really dig," Arnold says. Another option is a fade-out or decrescendo. "Quiet doesn't mean 'without energy,' " she says. Keep your focus going until the very last moment.
If you're serious about tap, being comfortable performing a capella is a must. Williams tries to tell a story; Arnold imagines being a DJ; Morigerato sings a song with his feet; Russell thinks of ways to echo certain rhythms with movements. But everyone agrees that the best thing about a capella tap is the ability to bring along an audience.
"Captivate them and take them with you," Arnold says. "Make them sit up in their chairs."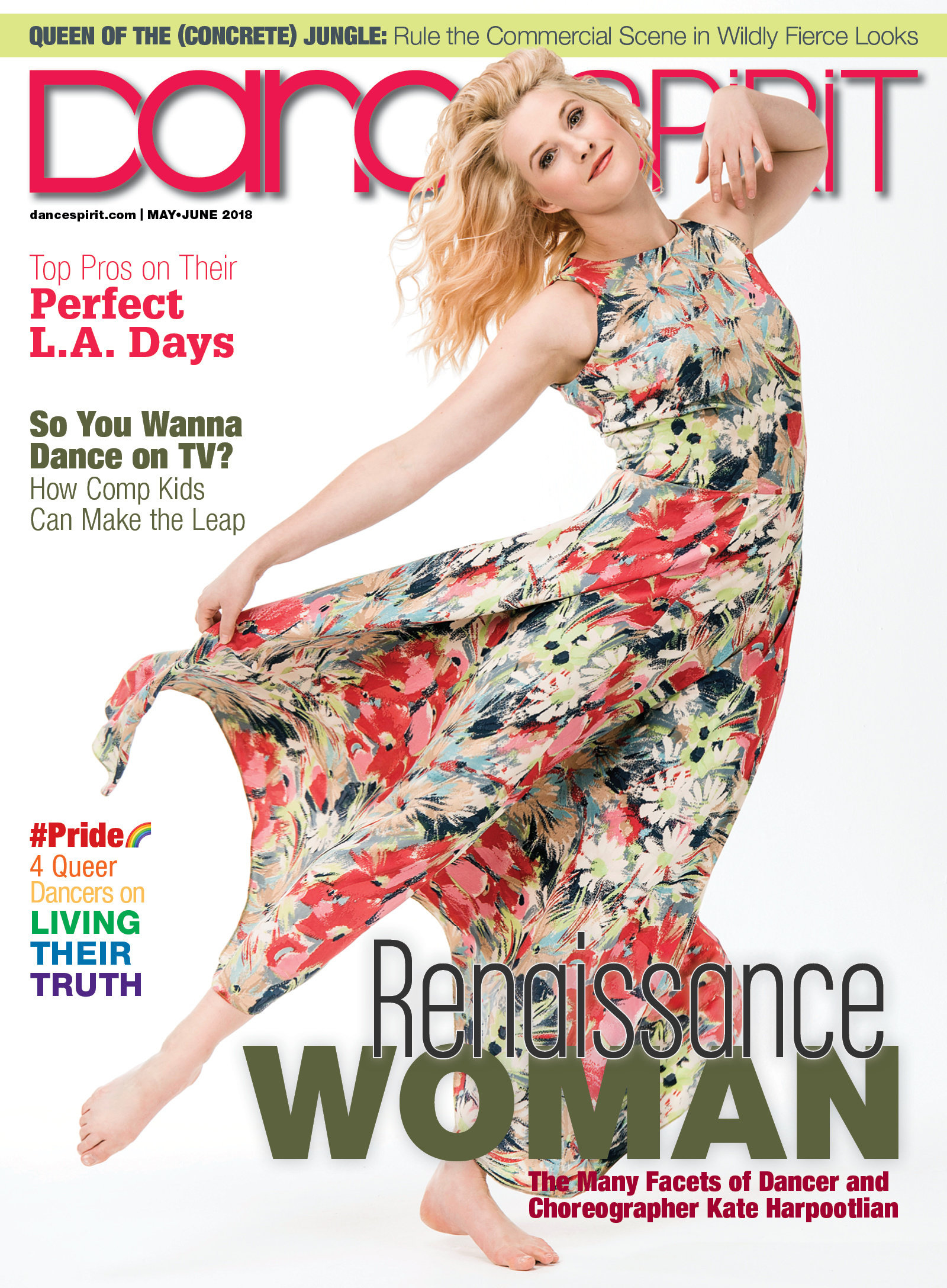 Get Dance Spirit in your inbox