Sep. 25, 2018 03:37PM EST
New York City Ballet principal Taylor Stanley rehearsing with Kyle Abraham (photo by Erin Baiano, courtesy NYCB)
New York City Ballet's fall gala always promises new ballet delights. This year, the company is offering not one, but three world premieres by a diverse lineup of choreographers: Matthew Neenan, Kyle Abraham, and Gianna Reisen. At 19 years old, Reisen is the youngest choreographer to ever work with NYCB, and Abraham will be the company's first black choreographer in more than a decade. We sat down with principal dancer Taylor Stanley to get the inside scoop on Abraham's new piece.
Dance News
Mar. 23, 2017 06:45AM EST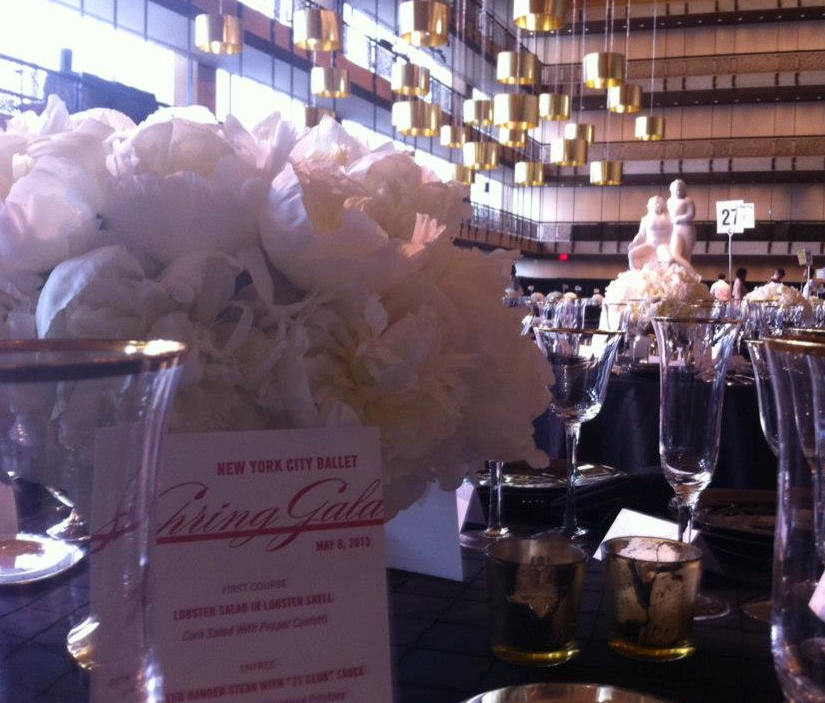 Plus, the gala dinner setup was gorgeous! (photo via NYCB)
For ballet nerds like me, there are few things more exciting than watching young dancers develop into beautiful, authoritative artists. Last night, New York City Ballet's spring gala opened with a work that let some of my favorite rising stars prove just how much they've grown up.
That'd be Christopher Wheeldon's Soirée Musicale, an alternately elegant and playful little ballet that gives nearly every cast member a moment in the spotlight. And what a cast it was!
We got Brittany Pollack, Lauren Lovette, Taylor Stanley and Chase Finlay, recently-promoted dancers I've followed since their apprenticeships. And then there were the newbies I've just begun to pick out of the corps: Sara Adams, Harrison Ball, Indiana Woodward and Peter Walker.  Nearly all of them are under the age of 25—many have only been in the company for a year or two—but they danced with the confidence of seasoned pros. A special highlight came toward the end: a poignant, romantic pas de deux for Lauren and Chase that signaled what might be the beginning of a beautiful partnership.
The gala was packed with many other fun treats too, of course. There was a second premiere by Wheeldon, a pas de deux in homage to Jerome Robbins' West Side Story danced by the sublime Tiler Peck and Robert Fairchild. There was the exhilarating nonstop acceleration of the final section of Robbins' Glass Pieces, featuring what seemed like the entire company. Queen Latifah stopped by to serenade Sterling Hyltin and Amar Ramasar as they glided through Balanchine's "The Man I Love" pas de deux from Who Cares?. And Ashley Bouder and Andrew Veyette had a jaw-dropping "anything you can do, I can do better" competition in the cheeky Stars and Stripes pas de deux.
But it was those young, newly-minted stars that stuck with me as I left Lincoln Center last night. In a gala that was all about high-wattage brilliance, they shone brightest.
Mar. 23, 2017 06:24AM EST
Congratulations to the gaggle of New York City Ballet dancers who were just promoted! No fewer than 11 of the company's finest are feeling pretty great today. Here's the rundown:
Adrian Danchig-Waring, Chase Finlay and Ask la Cour are now principals.
Lauren King, Ashley Laracey, Megan Lecrone, Lauren Lovette, Justin Peck, Brittany Pollack, Georgina Pazcoguin and Taylor Stanley are now soloists.
We're just about bursting with happiness for all of these lovelies—I mean, the list is basically a rundown of our NYCB faves. But we're especially glad for Miss Lauren Lovette and Mr. Taylor Stanley, our September 2010 cover stars, who we've been rooting for from the very beginning.
Just look how young and adorable they were at their cover shoot! And now they're all growed up. We feel like proud parents. *sniff*
(All photos by Erin Baiano)
[portfolio_slideshow nowrap=0 thumbs=true timeout=4000 showtitles=true showcaps=true showdesc=true]
May. 18, 2016 02:24PM EST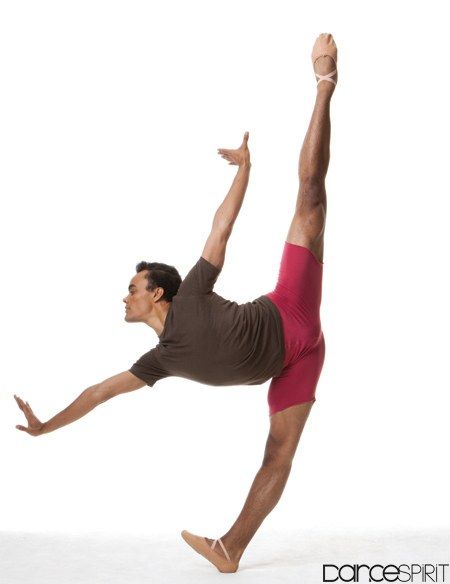 Taylor Stanley circa 2010 (Photo by Erin Baiano)
Last night Taylor Stanley, one of our favorite leading men, was promoted to the rank of principal dancer at New York City Ballet. A sudden cast change catapulted Stanley into an unexpected performance of Peter Martins' Hallelujah Junction, and he was informed of the promotion right before stepping onstage. (Side note: How dreams-come-true is that scenario?!)
We've loved watching Stanley since day one, when he performed at the 2009 School of American Ballet workshop in Stars and Stripes—a performance NYC dance nerds still talk about. We singled him out when he was an apprentice (along with fellow principal Lauren Lovette—we sure know how to pick 'em!), and our 2010 cover story noted that he had recently been thrown on, last-minute, into Jerome Robbins' Opus Jazz. Notice a pattern?
It's not just Stanley's ability to keep it cool under pressure that's helped him skyrocket through the NYCB ranks. He's elegant and refined—qualities that many male ballet dancers fail to cultivate in favor of bravura tricks. Rather than attacking his choreography, Stanley floats through it with perfect control.
Here, he talks about the expressiveness of the male solo in George Balanchine's Square Dance:
Stanley has also become something of a muse to resident choreographer Justin Peck. When Pointe, one of our sister magazines, put Stanley on its August/September 2015 cover, it had been less than a year since his breathtaking premiere in Peck's 'Rōdē,ō: Four Dance Episodes. Here, the two talk about the ballet and what it's like for male dancers in the company to partner each other in new ways:
In addition to being a muse and having the paper of record talk about how chill he is, Stanley works with NYCB corps member and choreographer Troy Schumacher's company BalletCollective, spent last summer taking classes at Nederlands Dans Theater's summer intensive and has been spotted around NYC in Gaga classes (True life: One time, I stood next to him in a Gaga class!). He's clearly hit his stride and is on his way to becoming a complete danseur.
Congrats, Taylor, for finding your place at the top!
Dance News
Nov. 27, 2015 07:00AM EST
It's the day after Thanksgiving, and you know what that means: NUTCRACKER SEASON HAS OFFICIALLY BEGUN.
Frankly, given that everyone's been nutcrack-ing away in rehearsals for a solid couple of months now, we're all already feeling a bit burned out. But the dancers of New York City Ballet—who perform no fewer than 47 Nutcrackers each year—know exactly how to deal with that nuttiness.
Namely, by having an "alternate cast" of brilliant male dancers tackle Dew Drop.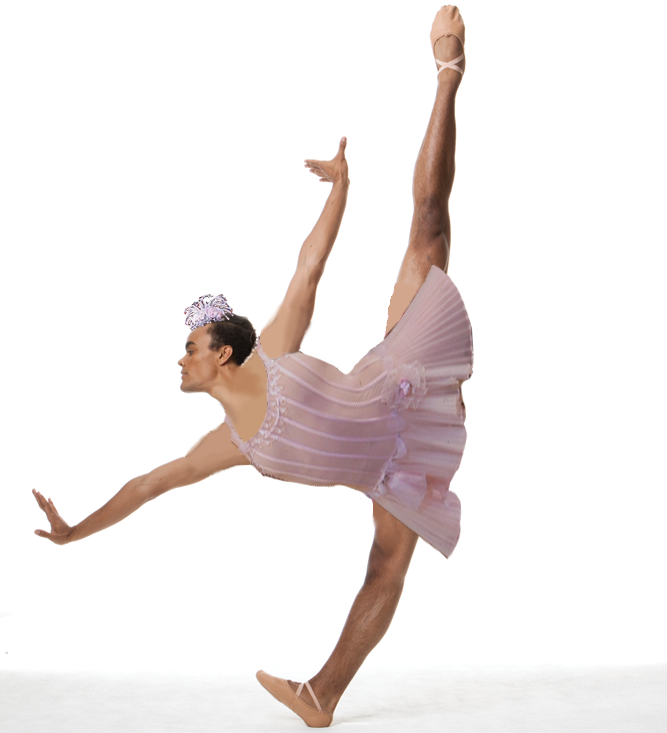 I'm sorry/not really. (Original photo of Taylor Stanley by Erin Baiano)
Thanks to corps dancer Indiana Woodward—who, for what it's worth, we'd love to see make her own Dew Drop debut sometime soon!—we have video evidence of the fabulous Dew performances given by principals Amar Ramasar and Andrew Veyette and soloist Taylor Stanley. They may have been rehearsal-only specials, but they were the specialist of specials.
Did these guys ever do the Dew. They DID the DEW UP.
Here's Amar:
And Andy:
And my personal favorite, the impossibly elegant Taylor:
(By the way: Stanley also got his Odette on back when the company was performing Swan Lake. GO WATCH IT NOW.)
Dance News
Oct. 25, 2015 07:00AM EST
Lately, New York City Ballet corps member and choreographer, Troy Schumacher, has been busy making one amazing thing after the next. His second world premiere for NYCB, Common Ground, was a huge hit. So it's no surprise the teaser for the his latest work, "Invisible Divide," for his company BalletCollective is equally as enjoyable.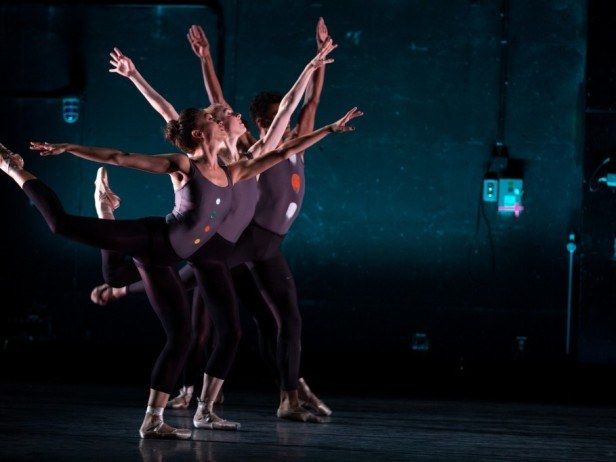 Members of BalletCollective in All That We See. (Photo Matthew Murphy)
The video, which features music by Ellis Ludwig-Leone of the band San Fermin, was shot while the company was in residence in Telluride, CO, this past summer. (Fun fact: Ludwig-Leone also composed the score for Common Ground, as well as multiple other BalletCollective pieces. It's another indie-music/choreographer combo made in heaven!) Even better, BalletCollective is made up of some of NYCB's brightest: Harrison Coll, Lauren King, Claire Kretzschmar, Ashley Laracey, Meagan Mann, David Prottas and Taylor Stanley. Yeah, let that list sink in for a minute. #StarPower.
Mann in the moment. (Still from "Invisible Divide")
Invisible Divide premieres November 4 and 5 at NYU's Skirball Center. In the meantime, the teaser vid will have to do—we know we'll be watching on repeat. Check it out below!
Dance News
Nov. 08, 2012 01:00PM EST
The New York City Ballet media department rocks my socks. Every few weeks they come out with a new, beautifully produced behind-the-scenes video, which of course I immediately nerd out to.
The company begins its Nutcracker run soon, but this week's video contribution isn't limited to the Kingdom of Sweets. Instead, it's a fascinating look at George Balanchine—his life, the way he revolutionized ballet, the artists who inspired him, and his works as they look today, performed by NYCB. It's not a dry history lesson, either. There are a host of awesome archival photos and all kinds of luscious dance footage from recent rehearsals and performances. Take a look.
(Want more NYCB inspiration? Check out our cover profiles of rising company stars Lauren Lovette and Taylor Stanley! Love those guys.)
May. 21, 2012 12:29PM EST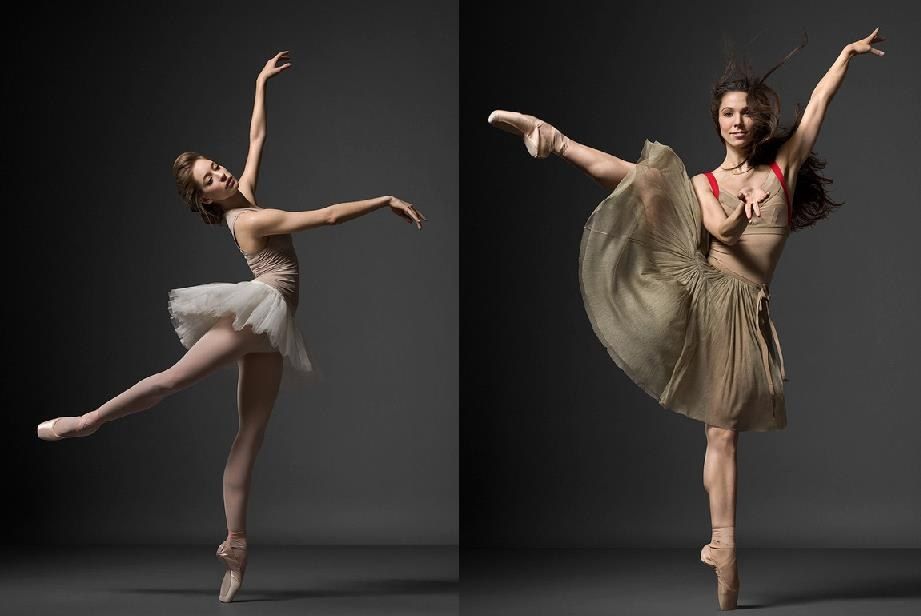 Congratulations to New York City Ballet's Rebecca Krohn and Ana Sophia Scheller, who were both promoted to principal over the weekend!
I have to admit I was a little surprised at the news—I thought we might see some promotions at American Ballet Theatre first, since its principal roster has dwindled significantly over the past year. But Krohn and Scheller are strong technicians and lovely artists, and they've been dancing in everything recently. (Scheller even had a dramatic debut in Christopher Wheeldon's Les Carillons last week, stepping in mid-performance for an injured Sara Mearns.) Well-deserved!
Here's hoping that there are about to be some new soloists at NYCB, too—namely Taylor Stanley and Lauren Lovette. We've known from the beginning (aka our September 2010 cover) that these two were going to be stars, and they've both been dancing prime roles since joining the corps de ballet last year. Fingers crossed...
Jan. 30, 2012 03:40PM EST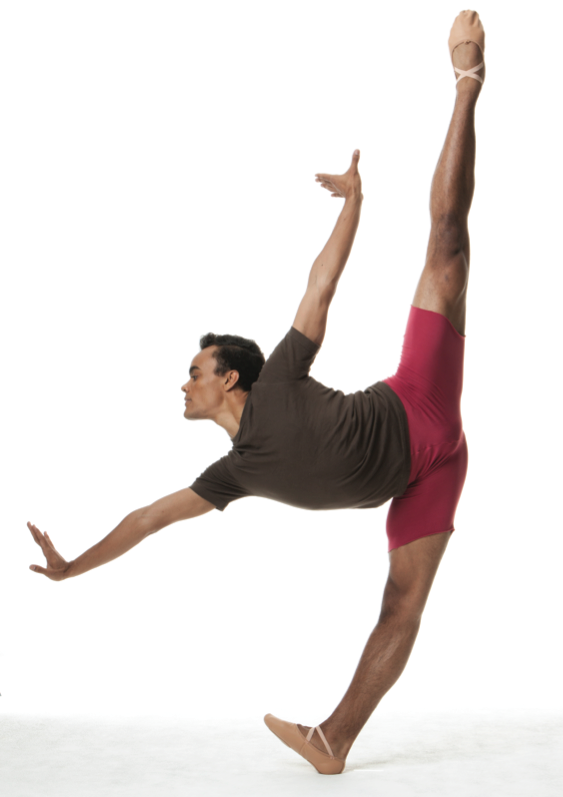 ...well, actually, two new Romeos: New York City Ballet corps members Zachary Catazaro and Taylor Stanley. But while I'm sure Zachary will be great, I'm especially excited about Mr. Stanley, who was one of our September 2010 cover stars. Taylor, who makes his debut as the tragic hero in NYCB's Romeo + Juliet on February 18, is definitely on the rise. Though this is only his second season as a full company member, he's already had featured roles in Christopher Wheeldon's Polyphonia and George Balanchine's Square Dance, neither of which are anything to sneeze at. He's an elegant, expressive, noble dancer—in other words, a perfect Romeo. It's a great Valentine's Day present for bunheads like me!
Get Dance Spirit in your inbox