Via Instagram
Taylor Swift's Reputation Tour is in full swing, and Swifties everywhere are obsessed (us included). But all that onstage magic couldn't happen without Tay's crew of killer backup dancers. Here are eight that you need to be following ASAP.
Keep reading...
Show less
Via Instagram
Can't get enough of the dance party T. Swift throws herself in her "Delicate" music video? Take a look at the two making-of clips Taylor just shared on her Instagram, showing her practicing the vid's charmingly awkward choreography.
Keep reading...
Show less
Keep reading...
Show less
Swift in her latest "Making of a Song" episode (via Youtube)
Taylor Swift is #blessed in many ways: She's got a great voice, insane song writing skills, and, to quote her new hit single, she's "Gorgeous." She is not, however, blessed in the dance department. But that doesn't stop her from busting out the occasional dance move. In fact, Swift likes to playfully show off her less-than-stellar dancing, be it in her music videos (hello, "Shake It Off") or at music award shows. So we weren't surprised when during the latest episode of her "Making of a Song" series for AT&T, she unveiled a new endearingly awkward maneuver, which she's dubbed the "dolphin body roll"—and it practically had friend and producer Jack Antonoff rolling on the floor!🤣
Keep reading...
Show less
Popular
Sep. 01, 2017 10:36AM EST
via YouTube
I have to be honest for a second here: despite having been a diehard Swiftie ever since "Teardrops on My Guitar," I was a little on the fence about Taylor Swift's new single "Look What You Made Me Do." Even her official music video—usually the brilliant, essential factor that gets me full-on obsessed with a new T-Swizzle song—didn't exactly win me over.
Keep reading...
Show less
The Brit Awards in the United Kingdom are the equivalent of the Grammy Awards here in the U.S. This year, everyone's best friend Taylor Swift took home the Brit Award for International Female Solo Artist—beating out two of our other favorite ladies, Sia and Beyoncé.
TSwift isn't the danciest pop artist out there—as evidenced by "Shake It Off"—but her performance of "Blank Space" at the Brit Awards featured a crew of awesome break-dancing dudes. (It also involved a lot of glitter, but that's neither here nor there.)
What do you think? Is "Blank Space" better as a stripped down song-and-dance number, or as a theatrical music video with a bit of a narrative? Either way, we love Swift's catwalk moment, as she busts through the b-boys trying to get in her way. #GirlPower.
We talk a lot about power couples here at DS.  It seems like all corners of the dance world have their respective royal couples: Hip hop's got dynamic duos like the Madrids and NappyTabs; ballet's got Tyler and Robbie; and Mark and Jeremy rep the commercial world.
But what about the competitive world of jumbotron dancers? What fearless dance couple will lead the way for performers hoping to show off their best running men, sprinklers, Roger Rabbits and schmoney dances?
Why, Taylor Swift and Jimmy Fallon, of course.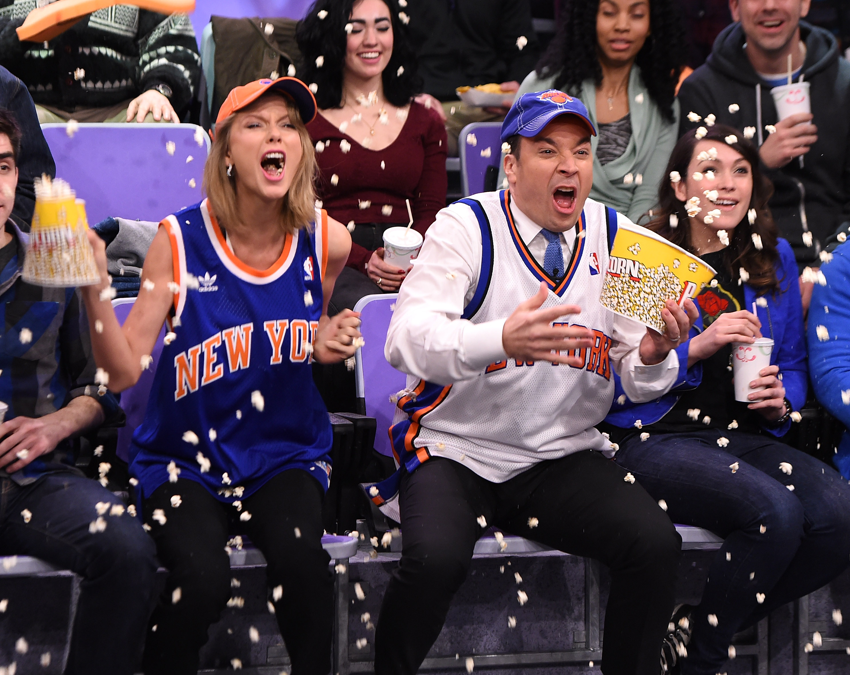 (via "The Tonight Show Starring Jimmy Fallon")
Last week on "The Tonight Show Starring Jimmy Fallon," Fallon and T. Swift "reminisced" about the days when they used to rule the jumbotron with their epic dance moves. As if we needed another reason to be obsessed with these two celebrity dance lovers...
Mmk, guys. I expect to see you two strutting your stuff at the next NYC sporting event I attend. Pics (/videos) or it didn't happen!
Yes, we already knew that Drake was the king of beautiful, turtleneck-sweatered grandpa dancing. But thank you, Apple Music, for revealing an even more endearing (how is that possible??) Drizzy factoid:
Drake likes rocking out to Taylor Swift at the gym. As one does. As literally all of us do. Because DRAKE IS ALL OF US.
Backing up for a second: You've seen the Apple Music commercial where T. Swift eats it on the treadmill while working out to Drake (tagline: "Apple Music: Distractingly good"). Well, yesterday, Apple released that ad's soul mate, featuring Drake lip-syncing to "Bad Blood" and getting wayyyy down with his bad self in front of a gym mirror before eventually falling off a weight bench because he's so in the moment.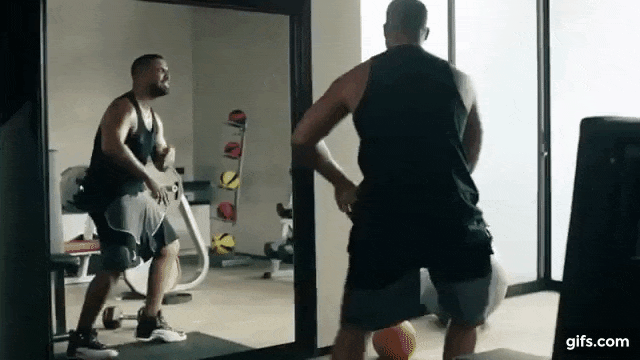 (Apple, we see you winking at the Taylor-Drake relationship rumors—and we like it. Those two crazy kids are probably trolling us, but even the thought of a #Draylor bestfriendship makes us all giddy.)
Drake's dance moves: never not funny!
Get Dance Spirit in your inbox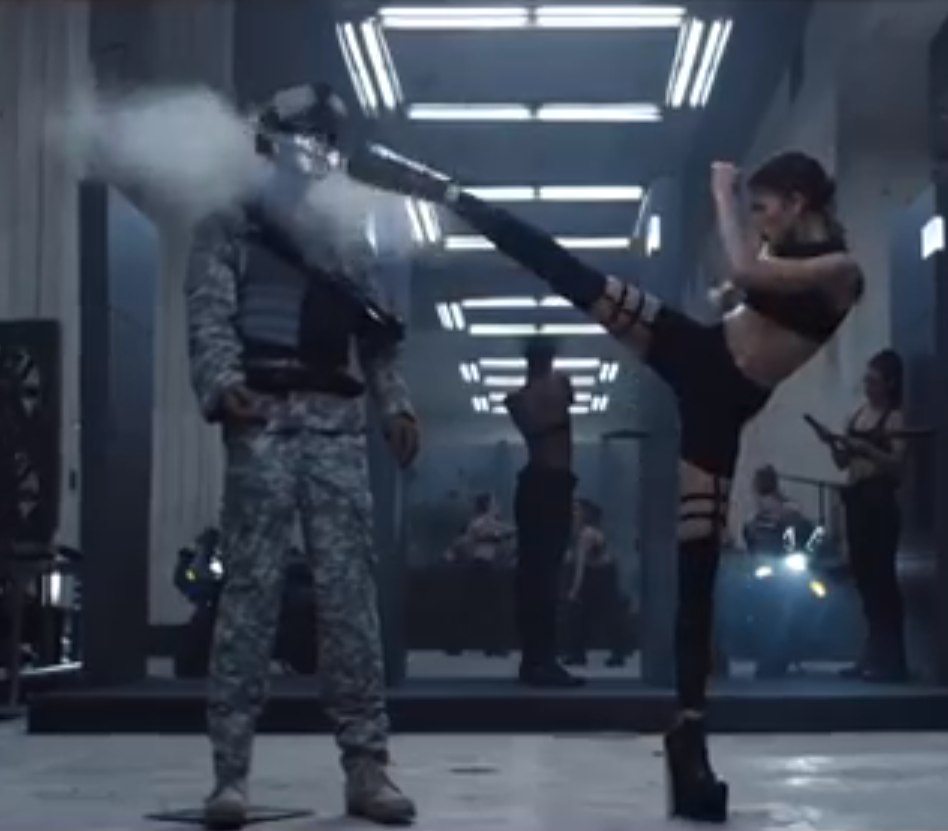 Zendaya, aka "Cut Throat," being fierce as ever in "Bad Blood."
Have you guys seen Taylor Swift's new music video for "Bad Blood"? (Of course you have.) With a stacked cast of mega-famous female celebrities—including DS fave Zendaya—"Bad Blood" is the ultimate in #girlpower. The words "don't mess" come to mind.
There's only one thing this Matrix-esque music video is missing: dance. Sure, the martial arts stunts are visually stunning; the slow-mo fight scenes look like something out of a box-office-breaking action flick. But we were so ready for T. Swift and her band of femme fatales to break out in a hardcore hip-hop combo mid-video. (I mean, we know she loves to shake it...)
Fortunately, hip-hop choreographer Tricia Miranda, aka the brilliant mind who brought us Missy Elliot's epic Super Bowl Halftime cameo, posted a video to "Bad Blood" on her Facebook page last week. It features some of our favorite hip-hop littles and teens—Aidan Prince, Gabe De Guzman and Kaycee Rice, to name a few—and they absolutely slay it, no martial arts required. Check it out!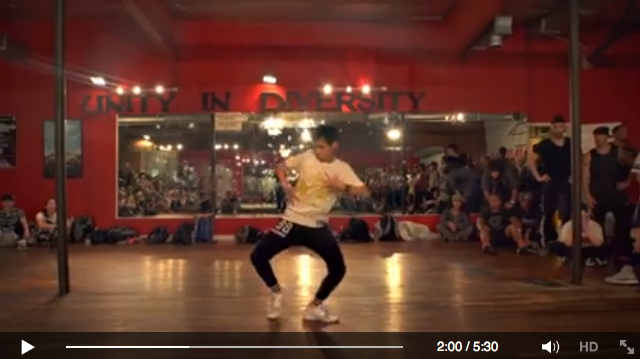 It seems like celebrities are always trying their hand at something new: Actors who sing, models who act...everyone does everything. Of course, it makes us extra happy when one of those talents turns out to be dance.
Meet Taylor Swift-endorsed singer/songwriter Louisa Wendorff—you've probably seen some of her gorgeous mash-ups and original music videos on YouTube. This girl has an eye for creating something totally dreamy and it's put to good use in her latest mash-up. As she sings "Goodbye" and "Believe" by Who is Fancy and Mumford & Sons respectively, Wendorff rocks out in a warehouse. (Side-note—could fringe be a 2015 comp trend? You heard it here first.) There's a lot of hair-flipping, but we see that leg at 2:52.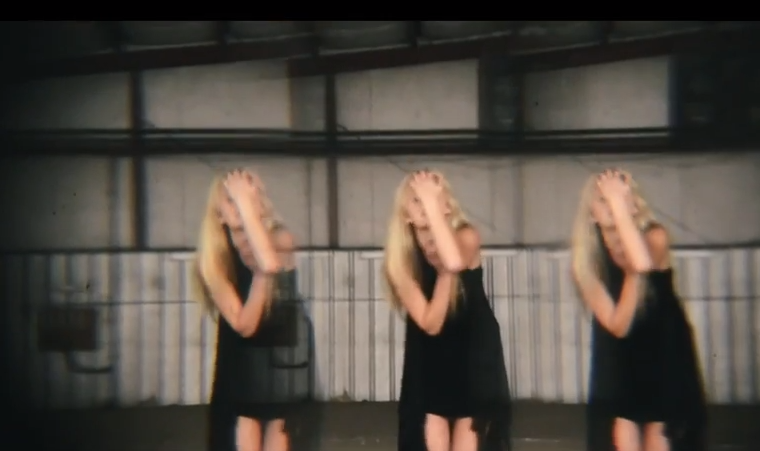 Still from Goodbye//Believe, directed by Blythe Thomas
Wendorff told Teen Vogue that she's been dancing for years and was excited to show that side of herself in this music video—and we're so happy she did. Hopefully there will be many more dance-y videos to come. As her career continues to skyrocket, maybe someday Wendorff will be hiring dancers for her own tours and videos. Check it out!
Videos
Apr. 14, 2015 04:45PM EST
Hey hey hey! What's going on, TSwift nation? We're guessing that, even six months out, you're still obsessed with "Shake It Off." Because who isn't? It's straight-up the Best Gym Song of All Time. (Seriously, it's the perfect elliptical machine tempo—try it!)
It also, of course, boasts one of the Best Crazy Dance Videos of All Time. There's nothing quite like Tay Tay in a tutu. Which brings us to the real subject of this blog post: Those "Shake It Off" tutus? Turns out, they're actually Ballet West's Swan Lake costumes. Such a great factoid, right? And now, BW is giving fans a chance to win one of the very tutus used in the "Shake It Off" video. That's right: This is your chance to own a part of both music video and ballet history.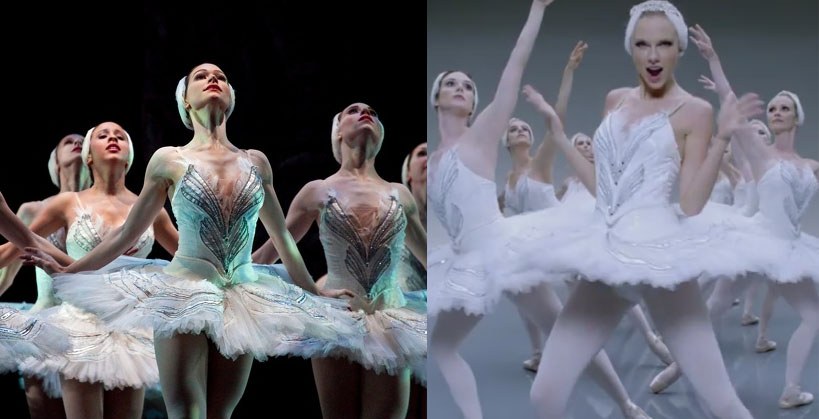 Left: BW in Swan Lake. Right: Taylor in "Shake It Off." TWINSIES. (left photo by Luke Isley via BW)
The costume in question is currently being displayed at Salt Lake City's Janet Quinney Lawson Capitol Theatre, where BW is in the middle of a Swan Lake run. But you don't have to be in Utah to enter the giveaway. Just click here to fill out the entry form. (The contest is technically free, but there's a suggested donation of $10 per entry, with proceeds going to BW—a worthy cause!)
After you've hit "submit," feel free to commence daydreaming about doing this...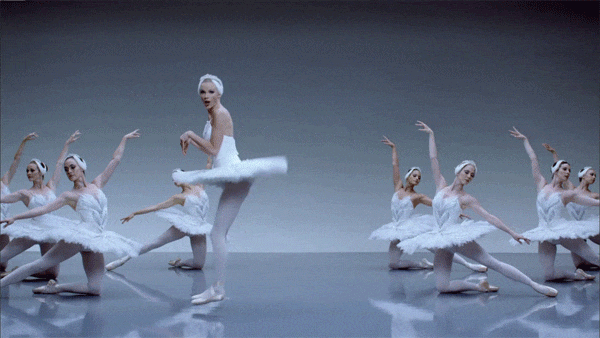 ...and this...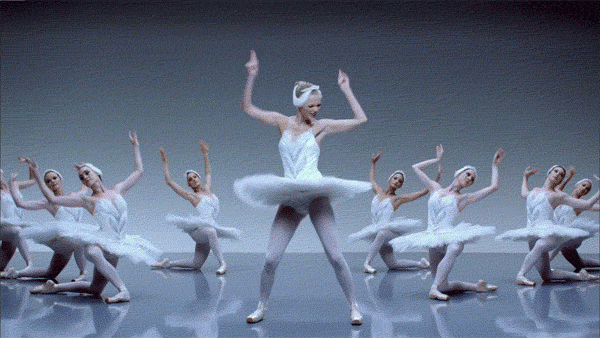 ...and maybe a little of this. (Or, OK—a lot of this.)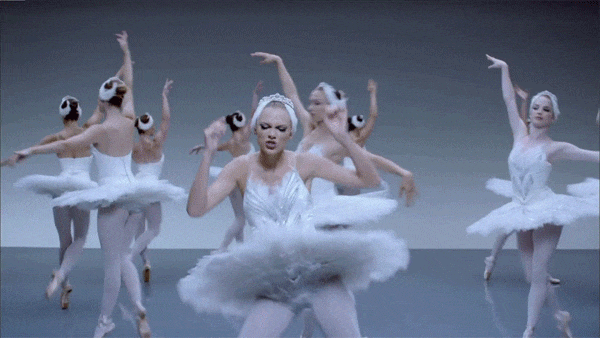 It's been a heck of a year for dance on the interwebs. Since it's about to be 2015, it's time to sum up the last 12 months with a good old fashioned "Best Of" list. So without further ado, here are the top dance videos of 2014.
15. Keone Madrid's turnip tribute. It was a pretty close call between this one and the more serious, tug-at-your-heartstrings video that he and wife Mari created together back in January. But while almost anyone can make a dance about romance, only a true pro can make vegetables appealing.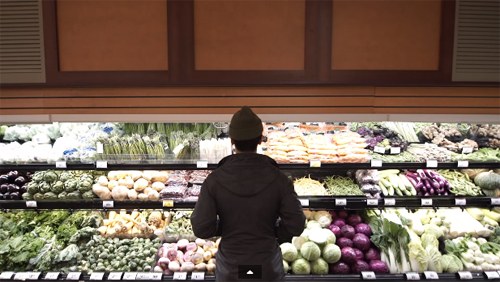 14. Glen Keane's Duet. If this animated short doesn't make you tear up even just a teeny, tiny, little bit, consider yourself a heartless monster.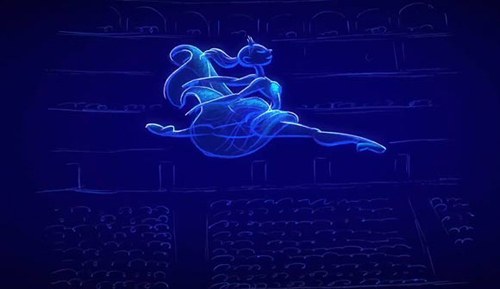 13. Cloud's musical theater spectacular. It's like "The Office" meets "Glee" meets the Microsoft Surface Pro commercial. And Danny DeVito is everything.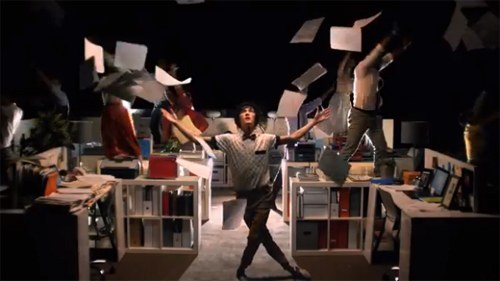 12. Emily Kikta's ode to an empty apartment. Four New York City Ballet dancers + a gorgeous score + unique camera angles = internet sensation.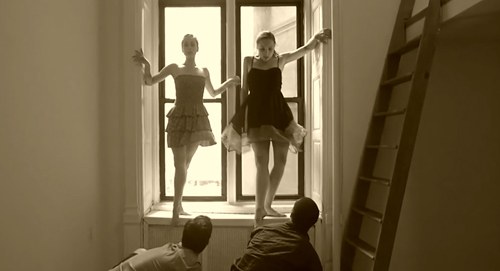 11. Michael Jackson and Justin Timberlake's "Love Never Felt So Good." It should've been called, "Love Never Looked So Good When You Put So Many Dancers Together in One Amazing Video."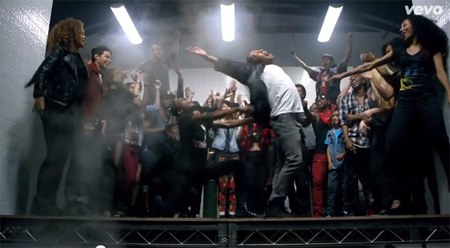 10. The Company's second-place routine at VIBE. This is the perfectly synchronized hip-hop piece that took over your Facebook news feed back in May—and if you watch it again, you'll see it really is that good.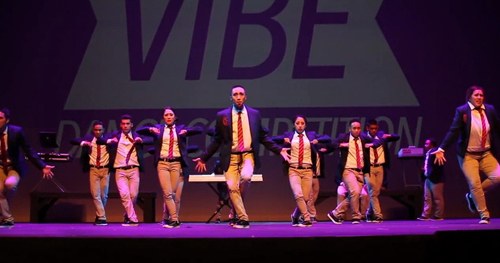 9. "The A–Z of Dance." Directed by Jacob Sutton—and highlighting 26 fabulous dance styles—this special project for Diesel and i-D will hold a special place in our hearts for years to come.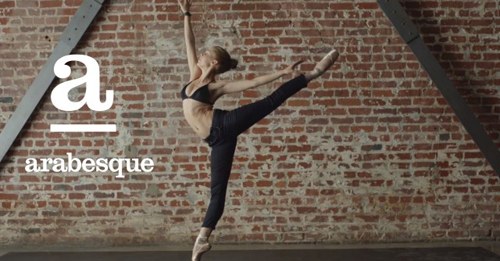 8. Kyle Hanagami's #BoomClap. You know we love Kyle Hanagami. And when he comes up with a great choreographic concept for a hit song, you've got yourself a little piece of YouTube gold.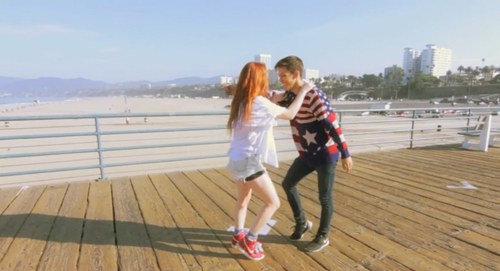 7. Taylor Swift's "Shake It Off." So cute. So fun. If only Taylor Hatala were in it...amirite?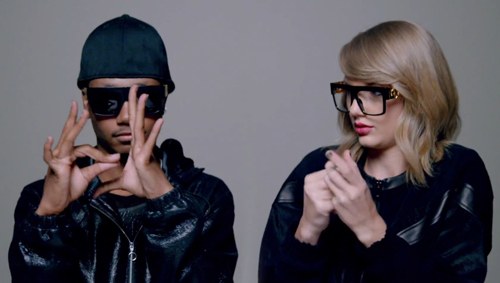 6. The "Flawless" tappers. Chloé Arnold and her Syncopated Ladies had a pretty huge year. And while this isn't the video that started it all...it's pretty darn great.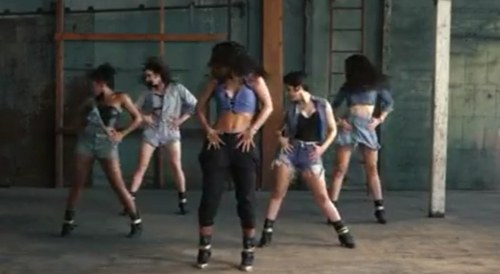 5. The Australian Ballet's pointe shoe prep. Sure, pointe shoes are beautiful. But it's nice to see dancers beating the poop out of 'em once in a while.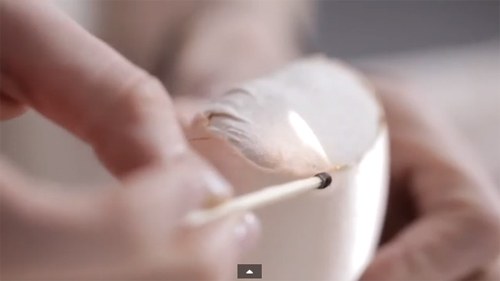 4. Sia's "Chandelier." Yeah, yeah, yeah—everybody knows this one was great. Maddie Z's a pro. There's really nothing left to say.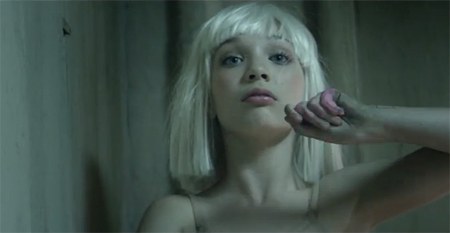 3. The fabulously heeled Yanis Marshall. He even got a shout out from Beyoncé. #werk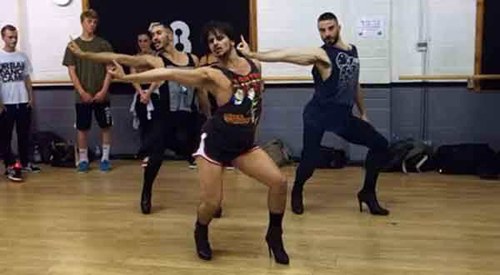 2. Carrie Underwood's "Something in the Water." It's game over when Shaping Sound Dance Company's in your video.
1. Taylor Hatala. If you haven't seen this 11-year-old, who broke the internet in September, welcome back to Earth. No matter how many times you watch her renditions of "Anaconda" (or "All About That Bass" or "Shake It Off"), they just get better and better. And the world agrees—many of her videos are past the 10 million viewer mark.
Happy New Year, dancers!
It's beginning to look a lot like...New Year's. OK, so maybe I'm jumping the gun a bit. But humans are naturally nostalgic creatures, and we require sufficient time for reflection. Luckily, the folks at The Creators Project made our jobs a little easier this year by compiling the greatest dance trends of 2014 into just three minutes and 27 seconds. And no, this isn't just another supercut video (although we do love a good supercut...).
TCP brought in director Jake Nava—aka the genius behind Beyoncé's "Single Ladies" and "Partition"—to create an entirely new music video, "2014: Dance and Rituals." Set to "New York, New Drop" by SBTRKT featuring Ezra Koenig, the video appears to follow 10 teen couples' elaborate flirtation rituals. But the real draw is the progression of dance styles happening as the video moves from couple to couple. Nothing is in-your-face obvious, aside from maybe the T. Swift impression and the Yanis-Marshall-worthy heels. But when you watch it a few times, you may notice some familiar choreo (cough, cough, "Chandelier," cough, cough).
Watch the video for yourself, and let us know in the comments which 2014 dance trends you pick out!