Jayme Thornton
In our "Dear Katie" series, former NYCB soloist Kathryn Morgan answers your pressing dance questions. Have something you want to ask Katie? Email dearkatie@dancespirit.com for a chance to be featured!
Keep reading...
Show less
Jayme Thornton
In our "Dear Katie" series, former NYCB soloist Kathryn Morgan answers your pressing dance questions. Have something you want to ask Katie? Email dearkatie@dancespirit.com for a chance to be featured!
Keep reading...
Show less
Illustration by Lealand Eve
It's an all-too-common scenario: You're dying to impress a particular teacher. You want to hear her opinions on your dancing, and apply her corrections to your technique. But no matter how hard you work in class, she barely seems to notice you—because she's too busy lavishing attention on a single favorite pupil.
Favoritism is common, and it can have real consequences. There are many reasons why a teacher might focus on one student over others. But that behavior can make the dancers left out feel hurt and discouraged. How can you become the best dancer you can be, even if you're not feeling the love from a particular teacher?
Keep reading...
Show less
Mar. 01, 2014 10:46PM EST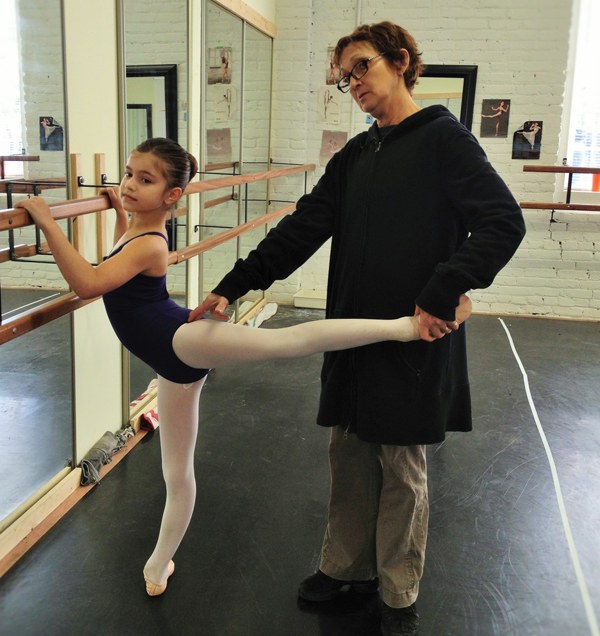 (Photo by Jennifer Verrecchia)
When Pennsylvania Ballet corps member Elizabeth Wallace was in seventh grade, she decided to enroll in private lessons with her teachers at Lexington Ballet in Kentucky. "What I needed help with was different from the other girls," she says. One year later, Wallace placed in the Top 12 at Youth America Grand Prix in South Carolina, and at the finals in NYC earned scholarships to five different schools.
These days, competition dancers and principal ballerinas alike are taking private lessons to supplement their regular training, and for good reason. Whether you want to develop your artistry or fine-tune your technique, working one-on-one with a teacher can help take your dancing to the next level. But what's the deal with private lessons? We asked teachers and students to open up and give advice about "privates."
What are the benefits of private lessons?
When it's just you and a teacher in the studio, you get all the attention. "The teacher can hone in on your weaknesses and design the whole lesson just for you," says Jennifer Miller, who teaches private lessons in Milwaukee, WI. If you're having a problem with turns or you want to gain more flexibility, the teacher can tailor exercises to help strengthen those weaknesses. You don't have to have a specific problem or focus to take private lessons, but it helps to talk to your teacher about your goals and keep an open line of communication.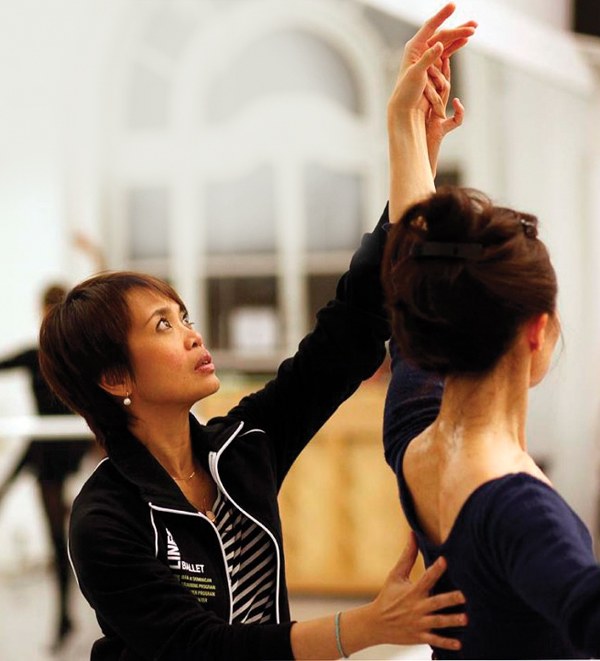 Liezl Austria, who teaches at Alonzo King LINES Dance and ODC Dance Commons in San Francisco works with a student. (Photo by Ed Azuar)
The teacher also gets to know you as a person and can help you develop emotionally as a dancer. "It's like there's a wall between the students and teacher in a typical class setting," says Miller, "but you can't help but start to build a relationship during private lessons."
If you're at the top of your class, a one-on-one session can challenge you. If you're slightly behind, the time can be spent going over basics. Maya Kreitman, 13, takes private lessons in addition to her regular classes at Ballet Chicago. She's been studying ballet for less than a year and needs extra help to catch up. "I like privates because I can slow down and figure out what I'm doing wrong," she says. "It's easier to go at my own pace."
What are the drawbacks?
The biggest downside to private lessons is cost. Most teachers charge anywhere from $40 to $150 per hour, and you might have to pay a $15 to $25 studio rental fee on top of that. Finding space might be hard, and teachers' schedules are often full during after-school hours. If you're not home-schooled or can't get out of school early, you might have to stay at the studio late or do private lessons on the weekend.
Which teacher should you choose?
"Think about how a particular teacher makes you feel," suggests Miller. "You need one who makes you comfortable but will still push you." Consider the teachers you already know—and who already know you. They'll have a good sense of your learning style and what you need.
If you're not sure, ask to sit and watch the teacher give someone else a private lesson (and make sure it's OK with that student, too). "I'm very hands-on," says Leslie Hench of Ribbon Mill Ballet in Carlisle, PA. "I like to sit on the floor and move the dancer's legs and feet for her. Some people might not like that." Observing a lesson will give you the opportunity to see the teacher's style and decide if it's right for you.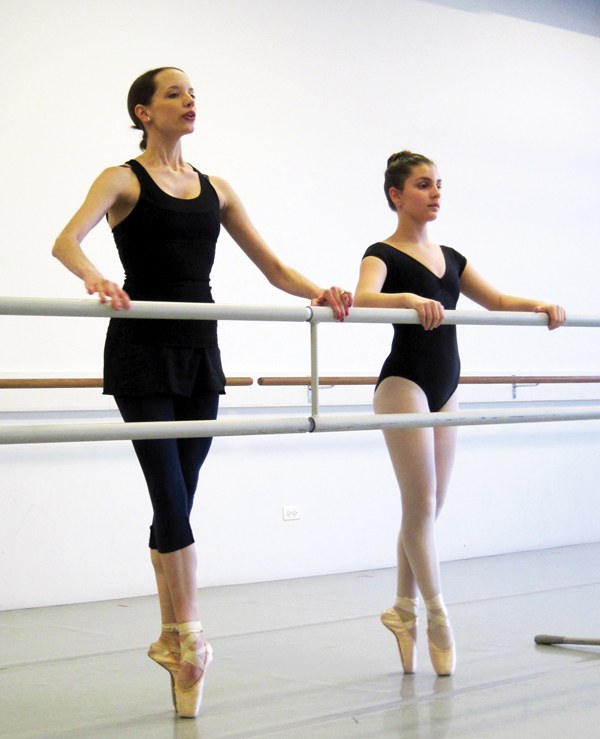 Maya Kreitman takes a private lesson with Megan Wright-Otto. (Photo by Margo Ruter)
Is it OK to take a private with someone who doesn't teach at your home studio?
As long as your studio knows what you're doing and you're not breaking any rules (some schools don't allow students to take classes anywhere else), it's fine to take lessons from a different teacher. "If someone good is available, take advantage," says Hench. Just remember: Opting to train with someone other than the teachers at your school may cause conflict and hurt feelings, so be sensitive about your decision to seek additional training elsewhere.
How often should you work one-on-one for maximum benefit?
"Go as much as possible," says Hench. "Having privates every day is beneficial, but it's expensive." If you can't go every day, try to schedule private lessons at least once a week. Write down your corrections and apply them during your regular classes. You'll improve even faster.
And don't necessarily opt for tons of private lessons over your group classes. If you're only taking privates, you miss the opportunity to watch other dancers in class. "We learn well in a group," says Liezl Austria, teacher at Alonzo King LINES Dance Center and ODC Dance Commons in San Francisco. "When it's just you in class, you're in a tunnel with no other dancers to inspire you."
Competition
Dec. 11, 2012 11:00AM EST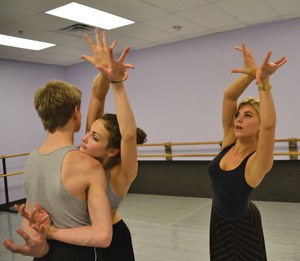 Lauren Adams guest-choreographing at Spotlight Dance Works in Chesterfield, MI (Liz Schmidt)
These days, it's common for studio owners to hire guest choreographers—often big industry names like Travis Wall and Joey Dowling—to set pieces on their competition dancers. As a dancer, working with a guest choreographer is both exciting (cool new moves from a dance celebrity!) and terrifying (what if she doesn't see my potential?). But fear not: Lauren Adams, a faculty member at 24 Seven convention and frequent guest choreographer at studios across the country, has the answers to your "I have no idea what to expect from this new person" questions.
I've never worked with a guest choreographer before. How should I prepare?
Be open and inviting. It's intimidating for us to walk into a space filled with dancers, all expecting us to create this great energy.
Researching the choreographer is a great idea—check out his or her website or work on YouTube. Having a sense of the choreographer's aesthetic will enhance your experience and help you approach the work with confidence.
My teacher always puts me in the front row for our routines. How will the guest choreographer know I'm one of my studio's top dancers?
Many choreographers hold at least one class with the dancers before they begin choreographing for them. This class works as an audition and an introduction to how we'll all work together, creatively and energetically. It gives the dancers an opportunity to warm up to us, and it helps us figure out what stylistic direction to pursue.
I also like to observe the dancers while they warm up, when they don't know I'm watching—that's the easiest and fastest way for me to assess who they are through my own lens. Then, during class, I'll choose my cast before we begin the first rehearsal.
How can I stand out?
I value an enthusiastic worker—a dancer who will not only show up on time, but early, ready and warmed up. If I see you working hard to learn the choreography from a section you aren't in, I may end up pulling you into that section. I want you to get the most out of every rehearsal, so take advantage of the process, learn everything you can and embrace the work.
I also want the dancers I'm working with to look like themselves. I don't like walking into a studio where the dancers are all wearing slick buns and the same outfit. I only get to work with you for a short time, so I need contrast to tell you apart—and I'm likely to remember the "girl with the long ponytail" or "the one in the red leotard."
How long will you work with us?
You can expect six to eight hours of work for a group piece and approximately three hours for a solo.
Who picks the music you'll choreograph to? 
I like to pick my own music. I don't usually connect with music that has been pre-selected for me.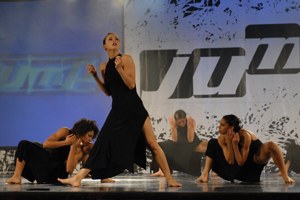 Dancers from Canada's Elite Danceworx perform one of Adams' pieces at competition. (Break the Floor Productions)
So you spend a few hours giving us choreography, and then you have to leave. What happens throughout the year?
It's important to commit to the choreography and develop the character, dynamic and texture of it over the course of the year. If something truly isn't working, it's OK for your teacher to make minor changes. Remember, the beauty of the piece lies in how it unfolds over time. Enjoy the process of investigating the work.
Do you ever reuse your work? I'm afraid we're going to go to Nationals and someone will have our same routine, Bring It On style.
I don't. Each studio is unique and I design accordingly. But some choreographers might reuse work, so be sure to have your teacher ask that your piece be exclusively yours.
Can guest choreographers say no to certain studios if they don't want to choreograph for them?
Yes. I only go to studios where the work ethic is strong. I get a weekend to create work that will be presented for a whole season, so I want to be sure I'm working with dancers who are enthusiastic, self-motivated and willing to work as hard as I am. I'm not afraid to say I won't be a good fit for a dancer if I can't get a clear vision of how I would design movement for him or her. In that instance, I'll recommend a friend or colleague who might be a better match.
Do you ever get to see your pieces performed at competition?
Yes, and I love when that happens. It's a big payoff. It's sad to put your heart into your work and only get to see the beginning stages of its development.
Have you ever been disappointed in a piece you set on a studio?
Of course. There have been times when I felt the dancers didn't stretch to their potential through the work, and that makes me sad. I always do the best I can—and sometimes my best for one studio doesn't hit me as hard as my best for another. I can learn something from every experience, including rejection and disappointment.
If you like us, will you come back?
I absolutely return to studios year after year—that's my favorite part! The dancers and the choreographer get to grow together. You come on my journey, and I get to go on yours. I care about my students, and I love getting to call them my students. I want to be better each year for them and create different work from what they've come to expect. I want to know dancers for the duration of their careers.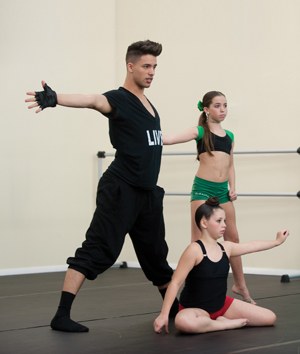 Victor Smalley with students Sammy Small (standing) and Hannah Epstein on "Dance Moms: Miami." (Scott Gries/courtesy A&E Television Networks, LLC)
"I'm exactly the same in real life as I am on the show," says Victor Smalley of "Dance Moms: Miami." "For me, it's all about the kids and showcasing their talents." While his students certainly have star potential, it's Smalley, co-owner of Stars Dance Studio, who's the face of the show. You probably remember him from the Top 20 of "So You Think You Can Dance" Season 6. But after his "SYTYCD" days were up, Smalley decided to focus on teaching and returned to Stars, which he co-founded with Angel DeArmas Salabert in 2007. Now, Smalley trains students who consistently earn top titles on the competition scene, and he also travels the country giving master classes. Want to know more about this multitalented reality star? Read on for The Dirt.
Most-played song on your iPod: "All Alright" by Sigur Ros
Must-see TV show: "Vampire Diaries"
Favorite movie: Moulin Rouge!
Biggest guilty pleasure: 5-hour ENERGY... I can't resist
Favorite food: Sushi
One thing most people don't know about you: I love to paint.
If you weren't a dancer/studio owner, what would you be? A millionaire
One thing you can't live without: Angel, my best friend
Favorite city in the world: NYC
Who is your dance crush? Jordan Casanova
When you were little, what did you want to be when you grew up? A supermodel
What's the strangest thing in your dance bag? It is my dance bag, because it's Louis Vuitton.
Where do you see yourself in 10 years? Running my own dance company and funding kids who can't afford to dance.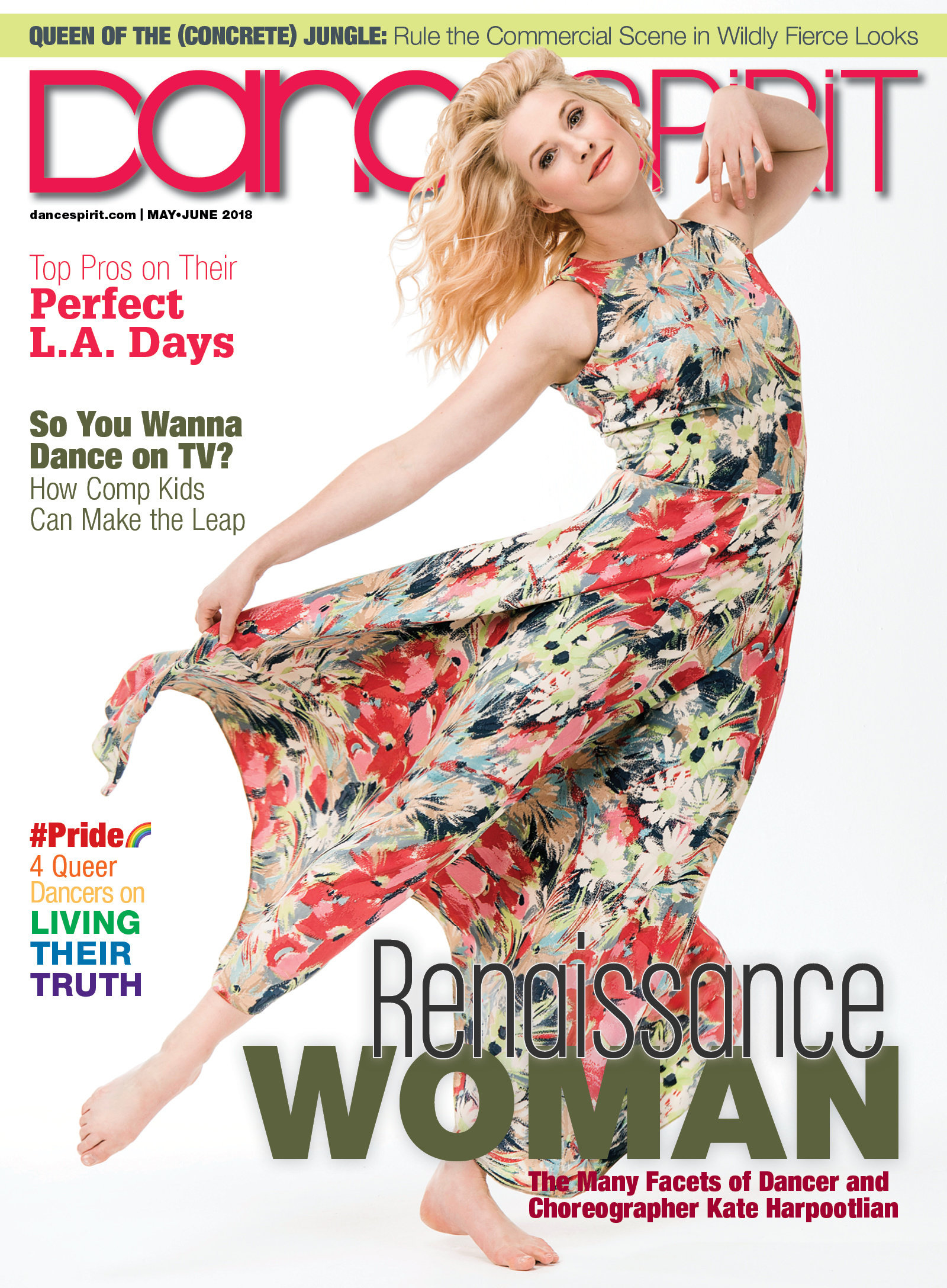 Get Dance Spirit in your inbox