Yesterday we reported that Adrianne Haslet-Davis, the ballroom dancer who lost part of her leg in the Boston Marathon bombings, would take the stage at the TED2014 conference in Vancouver. And take the stage she did—well, more like burned a hole through it!
The special performance came Wednesday afternoon during a session given by Hugh Herr, a double amputee and director of biomechatronics at MIT. He spoke about his path to bionics and the new technologies his team is working on. (It's pretty fascinating stuff—read the TED2014 wrap-up for more.) Before the session ended, Herr invited Adrianne to the stage to exhibit a prosthetic limb he built after meeting her last year in the aftermath of the bombings: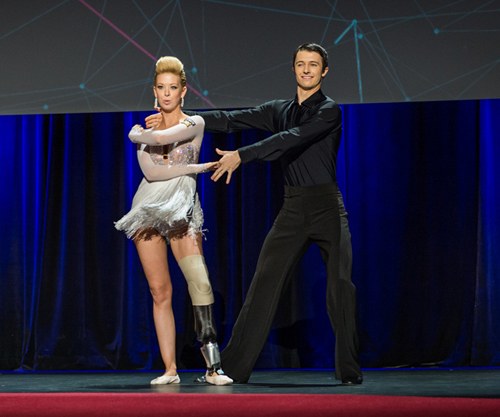 Adrianne performed a rumba with Christian Lightner.
Photo by James Duncan Davidson/TED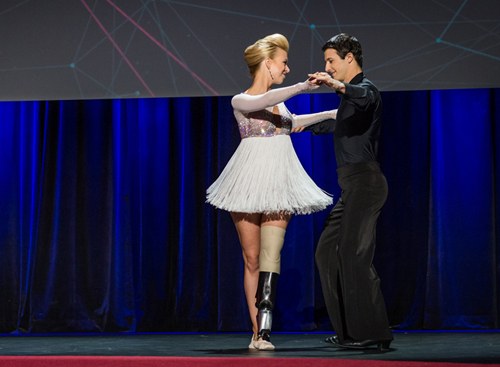 To design Adrianne's limb, Herr's team studied dance for a 200-day research period, looking at how dancers move and the forces applied to a body in motion.
Photo by James Duncan Davidson/TED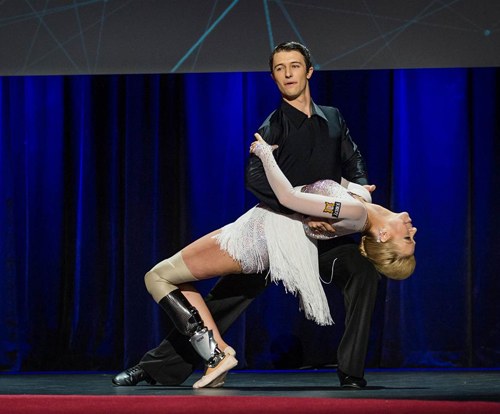 "Bionics are not only about making people stronger and faster," Herr said yesterday. "Our expression, our humanity can be embedded into our electromechanics."
Photo by James Duncan Davidson/TED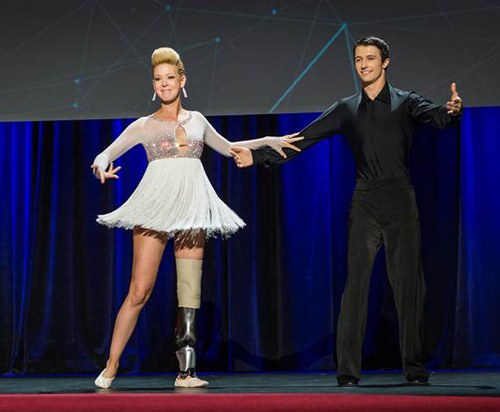 We love how happy she looks. You go, Adrianne!
Photo by James Duncan Davidson/TED
It's said that Adrianne is scheduled to perform on an upcoming episode of "Dancing with the Stars." We can't wait to cheer her on.
How's that for a little alliteration?
I feel like I'm constantly gushing about my favorite people in the industry, and today I'm here to continue that trend.
Today, let's talk Tony Testa.
Better yet: Let's let Tony Testa do the talking, TED-style.
Surely you've heard of TED Talks by now. (Remember when tiny dancer Juliet Doherty did one and I was obsessed with it?) They're essentially a way for people to share ideas, and the result is often something mind-blowingly creative and inspiring.
The latest TED talker is dancer/choreographer (not to mention gorgeous member of Dance Spirit's advisory board) Tony Testa, and you're going to want to watch this. He talks for a bit, but then there's also a performance portion (and I'm pretty sure I spy love-of-my-imaginary-dance-life Jeremy Hudson in the group).
Without further babble on my end...Tony Testa:
(Oh, and click through to the comments on the YouTube page. Can we talk about the fact that the top comment is from none other than Wade Robson?!)
Last year, I saw prima-in-the-making Juliet Doherty perform the role of Clara in the Radio City Christmas Spectacular, right here in NYC.
Amidst all those gorgeous, seemingly-perfect, high kicking Rockettes, Juliet was the one who delivered the biggest "wow" factor for me. She's such an exciting performer, in fact, that DS decided to feature her in our "You Should Know" column this past March. (Click here to read it.)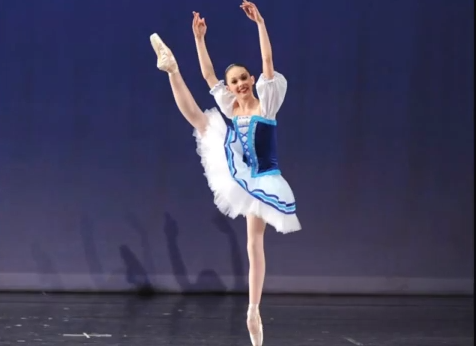 One year later, Juliet continues to thrive.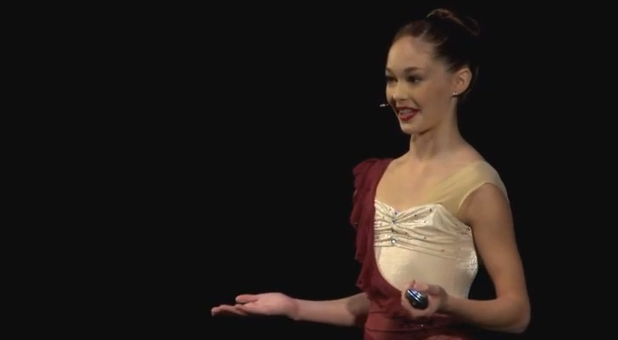 It's not just her impeccable technique and fantastic onstage persona that's keeping Juliet int he spotlight, though. She's got crazy maturity and poise.
Check out this TED Talk Juliet gave recently about "being great." It's inspiring and, frankly, a bit crazy that these wise, eloquent words are coming from a teenager. (A good life lesson: Don't underestimate anyone based on his or her age!)
So, ladies and gentlemen, from Juliet to all of you: You have permission to be great today.
Go make it a good one!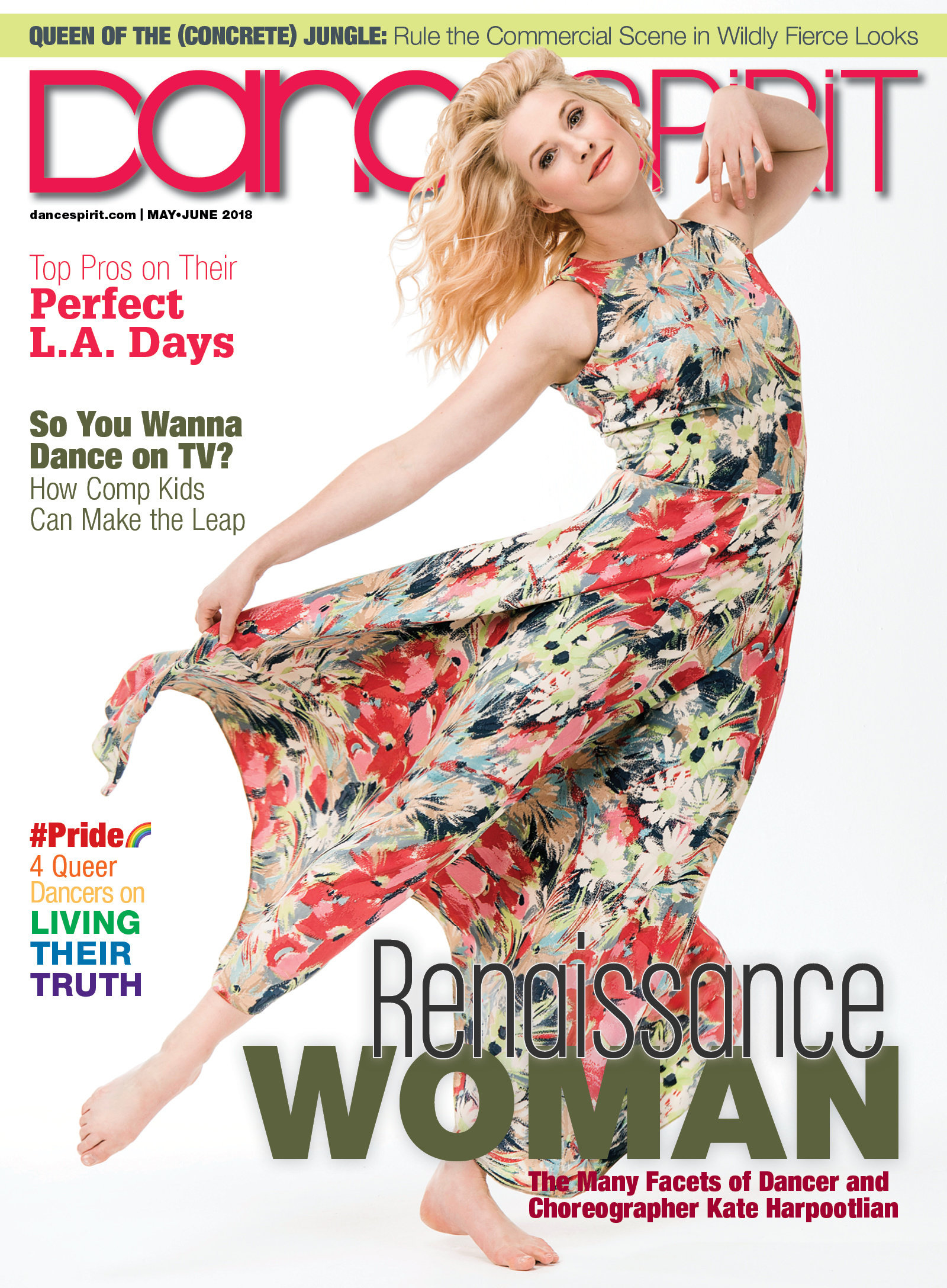 Get Dance Spirit in your inbox