With her long limbs and delicate features, Ella Titus could pass as a model—and she has actually posed for fashion photographers on her days off from Miami City Ballet, where she's in the corps. But Titus also sets fashion trends: For several years now, she has designed and hand-knit her own line of legwarmers, Ella Warmers. Read on for her tips on achieving that pastel-pretty ballerina look.
Keep reading...
Show less
We've said it before, and we'll say it again: There's nothing quite like a beautifully filmed dance video featuring an equally beautiful dancer (and if you need a refresher—exhibits A, B and C). Teen Vogue, who brought us the binge-worthy Strictly Ballet, just released another stunning example which we guarantee you'll be watching on repeat.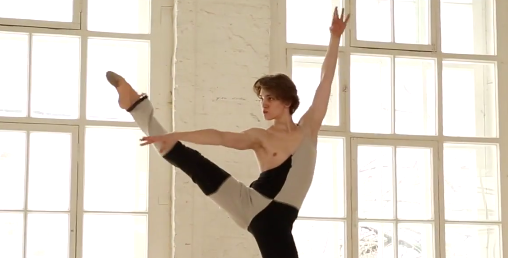 Oh hey there. (Screenshot via YouTube)
Meet Julian MacKay, the newest (and youngest) soloist joining the Mikhailovsky Ballet Company in St. Petersburg, Russia. As a graduate of the Bolshoi Academy and 2015–2016 apprentice with The Royal Ballet, it's pretty obvious that he's one to watch. And once you see his jaw-dropping feet, extension and overall stage presence in the video, we promise you'll be as obsessed as we are. Take a look for yourselves:
Want more Dance Spirit?
Teen Vogue
has a big ol' crush on ballet, and we couldn't be happier about it. The magazine regularly profiles gorgeous up-and-coming ballet dancers, and its "
Strictly Ballet
" web series—a behind-the-scenes look at life at the world's top ballet schools—gives us LIFE (can we get a Season 3, please?).
Most recently, the mag went inside a rehearsal at the prestigious ABT Studio Company, the American Ballet Theatre feeder boasting a slate of incredibly talented young dancers. (A special shout-out to ABT Studio Company director Kate Lydon, our former editor in chief!) The resulting video paints an intimate portrait of George Williamson's Murmuration, a lush, passionate ballet made for the Studio Company dancers that premiered last week in NYC.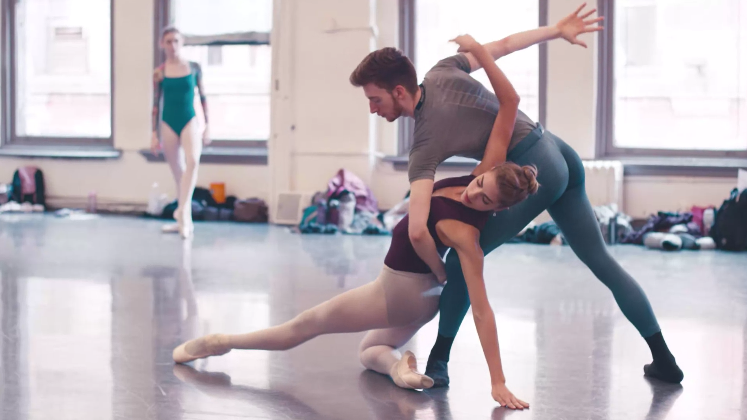 ABT Studio Company rehearsing Murmuration (screenshot via teenvogue.com)
We see the familiar stop-and-start process of choreographic creation, and watch the dancers figure out the work's technical and artistic puzzles. "You give them the material, but you can't tell them how to take every step," Williamson says. "That's part of learning how to be a mature dancer: You have to go from A to B, but not do it in the way you'd walk to the bus stop....They have to learn how to speak in the language of the piece."
Take a look—and click here to read more about Murmuration:
There's been a pointe shoe-sized hole in our hearts ever since the first season of Teen Vogue's "Strictly Ballet" wrapped up last spring. The web series, which went inside the prestigious School of American Ballet, did such a beautiful job depicting the pressures and joys of life as an aspiring professional dancer. It showed us a familiar world in an eye-opening way. (And obviously we love a good dance-y web series.)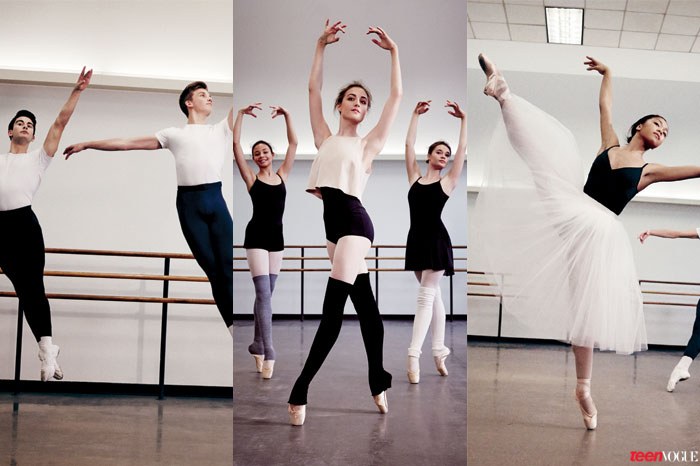 Dancers from the first season of "Strictly Ballet" (via teenvogue.com)
Well friends, get your popcorn ready, because "Strictly Ballet" Season 2 is officially a thing! The next installment of the series, which premieres May 20, will follow talented students at Miami City Ballet School. It's an interesting tack to take, because SAB and MCBS actually share a connection: They both come from the same Balanchine tradition. But NYC has significantly fewer beaches than Miami, and oh my gosh we can't WAIT for the dancing-on-the-beach montages that are inevitably headed our way.
To tide us crazy fans over until May 20, Teen Vogue put together a little video featurette on Mimi Staker, one of the gorgeous stars of the first season. Staker's now a full-fledged member of New York City Ballet, and the vid gives us a peek at what her professional life looks like. It also concludes with some pretty enticing sneak-preview Season 2 footage of MCBS students (including dance-y beach shots, yippee!). Take a look: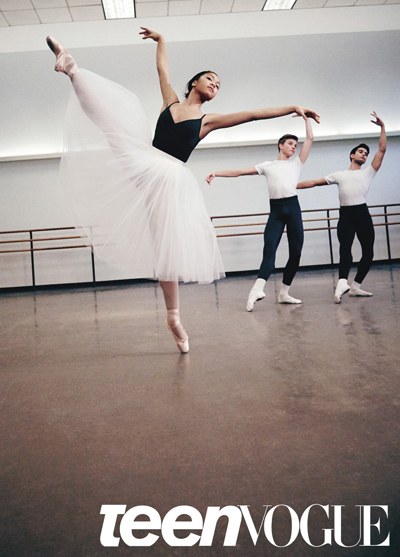 Jasmine Perry with Alec and Victor of "Strictly Ballet"
Photo Will Davidson/Teen Vogue
You already know just how much we love it when the fashion world enters ours (excluding the recent Free People, um, snafu). So it's no surprise that we're ecstatic about Teen Vogue's newest venture: a web series (premiering today!) following six students at the School of American Ballet. Also awesome? The show lets us catch up with Jasmine Perry, who, since making her debut on "Dance212," has shed her braces and continued to develop into an utterly gorgeous dancer.
"Strictly Ballet" is an online companion to Teen Vogue's print feature, "Rhythm Nation," which highlights some of the freshest faces in dance today (including Lil Buck)—all of them dressed to the nines, naturally. Hopefully this dance-in-the-mainstream streak continues. And it just might: Turns out dancers have an unexpected advocate in Teen Vogue editor in chief Amy Astley, who's responsible for the magazine's latest foray into the world of intense ballet training. As a teen, she was a bunhead herself, studying at the Joffrey Ballet in NYC and at Central Pennsylvania Youth Ballet's summer program. Dance Spirit caught up with Astley to get the inside scoop on "Strictly Ballet." (You can watch the extended trailer and first episode below!)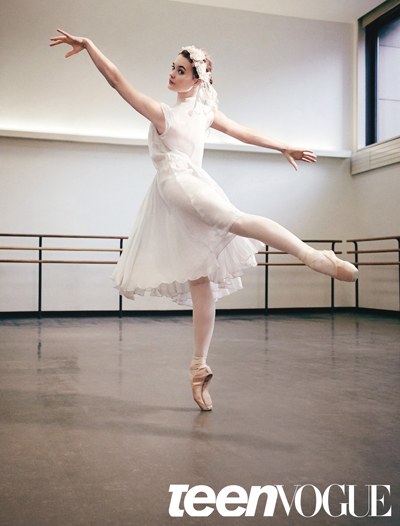 SAB student Emily wears a Rebecca Taylor dress.
Photo Will Davidson/Teen Vogue
Dance Spirit: Why did you want to make "Strictly Ballet"?
Amy Astley: I've been asking myself what I can give back to ballet, since I got so much from it. And I thought that the best thing I can do is promote it.
Ballet dancers should get a lot more attention in pop culture than they get. They're so beautiful! And I find dancers to be insanely grateful. Their humility is refreshing.
DS: What did your ballet training teach you that you still use today?
AA: In ballet, you can never say "I can't." You have to work through everything, so you learn how to do your best even when you're extremely challenged. I say this to my kids and to the people I work with. The moment I find myself thinking I can't, I'm like, "Wait a second. You can! What's wrong, what's the problem, and how can I work through it?"
DS: What's your goal for the series?
AA: I really hope that people—who aren't necessarily all bunheads—will get engaged with this series. I've definitely spent enough time in my life watching movies about baseball, and I don't know much about that sport. I think ballet should be the same way: It should be fascinating on its own, even to people who don't know a lot about it.
(Watch the extended trailer for "Strictly Ballet" above.)
DS: How will "Strictly Ballet" be different from AOL's "city.ballet." or The CW's "Breaking Pointe"?
AA: I didn't want a reality show that dug into the super-personal aspects of the dancers' lives. It's just meant to celebrate the kids as aspiring artists, and highlight their extreme dedication and talent. It's amazing to be interviewing kids who are 14 and 17 who know exactly what they want to do.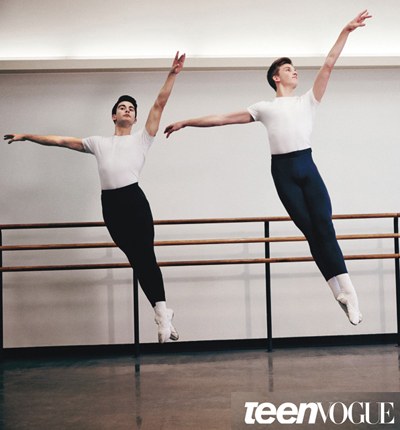 (L to R) Victor and Alec of "Strictly Ballet"
Photo Will Davidson/Teen Vogue
DS: As a ballet fan, what has been your favorite part about this process?
AA: I got to meet Peter Martins, which was such a great thrill since I grew up watching him dance with Suzanne Farrell. Peter Martins was one of my all-time favorite dancers, along with Suzanne, Natalia Makarova, and Baryshnikov, of course.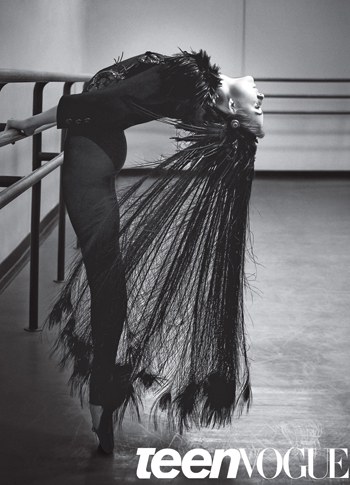 SAB's Mimi wears a Louis Vuitton jacket and headdress in Teen Vogue.
Photo Will Davidson/Teen Vogue
DS: In your editor's note this month, you write that you quit ballet at 18. How did you make that decision?
AA: During my summers at CPYB, I saw what the talent was like out there since I was dancing with girls from NYC and SAB. I was in their level, but I was never really as good—I was sort of at the bottom of the top. I didn't have what it took to be in the companies I wanted to join, and the regional ballet scene wasn't as strong then as it is now. It was an extremely hard time for me. I had barely even applied to colleges. I did end up going to school back in Michigan, but I can relate to students who aren't sure if they're ready for professional life, as well as to those who aren't sure if they even want it.
DS: Knowing what you know now, what would you tell those dancers?
AA: Whatever you decide, remember that studying your art has been time well spent. You get so much from those years. And keep dancing if you love it. Whether you're studying modern, tap, jazz or ballet, the training is great for your brain and your body. You'll probably grow up to be one of the people supporting the arts and keeping ballet companies alive—I go to the ballet very regularly, to see both NYCB and American Ballet Theatre. I just love it. I never got ballet out of my system.
Watch the first episode here:
Apr. 15, 2013 10:59AM EST
Remember back in September, when we told you about Christian Siriano's gorgeous Spring 2013 collection? It was inspired in part by American Ballet Theatre's performances of Frederick Ashton's The Dream, and the diaphanous tulle dresses in pastel hues certainly looked fit for a ballerina.
Well, now the collection is hitting stores, and Siriano's designs are being modeled by ballerinas. Siriano chose three beautiful dancers from the ABT Studio Company—Katerina Eng, Isabelle Seiler and Carolyn Lippert—to wear his dresses for the collection's new ads. "I wanted the video to portray the dancers as if each were dreaming about the costumes they'd be wearing in a performance," he told Teen Vogue.
Watch the three dancers glide ethereally through NYC's iconic Waldorf Astoria Hotel in the video below—then scroll down to take a look at a few still photographs from the campaign.
Photos via Teen Vogue
[portfolio_slideshow nowrap=0 thumbs=true timeout=4000 showtitles=true showcaps=true showdesc=true]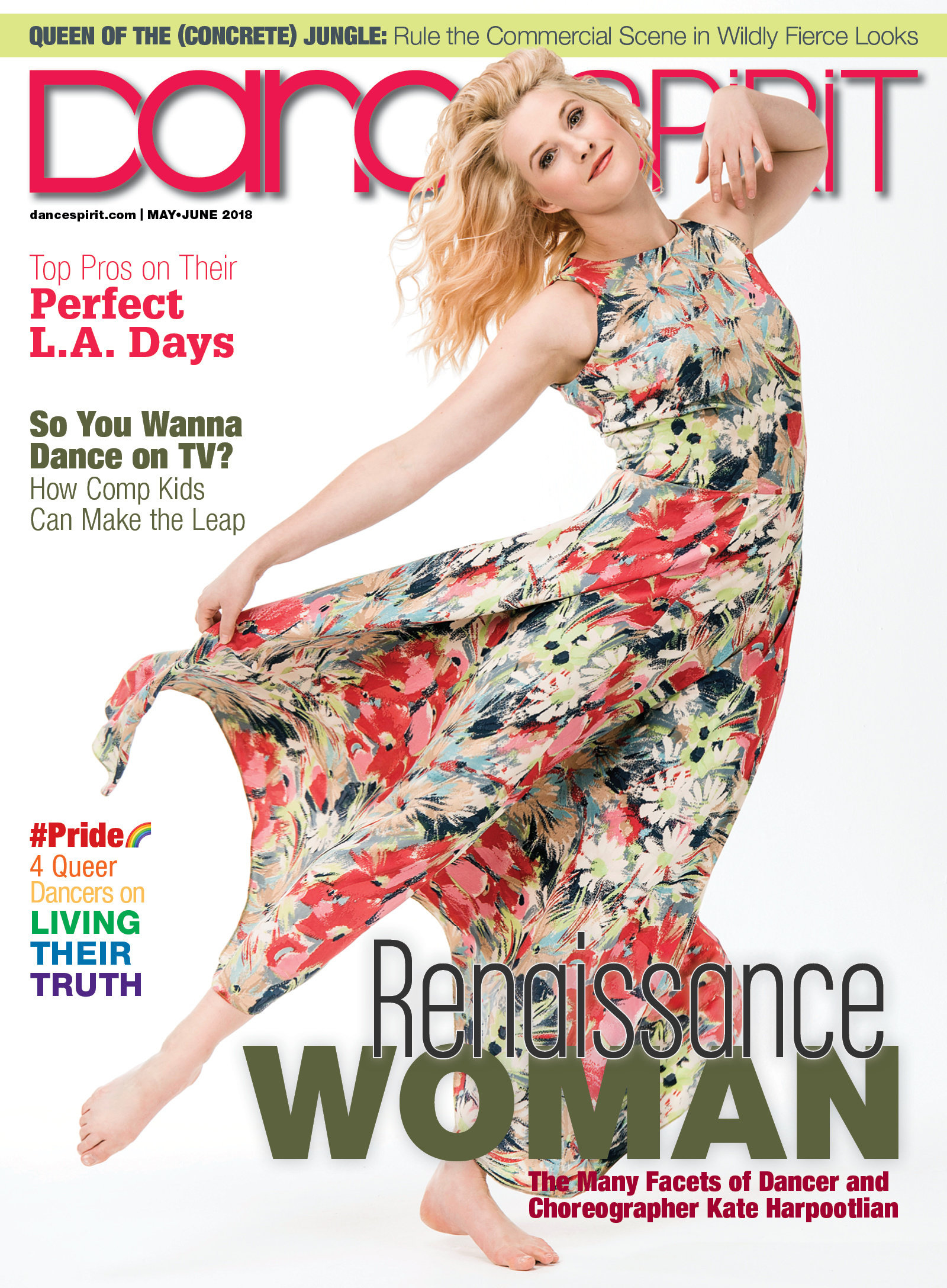 Get Dance Spirit in your inbox