Photo by Erin Baiano
You're obsessed with class videos. We're obsessed with class videos. The passion, energy, and talent showcased in these clips, which give us an insider-y peek at the commercial dance world's hottest classes, are totally irresistible.
But at what point does the phenomenon go from being a good thing to a bad thing for dancers and the dance world? Is the focus on filming distracting from the work dancers are supposed to be doing in class? Are overproduced videos presenting a dangerously misleading picture of the dance world? Is the pressure to be a class video star becoming too much for dancers to handle? These are some of the questions A-list dancer and choreographer Ian Eastwood—no stranger to the class video himself—has been asking on Twitter. And they've sparked a lively, important debate.
Keep reading...
Show less
What makes music-video magic? For Sia, it's a blonde wig and a certain tiny dancer. For Carrie Underwood, Shaping Sound plus a shallow pool of water did the trick. Megan Trainor utilized the magnificent powers of Les Twins—plus lots and lots of lips. Are you sensing a pattern here? Dancers make music videos AWESOME.
British rock band MUSE is the latest musical entity to capitalize on this fact, with their magical formula combining dancers Kathryn McCormick and Will Wingfield, choreographer Tessandra Chavez, a ton of chalk dust and suuuper creepy contact lenses.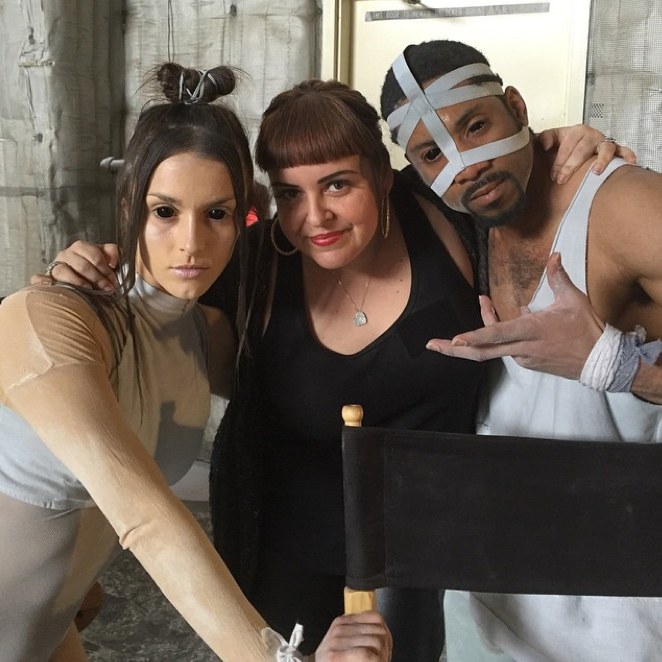 (L to R) McCormick, Chavez and Wingfield on the set of MUSE's "Dead Inside" (photo via Instagram)
The resulting music video, "Dead Inside," is deliciously dark and creepy—and somehow, it managed to exceed our already high expectations. Chavez's choreography expertly walks the line between musical and abrasive, effective and emotionless. And both dancers do that choreography justice, perfectly embodying a possessed, contorted and somehow hauntingly beautiful quality throughout. The excellent camera work doesn't hurt either (shout out to director Robert Hales).
We were particularly impressed with McCormick's transformation. Sure, she's no stranger to being a choreographer's muse (pun intended)—but this project strays so far from the beautiful tragic heroine she often portrays. Guys, Kathryn gets evil. This face may or may not show up in my nightmares tonight, and I'm totally OK with that.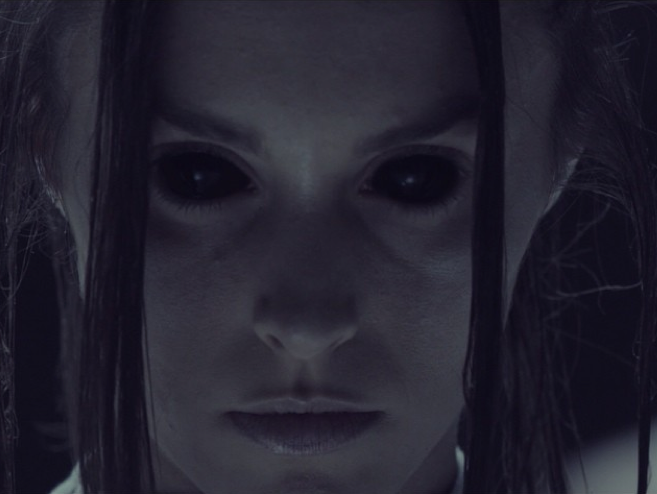 OK, maybe I'm not so OK with that... (photo via Instagram)
I think it's past time I stopped gushing and let you guys experience this beautiful monster for yourselves. Enjoy! (And maybe sleep with a nightlight tonight.)
One of the best things about being a Dance Spirit editor is scouring the globe for emerging talent.
I love spending hours at shows, competitions and even online just searching for that young special someone with a just-about-to-burst-through "It" factor.
Camren Bicondova is one of those dancers you need to know—which is why we featured her recently in our monthly "You Should Know" column.
Camren is talented and sweet, and at just 13 she's already navigating her way through the professional dance world. (Remember her as one of the "flavahz" from the 8 Flavahz crew on "America's Best Dance Crew" Season 7?)
It's so much fun watching these dancers we spot every day progress and delve into the working dance world. I just about squealed when I saw this video from choreographer Tessandra Chavez, starring our very own little Camren.
Enjoy!
Sep. 18, 2012 11:10AM EST
Today is the day! Before long we'll crown our two (two!) "So You Think You Can Dance" champions! We'll know who'll be on our December cover! It's finally happening! I'm so excited that I overdid it a little on the caffeine this morning!
But really: This should be a fantastic finale episode, right? And DS editor in chief Alison Feller and managing editor Rachel Zar will be there in person to see how it all goes down. Follow us on Twitter to catch their tweets from L.A. tonight during the show!
In honor of the fantastic four finalists, I thought I'd round up my top four routines from this season. Then I started browsing and discovered I couldn't, just couldn't, stop at four. So, without further ado, here are my top seven routines:
-Eliana and Alex—contemporary by Stacey Tookey. I mean, when they paired these two technical powerhouses, we knew something magical was going to happen. Did we know it'd be this magical? Nuh uh. Bravo, guys.
-Eliana and Chehon—ballet by Marat Daukayev. Two very classy ballet dancers doing some very classical ballet? YES PLEASE.
-Chehon and Kathryn—contemporary by Tyce Diorio. Tyce's stuff is generally far too cheesalicious for me. But Chehon's emotional connection to this "suitcase" piece made what could have been a bit melodramatic feel honest.
-Tiffany and Brandon—disco by Doriana Sanchez. Any time there's a Doriana Sanchez disco on the lineup, you know you're in for a good time. This particular routine takes everything that's awesome about Tiffany and turns it up to top volume. And those insane PANTS! Love, love, love.
-Tiffany and George—contemporary by Sonya Tayeh. (George! I miss George.) A beautiful, heartfelt routine with a bit of Sonya quirkiness to stop it short of saccharine.
-Tiffany and Cyrus—lyrical hip hop by Tessandra Chavez. Clean, musical, hard-hitting, passionate—it's reminiscent of Chelsea and Mark's showstopping "Bleeding Love" routine from Season 4. And that is high praise right there, people.
-Cyrus's Top 4 solo. OK, yes, it's not a routine. But when it comes down to it, "SYTYCD" choreography doesn't really mesh with Cyrus' unique skills. Only when he's doing his own thing can you see just what a BEAST this boy is.
Well look at that. Going into this, I thought I was an Eliana girl all the way—and who ends up on top of my roundup? Tiffany! Just one of many signs that this contest could still go in any direction—which is just one of many reasons I can't wait for tonight. Another reason? Three words: Carly. Rae. Jepsen.
Tune in tomorrow for our recap of what promises to be an epic finale!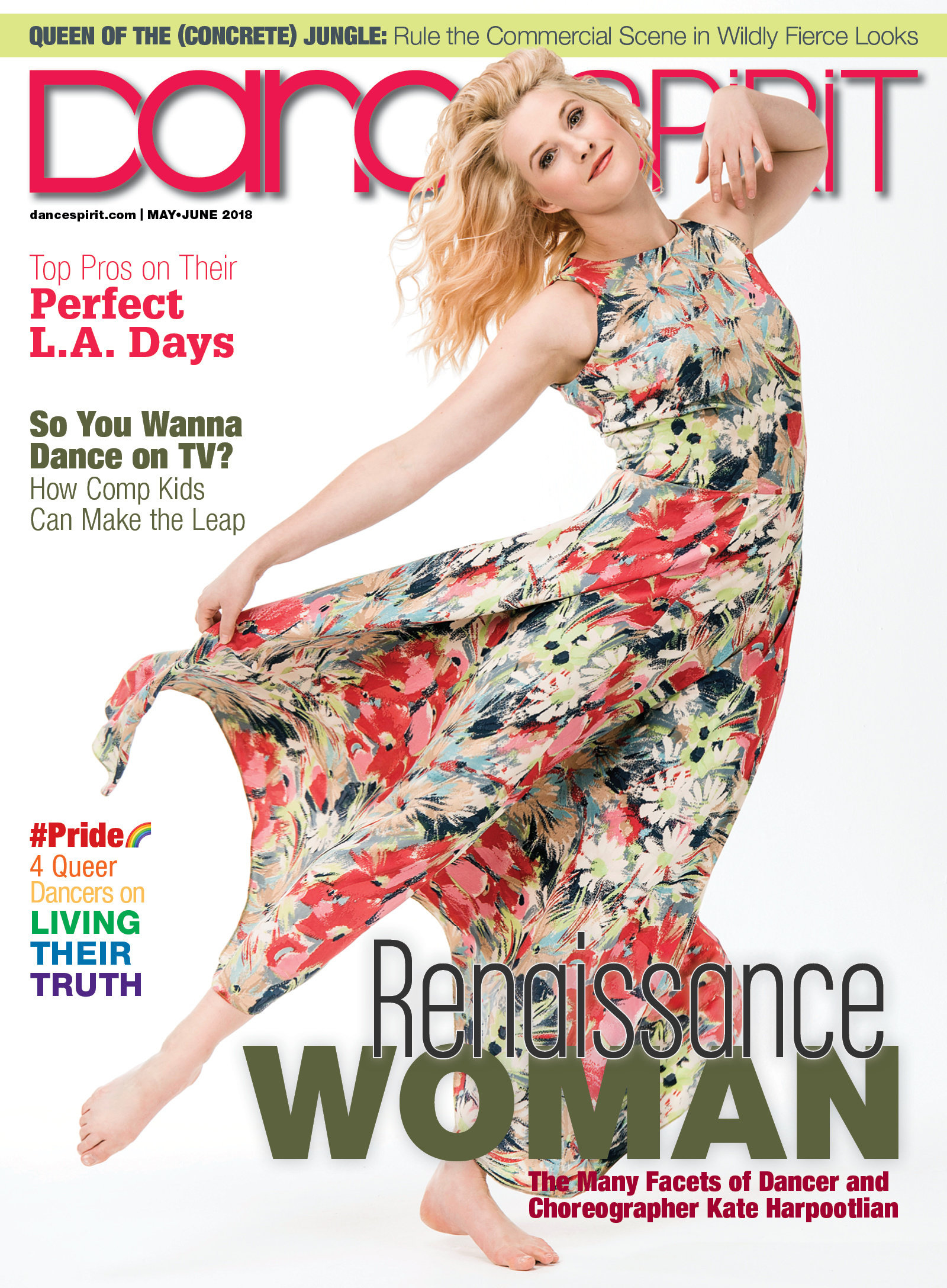 Get Dance Spirit in your inbox