Mar. 23, 2017 05:06AM EST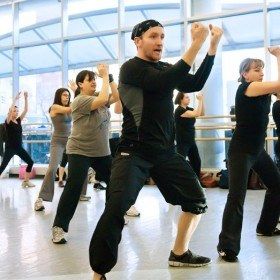 While I've trained in many dance styles (including ballet, jazz, modern, hip hop and Indian dance), my new love is Zumba! This Latin and international dance-inspired fitness program incorporates easy-to-follow choreography to get your heart rate up with intense exercises to keep your muscles working. This weekend I was licensed to teach Zumba, which will be a nice added activity to my awesome summer internship at Dance Spirit. Here are ten reasons that I'm obsessed—and why you should be too!
1. It feels like a party. After a long day of classes, work or my DS internship, the last thing I want to do is spend an hour on the treadmill. Zumba is all about "partying yourself into shape." Now, who doesn't like a good dance party?
2. It's the perfect class to take with friends. While I love group fitness classes like step aerobics, I'm often so focused on trying to avoid falling off the step that I don't pay attention to anyone around me. Zumba is another story. My friends and I claim our territory in the back of the classroom, salsa with each other and sing along to the music. Zumba is social (although my friends and I might go a little overboard).
3. It uses international music. Where else can you dance to salsa, merengue, reggaeton, cumbia, bollywood, bhangra, belly dancing, African and hip-hop music in one class? At my Zumba instructor training session, I learned that at least 70% of the music used in class should be international.
4. It's for everyone. There's no ideal body type for Zumba. You can be male or female, tall or short, young or old, a professional dancer or someone with two left feet. I've even seen a girl dance alongside her mother and grandmother in class, each of them kickin' it to the best of their ability.
5. It's my favorite form of cardio. No amount of Britney Spears (and I absolutely live for anything Britney) can seem to get me through an hour on the treadmill, elliptical or bike. But I actually look forward to getting my heart rate up for 60 minutes of Zumba class.
6. I don't even realize all the calories I'm burning. I don't think I've ever left a Zumba class where I haven't been dripping with sweat. And I love sweating! It shows that I've had a productive workout.
7. It works out my core. I get more than just a cardio workout—I'm strengthening my muscles as well!
8. My brain gets a workout too. I often find my mind wandering while running or bicycling, but in Zumba, I'm 100% focused on the choreography. While it's simple enough to follow along (even for absolute beginners), I still have to pay attention to timing, my form and my alignment, especially during the strengthening exercises. It's one of the only fitness classes where I can completely tune everything else out and focus on having fun.
9. It's perfect for dancers. While other exercise classes, like kickboxing or step aerobics, incorporate basic combinations and choreography, Zumba is one of the few classes that builds up to an entire routine. It's based on repetition, so it's easy to follow, but I still feel like I'm in a dance class as opposed to just a fitness class.
10. It makes me smile. Don't get me wrong, I love feeling like Superwoman in a good kickboxing class, but Zumba involves a more feel-good approach that I can definitely appreciate.
Dance News
Nov. 03, 2016 10:40AM EST
Late night goofball Conan O'Brien has brought his "Conan" hijinks to NYC this week, to the delight of all New Yawk peeps. Though he's in town a tad too early to enjoy Alvin Ailey American Dance Theater's fall season (it kicks off November 30 at New York City Center), O'Brien decided to get his Ailey on anyway. And we mean that rather literally: He donned a dance belt (props for that, Coco) and took class with a bunch of advanced students at The Ailey School.
We're not going to say O'Brien has ZERO dance skills—we'll admit to being fans of his weirdly mesmerizing "string dance"—but it's close. Which makes his attempts to execute a lateral T alongside Ailey's best and brightest pretty, pretty, pretty funny. Ailey School co-director Tracy Inman serves as Coco's ever-patient guide to the world of modern dance, and the perpetually good-natured AAADT artistic director Robert Battle even stops by to, um, evaluate O'Brien's skills.
It's all very cute and endearing—and it shows a mainstream audience just how fiercely talented Ailey dancers are. Also, can we talk about the fact that O'Brien seems to have a bit of a Fosse fetish? You go, Coco!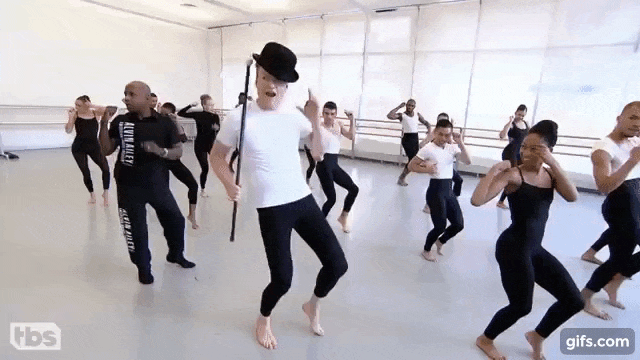 After all that silliness, O'Brien invited AAADT dancers Solomon Dumas, Sean Aaron Carmon and Kanji Segawa to show the world how Ailey is really done: The trio performed the showstopping "Sinner Man" from Revelations onstage at the Apollo Theater. Take a look at Conan's class capers, and the Ailey dancers' performance, below.
Dance News
Dec. 10, 2012 01:14PM EST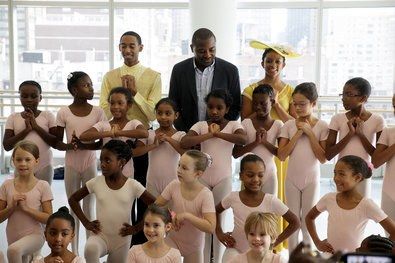 I will never stop wanting to hear about even the littlest, most mundane details of dancers' lives. I mean, let's be honest: We all have our stalker-y tendencies. But while my friends get their celebrity dirt from Us and People, I read dance companies' Facebook pages and scour dancers' Instagram feeds. They're my celebrities, and I want to know everything about them.
I love the New York Times' "Sunday Routine" column—which walks us through a Sunday in some cool person's life—because it totally encourages that kind of curiosity-driven obsessing. And when the column features a dance-world hotshot? That's doubly fun. (Mark Morris' contribution is still one of my favorite things ever.)
Yesterday, we heard about Alvin Ailey American Dance Theater director Robert Battle's Sunday. It sounds totally delightful—coffee in a Lotus garden, hanging out with the littlest students at Ailey, eating eggplant parms, watching the Food Network. Take a look. (And New Yorkers—there's still time to catch AAADT at New York City Center!)
Oct. 01, 2010 04:45PM EST
The dance world lost one of its pillars this summer with the passing of Denise Jefferson, The Ailey School's director.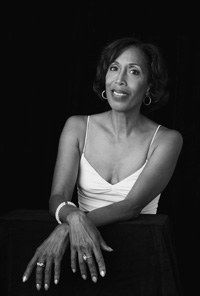 Following a performance career with Pearl Lang Dance Company, Jefferson began teaching at The Ailey School in 1974. A decade later, Alvin Ailey appointed her director. During her 26 years at the helm, Jefferson (affectionately known as "Ms. J") significantly expanded the school's junior and professional divisions and developed the Ailey/Fordham BFA program.
Jefferson is credited with helping launch the careers of countless professional dancers. Nearly 90 percent of Alvin Ailey American Dance Theater's current dancers, including Matthew Rushing and Clifton Brown, trained at The Ailey School during Jefferson's tenure as director. Other notable former students include Desmond Richardson, artistic director of Complexions Contemporary Ballet Company; Vivian Nixon, an ensemble dancer in Broadway's Memphis; and Shayla-Vie Jenkins, a dancer with Bill T. Jones/Arnie Zane Dance Company.
"She always pushed young dancers to pursue their dreams," says Yannick Lebrun, a dancer with AAADT. "She was very generous with her knowledge of dance and I'll always remember her wisdom."
Dance News
Oct. 01, 2009 05:00PM EST
Spreading the Love
This past summer, The Juilliard School provided summer grants to its students and alumni to travel to Arusha, Tanzania; San Francisco; Manila City, Philippines; and São Paulo, Brazil; to work with underprivileged children who are unable to afford schooling or intensive lessons in the arts. The volunteers visited homeless shelters and youth centers, where they offered children tutorials in contemporary dance, music, vocation, improvisation and storytelling.
"SYTYCD"'s Nigel Visits NYC Students
On a rare break from his busy schedule as Executive Producer of "So You Think You Can Dance," Nigel Lythgoe recently popped into NYC to meet with students from two of the city's top dance schools. He was in town promoting his new Dizzy Feet Foundation, an organization geared toward providing training scholarships to promising young dancers, which he recently co-founded with "Dancing With The Stars" judge Carrie Ann Inaba and actress Katie Holmes.
At the Jacqueline Kennedy Onassis School at American Ballet Theatre, Lythgoe was treated with a demonstration by Tony Award-winner David Alvarez Billy Elliot and some of his classmates. He also observed ABT's ongoing Teacher Training Intensive and sat down with [ital: DS] editor in chief Kate Lydon for a Q&A session about the Dizzy Feet Foundation. (For more on the Dizzy Feet Foundation, be sure to check out the November issue of DS!)
Lythgoe also visited The Ailey School for a presentation by seven dancers from Ailey II, the school's second company. The students performed selections choreographed by Ailey II Associate Artistic Director Troy Powell and were later introduced to Lythgoe.
[Visit dancemedia.com to view video from Nigel's visit to ABT & The Ailey School!]—Colleen Bohen
Don't Stop Believin'
This year at the 30th Annual Leggz Ltd. Dance Show, 17-year-old Danny Quadrino was awarded the Danny Ruvolo Memorial Dance Scholarship Award. Quadrino says this victory was sweet, yet unexpected.
So how did Quadrino prepare himself for this moment? He credits his success to his first jazz class at the age of 7, which eventually lead him to take an array of styles, like theater jazz and hip hop. "Dancing at Disney, the Orange Bowl and in Nutcracker, as well as at other charitable events, helped me not only establish myself as a dancer, but also as a better performer," Quadrino says.
The road to your dreams may be a difficult one, but Quadrino says that if you believe in yourself, you'll make it. " If you love it, then keep dancing and never let anyone or anything get in your way," he says. "If you find that someone is trying to bring you down, don't get defeated; use that person as a way to work harder and prove them wrong. Never, ever give up."
Catch the high school senior in Broadway's revival of Bye Bye Birdie, which opens this month.
A Whole New World
Congratulations to Lonnie Weeks, who received the silver medal in the Junior Division at the Helsinki International Ballet Competition in Helsinki, Finland, this past summer.
Weeks competed against dancers from 24 other countries. "Going to Finland was such an eye opener," he says. "I got a feel for other countries' styles, and it helped me figure out my talent level compared to theirs."
Though Lonnie is only 18 years old, his career has already taken off. Before joining his current company, Texas Ballet Theater, he was awarded a full scholarship to the Faubourg School of Ballet and the Ruth Page Center for the Arts in Chicago. In 2005, he was given another full ride to attend the Texas Ballet School's Fort Worth Academy. Just a year later, he became the youngest male to advance to full company member! "At TBT, I'm able to really showcase my artistry and I love that," Weeks says. "I think a lot of companies these days are too focused on technique. Dance comes straight from the heart, and you need to use that in every performance." Weeks feels at home at TBT, which is why he plans on sticking around for a while. "I still have a lot to learn, and TBT is the best place to do it," he says. "You never want to think you're the best—you always want to keep improving."
Meaghan Hinkis of ABT II, 18, won a bronze in the girl's Junior Division at the Helsinki International Ballet Competition this year. You may recognize her because she appeared in [ital: DS]' March 2008 issue as one of our "10 Up & Coming Talents To Watch." Guess we aren't the [ital: only] ones with our eyes on this young superstar!
Give a Little, Get a Little
When you donate your time by volunteering at your dance studio or after-school dance classes for youth, it can definitely pay off. If your volunteer efforts have been continuously recognized by your studio directors or teachers, mention The Prudential Spirit of Community Awards to them. The competition is a great way for middle and high school students to benefit from their extra effort and impact.
The first round narrows the competition down to 102 State Honorees, two students from each state. Those chosen receive $1,000 and a trip to Washington, DC! From that group, 10 are chosen to be National Honorees and win an additional $5,000 and grants for a nonprofit organization of their choice. Apply by October 31 at prudential.com/spirit.
Dance News