Popular
Oct. 04, 2017 10:33AM EST
A screenshot from San Francisco Ballet's 2015 World Ballet Day live stream
World Ballet Day is BACK, dance friends! Tomorrow, October 5, five top-notch ballet companies—The Australian Ballet, the Bolshoi Ballet, The Royal Ballet, The National Ballet of Canada, and San Francisco Ballet—will host a 22-hour (!) live stream, bringing viewers inside their classes, rehearsals, and backstage preparations. Ten additional ballet companies will join the hosting orgs for guest appearances. It's the fourth year we've been gifted this ballet present, and 2017's version looks to be bigger and more beautiful than ever before.
Keep reading...
Show less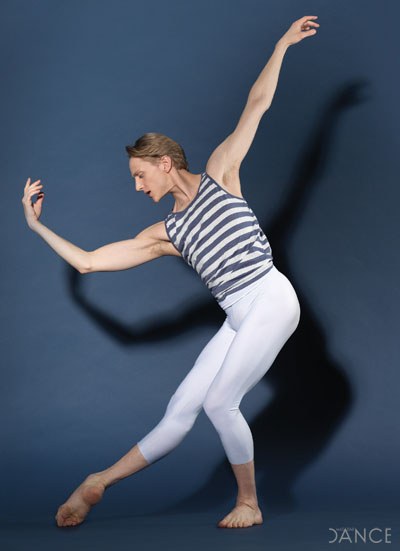 Hallberg back in 2012 (Matthew Karas for Dance Magazine)
How much have we missed American Ballet Theatre and Bolshoi Ballet star David Hallberg? SOOOOOOOO MUCH.
The gorgeous dancer suffered a serious ankle injury back in 2014, which was the beginning of a dark period in many devoted Hallbergians' lives. But we really started to worry about a year ago, when he shaved his famously luscious locks and then essentially disappeared—not just from the stage, but also from NYC, and even from Instagram. Let's just say that many prayers were sent to the dance gods on his behalf.
Then, a few months ago, there was a glimmer of hope: It looked like Hallberg was back in the ballet studio. And a couple of weeks ago, we got the news we'd been waiting for: An Australian dance critic revealed Hallberg would be returning to the stage December 13, dancing Franz in the Australian Ballet's production of Coppélia.
Naturally, there was much rejoicing.
This week, the Sydney Morning Herald published an interview with Hallberg in which he talks about how he's spent the past year. Basically, he moved to Australia and devoted himself completely to his recovery—a long, grueling, mentally devastating process. "Emotionally, some days I was just going by the words of my team and not my own self-belief," he told the Herald. "I was lost mentally but something inside me kept fighting. It took an army of people to get me back on stage. It wasn't just me. It really took the positive reinforcement of the entire team to say, 'you are doing this, this is happening'."
Hallberg's Coppélia performance will actually be his debut as Franz, which makes sense in a way—a fresh start for his fresh start. We are, to put it mildly, profoundly jealous of Sydney's balletomanes. (Here's hoping Hallberg finds his way to NYC soon.)
Welcome back to the stage, David. May you never have to leave it again!
You guys, it's just tutu much! (I'm sorry. I had to.) One look at the insanely beautiful, brand new tutus for David McAllister's The Sleeping Beauty at The Australian Ballet is enough to make you wish you could live in a mountain of pink tulle and gemstones for the rest of your life.
As we know, tutus can get a little, well, grimy, after years of wear and tear. But since this is a brand new production, the costumes are all completely fresh. And genius designer Gabriela Tylesova has pretty much outdone herself with these beauties—the colors and shapes jump right out of the photos. This is just old-fashioned #nofilter craftsmanship at its best!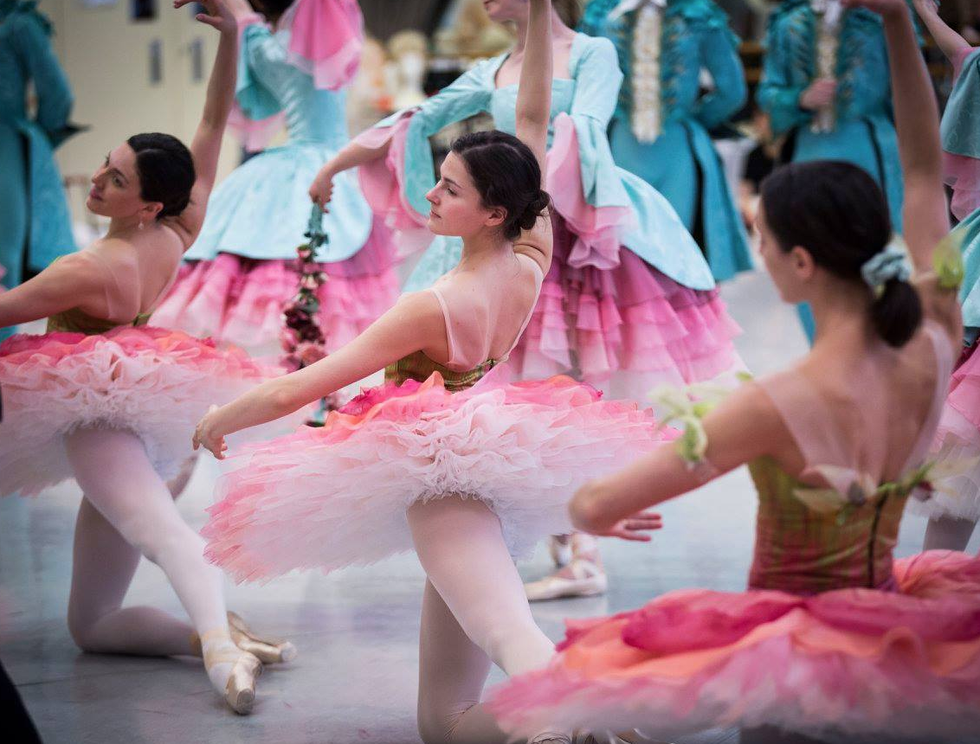 Nicola Curry, Valerie Tereshchenko, Dimity Azoury and artists of The Australian Ballet (photo Kate Longley)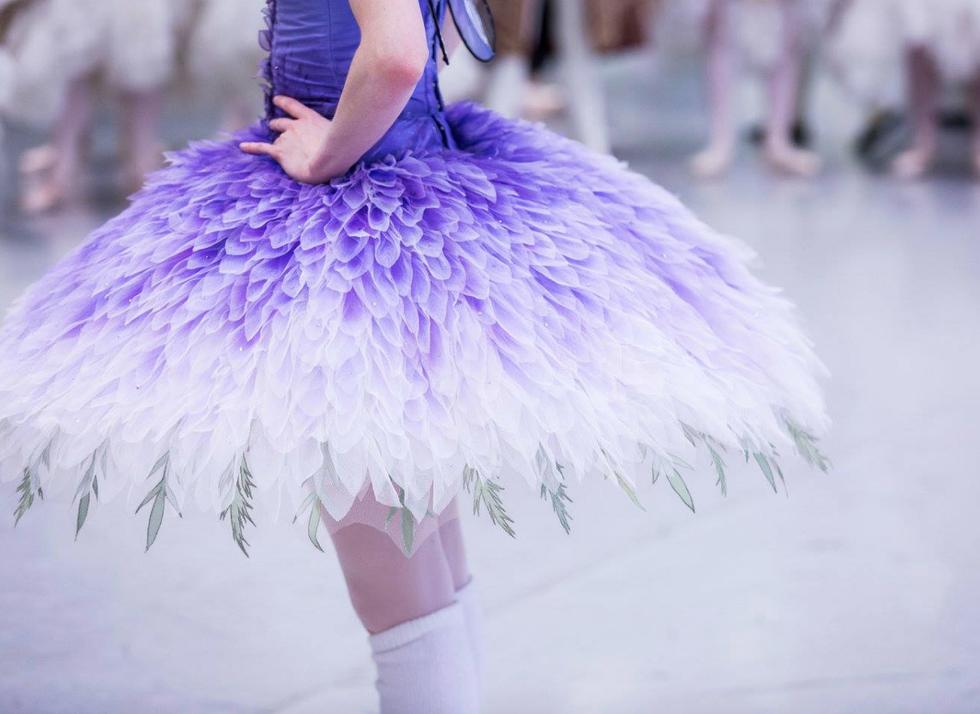 Amber Scott rehearses the Lilac Fairy (photo Kate Longley)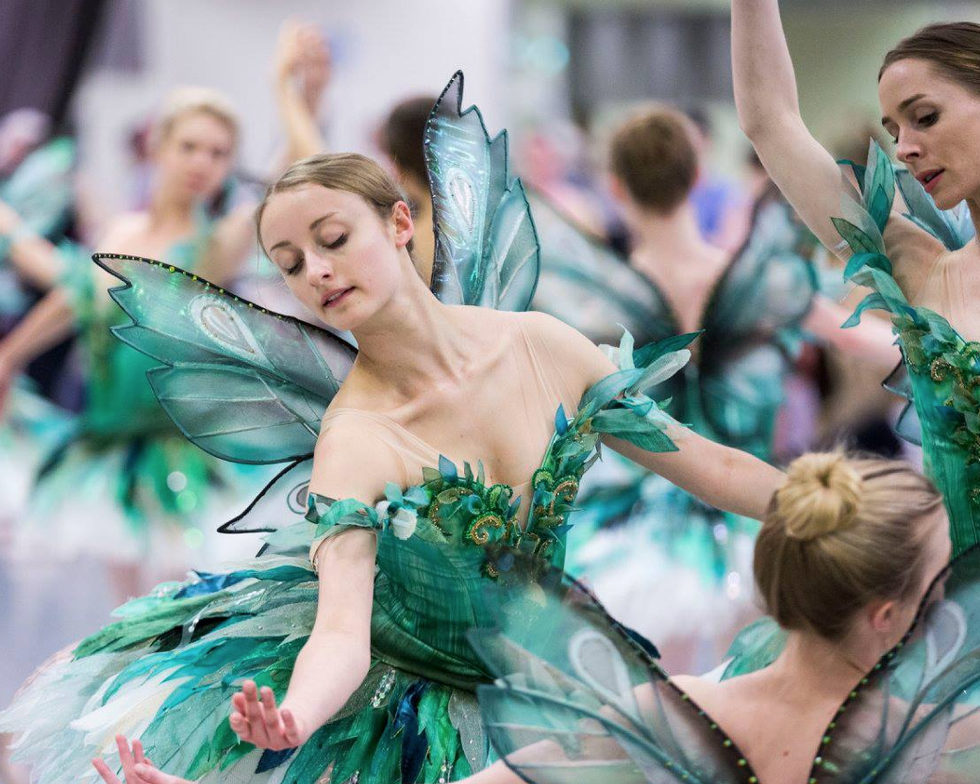 Sophie Morgan and artists of The Australian Ballet (photo Kate Longley)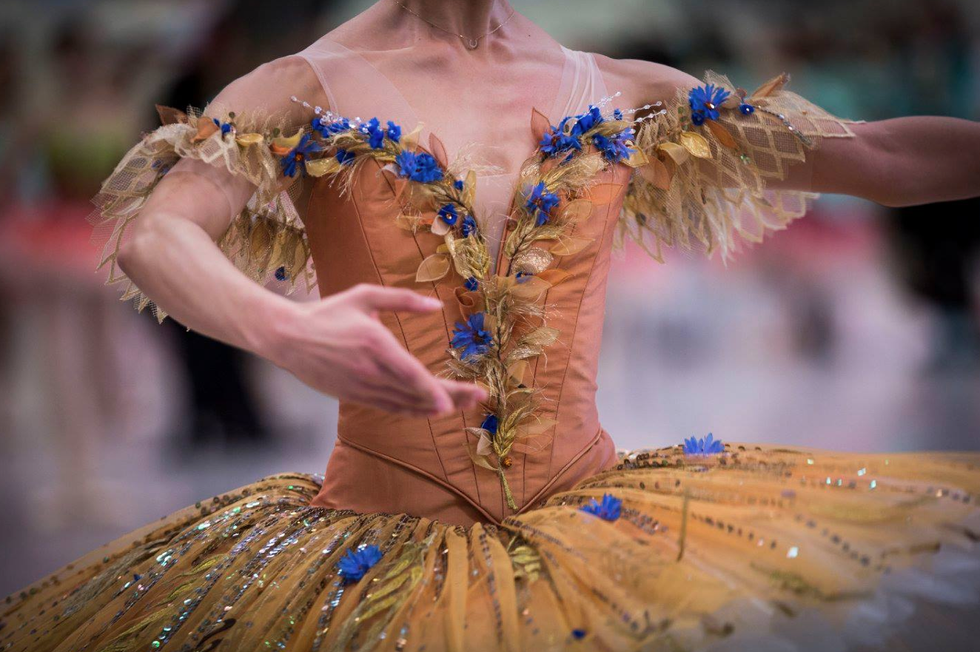 Robyn Hendricks (photo by Kate Longley)
Do you need more? (Yes.) Take a close-up look at Princess Florine's tutu and travel to Paris to see even more tutus on display.
Ah, pointe shoe rituals: Few things are more fascinating—or more personal. Discovering the tricks that work best for your shoes and feet is part of figuring out your dancer identity. Should you crush your shoes in a door? Soak the boxes in water? Scratch up the soles? Three-quarter the shanks? Sew the ribbons on the inside, or the outside? These are seemingly tiny decisions, but they can make a huge difference in how you look and feel while dancing.
A couple of years ago, The Australian Ballet made a mini-documentary about how some of its dancers break in their pointe shoes. I missed the film when it first came out, but L.A.'s Music Center recently re-posted it, in honor of TAB's October U.S. tour. It's totally mesmerizing. As principal Amber Scott says, preparing your shoes is essentially a meditative process, as beneficial for your mind as it is for your feet—and the footage draws us right into that peaceful space.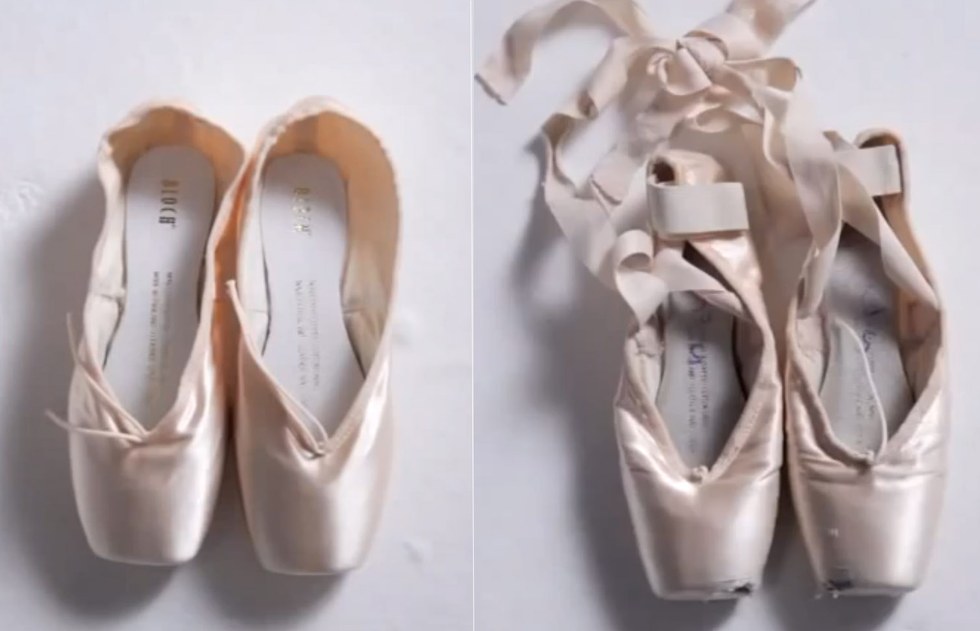 Corps dancer Jessica Fyfe's pointe shoes—before and after.
In other words, it's the perfect "relax, it's Friday" video. Take a look!
Apr. 20, 2012 10:51AM EST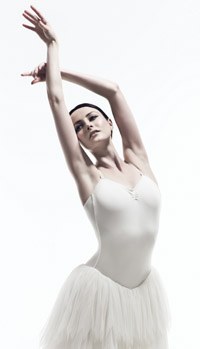 As Odette in Swan Lake (by Liz Ham)
With her razor-sharp lines, pristine technique and innate musicality, The Australian Ballet principal Amber Scott is any choreographer's dream. Born in Brisbane, Australia, Scott started training at The Australian Ballet School at age 11. After graduating at the top of her class, she was asked to join TAB in 2001 and was promoted to the rank of principal in 2011. Scott has charmed audiences with her versatility, embodying characters from Hanna Glawari in Ronald Hynd's comic ballet The Merry Widow to Juliet in Graeme Murphy's Romeo and Juliet. Luckily, you can see Scott perform without paying for a plane ticket to the Land Down Under: She's heading to NYC with TAB in June. The company will perform Murphy's Swan Lake and a contemporary mixed bill with works by Wayne McGregor and Stephen Page at the David H. Koch Theater.  —Gretchen Schmid
Dear Amber,
Take it from Winston Churchill: "These are great days."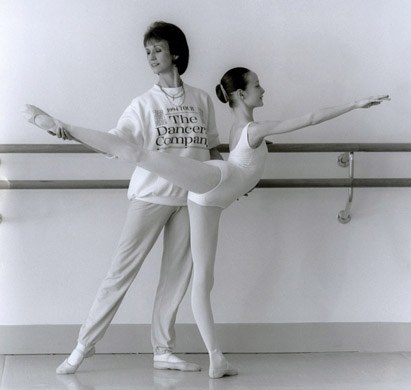 A teenage Scott, getting corrections from Gailene Stock (courtesy Amber Scott)
At the difficult points in your teenage years when growth spurts, braces, boys and ballet make you feel awkward, think of those words. The duckling phase will melt into the swan era before you know it. The dedication and focus that you're learning now will be the most valuable tools you take into your career. These are days of possibility, when everything is ahead of you.
Let the books you read about famous dancers, great people and exciting destinations stir your imagination. You'll be meeting some of these artists and traveling to exotic locations sooner than you think.
Your body is becoming the refined tool that will allow you to realize your dancing dreams. Be kind and patient with it. When it's tired, rest. When it's sore, stop and ask for help. Ballet is not a race. Focus on developing strength in an intelligent way. Quality is always better than quantity.
Treasure the love of your family. They are your backbone and will always be a source of resilience.
Above all, be brave, girl! You have the inner grit to make it as a ballerina. Enjoy the journey. And every once in a while, take out that ballet bun, get out of your pointe shoes and enjoy fun times with your friends!
Amber Scott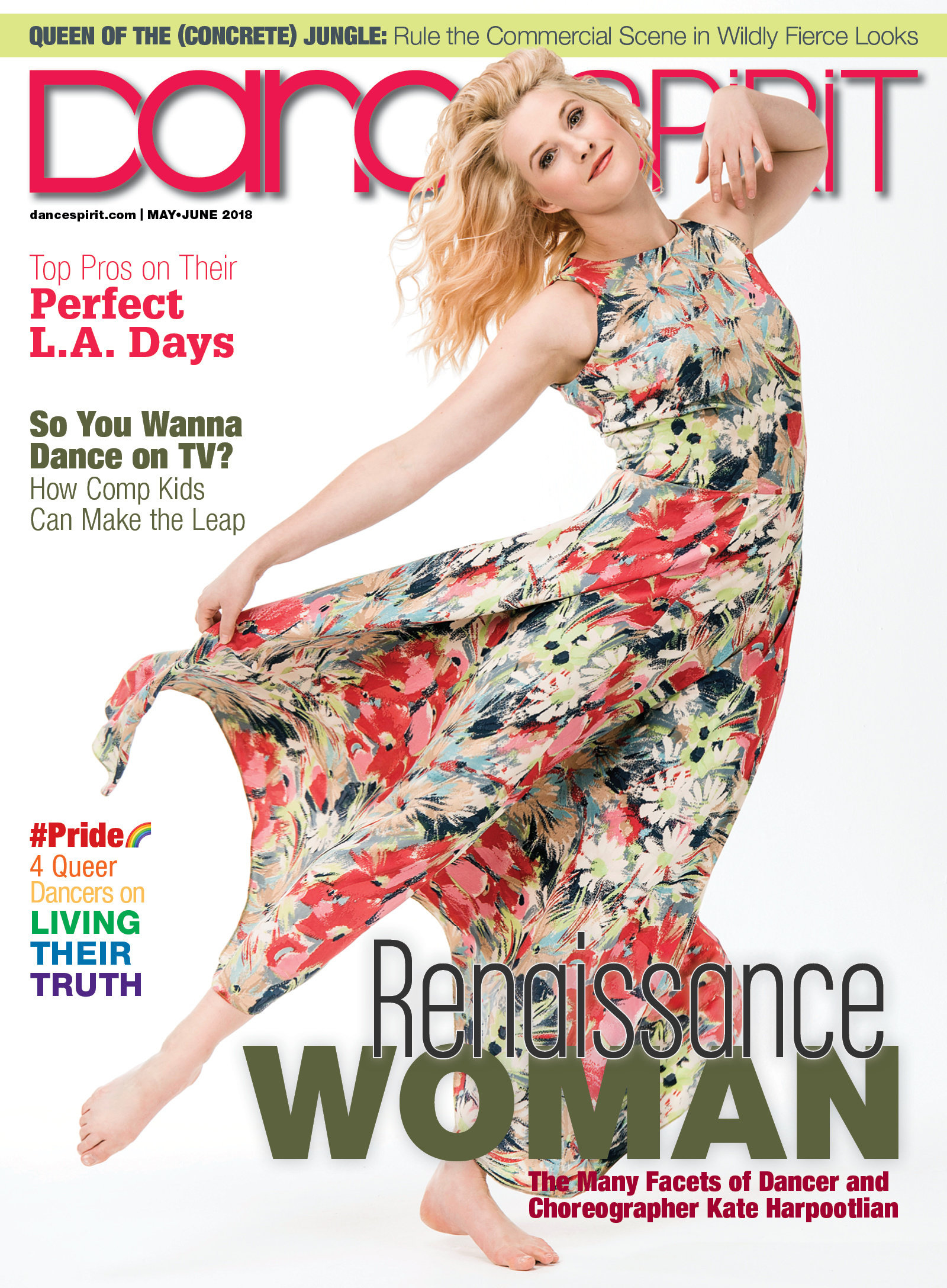 Get Dance Spirit in your inbox