Last night, "The Colbert Report" came to a close. But Stephen Colbert isn't one to go out with a whimper. Instead, the final episode of his genius political show featured an epic musical finale, with appearances by about a gagillion guest stars who sang and danced their little hearts out.
Prominent among them were none other than Lil Buck and David Hallberg—who, naturally, had the best dance moves of the entire group. (Hallberg even waltzed with Katie Couric, as one does when one is a dancer standing next to Katie Couric.)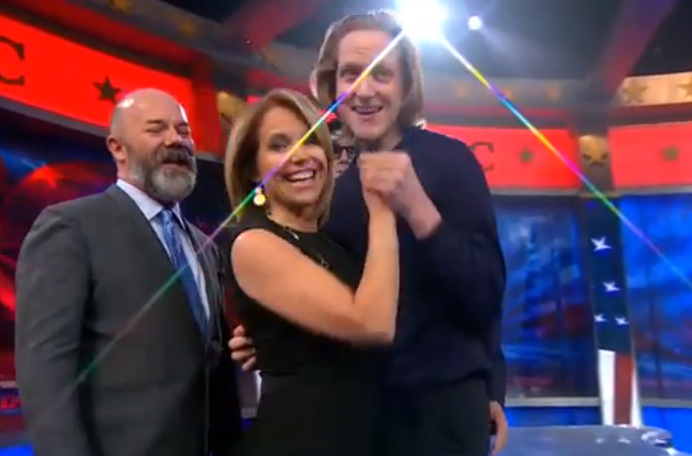 But who has better hair?
Seem a tad random? It isn't, actually! Both of the dance stars made memorable guest appearances on "The Colbert Report" in the not-so-distant past. Last year, Lil Buck walked Colbert through the entire history of Memphis jookin (which is totally fascinating), complete with demonstrations. And back in 2011, shortly after Hallberg announced he'd be joining Moscow's Bolshoi Ballet, he got Colbert to don tights for a little balletic duet. Bless you, Stephen Colbert, for calling attention to some of the coolest people in the often-overlooked dance world.
Check out last night's song-and-dance number below—and then take a little walk down memory lane and watch the original Lil Buck and David Hallberg segments. We'll miss you, "Colbert Report"!
American Ballet Theatre Principal David Hallberg is making an appearance on The Colbert Report tonight, December 7, in the wake of his recent—and controversial—move to the Bolshoi Ballet. (He's currently performing as a principal with both companies. He danced Sleeping Beauty with the Bolshoi in November and is dancing The Nutcracker with ABT this month.) He'll be the first ballet dancer to perform on the show. Word is, Colbert might be slipping on his dancing shoes, too!
We have a feeling this is one interview you don't want to miss. Things could get, well, interesting.
The Colbert Report airs at 11:30 P.M. EST on Comedy Central. For more information, click here.


Get Dance Spirit in your inbox