Nov. 06, 2017 10:16AM EST
Tiler Peck on "The Ellen DeGeneres Show" (via YouTube)
There are certain people in the dance universe who can just do no wrong. One of them is Ellen DeGeneres, the ultimate dance fangirl, who regularly features our favorite dancers (including her bestie, tWitch) on her ever-fabulous TV show. Another is Tiler Peck, the insanely versatile New York City Ballet principal who we've never seen give a less-than-jaw-dropping performance, even when she's in tap shoes.
In a way, it was only a matter of time until Peck made her way to DeGeneres' much-danced-upon stage. But when the moment actually came—during last Friday's ep—it was even more epic than we anticipated.
Dance Videos
Mar. 23, 2017 02:42PM EST
Did you see Drake on Ellen?
No, literally: Did you see teeny-tiny Drake dancing ON TOP OF Ellen?
You guys, this is the best.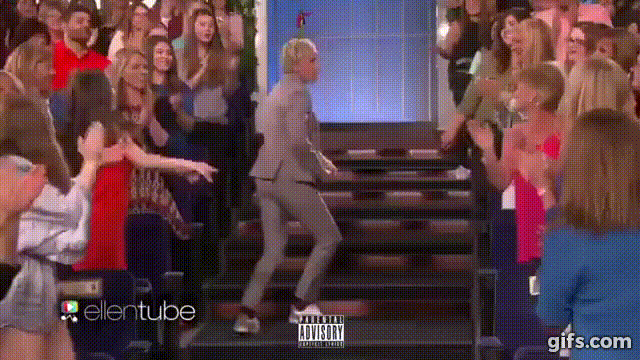 Look: Wednesdays are rough. We know that. But thanks to Drake and Ellen DeGeneres, we now have a meme to get us through this Wednesday and possibly all the Wednesdays to come.
Allow us to explain.
Drizzy is set to appear on "The Ellen DeGeneres Show" next week to promote his latest (very good) album, Views. And because he's the internet's most meme-friendly rapper —or, at least, the rapper with the best sense of humor about all that (*cough* Kanye)—the fine, fine folks at "Ellen" decided to create a trailer for his appearance featuring a pint-sized Drake grooving atop a dancing DeGeneres. Which is every bit as amazing as it sounds.
How amazing? Mini Drake starts out boogying on Ellen's shoulder. Sensing a better platform for his moves, he scrambles up the back of her head. Ever the crowd-pleaser, he then slides oh-so-gracefully down her arm so he can join the fans' dance party.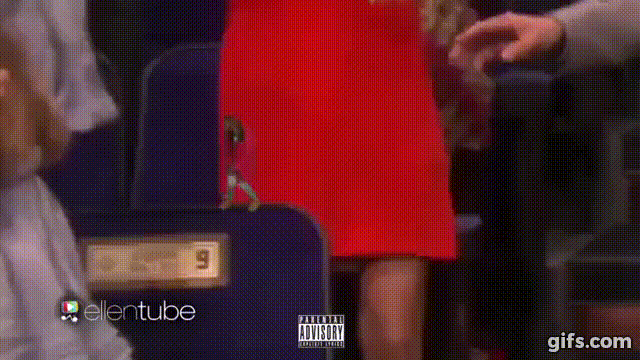 We'll stop talking now so you can just enjoy this thing, which is our favorite thing since Paula Deen started riding on things. Catch Drake on (get it? GET IT??) "Ellen" next Wednesday, May 18.
Dance News
Mar. 23, 2017 06:05AM EST
So, if we started doing a weekly "Ellen DeGeneres amazingness" update, would you all be OK with that? Yes? Good. I thought so.
In that case, here's this week's installment: Bradley Cooper taught Ellen how to waltz on her show a few days ago.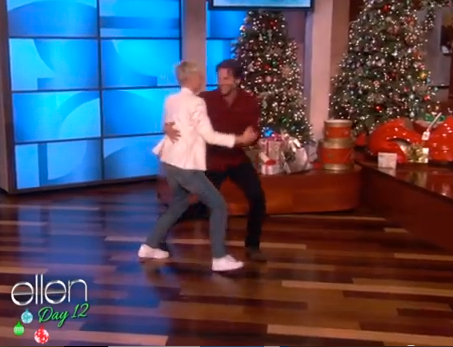 That sounds strange out of context, but if you've seen Silver Linings Playbook, Cooper's latest movie, it makes a bunch of sense. In the film Cooper plays a man who's just returned home from a psychiatric facility, and who rediscovers himself with the help of a) Jennifer Lawrence, who is uh-ma-zing as a depressive widow, and b) ballroom dance. Weird on paper, awesome in reality. Or at least movie reality. (And the film features some legitimate world-class ballroom dancing too, which is fun.)
Anyway, Cooper actually did do a fair amount of dancing in the movie. And if you have any connection to dance, however tenuous it may be, lord knows you're gonna be showing off your moves on "The Ellen DeGeneres Show." Cooper chose to display his skills by giving Ellen a waltz lesson.
The result was equal parts adorable and awkward. Take a look!
Jan. 27, 2017 07:00AM EST
Can we talk about how wonderful the tWitch—Ellen DeGeneres bestfriendship is? They've hearted each other for ages. (Remember their epic duet, with Ellen doing a verrry impressive Alex Wong impression, during the "SYT" Season 7 finale? Yeah, that was SEVEN YEARS AGO). tWitch has even served as a featured DJ on "The Ellen DeGeneres Show" for the past few seasons. Their dance-based love for each other knows no bounds.
So it's only fitting that Mr. Boss would get his boss a delightfully dancey birthday present. tWitch surprised Ellen, who turned a totally unconvincing 59 yesterday, with a celebratory performance featuring some of his friends from 24 Seven. (We see you, Hefa, Randi and Kaycee!) They broke it down old school—like, running man, walk-like-an-Egyptian old school—to the equally old school and oh-so-appropriate "It's Your Birthday" by Luke. A a giant breakthrough wall of wrapping paper was also involved, which, many bonus points.
"What more perfect gift for Ellen than the gift of dance, right?" tWitch told the audience. "It is my honor to give such a gift to such a kind, genuine, generous person." 💕💕💕
Enjoy the lovefest, friends:
Dance News
Jan. 12, 2017 11:39AM EST
We love it when world-class dancers visit "Ellen"—which, given Ellen Degeneres' delightful dance obsession, happens just about every day. But a Shaping Sound "Ellen" performance? That's next-level stuff. Especially when it features a number from the company's new show, After the Curtain, and stars Travis Wall himself.
It happened this week, and it was exactly as good as you'd imagine. Set to Son Lux's "This Time," the number included an old-timey typewriter, a creepy light-up book, some very fabulous 1920s wigs and a whole lotta paper. Basically it was Chicago meets Newsies meets The Great Gatsby, as re-imagined by crazy-genius TWall.
Take a look!
Dance News
Oct. 31, 2016 10:16AM EST
We're guessing you or someone from your dance posse has dressed up/is currently dressed up as Sia-mode Maddie Ziegler. It's one of the preferred last-minute Halloween costumes for dancers, after all (nude leo, blonde wig, crazy face, go!)—including, last year, American Ballet Theatre principal Isabella Boylston. But we have to admit that we never expected noted Halloween enthusiast Heidi Klum, known for her super-duper maximalist costumes, to channel Maddie Z.
Leave it to Ellen DeGeneres, another Halloween devotee, to make that happen. For today's episode of "The Ellen Show," the dance-loving DeGeneres had Klum play the Maddie to her Sia. And they didn't stop at costumes: The two also did their own rendition of Sia's "Chandelier" video, complete with Klum's, um, interpretation of Ryan Heffington's choreography.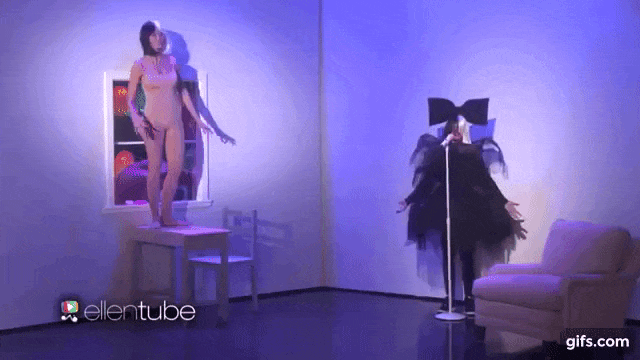 Is Heidi Klum secretly a great dancer? Nah. But the pair managed our expectations by confessing to rehearsing for a grand total of seven minutes—and the deliberately goofy result is actually kind of fun, in the way that everything Ellen touches is fun.
Happy Halloween, friends! ?
Dance News
Oct. 29, 2016 07:00AM EST
Apr. 28, 2016 11:15AM EST
Ellen DeGeneres: #bless. It's rare to find a mainstream celeb who seems as legitimately obsessed with dance as we are—and few stars have done more to support the dance community than DeGeneres. The most recent case in point? She invited a whole mess of fabulous people from DancerPalooza to give a special performance on her show, set to air this afternoon.
Odds are good that you already know all about DancerPalooza: The ginormous dance festival takes over Long Beach, CA, for a week each summer, boasting an impossibly good faculty and a "Beat Squad" of talented kids from all over. But for those of you less familiar with the DancerPalooza crew, allow Mr. Travis Wall and Mr. Stephen "tWitch" Boss, who helped coordinate the "Ellen" performance, to be your tour guides. They act as squad leaders in the razzle-dazzle number for the show, which introduces "Ellen" fans to, oh, about a billion of our other favorite dancers. (A VERY incomplete list: Melanie Moore. Nick Lazzarini. Ricky Ubeda. Gaby Diaz. Tate McRae. Brady Farrar. Lucy Vallely. Simrin Player. Sean Lew. Kayla Mak.)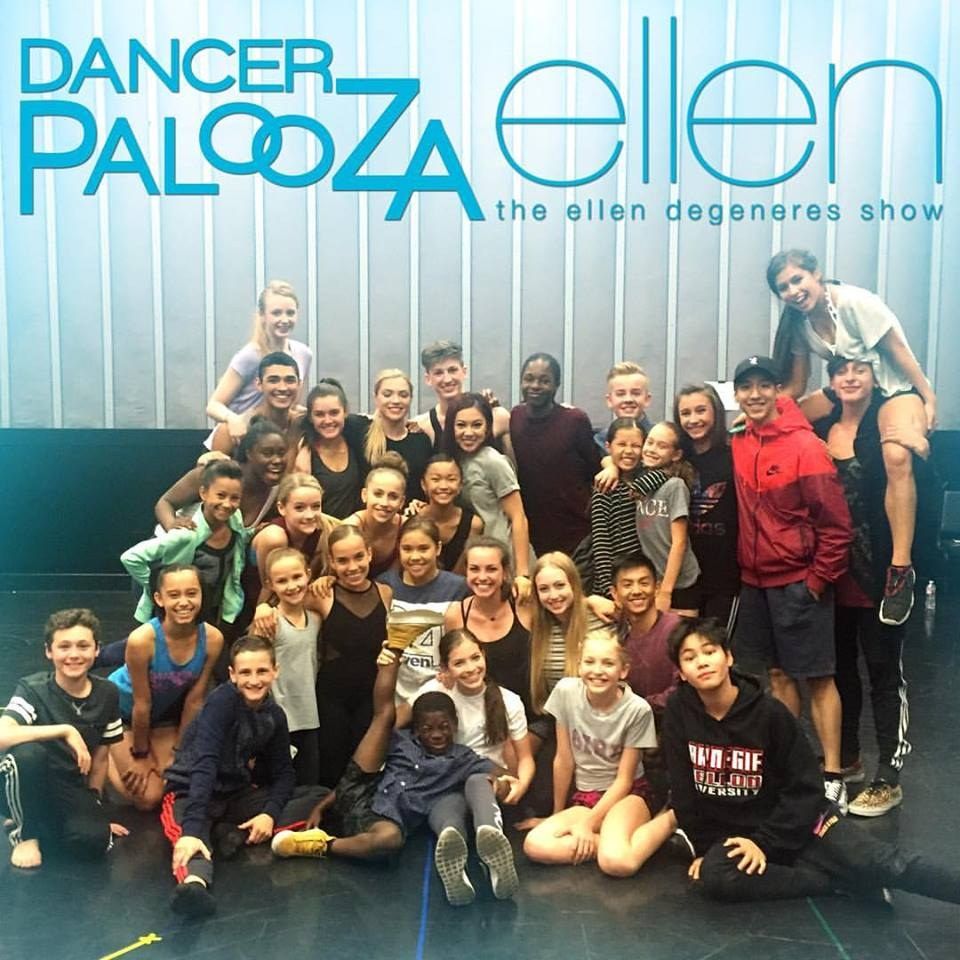 I mean, even this massive group photo doesn't include all the dancers involved. (image via DancerPalooza Facebook page)
Check your local listings to find out exactly when you can catch #teamdancerpalooza on-air. But if you're itching to see the performance RIGHT NOW, you're in luck: Ellen's team actually just posted the whole shebang online. Watch it below—and then, let's be honest, watch it again on TV this afternoon:
Dance News
Jan. 09, 2016 07:00AM EST
The Ellen DeGeneres Show is no stranger to amazingly talented guest dancers. I mean, we've got the Hough siblings, hip-hop mini wunderkind Heaven and Stephen "tWitch" Boss as a recurring guest DJ—and that's only naming a few. What could possibly top this list, you're wondering?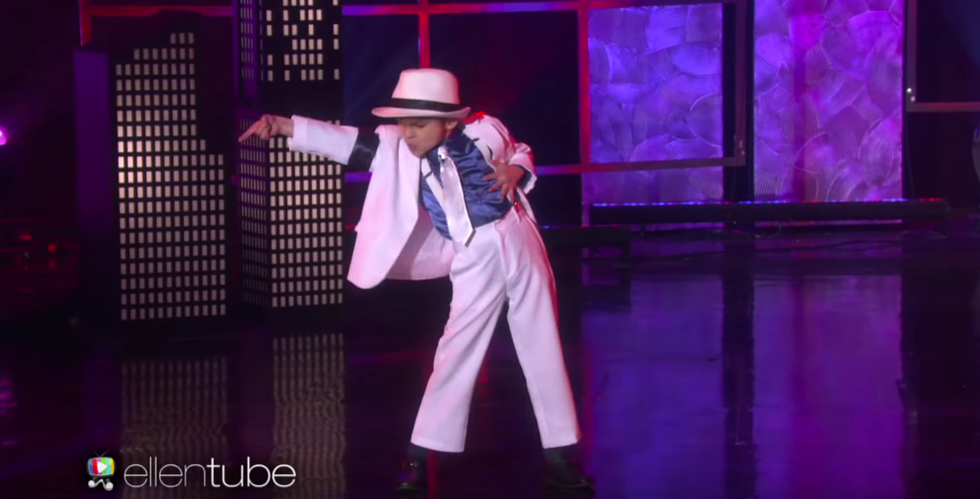 #Obsessed (via YouTube)
Enter Willie, the suavest eight-year-old on the block. Willie's Michael Jackson-inspired moves are out of this world, as is his larger-than-life personality. I'm obsessed, and I'm pretty sure you guys will be, too. Check it out below:
Dance News
May. 16, 2015 07:00AM EST
Let's begin with an indisputable fact: tWitch Boss and Allison Holker are the cutest couple ever. Period. Exhibit A: Just look at these two at our September 2012 cover shoot!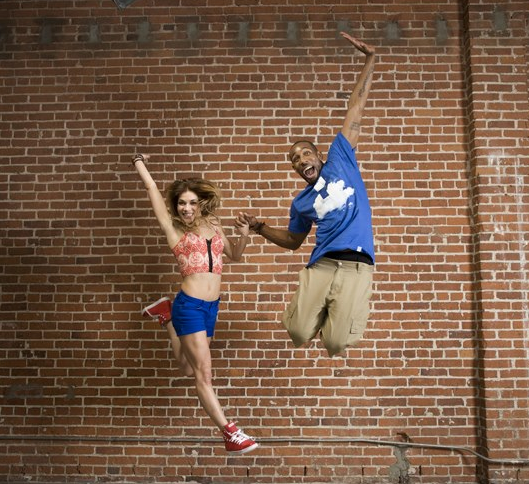 tWitch's face in this pic is everything. (Photo by Joe Toreno for Dance Spirit)
Exhibit B: Remember their beyond gorgeous, "So You Think You Can Dance"-filled wedding at Nigel Lythgoe's vineyard?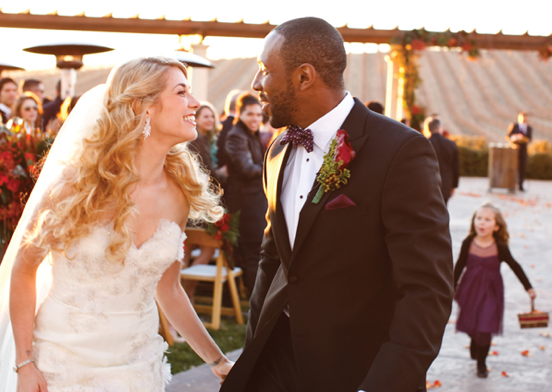 #truelove (courtesy Allison Holker and tWitch Boss)
And Exhibit C: Have you seen tWitch's Twitter feed lately? He wins the "Most Supportive Husband" award as the biggest fan of #TeamRallison (Allison and her "Dancing with the Stars" partner, Riker Lynch).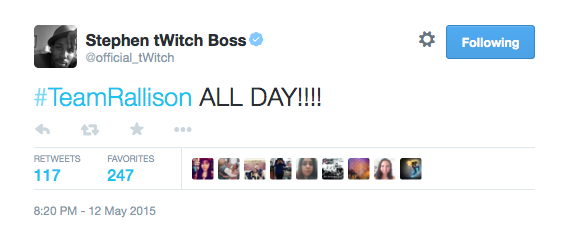 OK, I think I've sufficiently proven my point. But these "SYTYCD" sweethearts just keep out-cute-ing themselves. On Wednesday, "The Ellen DeGeneres Show" released a video of the two dancing in Gold Toe Socks to "Boogie Shoes" as promo for Ellen's #DanceYourSocksOff contest. Warning: What you're about to see will make you feel ALL OF THE FEELS.
Inspired to #DanceYourSocksOff, too? Film a video of yourself dancing to "Boogie Shoes" in Gold Toe Socks (or socks of an unrecognizable brand) and upload it to EllenTube, and you could win up to $10,000. Happy boogie-ing!
Dance News
Get Dance Spirit in your inbox
Apr. 24, 2015 11:43AM EST
What do you do when you're 4-years-old and you already have a viral YouTube following, a fan club including the one and only Ellen DeGeneres and several TV appearances under your belt? It's probably time to expand your brand—and that's exactly what Heaven King has done.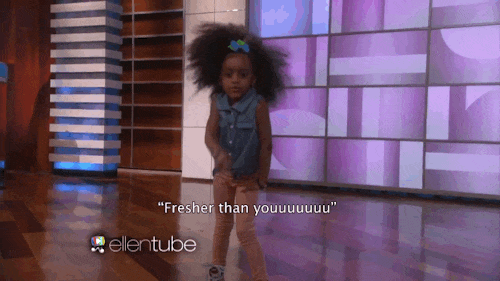 Yesterday, Heaven's mom Tianne released a video of the pint-sized diva dancing with her new crew. Five in total, the tiny dancers hit the streets of NYC with an unsurprisingly adorable performance to Silento's "Watch Me."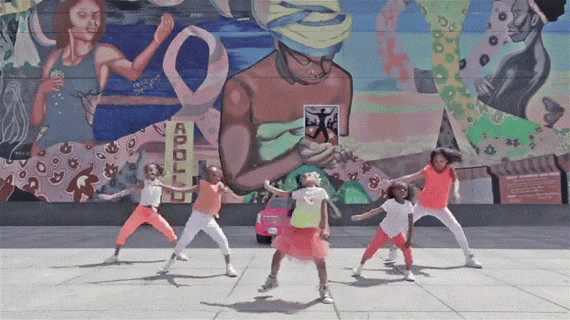 They hit the Nae Nae, the Whip, the Stanky Leg...yeah, this is some good stuff, guys. Check it out!
Btw, the pink Cadillac, complete with a "Heaven" license plate, was a gift from Ellen. #friendsinhighplaces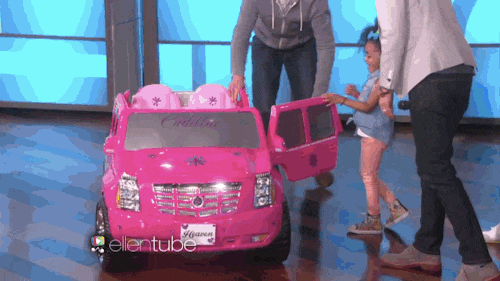 Dance News
Mar. 25, 2015 11:22AM EST
Ellen DeGeneres has the most delightful dance friends, amirite? I mean, she's basically adopted tWitch, which proves she has excellent taste. But she has an especially uncanny gift for picking out the teeny-tiniest of talents.
One of our favorite recurring "The Ellen DeGeneres Show" guests is little hip-hopper Heaven. Heaven was barely 3 when she first appeared on the show, sashaying her way through a routine to Beyoncé's "End of Time" with her mom, Tianne. Last year, she returned and upped the cuteness factor even higher, performing to Pharrell's "Happy." And this week, Heaven, now 4, was back in fine Beyoncé form, nailing choreo set to Queen B's "7/11."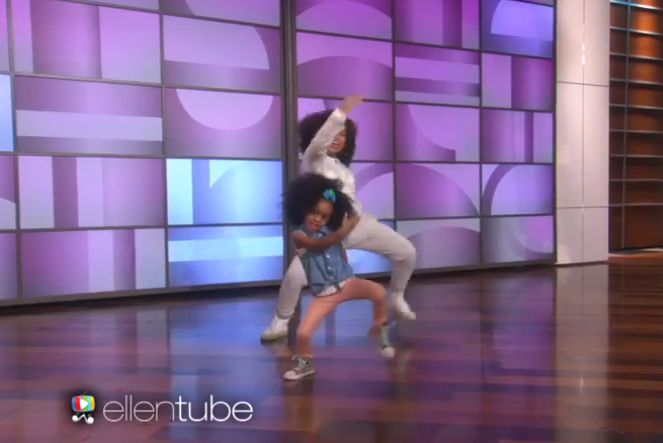 That HAIR! Love love love.
Also, Heaven would like you to know that she has a brother she loves very much. But he's not a human—he's a puppy named Cody CorZae: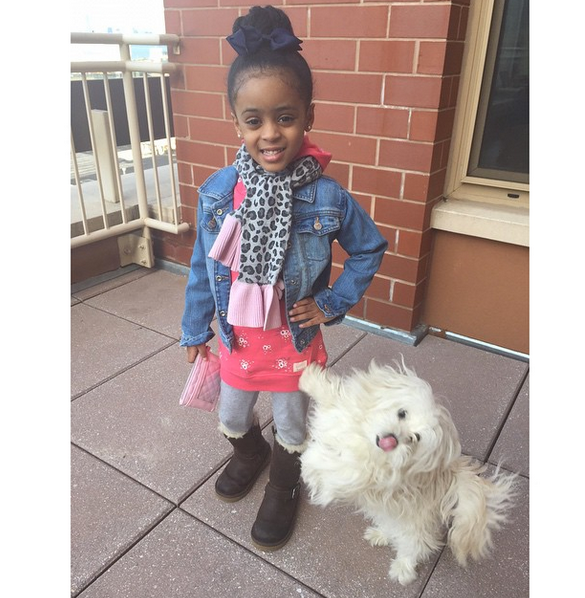 Via @heavenkingdances
This girl's got a serious case of the cutes.
Enjoy!
Dance News