You know who throws a really great party? The PULSE on Tour. Last night marked the culmination of The PULSE's 10th anniversary season, after the convention's week-long Summer Intensive in NYC. From celeb appearances to spectacular guest performances (including dancers from Ballet Hispanico), the choreographers, producers, students—everyone!—put on a heck of a show. Dance Spirit was there to soak in all of the standing-ovation action. Here's a quick rundown of what made the evening so special.
1. The wedding themes. Chris Judd used his wedding song (a variation of Amos Lee's "Sweet Pea") as inspiration for his Summer Intensive large group piece. It was jazzy, uplifting and fun to watch. But On the Other Hand, choreographed by Teresa Stone and set to Gotye's "Somebody That I Used to Know," took a slightly darker turn. Stone, who's a brilliant storyteller, created a wedding party gone awry in which the bride and groom are fighting and probably rethinking their nuptials. It made for an uncomfortable viewing experience—but only because the dancers were so committed to the story and movement. I don't think I was the only audience member on the edge of my seat. Here's a previous performance of Stone's On the Other Hand:
2. The 2014–15 Elite Protégé piece, choreographed by Dance Spirit cover star Ian Eastwood. This piece was about feeling like the odd-man out: Superstar Charlize Glass played a dancer who couldn't quite fit in. Then one day, the others notice her talents, and she becomes part of the group. It wasn't the most subtle or compelling plot, but with Eastwood's lightning-fast choreo and the (now former!) Elite Protégés' performance ability, the storyline didn't really matter.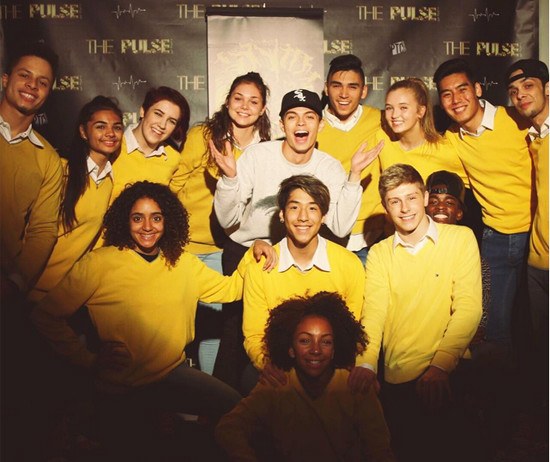 Behind the scenes with Ian Eastwood (center) and the 2014–15 Elite Protégés (via @Ian_Eastwood)
3. Tricia Miranda's CAMP PULSE number. Oh, the littles. Miranda certainly knows what she's doing when it comes to kid-friendly choreography. This time, Miranda costumed the dancers in their jammies and set the stage for a boys vs. girls' slumber party. Anytime there's a cypher with dancers in footie pajamas, you know it's going to be good. And of course, these fabulous young talents (hi, Brooklyn Nets Kids Fiona Krkuti and Alex Rubiano!) delivered. Best. Sleepover. Ever.
4. Getting to see The PULSE faculty dressed to the nines. Sure, these choreographers look super-cool in class attire. (Can anyone else rock a pair of sweats quite like hip-hop teachers? Nope.) But getting to see their out-of-class fashion sense is pure fun.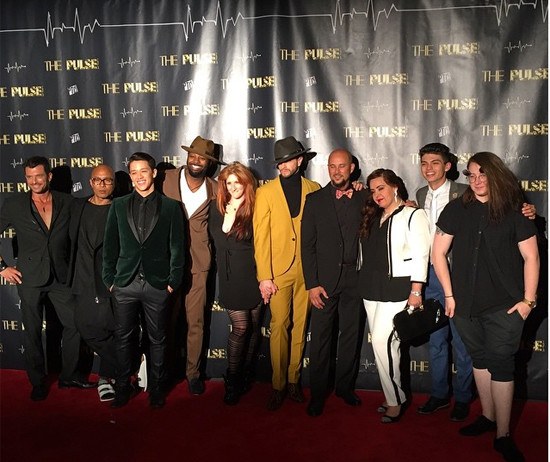 So fancy! (The PULSE on Tour faculty; photo via @Cjudd)
5. Kyle Hanagami's choreography for the 2014–15 Protégés. I'm not sure how Hanagami created a cohesive piece for 100 students—but he did. Dancers entered and exited the stage so quickly, but there was never a break in the action. That's also a testament to the dancers, who performed Hanagami's intricate choreo flawlessly.
Congrats, dancers, for such truly fantastic performances! And a special shout out to The PULSE's new 2015–16 Elite Protégés: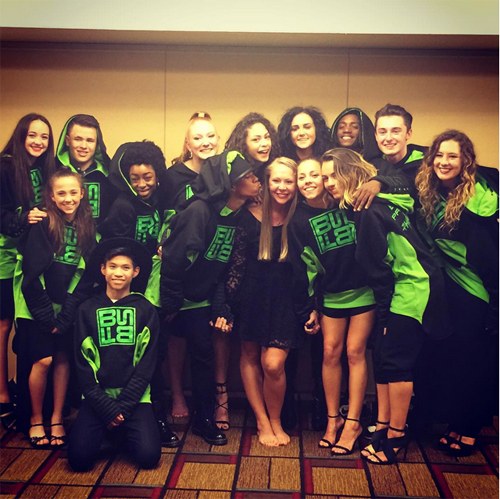 The PULSE on Tour's Kristen Plant (center) with the new 2015–16 Elite Protégés (via @kc13dance)
Whoa, guys. We're kind of still recovering from the incredible intensity of The PULSE on Tour's Final Night Gala, held yesterday in NYC.
The thing is, we came in thinking we were prepared for the awesomeness. We know how great The PULSE faculty is. When you have the likes of Cris Judd, Dave Scott, Ian Eastwood, Dee Caspary, Gil Duldulao and Tricia Miranda (to name just a few!) putting together pieces for some of the country's most talented dancers, you know you're in for a good time.
But we weren't prepared for just how good it would be. The PULSE dancers had less than a week to learn their routines, but they performed with the polish of experienced pros. We particularly loved the old-school romance of Judd's piece, set to Billy Joel's "Scenes from an Italian Restaurant," and the ferociousness of Duldulao's hard-hitting (literally—baseball bats were involved) number set to some classic '90s hip hop. (As you've probably figured out by now, we're all about a good #throwback.)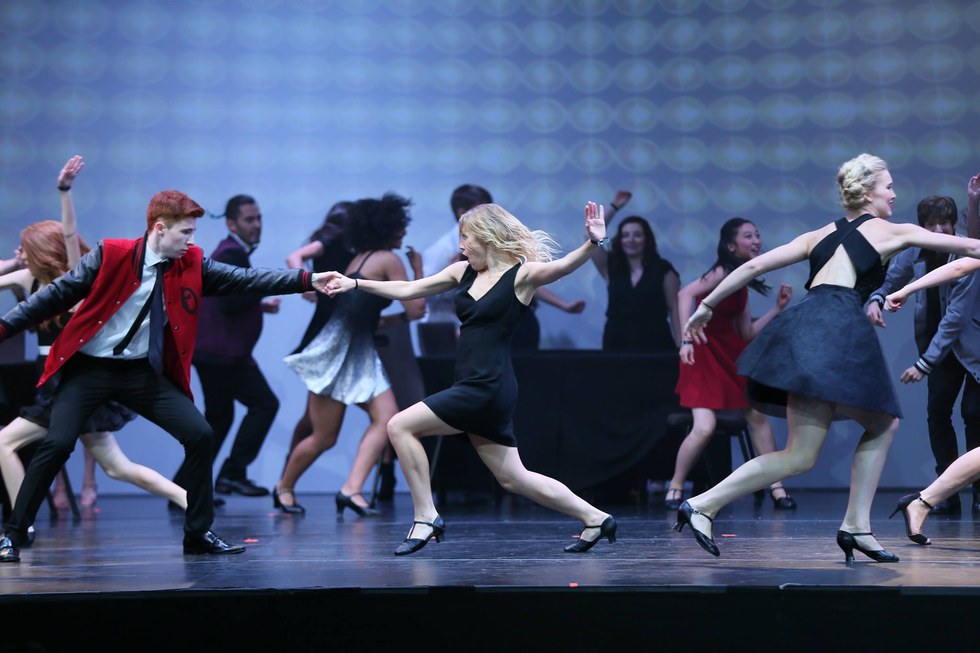 Rocking out to Billy Joel in Cris Judd's piece (photo via The PULSE)
There were also several knockout guest performances. Zendaya, one of our favorites of the moment, showed off some impressive dance skills while performing her hit song "Replay," backed by a crew of PULSE dancers. Flight Crew, a jump-roping (!) team currently competing on "America's Got Talent," did some unbelievable things with jump ropes. And a remarkable group of Elite Protégé alums celebrated The PULSE's 10th anniversary by reuniting for a piece by the fabulous Rhapsody James. (One of the sweetest moments of the night was the faculty's outsized reaction to that performance. Those dancers were once their students, and now they're earning A-list jobs all over the world.)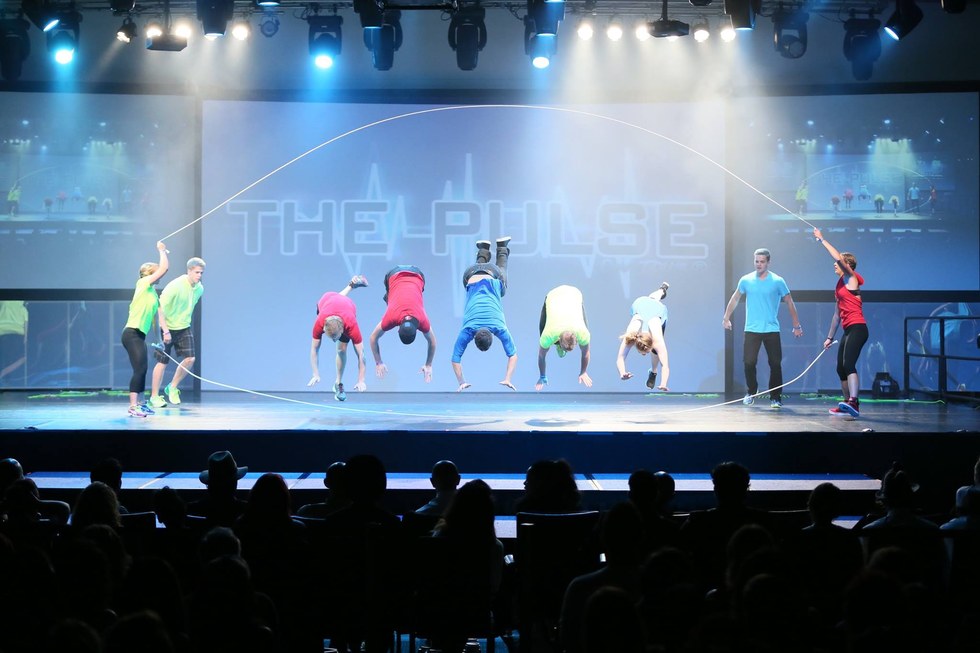 Flight Crew mid-flight (photo via The PULSE)
Emotions ran high as it came time to announce the 2014-2015 crop of Elite Protégés. 13 talented dancers—including Charlize Glass, Kierstyn Tupa, Elyssa Cueto and Trevor Takemoto—earned yearlong scholarships to The PULSE, plus opportunities to assist the convention's faculty. Congrats, everyone! We're so excited to see what amazing things you'll get up to this year.
Remember Emily Hoffman, aka Em, from our November 2013 cover story?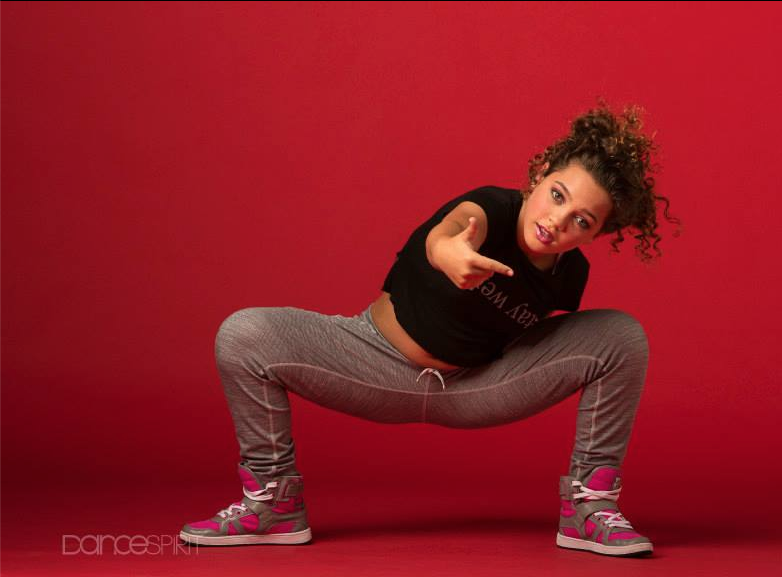 (Photo by Erin Baiano)
We loved watching this b-girl move on the set of our "Little Girls in a B-Girl World" shoot. So naturally, we're thrilled she just posted a new video of her performing a hip-hop solo at The PULSE on Tour last summer.
Guys, this girl is a BEAST. She hits hard and gives us allll the stank face and swag. (Can we be Em when we grow up, please? Thanks.)
Enjoy!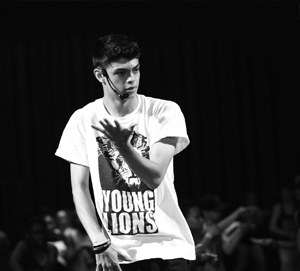 Eastwood teaching at The PULSE On Tour
"My mom always told me, 'Your goal should be to get paid for what you truly love to do,'" Ian Eastwood says. "Now I get to make her proud every day." This dancer/choreographer is living the dream, all right. You probably recognize him from "America's Best Dance Crew" Season 7, where he dominated the stage with Mos Wanted Crew. At 19, Eastwood has already danced in a commercial for Ubisoft/The Black Eyed Peas Experience, won Youth Choreographer of the Year from World of Dance and choreographed a music video for the group 5LP. The Chicago native has also taught his signature style across the globe, hosting regular events and workshops with Millennium Dance Complex, Coastal Dance Rage, Movement Lifestyle and The PULSE On Tour. Want to learn more about this rising superstar? Read on for The Dirt.
If you could choreograph for any performer, past or present, who would it be? Justin Timberlake or Justin Bieber. I feel like my style of movement would fit most naturally on them.
If you could dance with any performer, past or present, who would it be? JT is making a comeback, and I always used to dream of dancing next to him.
Must-see TV shows: "The Office" has been my favorite since I started watching the first season in middle school. And "Fawlty Towers," a British cult classic.
Favorite food: My dad's crabmeat eggs Benedict served with hash brown patties…only made on special occasions!
Something most people don't know about you: I have a life-sized Spider-Man cutout in my room that is staring at me right now.
Biggest guilty pleasure: Reading comic books!
If you weren't a dancer, what would you be? I would probably be a photographer. Click click!
One thing you can't live without: I couldn't live without art!
Favorite city in the world: Chicago. There are some close competitors like Rome, but you all need to go to Chicago. *Biased*
Who is your dance crush? *Insert deflective answer*
Do you have a pre-performance ritual? My shoes always have to be double knotted.
Competition
Dec. 17, 2010 01:00PM EST
When Chelsea Thedinga was 16, she won a scholarship from West Coast Dance Explosion that gave her a passport to attend as many of the company's regional events as she wanted for an entire year. Spending extra time in WCDE's convention classes helped Chelsea, now 20, make a lasting impression on the faculty. She even snagged a coveted assistant gig for the next season. As a WCDE assistant, she bonded with choreographer Stacey Tookey, whom she now assists regularly on "So You Think You Can Dance" and at music video shoots for artists including Christina Perri.
"Being in that environment helped my career take off," says Chelsea, who has also worked with Sonya Tayeh and Travis Wall, thanks to relationships formed through other convention scholarships. "The more cities you can go to and the more you can get in front of the choreographers, the more it will benefit you." Even if you don't win a scholarship, Chelsea says, the convention scholarship audition experience itself is valuable. "The audition process is exactly the same as it is in the professional world: learning the combination, picking up the 8-counts, polishing the routine in groups and having to sell it to the judges," she says.
Not sure what to expect from your next convention scholarship audition? Read on for some insider tips to help you make the best possible impression on the judges.
Convention Scholarships 101
Many types of scholarships are available, with some conventions awarding as many as 15 per age division in each city. At regionals, dancers can often win scholarships like Chelsea's, which allow free access to events in other cities. Some conventions also provide "agency awards," where dancers are offered meetings with top dance agents. Another common award is a studio scholarship, which typically grants a series of free classes at high-profile studios, like L.A.'s Millennium Dance Complex or NYC's Broadway Dance Center.
A few companies, like The PULSE on Tour, consider the entire weekend to be an audition, with dancers wearing numbers in every class. However, most have a stand-alone audition, commonly held on the second day of a convention weekend. Usually anyone registered for the full convention can audition for scholarships. These auditions frequently follow a similar format, but some teach a ballet or jazz combo only, while others incorporate multiple genres. Since auditions can have more than 100 dancers, judges (usually members of the convention faculty) often have multiple rounds of cuts.
Audition Prep
Polish your ballet technique. Matt Dorame, a teacher and judge for L.A. DanceMagic, says it's important to hone basic classical moves, like pirouettes, arabesques and pas de bourrées, before attending a scholarship audition. "I want to see that you're in ballet class more than once or twice a week," he says.

Know your terminology. When Dorame teaches the ballet combo during an audition, he often throws in a few moves without demonstrating, just to make sure dancers have a grasp of the lingo.

Familiarize yourself with faculty. Check out the convention's faculty list and search for the teachers' choreography videos online, suggests Christopher Smith, director of Hollywood Vibe. "Seeing their body of work will give you an idea of what to expect at the audition," he says.
During the Convention
Class it up. Face time is crucial if you want to make an impression on convention faculty. So even if you're not a tapper, be sure to take a tap class if it's on the schedule. "Being noticed in every class plays a key part in the scholarship audition," Chelsea says.

Act professionally. Your demeanor in class is just as important as the way you act at the audition. The faculty is always observing dancers for scholarship consideration. "If it comes down to two people who are equally talented, I'll pick the person who's had a good attitude all weekend," says Tina D'Amato-Sidoni, a teacher for Hollywood Vibe.

Make connections. Forming relationships with faculty throughout the weekend can be key to making sure the teachers recognize you at an audition. Brittany Andres, winner of The PULSE on Tour's Elite Protégé title in 2009, makes a point of thanking choreographers after class.
At the Audition
Look the part. Try to choose attire that will make you distinctive in a crowded ballroom and that will show off your lines. Brittany sets herself apart with bright colors, and Chelsea likes body-conscious leotards and booty shorts. Keep it classy by choosing form-fitting items with conservative cuts.

Assess the conditions. At many conventions, you may have to dance on carpeting or a crowded dance floor in a hotel ballroom. Check out the space and practice beforehand so you're prepared.

Show your stuff. Standing in the front of the room can be a smart move, but don't be too aggressive: "The people fighting to be seen are more of an irritation for the judges than anything," says Dorame. Try to be confident and enjoy the moment.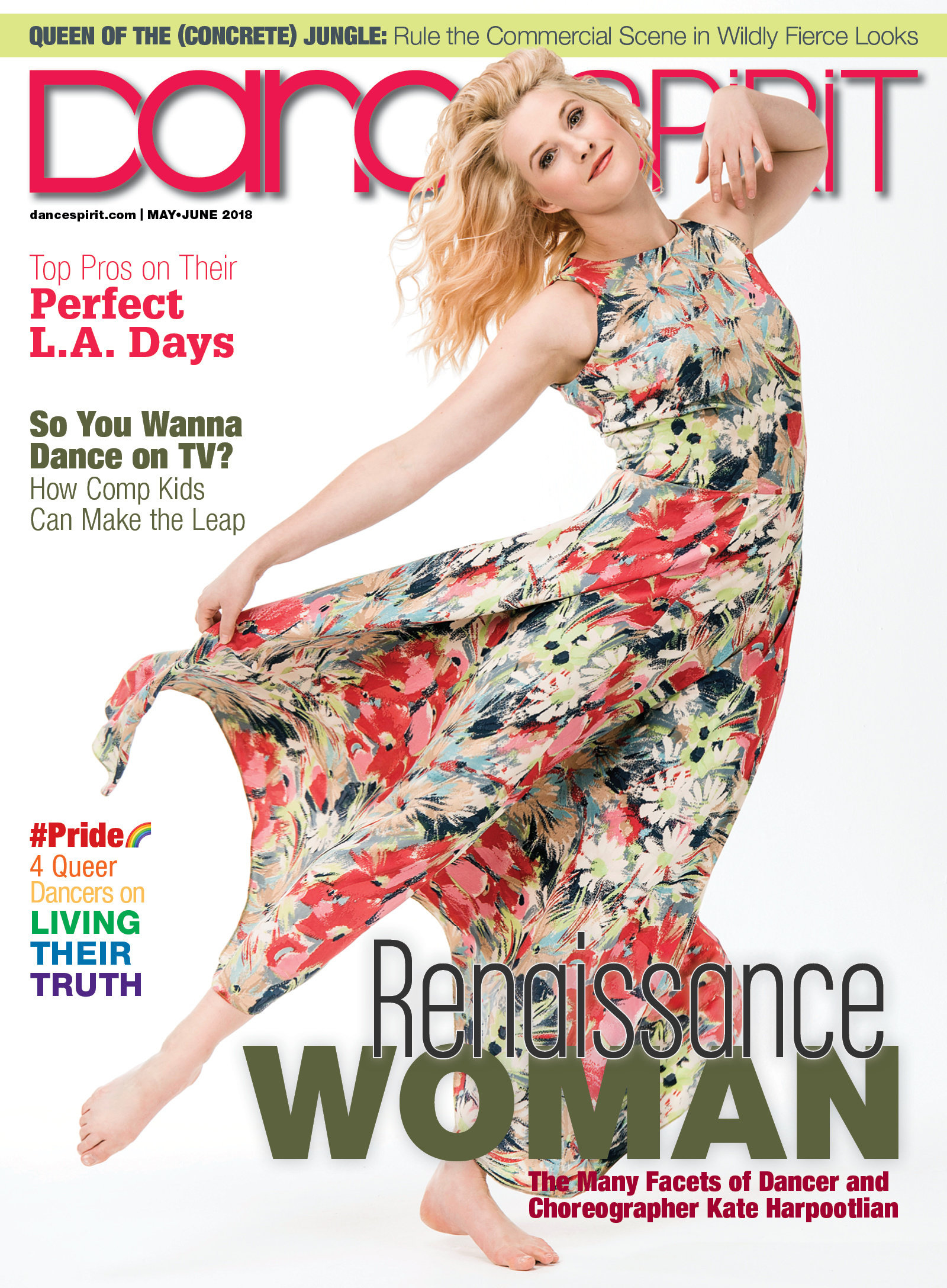 Get Dance Spirit in your inbox