Mia Michaels. The Rockettes. They're names that're synonymous with amazingness—which means a Mia/Rockettes collaboration is pretty much guaranteed to be fantastic.
We got a little taste of Michaels in Rockette mode last year, when she choreographed the New York Spring Spectacular's opening number. But for this year's updated New York Spectacular Starring The Radio City Rockettes, which opens June 15, Mia's in charge of EVERYTHING: She's both choreographing and directing. And that means she gets to train the full powers of her wildly creative mind on some of the world's most impressive—and impressively disciplined—dancers.
This morning, the Rockettes performed a bit of Mia's choreo on "The Today Show." It's actually the opening routine Michaels created for last year's show, set to "Welcome to New York." But as a preview of things to come, it's pretty darn exciting: The heartbeat-themed number features all the fine-tuned precision we've come to expect from the Rockettes, shocked into vibrant life by Michaels' high-energy choreography.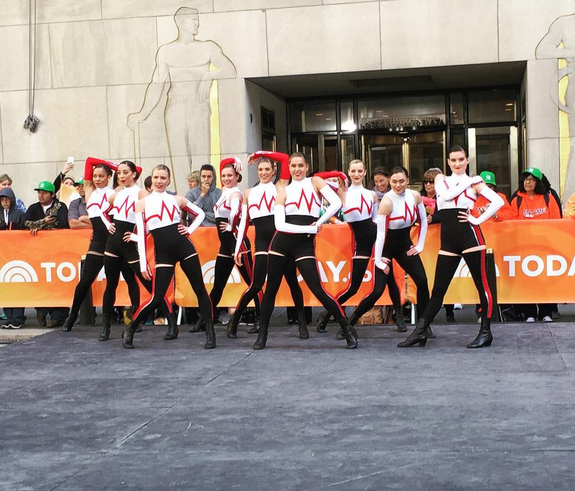 Photo via @therockettes on Instagram
This rehearsal clip alone is giving us serious #canongoals:
Watch the whole appearance, which includes an interview with Mama Mia, below—and then get your hot little hands on some New York Spectacular tickets.
It's official! Not only are the Rockettes unveiling a brand new summer show this year—titled New York Spectacular Starring the Radio City Rockettes—but they've also tapped genius Mia Michaels to choreograph and direct.
That's right: Michaels will be given full creative reign. And after the awesome opening number she created for last year's Spring Spectacular, we're super excited to see the finished product. "The Rockettes are such a special group of women, and no other dance company in the world delivers the same kind of passion, femininity and power through dance. It is going to be an epic ride!" Michaels says in a Rockettes press release.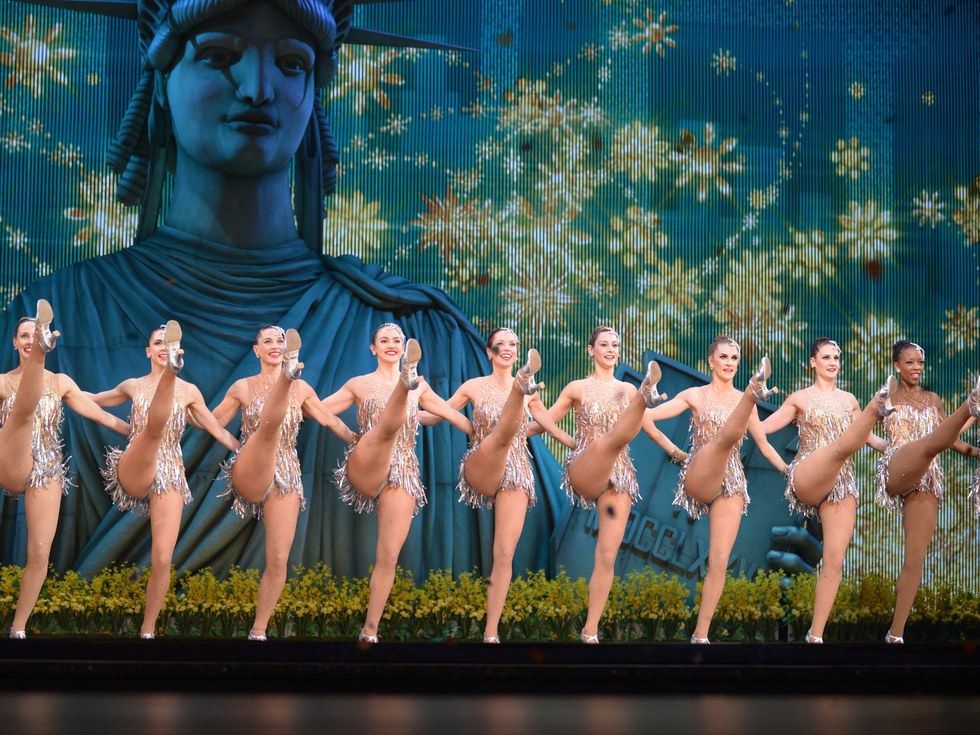 A classic kickline from last year's Spring Spectacular show (photo by Jason Allen via USA TODAY)
The show will pay tribute to NYC, following the adventures of a brother and sister who get separated from their parents during a trip to the city. The siblings will make their way through the Big Apple, receiving help from various landmarks come to life—from the Wall Street bull to the George M. Cohan statue in Times Square.
A few favorite elements from last year's spring show will make an appearance this year, too: The 26-foot Statue of Liberty puppet and the jaw-dropping tap number in real rainfall to "Singin' in the Rain" (sans Derek Hough, unfortunately) will return. What won't be included this time around? The Spring Spectacular's celeb cameos, either in person (à la DHough) or via voiceover. The leggy Rockette ladies will be the stars of the show, which we're more than OK with.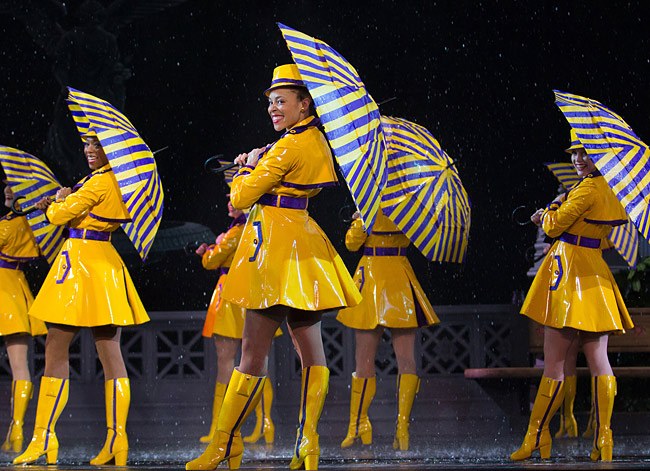 The epic "Singin' in the Rain" tap number from last year's Spring Spectacular (photo by Dan Niver via NewYork.com)
The New York Spectacular runs all summer (June 15–August 7) at Radio City Music Hall. Be sure to check it out when you're in town for Nationals or summer intensives!
The Rockettes know a thing or two about winter—after all, their Christmas Spectacular is pretty much the pinnacle of the holiday season. And now that winter finally seems to be here with its freezing temperatures (NYC's 75 degree Christmas was only a few weeks ago, after all!), we could certainly use some tips to help guide us through another few months of snowstorms, scarves and sniffles. That's where the Rockettes come in! Not only did they help us master their iconic dance moves last month, but they've got our backs again with nine tips for beating the winter blues. Rockette Katelyn G. says to just "embrace the snowy weather," Sarah G. says to "keep busy" and avoid the urge to hibernate until warm weather graces us with its presence again. All their tips might seem like no-brainers, and I can't speak for you guys. But I know I'm guilty of using winter as an excuse to a) never leave my house, b) sleep until noon and c) use the weather as an excuse for anything and everything, so thank you, ladies—I'll most certainly be using your tips for motivation. Promise! Check out the rest of the tips here.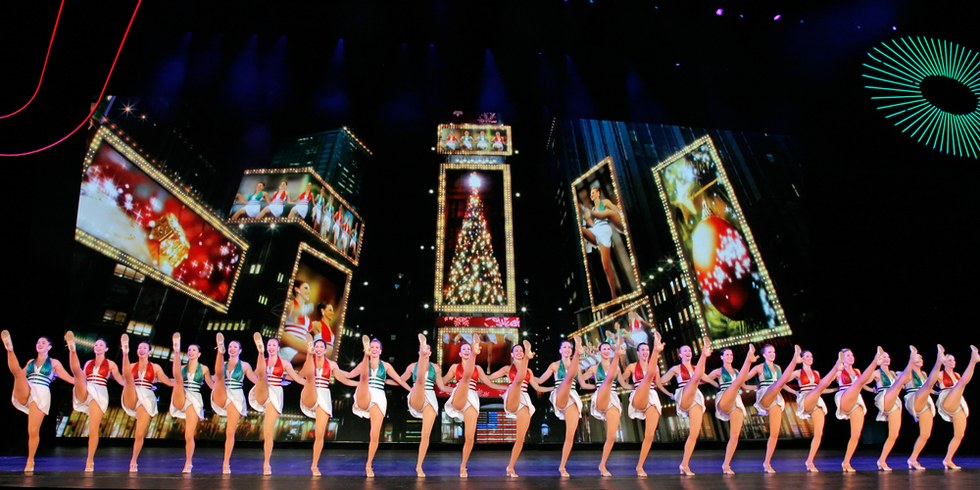 The Rockettes showing us how a high kick is truly done. (Photo via Alive Mag)
Every year, Career Transition for Dancers—that fantastic organization that helps pro dancers figure out their post-dance lives—puts on a wonderfully over-the-top, star-studded gala. Attending it has become one of my favorite DS editor perks, because it's always so darn joyful—it's all about dancers celebrating dancers. Last night's gala show was a smorgasbord of awesome performances and touching tributes. Here are my top five highlights:
5. A ton of people did a delightfully schmancy take on the Shim Sham. To kick (or tap, rather) off last night's festivities, the American Tap Dance Foundation gathered a stageful of tappers, young and old, to perform a dressed-up version of the classic routine. It was really moving, actually—a tradition being passed from one generation to the next, right before our eyes.
4. The Dance Theatre of Harlem dancers proved they could get down—in pointe shoes. The company's gorgeous classical dancers got in touch with their funkier sides in an excerpt from Robert Garland's Return, set to the music of James Brown. The only thing better than beautiful ballet technique is beautiful ballet technique mixed with the Mashed Potato.
3. There was a Rockette alumni kickline, and it was glorious. 14 lovely former Rockettes reunited to accompany Broadway legend Karen Ziemba's performance of "I Wanna Be a Rockette." (The group included our friend Amanda Kloots-Larsen.) Naturally, it was leg heaven. Once a Rockette, always a Rockette!
2. Alvin Ailey American Dance Theater's Kirven Douthit-Boyd showed off his insane body control. He performed Takademe, choreographed by Robert Battle—a tour-de-force solo that's basically a visual illustration of its intricate, spoken-word Indian Kathak score, matching every single syllable with a gesture. And, um, there are a LOT of syllables. Douthit-Boyd had the audience erupting in spontaneous cheers throughout his performance—he was that unbelievable.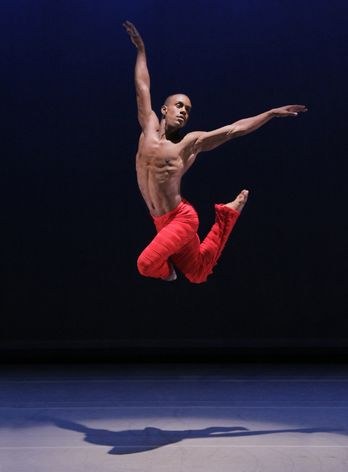 Douthit-Boyd in Takademe (photo by Paul Kolnik)
1. Angela Lansbury received the Rolex Dance Award, and we all decided to be Angela Lansbury when we grow up. Mrs. Potts is, unsurprisingly, the class act to end all class acts. Though she isn't really known for her dance skills per se, her acceptance speech was a lovely, heartfelt tribute to dancers and former dancers. And then she gave us some Fosse kick action on her way offstage, and our hearts melted into happy little puddles. (Also, fellow theater legend James Earl Jones presented her award, which, THAT VOICE.)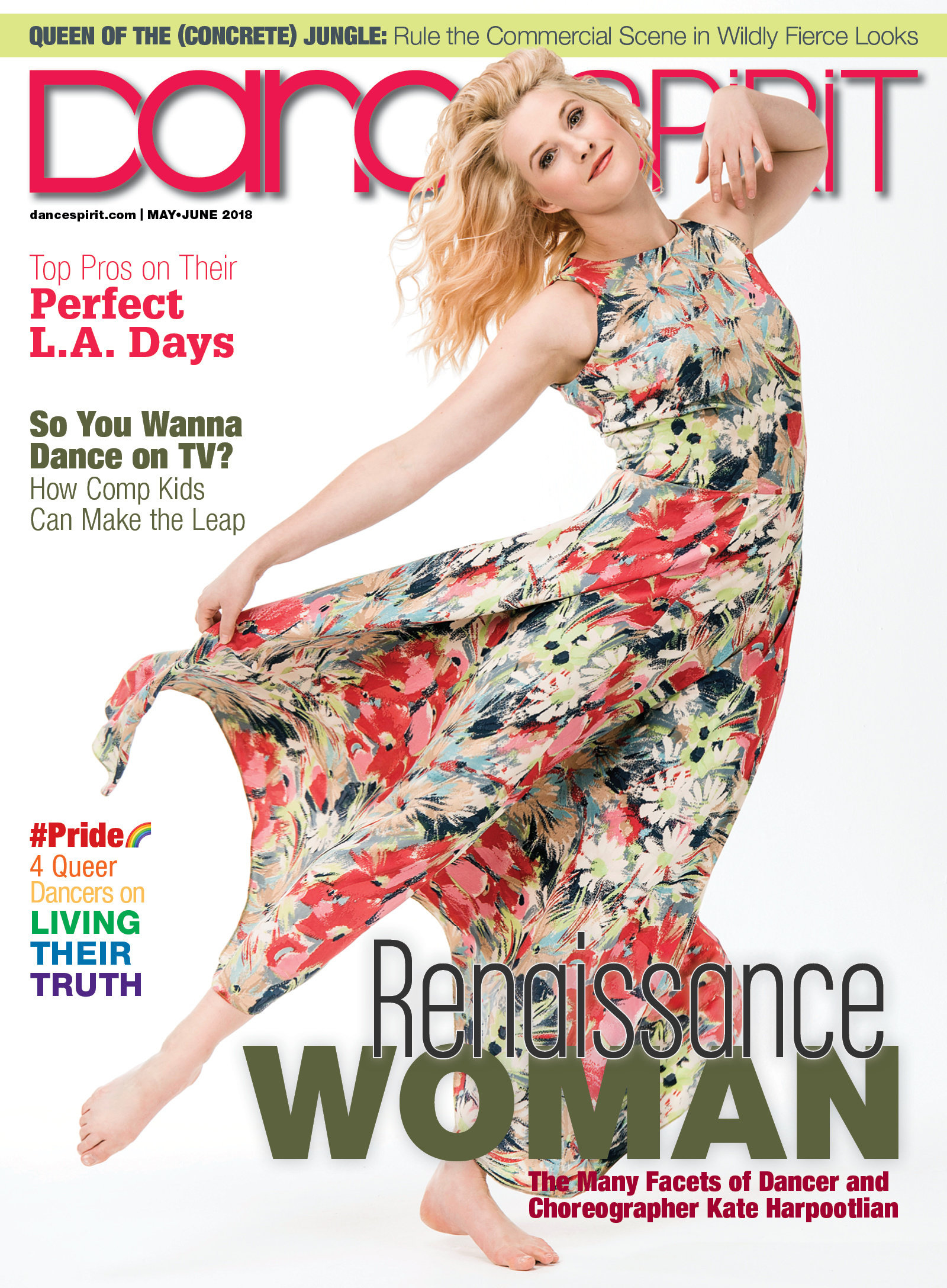 Get Dance Spirit in your inbox