Via @Rockettes on Twitter
Look, guys, we know: It is too darn early for holly-jolliness. But the Rockettes appeared on the "Today" show this morning to promote the Radio City Christmas Spectacular, and we can't help it—as soon as we see that iconic kickline, we start daydreaming about sleigh bells and mistletoe and gingerbread lattes.
Keep reading...
Show less
Mia Michaels. The Rockettes. They're names that're synonymous with amazingness—which means a Mia/Rockettes collaboration is pretty much guaranteed to be fantastic.
We got a little taste of Michaels in Rockette mode last year, when she choreographed the New York Spring Spectacular's opening number. But for this year's updated New York Spectacular Starring The Radio City Rockettes, which opens June 15, Mia's in charge of EVERYTHING: She's both choreographing and directing. And that means she gets to train the full powers of her wildly creative mind on some of the world's most impressive—and impressively disciplined—dancers.
This morning, the Rockettes performed a bit of Mia's choreo on "The Today Show." It's actually the opening routine Michaels created for last year's show, set to "Welcome to New York." But as a preview of things to come, it's pretty darn exciting: The heartbeat-themed number features all the fine-tuned precision we've come to expect from the Rockettes, shocked into vibrant life by Michaels' high-energy choreography.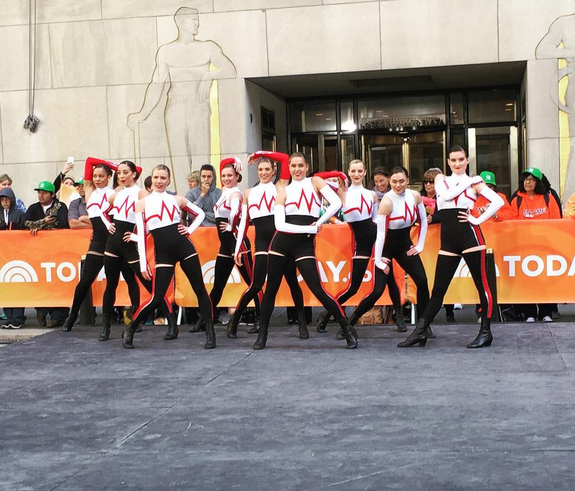 Photo via @therockettes on Instagram
This rehearsal clip alone is giving us serious #canongoals:
Watch the whole appearance, which includes an interview with Mama Mia, below—and then get your hot little hands on some New York Spectacular tickets.
It is November 7, ladies and gentlemen. It is two-and-a-half weeks before Thanksgiving and a full 48 days before Christmas. It is objectively too darn early for anything related to mistletoe and jingle bells and chestnuts roasting on open fires. (Especially for us dancers, who have already been drowning in Nutcracker rehearsals for two months and just want to plug our ears and "lalalalala" our way to oblivion whenever we hear the Trepak music at the mall because NO LORD NOT YET.)
But! Here's the thing: We can't be cynical about anything to do with the Christmas Spectacular Starring the Radio City Rockettes, because it is real holiday magic of the highest order. Those leggy ladies could perform "The Parade of the Wooden Soldiers" in the dead of August—which totally happens every year, btw—and we would still clap and giggle and squee with delight. They are that wonderful.
Since the Christmas Spectacular opens this Friday, the Rockettes have been out and about in the world a lot recently. This morning, they stopped by "The Today Show" in all their sparkly glory to give us a taste of the holiday goodness that'll be on offer at Radio City up to five times a day (seriously!) for the next two-plus months. The full video isn't available online, boo, but even this preview snippet will be enough to get you in the ho-ho-holiday spirit. (Also, it was like 40 degrees in NYC this morning and those ladies were gettin' it in halter dresses and tights, which, hello, #MotivationMonday.)
See the world-famous Radio City Rockettes perform one of their classic numbers LIVE on the plaza on the @TODAYshow! pic.twitter.com/jrJDQuqHQj

— 12 News (@12News) November 7, 2016
Get your Christmas Spectacular tickets here, and be sure to check out our behind-the-scenes look at a newbie Rockette's first show in the December issue!
Feb. 05, 2013 12:42PM EST
Quick! Think of a musical that epitomizes the Bob Fosse style.
Did you pick Cabaret? Odds are pretty good you did. Who doesn't associate Fosse with fishnet-clad girls vamping to "Mein Herr"?
But here's an interesting fact: The original Broadway production of the now-iconic show, which premiered in 1966, was actually choreographed by Ron Field, not Fosse. It wasn't until the 1972 movie version, which Fosse choreographed and directed, that the jazz legend was able to put his sultry stamp on the musical numbers—which became the perfect showcase for star Liza Minnelli and her gorgeous gams. (Here's another fun fact: Guess who played the Minnelli character, Sally Bowles, in the 1968 West End production of the show? None other than Judi Dench.)
The film won eight Oscars almost exactly 40 years ago. In celebration that anniversary, a high-definition Blu-ray version of Cabaret has just been released. You can get your copy here. (Warning, though: Like a lot of Fosse, it's a little risqué.)
Four members of the film's cast, including Minnelli and Joel Grey, made an appearance on "The Today Show" last week to talk about Cabaret's birthday and the awesomeness of Bob Fosse. They even treated Hoda and Kathie Lee to a little impromptu serenade. It's adorable. Take a look!
Dec. 11, 2012 11:22AM EST
Thank you, "The Today Show," for introducing us to our new favorite person: Christian Bottger, aka "Little Fear."
On Sunday afternoon, the 10-year-old dancing sensation performed with the Tampa Bay Buccaneers cheerleaders before the team's showdown with the Philadelphia Eagles. Let's just say nobody was watching the cheerleaders—which, considering the dudes that make up your average football audience, is pretty darn impressive. Here's the clip. (And yes, the number opens with "Gangnam Style"—we're sorry—but stick it out, because seriously, you want to see this kid Dougie.)
Anyway, some on-the-ball producer at "The Today Show" understood that a star had just been born, and got Christian and the cheerleaders on this morning's show. Which, not being football-watchers, is where we first saw him—and fell in love.
The show doesn't have footage of his performance online, but they do have his kind of adorable interview. (Matt Lauer: "Do you like all the attention you've been getting?" Christian: "Hmm, let me think" [makes sarcastic "thinking" face].) Take a look:
Visit NBCNews.com for breaking news, world news, and news about the economy
Jun. 18, 2012 09:52AM EST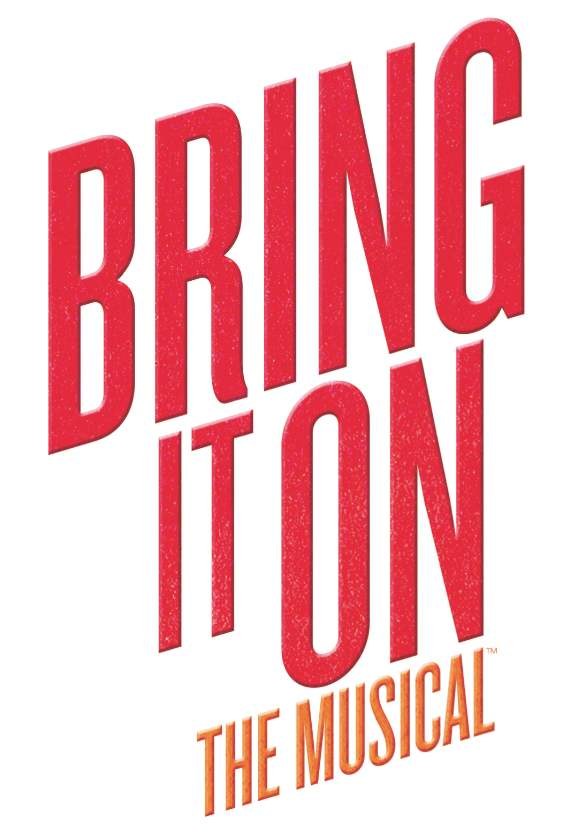 Broadway previews for Bring It On: The Musical don't begin until July 12—but if you're dying to get a look at the cheer-tastic production, tune into The Today Show tomorrow morning at 8:30. The musical's super talented cast will perform two numbers ("It's All Happening" and "It Ain't No Thing") in Rockefeller Center Plaza, and the whole shebang will be broadcast live.
Are you a New Yorker? Lucky you: Get your buns to Rock Center to watch the show in person. The Today Show is even promising prizes for the first 50 fans to arrive.
Ready? OK!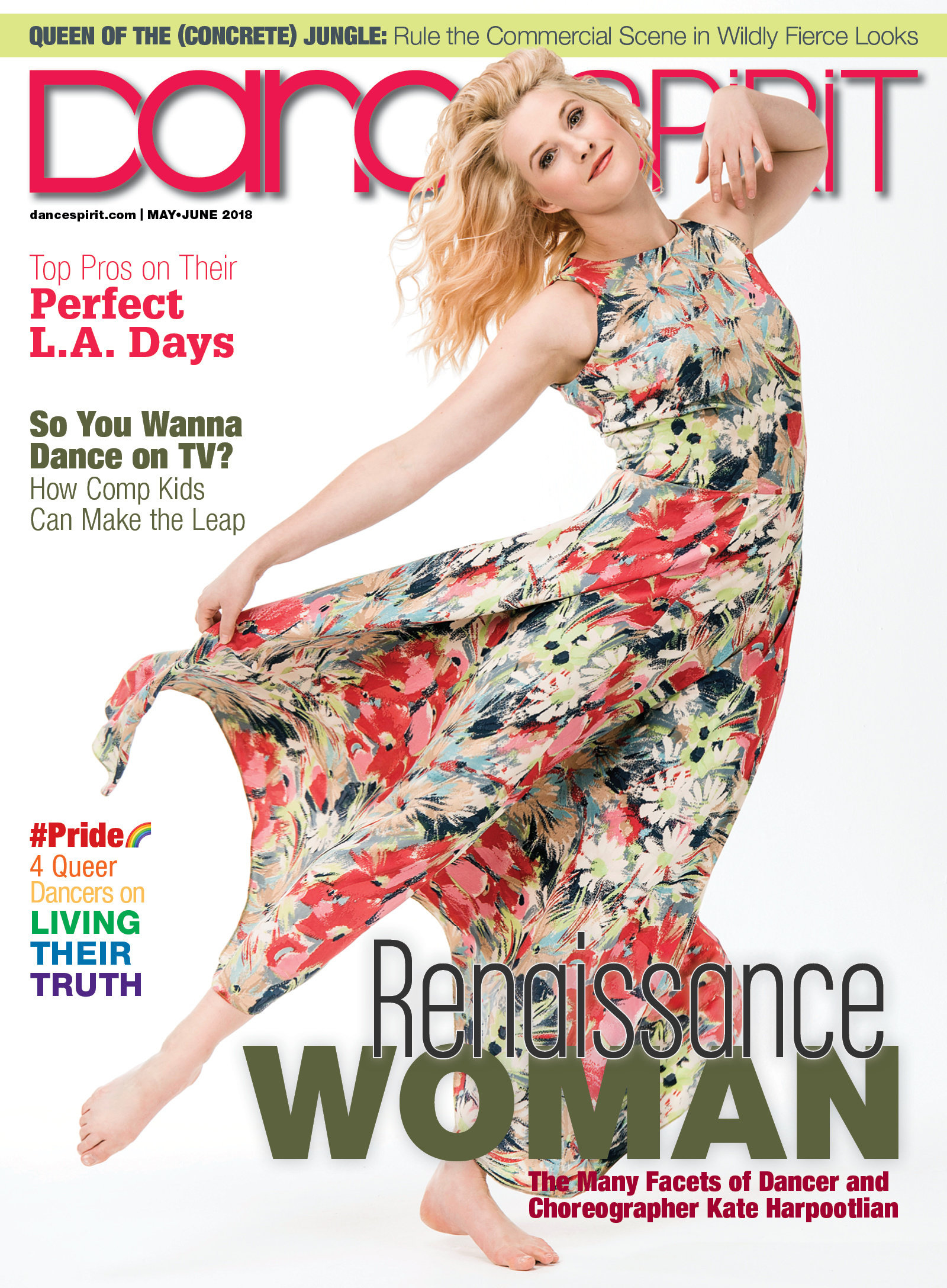 Get Dance Spirit in your inbox