Jan. 07, 2019 12:38PM EST
Photo by Carlos Quezada, courtesy ABT.
American Ballet Theatre announced today that Brooklyn Mack, a former Washington Ballet star, will join the company as a guest for its spring season at the Metropolitan Opera House. Currently an in-demand international guest artist, Mack will dance in three performances of ABT's Le Corsaire this June.
Site Network
Jan. 07, 2019 12:38PM EST
Photo by Carlos Quezada, courtesy ABT.
American Ballet Theatre announced today that Brooklyn Mack, a former Washington Ballet star, will join the company as a guest for its spring season at the Metropolitan Opera House. Currently an in-demand international guest artist, Mack will dance in three performances of ABT's Le Corsaire this June.
Site Network
Oct. 26, 2018 05:23PM EST
Royal Winnipeg Ballet revived Lila York's adaptation of Margaret Atwood's The Handmaid's Tale earlier this month. Photo by David Cooper, Courtesy RWB
When American Ballet Theatre announced yesterday that it would be adding Jane Eyre to its stable of narrative full-lengths, the English nerds in the DM offices (read: most of us) got pretty excited. Cathy Marston's adaptation of Charlotte Brontë's classic novel was created for England's Northern Ballet in 2016, and, based on the clips that have made their way online, it seems like a perfect fit for ABT's Met Opera season.

It also got us thinking about what other classic novels we'd love to see adapted into ballets—but then we realized just how many there already are. From Russian epics to beloved children's books, here are 10 of our favorites that have already made the leap from page to stage. (Special shoutout to Northern Ballet, the undisputed MVP of turning literature into live performance.)
---
Northern Ballet in David Nixon's The Great Gatsby (F. Scott Fitzgerald)
Star-crossed lovers? Check. Wild party scenes? Check. The 1920s aesthetic is just bonus.
Dutch National Ballet in John Cranko's Onegin (Alexander Pushkin)
It's a novel in verse, but it still counts! Cranko's pas de deux work vividly paints the emotional turmoil of Pushkin's characters, such as this sequence in which Tatiana imagines being loved by the haughty Onegin.
The Royal Ballet in Liam Scarlett's Frankenstein (Mary Shelley)
It's spooky, it's sensational, it's a deep meditation on the nature of humanity—oh, and it's alive.
Northern Ballet in David Nixon's The Three Musketeers (Alexandre Dumas)
All for one and one for all! (And we're all in for this epic fight choreography the dancers took to a famous Abbey in their hometown of Leeds, England.)
Charlotte Ballet in Sasha Janes' Wuthering Heights (Emily Brontë)
The Brontë sisters had a knack for writing complex, tempestuous relationships—great fodder for pas de deux like this one.
The Washington Ballet in Septime Webre's Peter Pan (J. M. Barrie)
Sword-fighting, pirates, pixie dust and a ticking crocodile? This one simply flies off the page.
Hamburg Ballet in John Neumeier's Anna Karenina (Leo Tolstoy)
Some would argue that Tolstoy's epic is the greatest literature ever written, but you can't argue with the fact that the titular heroine is a deliciously complex character to tackle.
The Royal Ballet in Christopher Wheeldon's Alice's Adventures in Wonderland (Lewis Carroll)
Why is a raven like a writing desk? We still might not know the answer to Carroll's riddle, but we do know that Wheeldon's blockbuster production is so full of incredible moments (like Steven McRae stealing the show as a tap-dancing Mad Hatter) that we had trouble narrowing it down.
Atlanta Ballet in Michael Pink's Dracula (Bram Stoker)
There's a reason it seemed at one point like every ballet company in America had a production of Dracula in its repertoire.
Northern Ballet in Jonathan Watkins' 1984 (George Orwell)
Just in case the dystopian nightmare conjured by Orwell wasn't vivid enough in your own imagination.
Just for Fun
Mar. 01, 2018 11:17AM EST
Nardia Boodoo (photo by Rachel Neville)
Watch Nardia Boodoo discuss her (classic) dance crushes and secret talents. Read about more up-and-coming black ballerinas here.
Dancer to Dancer
Feb. 09, 2018 03:02PM EST
Nardia Boodoo (photo by Rachel Neville)
"I had a unique path to dance," says Nardia Boodoo, a luminous, elegant apprentice with The Washington Ballet. She briefly studied ballet as a child, but didn't start serious training until she was 14 years old, attending Baltimore School for the Arts. "I didn't know what a pirouette was," she says. "I would wake up really early to stretch and remember my corrections." But, a focused student, she advanced quickly: Soon she was attending prestigious summer intensives, and she earned a spot in The Washington Ballet Studio Company in 2014. Now, Boodoo is working with her childhood idol, TWB artistic director Julie Kent, and dreams of someday dancing the title role in Giselle.
Boodoo is acutely aware of the power of representation. "It has only recently become OK to have a Misty Copeland," she says. "It's no longer socially acceptable to only have girls who look exactly the same, in any aspect of entertainment. But at the same time it feels like a trend, and I'm not a trend, I'm a human being." Boodoo wants to see genuine diversity, from top to bottom. "You need teachers and directors, ballet masters and répétiteurs," she says. "Diversity on every single level is progress."
Dancer to Dancer
Dec. 08, 2017 02:45PM EST
Matthew Bourne's "Nutcracker" (photo by Simon Annand, courtesy Raw PR)
When most of us think of The Nutcracker, we imagine a growing Christmas tree, dancing mice, and a little girl named Clara (or Marie) traveling to the Land of Sweets. But companies around the world have been reinventing the holiday classic, changing the storyline or adding their own spectacular sets and characters. To get in the Nutcracker spirit this season, check out these out-of-the-box productions.
Dance Fashion
May. 01, 2017 10:05AM EST
Ah, the time-honored tradition of having non-baseball people throw out the ceremonial first pitch at a major league game. It's usually a cute non-event, a fun photo opportunity for a politician or a local celeb. Which means that while it's happening, most of the folks in the stands are rolling their eyes, eating their hot dogs and generally ignoring the scene on the field.
But when a world-class ballerina like The Washington Ballet's Maki Onuki gets the opportunity to throw the first pitch? She RUNS WITH IT—or, more accurately, tour jetés and saut de chats with it. You, Mr. I'm-Just-Here-For-The-Ballgame, are going to watch her, goshdarnit.
Dance Videos
Mar. 23, 2017 04:15PM EST
What do you think when you hear "Washington, D.C." these days? Actually, no, bad question—don't tell us. But odds are good that "joy" wasn't the first word that came to mind.
A new video starring the fabulous dancers of The Washington Ballet just might change that. Commissioned by the shopping and dining development CityCenterDC, it aims to re-brand the capitol as the "District of Joy"—by showing colorfully attired artists frolicking through the cityscape, performing charmingly dorky '60s-style choreo by former TWB director Septime Webre.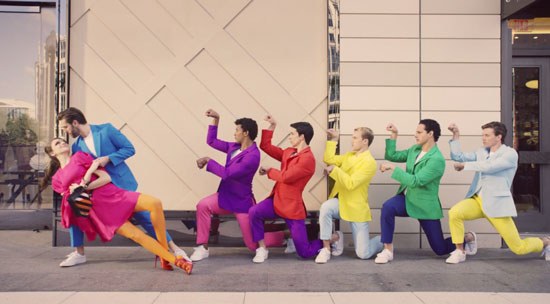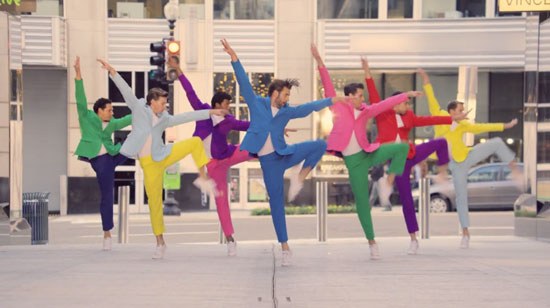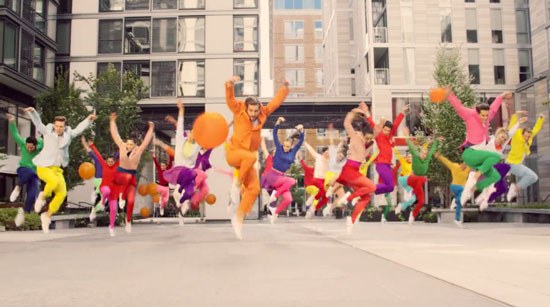 Webre told The Washington Post that his inspirations were West Side Story and the 1967 French musical The Young Girls of Rochefort. But those of us who just saw/fell in love with La La Land—so, all of us—will notice a lot of parallels between the smash-hit film and this vid. They're both exactly the kind of vibrant, optimistic fun the world needs right now.
Dance News
Dec. 19, 2016 11:02AM EST
Here's one of the many (MANY) things that makes Center Stage so magical: There's a sense that the dance-actors were basically playing themselves. Amanda Schull, a real-life sweetheart who struggled with her turnout, became the sweet and turnout-challenged Jody Sawyer. Sascha Radetsky, a real-life heartthrob and all-around nice guy, became the adorable and eternally nice Charlie. And Ethan Stiefel, a real-life superstar with a bit of a bad-boy edge, became Cooper Nielson, a superstar with a MAJOR bad-boy edge.
Which is why it's so delightful when—16 years out!—Center Stage-rs do things that reconfirm that feeling of art imitating life. Like when Ethan Stiefel, tasked with creating a new ballet for The Washington Ballet, decides to take a 9,000-mile motorcycle ride to figure out the rather daring concept for the work. Because that's straight out of Cooper's playbook, and it really did just happen.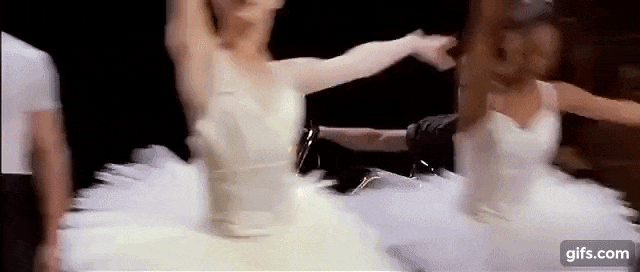 According to The Washington Post, earlier this year, Stiefel received a call from his former American Ballet Theatre colleague, Kathleen Donahue Julie Kent, now artistic director of The Washington Ballet. She wanted him to make a ballet for the company, and she wanted it to commemorate John F. Kennedy's would-be 100th birthday. "I was elated and flattered," Stiefel told the Post. "And, like, 'Whoa.' I needed a moment." That moment turned out to be a six-week motorcycle trek across the country. By the end of the trip, he had his idea: He'd make a ballet based on Kennedy's space initiative. Which is just the kind of intriguing, unexpected thing that Cooper Nielson might do.
The article includes a ton of fascinating info about the new ballet, Frontier, set to premiere in D.C. in May. (For example: Stiefel actually met with astronauts at NASA headquarters, which, 🙌.) Read the whole thing—and then go watch the Center Stage finale one more time, because it's Monday and you deserve it.
Dance News
Mar. 08, 2016 10:08AM EST
Well, this is one of the best ways we can think of to celebrate International Women's Day!
The wonderful Julie Kent—former American Ballet Theatre principal and, odds are, one of your all-time ballerina idols—has just been named artistic director of The Washington Ballet. And it's a family affair: Kent's husband, fellow former ABT principal and longtime ABT associate artistic director Victor Barbee, will join her at TWB as associate artistic director.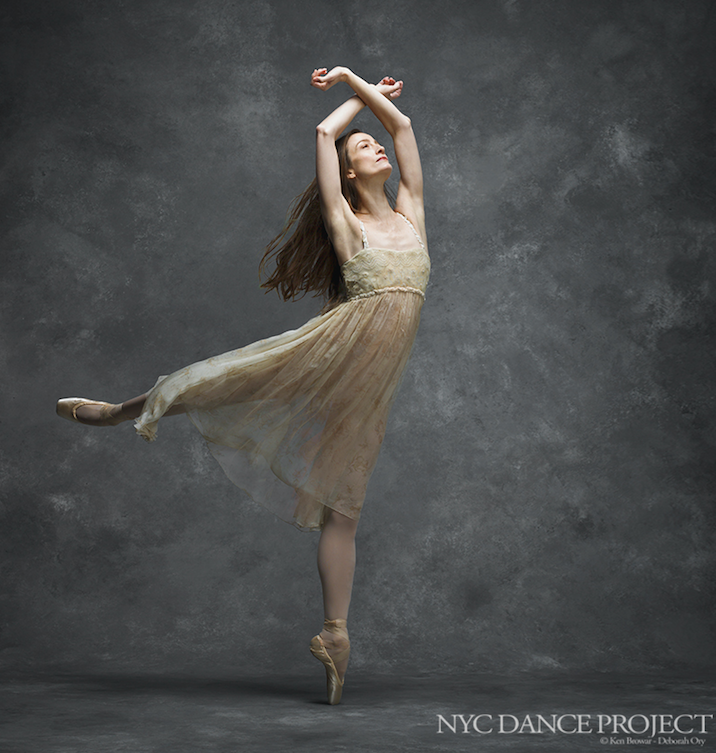 (Kent photographed by Ken Browar and Deborah Ory/NYC Dance Project)
Why is that a brilliant move? One, because Kent—who danced with ABT for 29 years, longer than any other company member—has a profoundly deep knowledge of ballet. In addition to being an exceptional performer, she's a gifted teacher and coach; she has a lot of wisdom to share. Two, because the ballet world desperately needs more women in leadership roles. And there are few more natural leaders than the ballerina we've collectively looked up to for so many years.
So, what changes do Kent and Barbee have in store for TWB? Will the company take on more of the large classical works that ABT is known for? Will its school adopt ABT's National Training Curriculum? It's not clear yet (though there's a press conference at noon today that may answer some of those questions). But we're excited to see what's next.
Congratulations, Julie—and happy #IWD2016, everybody!
Dance News
Get Dance Spirit in your inbox
Apr. 15, 2015 05:02PM EST
Misty Copeland, the first African American soloist at American Ballet Theatre in more than 20 years, has yet to appear as Odette/Odile on U.S. soil. That changes this month: On April 9 and 12, Copeland will take center stage in The Washington Ballet's first-ever full-length production of Swan Lake.
Her Prince Siegfried will be TWB's Brooklyn Mack—a rare partnership of two artists of color, performing classical roles historically portrayed by white dancers. Dance Spirit caught up with Copeland, Mack and TWB's director, Septime Webre, to talk about the performances.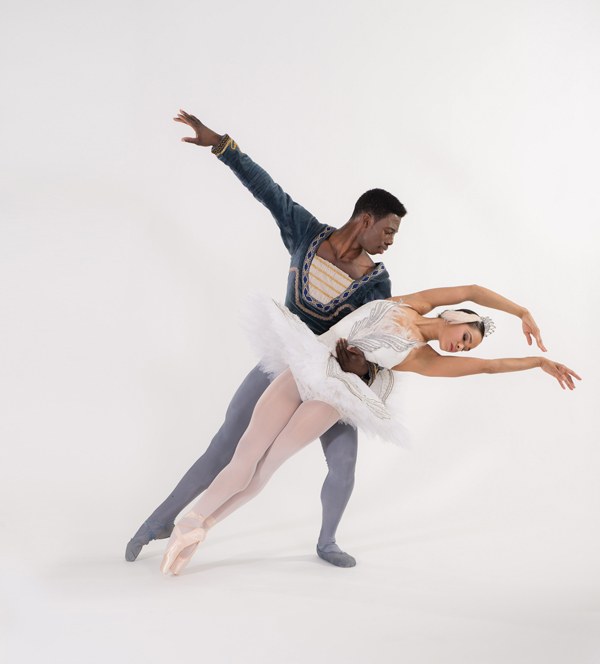 Misty Copeland and Brooklyn Mack in Swan Lake (photo by Theo Kossenas, courtesy The Washington Ballet)
"Swan Lake is regularly presented by some of the best companies in the world—I wanted to make our performance special. One of the last bastions of segregation in America is in ballet casting. I'm aware of the historical significance of Misty in the role, especially dancing with Brooklyn. My goal is to present artists who bring a new dimension to the ballet, and I hope that doing so will make audiences rethink what a ballerina and a prince should look like." —Septime Webre
"I'm excited to give today's youth a new image of who can be cast as the Swan Queen. I prefer dancing Odile—she's not someone I naturally saw myself as. But that's the beauty of acting in ballet. You get to become characters that aren't innately part of you. I'm constantly switching partners at ABT, so dancing with Brooklyn isn't too much of a departure from my norm. His power is effortless, and though he performs with a ton of masculinity, he's also a really caring, nurturing and sensitive partner." —Misty Copeland
"I'm honored and humbled to be a part of this. It's always been part of my mission to inspire others, and I hope this performance reassures kids that they can do anything—we all can do anything, regardless of our color or our social status. Misty is a joy to work with. She's super down-to-earth and she is, of course, tremendously talented. She's technically inspiring, and we have great chemistry." —Brooklyn Mack
Apr. 08, 2015 10:25AM EST
Tomorrow night's the night: American Ballet Theatre soloist (and all-around ballet superstar) Misty Copeland will appear as Odette/Odile for the first time in the U.S., dancing with The Washington Ballet alongside the equally brilliant Brooklyn Mack.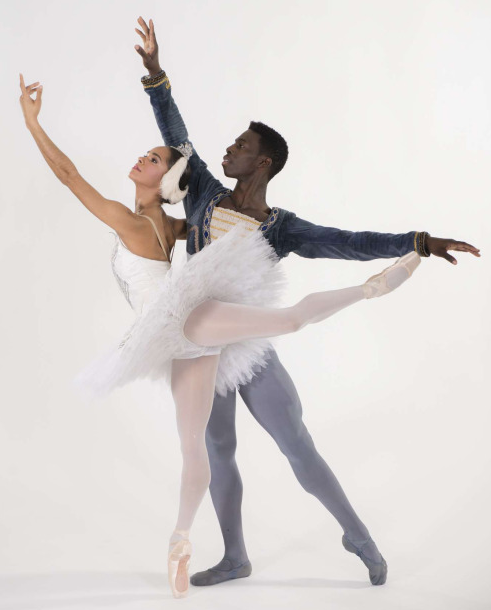 Copeland and Mack as Odette and Prince Siegfried (Theo Kossenas, courtesy TWB)
Why is this especially exciting? (Aside from the fact that these are two amazing artists performing one of the world's most iconic ballets, which is thrilling in itself?) Because it is, unfortunately, incredibly rare for two dancers of color to play the leads in Swan Lake. It's an historic moment.
You can read Copeland, Mack and Washington Ballet artistic director Septime Webre's comments on the milestone performance in our April issue. And those of you itching to see the Copeland-Mack partnership in action are also in luck: Webre has posted a rehearsal clip to Facebook, and it's about as fantastic as you'd hope. Take a look—and get your Swan Lake tickets here.
Misty Copeland and Brooklyn Mack rehearsing Black Swan while the beautiful Evermay chamber orchestra plays on. Everyone is really dancing their best just now. I am super-proud of the whole company! We open Thursday night – exciting!
Dance News