Applying for a college dance program can feel like a guessing game. Should you highlight all your competition titles and awards? How important are your academic grades? And how should you act in the audition? Here's advice from admissions officers from some of the top dance programs in the country about how to make your application stronger.
Keep reading...
Show less
Miami City Ballet principal soloist Nathalia Arja is known for her powerful jump—in fact, she recalls one reviewer describing her as "popcorn." But flying through the air wasn't always second nature. Growing up training in her native Brazil, she says, she didn't know how to use her body efficiently during grand allégro.
So what changed? "At 13, I started doing Pilates," she says. "I did a lot of leg exercises lying down on the reformer, which built my core strength." Then, at 15, she started studying at Miami City Ballet School. "I went from classical to Balanchine training," she says, "and I learned how to push off the floor with my toes, rather than jumping from my entire foot."
As Arja discovered, developing a big jump is more about nurture than nature. Here's advice from the experts about how you can reach your highest heights.
Keep reading...
Show less
Tape can be your friend when it comes to pain management—from chronic injuries, like plantar fasciitis and Achilles tendonitis, to acute injuries, like ankle sprains. "When applied correctly, tape can help a dancer support and protect an overworked muscle, tendon or ligament by limiting its movement," says Alison Deleget, a certified athletic trainer at the Harkness Center for Dance Injuries at NYU Langone Medical Center. Taping can also assist in the healing process by providing compression and reducing stress on the injured body part.
Of course, tape isn't a magic fix. It shouldn't be used as a long-term treatment, nor should you depend on it as an everyday coping mechanism. "It's just one tool in your recovery toolbox—in addition to rest, ice and physical therapy," Deleget says. We asked her to share some dancer-friendly taping methods to get you back on your feet.
You'll need: Elastikon
Three Taping Methods to try
•Deleget recommends wearing Elastikon only when you're dancing. The adhesive can irritate your skin, so it's not something you'll want to wear all the time.

(Photos by Lucas Chilczuk)
Method 1: Arch Support
Good for: plantar fasciitis
Measure and cut a piece of tape to fit around the arch of your foot. The red line along the center of the tape should line up with the navicular bone on the inside of your foot, which you can find by sliding your fingers down and in front of your anklebone.
Stick the center of the tape to the bottom of your arch, then lay the outside flap of tape along the top of your foot.
Pull the inside flap of tape upward to give your arch a lift, then lay it down over the top of your foot.
Repeat with another strip of tape toward the front of your foot, overlapping the two pieces by half.

(Photos by Lucas Chilczuk)
Method 2: Ankle Support
Good for: coming back from an ankle sprain or coping with Achilles tendonitis
Start the tape at the top of your arch, with the tail of the tape going around the outside of your foot. Wrap the tape underneath your arch, pulling it at about 50 percent of its elasticity.
When you reach the inside of your foot, pull the tape upward to its full elasticity to give your arch an extra lift.
Follow the tape around your ankle so it forms a figure 8, again pulling it at 50 percent of its elasticity.
Continue the figure 8 until you reach the top of your foot again. Cut the tape and secure the end.

(Photos by Lucas Chilczuk)
Method 3: Bunion Correction
Good for: holding your big toe in neutral alignment (especially in pointe shoes) or reducing big-toe pain on relevé
Measure and cut a piece of tape to fit the circumference of your flexed foot—from the tip of your big toe, around your heel, to the midpoint on the outside of your foot.
On the big-toe end of the tape, cut a "Y" shape the length of your big toe. Wrap the two ends of the "Y" around your big toe, being careful not to pull them too tight.
Using the big toe as an anchor, pull the tape toward your heel, using about 50 percent of the tape's elasticity. Once your toe reaches neutral alignment, attach the tape along the inside of your foot, around your heel and up to the midpoint on the outside of your foot.
To secure the taping, wrap an additional piece of tape around your arch.
Kinesiology Taping
Kinesio tape is designed to lift the surface of your skin to reduce swelling and inflammation and promote blood flow.
It's thinner and more flexible than Elastikon, allowing full range of motion, and it can stay on for three to five days.
Kinesiology taping can help soften and release muscle fascia—such as the iliotibial band (IT band), hamstrings or calves, which tend to be tight in dancers. Here, Deleget explains a basic method for taping the IT band.
•Stand with your target leg crossed behind you, so your IT band is stretched. Measure and cut a piece of kinesio tape that runs from just below your knee to your hip. Round both edges of the tape with scissors so the tape doesn't curl.
•Peel a few inches of the backing paper from one end of the tape and lay the tape gently at the base of the outside of your knee.
•Run the rest of the tape upward along your IT band as you peel the paper away.
•Before you secure the final few inches of tape, remove the remainder of the paper. Then gently lay the last few inches at your hip.
•Rub your fingers up and down along the tape to generate heat, which activates the adhesive.
The kinesio tape is pre-stretched, so don't give it any extra pull as you apply it. It's best to apply it 20–30 minutes before you dance.
Pas de Deux-licious
Want to make your healthy snacks even healthier? Turns out, eating certain foods together can significantly boost their nutritional value. Next time you feel your stomach
grumbling, reach for one of these power-couple food pairings.
Tomatoes + Avocados
Guac fans, rejoice! Avocados' healthy fats help you absorb tomatoes' lycopene—an antioxidant that may help prevent cancer.
Tuna + Kale
For strong bones, your body needs vitamin D and calcium. Back up the calcium in dark, leafy greens like kale with vitamin-D-rich tuna fish.
Lean Beef + Broccoli
Feeling fatigued? You may be iron deficient. The vitamin C in broccoli will help your body absorb the iron in lean beef.
Did You Know?
Taking ibuprofen right after you dance can delay muscle recovery. Inflammation is a necessary stage of muscle repair, regeneration and growth. As an anti-inflammatory drug, Ibuprofen interferes with this process—so only take it if you're extremely sore.
Apr. 11, 2013 12:15PM EST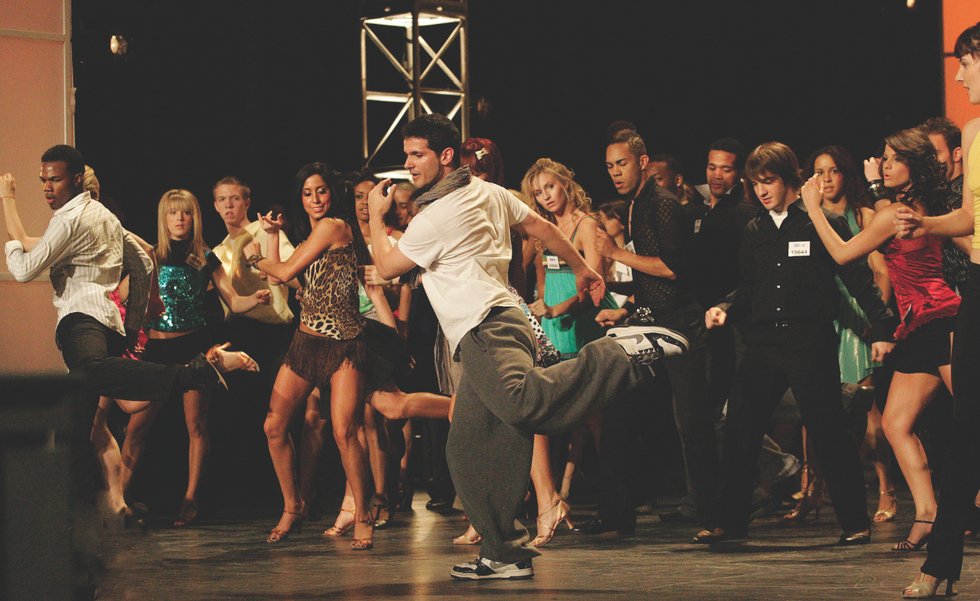 Tyce Diorio leading auditions in Las Vegas during "So You Think You Can Dance" Season 4 (photo by Kelsey McNeal/FOX)
Every audition experience is unique. But whether you're hoping to land a spot in a commercial or on an NBA dance team, certain situations are bound to occur. Read on to learn what top agents and casting insiders swear you'll encounter at almost any audition.
1. There are going to be curveballs. Choreographers and casting directors can change things up on a whim, so be ready for anything. Abrams Artists Agency's Brooklyn Lavin suggests coming armed with copies of your headshot and resumé, an array of shoes—including heels, dance shoes, tennis shoes and tap shoes—a makeup bag and multiple wardrobe options. "If your agent tells you it's a burlesque, sexy look and everyone at the audition looks like a nun, you need to be prepared to wing it," Lavin says.
That "go with the flow" motif applies to dancing, too, says "Glee" associate choreographer Brooke Lipton. "You never know what casting directors or choreographers will throw at you," she says. "Be versatile and be prepared."
2. The day will be long and crowded. Whether there are dozens, hundreds or even thousands of dancers showing up, the audition will surely take at least half a day, according to Lavin. Bring water and healthy snacks to keep your
energy level high, and always allot enough time for traffic, checking in, stretching and warming up. "Expect a huge line," says Lavin, who represents dancers including Neil Haskell and Chelsie Hightower. "I recommend showing up at least 30 minutes before audition time to sign in."
3. All eyes will be on you from moment one. If you thought the only thing that mattered was your short time performing in front of the judges, it's time to retrain your brain. "Your audition starts the moment you walk into the casting room or studio," says Jenn Proctor of McDonald/Selznick Associates. "The decision makers are paying attention to your every move, even if you think they aren't, so be the best version of yourself—the whole time."
4. It's going to be overwhelming. It's a universal truth that auditions are intimidating—regardless of your experience level. "Lots of dancers get into the room with 300 other people and feel overwhelmed, thinking, No one will see me," says Lipton, who casts about 250 dancers every year. "There are awesome dancers who get on the floor and bomb because they're so scared of the process." Close your eyes, take a few deep breaths and regain focus on your audition. No one else matters.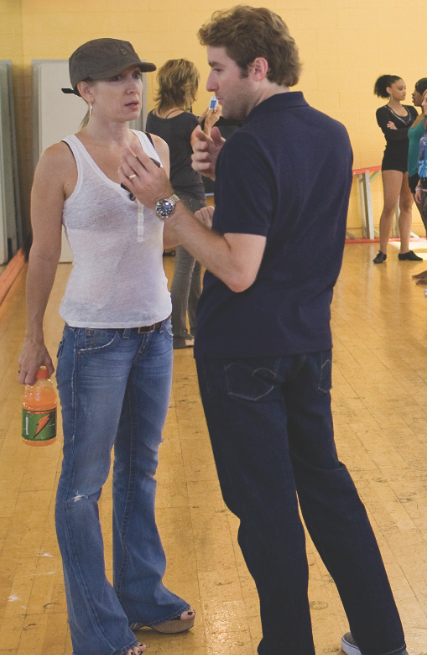 Choreographer Marguerite Derricks judges the talent at the "Fame" auditions (photo by Saeed Adyani)
5. Things will move quickly. Though the wait may be long, things will ramp up at lightning speed once the audition is underway. According to Lavin, most choreographers only spend about 15 minutes teaching the combination, after which dancers usually break into small groups and practice together before their turns. "Most audition combos are taught quickly and can be very difficult, so it's good to take plenty of
advanced classes to prepare," says Proctor. "That way, your body will be used to picking up challenging choreography rapidly. And remember, the more auditions you attend, the better you'll get at auditioning in general."
6. You might mess up. Even if you have the combo committed to memory, it might magically disappear when the pressure's on. How you handle it is what will make or break your audition. "Don't roll your eyes when you make a mistake. I can't tell you how bad that looks," says Lipton. She recalls one "Glee" hopeful who made several mistakes during her audition, but still booked the job "because she looked so strong and beautiful in what she was doing—it almost made everyone else look wrong. Confidence is the biggest booking magnet." Don't panic, keep your expression neutral and believe in yourself and your ability to book the gig.
7. You'll need to show your freestyle finesse. Freestyle has become an increasingly common part of auditions, and most choreographers will want to see your unique style of movement. Both Proctor and Lavin typically tell their clients to prepare a few 8-counts beforehand, especially if they feel uncomfortable going off the cuff. "It's so important for any dancer, whether ballet or hip-hop, to practice freestyling in the mirror," Lavin says. "It helps you see what's going on with your body and face and whether you have quirky mannerisms."
8. It will be hard to read the decision makers. At any given audition, you'll likely be evaluated by a panel including the choreographer, his or her assistant(s), casting directors, producers and/or other behind-the-scenes types. Lipton says it's futile to try to read their minds, as there's often chaos happening on the other side of the table. "We're trying to read five resumés at a time and take notes, so if we don't smile, it doesn't mean anything," she says. "The best thing you can do is make direct eye contact with everyone at the table—those are the dancers who catch my attention."
9. Things might not go your way. You may find out whether you're hired on the same day as the audition, or you might be contacted a few days later for a callback. If neither of those things happen, you're probably not on the short list, Lavin says—and that's OK. "Even if you gave the most amazing performance of your life, even if you have a relationship with the choreographer and think you have the job nailed, you may not get it," she says. "There are so many factors that weigh into hiring decisions."
10. This won't be your only shot. Lipton urges dancers to keep trying even in the face of rejection. "You're more likely to be turned down than you are to get the job," shares Lipton, who spent three years auditioning before her first booking. "Too often, dancers give up early and make judgments about why they didn't get the job. Instead, stay and see who was hired and why. What were they wearing? How did they dance? Copy the things that work, and above all, keep coming back."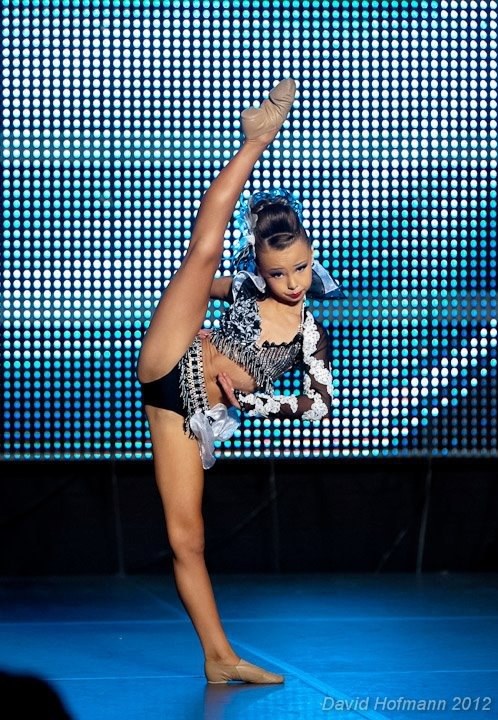 Sophia wows audiences with her  solid technique and stellar showmanship. Isn't she adorable? Photo by David Hoffman.
At just 10 years old, Sophia Lucia has made quite the name for herself in the dance community. If you know her simply as one of Abby Lee Miller's "replacements" on "Dance Moms," you're missing out! Winner of countless titles and star of viral YouTube videos—she holds a record of 54 pirouettes in tap shoes!—this tiny turner takes her training seriously. We caught up with this rising superstar, who studies primarily with Kristen Hibbs at San Diego Dance Center, to find out some little-known facts about her impressive career. And yes, she's just as sweet and adorable in real life as she is on TV!
Dance Spirit: What was working with Abby Lee really like?
Sophia Lucia: She's really sweet! When I went to do my movie, she bought me a whole new outfit to wear to the set! And when the replacements came, she paid for all of us to get our nails done.
DS: Did you get along with the girls on the show?
SL: The ALDC girls are super sweet—I wish I could dance with them every day. We'd have moments where we'd blank out and start laughing. Everyone was so excited to learn the group dance, and everyone was so friendly.
DS: What has been your best dance moment?
SL: Dancing in MDA's (Muscular Dystrophy Association) telethon with a little girl in a wheelchair.
DS: Who is your favorite teacher or choreographer to work with?
SL: Every teacher is great because they're always friendly and very nice. But, if I had to pick, I'd choose Mark Meismer (choreographer of my 'Turn to Stone' solo), Tiffani King (choreographer of my 'Pulse' solo) and Rachel Sebastian, who I train with every day for technique and ballet.
DS: What are your best turning tips?
SL: Always find your spot and pull your stomach in—tightening it up! That always helps me if I'm falling off my balance. And I strengthen my core every day.
DS: Your YouTube videos have thousands of views! How do you think they got so popular?
SL: "One day, my mom and I just started to post videos, and they blew up. When my 40 turns video came out on my tap teacher's YouTube channel, it just went bonkers!" (Sophia's "40 turns" video now has 872,000 views!)
One night, my dad was watching "Tosh.0" and woke me up in the middle of the night yelling, "Sophie! You're on Tosh.0! Come see!" and I was on for my 40 turns. He [Daniel Tosh] called me a bad word, but I didn't care, because I was on TV!
DS: What do you do to calm your nerves before a performance?
SL: My best friend, Cela Dadian, is always with me at competitions, and she's the funniest person. I'm always so nervous, but she makes me laugh and get over the nerves. If she's not there, I usually just shake it out and say a little prayer.
DS: Do you have any upcoming projects we can look out for?
SL: I have my own clothing line coming out for California Kisses, and they're sponsoring me, along with Kids Artistic Revue, to break the world record for pirouettes. I'll officially be in the Guinness Book of World Records this April!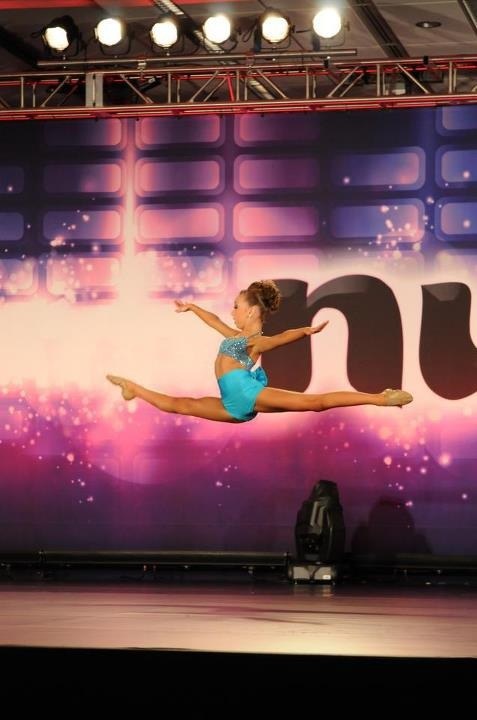 Sophia performing at NUVO. Courtesy Jaclyn Lucia.
FAST FACTS:
Favorite solo: "Pulse" and "Turn to Stone"
Must-see TV shows: Disney channel shows, "Here Comes Honey Boo Boo" and "Keeping Up With the Kardashians"—"When my parents let me watch!"
Dream choreographers to work with: Travis Wall, Nick Lazzarini and Stacey Tookey
Dance idol and role model: Hayden Hopkins and Travis Wall. "I hope that one day my legs go as high as Hayden's! And Travis is just an amazing person to be around."
Dream dance role: "To dance and act on TV—like on Disney's 'Shake It Up!' But long-term, I'd like to go to Juilliard and be on Broadway!"
Dance BFFS: Cela Dadian, Audrey Olaes, Kylie Yamane and Autumn Miller
Three words to describe you: "sassy, funny, cute" ("According to my mom!")
Something most people don't know about you: "I was born missing one rib on each side!"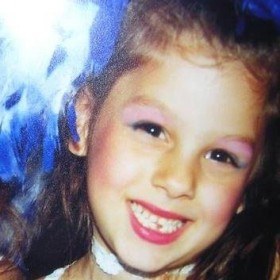 When I first started doing my own makeup, it was a tragedy. "Just make your eyes really dramatic," my teachers said. "Make them POP!" I made them "pop" alright—with a bit of black and grey for that envied smoky eye look, followed by green or blue for some color. Then, I'd slab on mascara with a touch of eyeliner (only on the bottom, on the inside). Perfect right? Not so much.
Somehow, I made it through those competition days in denial of how ridiculous I looked. But when I moved on to college dance, I got slapped in the face with reality. Before a dress rehearsal—with my makeup and hair finished, or so I thought—my choreographer told me I had the colors backward: dark shades in the wrong creases and light shades not even close. I went on stage feeling like a complete loser, hoping my face wasn't completely lost in the lights. Since then, I've done my homework. Here are four tips to help you avoid a makeup disaster:
1. Be prepared. I used to store my makeup in a million different places—eye shadow in one box, eyeliner and mascara in a plastic zip-lock bag and lipstick at the bottom of my purse. In order to do anything well, you need to be organized. So do yourself a favor and make sure you have a makeup case with room for all the essentials.
2. Practice makes perfect. Just as dancers rehearse to perfect their craft, so do makeup artists. If you want to get better, you have to practice. When you have time off, take out your makeup kit, experiment and see what works for you. This is a fantastic way to learn what you need and what you're missing before show day.
3. Go big or go home. I'd always play it safe with my makeup, never wanting to look like a clown. But the point of stage makeup is to be seen from the back row. Adding white to your eyelid and just below your brow before doing anything else will help highlight those areas once you've applied the rest of your shadow. And draw your eyeliner out further than the outside edge of your eyes to make them appear larger.
4. YouTube is your friend. There's so much information right at our fingertips. I've watched plenty of "how to" videos and some are far more helpful than others. Here's one that I absolutely love from Pacific Northwest Ballet:
What are your worst makeup mistakes? Let me know in the comments!
Whether you're jetting off to a six-week intensive or driving around the corner for a weekend workshop, it's important to maintain your physical and emotional well-being in order to make the most of your summer dance training. Use this wellness guide to ensure that your experience is a good one!
According to a Dutch study published in January 2007, folic acid may improve an adult's ability to pick up information quickly. Folic acid is a water-soluble B-vitamin found in leafy green vegetables, beans, tuna, oranges, strawberries, bananas, cantaloupes and fortified cereals. Add these to your diet and you may pick up combos and integrate corrections faster. Sleep is also important for cognitive function, so resist the urge to gab all night and get at least eight hours.
If your neck is sore after dancing, you're probably holding tension in the wrong place! Before and after class, spend a few minutes gently rolling your head clockwise and counterclockwise. To relax your jaw: Open your mouth as wide as you can and stick your tongue out, then release after a few seconds.
Your activity level increases during a summer intensive, so you need more fuel in order to meet the strenuous demands being placed on your body. Female dancers who don't consume enough calories can develop the Female Athlete Triad. This syndrome refers to low energy levels, menstrual irregularities and weakened bones. The consequences include stress fractures, injury, increased healing times and early onset osteoporosis. Never skip meals, and keep protein and carbohydrate snacks like fruit, nuts, crackers and cheese in your dance bag for after class.
Teachers take note of dancers who are on time, well-groomed, hard working and have good etiquette. Here are a few other ways to catch your instructors' attention, from Sanna Carapellotti, a performance specialist and CEO of mentalperformances.com:
Respect your teachers in and out of the studio.

Respond enthusiastically to directives.

Volunteer for extra rehearsals or understudy opportunities.

Listen and watch attentively when teachers demonstrate and when others are dancing.
Just like a runner builds up to a marathon, you need to condition your body before you start your summer program so that the rigorous schedule isn't a shock to your system. Conditioning doesn't mean that you have to pack in extra dance classes. Instead, cross train by building cardiovascular strength through swimming or biking. Strengthen muscles by lifting weights or taking Pilates or yoga.
Want your port de bras to show off your sculpted biceps? Try yoga poses like Crow pose, pictured at left from the new book Yoga for Teens. Here's how to do it:
Place hands on the floor in front of you, shoulders-distance apart, and bend your knees so that you're in a squat with your feet together and knees apart. Lift your butt, engage your belly and lay your knees on the backs of your upper arms. Start to shift your weight forward until one or both feet are off the floor. Look forward. (Place a blanket in front of your hands in case you fall!)
The mental strain of a hectic summer intensive can be a lot to handle, and ignoring or suppressing your homesickness may exacerbate your dampened spirits. "When you feel down, visualize three happy memories of your family and friends," advises Carapellotti. "Keep a Daily Event Journal to share when you return. Ask someone at home to record daily events for you, too." Participate in any planned activities, even if you don't feel like it—it will help you make friends. You can also forge a mentorship relationship with one of your teachers so that you have a trusted adult to go to for advice.
Your muscles need oxygen! According to a study by Reetta Ronkko of the University of Kuopio in Finland and Jarmo Ahonen of the Finnish National Ballet, dancers tend to hold their breath to "achieve the illusion of weightlessness and ease." Likewise, if you try to "hold your stomach in," you won't be able to breathe correctly"and you'll wear out faster. Instead, coordinate your breath with movement and be conscious of how you're breathing while you dance. Make sure you inhale and exhale fully with each breath.
You probably have an ab regimen at your studio, as will most of the dancers you train with over the summer. Gather in a common area of the dorm to swap workouts; a different dancer can lead each session.
Instead of always texting or e-mailing, take the time to write letters and postcards to your dance teachers, friends and family back home. When it comes to the digital connection, get creative. Carapellotti recommends asking a friend or family member to leave you a loving voicemail or to text you daily words of encouragement. Create a web page where you and your friends can leave messages for each other, or start a blog about your summer experience.
Know the warning signs of muscle strain: You might not feel pain immediately, but your movement will be restricted and soreness will increase throughout the day. Give your body a temporary rest rather than pushing through a strain and developing a full-blown injury that sidelines you for days or weeks. Warm up before dancing (even if you've had class earlier) and use a foam roller at the end of the day to release any muscle tension that may have built up.
If your summer program has you dancing more than you're used to, you may be susceptible to stress fractures and ankle strains. Strengthen your ankles now by doing extra relevés a few times a week and using a Thera-Band. Remember that feet need to be warmed up just like the rest of your body. Try a Yamuna foot warm-up (see "Tension Tamer" in DS July/August 2006), or doming (see "Happy Feet" in DS July/August 2005).
Podiatrist Tracey Vlahovic suggests packing moleskin, bandages, cotton balls, lamb's wool, hydrogen peroxide, Neosporin, toe caps, a nail file, scissors and a toenail clipper.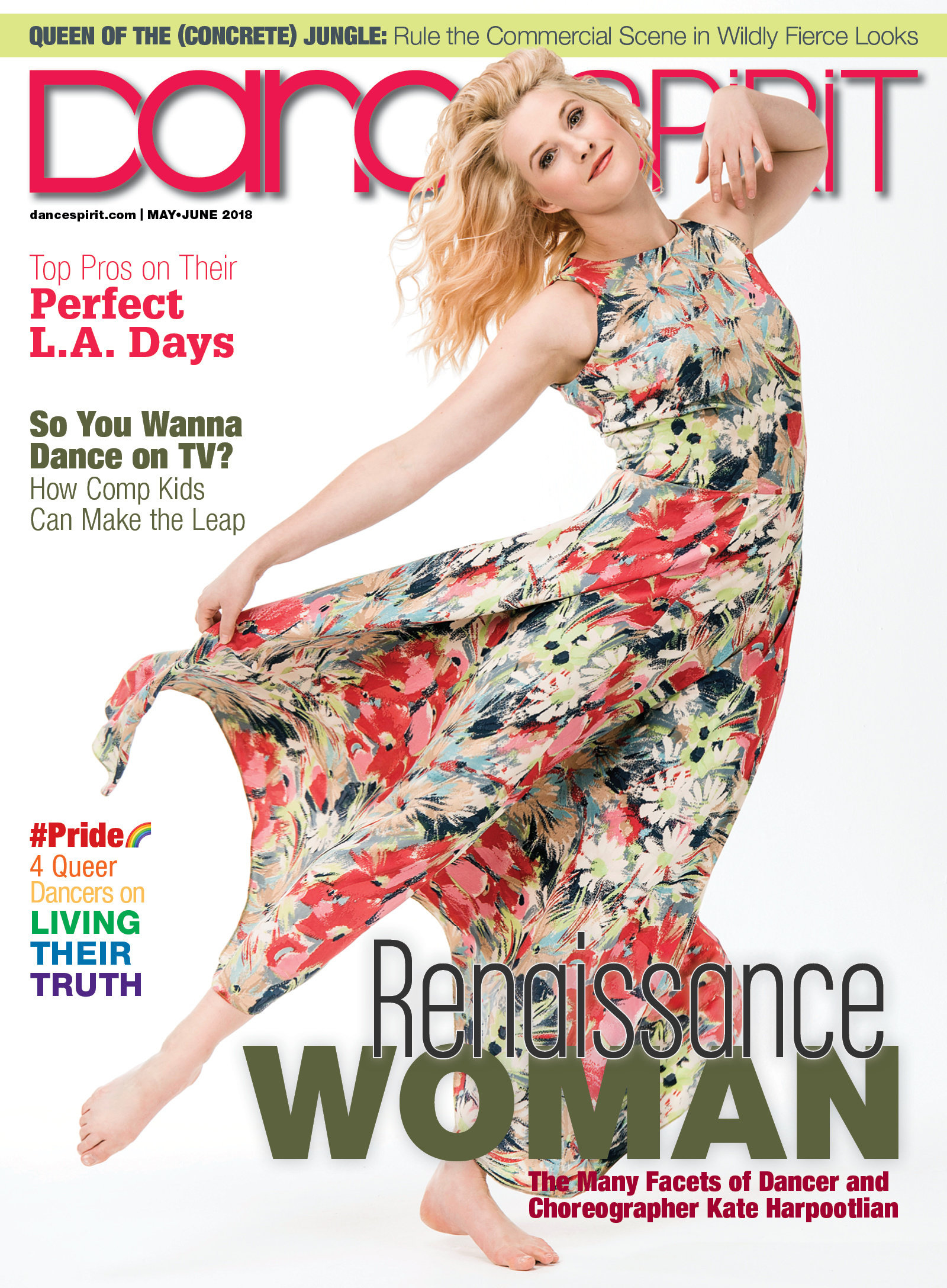 Get Dance Spirit in your inbox