Today's guest post comes from Francesca Harvey, a student who came to NYC recently with Live! Starring...You!—a pop-culture media organization that trains teen reporters to cover people in the spotlight—for National Entrepreneurship Week.
Tony Dovolani and brothers Maksim and Val Chmerkovskiy have been famous in the ballroom world for a long time. It's only in recent years that the trio—and several other ballroom champions—have become Hollywood celebrities.
That's what appearing on "Dancing with the Stars" will do for you.
For Tony, Maks and Val, their "DWTS" fame has also drawn attention to their business. With three other business partners, they own four Dance With Me studios: one in Manhattan's SoHo neighborhood, and others in Long Island, New Jersey and Connecticut.
Now, they want to expand the studio across the country.
After all, there seems to be a need.
"One of the things we run into as we travel across the country is everybody is asking us for lessons," Tony told me during a recent interview at the SoHo studio.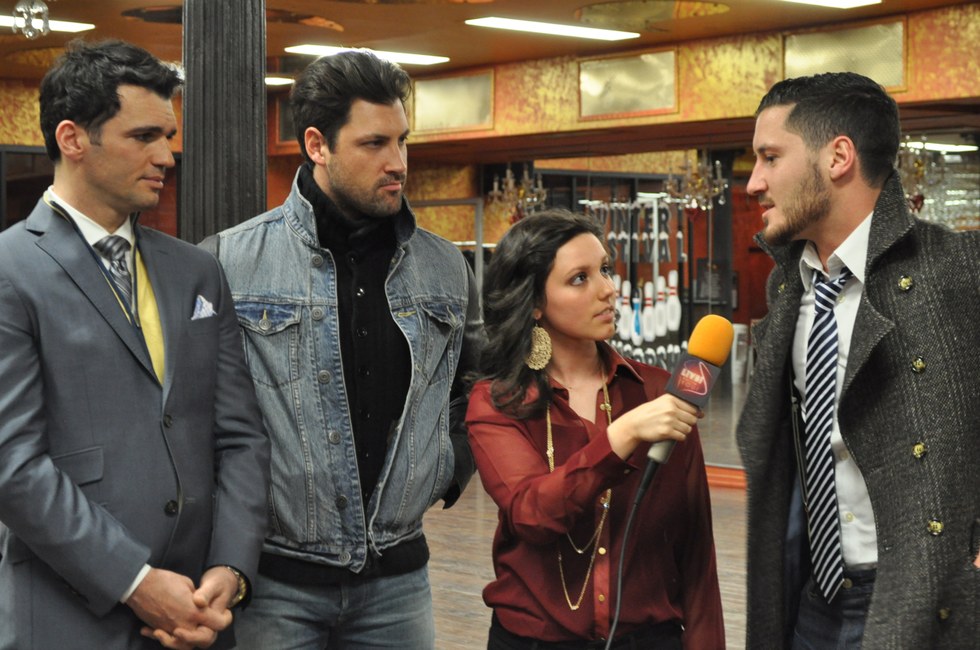 Francesca with Tony, Maks and Val. Not a bad place to be! (Photo by Tim O'Shei)
The guys have developed a teaching system that blends their individual approaches and styles. They instruct their own teachers in that system so all their students are learning the same way.
"Now, all of our teachers believe in the same system," Tony said. "They're taught by us. If you walk into our studio, you're getting a combination of Tony, Maks and Val."
Our interview also included a dance lesson with Val! We thought it was pretty cool that we got to dance with him one week before he was paired with "Shake It Up" star Zendaya Coleman for the next season of "DWTS." (Tony is paired with Wynonna Judd, while Maks isn't participating in the next season.)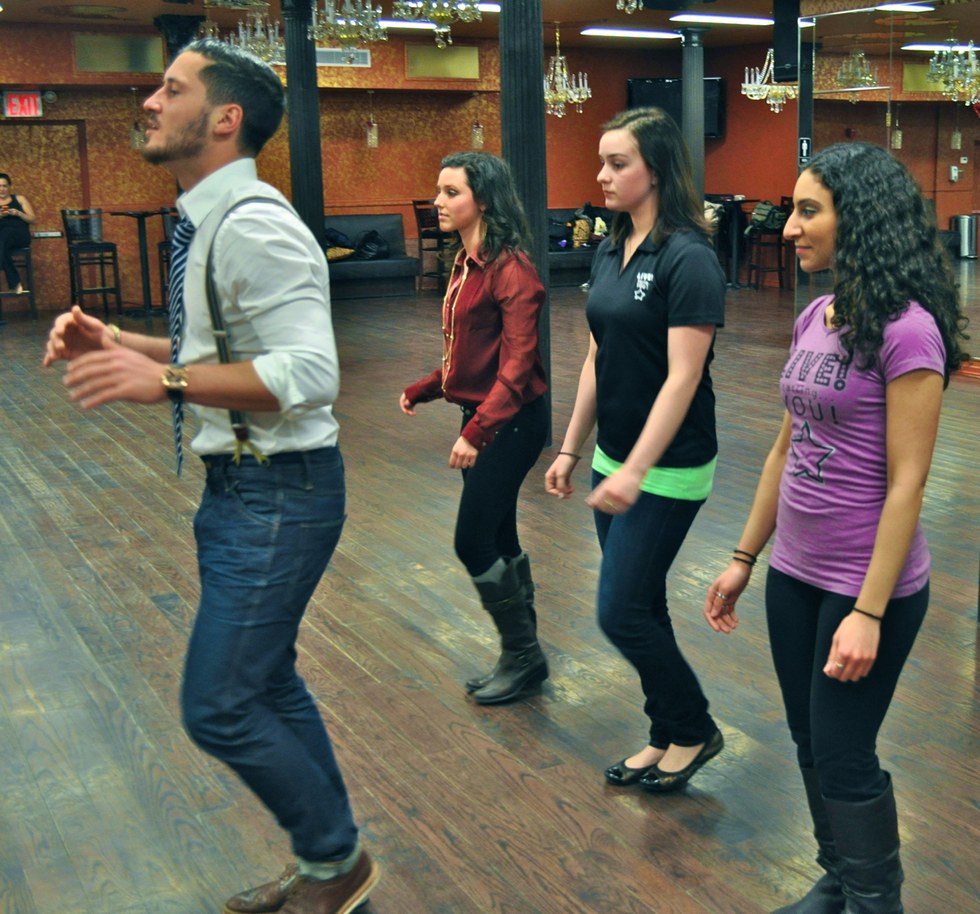 Learning how to groove with Val! (Photo by Tim O'Shei)
If you want to find out how we fared, click here to read our story and watch the video on the Live! Starring … You! site.
But ask Tony, and he'll tell you they can turn anyone into a dancer!
"We've developed a system where there's not one person we can't teach," he said. "If you can walk, we can teach you how to dance."
Francesca Harvey is the student editor of LiveStarringYou.com and a junior at Mount St. Mary Academy in Buffalo, NY.
"Dancing with the Stars" announced its cast for Season 18 earlier this morning, and holy moly we're excited. Not only did our suspicions about Olympians competing for the mirror ball trophy come true, but the list of athletes involved is even better than we had hoped.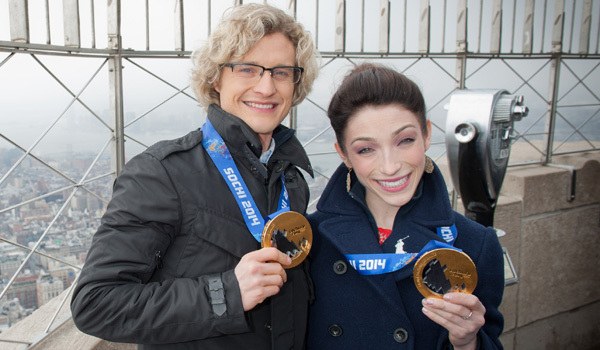 Charlie White and Meryl Davis sport their gold medals at the Empire State Building last week. Photo via OK! Magazine.
First up is Meryl Davis and Charlie White, Sochi's ice dancing gold medal winners (USA! USA! USA!), though they won't be paired together—Meryl will dance with Maksim Chmerkovskiy (#TeamMaksyl ...eh, we'll work on that one) and Charlie will dance with Sharna Burgess. Next is Paralympian Amy Purdy, a snowboarding champ who is also a double amputee. She'll be paired with the unstoppable Derek Hough (is there anything he isn't doing these days?).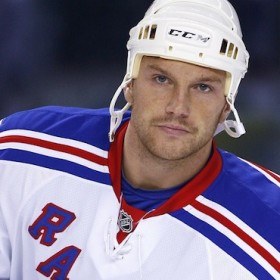 Sean Avery, before he retired from hockey. Photo by Larry MacDougal/The Canadian Press
Dancing with Karina Smirnoff is Sean Avery, the NHL dreamboat who's played for the New York Rangers, the Detroit Red Wings, the Los Angeles Kings and the Dallas Stars. Rounding out the sports category is Diana Nyad, a long distance swimmer who is the only person in history to go from Key West to Cuba—that's 110 miles—without stopping and braving sharks, jellyfish and exhaustion. Let's just say her partner, Henry Byalikov, better bring it.
Of course, what would the show be without a smattering of TV celebs? This season does not disappoint. Two words: Winnie Cooper. Another two words: D.J. Tanner. That's right, Danica McKellar from "The Wonder Years" and Candace Cameron Bure from "Full House" will be going neck and neck in just two weeks. Winnie Danica will dance with Val Chmerkovskiy and D.J. Candace will work with Mark Ballas.

(R to L) Kevin Arnold (Fred Savage) and Winnie Cooper (Danica McKellar) in "The Wonder Years"; D.J. Tanner (Candace Cameron Bure) in "Full House"
Cheryl Burke will be paired with Drew Carey, whom I can't believe hasn't been on the show yet. And Real Housewife of Atlanta NeNe Leakes (also known as Roz Washington on "Glee") will be swept off her feet by Tony Dovolani.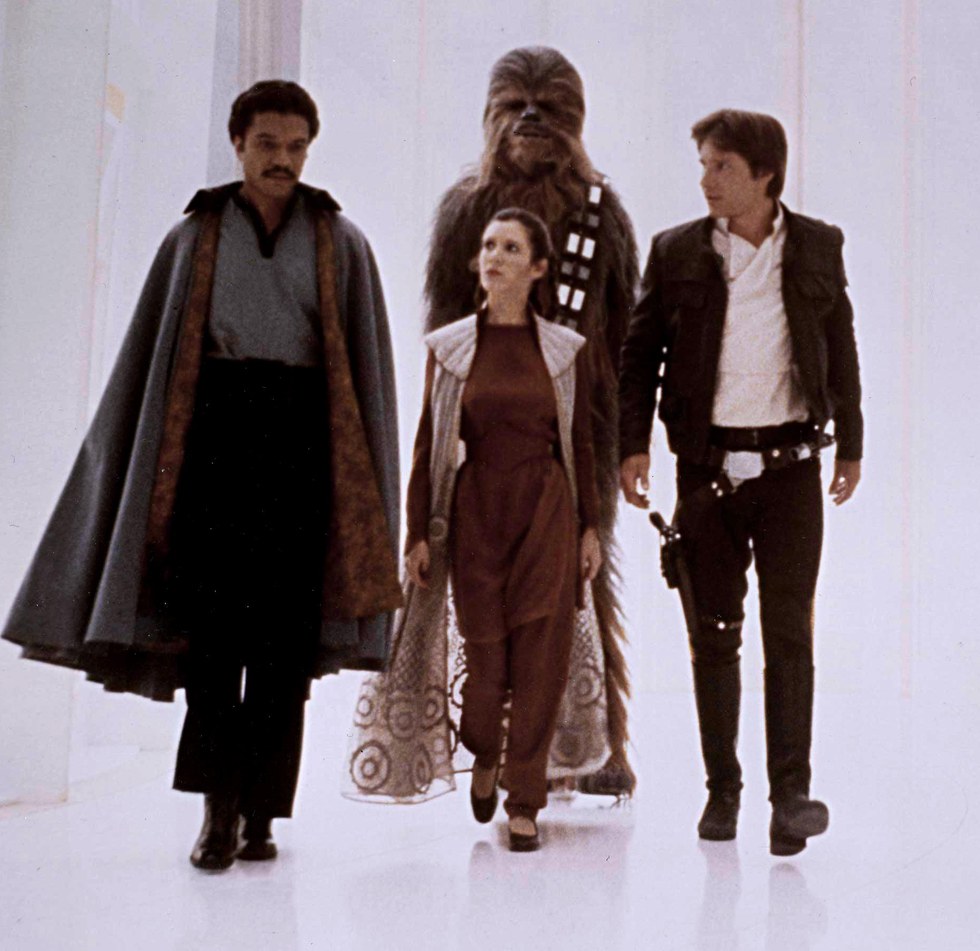 (L to R) Lando (Billy Dee Williams) with Princess Leia (Carrie Fisher), Chewy and Hans Solo (Harrison Ford)
Star Wars nerds rejoice: Billy Dee Williams (you know him as Lando Calrissian) will also dance, paired with British musical theater vet Emma Slater.
Cody Simpson is the youngest competitor. At 17, the Aussie pop singer will dance with Witney Carson, the Season 9 "So You Think You Can Dance" bombshell from Utah. And James Maslow, the 23-year-old sweetheart from Nickelodeon's "Big Time Rush" will be competing with Peta Murgatroyd. From the looks of this picture of the duo out on the town earlier this February, it may be a match made in "DWTS" heaven: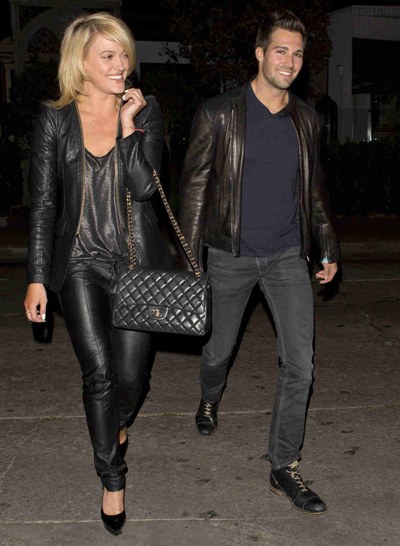 Peta and James leaving a restaurant in West Hollywood in early February. Photo by SPW/Splash News
All in all, it's going to be a great season. Who are you most excited to see? Any early predictions? Don't forget to set your DVRs (or just tune in!) for the two-hour season premiere, March 17 at 8 pm ET on ABC.
There's a whole lot to love about "Dancing with the Stars": celebrities, glittery costumes, live music, zany judges...we could go on. But one of the most lovable aspects of the show is getting to witness the journey of each (previously) non-dancing celeb. It's easy to get sentimental about the idea that anyone can dance.
Three "DWTS" pros--Tony Dovolani and brothers Maksim and Valentin Chmerkovskiy --are committed to spreading that philosophy beyond the show's set through their chain of Dance With Me studios. Last spring, we caught up with these ballroom boys in their SoHo studio, where they told us about their unique system of instruction that blends each of their individual styles.
And now the trio is celebrating the opening of their sixth Dance With Me studio, in Fort Lee, NJ.
"I am ecstatic to open our sixth studio...this one in my own backyard. I literally live down the street. I can't wait to give my neighbors and friends a chance to experience what we're so passionate about," says Maksim Chmerkovskiy.
The three joined Mayor Mark Sokolich and other dance enthusiasts in a ribbon cutting ceremony last Wednesday. Check out these pictures from the event, courtesy of The Star-Ledger: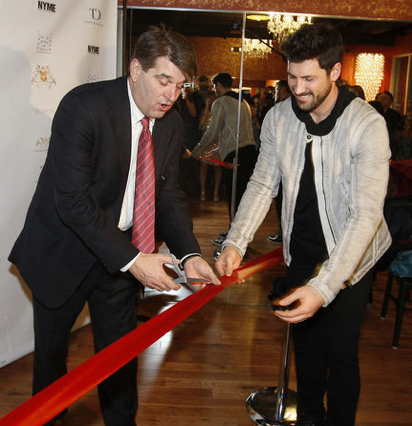 Mayor Mark Sokolich and Maksim Chermkovskiy cut the ceremonial ribbon. (Alex Remnick/The Star-Ledger)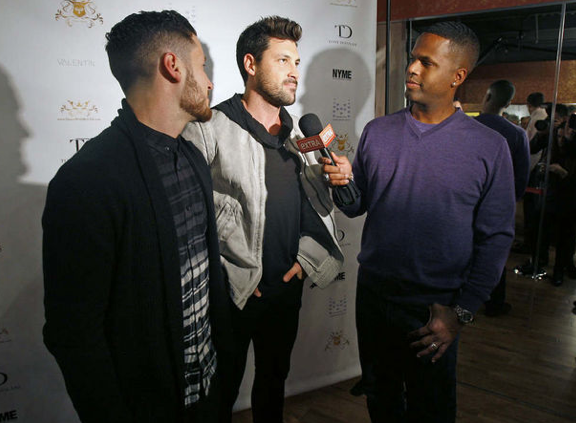 A reporter speaks with Maksim (right) and Valentin (left) Chmerkovskiy. (Alex Remnick/The Star-Ledger)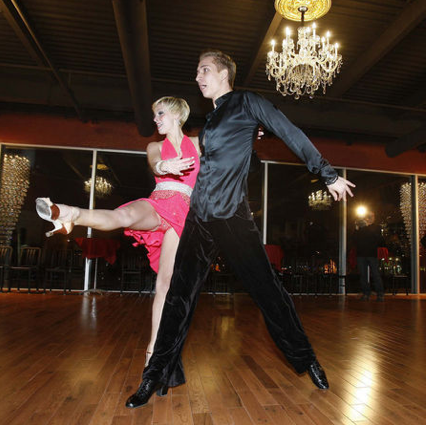 Of course, it wouldn't be a dance celebration without a little dancing! Guests were entertained by dance instructors Vladimir and Amanda. (Alex Remnick/The Star-Ledger)
Feb. 26, 2013 10:25AM EST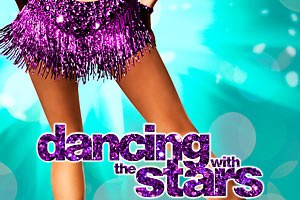 The season of sequined fringe is upon us.
The season 16 cast of "Dancing with the Stars" was announced today on "Good Morning America." Yay?
Sorry. I'm sure the latest season of this weirdly fascinating cultural phenomenon will be just as entertaining as the last 15. I'm just feeling a little sad that one Chelsie Hightower isn't involved in the proceedings this time around. Chelsie! We'll miss you!
The happier news is that Aly Raisman, the awesome surprise hero of last year's U.S. Olympic women's gymnastics team, will be competing for the mirrorball trophy. And there are some newbie pros—including "So You Think You Can Dance" alum Lindsay Arnold—on the list who might spice things up a little. Real yay!
Here's the lineup:
Wynonna Judd and Tony Dovolani

D.L. Hughley and Cheryl Burke

Jacoby Jones and Karina Smirnoff
Lisa Vanderpump and new dancer Gleb Savchenko
Andy Dick and new dancer Sharna Burgess
Victor Ortiz and new dancer Lindsay Arnold

Zendaya Coleman and Val Chmerkovskiy

Aly Raisman and Mark Ballas

Ingo Rademache and Kym Johnson
Kellie Pickler and Derek Hough

Dorothy Hamill and Tristan MacManus
Tune in for the premiere of "DWTS" on March 28 at 8/7 central on ABC.
Aug. 14, 2012 12:28PM EST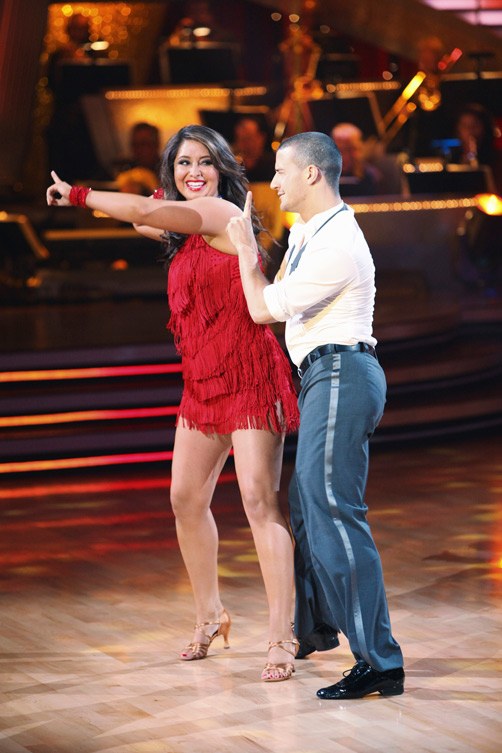 A few weeks ago, we told you about the All Star cast for Season 15 of "Dancing with the Stars." Well, there's more news from the Land of the Mirrorball Trophy: The star/pro pairings have been announced!
And the list has raised a few eyebrows. Interestingly, five of the 12 All Star contestants are going to take the floor with their original partners. Does that give them a bit of an edge over their freshly-paired competitors? What do you think?
Here's the full list:
Kelly Monaco and Valentin Chmerkovskiy

Emmitt Smith and Cheryl Burke

Joey Fatone and Kym Johnson
Kirstie Alley and Maksim Chmerkovskiy

Bristol Palin and Mark Ballas

Pamela Anderson and Tristan McManus

Apolo Anton Ohno and Karina Smirnoff

Gilles Marini and Peta Murgatroyd

Drew Lachey and Anna Trebunskaya

Helio Castroneves and Chelsie Hightower

Melissa Rycroft and Tony Dovolani

Shawn Johnson and Derek Hough
(As we mentioned in our last "DWTS" post, the 13th cast member—either Carson Kressley, Sabrina Bryan or Kyle Massey—is being chosen in an online vote, which ends August 24.)
See how this all plays out when "DWTS" premieres on Monday, September 24!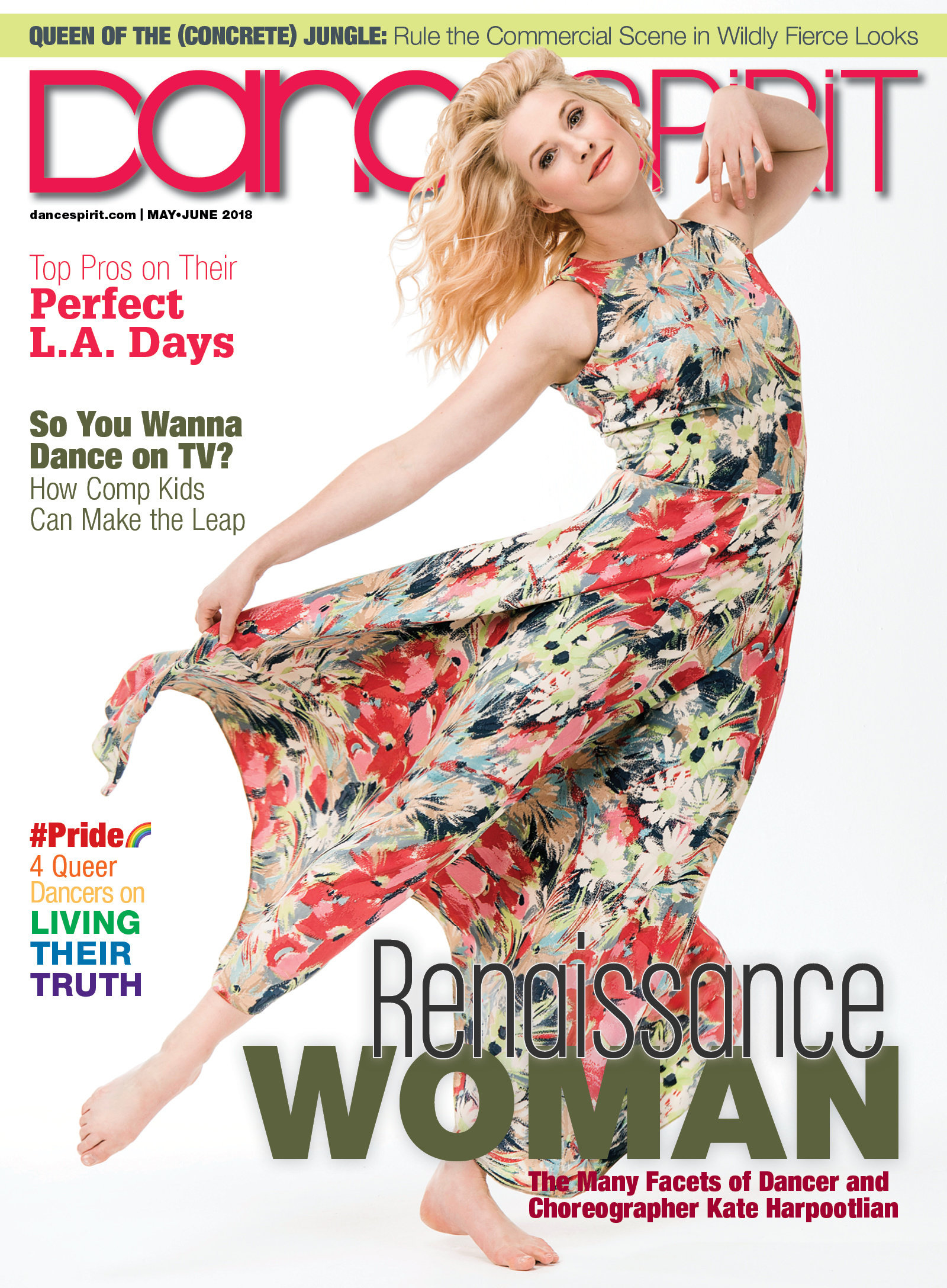 Get Dance Spirit in your inbox