Hey, "SYTYCD" fans: Want to win a trip to see the finale episode LIVE in L.A.? Of course you do! Click here to enter our "SYT" finale sweepstakes. 
I love when "So You Think You Can Dance" gets down to the Top 10, because there's so much dance and so little time for anything else. Last night's episode felt especially decadent: Each performer took to the stage no fewer than three times—once for the group's opening number, again for some all-too-brief solo action and finally for a duet with an All-Star. (That's right, baby: All-Stars are back!) Ready for some fantastic news? It was announced that in addition to gracing the cover of Dance Spirit, the winner of "SYT" Season 12 will get a chance to dance in Jennifer Lopez's upcoming Las Vegas show.
Of course, this being "SYT," there was some bad mixed in with the good: Jessica "JJ" Rabone was sidelined this week due to a few injured ribs. And there were still eliminations. JJ was in the bottom four, along with Megan "Megz" Alfonso, Derek Piquette and Edson Juarez. But let's look on the bright side for a little while, shall we? Here are my five favorite elements from last night's ep:
1. Sonya Tayeh's intense opening number to Bjork's "Earth Intruders." When the lights went up on the wedge of dancers stomping in unison, did anyone else get an image of Pina Bausch's Rite of Spring? (You'll see what I mean in this excerpt.) It was dark, it was complex—it was totally Tayeh.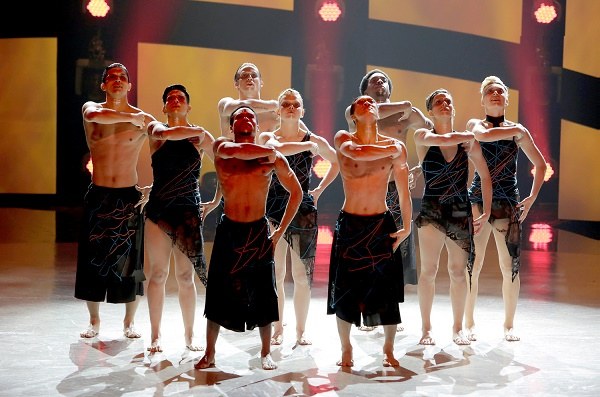 The Top 10 contestants in Sonya Tayeh's opening group piece (PC: Adam Rose/FOX)
2. The tasty little Center Stage morsel buried in the episode. When Megz and All-Star Marko Germar went all out in a Ray Leeper routine set to Jamiroquai's "Canned Heat," my head exploded. And not only because Megz is amazing: "Canned Heat" is, of course, Center Stage's workshop finale. Eee! (Also, for those of you who loved Warren Carlyle's great Broadway routine earlier in the evening: Did you know he did THIS in Center Stage??)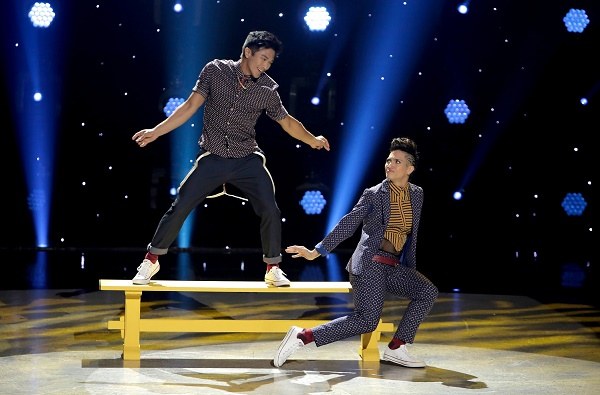 All-Star Marko Germar and Megan "Megz" Alfonso (PC: Adam Rose/FOX)
3. Virgil Gadson's duet with All-Star Comfort Fedoke. Choreographer Christopher Scott is on a roll this season with story-fueled hip-hop masterpieces. And his newest, set to The Temptations' "Just My Imagination," was a perfect fit for Virgil's charisma and Gene Kelly–like movement quality. There's also something to be said about competitors—like Virgil—who can not only hold their own next to an All-Star, but even outshine them.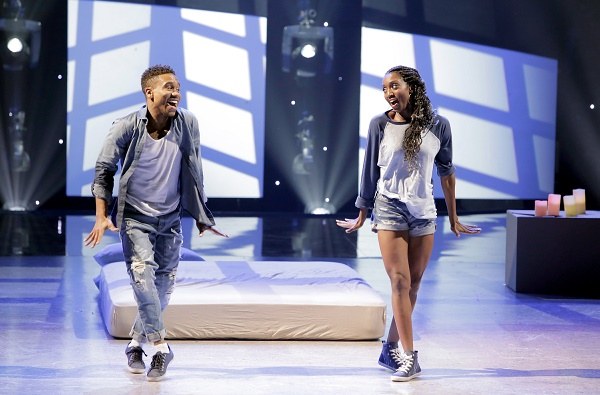 D'awww. Virgil Gadson and All-Star Comfort Fedoke (PC: Adam Rose/FOX)
4. Gaby Diaz and All-Star Joshua Allen in Pharside & Phoenix's hard-hitting hip-hop piece. Gaby might be the most versatile dancer this season. From tapping to twerking to contemporary-ing, she can do anything. I wouldn't even be surprised if she showed up next week in a pair of pointe shoes. After all, as Nigel Lythgoe says, "Whether it's Team Street or Team Stage, it's all Team Dance." That may be the cheesiest thing ever said, but Lythgoe also hinted at Gaby and Jana "Jaja" Vankova as possible finalists, and I'm not going to argue with that one.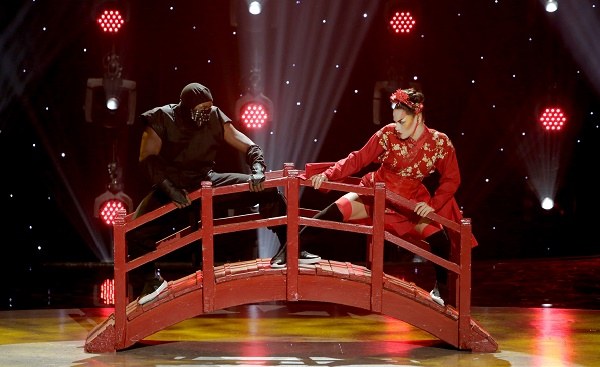 All-Star Joshua Allen and Gaby Diaz (PC: Adam Rose/FOX)
5. Pharside & Phoenix's Frankenstein-goes-to-dinner take on Yultran's "Milk Was a Bad Choice." Starring Eddie "Neptune" Eskridge as Frankenstein and All-Star Jasmine Harper as his bride, this routine's clever concept had me from the first silver tray slam. That said, while Neptune's bone-breaking skills were occasionally highlighted, Jasmine seemed to be featured more prominently, and I got tired of scanning the stage for Neptune. He's the one competing this time around—shouldn't he have a little more to do?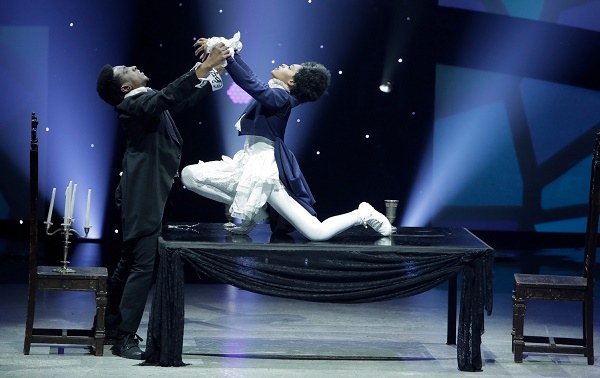 Eddie "Neptune" Eskridge and All-Star Jasmine Harper (PC: Adam Rose/FOX)

But seriously...what is that? (PC: Adam Rose/FOX)
In the end, JJ and Edson were sent packing. I'll certainly miss both of them, but I can't wait to see what the remaining dancers bring to the table next.
What do you think? Were the right dancers sent home? Could Paula have found a stranger necklace? (Probably.) Let us know in the comments, and we'll see you back here in a week when the Top 8 perform!
Tonight on "So You Think You Can Dance," we'll find out this season's Top 6 dancers. How did that happen so fast?! It's hard to believe that in a month, we'll know the name of America's Favorite Dancer—and our "SYT" withdrawal will begin.
Lucky for us, there's the "So You Think You Can Dance" Season 11 Tour to look forward to. Last week, FOX announced that this year's Top 10 will be traveling to over 70 cities across the U.S. and Canada—so chances are they'll be coming to a city near you! As per usual, the tour promises to bring us some of the most memorable routines from the season, plus some on-tour-exclusives!
The tour kicks off on Wednesday, October 1, in New Orleans, LA, and runs until February of next year. Tickets go on sale this Friday (!!!), August 15. Click here to view the full schedule (and to purchase your tickets come Friday).
And for a reminder of the talent that will be hitting the road this fall, here's a clip of the Top 10 group performance—"Bang Bang" by Jamal Sims—from last week's show:
Which pieces from the season are you dying to see live on the tour? Let us know in the comments!
The "So You Think You Can Dance" Top 10: By definition, that's a pretty rarefied crowd. At this point in the competition there are no obvious weak links in the contestant lineup, so eliminations are starting to feel...weird. We're invested in all the remaining dancers, which means, to horribly misquote Sheryl Crow, now every cut is the deepest.
The good news? None of these dancers are going down without a fight—and last night's episode included some of the best dancing we've seen this season. Here are my top five highlights from the show.
1. The opening number made "neon cowboys" a thing. I was a tad confused, initially, by Jamal Sims' concept. The dancers were supposed to be "getting a drink at the Last Chance Saloon"—but the Last Chance Saloon is a place where everyone wears highlighter-hued crop tops and carries parasols? Once the whole updated-take-on-the-Wild-West thing clicked, though, the piece was good cheesy fun. I especially liked that it gave each contestant a moment in the sun—even the tappers, who frequently get shafted in group pieces like this. (And Mr. Sims: Props to you, sir, for wearing a neon suit in solidarity with your dancers.)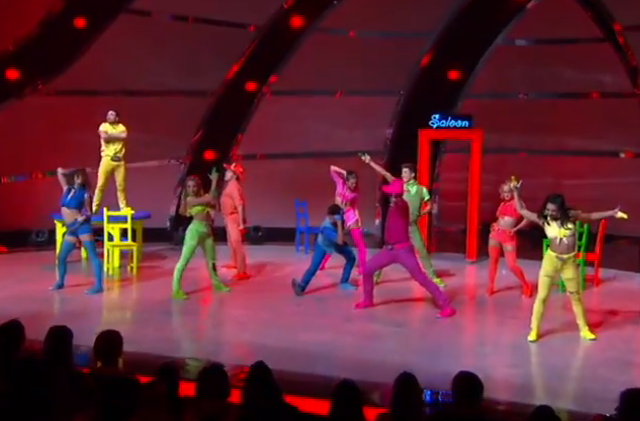 It's a hip-hop hoedown, y'all.
2. Nappytabs absolutely dominated. Tabitha and Napoleon's absence so far this season had created a gaping hole in my heart—a hole they promptly filled last night with two fantabulous hip-hop routines. First we had Emilio as an Egyptian king alongside Jasmine as a slinky pet snake with royal asp-iriations. I swooned for Emilio's tutting at the opening of the piece—and I love Nappytabs for never being afraid to go on-the-nose literal in the best way possible (tutting for King Tut, naturally!). Next up, the dynamic duo gave us tWitch as an old-fart creeper creepin' on pinup girl Jessica, and my mind pretty much exploded. #grandpatwitch forever. (Maybe the "bench test" should be a way to determine choreographic personality? I.e., give Mia Michaels a bench and she makes this; give Tabitha and Napoleon a bench and they make the world's greatest dirty old man jokes.)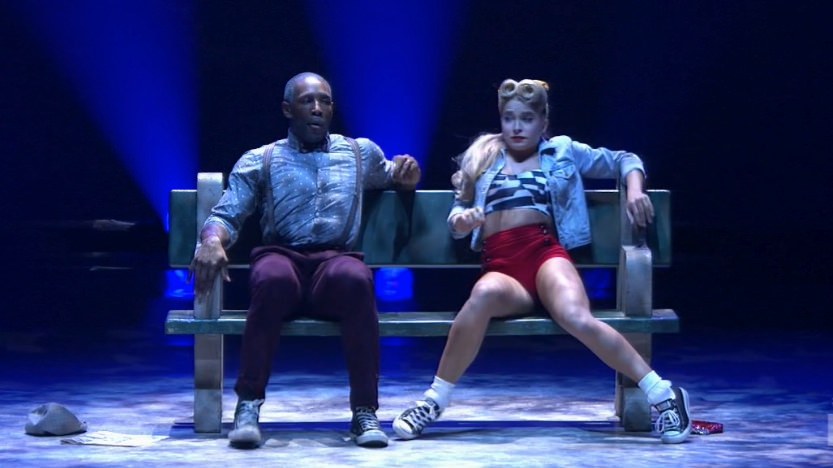 Creepers gonna creep.
3. #TeamBallroom. I think I have a ballroom problem, you guys, and "SYTYCD" is not helping. Tanisha smoldered in her Argentine tango with Ryan; the two of them nailed all of the routine's leg-flicking intricacies. And the lifts that choreographers Leonardo Barrioneuvo and Miriam Larici incorporated? Mind-boggling. (At one point Tanisha balanced on Ryan's neck. His neck!) I was thoroughly impressed by Rudy's ballroom skills in his cha cha with Jenna, too. I'll put it this way: When Jenna is wearing a super-naked hot pink dress trimmed with feathers and yet your eyes still occasionally flicker to Rudy, Rudy is doing a darn good job.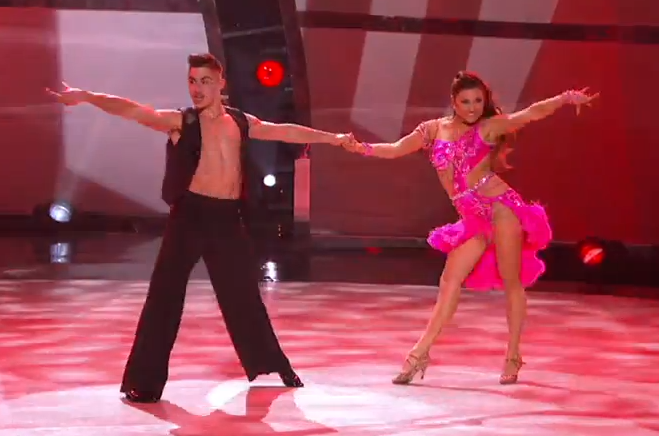 We see you, Rudy!
4. Travis Wall made the show's first-ever contemporary ballet piece, and...don't hate me, but I'm feeling conflicted about it. On the one hand, I'm a ballet freak and a half—in my eyes, anything ballet is always a DO. On the other, much as I love Travis (and think that his routine for the Top 7 guys last week will go down as one of the greatest in "SYT" history), why not choose a choreographer who specializes in contemporary ballet? Where's someone like Dwight Rhoden, whose company literally has "Contemporary Ballet" in its name, when you need him? The piece was successful in some ways; Jacque and Chehon were utterly committed, and I loved the super-dramatic lighting. But I'm not sure what pointe shoes added to the overall picture. This wasn't just a one-off experiment for TWall—he's made work for the Los Angeles Ballet, too—and it's exciting to see his curiosity leading him down different dance paths. My official verdict? Let's all keep a close eye on Ballet Travis.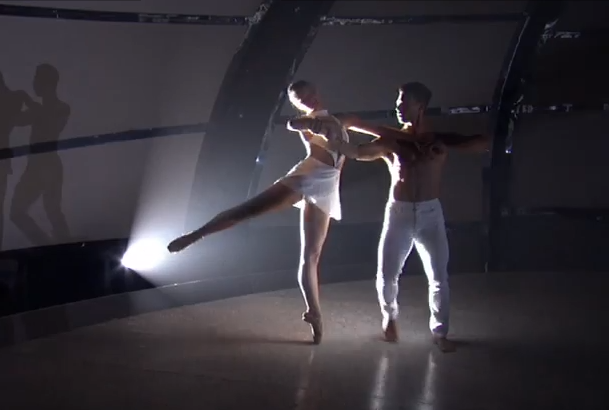 That lighting, though.
5. Sonya Tayeh dug deep. Sonya began the rehearsal process by telling Zack and Amy that their routine was a tribute to a friend of hers who'd passed away suddenly—and right away, I knew we were in for a teary ride. The resulting work was intense and moving, thanks in part to the beautiful, atmospheric music by Max Richter. While I was touched by how involved Zack and Amy became in the story, I have to admit that the choreography didn't scream "Sonya" to me. It felt strangely...generic. But I think I must just be a grump, because everyone in the audience gave it a big old standing O. And excuse me—Sonya's making a piece for the Martha Graham Dance Company? Now that I can't wait to see.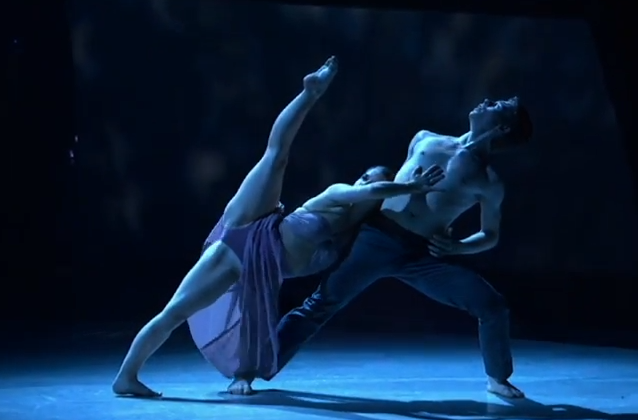 Zack and Amy, hauntingly lovely
Ultimately, we were forced to say a painful goodbye to Emilio and Bridget. Our consolation prize? Next week's show will celebrate the work of—ahem—Michael Jackson. Color me verrrry intrigued. 'Til then!
Arg, it's the toughest cut yet. And, is it just me, or is everyone starting to look a little bit tired? But on a positive note, once we're down to the Top 10, every vote will really, really count—and we'll all find out that it's possible to get just a little bit more obsessed. Here are my Top 5 moments from last night's episode of "So You Think You Can Dance."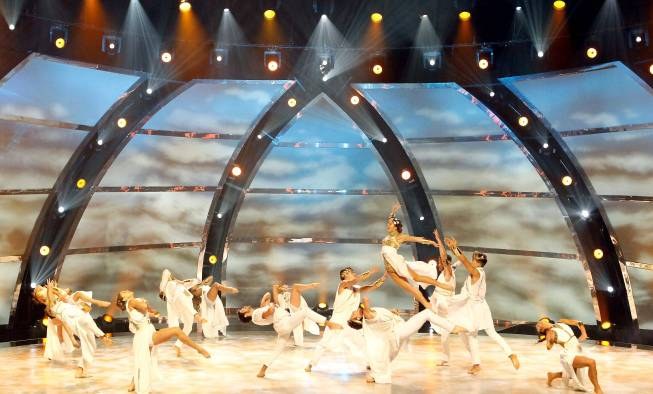 The Top 14 in Stacey Tookey's "Last Moment"
(photo by Adam Rose/FOX)
1) "Last Moment." You know we love Stacy Tookey. And I'm always a sucker for anything even remotely reminiscent of Greek goddesses. So, thank you, opening number, for putting those two great pieces together into one even better whole.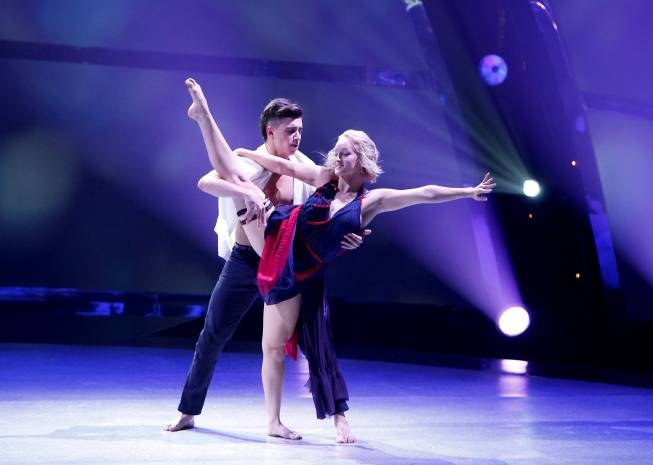 Rudy Abreu and Tanisha Belnap in "Seduces Me," choreographed by Mandy Moore
(photo by Adam Rose/FOX)
2) Mandy Moore's contemporary piece. Um, can you say commitment? Rudy and Tanisha completely abandoned themselves to Mandy's insane lifts, and the result was quite impressive. And as if that weren't enough thrill for one show, that throw (?) at the end of Travis' group piece, "Wave"? Ridiculous.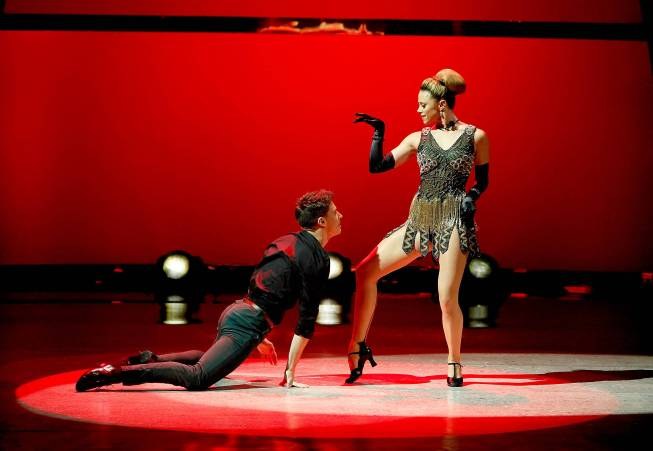 Teddy Coffey and Emily James in "From This Moment On," choreographed by Warren Carlyle
(photo by Adam Rose/FOX)
3) More Warren Carlyle Broadway! So maybe the judges didn't love Emily and Teddy in their "Kiss Me Kate" inspired Broadway number, but I sure did. And maybe I'm biased toward our former cover model, but I do think there's something to be said for a little bit of subtlety.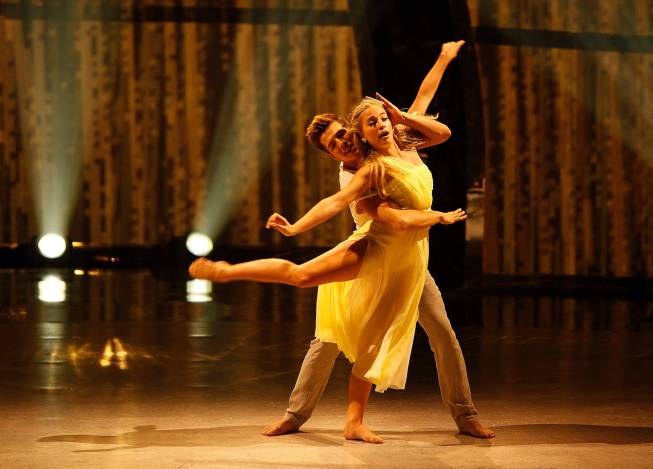 Casey Askew and Jessica Richens in "Like Real People Do," choreographed by Travis Wall
(photo by Adam Rose/FOX)
4) Travis Wall's "Like Real People Do." I called Jessica early, and I still think she has what it takes to win this thing. It was great to see her dance with Casey, and I think he's a partner who can not only keep up with her, but take her to the next level. And her solo! This girl's technique is beyond rock-solid.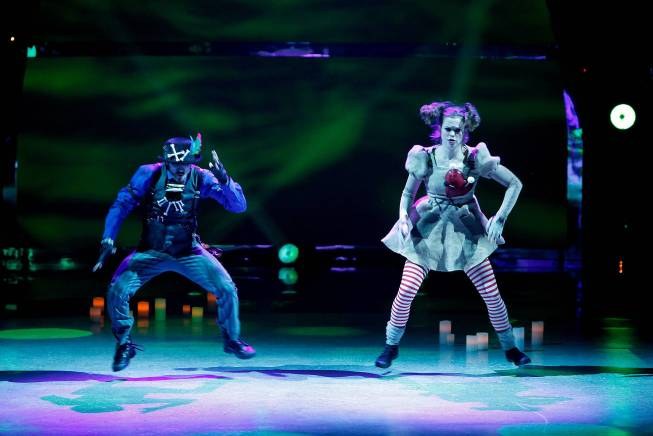 Ricky Ubeda and Valerie Rockey in "Turn Down For What," choreographed by Christopher 'Pharside' Jennings and Krystal 'Phoenix' Meraz
(photo by Adam Rose/FOX)
5) Valerie in "Turn Down for What." I'm going to be real and say that I just didn't like Pharside and Phoenix's music (hello, overplayed song!) or costume choices, but that doesn't stop me from thinking that Valerie's weirdo-split-puppeteering thing was AWESOME.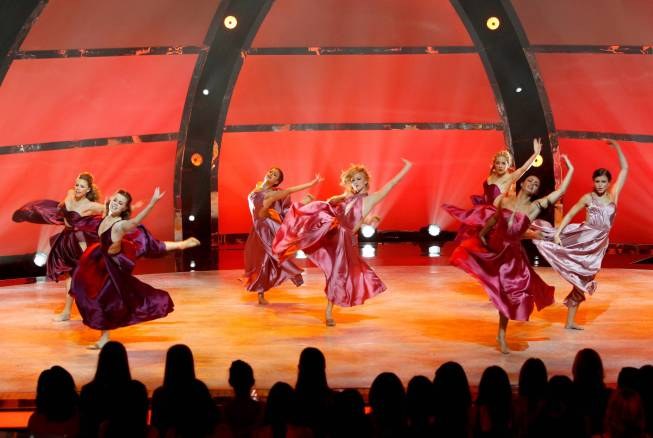 The Top 7 girls in Mandy Moore's work, "My Immortal"
(photo by Adam Rose/FOX)
It's so sad to see Serge, Carly, Emily and Teddy go home, though I'm excited to see Casey and Jessica go on to the next round. This far along in the competition, it's not really about talent—everyone is just so good, so it's hard to compare dancers. Like the judges said about the women's group number: You can't single anyone out.
But the dancers do start to stratify based on their ability to inhabit each choreographer's vision, as well as their ability to deliver week after week. What did you think of last night's episode? Did the right people get sent home? Let us know in the comments, and come back here next week for our recap of the best episode yet—when the Top 10 perform!
Jan. 01, 2014 09:42PM EST
Photo by Joe Wesley
If you've seen Beyoncé's "Single Ladies" video (or read our May/June 2013 issue!), you'll recognize backup dancer extraordinaire Ashley Everett. We got Ashley, who's currently on tour with Queen Bey, to share the 10 must-have items that keep her body (and her mind) happy.
1. Her Adidas track suit. "I love a good sweat suit after a long day of work or during a hectic travel day. It's the best loungewear by far!"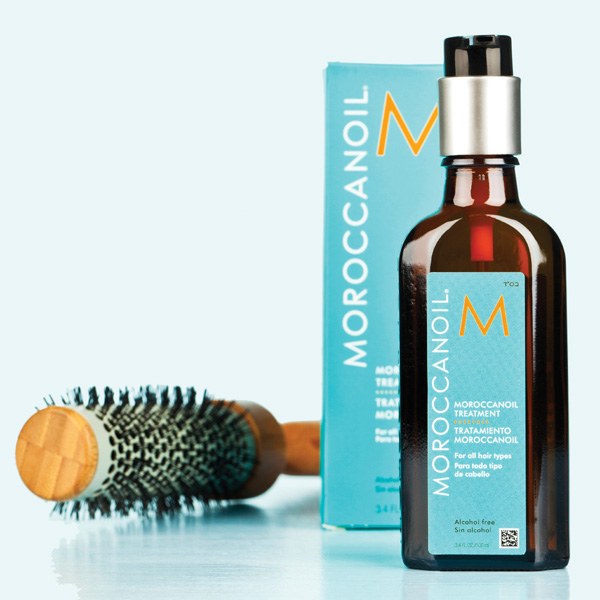 2. Her hair products. "I use Moroccanoil, a brush and a comb."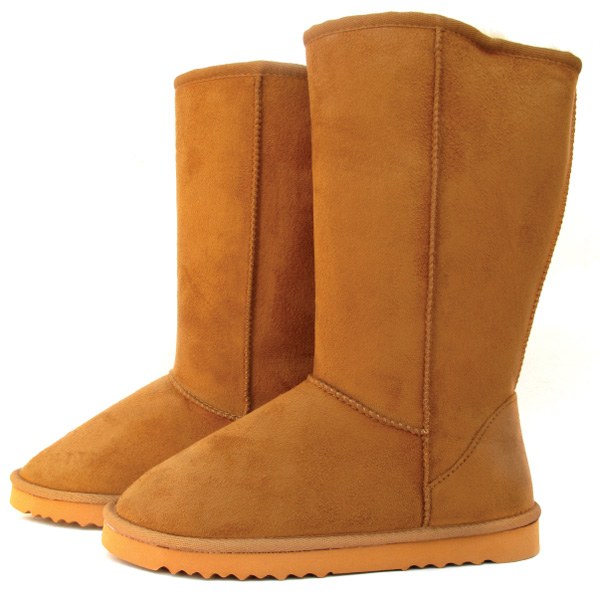 3. Comfortable shoes. "Jordans are my favorite, but if it's a heel rehearsal day, I use a boot for support. On days when my feet are sore, I rely on my trusty UGGs."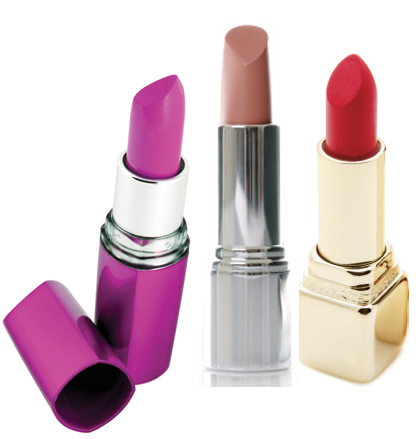 4. Matte lipstick in nude, red and pink. "I always keep a few options with me. I like matte lipstick because my hair doesn't get caught in it while I'm dancing."
5. Reminders of her boyfriend, Jennifer Lopez dancer John Silver. "When I'm sleeping in a different bed almost every night, I like to have a little piece of home with me. I'll throw on his T-shirt or basketball shorts when I'm missing him."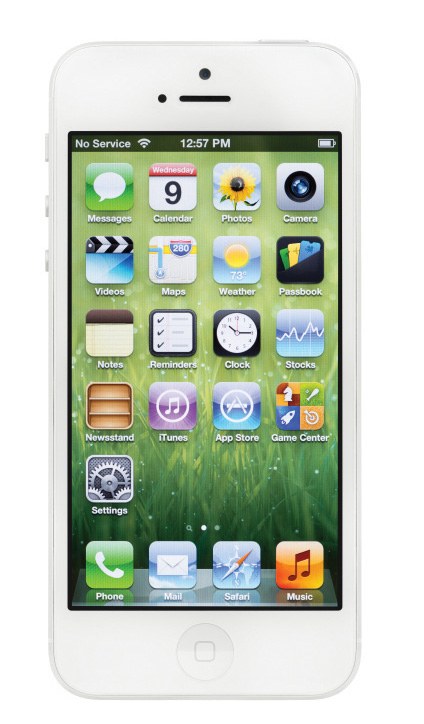 6. Her iPhone. "It helps me stay in touch with my family and friends. FaceTime is the closest thing to being with them in person."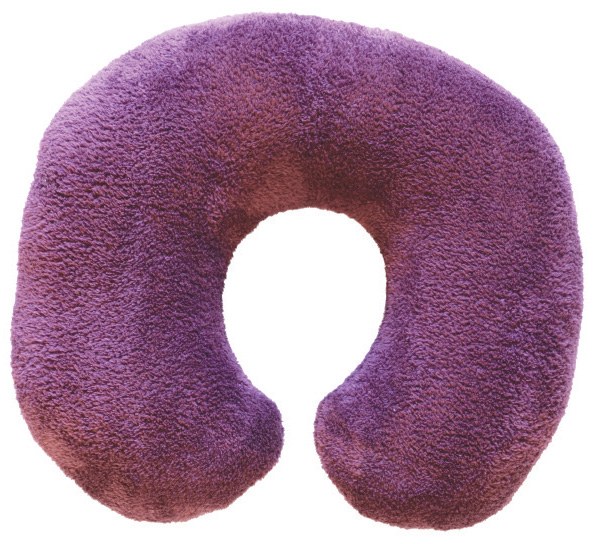 7. A neck pillow—"Because I travel so often on tour!"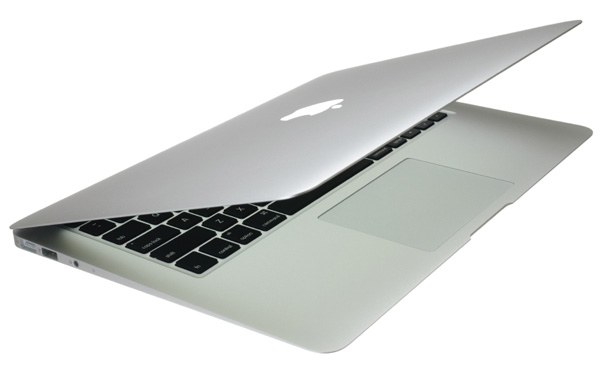 8. Her laptop. "I get a lot of emails with music edits or videos to reference for rehearsals, and it's easiest to view them on my Mac."
9. A camera. "I like to capture all the great moments that will turn into priceless memories!"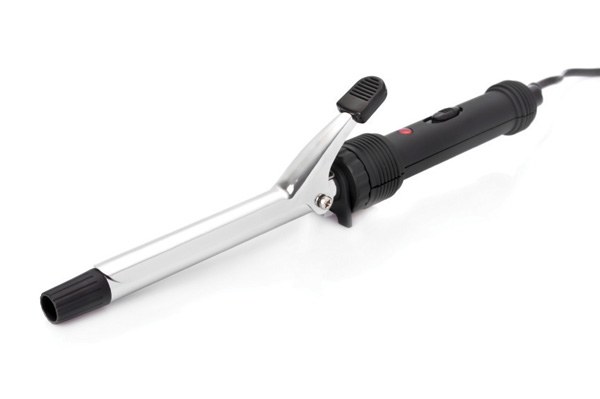 10. A small-barrel curling iron. "I use it on show days when I need to make my hair bigger and define my curls."
All photos i-Stock unless otherwise specified.
Oct. 04, 2012 11:13AM EST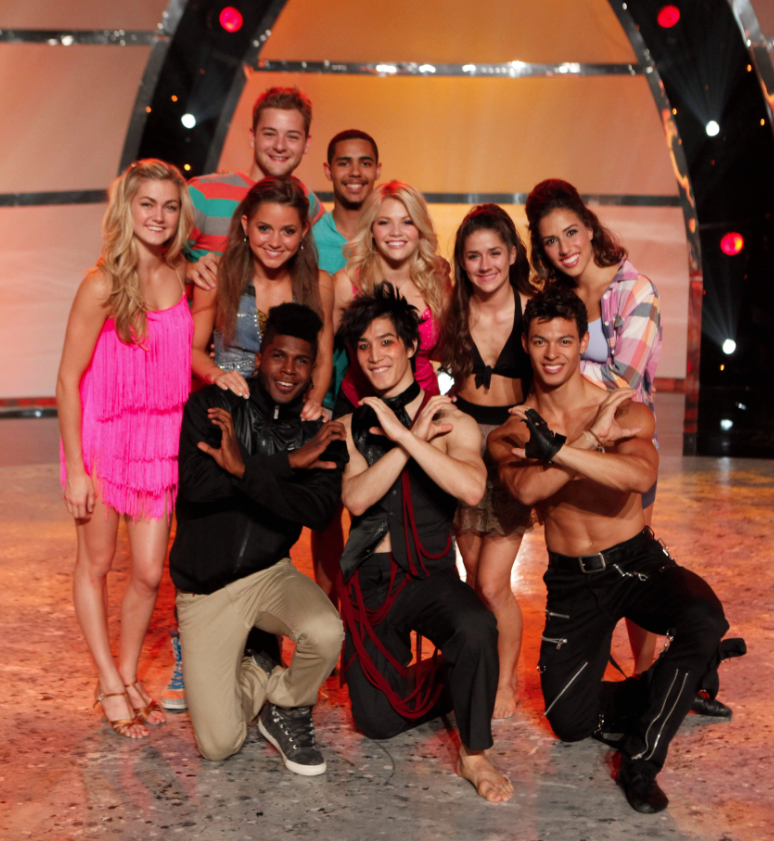 Your favorite "So You Think You Can Dance"-ers are coming to a theater near you! Season 9's Top 10—Audrey, Chehon, Cole, Cyrus, Eliana, George, Lindsay, Tiffany, Will and Witney—are about to embark on a 30-city tour featuring performances of this year's most popular routines. Where can you catch 'em? Here are the tour dates and locations:
Oct 23: San Diego, CA - San Diego Civic Theatre
Oct 25: Los Angeles, CA - Nokia Theatre L.A.
Oct 26: Oakland, CA - Paramount Theatre
Oct 28: Phoenix, AZ - Comerica Theatre
Oct 30: Grand Prairie, TX - Verizon Theatre at Grand Prairie
Nov 1: St. Louis, MO - Fabulous Fox Theatre
Nov 2: Milwaukee, WI - Milwaukee Theatre
Nov 3: Minneapolis, MN - Orpheum Theatre
Nov 5: Rosemont, IL - Akoo Theatre
Nov 7: Toronto, ON - Sony Centre for the Performing Arts
Nov 9: Buffalo, NY - Shea's Performing Arts Center
Nov 10: Windsor, ON - The Colosseum at Caesars Windsor
Nov 11: Cleveland, OH - State Theatre
Nov 13: New York, NY - Beacon Theatre
Nov 14: New York, NY - Beacon Theatre
Nov 16: Boston, MA - Citi Performing Arts Center Wang Theatre
Nov 17: Mashantucket, CT - Foxwoods/MGM Grand Theater
Nov 18: Syracuse, NY - Landmark Theatre
Nov 20: Albany, NY - Palace Theatre
Nov 21: Providence, RI - Providence Performing Arts Center
Nov 23: Atlantic City, NJ - The Arena at Trump Taj Mahal
Nov 24: West Long Branch, NJ - The MAC at Monmouth University
Nov 25: Pittsburgh, PA - Benedum Center
Nov 27: Newark, NJ - New Jersey Performing Arts Center
Nov 28: Baltimore, MD - Modell Performing Arts Center at the Lyric
Nov 30: Columbia, SC - Township Auditorium
Dec 1: Atlanta, GA - Cobb Energy Performing Arts Center
Dec 2: Durham, NC - Durham Performing Arts Center
Dec 4: Tampa, FL - Straz Center for the Performing Arts
Dec 5: Hollywood, FL - Hard Rock Live at Seminole Hard Rock Hotel & Casino
Get your tickets here !
On a related note—we just saw the final version of our December cover, featuring winners Eliana and Chehon. And you guys: It's AMAZING. Get excited!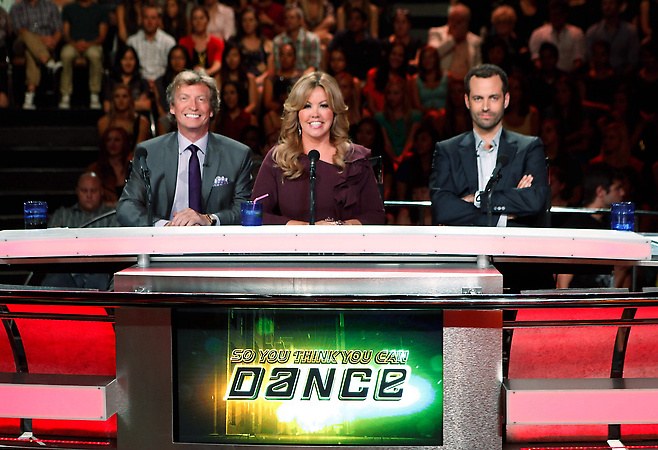 Last night on "So You Think You Can Dance" the Top 10 performed with their All-Star partners for the first time. We were thrilled to see so many of our favorite "SYTYCD" alums back as All-Stars—they really do kick the show up a notch. Joining Nigel and Mary at the judges' table was the one and only Benjamin Millepied? (whaaat? We're not complaining—just surprised). At the end of the show we found out America had voted Witney, Audrey, Chehon and George into the bottom. After dancing for their lives, Audrey (seriously?!) and George (again, what?!) were sent home. We're sad to see them go, but thrilled we'll get to see them on tour.
Here are our Top 5 moments from show: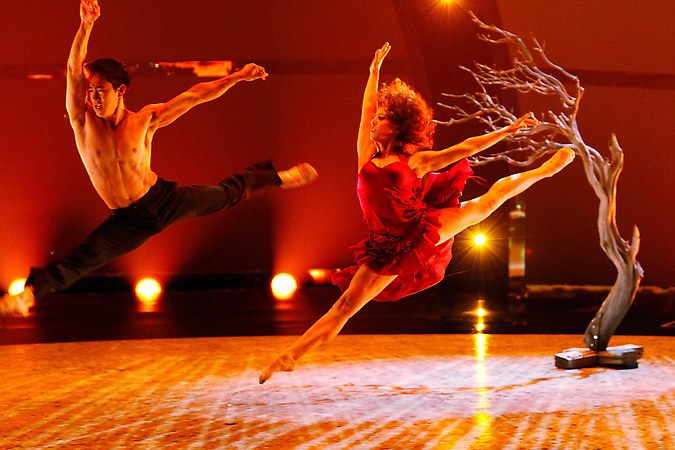 1. Eliana and Alex. Hands down my favorite routine of the night. Their technique, their steamy, subtly powerful performance, Stacy Tookey's incredible choreo—I couldn't have loved it more. Eliana is going far.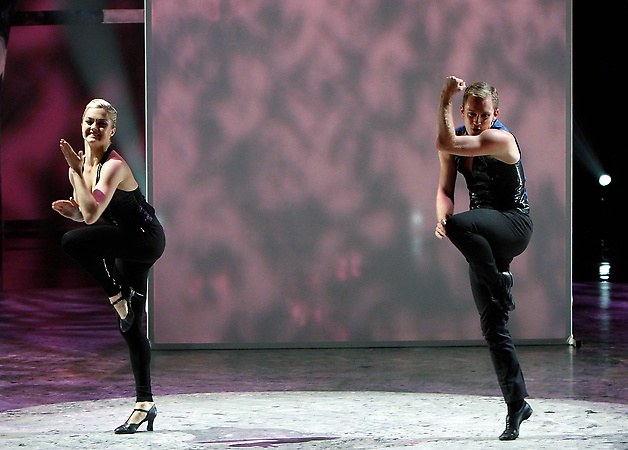 2. Lindsay and Jakob. Bravo, Spencer Liff! I was a big fan of the shadow concept and super-technical Broadway jazz choreo. I've always been on team Jakob and he really pushed Lindsay and brought out the best in her. This is a routine I would pay money to watch on the Great White Way.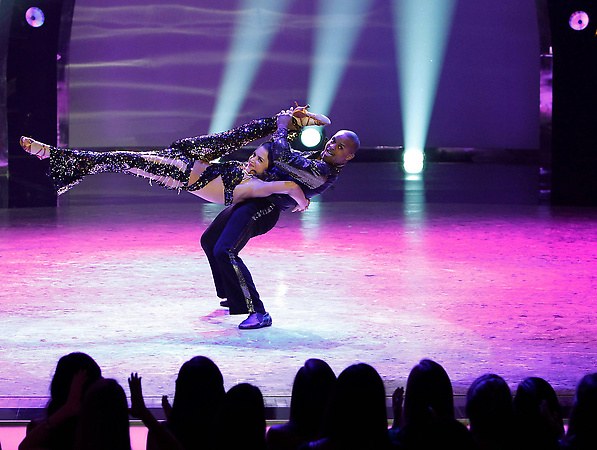 3. Tiffany and Brandon. Talk about the perfect pairing for a super high-intensity routine! Doriana Sanchez knows how to do disco right. Over-the-top energy, eleven(!) lifts and cheese-ball expressions—I was in heaven.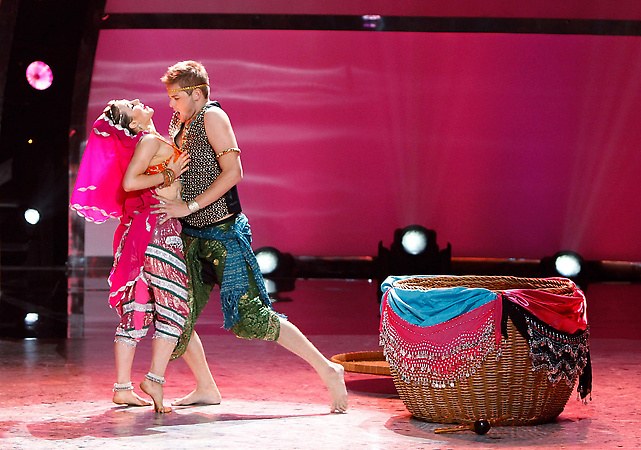 4. Will and Kathryn. Did the white boy rocked the Bollywood routine? Yes, yes he did. It was so hard to take Will serious when he was making those totally goofy faces, but I kind of loved it. He was SO excited to dance with super-sexy Kathryn and it made him completely lovable. Well done, Will.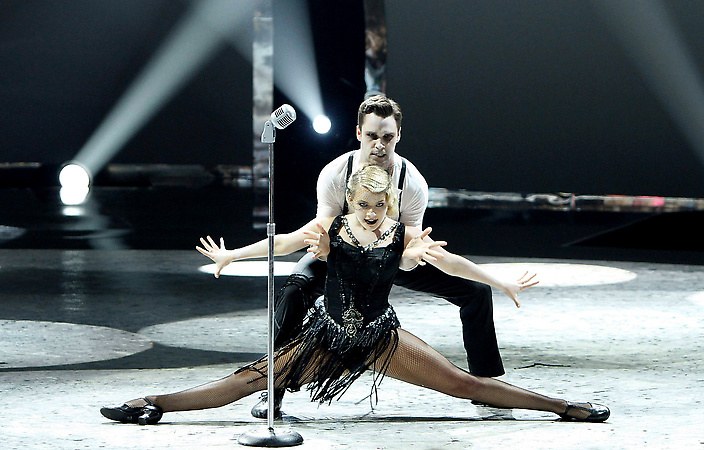 5. Witney and Nick. Wowee! That was hot! It was technical, the partnering was flawless and I really liked the choreo by Travis Wall. Witney definitely has staying power and Nick—well, we just love Nick. Obviously.
Now it's your turn! What did you think of last night's show? Did they send the right dancers home? Tell us in the comment section below!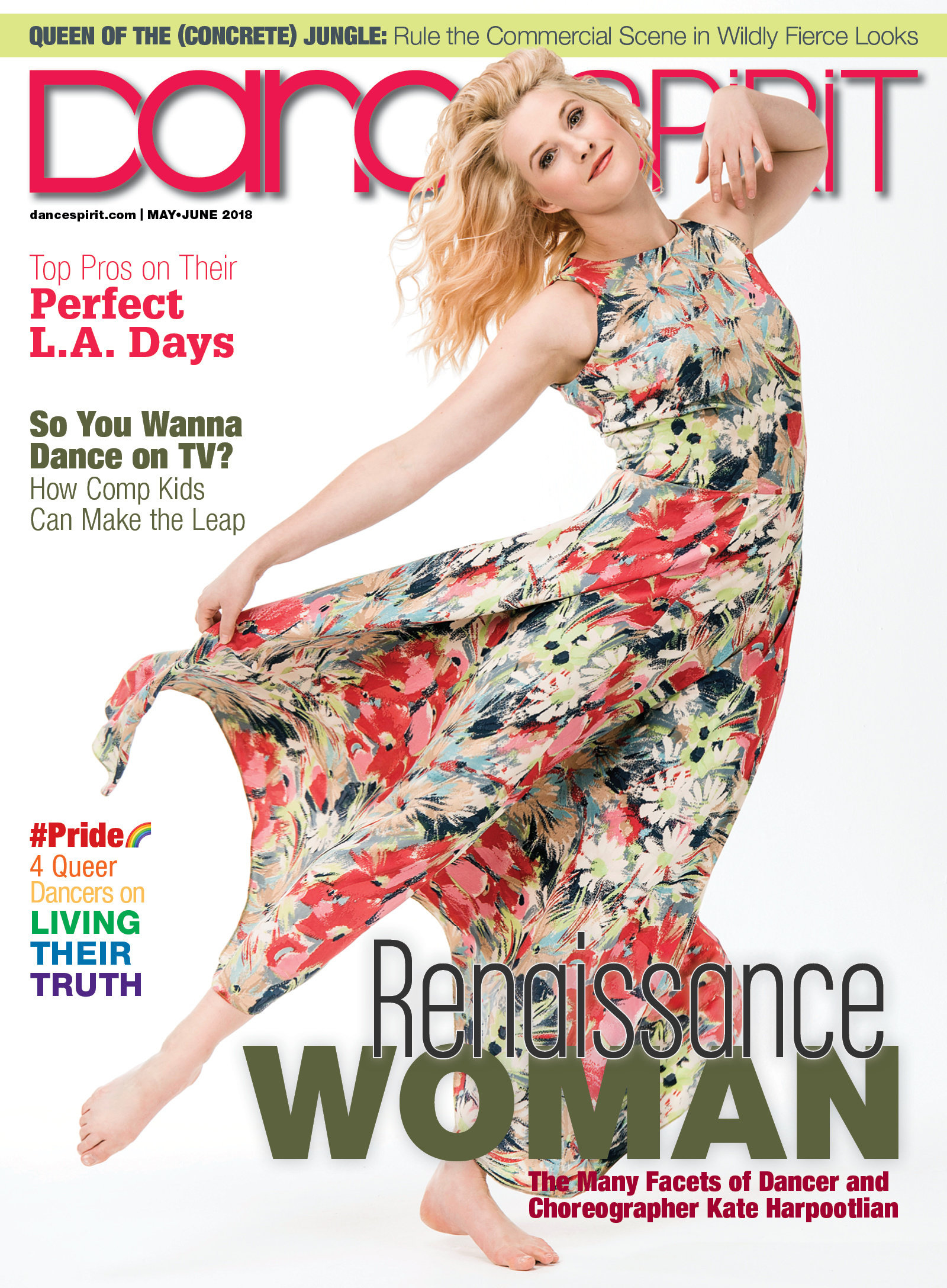 Get Dance Spirit in your inbox