Arg, it's the toughest cut yet. And, is it just me, or is everyone starting to look a little bit tired? But on a positive note, once we're down to the Top 10, every vote will really, really count—and we'll all find out that it's possible to get just a little bit more obsessed. Here are my Top 5 moments from last night's episode of "So You Think You Can Dance."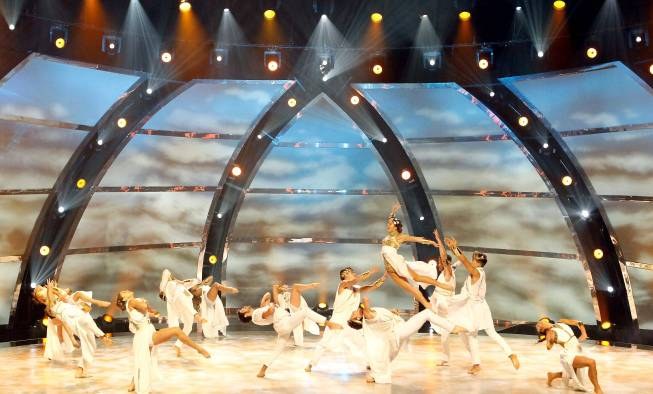 The Top 14 in Stacey Tookey's "Last Moment"
(photo by Adam Rose/FOX)
1) "Last Moment." You know we love Stacy Tookey. And I'm always a sucker for anything even remotely reminiscent of Greek goddesses. So, thank you, opening number, for putting those two great pieces together into one even better whole.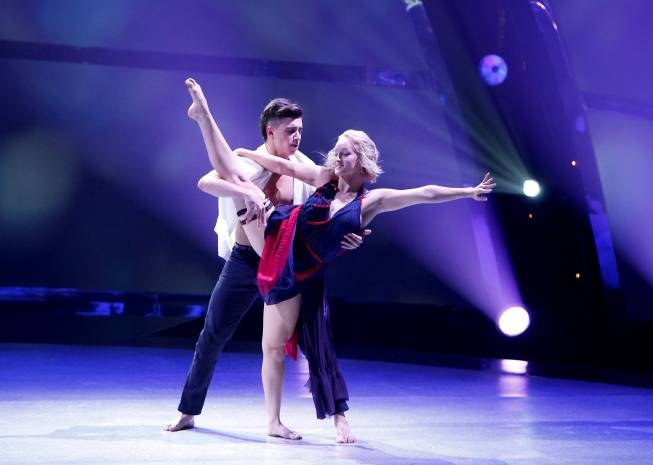 Rudy Abreu and Tanisha Belnap in "Seduces Me," choreographed by Mandy Moore
(photo by Adam Rose/FOX)
2) Mandy Moore's contemporary piece. Um, can you say commitment? Rudy and Tanisha completely abandoned themselves to Mandy's insane lifts, and the result was quite impressive. And as if that weren't enough thrill for one show, that throw (?) at the end of Travis' group piece, "Wave"? Ridiculous.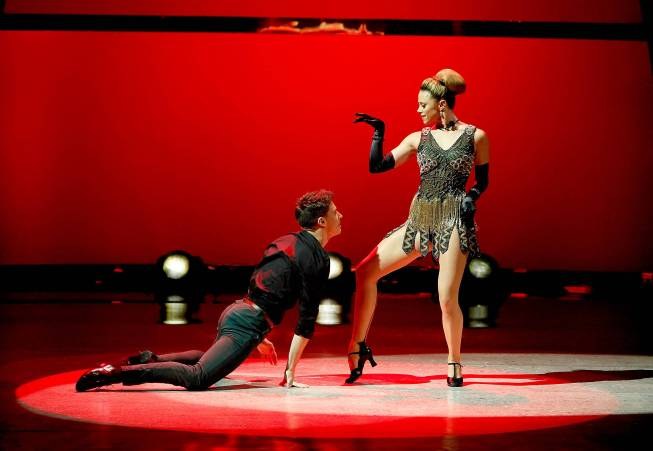 Teddy Coffey and Emily James in "From This Moment On," choreographed by Warren Carlyle
(photo by Adam Rose/FOX)
3) More Warren Carlyle Broadway! So maybe the judges didn't love Emily and Teddy in their "Kiss Me Kate" inspired Broadway number, but I sure did. And maybe I'm biased toward our former cover model, but I do think there's something to be said for a little bit of subtlety.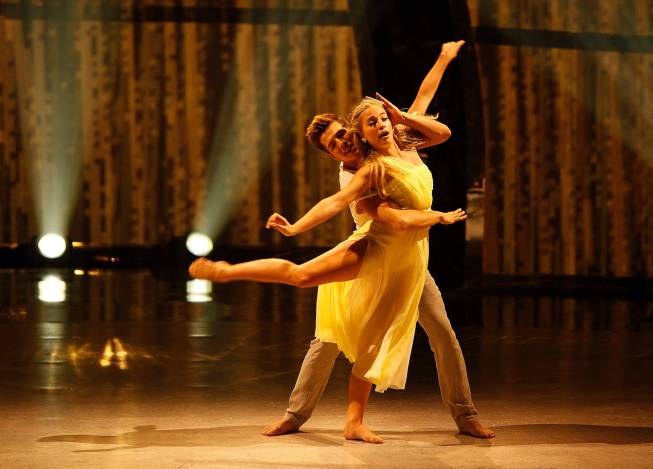 Casey Askew and Jessica Richens in "Like Real People Do," choreographed by Travis Wall
(photo by Adam Rose/FOX)
4) Travis Wall's "Like Real People Do." I called Jessica early, and I still think she has what it takes to win this thing. It was great to see her dance with Casey, and I think he's a partner who can not only keep up with her, but take her to the next level. And her solo! This girl's technique is beyond rock-solid.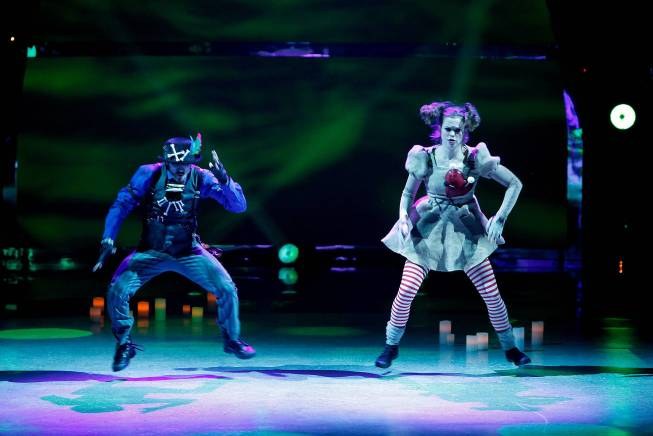 Ricky Ubeda and Valerie Rockey in "Turn Down For What," choreographed by Christopher 'Pharside' Jennings and Krystal 'Phoenix' Meraz
(photo by Adam Rose/FOX)
5) Valerie in "Turn Down for What." I'm going to be real and say that I just didn't like Pharside and Phoenix's music (hello, overplayed song!) or costume choices, but that doesn't stop me from thinking that Valerie's weirdo-split-puppeteering thing was AWESOME.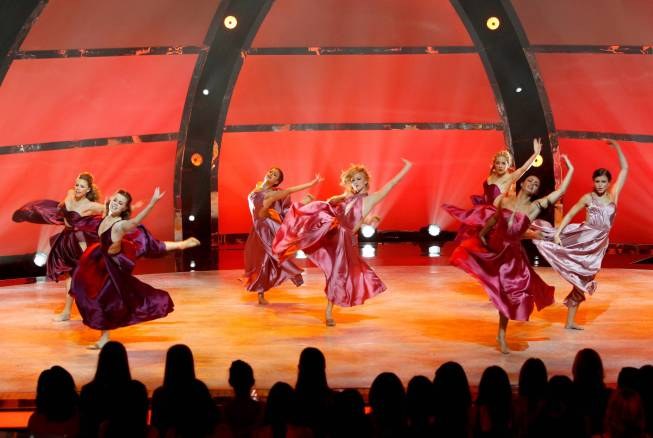 The Top 7 girls in Mandy Moore's work, "My Immortal"
(photo by Adam Rose/FOX)
It's so sad to see Serge, Carly, Emily and Teddy go home, though I'm excited to see Casey and Jessica go on to the next round. This far along in the competition, it's not really about talent—everyone is just so good, so it's hard to compare dancers. Like the judges said about the women's group number: You can't single anyone out.
But the dancers do start to stratify based on their ability to inhabit each choreographer's vision, as well as their ability to deliver week after week. What did you think of last night's episode? Did the right people get sent home? Let us know in the comments, and come back here next week for our recap of the best episode yet—when the Top 10 perform!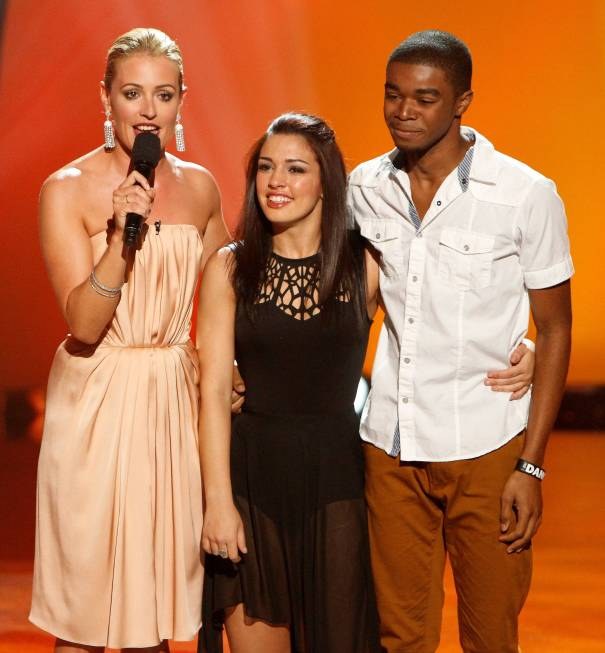 Last night we said goodbye to tappers Alexis and Curtis. (Adam Rose/FOX)
What. A. Week! Yesterday was a really long day for me, so I was super-tired when I sat down to watch "So You Think You Can Dance." Naturally, I thought I'd keep zoning out into sleepyland, but this turned out not to be the case—at all. The show's producers kept switching things up left and right and I was totally loving it. I may have even made some crazy faces and hopped up and down on the couch a little bit. (Yes, I'm that kind of TV watcher.) But enough about me, let's get to the Top 5 Moments that rocked my Tuesday-night world!
1. Here's hoping this wasn't the last time they show the contestants as little kids. All outrageous doses of cuteness aside, it was really cool to see how far the dancers have come since their very first performances. And how else are we going to get the inside scoop on their most embarrassing stories? My favorites: Aaron as the evil stepmother in Cinderella! Amy's crazy-curly ponytail, leopard-print jazz pants and waaaaaaaaaay out-there facial expressions. Malece peeing her pants from nerves right before she went onstage. This package gets a perfect 10 for entertainment value. Hey, FOX: Keep fun stuff like this coming!
2. Forget National Dance Day for just a minute—this was definitely Sonya Tayeh Week! Her choreographic hand print was all over this episode, from collaborating on the awesome opening number with Dmitry Chaplin to making an exciting piece for (full disclosure: my all-time favorites) Makenzie and Paul. Plus, Nigel gave her a shout-out for her recent Emmy nomination (congrats, Sonya!), and she even got a little goofy in rehearsals. I don't know about you, but I never thought I'd see the ultra avant-garde Ms. Tayeh jumping around and sing-songing "I love dance!" Gotta love reality TV for giving us these fabulously random moments.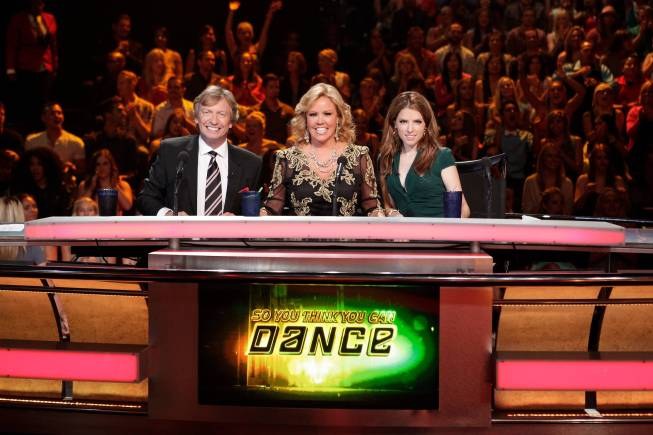 We love you, Anna! (Adam Rose/FOX)
3. Anna Kendrick made for a really interesting first-time guest judge. Okay, so she's not really a dance expert. But she owned up to this right from the beginning, admitting that she "doesn't always get ballroom on this show." Still, her weird, hilarious, yet somehow insightful commentary makes up for any deficiency in the dance department. It's like Anna says what all of us are secretly thinking, but makes it come out funnier than we ever could. Case in point: "I mean, it's like boring how good you guys are." And to Cat: "You're great. You're so tall and pretty." What's more, she seems really sweet and humble! Anna took a moment to acknowledge the amazing camera operators, and ended with a really heartfelt comment about how dance deserves more exposure in the mass media. Love her.
4. Poor Curtis! I hadn't really paid much attention to him before this episode, but suddenly I had no choice. Basically everything that can go wrong for a "SYTYCD" contestant happened to him—all in one week! First, Cat announced that because he'd hurt his shoulder in rehearsals, his doctors told him not to perform this week. Then, he ended up in danger of elimination. Finally, he was eliminated along with fellow tapper Alexis without even getting to dance for his life (for obvious reasons). I really felt for the guy, and I'm sure you all did, too. Luckily, it seems like Curtis is a positive person who's going to move on to great things. He and Alexis were all smiles after their elimination, laughing at a video montage of their best moments on the show and joking about buying each other new tap shoes. Curtis even said that he loved every minute of his experience this season. What an amazingly good sport, right?
5. Not to end on another serious moment, but hooray for dances with a social conscience! Bonnie Story made a huge splash with her first piece for "SYTYCD" by taking inspiration from the timely issue of bullying. To get her group of dancers in the right frame of mind, she had a close friend share with them how he'd been tormented by bullies. Boy, did it work. The contestants threw themselves into the steps with abandon and intention, alternately falling to the ground and striking desperately at invisible opponents. Story described her piece as an exploration of how people see the issue of bullying in their communities, but insist on "looking the other way." I certainly won't be looking the other way the next time Story's work appears on the show. Intelligent choreography about real-life issues? That's some good stuff.
What score would you give Anna Kendrick as a guest judge? Do you think Curtis should've been eliminated while he was injured and unable to dance? Let us know in the comments section!
And don't forget to enter our "SYTYCD" finale sweepstakes contest—you could win a trip to the Season 10 finale!
Aug. 16, 2012 09:24AM EST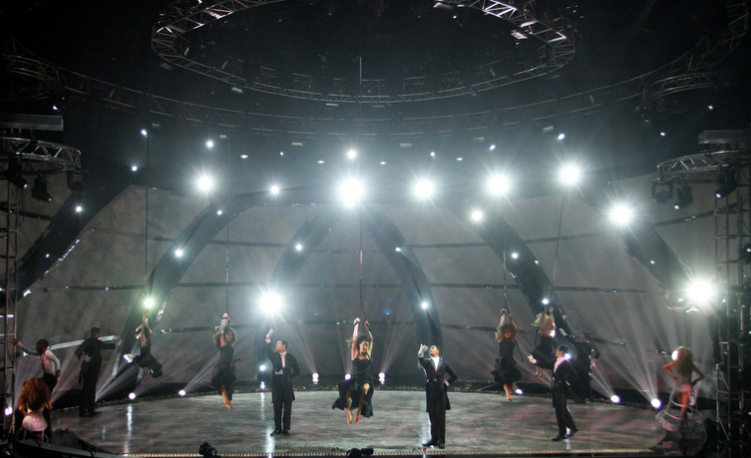 Ah, "So You Think You Can Dance"! How we've missed you! We've had two long, lonely weeks with only a smattering of Olympic rhythmic gymnasts to satisfy our dance-y television competition needs. Doesn't it seem like ages and ages ago that we crowned the Top 14?
But hey, way to come back with a BANG, guys: After being MIA, the show went all-Mia (nyuk nyuk!) last night, with an episode paying tribute to the glory that is Mia Michaels. (I made sure to have my box of tissues handy.)
In theory, tribute shows like this are kind of a great idea. Not only are we guaranteed an awesome two hours of dance—no dud pieces to worry about here!—but they also level the playing field for the contestants. If every dancer is doing choreography that we already know is great (and sometimes Emmy-winning!), that means no unlucky dancer is handicapped by weird/unflattering choreo. And since these are some of the best pieces by one of the show's best choreographers, we can hope they're bringing out the best in the dancers, too.
That said, the dancers last night were also dealing with the specters of the ones who came before. As Nigel said, it's hard to disassociate these routines from their original casts, especially since Mia tends to choreograph for specific people—she tailors her dances to her dancers. And that's a lot of pressure. In the end, the tribute show was a bit of a double-edged sword for our Top 14.
It's almost unfair to pick out five highlights from a show that was, essentially, already a selection of highlights. But I'll do my darndest:
1. Cyrus and Eliana doing "The Door Routine." (Sidenote: Cyrus is roommates with Bryan Gaynor?? My mind was just blown. Moving on.) While the awkward lip close-ups from their rehearsal footage didn't bode well for this pair, once onstage, they had some serious chemistry. And Cyrus' little popping additions to that body roll backwards? Awesome.
2. George and Tiffany doing "Hometown Glory." I. Love. These. Two. After their performance last night, they're my hands-down favorites to make it to the very end this season. Katee and Josh who??
3. Janelle and Dareian doing "The Bed Routine." Here's the thing about the new "SYTYCD" format: Before the show even begins, the judges know who might be going home. And that drives me CRAZY. Because while I'm sure they're trying to be objective, I think their prior knowledge of the bottom six colors their judging. This routine was a prime example: While I thought it was pretty fantastic, frankly—talk about intensity!—the judges focused narrowly on Dareian's feet (really? was this a foot-centric piece?) and Janelle's "distracting" hairography (which was part of the choreography!). And hey, guess what? Both Janelle and Dareian were in the bottom six. Ugh.
4. Witney and Chehon doing "The Bench Routine." Oh man, do I ever love this piece, and I'm guessing everyone who was weaned on "SYTYCD" (so, all of you?) agrees with me. Witney and Chehon totally kicked butt, more than stacking up to the memory of Travis and Heidi. And The Ballet Boyz loooooove Chehon! All is right with the world.
5. Lindsay and Cole doing "The Addiction Piece." (Sidenote #2: OF COURSE Cole is friends with Mark Kanemura! Everything makes so much more sense now.) Cole definitely put his own spin on this role: While Kupono was a seducer, Cole was more abstract, a strangely magnetic robot. I didn't feel the dance as keenly as I did the first time around, but I think that's just because I knew what to expect this time.
The "So You Think you Can Whaaat?!" Moment of the Night: I'm sorry, time out: Guest judges The Ballet Boyz have never seen these iconic Mia pieces before? They're "unfamiliar" with Mia's work? I...but...really? Is there no YouTube in London? Yes, OK, it was interesting to have two judges on the panel who were totally new to these works (and yes, OK, their Nigel-produced show, "A Chance to Dance," premieres tomorrow), but come on, guys!
In the end, despite all that awesomeness, four—four!—somebodies had to go, and those somebodies were Amelia, Janelle, Dareian and Matthew (*sob!*). We'll miss you guys, but hey, if you've gotta go, at least go out on a Mia high. Snaps to everyone.
Congrats to the Top 10! Who do you think will be paired with which All Star? Let us know in the comments—and be sure to tune in next week, same time, same place, for our recap!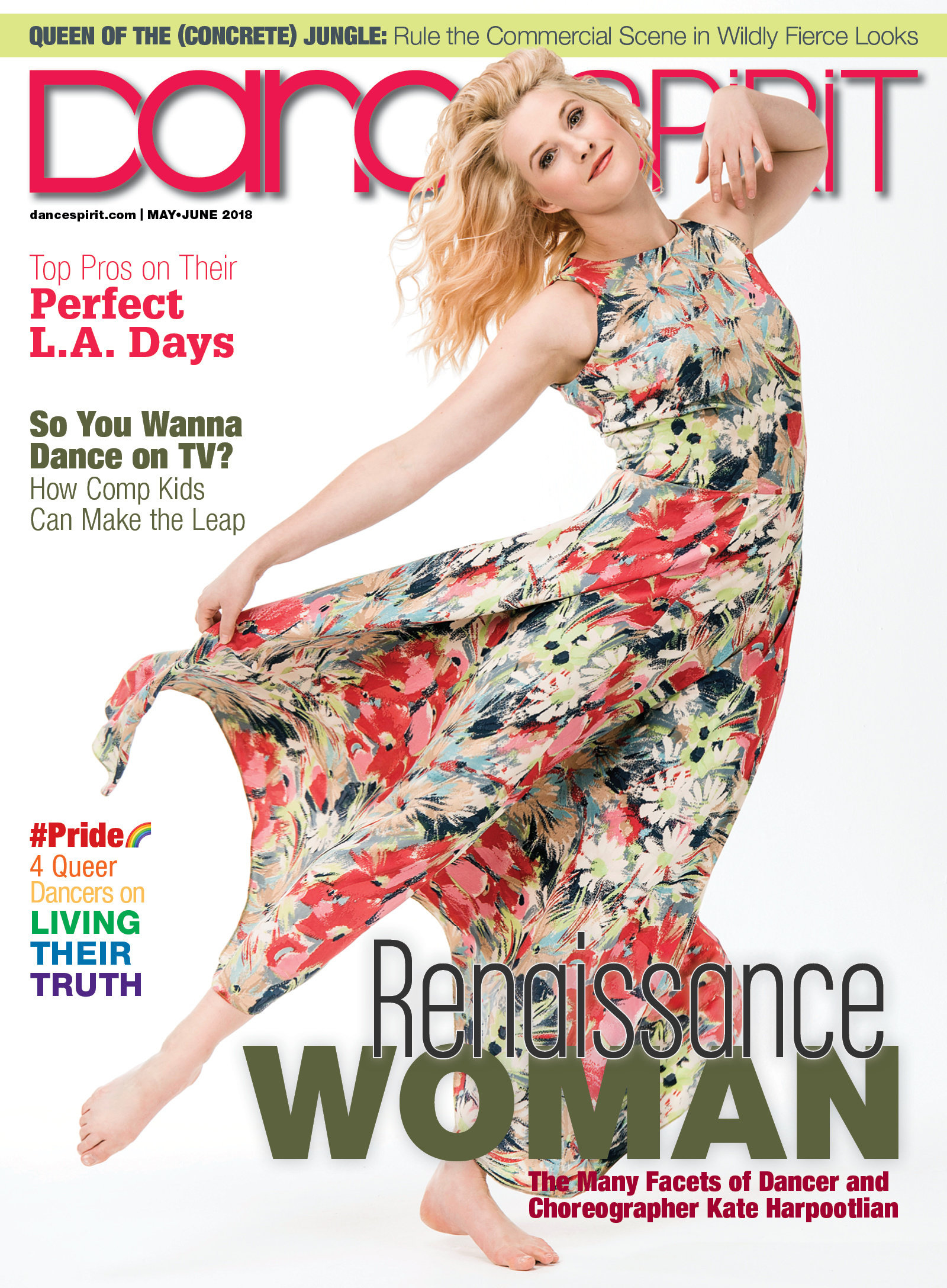 Get Dance Spirit in your inbox