(Before we begin—have you heard that we're giving away tickets to the "So You Think You Can Dance" season finale?! GO. ENTER. NOW.)
Wow. "SYTYCD" Season 11 is going to be pretty darn spectacular. This week, we watched 157 dancers travel to L.A. to duke it out for a spot in the Top 20. Guest judges this week included tWitch, Tara Lipinski, Adam Shankman and ballerina Irina Dvorovenko. It was pretty hard to know who would advance and who would be sent packing—the level of talent was just that high. There were also A LOT of cuts: Dancers had to make it through seven rounds, and there were even a couple dance-for-your-life performances. I'm not sure how the show's editors managed to get the entire week of callbacks into one jam-packed, action-filled episode—but they did. Here are my top five moments from last night:
1. Cameron. OK, OK, he's not a competitor, he's a newborn. But he was definitely part of one of my favorite "SYTYCD" stories of all time: Steven, a phenomenal hip-hop dancer from New Orleans, got news that his girlfriend had gone into labor right as callbacks began. Obviously, Steven was a little distracted. I mean, THERE WAS A BABY ON THE WAY. Somehow he managed to pull it together for the first few rounds…and then, Cameron arrived! Steven didn't make the cut after Sonya Tayeh's choreography, but I think he's already won, regardless.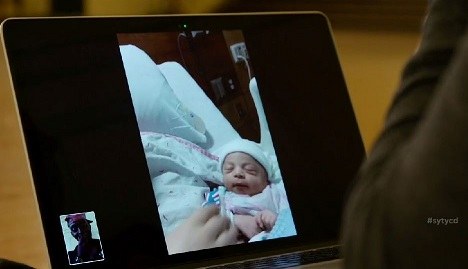 Awwwwwwwww
2.  Jaja, the red-headed wildcard. So, OK, she didn't make Top 20. But to see this girl go from crazy krumper to slinky ballroom dancer just made me smile.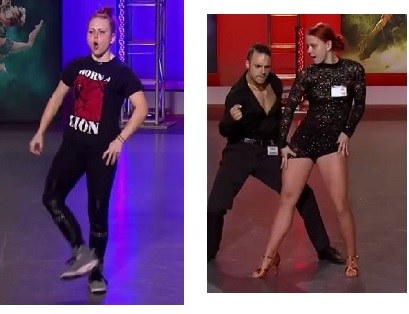 Let's hope Jaja auditions again next year. I know I'd love to see more of her transformations.
3. All the awkwardness. First, there was contestant Amanda's, um, hiccup, when she said she felt lucky to have Marcquet as a hip-hop partner because, duh, he's there for hip hop. Well, sorry Charlie, he's a ballroom expert, and you've just learned what happens when you assume things—on national TV. Oops! (Disclaimer: In Amanda's defense, Marcquet can do it all—amazingly. My prediction? Top 4, easily.)
Next, we said goodbye to poor contestant Christopher's front tooth. During the ballroom routine rehearsals, Chris got smacked in the face by his partner's elbow. She lost quite a bit of skin and blood, and he lost half a tooth. OUCH.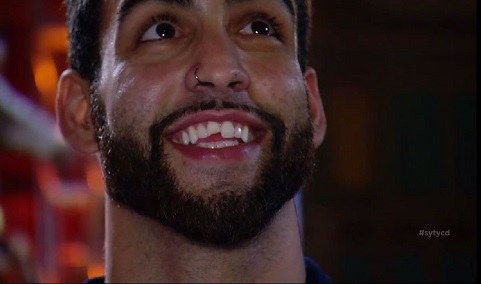 Thankfully, the judges were kind to this (partially) toothless wonder of a dancer. He made it through the ballroom round.
And finally, did anyone else feel just a little guilty for laughing at the judge's nasty comments during the group choreography round? Over the first four episodes this season, we've applauded the judges for not berating the auditionees who gave sub-par performances. Apparently, though, their snide remarks have been brewing, and after One Love's group debacle, there was a firestorm of snark. My favorite zinger came courtesy of Adam Shankman: "I see you got your routine from those children on 'Dance Moms.' " BOOM, roasted.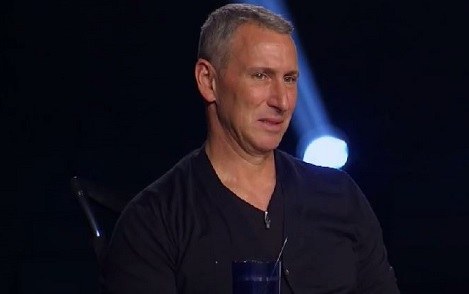 This face.
4. The surprise endings. A lot of our favorites from the audition rounds didn't make it. This week, we unfortunately—and unexpectedly—bid adieu to Trevor Bryce, Marie Poppins, Megan Marcano, Erik "Silky" Williams, and DS cover beauty Kamille Upshaw.
5. The TOP 20, REVEALED! Without further ado, may we present—in the order they were introduced during the show's credits—the 20 candidates vying to be America's Favorite Dancer: Malene, Zack, Emily, Serge, Carly, Emilio, Tanisha, Stanley, Valerie, Nick, Bridget, Marcquet, Jacque, Rudy, Brooklyn, Teddy, Jessica, Casey, Jourdan and Ricky. Congrats, dancers! We can't wait to see what you bring this season!
What did you guys think? Are you happy with this season's Top 20? Was anyone sent home unfairly? Let us know in the comments—and check back here next week for our recap of the first live episode!
Hey, "SYTYCD" fans: Want to win a trip to see the finale episode LIVE in L.A.? Of course you do! Click here to enter our "SYT" finale sweepstakes.
Last night's "So You Think You Can Dance" episode brought us round two of Vegas Week—which meant group routines, emotional goodbyes and the reveal of the Top 20. Here are the top five highlights of the episode: 
1. Only one group—Bloodline—really WOWED us. Without fail, the "SYTYCD" Vegas group routines bring tension. Someone shows up late to practice. Someone fails at being a leader. Everyone gets little to no sleep. But this time around, there was one group that made that all worth it:  Bloodline, made up of Team Stage dancers, which had unique choreography set to operatic music. The routine was strong, technical, and clean. Both Travis and Nigel said Bloodline was the best group of the day, and Paula even compared them to a company that had been dancing together for years. (She's always been good with those metaphors.)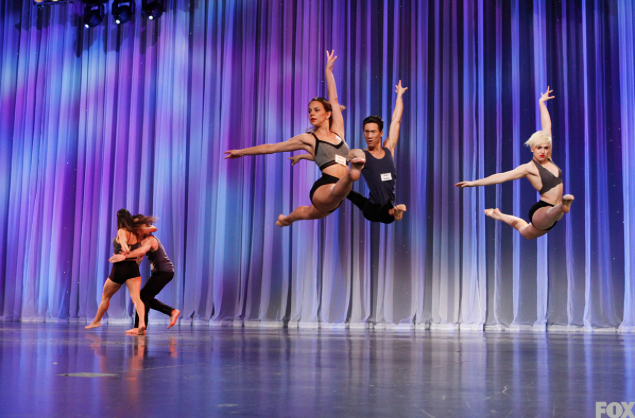 Bloodline shows everyone how it's done. (screenshot via fox.com)
2. NappyTabs was, as always, adorable. Napoleon and Tabitha led Team Street in a hip-hop routine for the choreography round—but before they began teaching the dancers, they cleared the stage and Tabitha showed them how it's done. Napoleon said what we were all thinking: "If a 41-year-old mom can do it, so can you." And she responded with a sweet, "Thanks baby." This may not be the first time they have been the dance couple we all aspire to be, but I've decided they are forever my #relationshipgoals. (And if I could dance like Tabitha, that'd be cool too.)
3. Asaf Goren kind of disrespected the judges. Asaf was one of the few dancers on Team Street who had to dance for his life; while he's definitely an entertainer, he constantly had trouble picking up choreography. As Nigel was giving him feedback, Asaf interrupted him and let his frustrations be heard. Maybe it was the language barrier, but no one could really understand the point he was trying to make about head spins and power moves in 2015. Good thing Paula came to his defense, because he could've ruined his chances of moving on right then and there. It was awk, to say the least.
4. Dennis got offered a spot in the Top 20—but decided to leave the competition. After making it past the choreography rounds and being one of the few ballroom dancers to master multiple styles, Dennis (a winner of "So You Think You Can Dance Canada") turned down a spot in the Top 20. The judges praised him for being so well-rounded, but he said he was upset that there was going to be less ballroom representation than usual in the competition. (Well, now there definitely is, without him.) As we saw in earlier moments of the show, it seems that Dennis really made the decision to leave because his girlfriend, Antonina, didn't make it to the next round. While it's sweet that they'll be reunited, it's also heartbreaking that he gave up something so many people worked hard for. Understandably, Nigel was not pleased.
5. Gaby Diaz proved being persistent (and versatile) will get you far. Gaby Diaz originally auditioned in Dallas, where her tap solo wasn't up to the competition's standards—Jason Derulo said something about it being too much of the same thing. She then returned to the Detroit auditions with a successful new solo, showing she knows how to take corrections. That's right: She didn't wait for the next season to make her comeback. While in Vegas, Gaby continued to prove she could handle the pressures of different styles of choreography. She was one of the last ones to find out she'd made it into the Top 20. And, as Travis pointed out, she's the only tapper on Team Stage.
A lot of journeys came to painful ends last night. I was devastated when, after being cut, Nick Morales said he might not continue dancing—that's definitely not the message this show's trying to send. And when Marie "Poppins" said she loved it so much sometimes it hurts, she embodied the unique determination that it takes to be a dancer. On a happier note, I have to say I'm really liking tWitch as captain of Team Street. (I can already see a budding bromance forming between him and Virgil.) And I'm so excited that Dance Spirit friend Alexia Meyer will be joining Travis on Team Stage! Congrats, Alexia!
As if announcing the Top 20 weren't enough, the last 30 seconds of the episode revealed that one dancer had to drop out due to an injury. Who could it be? And who will return? Let us know what you thought about last night's episode in the comments, and check back here next week for our recap of the first live episode of the season!
"So You Think You Can Dance" isn't wasting any time this season. Not only did the 20 contestants get only eight seconds each to introduce themselves to America, but there were roughly zero seconds of unnecessary banter between segments during Season 11's first live episode. (Serious dancers, rejoice!) So to take a page from everyone's favorite show, let's just get right down to last night's top five highlights: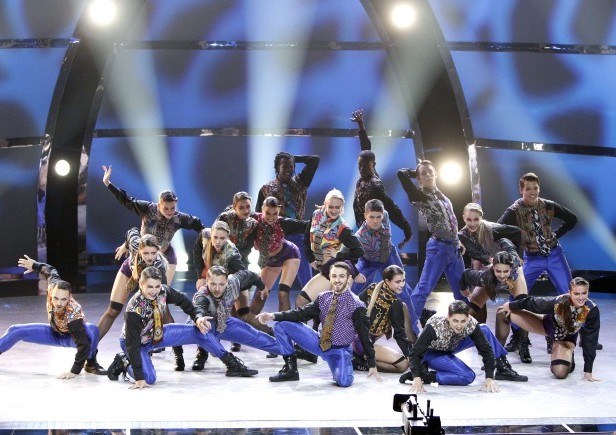 Sonya Tayeh's Stalker Ha
(photo Adam Rose/FOX)
1. The caliber of choreography. Sonya Tayeh kicked off the night with a group routine that felt like Madonna's "Vogue" meets Jim Carey's The Mask. Stalker Ha was not my fave from Tayeh, but the show kept moving right along, with pieces from choreographers including Travis Wall, Stacey Tookey, Christopher Scott, Louis Van Amstel and tapper Anthony Morigerato. Let's just say it was a BIG name kind of night.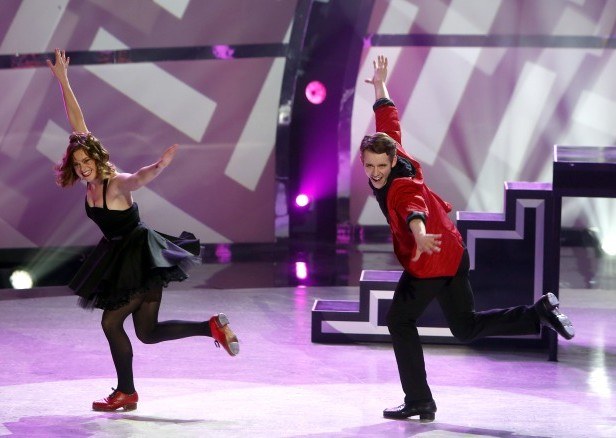 Valerie and Zack in Sing
(photo Adam Rose/FOX)
2. The tappers. Zack and Valerie channeled stair-dance legend Bill "Bojangles" Robinson in the best tap routine the show has seen yet. Choreographed by Anthony Morigerato, Sing featured rapid-fire footwork, amazing showmanship and nearly perfect unison. These two dancers certainly have a ton of charisma, and I hope they get a chance to bring it in other styles, too.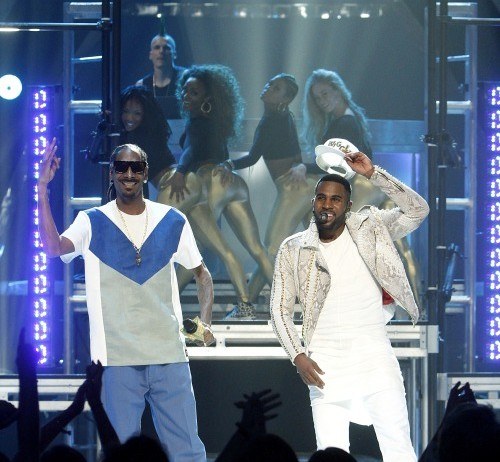 Jason DeRulo (right) performs "Wiggle" with Snoop Dogg
(photo Adam Rose/FOX)
3. " What you gonna do with that big fat butt?" Dear guest judge (and musical performer) Jason Derulo: You may love dance, and you may know dance, but those lyrics...oy. In other news, 42-years-young Snoop Dogg made an appearance during Derulo's "Wiggle," and that did not disappoint.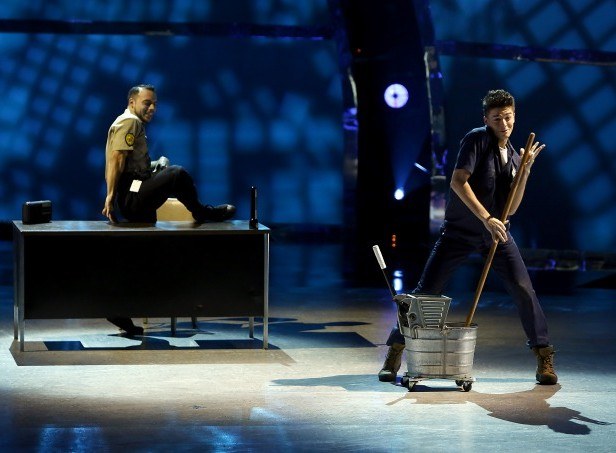 Emilio and Teddy in Nightshift
(photo Adam Rose/FOX)
4. The mop-and-bucket hip-hop routine. It's evident that choreographer Christopher Scott has a knack for storytelling (see: every LXD episode he crafted), and his routine for Emilio and Teddy was no exception. I also loved that Scott's Nightshift evoked Gene Kelly's dance break in the 1943 film Thousands Cheer. Haven't seen it? Take a look below. It's supremely amazing, and I can so see Teddy in a remake:
5. Meredith Monk's "SYTYCD" debut. Move over, 1960s Judson Dance Theater: There's a new postmodern contemporary choreographer around, and her name is Sonya Tayeh. Nigel Lythgoe said that Tayeh's piece, set to Meredith Monk's "Vow," took the show to "another level entirely." Jessica and Ricky brought the audience to complete silence. Then? An eruption of cheers and a giant standing ovation. It was pretty awesome.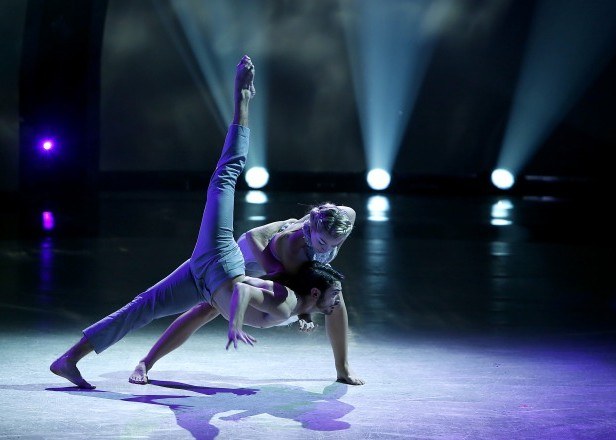 Jessica and Ricky in Tayeh's Vow
(photo Adam Rose/FOX)
I, for one, can't wait to see more from these talented dancers. Be sure to cast your vote online for your favorites, and come back here next week to find out which dancers didn't make the cut. And if you want to enter the sweetest sweepstakes EVER (the prize is a trip to watch the "SYTYCD" finale episode live, in person!!), click here.
Last night the Season 9 Top 20 took the stage in the first real competition of the season. And boy, did things get hot! Over at the judges' table, High School Musical director Kenny Ortega joined Nigel and Mary and—phew!—was I glad to have an articulate and knowledgeable judge with real dance experience weighing in on the performances.
Here are our Top 6 (sorry, I couldn't choose only 5!) Moments from last night's show: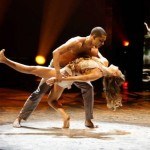 6. Tiffany and George's contemporary routine. I professed my love for Sonya last week and I'm pretty sure that after this week's routine it's turned into an obsession. Sonya's choreo is always super athletic, but I loved the emotion Tiffany and George infused into the movement. This partnership is going to do big things, people. I see them sticking around for a long time.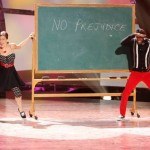 5. Eliana and Cyrus's Broadway routine. The performance was 100 percent cheese ball and I totally ate it up. For never having done choreography, Cyrus was shockingly awesome and a seriously great partner. Props to Tyce was giving them choreo that made them both look great.
4. Amber and Nick's Viennese waltz. I must admit I was a bit skeptical of this pairing at first, but they actually had some pretty great chemistry. The choreography was flowing and technical and downright dreamy. Bravo, Jason Gilkison, on a great routine. And I just have to mention Amber's hair—it was rockin'. She looked gorgeous.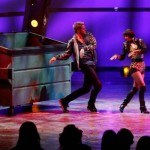 3. Amelia and Will's (character pop) hip-hop routine. This number was Nappytabs at their finest! Amelia and Will were completely committed to their characters and I couldn't get enough of them. They were slinky and funky and totally lovable. I can't wait to see more.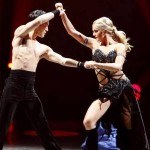 2. Lindsay and Cole's Paso Doble routine. What a power couple! And I absolutely loved Jason Gilkison's choreography. It was so strong, technical and dynamic. Are we sure Cole's not a ballroom dancer?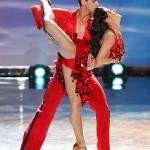 1. Audrey and Matthew's contemporary routine. Oh Travis Wall, just when I thought you'd leveled off, you give us this! I mean, Rose, Jack, the Titanic, "Unchained Melody"—it could have been a recipe for disaster, but it was brilliant! And very Mia Michaels-esque. Audrey has the feet and legs every dancer dreams of, and Matthew's performance was unmatched by any other guy.
And now, I just have to mention Tabitha's adorable baby bump! Oh my goodness, I can't even tell you how excited I am for baby Nappytabs. That child is going to be one funky little dude.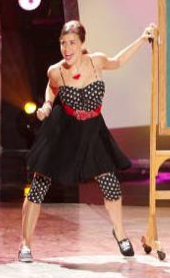 "So You Think You Can Whaaat?" moment of the night: Eliana's polka dot knee pads. Why? Why? Why? I'm still just so confused.
Now spill: Which routine was your favorite? Who did you vote for? Be sure to tune in next week to see which two boys and two girls are going home!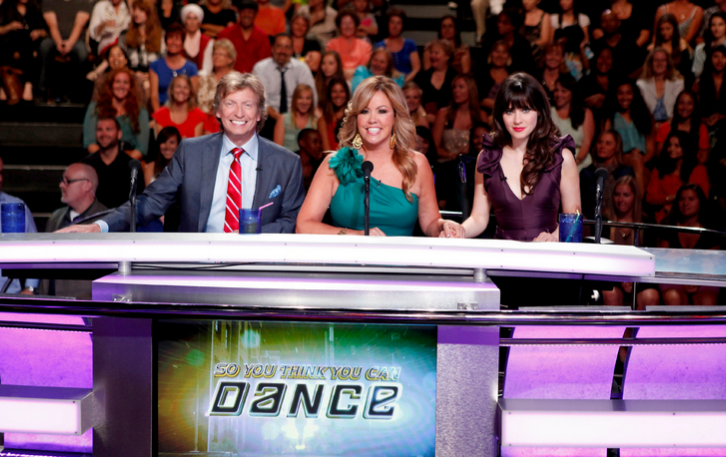 After a grueling Vegas Week filled with tears, lectures and heartache, the final group of dancers (an insanely talented bunch!) headed to Hollywood to walk the famed Green Mile and learn whether they would snag a spot in the "So You Think You Can Dance" Season 9 Top 20. Like always, the announcements were brimming with drama and suspense. And the judges were up to all of their old tricks: The pitting-best-friends-against-each-other trick (but, surprise! They took them both!), the you-really-weren't-good-enough-but-we'll-take you-anyway trick and, of course, the no-explanation (Kaitlynn Edgar, whaaat?!) dismissal.
So without further ado, meet your Season 9 Top 20!
Alexa Anderson, 19, Contemporary
Amber Jackson, 21, Contemporary
Amelia Lowe, 18, Contemporary
Audrey Case, 18, Jazz
Brandon Mitchell, 27, Stepping
Cheyon Wespi-Tschopp, 23, Ballet
Cole Horibe, 26, Martial Arts Fusion
Cyrus "Glitch" Spencer, 22, Animation
Daniel Baker, 24, Ballet
Dareian "Dare" Kujawa, 20, Contemporary
Eliana Girard, 21, Contemporary Ballet & aerialist
George Lawrence II, 19, Contemporary
Janaya French, 20, Lyrical Contemporary
Janelle Issis, 24, Belly Dancing
Lindsay Arnold, 18, Latin Ballroom
Matthew Kazmierczak, 21, Contemporary
Nick Bloxsom-Carter, 20, Ballroom
Tiffany Maher, 19, Jazz
Will Thomas, 19, Contemporary
Witney Carson, 18, Latin Ballroom
Now onto the best part of the night—the performances. Here are our Top 5 moments:
5. Eliana, Daniel and Cheyon's contemporary ballet piece. We couldn't have been happier to have a contemporary ballet number kicking off the season. Complexions Contemporary Ballet artistic directors Dwight Rhoden and Desmond Richardson choreographed an edgy, technical piece and the boys absolutely killed. While Eliana definitely gave a valiant effort, she had a few technical issues. But we have to give her credit, we can't imagine dancing in pointe shoes on that stage. [Side note: We swear Eliana and Lauren Gottlieb could be twins. They look so similar.]
4. Travis Wall's Top 10 girls routine. While we absolutely adore Travis, this wasn't our favorite piece he's ever done (the idea felt a bit unoriginal). That said, the performance was jaw-dropping. The girls were technically flawless and their precision and timing was perfect. Each girl was 100 percent full-out and dancing for her life. It. Was. Awesome.
3. Sonya Tayeh's Top 10 boys routine. We can't say we were as impressed with the boys as a whole as we were with the girls, but holy cow, Sonya—you rocked our world last night! The male-male partnering and strong masculine choreography were stunning. It was a bit underrehearsed and those maternity pants (as Nigel called them) were heinous, but that didn't stop us from loving the choreography.
2. Mia Michaels' Top 20 routine. Oh Mia, we've missed you! She more than made up for her absence last season with this brilliant routine. We can't wait for more.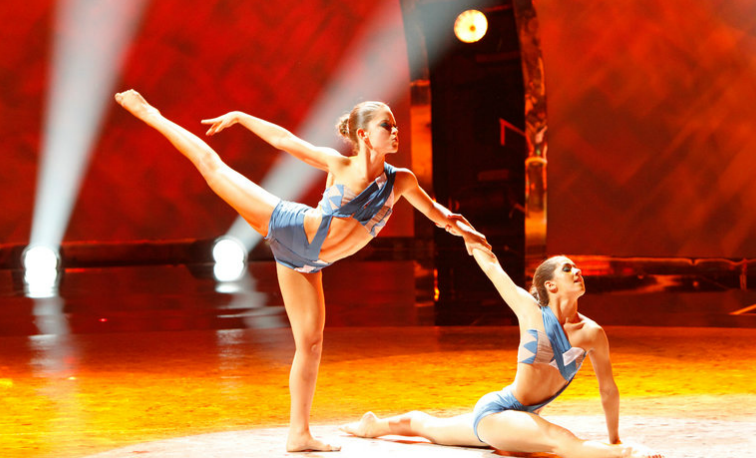 1. Tiffany and Audrey's Sonya Tayeh contemporary routine. These two tiny powerhouses stole the show! We were nervous when we learned Janelle was sick and would be sitting out, but after watching Tiffany and Audrey perform, we never would have guessed it was choreographed as a trio. They were technical and captivating and gave the best performance of the night. We want to see more from these two.
The "So You Think You Can Whaaaat??" moment of the night: Zooey Deschanel. The "New Girl" star joined Nigel and Mary on the judges' panel and it was just painful. Poor Cat kept trying to feed her lines and help her out, but it never got any better. We're all for guest judges—we just ask they have a teeny tiny bit of dance experience?
Now it's your turn. What did you think of the show? Do you have any early favorites? Tell  us in the comment section below!
Be sure to tune in next time on Wednesday, July 11!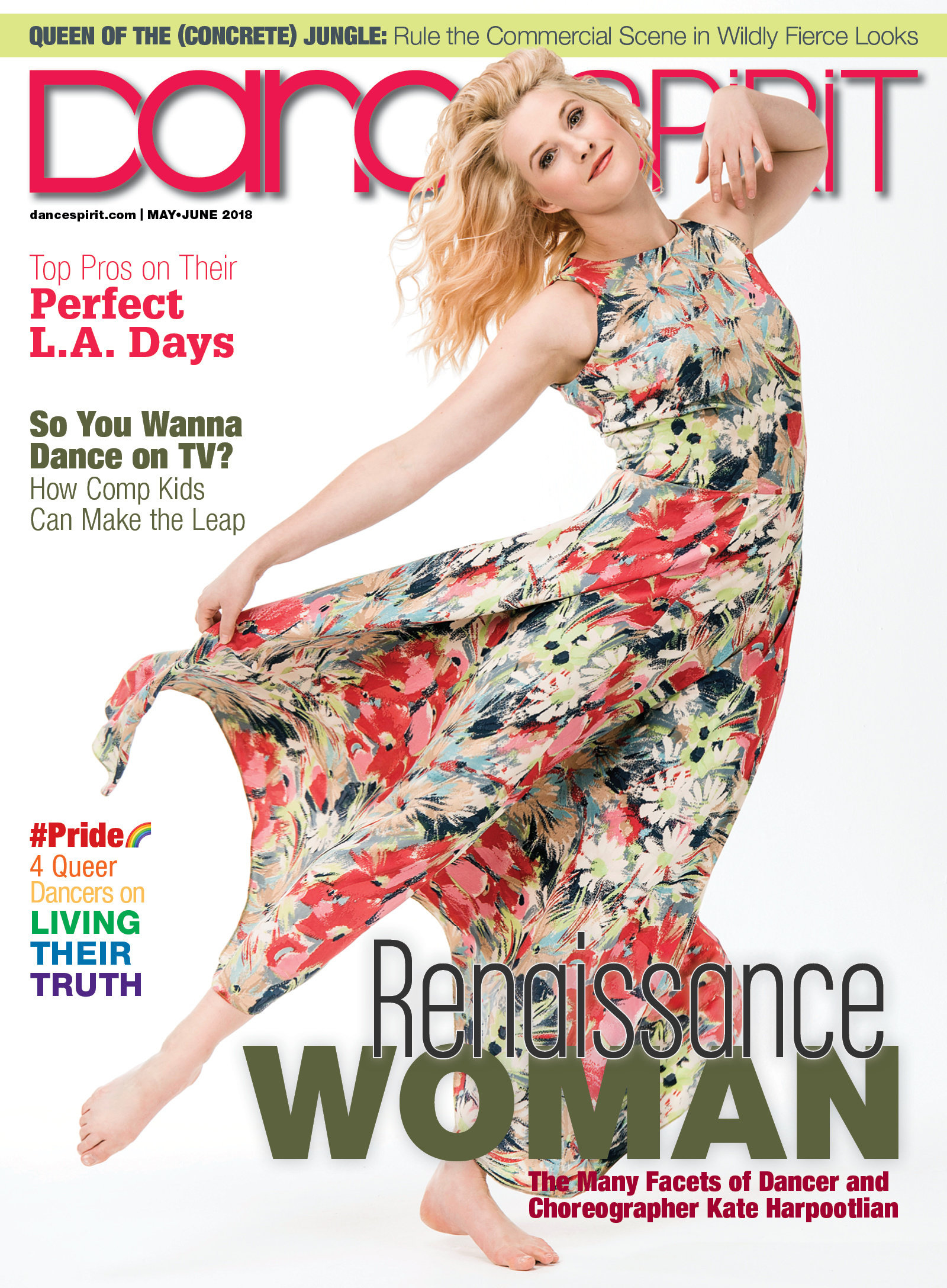 Get Dance Spirit in your inbox