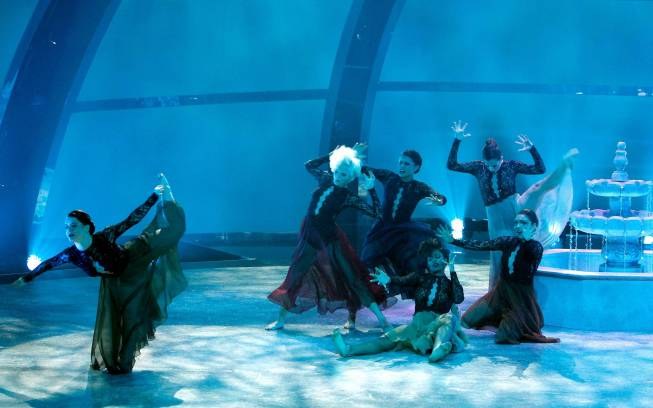 Stacey Tookey transforms the girls. (Adam Rose/FOX)
This episode didn't start off well: For the second week in a row, it was bad news bears for the boys. Tucker (no!) has an infection in his knee and can't compete this week. Then, who's in danger? Almost all of my favorites! Amy, Malece, Jenna, Tucker, Nico, Alan. Sigh… As soon as the dancing started, though, the episode got much better. This group is the Top 12 for a reason, and number after number just looked amazing! It was hard to choose, but here are my top 5 moments from this week's show:
1. The battle-for-your-life solos. Not that I ever want to see amazing dancers in the bottom, but one perk is that we got to watch them dance! Tucker, it seems, had made a miraculous recovery and danced flawlessly. Amy showed off her firecrackery self. Malece was beautiful, and Alan was just too cute. Can't we keep them all?! (P.S. Can we discuss how the judges saved Jenna AGAIN? Not that I don't love me some Jenna, but this is getting a little predictable.)
2. Hayley found her inner Gypsy. It's no secret that Hayley is one of the most technically perfect dancers on the show, and when combined with Nico's charm and Sean Cheesman's choreography, it's magical. Then there was that leg grab/lift/throw/flippy thing. Whoa!!! I'm going to go ahead and dub that the best leg grab/lift/throw/flippy thing on "SYTYCD" ever. But seriously, it was amazing. Standing ovation!
3. Pirates of the Paso Doble. Jenna and Tucker (who apparently coats himself in Axe body spray before rehearsals. All bad.) were paired up for this striking Jean-Marc Genereax number. Due to Tucker's injury, Alex Wong (yay!) fills in. Jean-Marc is certainly at his best when he's choreographing a paso. And I missed you Tucker, but these two made a great pair. Fierce pirate fun, I say. And, as if it couldn't get any better, Nigel told the Best. Joke. Ever. "Why are pirates called pirates? Because they argghhhhh." I'll be giggling at that one all day.
4. Fik-Shun and Amy waltzed it up. Confession: When a couple pulls the Viennese Waltz, it's often my cue to take a break and get a snack. But these two kept me captivated. As Amy said, it was the perfect way to rap up their partnership. So lovely—and so different from their kooky personalities! Mary said there were technical issues, but I certainly didn't notice them. And we knew after this piece (because Nigel and Kenny Ortega essentially told us so) that Amy would be saved, and we'd say goodbye to Malece. Way to ruin the surprise, guys!
5. Stacey Tookey turned the girls into women. My goodness, I love Stacey Tookey. You know who else I love? These girls! The final six formed such a cohesive, technically strong group, and as Mary said, there was no weak link. This fountain of youth-inspired dance will go down as one of my favorite group routines. I couldn't take my eyes off the TV. Another well-deserved standing ovation!
When it came down to elimination time, Nigel gave Malece and Alan the boot, but told them he still wanted them to go on tour. So here you have it, boys and girls, your TOP TEN DANCERS! Amy, Aaron, Jasmine, Hayley, Fik-Shun, Makenzie, Jenna, Nico, Paul and Tucker will kick off the tour on October 1! We'll be there. Will you?
We can't wait for the All-Stars to join the show next week. But in the meantime, enter our "SYTYCD" finale sweepstakes contest—you could win a trip to the Season 10 finale! And don't forget to let us know what you thought of this week's episode in the comments!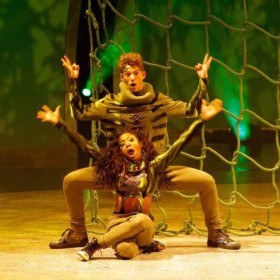 Definitely not Nico's best look. (by Adam Rose/FOX)
Whew! I'm pretty sure I'm just as exhausted as the dancers must be in the aftermath of this week's episode. Yes, they were the ones who actually performed all the super-tough choreography, but I had to sit and watch two more out-of-this-world talents get sent home. And the show's producers didn't even try to spare our emotions this week. So glad I had the added fun of the All-Stars to keep my spirits up! So how am I supposed to pick just 5 moments from last night? I don't mean to sound like a reality TV judge (okay, maybe I do), but this was a really tough decision…
1. Christopher Scott's rocking chair-themed opening number. It, well, rocked! I've never really been hip hop's #1 fan, but this season has proven to me that Christopher Scott can do no wrong. His choreography from last night had all the ingredients of a terrific opening number: organic but creative partnering, inventive use of props to further a concept and some good old-fashioned acrobatics. (Ordinary cartwheels are going to seem so boring now, compared to the wildly kinetic ones the Top 10 pulled off on those rocking chairs!) Oh, and that final moment when the dancers scattered instantaneously, only to reveal one chair rocking by itself at center stage? Magic, pure and simple.
2. The wardrobe department was all over the place this week. Results ran the gamut from hot to, um, not. The good: Cat Deeley's studded wrap dress, Amy's sassy fringed disco number and Makenzie's retro chiffon circle skirt. The bad: Jenna's skimpy lavender nightgown (with white granny panties—yikes!). The ugly: Nico's reptilian getup. Yes, I know he was supposed to be something totally bizarre and otherworldly, but that floppy turtleneck with the random spots completely swallowed up his lanky neck and torso. And while his All-Star partner Comfort's reptile makeup was pretty fierce, Nico just looked like someone had smeared greenish dirt on his face—not good.
3. Mary acted even crazier than usual! Wait, is that even possible? Apparently so, and we have her new diet to blame. The weirdness started after Hayley did a hip-hop routine with All-Star tWitch. Mary got so excited about Hayley's flat-as-a-pancake hands that she started to go off about how she can't have pancakes on this new diet of hers. Then, while commenting on Jenna's contemporary performance alongside All-Star Neil, ice cream became a metaphor for sinuous partnering. Huh? These unusually awkward moments were of course punctuated by an ample dose of Mary's usual silliness (lots of squealing, The Hot Tamale Train, you know the drill). Here's hoping Mary goes back to "normal" soon. I'm not sure I can handle this much crazy from her on a regular basis!
4. Amy and Fik-Shun's partnership had to end with the arrival of the All-Stars. Yes, we knew that this time would come sooner or later. Still, it's kind of sad to think that we won't be seeing any more of their combined kooky charm on the "SYTYCD" stage. But both Fik-Shun and Amy proved this week that they can produce great chemistry with other partners, too. Amy tackled disco with her trademark spunk alongside All-Star Brandon Bryant. Meanwhile, Fik-Shun blew me away with his maturity and confidence as he partnered Season 8 winner Melanie Moore through a percussive jazz routine. Maybe the end of "Fik-my" (or "A-Shun"?) just means we're in for even more diverse performances from both Fik-Shun and Amy as this season continues.
5. Jenna, Makenzie, Nico and Tucker all end up in the danger zone, and we say goodbye to Makenzie and Nico. This may not have been a huge shock, but it was so sad to see two such technically gifted dancers go. Hopefully, the exposure Makenzie and Nico gained on the show, along with their obvious talent and ability, will garner them plenty of professional opportunities soon. Best of luck, you two! (Oh, and Makenzie? You may not be America's, but you're definitely My Favorite Dancer.)
Next week promises plenty more "SYTYCD" excitement, with the All-Stars choreographing for and performing with the remaining 8 dancers! Will you be tuning in? Did the judges choose the right guy and girl to send home this week? Let us know what you think in the comments section!
Sep. 10, 2012 05:00PM EST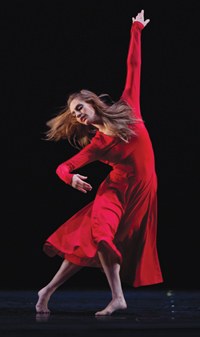 Melissa Hough in Bruce's "Rooster" (Amitava Sarkar)
1. "Leave your ego at the door." Remembering that phrase reminds me to listen and keep an open mind in class and rehearsal, which makes every experience more interesting and positive.
2. "Push from the back leg." When I do, my dancing looks lighter and I'm better able to eat up the stage.
3. "Change is natural and inevitable, so enjoy the moment for what it is." This helps me appreciate the good things in my life—roles, partners, relationships.
4. "Sometimes you just have to get mad at it!" I've danced some extremely hard roles, and getting angry at them helps kick me into high gear onstage. I need to get mad to dance the role of Red in Jirˇí Kylián's Forgotten Land and Myrtha in Giselle.
5. "Don't expect it to happen—make it happen." This advice is especially helpful when it comes to actively applying corrections in my everyday work.
6. "Working with your natural rotation will save your hips and strengthen your turnout." I have torn labral tissue in my hips, which means I can no longer force my turnout—at all. But my strength has improved since I've stopped pushing my natural limits.
7. "Take the good. Leave the bad." It's important to form opinions about what you like or dislike. When I watch other dancers, I think about what they're doing that I can to take into my next rehearsal or performance.
8. "It's all in the music. Just listen to it." Music is the major driving force behind my dancing. Sometimes the only thing I need to remember onstage is to listen.
9. "Do what you've gotta do." At the end of the day, it's my body, my career, my life and my responsibility to do everything to the best of my ability.
10. "It's okay to fall down, but then you've got to get up, look sickening and make them eat it." A little gem from "RuPaul's Drag Race"!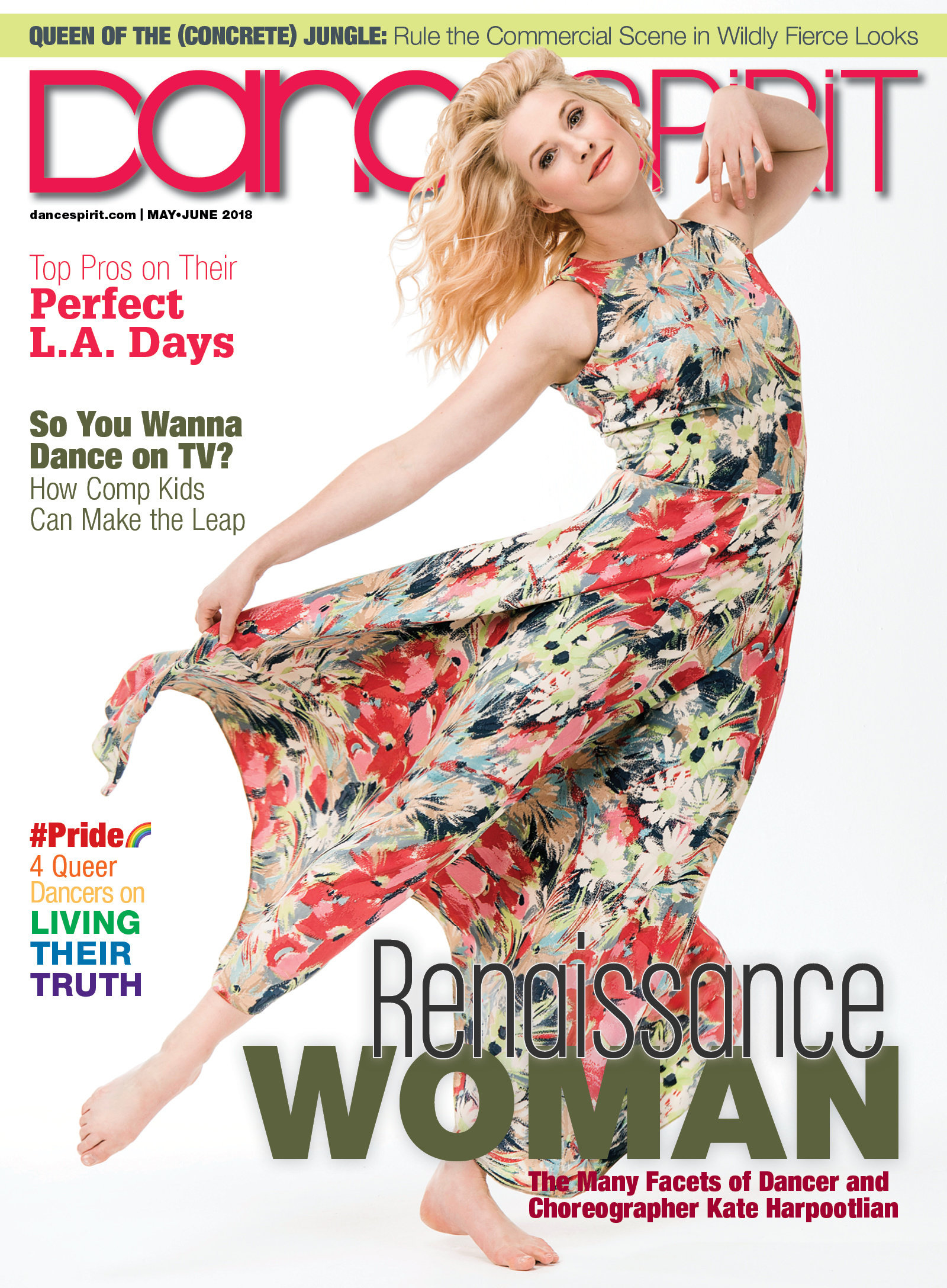 Get Dance Spirit in your inbox