Apr. 24, 2013 10:31AM EST
Recently, companies like Hewlett-Packard have been hiring...dancers.
You read that right. Envelope-pushing dance troupe Trey McIntrye Project has started selling its creative services to big businesses, to help them figure out innovative solutions to their non-dancey problems.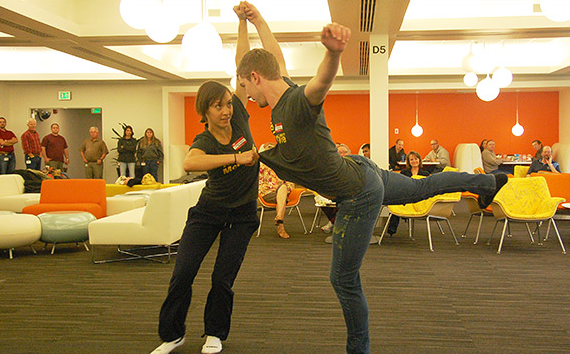 A TMP session at Hewlett-Packard (photo TMP via CNNMoney)
At Hewlett-Packard, for example, TMP dancers stage impromptu performances in the corporate office, and then talk through how the dance was created with HP employees. At that point, an HP leader cuts in, and the whole group discusses possible solutions to HP's problems. And at Aetna, a health insurance company, TMP dancers have been teaching doctors how to read body language in their patients.
(That's the simplified version. If you're curious to hear more details, head to CNNMoney.)
Sounds a little unusual, right? But it seems less so when you consider that for years, corporations have hired inspirational speakers and other performers to get the creative juices flowing. It's also a smart move financially on TMP's part—they earn $20,000 or more for a half-day consulting session.
What do you think of TMP's business idea?
Nov. 14, 2012 10:59AM EST
Are you sick of Gangnam Style yet? Yes? Us too. But Trey McIntyre Project might revive your dying love for South Korean phenomenon Psy's internets-dominating song. Let's just say TMP's take on Gangnam Style isn't your run-of-the-mill invisible horse dance.
The backstory: For the past year, TMP has been working with DanceMotion USA, a program that allies the State Department with the Brooklyn Academy of Music. Through DanceMotion, TMP toured Vietnam, China, the Philippines and South Korea. TMP also collaborated with Korea National Contemporary Dance Company, and ultimately McIntyre created a piece with three dancers from the Seoul-based troupe. It premieres tonight, actually, at BAM.
OK, so: The TMP dancers wanted to figure out a creative way to welcome the three South Koreans when they arrived in the US a few weeks ago. And what better way than with an airport flash mob version of "Gangnam Style"?
Hilarity and awesomeness ensued—and, luckily for us, the whole thing was captured on video. Check it out!
Mar. 11, 2011 12:55PM EST
The Trey McIntyre Project is, in a word, cool. The contemporary ballet company spends 22 weeks a year on the road, touring nationally and internationally, and selling out high-profile venues, including The Joyce Theater in NYC and Wolf Trap in Virginia. When The New York Times published a series of raves about the company last year, there was a near stampede to get tickets to their performances at the Jacob's Pillow Dance Festival. Its dancers are exceptional.
But this blossoming troupe isn't based in a booming metropolis like NYC or San Francisco. Instead, founder Trey McIntyre developed his company in scenic Boise, ID, which they've found to be a perfect base camp. McIntyre chose Boise for its access to the great outdoors and its people. Another plus: The area didn't yet house a major dance company. It was a risky move, but the community embraced them. Now, they're making small-town dance cool, and they're enjoying celebrity status in their own backyard. "Our twice-a-year shows in Boise are always sold out," McIntyre says. "We feel like rock stars."
The backbone of the company's success is definitely its founder. When McIntyre started the full-time company in 2008, he'd already created more than 80 ballets for companies including American Ballet Theatre, New York City Ballet, The Stuttgart Ballet and Hubbard Street Dance Chicago, and he had served as resident choreographer at Houston Ballet, Ballet Memphis, Oregon Ballet Theatre and The Washington Ballet.
McIntyre is also technologically savvy. The company's self-designed, interactive website, treymcintyre.com, features blogs, photos and videos of the company's dancers. The site sends a message that this is one fun dance company.
But fun aside, McIntyre expects his dancers to work hard. "I like the pace Trey sets," says Jason Hartley, TMP dancer and assistant to the artistic director. "He's the fastest choreographer I've ever worked with. He breaks the mold, pushing ballet ahead, yet he gives us freedom and ownership in the creative process." McIntyre creates a distinct vocabulary for each piece, but underneath, there's a classical ballet scaffolding. The mood can run the gamut, from whimsical to epic, and his musical choices are equally varied, from traditional pieces to pop songs.
Audiences around the world are dying to catch a glimpse of the Trey McIntyre Project in action. But for the dancers, coming back home is always a thrill. "Boise has brought out the mountain man in me," Hartley says. "It's quite an intellectual city—peaceful and beautiful, perfect for our gypsy troupe."
Last year, Trey McIntyre was named a USA Fellow, which comes with a $50,000 grant for artistic excellence.
Nancy Wozny is a regular contributor to Dance Spirit and Dance Magazine. She writes about dance from Houston, TX.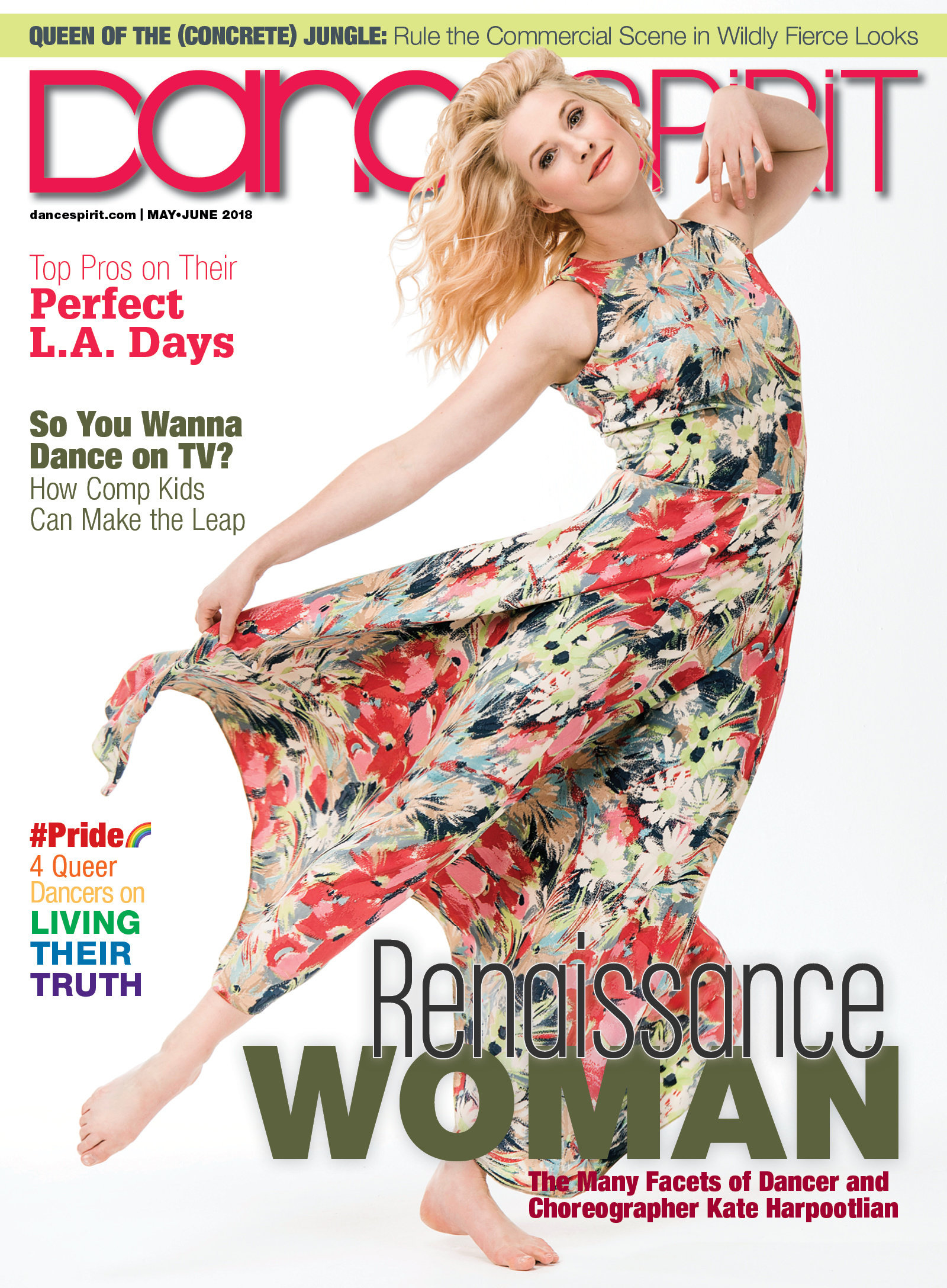 Get Dance Spirit in your inbox