Jul. 24, 2013 09:30AM EST
Last night's show was crazy.
CRAZY.
At first I thought it was going to be the episode when the season hit its stride. We saw several solid, undeniably awesome routines. The dancers, as a whole, were looking great. Even the costume team was on fire. Things were on the up-and-up.
But then we witnessed a shameless act of "So You Think You Can Dance" thievery. And when I saw the way the judges reacted to it, I almost lost my darn mind.
I went into this episode feeling a little "meh" about the whole "SYTYCD" enterprise. I came out of it a screaming-at-my-TV mess. Yay?
OK. I've had the night to simmer down. Now that I can type coherent sentences again, here are my Top Five Moments:
1. The opening number became an interesting experiment in perception. On my TV, at least, the show started out with no sound. (Some poor tech crew was not having a good time last night.) What did I see? The Top 16 in Lady Gaga-y getups and face tattoos, doing rough-and-raw choreography that depicted what appeared to be a tribal ritual involving Jasmine as a sacrifice. Based on all that, I assumed the music would be propulsive, aggressive, even scary. But then the audio kicked in (yay!), and lo and behold—it was swoony and moody instead. The dance took on a totally different tone. Nifty, right? It almost made me want to play the routine over and over on mute, setting it to different songs each time. But I'll leave that to you guys:
2. Travis Wall's piece for Jenna and Tucker demonstrated the proper way to use props. OK, yes: The song he chose is called "Hangin' By a Thread," and we started out with Jenna literally hanging from the ceiling by red threads. Travis Wall, master of subtlety. But those tethers ended up adding a beautiful aerial dance component to the piece, and what could have been a run-of-the-mill contemporary routine became something pretty great. I think "SYTYCD" choreographers often do better when they give themselves a prop that's actually a "problem"—that complicates a routine instead of just decorating it. It keeps them from falling into old, stale habits. And Jenna was just gorgeous, as usual.
3. Along those same lines, we had Dee Caspary's "ladder" piece for Haley and Curtis. Like Travis' routine, it felt like a circus hybrid, and I mean that in the best way. The ladder that terrified the pants off Hayley (I don't blame her—that thing did not look stable) ended up being just as effective as Travis' tethers. Props like these could be considered gimmicky in another context, but we're dealing with two-minute routines here. They need gimmicks if they're going to achieve any sense of coherence in 120 seconds.
4. On the other end of the spectrum, we had Makenzie and Paul's gimmick-less Dave Scott routine. Well, OK, the whole 1920s theme could be considered a gimmick. But (fabulous) costumes aside, this was just a good old-fashioned, well-choreographed hip hop piece. There wasn't anywhere for Makenzie and Paul to hide, and they didn't need to. They were fantastic. Especially Makenzie. How does that girl keep ending up in the bottom? VOTE, people!
5. Tyce Diorio ripped off Wade Robson, and I wanted to punch everyone in the face.
Let's begin at the beginning here.
When, before the break, Cat cheerily announced that Amy and Fik-Shun would be doing a "hobo jazz" routine, I thought, Oh, cute—shades of Wade Robson's hobo-y "Cabaret Hoover" routine from Season 3. Unconcerned, I went back to reading about Will and Kate's baby on trashy gossip websites.
Then the piece started, and
HOLY CATFISH IT WAS ACTUALLY SET TO A SONG FROM THE TRIPLETS OF BELLEVILLE SOUNDTRACK, JUST LIKE WADE'S PIECE.
And the costumes were kind of the same. And—gulp—a few of the movements might have been, too.
My jaw literally dropped. I kept trying to think of ways this could be OK. I mean...I guess Amy and Fik-Shun were sexy hobos, if that's a thing, as opposed to Wade's unhinged hobos? Or maybe this was Tyce's loving tribute to Wade? The overlap seemed so blatant that I was sure the judges would give some kind of explanation (or make some kind of accusation) during their critiques.
I was wrong. They went crazy. They said it was the greatest thing Tyce had ever choreographed. They stopped one step short of praising his originality. And I started yelling unprintable things at my television.
Look: Amy and Fik-Shun are two of my favorites on the show, and their performance of the piece was great. I don't know what else to say except that I hope they're still around after next week, which it seems like they will be, so that's good. But just how short is your institutional memory, "SYTYCD?" (Also, I miss Wade.)
In the end, BluPrint and Mariah went home. That's about right, I guess. I wasn't really processing thoughts well by the time their names were announced.
How do you all feel about the elimination? And what did you think about the hobo jazz piece? Am I totally overreacting? (Probably.)
Tune in next week, same time, same place, for our recap of the Top 14's performances!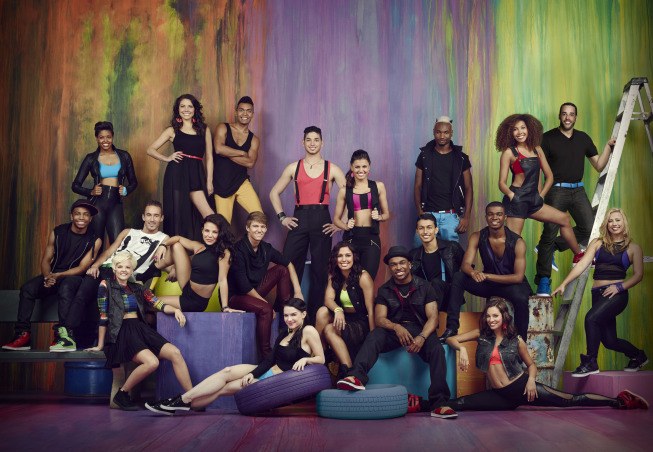 And the Top 20 finalists are: (bottom row L-R) Malece Miller, Amy Yakima, Makenzie Dustman, (middle row L-R) Fik-Shun, Tucker Knox, Brittany Cherry, Nico Greetham, Alexis Juliano, Jade Zuberi, Paul Karmiryan, Curtis Holland, Mariah Spears (top row L-R) Jasmine Harper, Jenna Johnson, Carlos Garland, Alan Bersten, , Hayley Erbert, Bluprint, Jasmine Mason and Aaron Turner (by Mathieu Young/FOX)
I kind of can't believe this week's episode lasted a full two hours: it went so fast! There was so much classic "SYTYCD" drama to focus on, it felt like the episode was over before Mary Murphy could even mention the Hot Tamale Train. Along with plenty of nail-biting moments as the Top 20 were chosen, Cat Deeley kept reminding the audience that there'd be a total of ten (!!!) performances squeezed in between footage of anxious would-be Top 20-ers facing the judges. Yet among all this craziness, a few moments still managed to really stand out from the rest:
1. Aaron Turner made it into the Top 20 at the last minute! Aaron had gotten cut at this very point last season, and we all thought that history would repeat itself in Season 10 as the judges told Aaron he was going home. But lo and behold, Emilio Dosal's unexpected injury freed up a spot for Aaron! You can't really get excited about such a turn of events, but points to Aaron for his amazing performance in Anthony Morigerato's tap routine last night—way to prove that you deserve to be on the show.
2. Tucker Knox is in! Yay! Call me cynical, but it seems like everybody on reality TV has to have a tragic sob story—and the (arguably excessive) on-camera waterworks to go with it. But Tucker's history really grabbed me. (After a serious car accident, his ability to walk, let alone dance, was in grave danger.) Tonight, Tucker cried tears of joy after dancing the Stacey Tookey routine, left almost inarticulate by how his life has changed since the accident. But I still can't decide if Mary Murphy totally ruined the genuinely emotional moment when she cooed, "You're just overwhelmed, aren't you?" Awkward.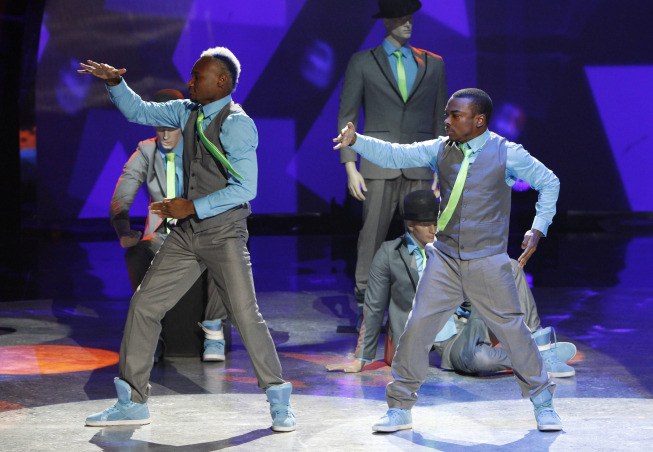 (L-R) BluPrint and Jade Zuberi: the biggest things in animation since Cyrus (by Adam Rose/FOX)
3. Against the odds, both Jade Zuberi and Dorian "Bluprint" Hector made the Top 20. The "SYTYCD" producers were totally messing with our minds here: the decision came after dramatic footage was shown of Jade's struggles with partnering, tWitch repeatedly told Bluprint to "come back and see us again" and Cat wondered out loud several times whether there was a spot in the Top 20 for an animator. Who would've known that both animators would make it through? I know I'll be on the edge of my seat for the rest of the season where these two are concerned. Will Jade and Bluprint become a dream team or bitter rivals? Or will they just crash and burn under the pressure of having to perform new styles?
4. Did anyone else notice that Amy Yakima and Jasmine Mason had Sonya Tayeh-style topknots for their victory performance (which, um, Sonya Tayeh choreographed)? I certainly hope that was a conscious choice, or it would just be too funny a coincidence. Mary called them "princess warriors," but I thought they looked more like Amazons from outer space—in the fiercest way possible, of course.
5. Christopher Scott's sand routine for the top 10 guys. This was just so cool that I almost wish it had been the episode's final number. It seemed like choreographer Scott got really excited about carrying out the concept of the piece, which he described as man "manipulating the earth." With epic music and stunning visuals (strong, tough-guy hip-hop danced while sand floated through the air), this number made me think of Cirque du Soleil. Even Nigel was blown away (sorry, I couldn't resist the pun). He raved, "When I die, I would like you to dance with my ashes like that." Um, whatever you say!
Since you've got a whole week to kill before another thrilling episode airs, why don't you enter our "SYTYCD" sweepstakes? You could win a trip to see the Season 10 finale live and in person!

Last night we joined Nigel, Mary and funnyman Wayne Brady in Memphis—the last stop on the "So You Think You Can Dance" Season 10 audition tour! Here are a few of our favorite moments from the show.
Dorian "Blu Print" Hector: Well, ladies and gents, the Dragon House Crew is back! And I think I loved the Dragon House package they showed before Blu Print's audition as much as I loved his actual performance. (Nigel, how about another Dragon House performance later in the season?!) He's definitely got the moves, but I'm not sure he has as much personality and charisma as Cyrus.
Tucker Knox: Despite a tragic car accident, this former Juilliard student is going places. Usually I'm not a fan of the "SYTYCD" sob stories, but man, Tucker's story left me in tears—easily one of the most-inspirational dancers I've watched audition. I can't wait to see him and his gorgeous technique in Vegas.
Courtney Thurston: She was great (if a bit over the top) and I can totally see her making the Top 20. BUT HER DAD! Most-adorable, supportive dance dad ever. He's definitely my favorite dancing dad this season.
Jenna Johnson: We've been watching (and obsessing over!) Jenna for years—and I'm sure you can see why. A little secret: Jenna's contemporary and ballet technique are just as spectacular as her ballroom skills.
Novien Yarber: He was technical, he was entertaining and he was totally unexpected. When he stepped on the stage, I thought we were in for another animation audition, but his contemporary knocked my socks off.
Jasmine Harper: Forget Cyrus, this chick doesn't need him one bit! In my opinion, she gave one of the most emotional, real auditions of the season. Clearly she has killer technique and legs for days, but it was her passion that hooked me.
The audition tour is OVER—yahoo!! Next week we'll be in Vegas, and I couldn't be more excited about it. Be sure to check back for our recap!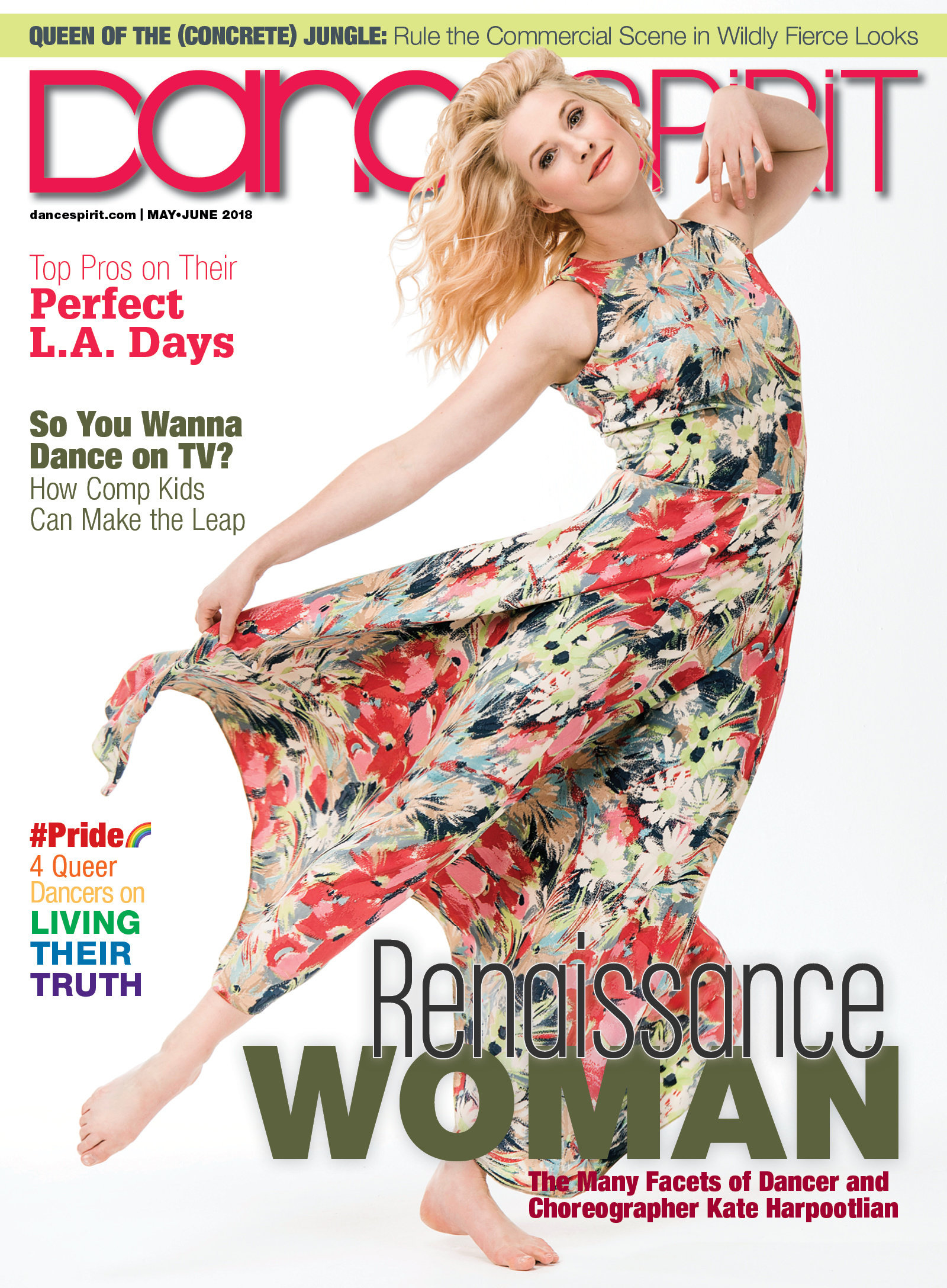 Get Dance Spirit in your inbox