May. 29, 2018 10:06AM EST
Watch tWitch teach people how to dance and just try—JUST TRY—to keep from smiling. (via YouTube)
We are forever here for the sweet best-friendship of Ellen DeGeneres and dance superhero Stephen "tWitch" Boss, still going strong. And now that enduring love has spawned a new series: "tWitch, Please...Help Me Dance!" Produced by the Ellen Digital Network, it features Mr. Boss teaching some slick moves to people in need. Because who wouldn't want tWitch to give them a complete dance makeover—especially if they were, say, trying to impress their classmates at prom, or propose to the love of their life?
Dance Videos
Mar. 26, 2018 12:51PM EST
"SYTYCD" judges (from left) Mary Murphy, Nigel Lythgoe, and Vanessa Hudgens (photo by Adam Rose, courtesy FOX)
We caught up with Nigel Lythgoe, Mary Murphy, Vanessa Hudgens, and special guest tWitch at "So You Think You Can Dance" auditions in NYC. The panel of dance pros discussed reuniting for the 15th season, what their favorite part of judging is, and their advice for "SYTYCD" hopefuls.
Dance News
Nov. 23, 2017 07:00AM EST
Happy Thanksgiving, dance friends! Since today is a day for reflection and gratitude (and eating...so much eating), I asked my fellow Dance Spirit editors to tell me the dance-world things they're most grateful for. Here's what they had to say:
Dancer to Dancer
Oct. 11, 2017 10:59AM EST
Much of Janelle Ginestra's career has been about helping others shine. She's dedicated herself to supporting and cheerleading her partner, WilldaBeast Adams; the emerging talents in their dance company, ImmaBEAST; and the countless dancers she inspires at master classes and conventions. Her YouTube channel has become a launching pad for young talents like "Fraternal Twins" Larsen Thompson and Taylor Hatala, thanks to viral videos featuring Ginestra's creative vision.
But Ginestra's a skyrocketing success in her own right—an in-demand choreographer, a social media influencer, and a dance entrepreneur, building a legacy one eight-count at a time. It's time for her turn in the spotlight. And she's more than ready. "I want to be a legend in whatever I do," she says. We'd argue that she already is.
Cover Story
Mar. 23, 2017 10:48AM EST
Thanksgiving is only two weeks away! And that means we've all got a certain bird on the brain: the penguin. (Wut?!) That's right, this year Mr. Turkey will have to share the spotlight with his arctic amigo—because Penguins of Madagascar is hitting theaters. You may be thinking: Sure, sure, that's great, but what does it have to do with dance? Everything, my friends, for there's a new dance in town and it's called the #PenguinShake.
In honor of the movie's upcoming release, the folks at Dream Works want to create the longest music video in the world. (Trying to rival Pharrell Williams 24-hour music video to "Happy," are we?) Their song of choice? Pitbull's hit single "Celebrate." And, to keep up with the recent music-video trend of hiring world-class choreographers, they needed to find someone pretty flippin' awesome...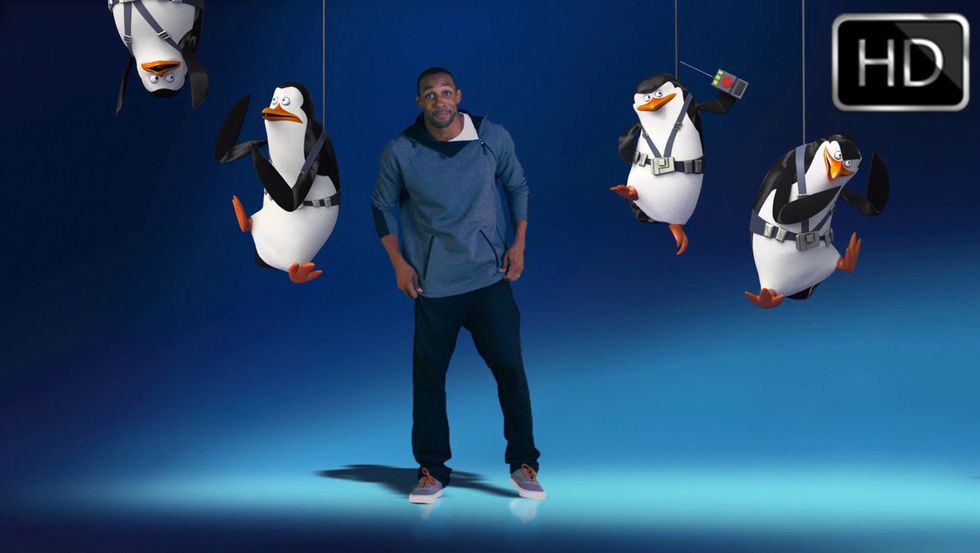 ...tWitch to the rescue!
tWitch—with his uncanny ability to make super silly look super cool—was a natural choice for the job. And his #PenguinShake does not disappoint. Check out the tutorial below!
All you've gotta do to join the longest music video in the world is 1) learn the #penguinshake, 2) film yourself performing it, 3) upload the video to Instagram with #penguinshake and 4) check the #penguinshake website 24–48 hours after uploading to see yourself in the video.
Everyone who's anyone is doing it, including animator-extraordinaire Marquese Scott:
Get (penguin) shakin'!
Dance News
Mar. 23, 2017 09:20AM EST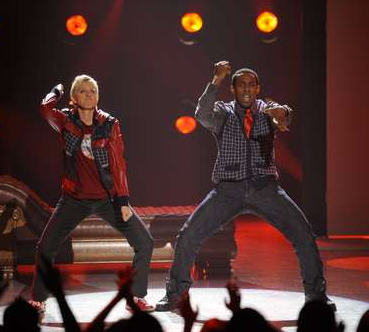 Let's face it: Ellen's got swag.
The friendship between tWitch and Ellen is kind of adorable. We've been in love with the pair ever since Ellen made her surprise "SYTYCD" appearance, filling in for the injured Alex Wong to perform that infamous Nappytabs routine.
They need a cute friend name like tWitchison. tWitchellen? Eh...we'll go with it.
On this season of "The Ellen DeGeneres Show," we've gotten to see lots of tWitchellen, because tWitch was a recurring guest DJ on the show. On Wednesday, Ellen took a moment to thank him for bringing joy and dance to the show week-after-week, and to tell him how much she loves him (awwww!!). And tWitch had a little thank you for Ellen, as well. Naturally, it came in the form of dance:
Recognize some of your favorite "SYT" alums? It was the perfect gift for Ellen, given her love for "So You Think You Can Dance." Plus, it came on the morning of the show's Season 11 premiere! Well timed, tWitch, well timed.
Dance News
Mar. 23, 2017 08:52AM EST
Here at DS, we live for the Step Up movies. Whether Channing Tatum is romancing Jenna Dewan with his slick dance moves, or Alyson Stoner and Adam Sevani are sweetly tap dancing through the NYC streets, every Step Up movie is just the best.
OK, so maybe the plot lines leave a bit to be desired, but who cares? The dancing is so good.
This summer, the mega-hit dance franchise gets back to the big screen with Step Up: All In, and we couldn't be more psyched. This time around, all of our past favorites are back: Alyson Stoner (as Camille), Ryan Guzman (as Sean), Adam Sevani (as Moose), Misha Gabriel (as Eddy), plus the Lombard Twins, tWitch, Christopher Scott (who also choreographed) and so many more.
The official trailer for the film was released last week and we can't. stop. watching.
Here ya go:
Step Up: All In hits theaters this summer. We'll race you to the theater!
Dance News
Jan. 27, 2017 07:00AM EST
Can we talk about how wonderful the tWitch—Ellen DeGeneres bestfriendship is? They've hearted each other for ages. (Remember their epic duet, with Ellen doing a verrry impressive Alex Wong impression, during the "SYT" Season 7 finale? Yeah, that was SEVEN YEARS AGO). tWitch has even served as a featured DJ on "The Ellen DeGeneres Show" for the past few seasons. Their dance-based love for each other knows no bounds.
So it's only fitting that Mr. Boss would get his boss a delightfully dancey birthday present. tWitch surprised Ellen, who turned a totally unconvincing 59 yesterday, with a celebratory performance featuring some of his friends from 24 Seven. (We see you, Hefa, Randi and Kaycee!) They broke it down old school—like, running man, walk-like-an-Egyptian old school—to the equally old school and oh-so-appropriate "It's Your Birthday" by Luke. A a giant breakthrough wall of wrapping paper was also involved, which, many bonus points.
"What more perfect gift for Ellen than the gift of dance, right?" tWitch told the audience. "It is my honor to give such a gift to such a kind, genuine, generous person." 💕💕💕
Enjoy the lovefest, friends:
Dance News
Jul. 19, 2016 09:01AM EST
We knew it was coming.
We knew right from episode one when we started getting attached to these young dancers that soon we'd have to start saying goodbye to them one at a time. And now—after watching them all show their best moves for the first time on live television last week—that time has come.
But first, let's talk about the good stuff, because there was loads of good stuff on last night's episode.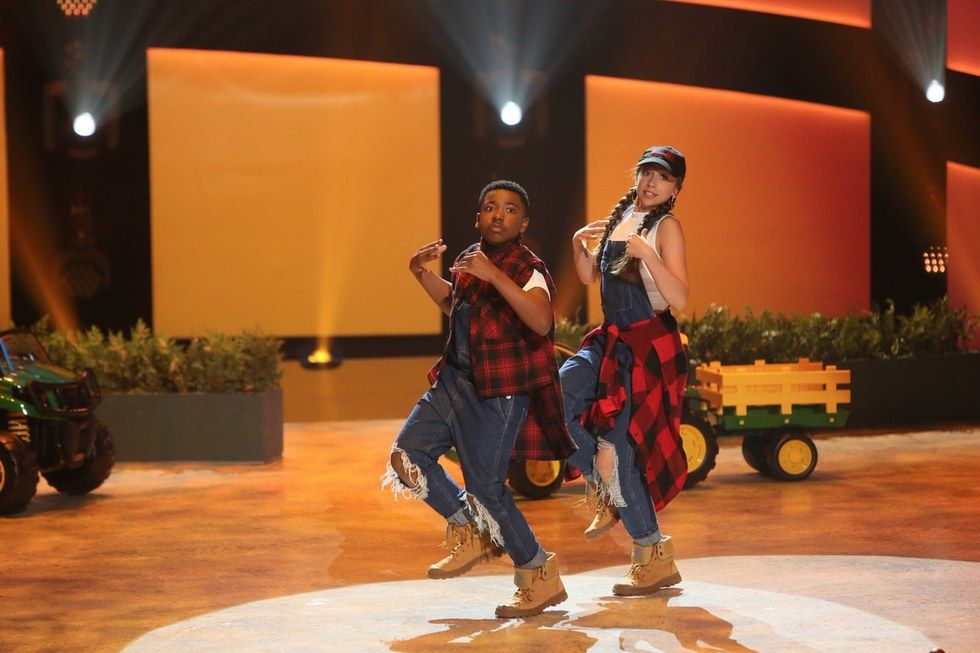 Kida and Tate's hip-hop routine. (BRB, running out to buy overalls, stat.) (Photo via FOX)
The dancers got out of their comfort zones this week by pairing up with their fellow contestants and dancing styles other than their own. Each dancer performed four routines. Again, four routines per contestants. Make sure you tell your non-dance friends watching that that is a lot to learn in one week. Each dancer performed two duets with a new partner (a fellow contestant, not an All-Star this time), one short routine with his or her All-Star partner, and an opening number. This is no joke, people. That's a lot of choreography to master.
And master it all, they did. Here are our favorite moments from last night's show.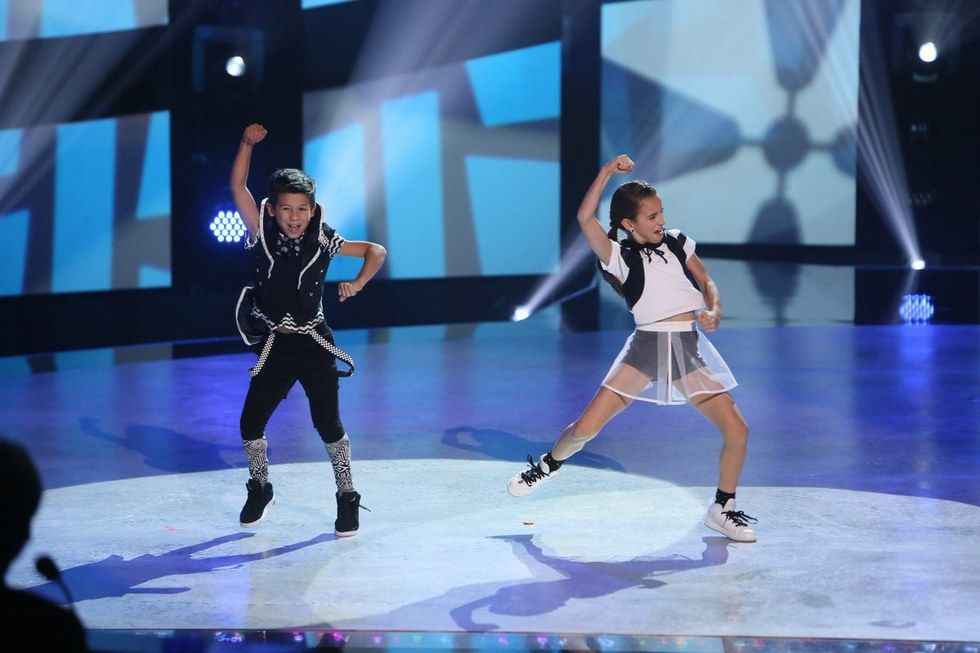 Emma and J.T. performing a Nappytabs hip-hop routine. And the award for Biggest Smiles goes to... (Photo via FOX)
1. The opening Bollywood routine
In honor of busting out of the comfort zones, why not kick off the show by getting everyone out of their comfort zones? No dancer on the show right now—neither a contestant nor an All-Star—lists Bollywood as his or her speciality, so it was fun seeing all 20 dancers come together to perform this unique style. The routine was high-energy and tons of fun, and the only way we could tell the contestants from the All-Stars was because they wore different outfits. (That part when J.T. got to dance up front and shine in the spotlight for a second? He was living for that moment.) Nakul Dev Mahajan, you never disappoint. Way to kick off the show.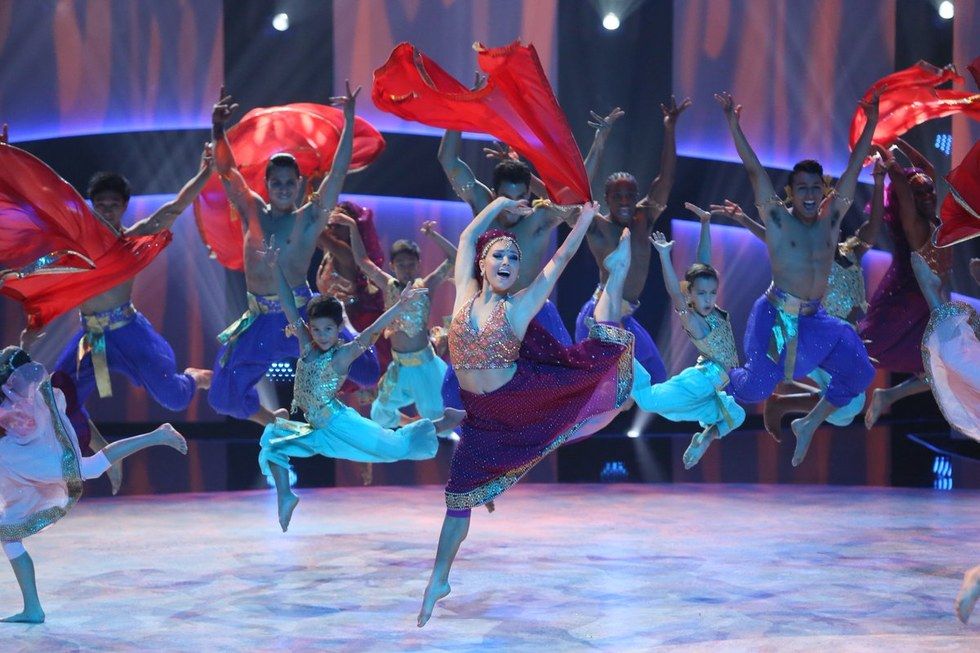 Bollywood mania! (Photo via FOX)
2. Having tWitch on the judging panel
While Jason Derulo was...somewhere...tWitch stepped in to fill his spot on the panel! His feedback was pretty tame, but he could've been silent up there and we would've been fine with it. (Though he did have a few gems, like telling Sheaden, "You're cooler than a polar bear's toenails.") tWitch, your smile gives us life.
3. The contestants getting to dance with each other!
Sure, the contestant-and-All-Star duos last week were nice. But this week, with the contestants dancing with each other, we were reminded of the "So You Think You Can Dance" format we know and love. Each pair learned and performed two routines in two different styles. Tahani and Jake were so sweet together, Tate and Kida proved they're forces to be reckoned with (donning overalls to boot), and J.T. and Emma were all-smiles and totally adorable. All-Stars, we love you, but these are the pairings we love.
4. Jake and Tahani's contemporary duet
As tWitch said, when these two were onstage performing this piece together, they were all, "I got you." Their routine, choreographed by Bonnie Story, was about bullying, and it hit home for Jake, who shared that he has been bullied for being a dancer. It's hard to learn this much choreography each week and maintain a strong performance quality, but Jake and Tahani nailed it this week. Not only did they dance full-out and beautifully, but they also connected with each other onstage and supported each other throughout the piece. Both dancers were crying by the end of the performance—and so were we. No surprise there.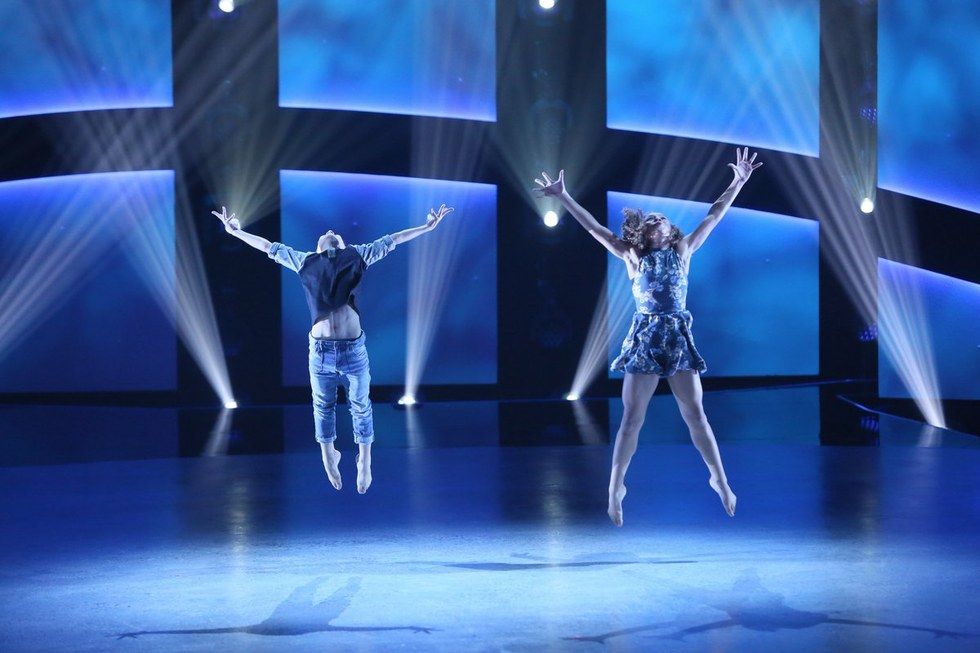 ENCORE, PLZ. (Photo via FOX)
5. Maddie Ziegler coming into her own on the judging panel
Last week, Maddie's feedback was mostly complimentary and she didn't say a whole lot. This week, though, Maddie spoke up a lot more, and we loved it. We especially loved seeing her get on the dancers' levels and relating to them. (Like when she told J.T. and Emma she got where they were coming from in their hip-hop piece because she isn't a hip-hop dancer either, so she appreciated their efforts.) Having Maddie pop in during the rehearsals felt more cohesive this week, too. She's able to see how hard the dancers work and what challenges they overcome, and it's nice seeing her getting to know them and being invested in their performances. Keep it up, Maddie!
Speaking of Maddie, did anyone else expect her to bust out a cameo during the All-Star group routine? You simply can't have a Sia song without a Maddie Z. appearance!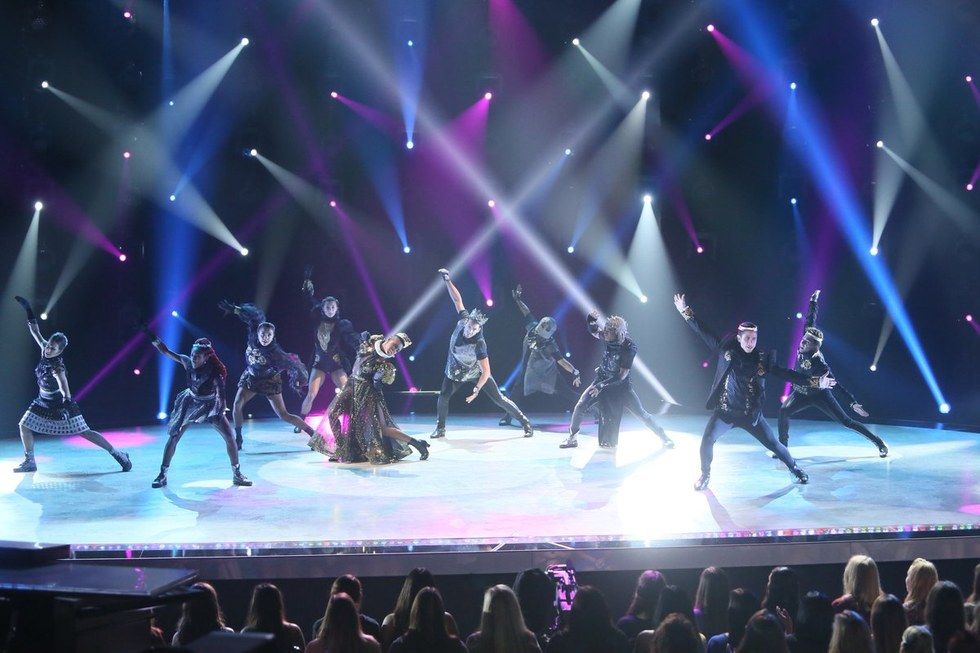 Ladies and gentlemen, your All-Stars! (Photo via FOX)
Other highlights from last night included Tate and Kida's John Deere-themed hip-hop routine ("You're two of the best dancers we've got on this show," Nigel told them afterward), J.T. and Emma's cute West Side Story Broadway routine, Jordan's smile, Tabitha and Napoleon D'umo sucking on lollipops in the audience (adopt us?), Sheaden's awesome stage presence and the All-Stars waiting in the wings with hugs for their dancers after each performance. (Of course this was totally staged, but it was still adorable and heart-warming and we wouldn't mind running offstage and directly into Robert's arms. Just saying.)
What we could've done without? Those super awkward Ice Age promos and jokes, and the many even-more-awkward moments on the judging panel (like Nigel asking Paula if she was dating anyone and then telling her about a farmer's-only dating site...no).
Ultimately—and tearfully—Daniela and Sheaden were the bottom two dancers, and the judges chose to keep Sheaden around. Daniela, we will miss you.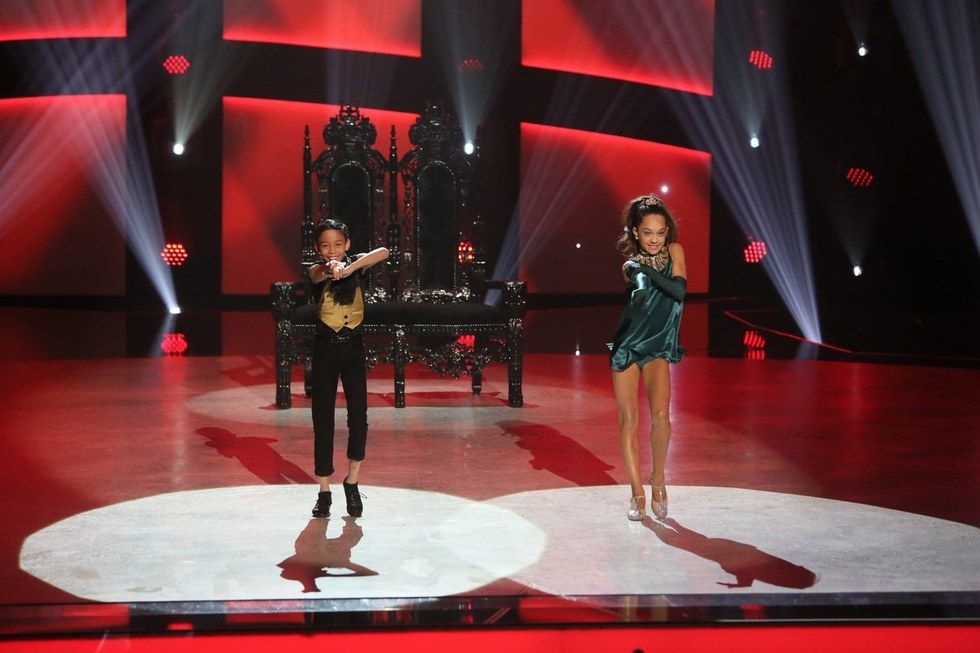 Bye, Daniela. Love you. (Photo via FOX)
Now we're off to sew our broken hearts back together, because this part of the show is the worst.
Dance News
May. 16, 2016 01:10PM EST
Last month, on the finale of "tWitch and Allison's Kids Dance Challenge" (Ellen DeGeneres' new dance series, for those who haven't been following along), the competition came down to two finalists: DS co-cover stars Gabe De Guzman and Kaycee Rice. Not exactly shocking, thanks to their super-fierce moves—but we were incredibly torn. How in the world were tWitch and Allison going to choose between the members of our favorite hip-hop duo???
Turns out, they didn't have to: Ellen named both Gabe and Kaycee winners, giving both the chance to perform on "The Ellen DeGeneres Show." Cue a major sigh of relief, because there's just something magical about these two dancing together.
On Friday, the pair finally got their chance to shine on "Ellen," dancing alongside series judges tWitch and Allison. The double duet was great on so many levels. And new mama Allison proved she's still got it—the performance marked her first foray back into dancing since giving birth to little #BabyBoss.
Check it out:
Dance News
Get Dance Spirit in your inbox
May. 16, 2015 07:00AM EST
Let's begin with an indisputable fact: tWitch Boss and Allison Holker are the cutest couple ever. Period. Exhibit A: Just look at these two at our September 2012 cover shoot!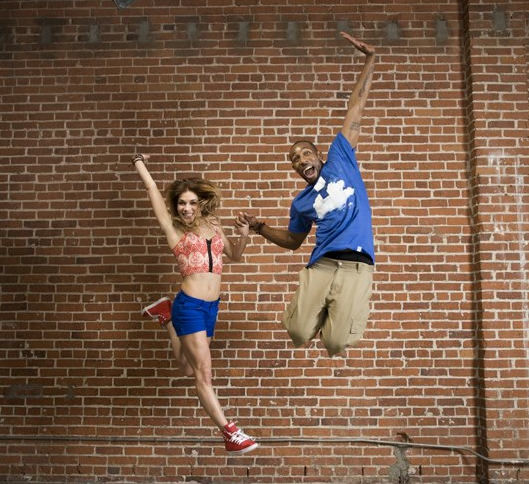 tWitch's face in this pic is everything. (Photo by Joe Toreno for Dance Spirit)
Exhibit B: Remember their beyond gorgeous, "So You Think You Can Dance"-filled wedding at Nigel Lythgoe's vineyard?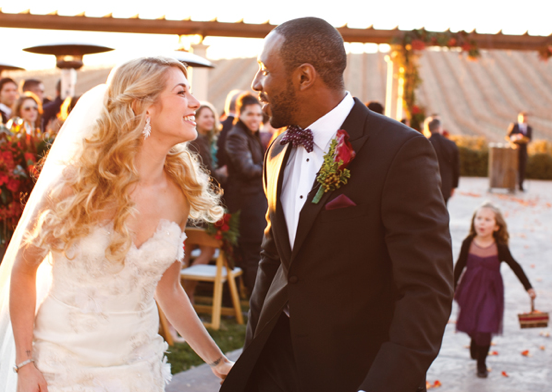 #truelove (courtesy Allison Holker and tWitch Boss)
And Exhibit C: Have you seen tWitch's Twitter feed lately? He wins the "Most Supportive Husband" award as the biggest fan of #TeamRallison (Allison and her "Dancing with the Stars" partner, Riker Lynch).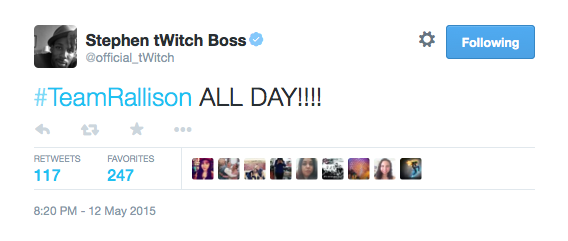 OK, I think I've sufficiently proven my point. But these "SYTYCD" sweethearts just keep out-cute-ing themselves. On Wednesday, "The Ellen DeGeneres Show" released a video of the two dancing in Gold Toe Socks to "Boogie Shoes" as promo for Ellen's #DanceYourSocksOff contest. Warning: What you're about to see will make you feel ALL OF THE FEELS.
Inspired to #DanceYourSocksOff, too? Film a video of yourself dancing to "Boogie Shoes" in Gold Toe Socks (or socks of an unrecognizable brand) and upload it to EllenTube, and you could win up to $10,000. Happy boogie-ing!
Dance News
May. 10, 2014 07:00AM EST
Here at DS, we talk a lot about cuteness overload (it's a real thing guys...). Case in point: On Tuesday's episode of "Ellen," 3-year-old Heaven returned to the show with a "Happy" dance that would make Pharrell Williams proud. After that, we assumed we'd reached our cuteness quota for the week.
But Ellen wasn't quite done with us yet.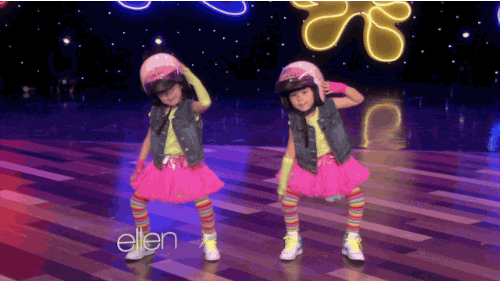 On Thursday, she introduced us to 6-year-old twins Zony and Yony, who flew all the way from their home in Taiwan to perform on the show. Like many of Ellen's mini guests, the twins are YouTube sensations. They posted a video of themselves performing the choreography from a popular K-Pop music video—"Bar Bar Bar" by Crayon Pop—and the internet. went. wild. After Zony and Yony performed their viral dance live, Ellen (true to form) surprised them with a special treat: tWitch will be choreographing a dance for them, which they'll perform with him on "Ellen" next week! (Oh...and they get to go to Disneyland. But tWitch!!)
We can't wait. Can we see Zony and Yony dance with tWitch now please? No? OK, fine, we'll wait. But in the meantime, we're gonna go ahead and watch the video from this week's episode on repeat. #noshame
Dance News
Apr. 17, 2014 07:00AM EST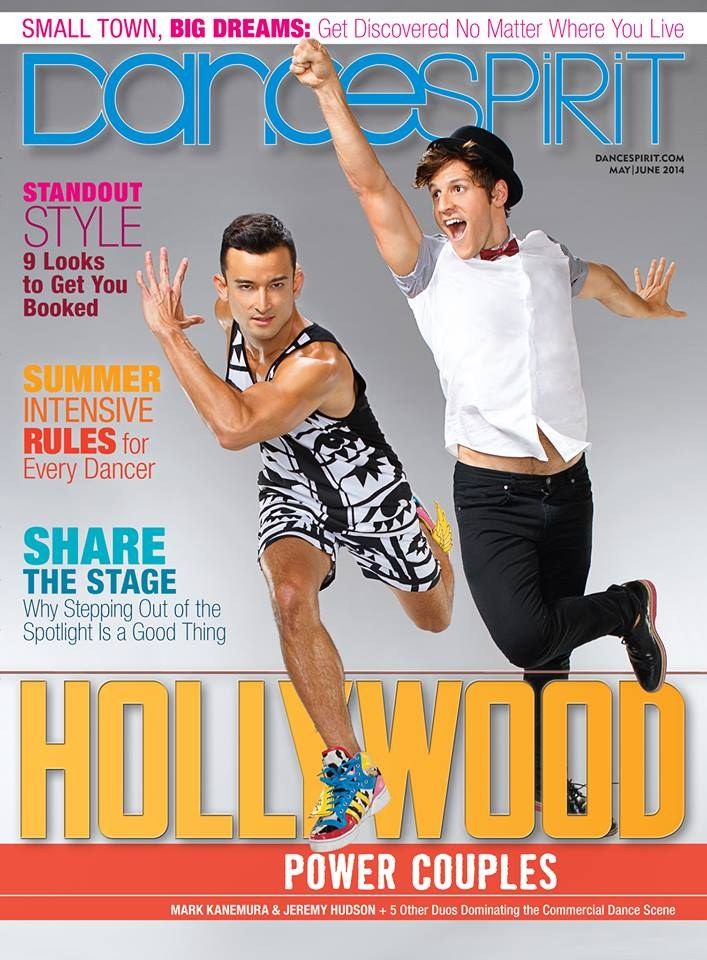 Dance Spirit's May/June 2014 issue. Shot by Joe Toreno.
The day I found out Jeremy Hudson and Mark Kanemura were dating, I sprinted across the office and practically shouted to the rest of the Dance Spirit staff, "We have to put them on the cover!" You know Mark from Season 4 of "So You Think You Can Dance," and from his work on Season 10. (The couch piece he did for Jenna Johnson was my favorite of the entire season.) You know Jeremy from...well, everyone knows Jeremy. Commercial dance insiders regularly refer to him as "the most-booked dancer in L.A.," and during our cover shoot last September, Jeremy confessed to me that he hasn't had to audition for a job in years—people just hire him.
Jeremy and Mark have each found incredible successes in their dance careers so far, but put them on a stage together and they light it up. Case in point: just about every Lady Gaga video or tour you've ever seen. (And take a look at this album of outtakes from their shoot. There wasn't a less-than-perfect picture in the entire bunch!)
It's such an honor having these two oh-so-in-love superstars on the cover of our May/June issue. We're in love with their love story. Click here to read it, and enjoy this video from their photo shoot with photographer Joe Toreno in Hollywood.
Of course, Mark and Jeremy aren't the only crazy-hot pair making their mark on the Hollywood dance scene. Dancing power duos are all the rage right now. Once you're done reading about Mark and Jeremy's journey to coupledom, enjoy the sweet stories of Jaimie Goodwin and Bryan Tanaka, Chantel Aguirre and Michael Keefe, Keone and Mari Madrid, Randi Kemper and Hefa Tuita and, of course, our September 2012 cover stars (and newlyweds!), Stephen "tWitch" Boss and Allison Holker.
Prepare to be awwwww-ed by all of it. We certainly were.
Dance News
Mar. 01, 2014 05:00PM EST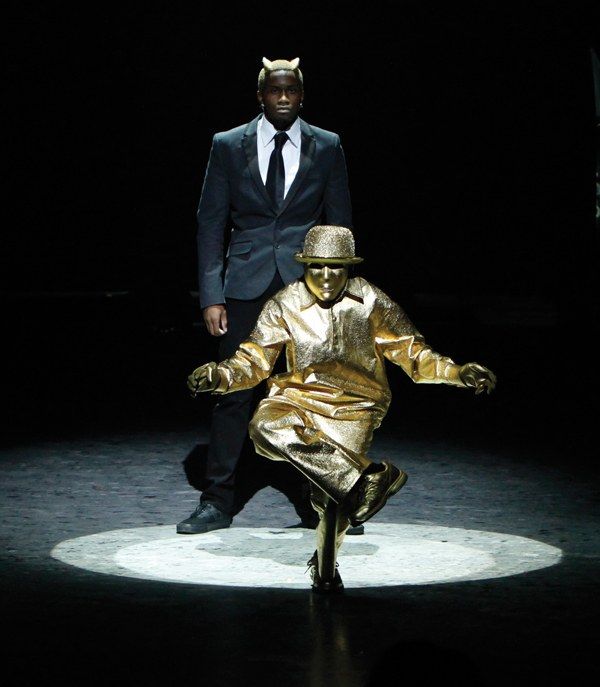 Bryan "Chibi" Gaynor (in gold) performing with Dragon House Crew on "So You Think You Can Dance" (photo by Adam Rose/FOX)
When Cyrus "Glitch" Spencer of Dragon House Crew auditioned for Season 9 of "So You Think You Can Dance," fans were blown away by his "new" style: animation. The fascination continued in Season 10, when judges selected not one but two animators—Jade "Soul" Zuberi and Dorian "BluPrint" Hector—for the Top 20. And while we're still waiting for an animator to be crowned America's Favorite Dancer, one thing's for sure: America's caught the animation bug.
But what exactly is animation? Dance Spirit went to the pros to find out.
Where did animation come from?
This style isn't new. Some sources say it originated in the late 1980s. Old-school animators, like Boppin Andre, drew inspiration from a form of stop-motion animation called dynamation, which brings inanimate models to life within a live-action film—think the early versions of King Kong and Godzilla. Most animators trace their history back to the 1958 dynamation movie The 7th Voyage of Sinbad (which is why Boppin Andre used to call the style "Sinbad dance"). Claymation films are also a source of inspiration for animation dance.
The resulting movement is almost human, but not quite. "When you're animating, you're pretending to be an inanimate model that's trying to move like a human," says Bryan "Chibi" Gaynor of Dragon House and RemoteKontrol crews.
"Animation is about bending reality," adds Soul. "You want to make the audience question whether what they're seeing is real."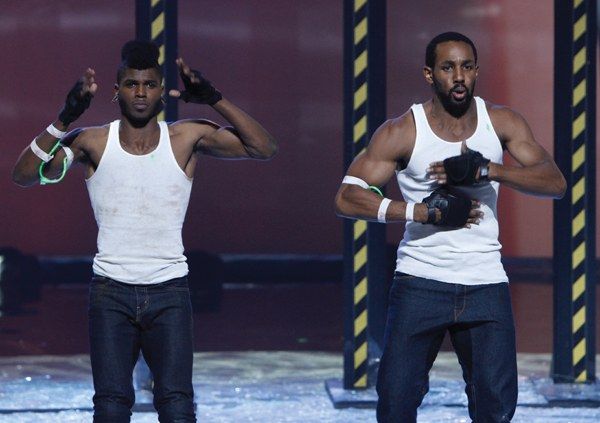 Cyrus "Glitch" Spencer (left) and Stephen "tWitch" Boss performing Like a Criminal on "SYTYCD" Season 9 (photo by Adam Rose/FOX)
How Do You Become an Animator?
Anyone can pretend to be a robot on the dance floor, but becoming a master animator takes a lot of time and research. "As with any style, start by doing your homework," says Soul. When Soul first began animating, he would spend hours on YouTube watching animation-dance videos to pin down the basics.
Glitch stresses that you need to master the fundamentals of popping—hard hits, stopping, isolations, etc.—before you can animate. "Then you can begin to experiment and find out what feels good on your body," he says. "For example, you can add movement—waving, tutting, gliding—to the hard hits of popping to make it look less mechanical."
While it's essential to learn the fundamentals, it's equally important to develop your unique way of moving. "It's easy to mimic someone else's style," Chibi say. "It takes time to find you."
Why Now?
If animation has been around since the late '80s, why the sudden surge in popularity? Soul explains that animation, like any form of street dance, requires exposure to grow. "Now that we have YouTube and camera phones, we can record our stuff and put it out there—and it spreads like wildfire," he says.
When Chibi auditioned for "SYTYCD" in 2007, he not only introduced America to animation, but also set the standard for what it's supposed to look like. The animators who have followed him—on "SYTYCD" and "America's Got Talent," in the Step Up movies, on YouTube and on TV commercials—continue to raise the bar. "The young people coming up are gonna have something that really amazes us," Chibi says.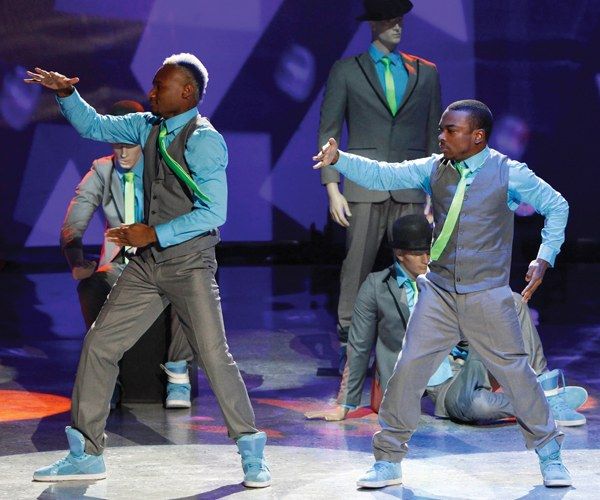 Dorian "BluPrint" Hector (left) and Jade "Soul" Zuberi performing Trigger on "SYTYCD" Season 10 (photo by Adam Rose/Fox)
A Note on Music
Jade "Soul" Zuberi of "So You Think You Can Dance" Season 10, Cyrus "Glitch" Spencer of Season 9 and Bryan "Chibi" Gaynor of Dragon House and RemoteKontrol crews all note the importance of music to style development. Because animation hit the commercial dance scene around the same time dubstep music exploded, many mistakenly call it dubstep dance. "Animation is not dubstep dance," says Glitch.
Glitch's music preference depends on his mood. When he wants to be expressive, he performs to slow music. Hip-hop helps him convey strength and power, and glitch-hop (a form of electronic music with deliberate "glitches" or malfunctions in the sound) is perfect for crisp, small movements.
Soul prefers dancing to classical, ambiance or glitch-hop music.
But just because animation isn't dubstep dance doesn't mean you can't perform animation to dubstep music. Chibi likes using it because it offers a lot of sounds he can capture. "It can be a simple 'tick, tick, tick' or a big move that emphasizes the sound," he says.
Hip Hop
Jan. 31, 2014 12:38PM EST
Allow Philip "PacMan" Chbeeb ("So You Think You Can Dance," Step Up Revolution and the upcoming Step Up: All In) to hypnotize you with his hands:
Or perhaps with his fingers:
OK, you can wake up now! Today, we're taking a minute to get excited about tutting, which we think is pretty darn impressive.
Recently, BuzzFeed celebrated the increasing popularity of tutting (aka "a really weird hypnotic hand dance") on Vine. And yesterday, they introduced us to two tutting teens who are pretty passionate about their art:
Sold? Good.
Now let tWitch Boss and Hayley Erbert teach you how it's done:
Happy Friday!
Dance News