Jun. 27, 2019 12:05PM EST
Gemma Bond in the studio with ABT's Cassandra Trenary. Jim Lafferty.
If like us you're already mourning the end of American Ballet Theatre's marathon Met season, don't fear. The company just announced the lineup for its fall season, and there's a lot to look forward to.

Running October 16-27 at Lincoln Center's David H. Koch Theater, ABT's fall lineup includes world premieres by choreographers Twyla Tharp and Gemma Bond. While Tharp has been creating for ABT since 1976 (the company's Met season included a trio of her works), corps dancer Gemma Bond will be making her choreographic debut for ABT's main company. The season also shines a spotlight on principal Herman Cornejo, who will be celebrating his 20th anniversary with the company.
Site Network
Jan. 09, 2018 11:58AM EST
(Caption and credit information at end of post—no spoilers!)
Can you ID some of the dance world's most iconic works? Take our quiz below to find out!
Quiz
Aug. 29, 2015 11:00AM EST
For dancers, getting a sneak peek into the choreographic processes of new work is better than Christmas. It's always inspiring and fascinating to see how great dance-makers go about doing their thing (Ballet 422, anyone?).
Twyla Tharp—dancer, writer, choreographer and all-around genius—is giving readers a #nofilter account of her latest rehearsal process in NYC via a blog she's keeping for The New York Times. On the first day of rehearsals, Tharp says, "This is a very important day and has some of the excitement of a first day of school, as all the dancers working on the tour will be together for the first time. [It] has been in the planning for two years and we want it to run with no surprises, please."

Twyla Tharp's studio space, ready to be filled with her amazing choreo (Photo Twyla Tharp, via NYTimes)
All dancers know the magic that happens onstage isn't possible without the commitment in the studio, and Tharp's educated and honest point of view is a great read, especially as so many of our favorite companies are prepping for their fall seasons!
Dance News
Mar. 25, 2014 01:11PM EST
I remember my audition for Juilliard like it was yesterday. I can tell you which leotard I wore, where I stood at the barre—and that I didn't make it past the first cut.
I bring this up for two reasons:
1. It's college admissions season, when high school seniors anxiously await envelopes containing options and decisions surrounding their future. It's a terrifying time of year, and one that can be extremely exciting and heart-wrenching at the same time.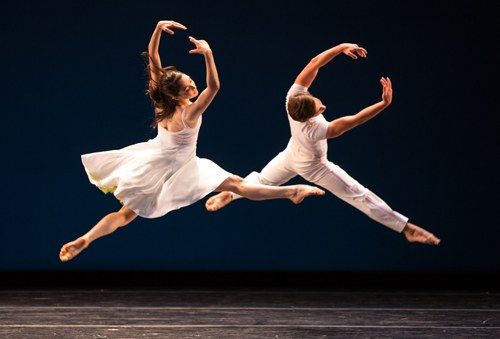 Juilliard students Daphne Fernberger and Lorrin Brubaker in Lar Lubovitch's Concerto Six Twenty-Two. Photo by Rosalie O'Connor
2. Juilliard's dance department celebrated another successful spring performance run this past weekend. Their sophomore, junior and senior dancers excelled in a repertory smorgasbord: Twyla Tharp's Baker's Dozen, Lar Lubovitch's Concerto Six Twenty-Two and Eliot Feld's The Jig Is Up. It was easy to forget the dancers were students and not professionals the way they tackled Tharp's wiggly phrasing and Lubovitch's flowing, expansive movement.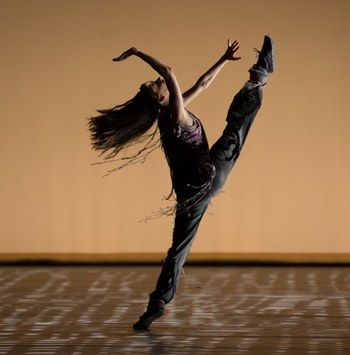 Juilliard's Kristina Bentz in Eliot Feld's The Jig Is Up.
Photo by Rosalie O'Connor
On Friday night, Dance Spirit's very own September 2013 cover guy (and Juilliard junior) Corey John Snide shimmied his way through Feld's quirky mix of Irish-jig-meets-Soul Train-meets-flower-child choreography.
While watching The Jig Is Up, I remembered one of Corey's quotes from the feature: "College has given me options for how I can make a living and feel fulfilled artistically. I'm not just trying to kick my leg up to my face anymore." He captures exactly what college dance has to offer. It's the time to explore everything we love—and don't love—about dance. It's awesome.
Choosing a school, however, is not always as awesome, or easy. When I was rejected from Juilliard, I was definitely disappointed in myself. But as they say, hindsight is 20-20, and I know now my reasons for choosing to audition there in the first place weren't exactly grounded. I didn't know Juilliard's rich history; I'd never seen a performance there; and I had no idea of which company I dreamed of joining after graduation. I hadn't considered what I truly wanted out of a dance education, compared to what the school—or any school for that matter—actually offered.
All classic mistakes.
But Dance Spirit is here to help. Check out "University of NYC" to find out what school in The Big Apple is really like. "Streamline Your College Search" offers countless tips to help you target your dream dance program. And look in your April issue for "I Have No Idea What I Want to Do After High School!" where you'll hear from five professional dancers about how they chose their paths—some heading to college and others directly to a career.
Want more? Sign up for the DanceU101 monthly newsletter to get program news and the "Real Deal" from college dance students delivered right to your inbox.
Dance News
Nov. 15, 2011 11:30AM EST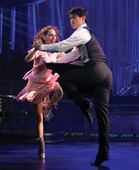 Christopher Vo and Ramona Kelley in Come Fly Away. Photo by Joan Marcus.
Christopher Vo is kind of a big deal. He's a Princess Grace Award winner and has been named a Presidential Scholar in the Arts. He trained at The Juilliard School and went on to perform with the Lar Lubovitch Dance Company and Aszure Barton & Artists. Since the Dallas, TX, native dominated the modern dance world for a while, he's now conquering musical theater and becoming a Broadway babe.
Christopher is currently starring as Marty—a charismatic, charming and oh-so-talented bartender—in the national touring production of Come Fly Away. (His castmate is this month's cover girl, Mallauri Esquibel!) Visit comeflyaway.com to see where you can catch Christopher in action, and read on for The Dirt!
What did you want to be when you were a teen?
A straight-A student
Must-see TV shows:
"Grey's Anatomy" and "True Blood"
Biggest guilty pleasure:
Fried chicken!
One thing most people don't know about you:
I'm a Zumba instructor
If you weren't a dancer, what would you be?
Some sort of surgeon
Favorite city in the world:
NYC, baby
Who would play you in a movie?
I'd like to think Taylor Lautner, but who knows. Haha.
Who is your dance crush?
I have a huge dance crush on my Come Fly Away partner, Ramona Kelley
What is your biggest pet peeve?
Passive aggressiveness
Do you have any bad dance habits?
I'm told I have a low passé, but I think it's quite functional!
What's the strangest thing in your dance bag?
A pink-and-white hand-painted cat figurine that Lar Lubovitch gave to me as an opening-night gift once.
Dancer to Dancer
Sep. 01, 2009 02:08PM EST
Spectacular control and effortless extensions separate longtime Merce Cunningham Dance Company member Holley Farmer from the crowd. A late bloomer, it wasn't until age 16 that Farmer began taking ballet classes with Hae Shik Kim at the Fig Garden Dance Studio in Fresno, CA. She was a natural. After dancing with the Theatre Ballet of Canada and in Toronto's production of The Phantom of the Opera, Farmer returned to California to perform with the Oakland Ballet. She was unexpectedly diagnosed with a stress fracture in her fifth lumbar vertebra, but she used her recovery time to complete a B.F.A. at the Cornish College of the Arts, then an M.F.A at the University of Washington. It was at the latter that Farmer first met Merce Cunningham, who was in residence there. In 1996, she was asked to become an understudy with MCDC, and in 1997 she joined the main company. Farmer's body of work with the troupe earned her a New York Dance and Performance Award (a "Bessie") in 2004. After a rewarding career with MCDC, Farmer recently began working with another dance trendsetter: Twyla Tharp. —Marisa Graniela
Holley Farmer with Koji Mizuta and Silas Riener in Merce Cunningham's Nearly Ninety (Anna Finke)
Holley!
Don't accept that apprenticeship at the bakery. I know it seems like a good idea—a job that maybe, one day, will get you to France. But trust me, you'll get to see France without that apprenticeship. You'll get to dance at the Paris Opéra—twice!
Keep hope for your dance career alive. Right now, as the oldest and biggest in your dance class, you feel totally awkward. Even the 10-year-olds write you off. (Well, you did show up to your last recital already wearing your tutu. Promise me you'll put it in a garment bag next time!)
But soon, something important is going to happen: Your teacher is going to give you the keys to the studio. And there, alone, you'll work out why you can't do lame ducks and why you love jetés. You'll fall on your butt and lose track of time. You'll discover that your greatest gift is your love of movement.
So here's what to do if you want to eat croissants in Paris, not make them:
1) Nurture your talent. Surround yourself with people who remind you why you love to dance.
2) Figure out your body's strengths and weaknesses. Work on that core!
3) Start writing letters and filling out scholarship applications now. Opportunities don't grow on trees.
4) Study other arts and cultures. The world needs dancers with a point of view—so find one!
Don't bail on me now, Hol. I'm counting on you!
Bonne chance,
Holley
Get Dance Spirit in your inbox