Jul. 17, 2019 02:28PM EST
Dreams, drama, and capital-D DANCE: The brand-new High Strung Free Dance trailer just dropped, and it is chock-full of everything we love.
Dance News
Aug. 07, 2018 09:32AM EST
The Top 10 in Travis Wall's opening number (Adam Rose/FOX)
Last night marked—finally!—the first live show of Season 15. We made it! And so did the Top 10. Now, it's up to the viewers (that's you!) to determine which contestants end up in the Top 4 and, eventually, which one will snag the sweet prizes up for grabs: $1 million, the cover of Dance Spirit (that's us!), and a role in FOX's live production of RENT, which will air January 27. Also awesome: tWitch is officially on the judging panel for the long haul, alongside Nigel, Mary, and Vanessa. Dreams do come true!
So how'd the two-hour event play out? Each contestant couple performed twice: once in the girl's style and once in the guy's. Here's what went down.
Dance News
Feb. 15, 2018 10:03AM EST
"High Strung: Free Dance" stars Juliet Doherty and Thomas Doherty shooting the movie poster (via Instagram)
Dance Videos
Jun. 30, 2017 07:33AM EST
Apr. 11, 2017 09:19AM EST
Why limit dance to the stage? Dance and film are made for each other—and these days, technology allows choreographers to create pretty incredible things for the camera. We've rounded up 6 of our favorite dance concept videos for your viewing pleasure.
Dance Videos
Jul. 08, 2016 12:29PM EST
Hey dance family. How are you doing? The world has seemed like an especially tough and scary place over the past few weeks, and it's okay to feel rattled. Fortunately, we're lucky enough to have dance—it sees us through good times and bad.
So, for your #FridayFeels, please enjoy this beautiful video of Kent Boyd and Will Jonhston, choreographed by Tyce Diorio. It shows two men in a relationship, maybe on the brink of breaking up. As they dance to X Ambassadors' "Unsteady," it becomes clear that the couple is going through a lot right now.
Grab your tissues, give this a watch and then go hug someone you love.
Dance News
Jul. 24, 2013 09:30AM EST
Last night's show was crazy.
CRAZY.
At first I thought it was going to be the episode when the season hit its stride. We saw several solid, undeniably awesome routines. The dancers, as a whole, were looking great. Even the costume team was on fire. Things were on the up-and-up.
But then we witnessed a shameless act of "So You Think You Can Dance" thievery. And when I saw the way the judges reacted to it, I almost lost my darn mind.
I went into this episode feeling a little "meh" about the whole "SYTYCD" enterprise. I came out of it a screaming-at-my-TV mess. Yay?
OK. I've had the night to simmer down. Now that I can type coherent sentences again, here are my Top Five Moments:
1. The opening number became an interesting experiment in perception. On my TV, at least, the show started out with no sound. (Some poor tech crew was not having a good time last night.) What did I see? The Top 16 in Lady Gaga-y getups and face tattoos, doing rough-and-raw choreography that depicted what appeared to be a tribal ritual involving Jasmine as a sacrifice. Based on all that, I assumed the music would be propulsive, aggressive, even scary. But then the audio kicked in (yay!), and lo and behold—it was swoony and moody instead. The dance took on a totally different tone. Nifty, right? It almost made me want to play the routine over and over on mute, setting it to different songs each time. But I'll leave that to you guys:
2. Travis Wall's piece for Jenna and Tucker demonstrated the proper way to use props. OK, yes: The song he chose is called "Hangin' By a Thread," and we started out with Jenna literally hanging from the ceiling by red threads. Travis Wall, master of subtlety. But those tethers ended up adding a beautiful aerial dance component to the piece, and what could have been a run-of-the-mill contemporary routine became something pretty great. I think "SYTYCD" choreographers often do better when they give themselves a prop that's actually a "problem"—that complicates a routine instead of just decorating it. It keeps them from falling into old, stale habits. And Jenna was just gorgeous, as usual.
3. Along those same lines, we had Dee Caspary's "ladder" piece for Haley and Curtis. Like Travis' routine, it felt like a circus hybrid, and I mean that in the best way. The ladder that terrified the pants off Hayley (I don't blame her—that thing did not look stable) ended up being just as effective as Travis' tethers. Props like these could be considered gimmicky in another context, but we're dealing with two-minute routines here. They need gimmicks if they're going to achieve any sense of coherence in 120 seconds.
4. On the other end of the spectrum, we had Makenzie and Paul's gimmick-less Dave Scott routine. Well, OK, the whole 1920s theme could be considered a gimmick. But (fabulous) costumes aside, this was just a good old-fashioned, well-choreographed hip hop piece. There wasn't anywhere for Makenzie and Paul to hide, and they didn't need to. They were fantastic. Especially Makenzie. How does that girl keep ending up in the bottom? VOTE, people!
5. Tyce Diorio ripped off Wade Robson, and I wanted to punch everyone in the face.
Let's begin at the beginning here.
When, before the break, Cat cheerily announced that Amy and Fik-Shun would be doing a "hobo jazz" routine, I thought, Oh, cute—shades of Wade Robson's hobo-y "Cabaret Hoover" routine from Season 3. Unconcerned, I went back to reading about Will and Kate's baby on trashy gossip websites.
Then the piece started, and
HOLY CATFISH IT WAS ACTUALLY SET TO A SONG FROM THE TRIPLETS OF BELLEVILLE SOUNDTRACK, JUST LIKE WADE'S PIECE.
And the costumes were kind of the same. And—gulp—a few of the movements might have been, too.
My jaw literally dropped. I kept trying to think of ways this could be OK. I mean...I guess Amy and Fik-Shun were sexy hobos, if that's a thing, as opposed to Wade's unhinged hobos? Or maybe this was Tyce's loving tribute to Wade? The overlap seemed so blatant that I was sure the judges would give some kind of explanation (or make some kind of accusation) during their critiques.
I was wrong. They went crazy. They said it was the greatest thing Tyce had ever choreographed. They stopped one step short of praising his originality. And I started yelling unprintable things at my television.
Look: Amy and Fik-Shun are two of my favorites on the show, and their performance of the piece was great. I don't know what else to say except that I hope they're still around after next week, which it seems like they will be, so that's good. But just how short is your institutional memory, "SYTYCD?" (Also, I miss Wade.)
In the end, BluPrint and Mariah went home. That's about right, I guess. I wasn't really processing thoughts well by the time their names were announced.
How do you all feel about the elimination? And what did you think about the hobo jazz piece? Am I totally overreacting? (Probably.)
Tune in next week, same time, same place, for our recap of the Top 14's performances!
Sep. 18, 2012 11:10AM EST
Today is the day! Before long we'll crown our two (two!) "So You Think You Can Dance" champions! We'll know who'll be on our December cover! It's finally happening! I'm so excited that I overdid it a little on the caffeine this morning!
But really: This should be a fantastic finale episode, right? And DS editor in chief Alison Feller and managing editor Rachel Zar will be there in person to see how it all goes down. Follow us on Twitter to catch their tweets from L.A. tonight during the show!
In honor of the fantastic four finalists, I thought I'd round up my top four routines from this season. Then I started browsing and discovered I couldn't, just couldn't, stop at four. So, without further ado, here are my top seven routines:
-Eliana and Alex—contemporary by Stacey Tookey. I mean, when they paired these two technical powerhouses, we knew something magical was going to happen. Did we know it'd be this magical? Nuh uh. Bravo, guys.
-Eliana and Chehon—ballet by Marat Daukayev. Two very classy ballet dancers doing some very classical ballet? YES PLEASE.
-Chehon and Kathryn—contemporary by Tyce Diorio. Tyce's stuff is generally far too cheesalicious for me. But Chehon's emotional connection to this "suitcase" piece made what could have been a bit melodramatic feel honest.
-Tiffany and Brandon—disco by Doriana Sanchez. Any time there's a Doriana Sanchez disco on the lineup, you know you're in for a good time. This particular routine takes everything that's awesome about Tiffany and turns it up to top volume. And those insane PANTS! Love, love, love.
-Tiffany and George—contemporary by Sonya Tayeh. (George! I miss George.) A beautiful, heartfelt routine with a bit of Sonya quirkiness to stop it short of saccharine.
-Tiffany and Cyrus—lyrical hip hop by Tessandra Chavez. Clean, musical, hard-hitting, passionate—it's reminiscent of Chelsea and Mark's showstopping "Bleeding Love" routine from Season 4. And that is high praise right there, people.
-Cyrus's Top 4 solo. OK, yes, it's not a routine. But when it comes down to it, "SYTYCD" choreography doesn't really mesh with Cyrus' unique skills. Only when he's doing his own thing can you see just what a BEAST this boy is.
Well look at that. Going into this, I thought I was an Eliana girl all the way—and who ends up on top of my roundup? Tiffany! Just one of many signs that this contest could still go in any direction—which is just one of many reasons I can't wait for tonight. Another reason? Three words: Carly. Rae. Jepsen.
Tune in tomorrow for our recap of what promises to be an epic finale!
Sep. 06, 2012 08:30AM EST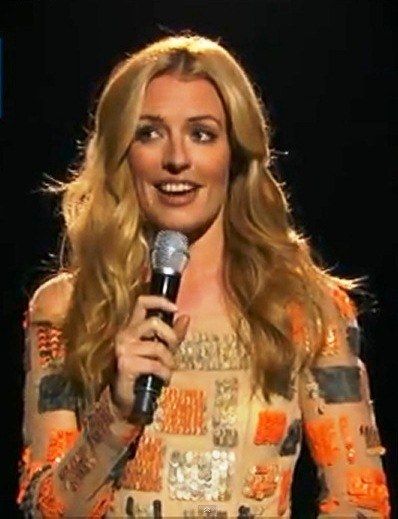 Before I get into last night's episode of "So You Think You Can Dance," can I just say that I am so excited to see Chehon, Cyrus, Eliana and Tiffany  rock it out in the finale next week? Seriously—I haven't been this psyched about a "SYTYCD" finale since Danny Tidwell melted my cold little heart in Season 3.
I'll admit that, going into yesterday's episode, I had my favorites (*cough ELIANA cough cough*). But all of the Top 6 dancers were so talented that really, this showdown could have gone in any direction. And what a showdown it was! Without further ado, here are my top five Top 6 moments:
1) Girls Partnered Boys a Lot, and It Was Awesome. Tiffany and Benji's cartwheels? Melanie lifting Cole, over and over again? This trend is great, people, and way underused. Keep it up.
2) Christina Applegate Is My Favorite Judge. Ever.  Eliana and tWitch's hip hop routine was, frankly, not that great (for the record, I don't think the "SYTYCD" format is Chris Scott's forte). Christina's response? "Eliana, would Jay-Z hire you to be next to him in the video? Maybe not. But who cares? 'Cause you could—what do they say on '[American] Idol'? You could sing the phone book? What would be the dancing equivalent of singing the phone book? You could do 'YMCA' in front of me for hours and I'd be happy." Yup. And then, after watching Witney's lyrical jazz piece with Marko: "Witney, we know you're not just a ballroom dancer. No ballroom dancer does a double attitude turn like that. You're a dancer dancer." YUP. Finally, on Cyrus and Comfort's "dubstep" routine: "That was carved out for you [Cyrus] like the David was...carved out for David. And I want to play a game where I throw pens through your ears." Me too, Christina. Me too.
3) Chehon and Kathryn's Tyce Diorio Routine Was Surprisingly Poignant. I'm not usually the biggest fan of Tyce's choreo, which tends to veer quickly and inevitably into cheesy territory. But then Chehon had a personal connection to the piece's idea of living out of a suitcase...and suddenly everyone, myself included, was crying. The work actually reminded me of Oltremare, a theatrically powerful piece about American immigrants that Mauro Bigonzetti made for New York City Ballet.
4) Everyone On "SYTYCD" Has a Beautiful Family. For real, though: Tiffany has a gorgeous sister who's basically her twin? Allison Holker brought her adorable daughter Weslie to the taping? Cole's mom is kind of a hottie? I love everything and everyone involved in this show.
5) Eliana and Cole's Mia Michaels Routine Was Amazing. In my mind, at least, the odds were against this piece. "I was inspired by rams and how they fight," explained Mia, which doesn't bode well for anything, ever. Plus, it was set to Samuel Barber's Adagio for Strings, which, generally speaking, we should probably just leave not-so-danceable masterpieces alone. But somehow Mia worked her magic, as she always does. And I cried. Again.
The So You Think You Can What? Moment of the Night: Christina Applegate and Benji Schwimmer take dance classes together? On a regular basis?! [HEAD EXPLODES]
(Runner-up SYTYCW moment: Can we re-do the intro, please? I love everyone from Season 5, but it's time to get some newer "SYTYCD" faces in there.)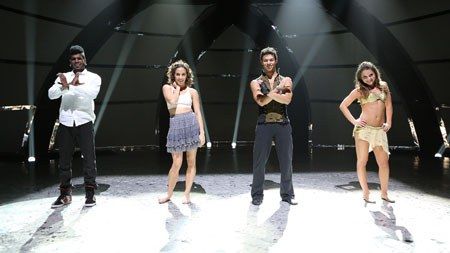 Aaanyway. In the end, though I was genuinely sad to say goodbye to Cole and (especially) Witney, I think America made the right choice. Tune in next week, same time, same place, for our recap of the big finale episode! Who do you think will win it all—and end up on the December cover of Dance Spirit?
May. 25, 2012 09:29AM EST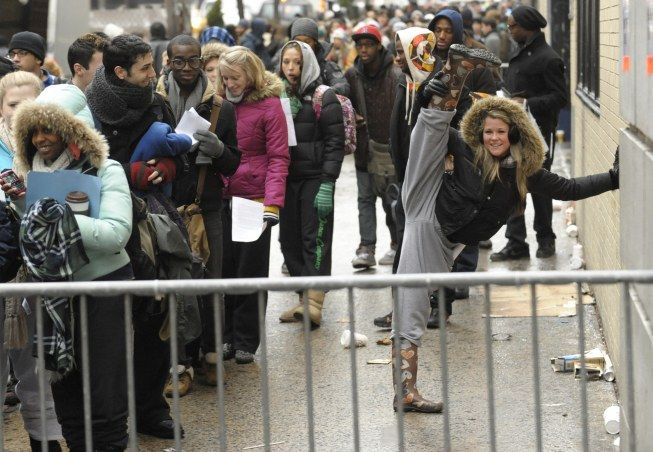 Ah, that old "So You Think You Can Dance" theme song. Whenever I hear it I'm reminded that summer is here, and with that comes everyone's favorite dance competition: Welcome, to "So You Think You Can Dance!" [Insert adorable Cat Deeley British accent here.]
Last night's two-hour Season 9 premiere kicked off with auditions in NYC (with guest judge Tyce "Keith" Diorio joining Nigel and Mary on the panel) and Dallas (well hello there, Lil' C, you crazy non-English speaking krump king).
So how did our first round of dancers fare?
Um. I'll say it was a mediocre season kickoff. I wasn't overly impressed with the talent, but there were a few highlights. Let's break it down...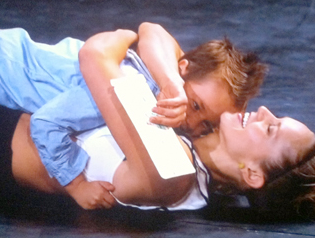 The Top 5 Moments From The "SYTYCD" Season 9 Premiere:
1. The most awwww-worthy audition came from 29-year-old Bree Hafen, the darling mother of Luke and Stella. Luke (sporting a killer mohawk) told Nigel he doesn't krump, "he shuffles." When Nigel let the two kids sit in his seat at the judges' table, I smiled. When Luke screamed, "I love you, Mommy!" as Bree began to dance, I was beaming. And then, when Nigel snuck Luke a ticket to Vegas and let him walk onstage to hand it to his mom, I totally melted. Oh, and then Stella performed. She nailed it. Brava, young Stella. Brava.
2. Cat Deeley's braids. Expect to see The Great Ms. Deeley making DS headlines weekly. We love her, and while she wasn't decked out in sequins for auditions, her behind-the-scenes braids (two different styles, one in NYC and another in Dallas) were way cute.
3. Daniel Baker, you handsome Australian devil. He tells us that he dances with San Francisco Ballet like it's no big deal. NBD. So Daniel moved to America to become a ballet dancer, and I guess he's the Alex Wong of this season: leaving a renowned ballet company to be on "SYTYCD." Daniel was the first dancer I truly enjoyed watching last night. That had nothing to do with the fact that he "lost his shirt backstage." It was just because he's talented and technical. I swear.
4. Tear-jerker Jarell Rochelle had to go and wrap the episode up with a sob story, didn't he? Normally these make me cringe, but Jarell was so genuine and so sweet, and he performed for his mom, who is semi-blind. Nigel let Mrs. Rochelle sit in his seat close to the stage so she could see her son perform, and the performance was indeed lovely.
5. Can we talk about Hampton Williams now? So he "invented a style" and it's called "Exorcist Style." Apparently while he dances, he can remove the bad from our bodies. Hampton was actually a pretty good dancer, and his feet were smooth, but what happened above the waist was downright scary. And yet, it brought Mary Murphy to tears. Did he exorcise her demons? I don't think Hampton will make it to the Top 20, because while he's good at what he does (whatever, exactly, that is), I'm not sure how "Exorcist Style" is going to translate into a Viennese Waltz, Paso Doble or jazz-hand-packed disco routine.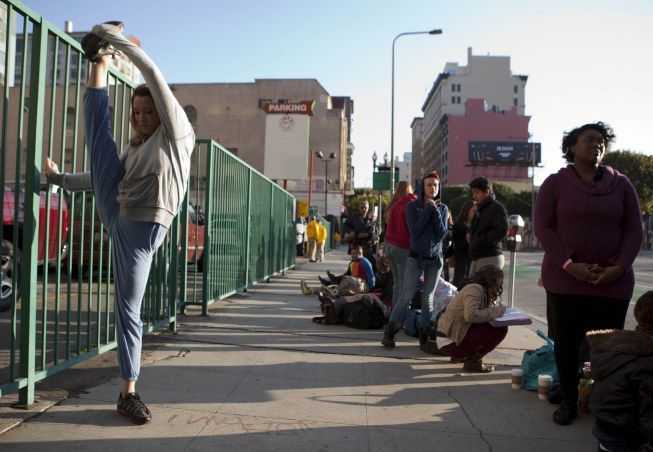 The "So You Think You Can What?!" Moment of the Night:
There were two: First, there was "The New York Legend," Austin Freeman, doing "The Wiggle." I get that on shows like "American Idol," seeing the untalented people is amusing. People try to sing, we laugh with [at] them and everyone has a good time with it. But on "SYTYCD?" The bad dancing isn't funny, it's tragic. Show me the stars!

Then there was Vaughan "Legend" Kipper, with his bad attitude and his declaration that he's "actually against auditioning for the show." Oh. OK, then. Cat Deeley saying, "I can pretty much guarantee you will be cut. Take your gerbil outfit and get out of here," was amazing.
Next week: We go to L.A. for "the most stunning auditions of the season." More importantly, Mitchell from "Modern Family" is the guest judge. It will be amazing.
Chime in: What did you think of last night's premiere? Loves? Loathes? Dancers you're dying to see in the Top 20?
Dance News
Get Dance Spirit in your inbox