Oct. 30, 2013 11:21AM EST
Air travel is an awesome thing with a lot of un-awesome aspects to it. Security lines? Baggage fees? Teeny-tiny seats? That one guy with the B.O. who always, somehow, ends up seated next to you? Ugh.
Usually, by the time you're listening to an inane in-flight safety announcement—really, who doesn't know how to use a seat belt??—you're just about ready to scream.
But for people flying Virgin America, that's all about to change. Because the airline just did an incredibly savvy thing: It turned its safety video into a sweet, sweet song-and-dance number. (A "safety dance"! Get it?)
You will not be able to stop watching this thing. Directed by Jon Chu, it features the likes of Madd Chadd, Cyrus Spencer, Chris Scott, Tyne Stecklein and Phillip Chbeeb, plus music and lyrics by former "American Idol" contestant Todrick Hall. To give you a sense of its genius, I'll just say that my personal favorite moment is the "robot dance" led by Mr. Chadd demonstrating how to use inflatable vests. (That is definitely not a sentence I ever thought I would type.)
And you know what? I'll admit it: I did learn something about airline safety while watching the video (30 times in a row). Snaps to Virgin.
Enjoy!
Commercial
Jun. 23, 2011 11:44AM EST
Dying to dance with Beyoncé, Katy Perry, Usher, Lady Gaga or almost any other big name? Be prepared to strap on some sky-high heels and still kill the choreography, which could include anything from pirouettes and jumps to intricate hip-hop moves. But you don't want an audition to be your first time dancing full-out in stilettos—you probably won't book the job. Even worse, you could get seriously injured. Follow these tips from three veterans to get the scoop on how to dance in heels.
Tyne Stecklein
Heel cred: Tyne is a regular on the commercial scene. She was a featured dancer in Burlesque and one of three female dancers cast for Michael Jackson's This Is It tour.
Expert advice:
"Ask your jazz teacher if you can take class wearing heels. Begin with a character or ballroom shoe with straps—they're super-supportive. Once you feel comfortable, move to a boot or stiletto. Try as many genres as you can while wearing them."

"When dancing in heels, practice working in plié and sitting into your hips in order to stay grounded."

"Freestyle in front of a mirror to figure out what looks good on your body. The moves that look great in sneakers are completely different than those that look great in heels."
Tyne's ideal heel: "I always go for comfort and safety over cuteness. Boots are more supportive because they embrace your entire foot."
Dana Foglia
Heel cred: Dana has performed and toured with Janet Jackson, Rihanna and Beyoncé (she was Beyoncé's assistant choreographer during the I Am... tour). Dana currently teaches a stiletto heels class at Broadway Dance Center in NYC.
Expert advice:
"Stay in class. Some of the strongest dancers in heels are those who have been classically trained and have a strong foundation in ballet and modern. They know their bodies and can create beautiful lines with their legs and feet."

"Do lots of relevés—you need strong ankles to support your movement."

"Wear heels in 'real' life. I run around NYC in them! It helps you figure out how to walk in them and where to place your weight for stability."
Dana's ideal heel: "I prefer a simple, three- or four-inch black or nude pump without straps, which can interrupt the line. Just keep it simple."
Kamilah Barrett
Heel cred: Kamilah has danced with Prince, Missy Elliot and 50 Cent, and was a finalist on "So You Think You Can Dance" Season 1. Now she teaches Heel Hop, a course she designed to prepare you to dance in heels.
Expert advice:
"Strengthen your glutes and abs to hold a neutral spine."

"Learn the choreography in music videos, then put on a pair of heels and try it. You'll be able to feel where your body is weak—target and strengthen those areas."

"Be confident. Dancing in heels not only makes you sexier and more fashionable, it helps to lengthen your lines."
Kamilah's ideal heel: "I prefer a thin, three-inch heel, with a round toe and straps around the ankle and across the toe. When I pick up my foot, the whole shoe should come with me."
Did You Know? Common heels-related injuries include ankle sprains, tendinitis, knee injuries and lower back pain. Make sure to consult a doctor before slipping on a pair.
Quick Tip: Heels can be tough on your feet. To reduce swelling and ease pain, soak your feet in ice water for 15 to 20 minutes after dancing.
Oct. 15, 2010 09:14AM EST
There's a group of blonde bombshells headed to a cinema near you this month. Burlesque, which follows a small-town girl finding her niche at a burlesque club in L.A., features a cast of gorgeous women—including Christina Aguilera, Julianne Hough and Kristen Bell—getting their grooves
on. But Tyne Stecklein, the head-turner who plays Jesse, will get you to tear your eyes away from those superstars.
Tyne's no stranger to being a part of a stellar cast. This commercial dancer has shared the screen and stage with the likes of Zac Efron, in High School Musical 2 and 17 Again; Bebe Neuwirth, in Fame; Will Ferrell, in Step Brothers; and the King of Pop himself, as a dancer booked on Michael Jackson's This Is It tour. The former comp kid was also a member of Justin Giles' contemporary company, Soul Escape. Check out Burlesque in theaters November 24 and read on for The Dirt!
One thing you can't live without: Performing!...and coffee in the morning
Who would play you in a movie? Rachel McAdams
Most-played song on your iPod: "Fast Cars and Freedom" by Rascal Flatts
Must-see T.V. show: My favorite TV show has always been "Friends." I still watch the reruns. Now I like "Modern Family" and I love that "Glee uses so many dancers.
What's your biggest guilty pleasure? Ice cream and chocolate :)
One thing most people don't know about you: I watch football every Sunday but don't understand the game, even though my dad was a coach.
Photo of Tyne Stecklein in Burlesque by Stephen Vaughan.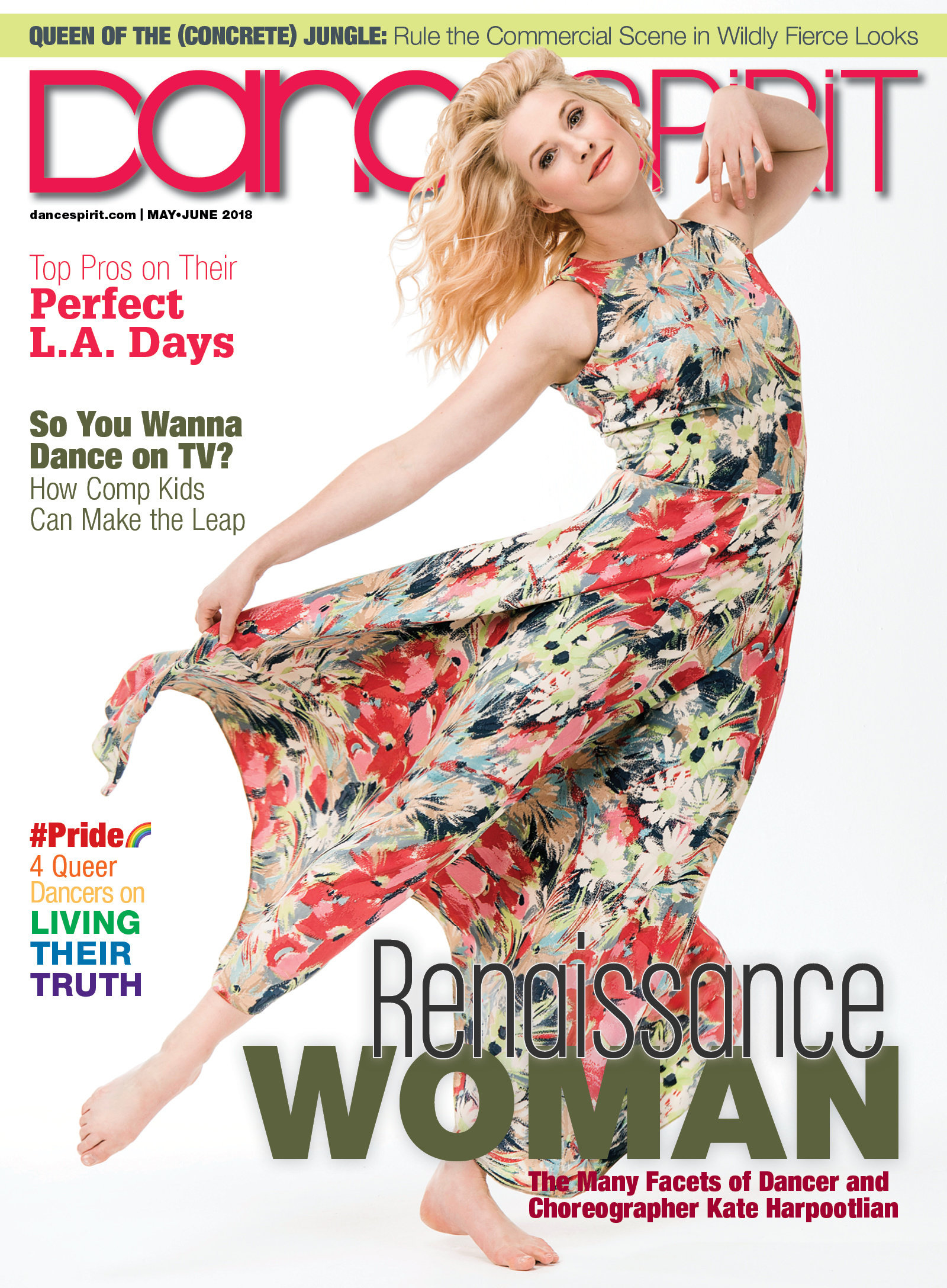 Get Dance Spirit in your inbox