Via @camilleabrown on Instagram
Set on a vibrant island recovering after a massive storm, Once On This Island follows the story of a young peasant girl, Ti Moune, who falls in love with a wealthy boy. Their divided worlds tear them apart, and Ti Moune sets out on a journey, guided by the island gods, to reunite with her love. The production originally opened on Broadway in 1990 and scored eight Tony nominations. This month, the show returns to the Great White Way—with new choreography by Camille A. Brown, the founder and artistic director of Camille A. Brown & Dancers and a four-time Princess Grace Award winner. Dance Spirit caught up with Brown to see what the process has been like.
Keep reading...
Show less
Project Resilience ambassador Alison Stroming (Dave Brewer, courtesy Stroming)
Artist and philanthropist Everett Dyson had always loved theater. But the rise of American Ballet Theatre principal Misty Copeland put ballet on his radar, too. Realizing that many young dancers have, like Copeland, lived through difficult circumstances, he recently founded Project Resilience, a scholarship for students who've received minimal support in their ballet training. Each year, one dancer will receive a scholarship to help pay for his or her summer intensive at American Ballet Theatre, Dance Theatre of Harlem or Houston Ballet.

Dyson's goal is to eventually support one dancer's intensive tuition at each program, or even multiple dancers per school. With big stars behind the project (yep, Misty's an ambassador, as is another iconic black ballerina, Lauren Anderson), Project Resilience will hopefully continue to grow.
Dance Theatre of Harlem dancer Alison Stroming feels honored to be one of Project Resilience's ambassadors. "I want every young dancer to have the chance to follow their dreams," she says. "I knew Project Resilience was something I could relate to." —Nicole Loeffler-Gladstone
Want to support Project Resilience? Buy one of Covet Dance's cute "Ballerinas Do It Better" tops, created exclusively for the project. One hundred percent of the profits will go toward scholarships. Find them at projectresilience.us
Nov. 12, 2015 01:10PM EST
The Starz TV series "Flesh and Bone," a fictional show about the dark side of pro ballet, is gritty, dramatic and—YAY!—full of real dancers. Sarah Hay, a Dresden Semperoper Ballett second soloist, plays Claire, a newbie in the American Ballet Company trying to find her way. Former American Ballet Theatre principal Irina Dvorovenko and former ABT soloist Sascha Radetsky play senior company members. Look closely and you'll even see a few Alex Wong cameos.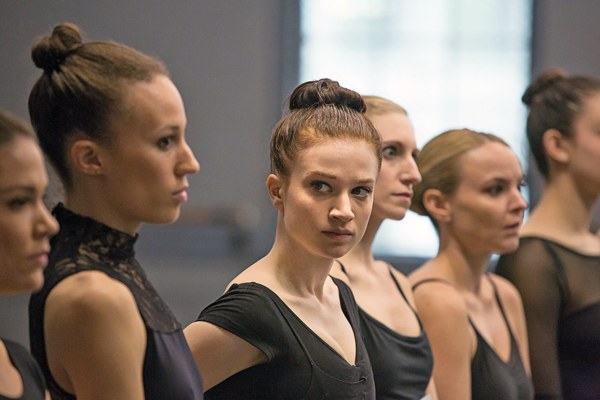 Sarah Hay in "Flesh and Bone" (photo by Patrick Harbon, courtesy Starz Entertainment)
But warning: "Flesh and Bone" is not for the faint of heart. Its very adult themes mean you should probably ask your parents before watching an episode. And for the dancers in the show, many of the scenes were also pretty intense to create. Luckily, though, the filming process wasn't always grim. Dance Spirit spoke with a few "Flesh and Bone" dancers to find out what things were really like on set.
"In order to deal with the show's dark content, I'd write a 'song of the day' each day using insider jokes or elements from the episode we were filming. I have almost an entire album of hits, including 'Cotton Ball Doggy,' 'Dressing Room Friday Nights' and 'Unicorn Pajamas.' They'd get stuck in everyone's heads—for better or worse!" —former Boston Ballet apprentice and Broadway dancer Emily Tyra, who plays Mia
"One afternoon, while we were shooting a company rehearsal,
Bryan Cranston, from 'Breaking Bad,' stopped by the set. He was completely charming and expressed a real interest in ballet and an admiration for dancers. At one point, as if he'd been practicing his entire life, he slid into an impeccable fifth position." —former ABT soloist Sascha Radetsky, who plays Ross
"Physically, it was exhausting. Some days were close to 13 hours long. We all took class in the morning and then filmed our dance scenes, which were followed by the pure acting scenes at the end of the day. It was crazy to have to land an assemblé on a perfect mark and deliver lines. There were no stand-ins!" —freelance dancer Karell Williams, who plays Trey
Oct. 15, 2015 07:35AM EST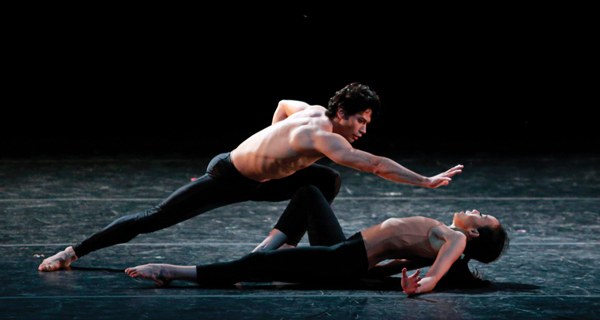 Herman Cornejo and Fang-Yi Sheu (photo by Erin Baiano, courtesy New York City Center)
Limón Lovin'
This year marks the Limón Dance Company's 70th anniversary season, and what better way to celebrate the iconic modern choreographer than with a big party? October 13–25, dance companies from around the globe—including The Royal Danish Ballet and the Bavarian State Ballet—will perform some of Limón's seminal work at The Joyce Theater. Nine student-dance companies will also take the festival stage, including dancers from Southern Methodist University, who'll perform Limón's There Is a Time. "It really speaks to the importance of the work when it's experienced on this level, with so many professional companies," says Patty Harrington Delaney, SMU's chair of dance. Will students get to mingle with company members? Longtime Limón Dance Company dancer Ryoko Kudo is hopeful for those kinds of interactions: "It would be wonderful if this opened more doors to collaboration and if we could continue to work together," she says.
Get more info: joyce.org
Choreography Gone Couture
New York City Ballet's 2015 fall season (September 22–October 18) features world premieres by choreographers Robert Binet, Kim Brandstrup, Justin Peck (his ninth for the company!), Troy Schumacher and Myles Thatcher. And for the fourth year in a row, NYCB's fall season is celebrating the dance–fashion connection. Six internationally acclaimed designers—including Zuhair Murad and, for Oscar de la Renta, Peter Copping—will create couture costumes, to be unveiled at the NYCB gala on September 30 at Lincoln Center.
Get more info: nycballet.com
Six Tappers at Sea...on Broadway
If you've never heard of the musical Dames at Sea, you're not alone. Those who have only know it as the off-Broadway show that put Bernadette Peters on the map in 1968. But this month, Dames at Sea finally gets its Broadway debut, with Randy Skinner at the helm as both director and choreographer.
Dames at Sea follows a day in the life of a girl from Utah who arrives in NYC with big Broadway dreams. Sound familiar? "The show pays homage to three old movie-musicals, including 42nd Street," Skinner explains. (He earned a Tony nomination for choreographing 42nd Street's 2001 Broadway revival.) Like 42nd Street, Dames at Sea is loaded with dance numbers, but it's surprisingly low on cast members. "There are only six performers," Skinner says. "We expanded a lot of the musical arrangements to add more dancing, so I had to find performers who could sing, act and really dance. They go from tap to ballroom to jazz. And there's no chorus to back them up!"
Get more info: damesatseabroadway.com
A NYC Tradition
Now in its 12th year, New York City Center's Fall for Dance Festival kicks off September 30. Twenty companies (and many freelance artists) will be featured in five carefully curated programs—and each ticket costs just $15. Highlights include a brand-new work by Michelle Dorrance and the NYC premiere of former Martha Graham Dance Company principal Fang-Yi Sheu's piece for herself and American Ballet Theatre principal Herman Cornejo.
Get more info: nycitycenter.org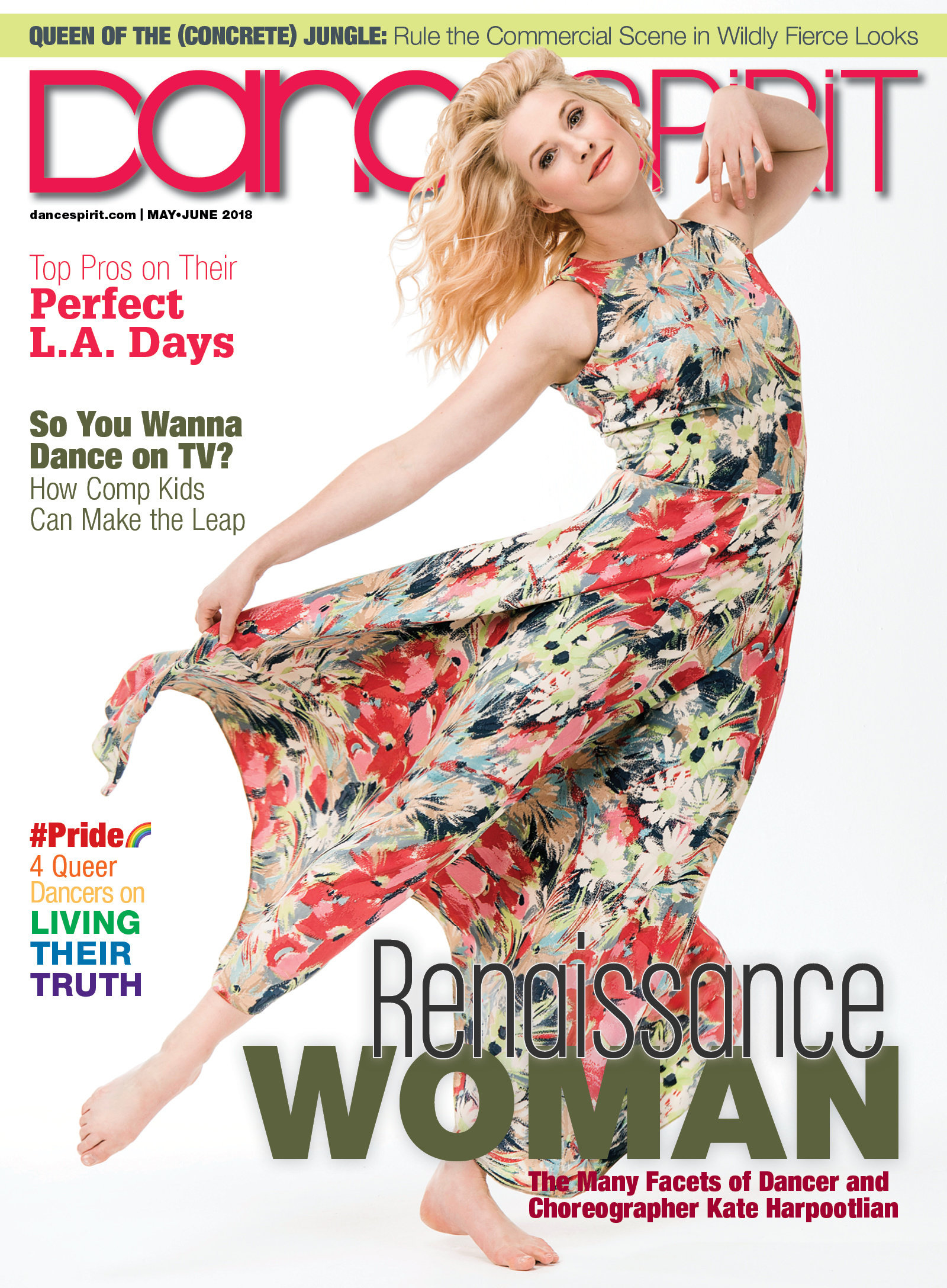 Get Dance Spirit in your inbox