Mar. 23, 2017 06:59AM EST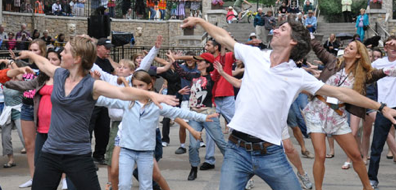 Dancers (including director Damian Woetzel, right) rocking out at the Vail International Dance Festival. Photo by Caitie Kakigi.
National Dance Day is this Saturday, July 27—and the town of Vail, Colorado, home of the awesome Vail International Dance Festival, is celebrating in style with a three-hour dance-a-thon fundraiser. (It'll benefit four dance-y organizations, including the Festival.)
While anyone and everyone is invited to participate, the event boasts some serious dancelebrities, too. There'll be performances by Vail IDF artists Tiler Peck, Robert Fairchild and Lil Buck, and internet sensation Matt Harding (from the great/hilarious "Where the Hell is Matt?" series) will be filming for his next video during the event. Not sure your moves are up to par? Lessons in everything from hip hop to line dancing will also be given throughout the day.
The dance-a-thon will run from 4-7 pm at the Solaris Plaza in Vail Village. But non-Coloradans can get in on the National Dance Day fun, too! Click here to learn the official NDD routines, and visit the NDD Facebook page to find dance-y events happening near you.
Every year, Vail International Dance Festival in Vail, Colorado plays host to some of our all-time favorite dancers and choreographers. The rep is always incredible, as is the location—the picturesque mountains, flowers and fields of Vail are a stunning backdrop for this event. This year was no exception, with plenty of new premieres (seven, to be exact) and lots of familiar faces. We've rounded up the best Instagram videos from the festival, so if you didn't make it out to Colorado, you can still witness the #awesomeness of these dancers.
Tiler Peck and James Whiteside in Duo Concertant
Isabella Boylston and Joseph Gordon in Balanchine's Tschaikovsky Pas De Deux
BalletX, Isabella Boylston and Zachary Catazaro killing it in Show Me, a new work by Matthew Neenan
Joseph Gordon's casual skills #whatever
More behind the scenes of Show Me
Silas Riener and Rashaun Mitchell rehearse for a stunning new premiere
(Videos via Vail International Dance Festival's Instagram and Nel Shelby's Instagram)
Aug. 06, 2013 10:56AM EST
You guys already know how much we love Lil Buck. (Our friends at Dance Magazine love him so much they put him on their August cover.) And one of the reasons the jookin' sensation is so awesome is that his super-smooth, super-musical style incorporates an incredible be-sneakered version of pointework. Nobody can match Lil Buck's moves.
Nobody, that is...except New York City Ballet principal Tiler Peck? In actual pointe shoes?
Yup. Last weekend at the Vail International Dance Festival, Peck and Lil Buck danced a duet that had the ballerina riffing on the jookin' star's style—and pretty much pulling it off. The result is crazy and silly and totally joyful. Team Puck FTW!
Here's some adorable (and impressive) footage from a rehearsal for the piece...
And here are clips of the finished product—coupled with, as a little bonus, video of Peck fouettéing her way through the Corsaire pas de deux with ballet bad boy Sergei Polunin. Enjoy!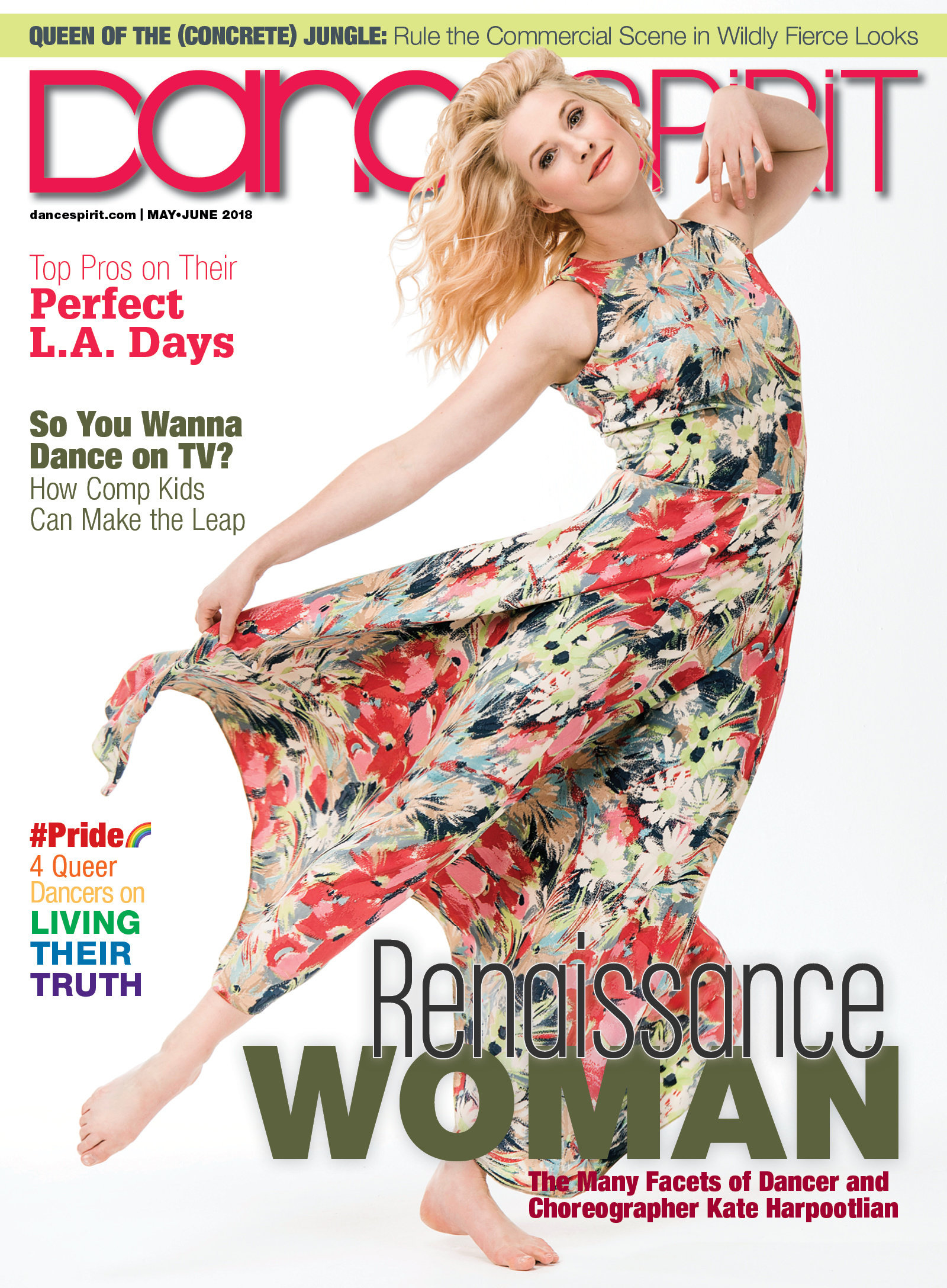 Get Dance Spirit in your inbox