Sep. 14, 2018 02:23PM EST
Via Instagram
There's nothing we love more than a dance power couple, and ballroom stars Jenna Johnson and Val Chmerkovskiy are just that. Honestly, we stan the recently-engaged duo so hard! Here are 10 times they made our hearts burst.
Dancer to Dancer
Aug. 07, 2018 09:32AM EST
The Top 10 in Travis Wall's opening number (Adam Rose/FOX)
Last night marked—finally!—the first live show of Season 15. We made it! And so did the Top 10. Now, it's up to the viewers (that's you!) to determine which contestants end up in the Top 4 and, eventually, which one will snag the sweet prizes up for grabs: $1 million, the cover of Dance Spirit (that's us!), and a role in FOX's live production of RENT, which will air January 27. Also awesome: tWitch is officially on the judging panel for the long haul, alongside Nigel, Mary, and Vanessa. Dreams do come true!
So how'd the two-hour event play out? Each contestant couple performed twice: once in the girl's style and once in the guy's. Here's what went down.
Dance News
Jul. 30, 2018 11:09AM EST
Click through for the big reveal! (original image: ABC)
Need yet another reason to be ridiculously excited about "Dancing with the Stars: Juniors"? The latest iteration of the ballroom series, which features celeb kids performing with junior pros, will debut October 7th on ABC. And if you weren't already planning on tuning in (ha. ha.), this morning's news might change your mind: We just found out which industry stars will be judging the series, and they are literally three of our favorite people in the dance universe.
Dance News
Mar. 18, 2018 07:00AM EST
(From left) Val Chmerkovskiy, Peta Murgatroyd, and Maksim Chmerkovskiy (Jerry Metellus, courtesy Nicola Phillips)
Dance News
Sep. 11, 2017 10:19AM EST
JT Church and Robert Roldan in Travis Wall's "The Mirror" on "So You Think You Can Dance" (Michael Becker/FOX)
Dance News
Aug. 24, 2017 11:00AM EST
May. 16, 2017 10:57AM EST
Even the judges couldn't believe it. (ABC)
SPOILER SPOILER SPOILER right up front, guys, because we can't not talk about what happened at the end of last night's "Dancing with the Stars" episode:
Dance News
May. 02, 2017 12:22PM EST
Any time Mandy Moore does anything, anywhere, it's bound to be amazing. (I mean, La La Land? "SYTYCD"? You get the picture.) So as very active members of the Mandy Moore fan club, we were beyond excited that she was a guest judge on "Dancing with the Stars" last night—and on "Movie Night," no less. But we digress. There's a lot of dancing to cover (and two eliminations!), so let's get into it.
Dance News
Mar. 23, 2017 06:27AM EST
Today's guest post comes from Francesca Harvey, a student who came to NYC recently with Live! Starring...You!—a pop-culture media organization that trains teen reporters to cover people in the spotlight—for National Entrepreneurship Week.
Tony Dovolani and brothers Maksim and Val Chmerkovskiy have been famous in the ballroom world for a long time. It's only in recent years that the trio—and several other ballroom champions—have become Hollywood celebrities.
That's what appearing on "Dancing with the Stars" will do for you.
For Tony, Maks and Val, their "DWTS" fame has also drawn attention to their business. With three other business partners, they own four Dance With Me studios: one in Manhattan's SoHo neighborhood, and others in Long Island, New Jersey and Connecticut.
Now, they want to expand the studio across the country.
After all, there seems to be a need.
"One of the things we run into as we travel across the country is everybody is asking us for lessons," Tony told me during a recent interview at the SoHo studio.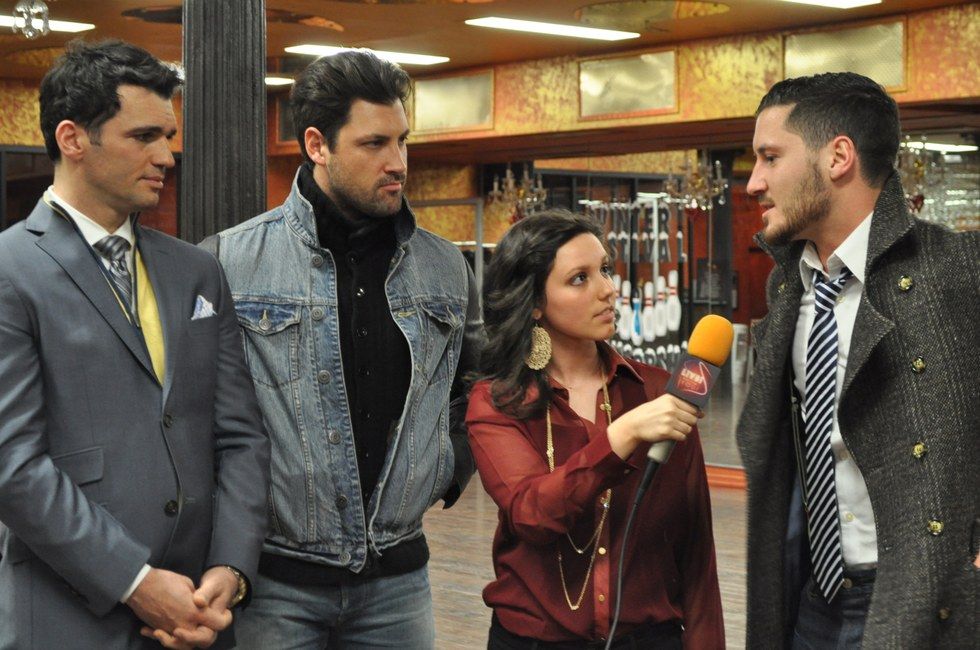 Francesca with Tony, Maks and Val. Not a bad place to be! (Photo by Tim O'Shei)
The guys have developed a teaching system that blends their individual approaches and styles. They instruct their own teachers in that system so all their students are learning the same way.
"Now, all of our teachers believe in the same system," Tony said. "They're taught by us. If you walk into our studio, you're getting a combination of Tony, Maks and Val."
Our interview also included a dance lesson with Val! We thought it was pretty cool that we got to dance with him one week before he was paired with "Shake It Up" star Zendaya Coleman for the next season of "DWTS." (Tony is paired with Wynonna Judd, while Maks isn't participating in the next season.)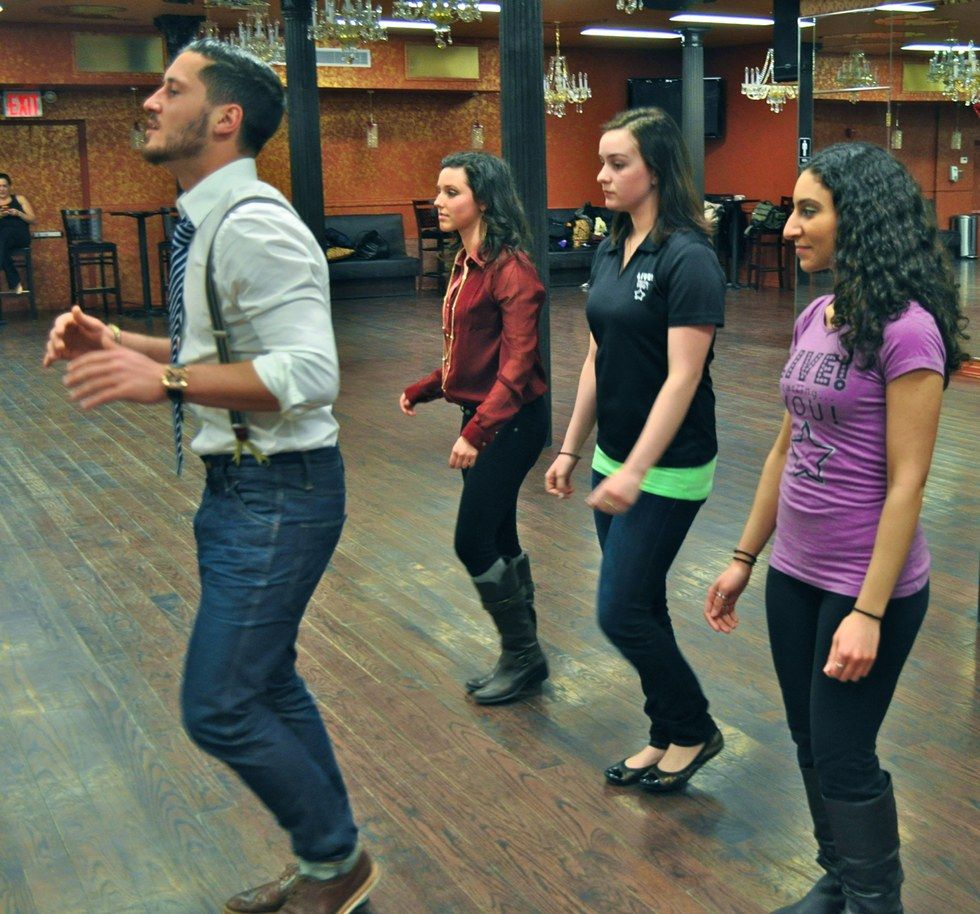 Learning how to groove with Val! (Photo by Tim O'Shei)
If you want to find out how we fared, click here to read our story and watch the video on the Live! Starring … You! site.
But ask Tony, and he'll tell you they can turn anyone into a dancer!
"We've developed a system where there's not one person we can't teach," he said. "If you can walk, we can teach you how to dance."
Francesca Harvey is the student editor of LiveStarringYou.com and a junior at Mount St. Mary Academy in Buffalo, NY.
Dance News
Oct. 25, 2016 11:58AM EST
If it wasn't already clear that a decades theme is never wrong, this week's "Dancing with the Stars" episode officially proved it. Eras Night was just so fun to watch (the costumes! the stories! the group dances!). The couples performed pieces based on various time periods—from the Roaring Twenties alllll the way to the 90s—and it was everything you'd hope a time-traveling "DWTS" ep would be. Let's take a look at the historical highlights:
Our fave of the night was the adorable and bubbly 1940s jitterbug from James Hinchcliffe and Sharna Burgess. Hinchcliffe has had a tendency to be a tad flat acting-wise throughout the season, but last night he wowed the crowd (and the judges) with his believable commitment to the dance's love story. (Those insane somersault lifts he pulled off didn't hurt either.) Also, major props to Burgess for pushing through an injury.
Next on our best-of-the-night list is Calvin Johnson Jr. and Lindsay Arnold's '50s-inspired jive. Long story short: When Len Goodman calls your dance a "polished, high-octane performance," you know you've done something right.
Our eternal faves Laurie Hernandez and Val Chmerkovskiy grooved their way to prom with a '60s-style quickstep, which was adorable, technically on point and super high-energy. Hernandez also sweetly admitted that this was her first prom because she's been home schooled. Aww.
Then there were those insanely awesome group dances. The dancers were split into Team Past and Team Future—and Team Past (Maureen McCormick, Artem Chigvintsev, Hinchcliffe, Burgess, Johnson, Arnold, Ryan Lochte and Cheryl Burke) ultimately stole the night with their haunting, soft and graceful Viennese waltz to the "Outlander" theme song.
Alas, someone had to be sent packing—and last night that was Maureen McCormick and Artem Chigvintsev. What do you think? Did the right pair go home? Let us know!
Dance News
Get Dance Spirit in your inbox
Oct. 13, 2015 10:45AM EST
Last night's "Dancing with the Stars" had all the ingredients that make this show so delicious: Minor drama! Major sparkles! Inter-partner flirting that may or may not have been real! (Work that romance angle, Alek Skarlatos and Emma Slater.)
Yes, it was switch-up night on "DWTS," and as usual, the partner swapping generated a flurry of worries about chemistry and familiarity. But before we saw how each new star-pro pairing played out, we were treated to a delightful little opening number that made clever use of some aggressively glittery doors on wheels. The newly engaged (!) Witney Carson and newly preggers (!!) Allison Holker looked especially fabulous:
As it turned out, neither Mr. nor Mrs. PenaVega had any need to fret about their swaperoos. In fact, Alexa's post-apocalyptic tango with golden boy Derek Hough earned the first perfect score of the season. The end of the world looks good on these two:
Not far behind was Alexa's hubby Carlos, who teamed up with the fantastically fringed Lindsay Arnold for a sweetly retro quickstep that earned them a solid 39 points. Rock those saddle shoes, Carlos!
And no "DWTS" recap would be complete without an update on America's (not to mention Australia's) sweetheart, the too-cute-for-words Bindi Irwin. Her sunny cha cha with Val Chmerkovskiy may have lacked a little polish, but it had us grinning like fools—and landed Bindi in third place for the evening.
What did y'all think? Were you 100% obsessed with Hough's amazing French man-braid? Do you wish you'd seen 100% less of Paula Deen's booty? Let us know in the comments—and tune in next Monday night for the elimination that's been two weeks in the making.
Dance News
Aug. 22, 2015 11:00AM EST
Pretty much the entire universe can agree that Mondays are #theworst. But Mondays starting September 14th? Nope, Mondays are gonna be the best. Why? Season 21 (!!!) of Dancing with the Stars! And to get you even more pumped than you already are, the list of returning "DWTS" pros was just announced—it's as good as it gets, people.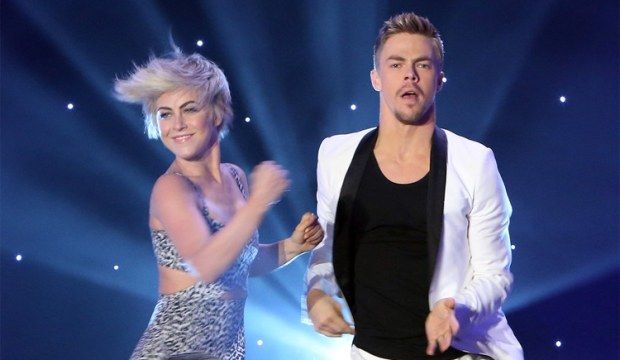 Derek's baaaaack (screenshot via EllenTV)
First of all, we've got Derek Hough, Karina Smirnoff, Witney Carson and Mark Ballas, all of whom have previously won the coveted Mirror Ball. Already, the stakes are HIGH. Throw defending champ Val Chmerkovskiy into the mix and things get even more interesting. To round out the insanely talented field, we've got Allison Holker, Sharna Burgess, Peta Murgatroyd and Artem Chigvinstsev. Omg.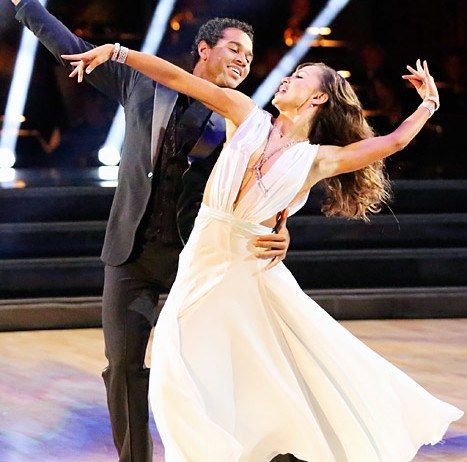 Dancing with the Stars pro Karina Smirnoff, with her Season 17 partner, Corbin Bleu, shows us how it's done (Photo ABC/Adam Taylor)
We'll anxiously be awaiting the announcement of the celebrity cast on September 2nd, but in the meantime, relive some of the more jaw-dropping moments of last season here.
Dance News