Frankie Muniz and Witney Carson perform a salsa routine on "Dancing with the Stars" (via @dancingABC on Twitter)
We're coming down to the wire on "Dancing with the Stars," and it's getting harder and harder to decide which of the remaining couples should hang up their dancing shoes. This week, the contestants were put to the test with two routines: one required the pros to choreograph a dance to a song that they felt best represented their partner; the other required them to redo an old "DWTS" routine that'd received a perfect score (talk about setting the bar high). The five celeb semifinalists didn't disappoint–but some had a better night than others.
Keep reading...
Show less
Lindsay Arnold and Jordan Fisher on the "DWTS" Halloween episode (photo via Twitter)
"Dancing with the Stars" was basically designed for Halloween episodes, what with its emphasis on stage fog and amazing-bordering-on-insane costumes. But while we were expecting lots of delectable treats from last night's Halloween spooktacular—including the first round of team dances, always a good time—we weren't expecting the ep's final trick: a double elimination that actually managed to shock the heck out of us. [Cue evil laugh from the "DWTS" producers.]
Keep reading...
Show less
Popular
Sep. 26, 2017 12:00PM EST
Witney Carson and Frankie Muniz competing their tango (via YouTube)
"Dancing With the Stars" doesn't mess around—we're only two weeks in and the eliminations have already begun. Not to mention, it seems like everyone is injured. But the show must go on, as it did last night. After all, there's a Mirrorball at stake! From the rhinestones, to the spray tans, to the first elimination (gasp), here's what went down last night.
Keep reading...
Show less
There's a whole lot to love about "Dancing with the Stars": celebrities, glittery costumes, live music, zany judges...we could go on. But one of the most lovable aspects of the show is getting to witness the journey of each (previously) non-dancing celeb. It's easy to get sentimental about the idea that anyone can dance.
Three "DWTS" pros--Tony Dovolani and brothers Maksim and Valentin Chmerkovskiy --are committed to spreading that philosophy beyond the show's set through their chain of Dance With Me studios. Last spring, we caught up with these ballroom boys in their SoHo studio, where they told us about their unique system of instruction that blends each of their individual styles.
And now the trio is celebrating the opening of their sixth Dance With Me studio, in Fort Lee, NJ.
"I am ecstatic to open our sixth studio...this one in my own backyard. I literally live down the street. I can't wait to give my neighbors and friends a chance to experience what we're so passionate about," says Maksim Chmerkovskiy.
The three joined Mayor Mark Sokolich and other dance enthusiasts in a ribbon cutting ceremony last Wednesday. Check out these pictures from the event, courtesy of The Star-Ledger: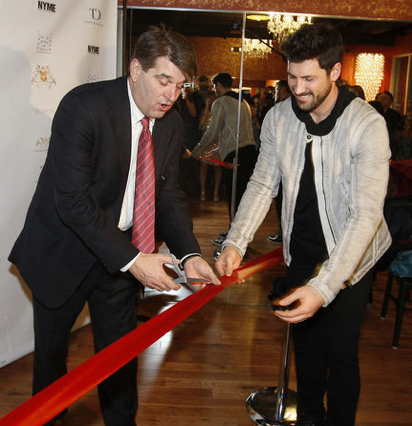 Mayor Mark Sokolich and Maksim Chermkovskiy cut the ceremonial ribbon. (Alex Remnick/The Star-Ledger)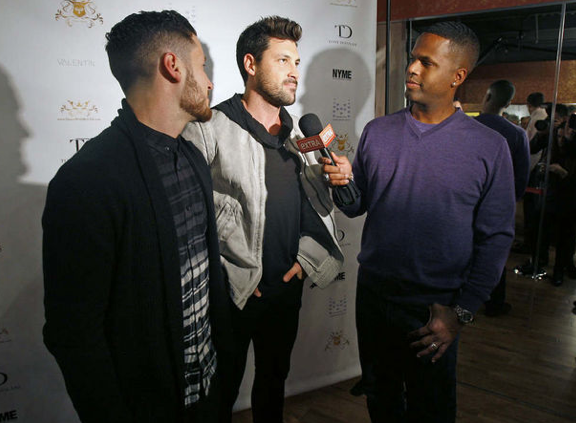 A reporter speaks with Maksim (right) and Valentin (left) Chmerkovskiy. (Alex Remnick/The Star-Ledger)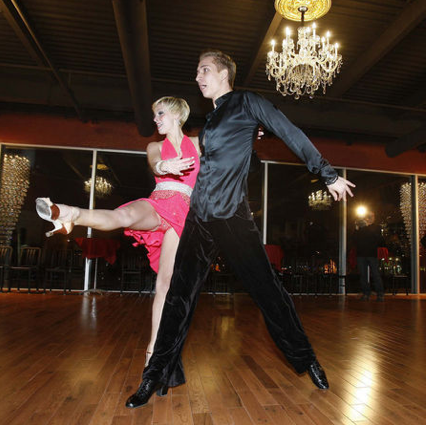 Of course, it wouldn't be a dance celebration without a little dancing! Guests were entertained by dance instructors Vladimir and Amanda. (Alex Remnick/The Star-Ledger)
Aug. 14, 2012 12:28PM EST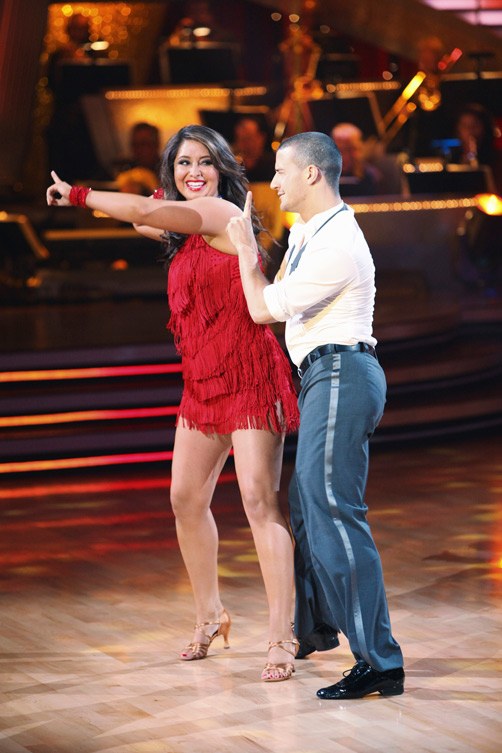 A few weeks ago, we told you about the All Star cast for Season 15 of "Dancing with the Stars." Well, there's more news from the Land of the Mirrorball Trophy: The star/pro pairings have been announced!
And the list has raised a few eyebrows. Interestingly, five of the 12 All Star contestants are going to take the floor with their original partners. Does that give them a bit of an edge over their freshly-paired competitors? What do you think?
Here's the full list:
Kelly Monaco and Valentin Chmerkovskiy

Emmitt Smith and Cheryl Burke

Joey Fatone and Kym Johnson
Kirstie Alley and Maksim Chmerkovskiy

Bristol Palin and Mark Ballas

Pamela Anderson and Tristan McManus

Apolo Anton Ohno and Karina Smirnoff

Gilles Marini and Peta Murgatroyd

Drew Lachey and Anna Trebunskaya

Helio Castroneves and Chelsie Hightower

Melissa Rycroft and Tony Dovolani

Shawn Johnson and Derek Hough
(As we mentioned in our last "DWTS" post, the 13th cast member—either Carson Kressley, Sabrina Bryan or Kyle Massey—is being chosen in an online vote, which ends August 24.)
See how this all plays out when "DWTS" premieres on Monday, September 24!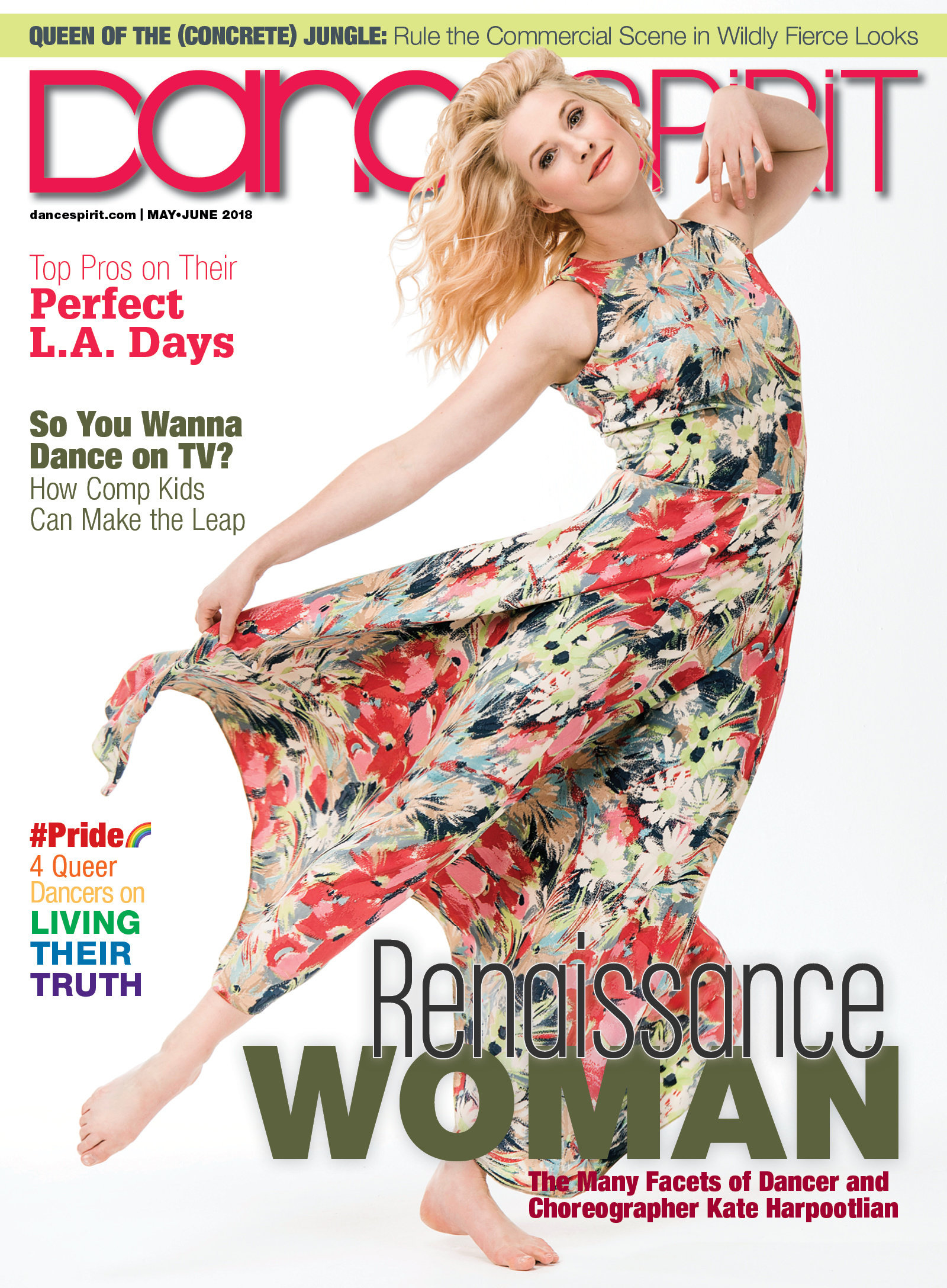 Get Dance Spirit in your inbox