Feb. 07, 2013 11:26AM EST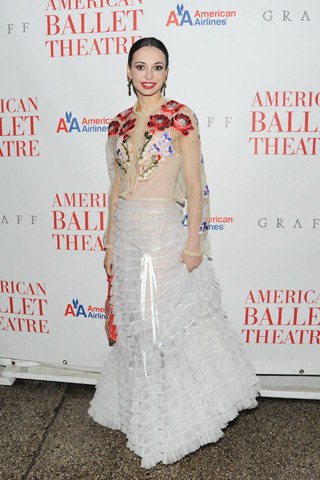 So, remember when New York City Ballet honored designer Valentino at a big gala that was attended by a gazillion movie stars, and it was awesome?
Well, American Ballet Theatre just announced the details of its Metropolitan Opera House gala this May, and it sounds like it's going to be equally glittery. Yay!
Providing the high-fashion connection is Christian Dior Couture, which is sponsoring ABT's gala. No word yet on whether or not that'll involve designing costumes for the ballets performed, but hey, at the least our favorite ballerinas will probably be decked out in some gorgeous Dior gowns at the dinner afterwards.
And what high-wattage stars will be attending? Honorary chairs Caroline Kennedy and Blaine Trump, for starters. But take a look at this honorary committee list: Kim Cattrall, Jennifer Love Hewitt, Stacy Keibler, Lea Michele, Kelly Rutherford, Zoë Saldaña, Ashlee Simpson, Aaron Sorkin, Stephanie Szostak and Uma Thurman. Straight A-list.
Finally, of course, there are the stars us nerds care about most: the company's principal dancers! And the gala cast list is enough to make your knees weak: Roberto Bolle, Herman Cornejo, Irina Dvorovenko, Marcelo Gomes, David Hallberg, Paloma Herrera, Julie Kent, Gillian Murphy, Natalia Osipova, Veronika Part, Xiomara Reyes, Polina Semionova, Hee Seo, Daniil Simkin, Cory Stearns, Ivan Vasiliev and Diana Vishneva. We haven't heard what they'll be dancing yet, but frankly even if they all just came out and stood next to each other onstage we'd be happy.
See you on the red carpet on May 13! Or, uh, no, we probably won't be walking the red carpet. But we'll definitely be stalking it. Close enough!
Jan. 02, 2013 12:35PM EST
I think the ballet world and the fashion world have a little mutual infatuation thing going on.
Haute couture designers just love to make costumes for ballets. From Valentino to Christian Lacroix to Stella McCartney—the kings and queens of the runway just can't stay away from ballet's best and brightest. But the equation goes the other way, too: Ballet dancers tend to have an amazing sense of personal style, putting together all kinds of creative looks. (It probably doesn't hurt that many of them look like runway models!)
Awesome San Francisco Ballet principal Maria Kochetkova is definitely one of the leaders of ballet's fashion pack. Over the holidays, Refinery 29 photographed the ballerina in some of her signature looks—and got her to spill the secrets of her quirky style. (The best part of the interview? When she reveals that Flavor Flav is one of her fashion icons. For real. Also, she got designer David David to make her a custom dragon T-shirt. She is amazing.)
Check out her looks below!
(All photos by Anna-Alexia Basile)
[portfolio_slideshow nowrap=0 thumbs=true timeout=4000 showtitles=true showcaps=true showdesc=true]
Sep. 21, 2012 11:04AM EST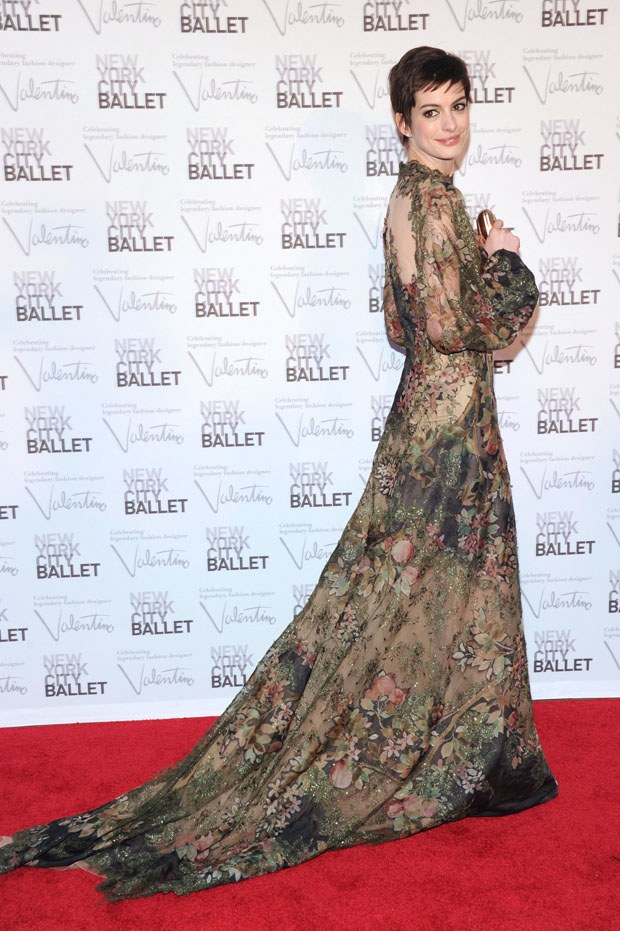 I think I'm still recovering from the glamor overload that was the New York City Ballet gala last night. Since I go to the ballet frequently (rough job, right?), most of the time, arriving at Lincoln Center for an NYCB performance feels like coming home. But last night? It was like landing on some beautiful alien fashion planet.
The gala paid tribute to legendary designer Valentino, who costumed four of the five ballets on the program. (More on that later.) While NYCB galas generally tend to be star-studded events—Sarah Jessica Parker is on the board, after all—nobody brings out the celebs quite like Valentino. We spotted SJP, Anne Hathaway, Sophia Loren (it was her birthday!), Anjelica Huston, Mikhail Baryshnikov, Tory Burch, Karolina Kurokova, Martha Stewart and more working it on the red carpet, which extended all the way around the Lincoln Center fountain. And everyone, naturally, was in their most fabulous Valentino. A few of the NYCB dancers who didn't have to perform strutted their stuff, too. Sara Mearns looked especially lovely in an ethereal long-sleeved gown—Valentino red, of course.
While gala programming is sometimes a bit "let's just get this over with so everyone can go eat," there were dance highlights last night, too. Former DS cover star Lauren Lovette wowed in the "Rubies" pas de deux from George Balanchine's Jewels; Robert Fairchild tapped (!) up a storm in Peter Martins' Not My Girl; Wendy Whelan and Tyler Angle exuded quiet gravity in a new Christopher Wheeldon pas set to Max Richter's remake of Dinah Washington's "This Bitter Earth" (a song you might recognize—it's been popular on the comp scene, too. Crossover!).
And the Valentino costumes? There are no words. Well, there are many words. But the company actually said them best, in this amazing (and kind of hilarious) video, which played right before the final piece. Enjoy!
Sep. 17, 2012 10:59AM EST
From the moment we first heard that superstar designer Valentino Garavani would be designing costumes for New York City Ballet, we've been anxiously awaiting a glimpse of his creations. Would they be ruffly? Lacy? His signature Valentino red?
Well, the first pictures are in, and it looks like the answer is "all of the above"! Check out the shots (via New York Magazine) below. The chic costumes will get their first outings this Thursday night, at the New York City Ballet's fall gala, a tribute to Valentino. Enjoy!
(All photos Christopher Anderson/Magnum)
[portfolio_slideshow nowrap=0 thumbs=true timeout=4000 showtitles=true showcaps=true showdesc=true]
Ballet
Aug. 10, 2012 04:00PM EST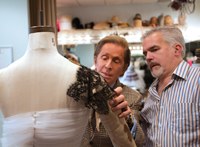 Valentino (left) and costume director Marc Happel working in the NYCB Costume Shop (Photos by Paul Kolnik)
The ballet and fashion worlds collide this month in NYC with a one-time-only gala
at Lincoln Center kicking off New York City Ballet's fall season (which just happens to start one week after New York Fashion Week!). The gala is honoring legendary fashion designer Valentino Garavani, who will be transforming ballerinas into stunning fashionistas, creating costumes for four works—three by NYCB ballet master in chief Peter Martins and one by choreographer Christopher Wheeldon.
Valentino has been working tirelessly to create these exquisite costumes since April, with the help of NYCB costume director Marc Happel. No stranger to the world of fashion, Happel has worked with several prominent designers who've created costumes for the company over the past year, including Gilles Mendel, Kate and Laura Mulleavy of Rodarte, and Stella McCartney. And he's mastered the art of successfully bridging the gap between the catwalk and the stage. "Designers usually deal with models on the runway, but when dancers are onstage with the audience at least 50 feet away, everything changes," Happel says. "I advise them to pay attention to the details that are really going to stand out." He also helps the designers manage their schedules, so the costumes are completed with enough time to actually rehearse in them. "I've been to fashion shows where people are sitting backstage at sewing machines an hour before the show," Happel says. "I've had to explain to each of the designers that we just don't work that way."
While working with each well-known designer over the past year has been a unique experience for Happel, collaborating with Valentino has been the cherry on top of this fashion sundae. "I'm completely in awe of Valentino," he says. "He's a legend, and he's one of the last great couture designers. His designs are sumptuous and extravagant, and his choices are spot on."
Valentino's designs hit the stage at NYCB's 2012 Fall Gala at Lincoln Center on
September 20.
A Year in Costumes
According to the NYCB Dancers Who Wore Them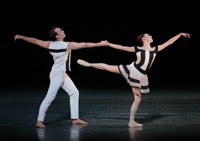 Tyler Angle and Tiler Peck in Benjamin Millepied's Two Hearts, with costumes by Kate and Laura Mulleavy of Rodarte
"The first day Kate and Laura Mulleavy came in, they were casually dressed and laid-back," Tiler Peck says. "I said to another dancer, 'I can't believe they are so cool.' They were very accommodating to what we needed. For my costume, they decided to lose the skirt at the end of the ballet, and just have a leotard. I loved it!"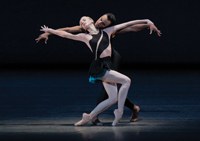 Taylor Stanley and Claire Kretzschmar in Peter Martins' Mes Oiseaux, with costumes by Gilles Mendel
"My mom, sister and I have always been interested in fashion, so hearing Gilles Mendel was making our costumes was a great surprise," Claire Kretzschmar says. "He paid close attention to the littlest details, like the curves of the shapes on the bodice. My costume transformed me into a different, more sophisticated person."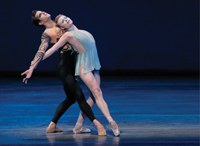 Sara Mearns and Robert Fairchild in Peter Martins' Ocean's Kingdom, with costumes by Stella McCartney
"The whole experience was surreal to me," Sara Mearns says. "Since Stella McCartney didn't know much about ballet, we started by showing her how fabrics move when you dance. The process of getting from there to the final costumes was difficult, but when it all came together, it really worked."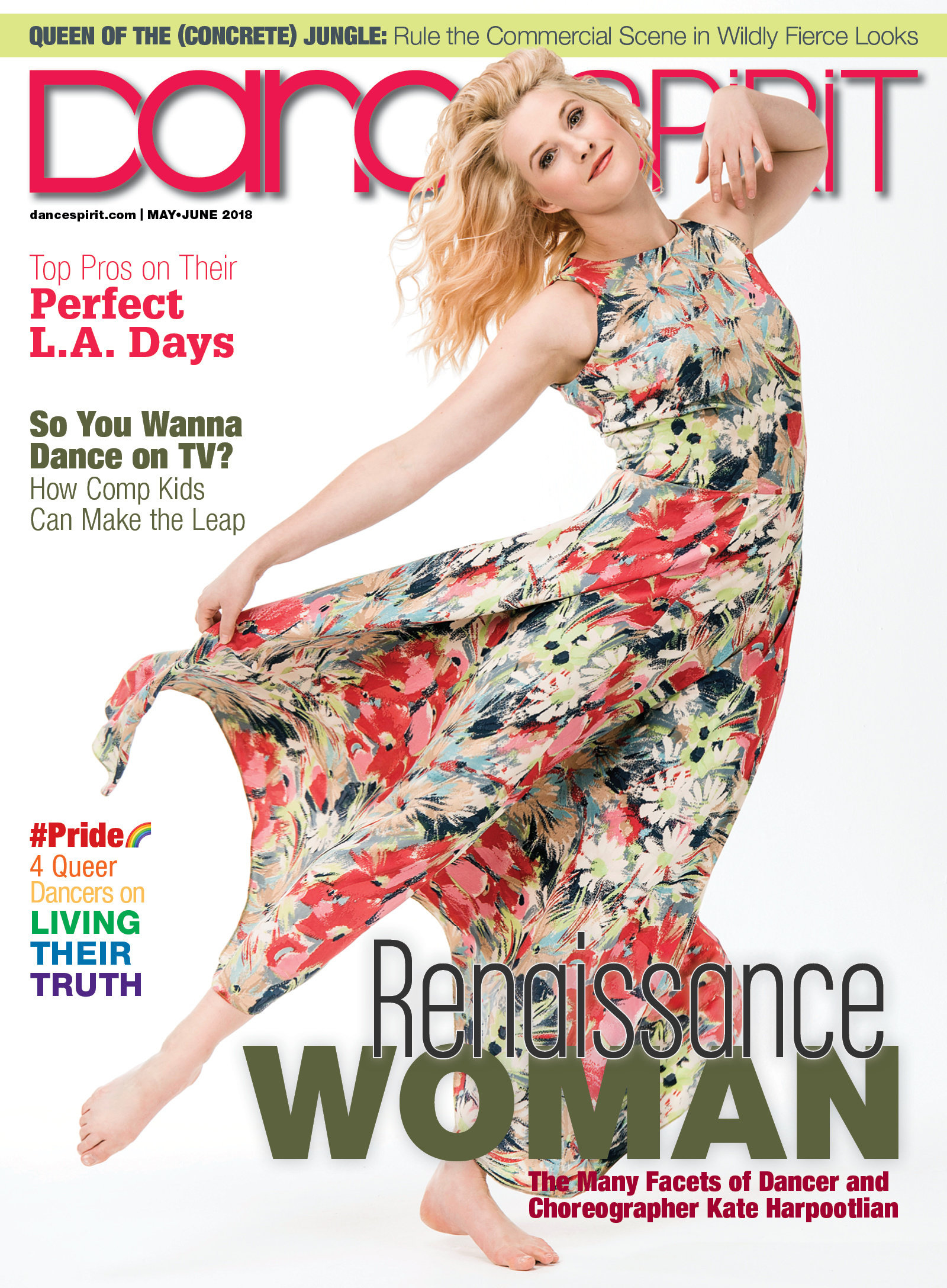 Get Dance Spirit in your inbox