Remember a few weeks back, when Vanity Fair put out a video featuring Petra Collins, who is very much not a professional dancer or dance teacher, teaching ballet? Well, this week, the mag has Elle Fanning, who is also very much not a professional dancer or dance teacher, demonstrating how to do a piqué turn on pointe. And we love us some Elle, but...this is not good:
Look, we get it: The video is part of a series called "Secret Talent Theatre," featuring actors showing off their little-known skills—or "skills." (Emma Stone teaches us how to use a pogo stick; Elle's sis Dakota proves she can name all the American Presidents.) It's supposed to be goofy and fun.
But having a non-expert "teach" pointework? That's straight-up dangerous. Somebody's gonna break an ankle, guys.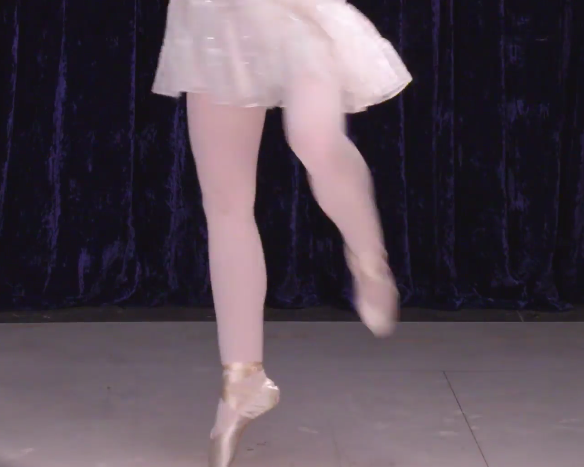 Thankfully, Elle didn't—though she made us anxious for a second.
Vanity Fair, we beseech you: Please go back to your usual thoughtful, fascinating ballet coverage! Remember when you profiled Julie Kent? And Robert Fairchild and Tiler Peck? How about that brilliant history of George Balanchine's Nutcracker? We need more of that amazingness! And if you're not sure if a dance story's legit, why not run it by legendary ballerina Heather Watts, who's been a contributing editor at your mag since 1995? Problem: solved.
You guys. This is getting a little bit out of hand. First the Kendall Jenner debacle, and now this? Despite the fact that dance seems to be getting more coverage than ever before (thanks to celebs, TV shows, movies and tasteful advertising campaigns), there are still lingering stereotypes about ballet being easy, or dance not being a real job.
Le sigh. Vanity Fair released a short video to accompany a story on dance-student-turned-photographer Petra Collins. There are several things at play here, and before we totally freak out, I think it's important to weigh them all:
The story is about how Collins rebounded from a devastating knee injury, incurred when she was a teenager, to find a love of photography. Neither the story nor the video are attempting to portray her as a professional dancer. It's about reinvention.

That said, the video is set up to show Collins "teaching" ballet. Yikes! It's clear from the moment she walks on camera that she doesn't posses the level of ballet technique necessary to teach others. There's lots of giggling and she describes herself as an "expert non-expert," so we know this is for fun. But that's leads us to point 3.

It's obvious that Collins isn't trying to pose as a professional. The real problem is that there are tons of stunning professional dancers who could have been hired for this video—for EVERY dance-related video and advertisement—but who aren't. When professional dancers aren't sought out and hired, it reinforces the idea that dance isn't serious, or popular...or even a real thing that people do for their career.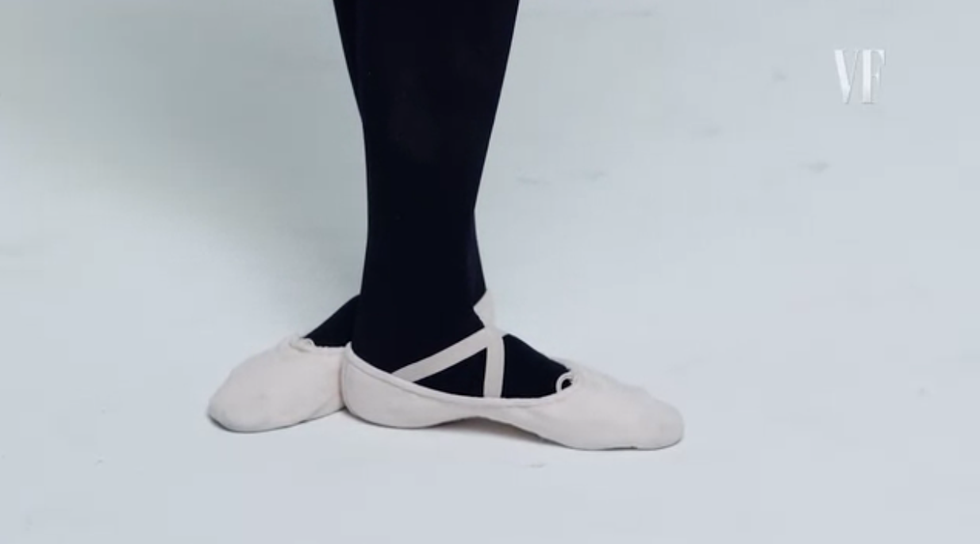 Nope.
Let's consider a scenario in which a video combining ballet and Petra Collins could have been something other than very strange. She could have been dancing her heart out with her friends in her living room. She could have been receiving technique pointers from a pro, like Laurie Hernandez in this video. She could have been talking about what the loss of ballet meant to her while she improvised movement. She could have been photographing a few professional dancers, since photography is her current medium and dance is her first love. Too bad Dev Hynes (accompanying on piano) couldn't get some of his new dance friends involved with this project. #disappointed
Julie Kent has danced with American Ballet Theatre for 30 years. That's an impressive career in any context, but it's especially impressive in the world of ballet, where dancers are subject to the whims of their fabulous but frequently fickle bodies.
And Kent isn't just any ballerina. For a whole generation of dancers and dance lovers, she's the ballerina. Who didn't grow up idolizing her? She's Kathleen Donahue from Center Stage. She's the star of that glorious production of Le Corsaire that used to air on PBS every five minutes. If you've been lucky enough to see her live, you know that she's even more luminous onstage than she is onscreen; her willowy frame and beautiful face are made for the spotlight.
Kent will take her final bow with ABT tomorrow night, dancing Juliet in Romeo and Juliet (oh, lord, get those tissues ready) at NYC's Metropolitan Opera House. To help us brace ourselves for that blow, Vanity Fair just published "4 Lessons Learned from a Prima Ballerina," in which Kent shares some of the considerable wisdom she's acquired over the course of her career. One of the highlights is a poetic "merde" note from legend Natalia Makarova—"Someone once said that beauty could save the world. What a great responsibility you have"—that has become a kind of career philosophy for Kent.
There's also this incredible drawing of Kent wearing a dress composed of all the ballets she's performed: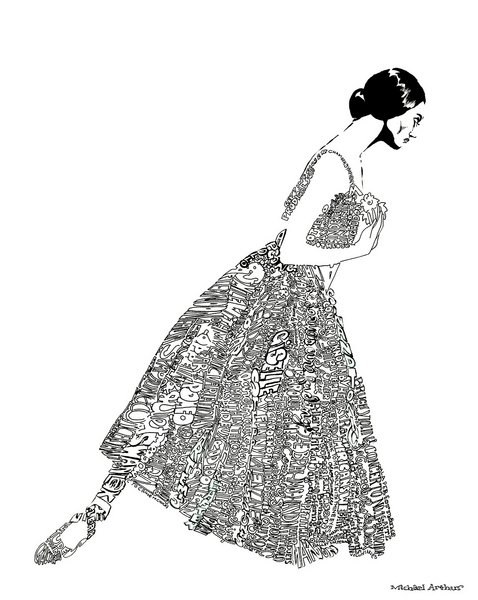 By Michael Arthur, based on a photograph by Roy Round
Click here to read the whole story. And while Kent's farewell performance is, naturally, sold out, the magical internet does have several clips of her dancing Romeo and Juliet. I'd suggest watching the video below—of Kent and Roberto Bolle in the iconic balcony pas de deux—around 9 pm tomorrow, when Kent will actually be dancing it, one last time, at the Met.
I used to be one of those crazy people who danced in 500 performances of The Nutcracker every year. Now I'm an even crazier person who goes to watch 500 performances of The Nutcracker every year. And as someone who's seen all kinds of versions from all kinds of angles, I can tell you that few Nutcrackers compare to the marvelous confection George Balanchine choreographed for New York City Ballet in 1954.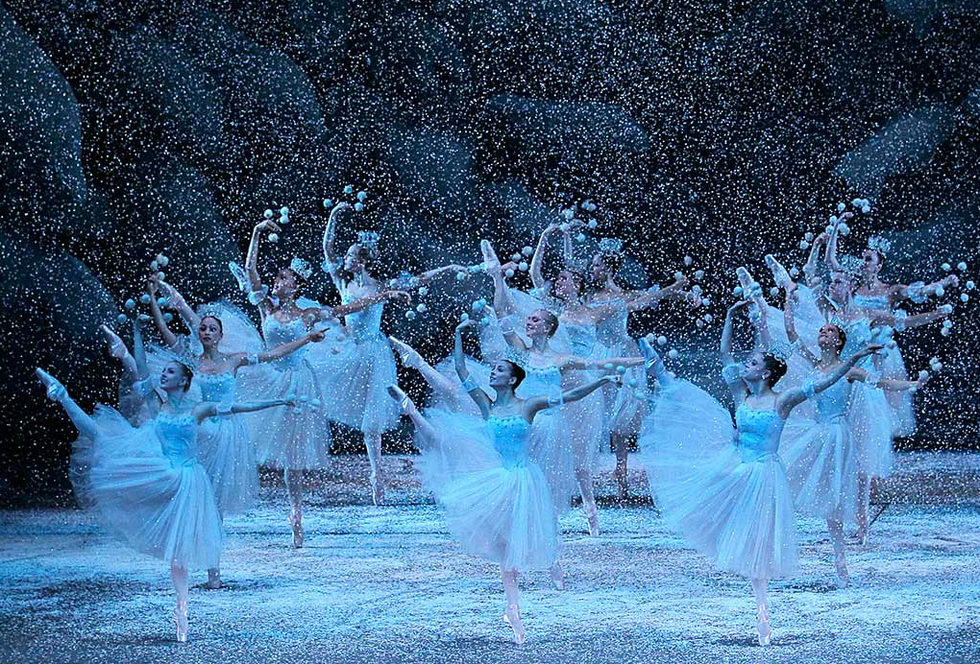 NYCB in the snow scene from Balanchine's Nutcracker (photo by Paul Kolnik)
Odds are you know the Balanchine Nut pretty well, thanks to the 1993 film version starring one Macaulay Culkin. But do you know the history of the production?
Turns out, it's totally fascinating. Dance writer Laura Jacobs recently penned a wonderful story for Vanity Fair about how this Nutcracker came to be, and it's full of gems. Did you know that there's a trap under the Koch Theater stage constructed specifically for the giant tree? That Balanchine lifted the Candy Cane divertissement straight out of the Mariinsky Ballet Nutcracker he performed in as a young dancer? That the cape the Grandmother wears today is from the original 1954 production? That before the Arabian dance became an awesomely slinky solo for a woman, it starred a man with a hookah and four little girls dressed as parrots (!!!)?
There's a heck of a lot more where that came from: Read the whole story here. And once visions of sugar plums are dancing in your heads, watch the Sugar Plum pas de deux from the film version, starring Darci Kistler and Damian Woetzel, below.
Happy Nutcracker, everybody!
You guys know we love it when fashion and dance collide—it usually produces a photo shoot from our wildest dreams. (I still can't get over the Natalia Vodianova and Benjamin Millepied shoot for Vogue magazine.)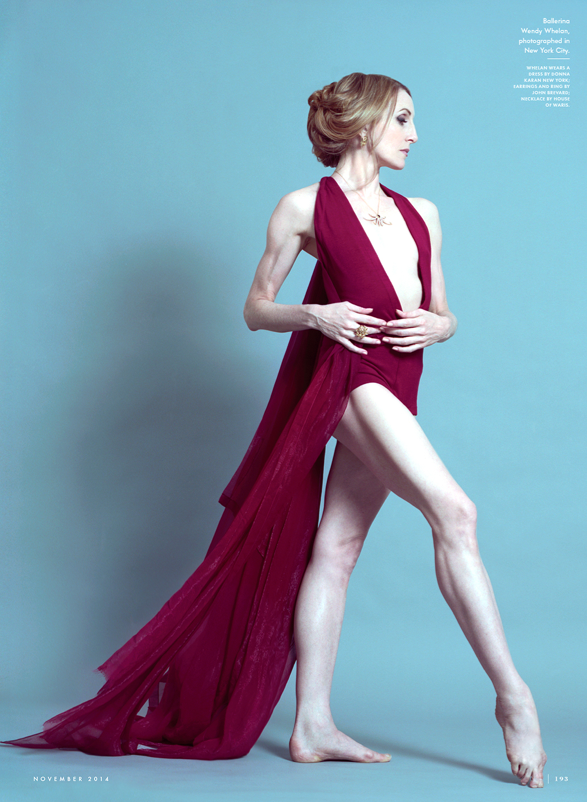 Wendy Whelan (photo by David Michalek for Vanity Fair magazine)
Vanity Fair, which has a long history of celebrating dance, created a slideshow of dance photographs from their archives, spanning from the 1930s to now.
The images offer a counterpoint to other archival photo roundups, which often feature either performance photos or behind-the-scenes shots. While we love seeing amazing feats of physicality, and getting to peek backstage or into the studio, fashion photographers bring a fresh eye to the whole process of photographing dancers—their images are both staged and spontaneous.
Sure, some of these photos are a little bit cheesy (the 1980s happened, after all), but where else would we get an image of renowned choreographer Christopher Wheeldon dancing barefoot in a field, holding a parasol? I'll let you click through and find that one for yourself!
Sep. 06, 2013 10:52AM EST
It's been a big news week for our favorite New York City Ballet couple, principals Robert Fairchild and Tiler Peck!
First, it was announced that Peck will star in Susan Stroman's new musical, Little Dancer, next fall at Washington, D.C.'s Kennedy Center. Last year we heard that she was workshopping the title role, but we didn't even dare to hope that she'd take it on in the finished production—girl's got a pretty packed schedule with NYCB, after all—so we were extra excited when this press release landed in our inboxes. Peck, by the way, is a musical theater veteran: At 11 she appeared on Broadway in The Music Man, and a few months ago she performed in the New York Philharmonic's concert performance of Carousel—as did Mr. Fairchild.
OK, that's part one. Part two: The October issue of Vanity Fair, out today, features a dual profile of Peck and Fairchild. Written by former NYCB principal and current Vail International Dance Festival director Damian Woetzel, it describes the power couple as "the dancers of today" who "hav[e] no boundaries." Right on. Oh, and the photographs are by super-famous photog Bruce Weber, naturally. Take a look:
[portfolio_slideshow nowrap=0 thumbs=true timeout=4000 showtitles=true showcaps=true showdesc=true]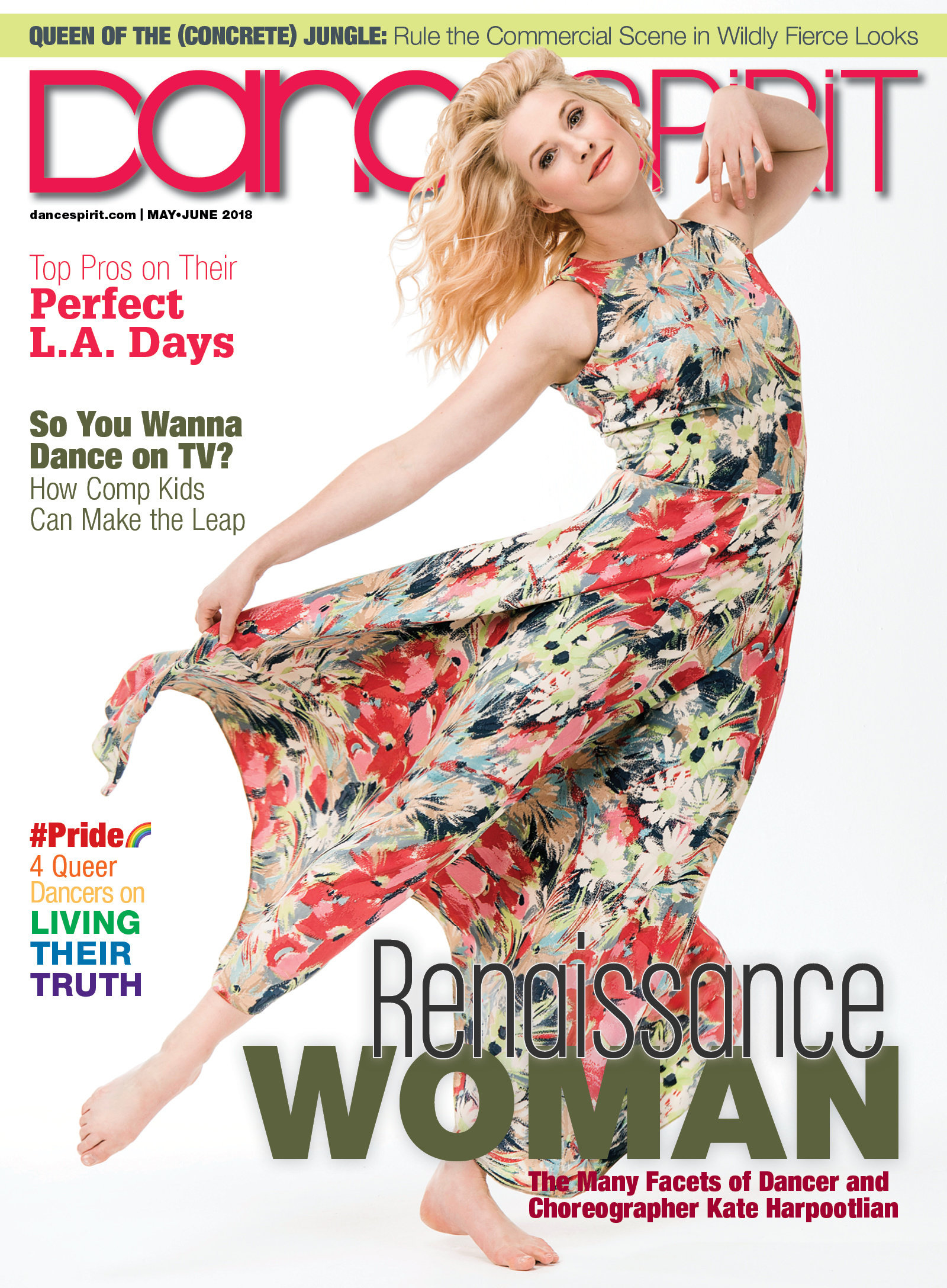 Get Dance Spirit in your inbox