Apr. 11, 2013 12:00PM EST
To celebrate Mother's Day (May 12), we're highlighting five well-known dancer moms and their dancing children. Their love of the art form makes these dynamic duos (and one quartet) very close. But like all families, they can still drive each other crazy!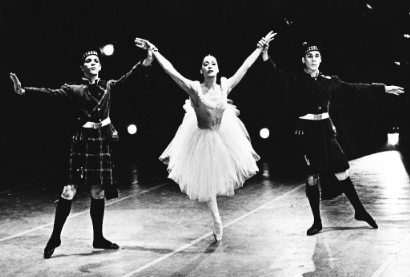 Barbara Sandonato in Scotch Symphony (photo by Jack Mitchell)
Mom: Barbara Sandonato, teacher and former Pennsylvania Ballet prima: "I always understand what she's feeling—the misery of having an injury or having to perform when she's tired. But I also know the joy of it. We're on the same wavelength. It's a wonderful thing to share so deeply in someone else's pleasures."
Daughter: Gabriella Yudenich, Pennsylvania Ballet soloist: "She's the best critic I have! She's so knowledgeable about the art form and doesn't sugarcoat things. I love that about her now. But as a student, I hated it. I couldn't stand the fact that the teacher was my mom, and if I didn't like a combination, I would let her know! She definitely threw me out of class a few times."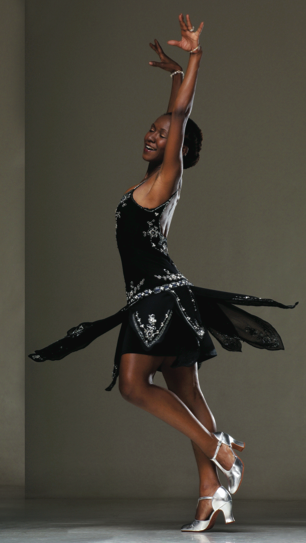 Dormeshia Sumbry-Edwards
Mom: Dormeshia Sumbry-Edwards, tapper extraordinaire: "Our connection is so special because we talk about everything. From when she was very small, I let her know the reality of a situation, be it good or bad. I think she respects me for keeping it real."
Daughter: Eboni Edwards, Billy Elliot alum: "I was scared to audition for Billy Elliot. I freaked out when we got there and my mom took me to the bathroom and calmed me down. I wouldn't have done so well if my mom hadn't been there."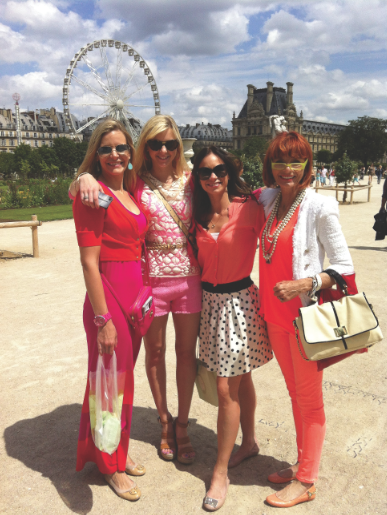 The Jensen family in Paris; (L to R) Bryn, Whitney, Sarah Jayne and Lausanne
Mom: Lausanne Jensen, former dancer and teacher: "I'm a bit of a high-strung manager type. My sole purpose for opening a dance studio was to make sure my daughters were trained well enough in ballet, jazz and tap to make any of the high school dance teams."
Daughter: Sarah Jayne Jensen, Broadway dancer and star of Center Stage: Turn It Up: "My mom constantly expressed her love for us and told us we could do and be anything. Nothing was impossible."
Daughter: Whitney Jensen, Boston Ballet soloist: "I can talk to my mom about anything that happens at work. Any difficult 'ballerina problem' I face, she understands. And she definitely pushed all of us to our full potential."
Daughter: Bryn Dowling, Broadway dancer: "Having a mother and sisters involved in dance is normal to me because it's all I've ever known. I can't imagine being the only performer in my family. That would be too weird."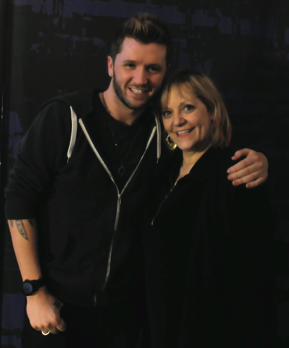 Travis and Denise Wall (photo courtesy NUVO)
Mom: Denise Wall, dance teacher: "Dance is every part of my being, and it's hard to find anyone outside the dance world who understands everything I feel. It's amazing to have a son and other children who are in the business, so we can share it all."
Son: Travis Wall, choreographer and Shaping Sound co-founder: "After living in NYC for a while, I moved back home at age 14 when I got injured. My mom was the one who retrained me, who helped me get everything back. She knew exactly what I needed to do to get back on my feet."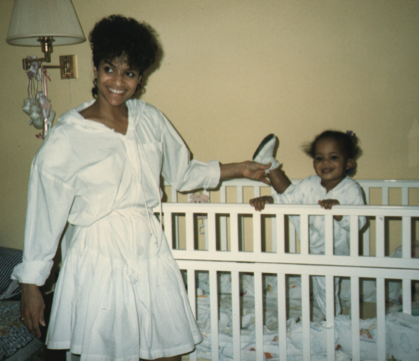 Debbie Allen with a very young (but already talented!) Vivian Nixon
Mom: Debbie Allen, Broadway legend and star of the TV show "Fame": "Vivian is strong-willed, and I'm glad, because great artists are very opinionated. But when it comes to directing her, it's like a battlefield! I get the, 'No, Mom. I don't want to do that' a lot. Still, I would like Vivian even if she were not my daughter. I would love her. I admire her."
Daughter: Vivian Nixon, Broadway dancer: "It's kind of like having your own specialty dance doctor who knows what to prescribe for you. My mom knew when I needed to move away and get intense ballet training. She knew when it was time for me to come home because my attitude had gotten a little hot. She's always offered me the best tools and had all the knowledge at her fingertips."
Feb. 01, 2010 10:23AM EST
At the beginning of Broadway's Memphis, the curtain opens on a soulful shindig at an underground nightclub. With grooving dancers in jewel-toned costumes everywhere, it's hard to know where to look. That is, until Vivian Nixon appears. With her gorgeous legs and movement that alternates between fluid and explosive, whenever Vivian's onstage it's hard not to watch her.
Vivian's fiery stage presence is uncannily similar to that of Debbie Allen—her mother. Allen has encouraged and inspired Vivian, both as a parent and as a fellow dancer. But despite industry connections most dancers only dream of, Vivian has encountered her own challenges. Now, performing in a smash hit that matches her talent, Vivian's making her mark on the dance world in a work that's reenergized her artistic fire—and she's doing it her way.
Growing Up Vivian
Offstage, 25-year-old Vivian is bubbly and youthful, but grounded, a product of her strict upbringing by Allen and basketball superstar Norm Nixon. "I was with my mom everywhere," Vivian says. "I grew up on set, in the theater, watching her. So I was drawn to the arts."
While Vivian had artistic abilities, she didn't immediately commit solely to dance. As a child growing up in L.A., she acted in television shows including Polly (a TV movie) and "That's So Raven," and took on hobbies including horseback riding, diving and gymnastics. But when, at age 12, she saw a fellow gymnast get injured, Vivian switched her focus solely to dancing. "I needed to catch up!" she says. And catch up she did, at a summer program at the Kirov Academy in Washington, D.C. After two summers there, she enrolled in the school's rigorous year-long program.
"For the first year, ballet was boring to me," Vivian says. "And I had no turnout! But the Kirov helped me." Soon, Vivian developed the technical skills that now underpin her versatility. "My parents taught me to have a good work ethic. I have the best role models in them, not just because of what they've become, but because of where they came from and how hard they've worked."
Vivian's own perseverance hasn't gone unnoticed. Sergio Trujillo, choreographer of Memphis, has known Vivian since she was a little girl. "Vivian's a chameleon," he says. "She's a virtuosic classical dancer, but can also mold to any type of dance. In Memphis, here's this gorgeous girl with her leg up high in à la seconde with a perfectly pointed foot. But she fits it in the scene without making it look too balletic."
After three years at the Kirov, Vivian returned home and danced at the Debbie Allen Dance Academy. There she trained in several styles and benefited from seeing talent all around her. But it wasn't all perks. "At 16, I was loving dance and performance. But going to class every day after school felt monotonous. I had my first boyfriend," Vivian says. "I was missing basketball games and parties and that did bother me."
Despite an internal struggle, Vivian kept training. "My mom had me right where she wanted me: in class," Vivian says, with a laugh. Allen knew firsthand the importance of a well-rounded dance education and she instilled that in Vivian. But having an accomplished mom was tough at times. "There were always—and still are—preconceived notions about me because of who my mother is. I was sensitive, and I had a hard time being judged," Vivian admits.
Vivian Evolved
In 2002, Vivian was accepted to the Ailey/Fordham program in NYC, which offered her both the academic and the dance education she wanted. Vivian was challenged to learn styles new to her, including the Graham and Horton techniques. When she dug in, Vivian says she finally felt like she was moving into a personal form of artistry. "Sylvia Waters, Ailey II's artistic director, taught me how to think about my dancing more. Choreographers like Karole Armitage pulled something out of me that I'd never felt before. The program refined me and renewed my passion. I was hungry again."
At the end of her junior year, Vivian was asked to tour with Ailey II. "When I walked into the rehearsal studio and they unloaded the material on me—Revelations, Blues Suite, Isba!—I really felt like a professional," she says. But she wasn't set on Ailey, or on concert work. "I was testing out the waters," she says. "My goals were constantly evolving."
So in 2006, when Vivian was offered the starring role in the Broadway show Hot Feet (DS July/August 2006), she seized the opportunity. Her individual performance was praised and put Vivian on the musical theater map. But the experience also taught her about the heartbreaking side of show business: She had finally received her breakout role, but fatigue and disappointment accompanied negative show reviews. Injuries sidelined her for a month of the run. "It was exhausting," she says. "I never knew how I'd get through another show."
When the show closed, Vivian went home to regroup. "I was burnt out," she says. "For years I was always hitting the books or dancing. I forgot to live."
Vivian's hiatus didn't last long. A month later, she auditioned for the role of Anita—a role her mother famously performed—in a Texas-based production of West Side Story. She nabbed the gig and was thrilled to be back onstage. "Doing the same role as my mother was horrible and wonderful at the same time because she was so iconic in that part," says Vivian, who reprised the role a year later on a European tour. "She set the bar high for me, and that was intimidating. But she also taught me to approach dance with the mind as well as the body. This helped me make the role my own. She gave me the space to be an artist—in my own way."
The Muse
In 2007, Vivian returned to L.A. to perform in Bayou Legend, a show her mother was directing. "It's so great to work with her because she really understands dancers," Vivian says. "She knows how to translate acting vocabulary so we can understand what she wants." But working together also had its challenges. Vivian recalls her mother taking her to rehearsal two hours earlier than the other actors! Allen explains: "When you know you're working with the 'next great one,' you don't go easy on her. I know with Vivian, I'll get more than I expect. She's my muse."
Trujillo feels the same way: "Bob Fosse had Ann Reinking. I have Vivian." Wildly enough, Vivian almost didn't audition for Memphis. "I was teaching dance in L.A., but I was kind of lost," she says. "I hadn't been performing in dance shows for a year and a half, and I had lost my passion."
Luckily, Vivian decided to audition anyway, and it turned out to be a pivotal point in her career—and life. "I hadn't had so much fun dancing in so long," Vivian says of the audition. "The choreography was amazing. It reminded me how much I love to dance." A month later, Vivian landed the role. "This job is the best thing that's happened to me so far," she says.
Now, in her Memphis home, Vivian struts and soars within an ensemble that spends tons of time onstage in scenes overflowing with complicated choreography. "There's such a wide range of styles in the show, and I adore that," she says. "We do lifts, sugar steps and funky hip hop!"
Not only is Vivian utilizing her diverse skills, but she's also coming into her own as an artist. Trujillo knew that Vivian would fit in as both an ensemble member and as a leader. "I call upon dancers who have a sense of who they are and what their abilities are," he says. "Dancers who are present, intelligent and aren't afraid of taking chances. True artists." With support every step of the way and a sassy spirit of her own, a true artist is exactly what Vivian has become.
Fast Facts
Fave Ice Cream: Edy's Cookies 'N Cream
Fave TV shows: "Glee" and "Three's Company"
Fave Movies: Lord of the Rings, Braveheart and 500 Days of Summer
Non-dance hobby: "People-watching in Columbus Circle in NYC."
Special skills: "I do a great Russian accent from my days at the Kirov Academy."
True Story: Vivian was born two months prematurely: The nurse practitioner told her mom she might never walk!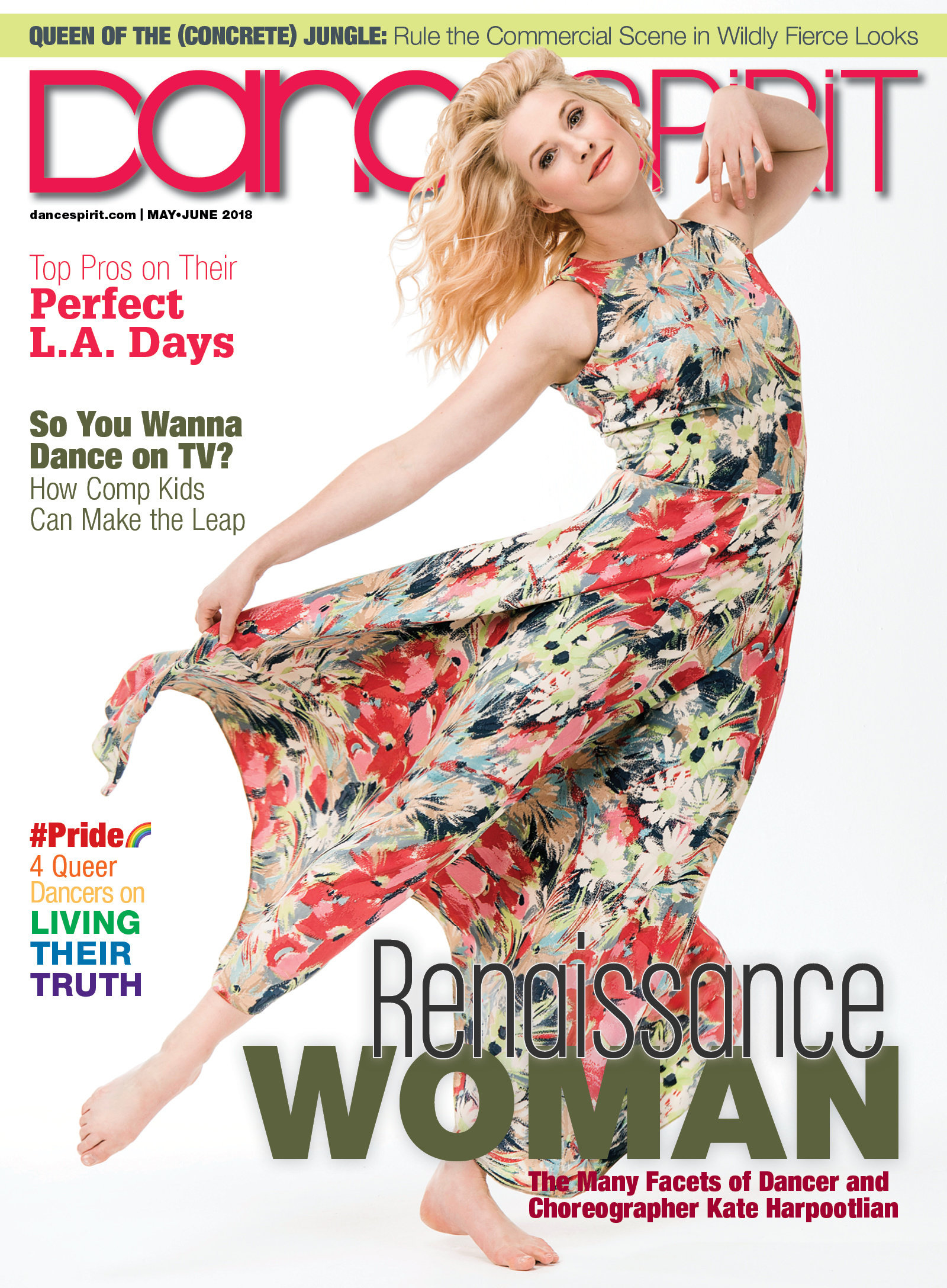 Get Dance Spirit in your inbox