You guys. A lot happened at the VMAs last night. A LOT.
We still can't feel our faces after all that a-lot-ness. So rather than trying to wax eloquent about the proceedings, we're going to run down the highlights in photo and/or GIF form. Which is really more in keeping with the MTV spirit of things anyway, amirite?
Miley Cyrus wore no fewer than 10 very Miley outfits.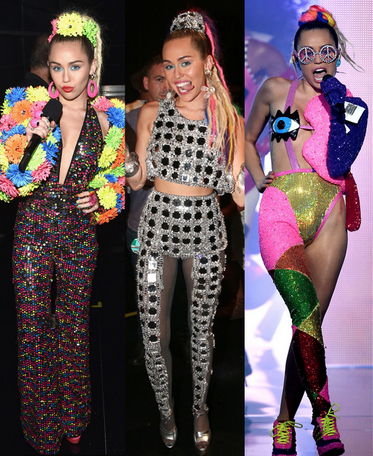 These being the three most tame. (Kevin Winter/Getty Images)
She also danced with a fabulous collection of drag queens, burlesque performers and trans activists.
Nicki Minaj brought us crazy Carnival chic...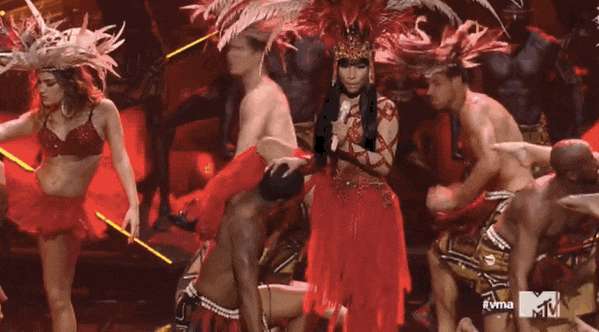 ...made up with Taylor Swift...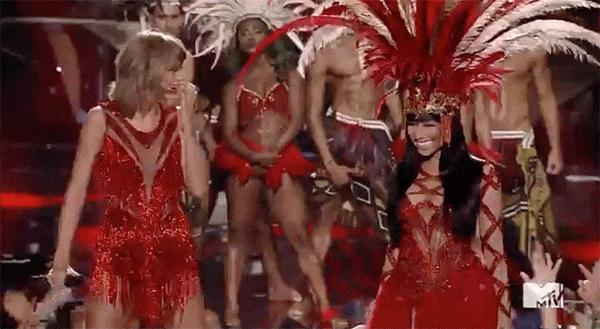 ...and beefed with Miley.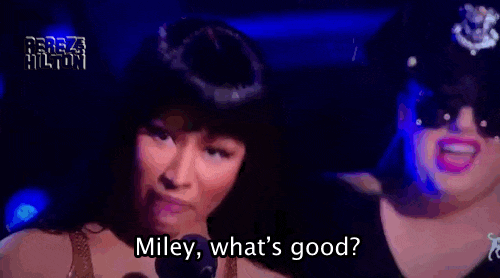 Justin Bieber showed us he's still got it...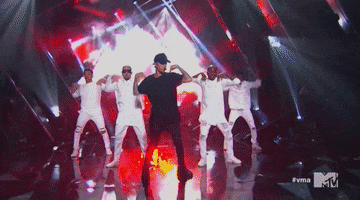 ...went flying...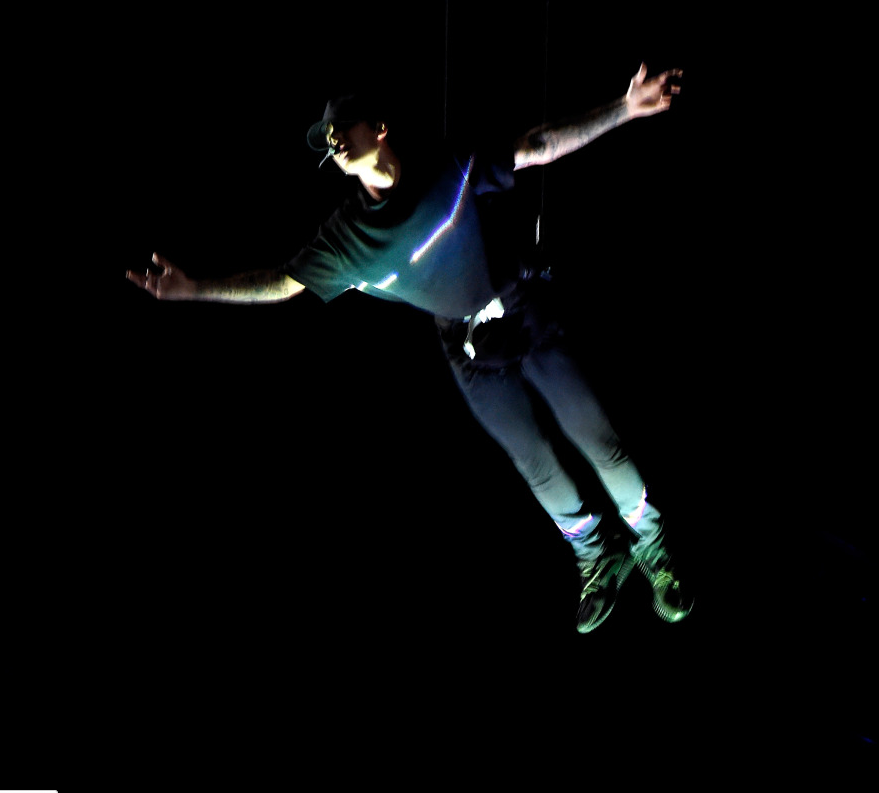 (Kevin Mazur/WireImage)
...and started crying.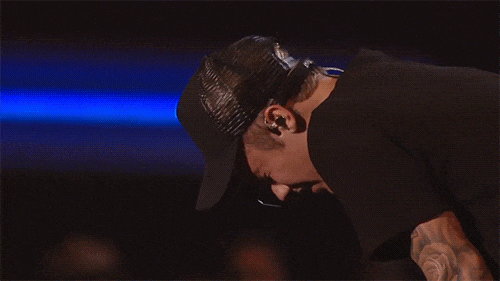 Nick Jonas partied with some Moonman-lookalike backup dancers.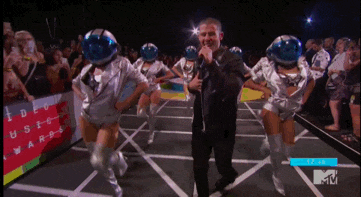 The Weeknd basically burned the place down.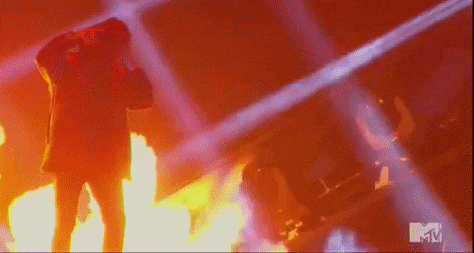 Taylor and her posse loved it.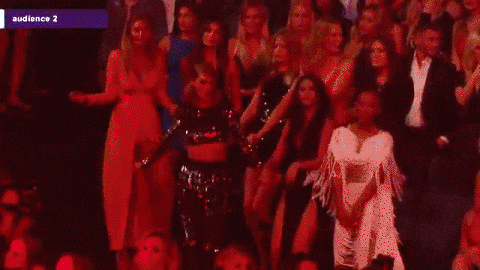 But NOBODY loved it as much as Kanye.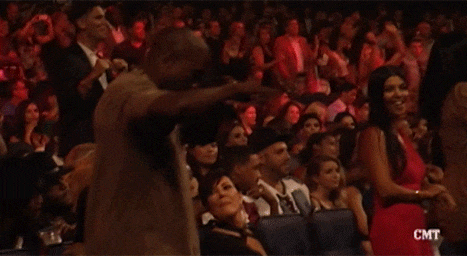 While accepting his Video Vanguard Award, Kanye also made a big announcement.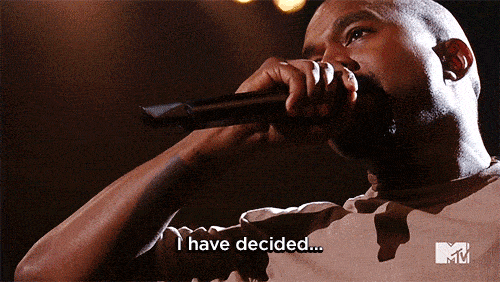 NappyTabs didn't win for Best Choreography, but they did look absolutely fabulous...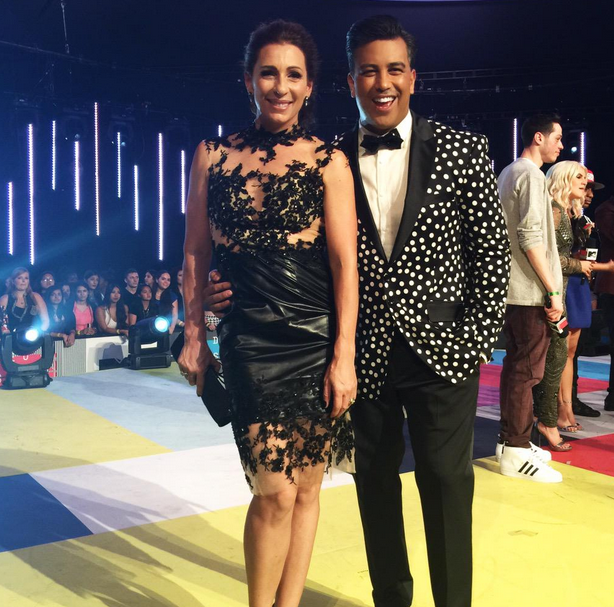 (via @Nappytabs)
...and they brought along little London, which automatically wins them everything.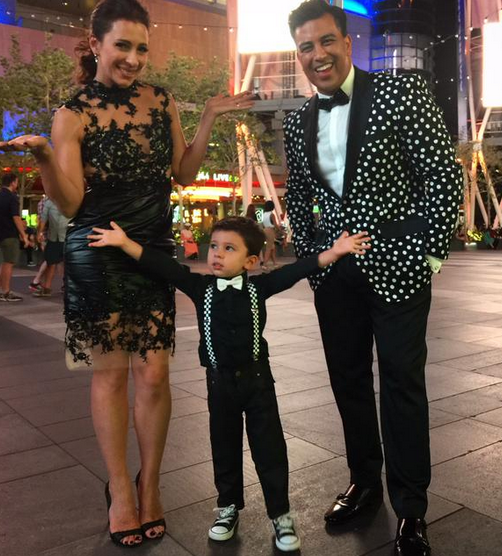 (via @Nappytabs)
Happy VMAs, friends. We're gonna go take a nap now.
Oh, the MTV Video Music Awards. Aka the night we're gifted with performances by some of music's hottest names. Aka the night where crazy costumes, fabulous gimmicks and fierce dancing reign supreme. We truly missed you.
But...to our surprise, last night's show was a tad tame, amirite? There weren't any hosts, no feuding or drama and zero performances that were stunningly over the top, per usual. All in all it was still an iconic night, though, and there were plenty of dance-y moments to gush over. Take a look at our top highlights:
The Beyoncé Takeover
It's been a long six months since Queen Bey's Super Bowl domination and we were desperate for another live performance to obsess over. Thankfully, last night's VMAs gifted us with more Beyoncé perfection than we ever could have dreamed. Case in point: A record-setting 8 award wins (including Video of the Year for "Formation") and an epic 15-minute long Lemonade highlights performance complete with a fierce squad of dancers like Ebony Williams. Oh, and then there was that adorable mommy-daughter red carpet fashion moment that's currently breaking the internet. Long story short, Bey slayed.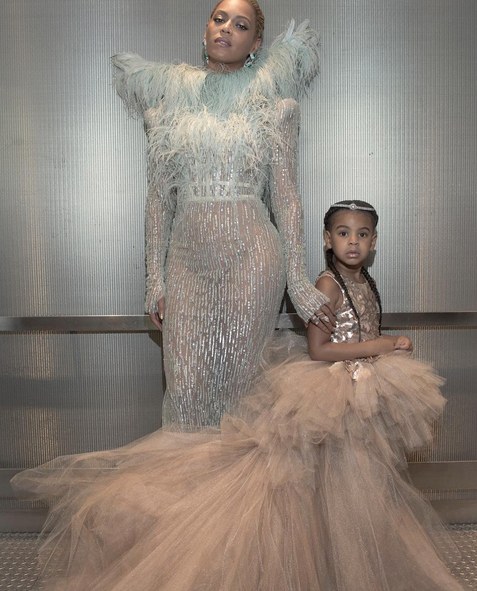 Like mother like daughter before the show. (Photo via Instagram, @Beyonce)
Prepare to be mesmerized:
Rihanna's Dancers
Rihanna also stole the show with four different performances to a ton of her hit songs. The best part? She surrounded herself with lots of new faces like Lilly Leithner, Kimberley Taylor, Kacie Noel, Dani Vitale, Sisley Loubet, Khadija Nicholas, Taeko McCarroll, Asabi Alexander, Katherine Diaz, Diana Matos, Aseil Hardison and Lance Savali to name a few. Rihanna was also presented the prestigious Vanguard Award by Drake.
See the dance goodness for yourself:
The Britney Comeback
After consistently killing it in her Vegas show and releasing a new album a few days ago, Britney Spears made her VMA comeback last night (sans a live snake, unfortunately), in her first awards show performance since 2007. She sang "Make Me" with rapper G-Eazy, and although the internet is calling her out for her apparent lip syncing, the choreo (by Charm La'Donna) was still seriously on point. We loved watching her and her awesome dancers, including Aja DePaolo and Sarah Mitchell. And tbh Brit Brit will always be the #PrincessofPop in our eyes.
Check out her full performance below and let us know what your favorite moments were!
Oh, the MTV Video Music Awards.
So they happened last night—shout-out to Brooklyn!—and they were...you know.
Here's the thing: The VMAs have always been awesome and edgy and it's the awards show where the celebrities can really go crazy. There was that time in the late '90s when Gwen Stefani dyed her hair sky blue and wore a matching fur bikini top, and there's always madness happening onstage (think "Taylor, I'mma let you finish, but..." Kanye-style).
Of course, we here at Dance Spirit rarely tune into these awards shows—no matter how outrageous they plan to be—hoping to catch a great acceptance speech or groundbreaking presentation of some lifetime achievement award. We're in it for the dancing, and at last night's VMAs there was plenty of killer choreography to get us excited.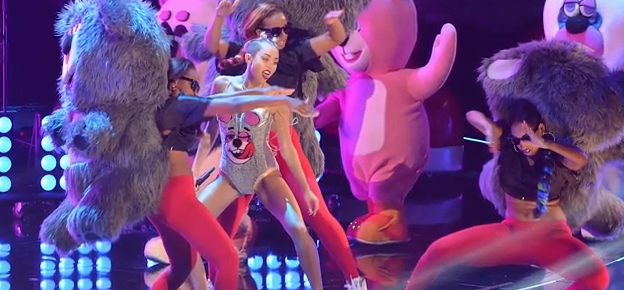 No. No. No. NOOOO!
First, though, let's address the evening's tragedies, because that's fun:
Miley Cyrus, everyone is talking about you today. And it's not because you were so cool and out there and youthful and fun. It's because your nude underwear was hanging out of your weird one-piece with the drugged-out-looking bear on it, and your tongue was hanging out the entire time and everything you did was so wildly inappropriate and crass. Hannah Montana would not approve, and neither did I. And twerking? I'm over it.
OK, so that's it for the tragedies! Way to hold it down, Miley!
And, in my opinion, the highlights:
Pop Quiz: Can you name the member of *NSYNC on the far right? It's OK if you can't. Focus on the gorgeous gentleman in the middle.

Two words: Justin Timberlake. The man can do no wrong. He's talented, he's classy and yeah, he's gorgeous—he was also the real winner of the entire evening, and he also employs some darn good backup dancers! I was psyched to see so many familiar faces grooving onstage at The Barclays Center with J-Timbs, including Ivan Koumaev, Dana Wilson, Nick Bass and David Moore. The Timberlake Show lasted, what was it, 11 minutes? I was actually disappointed when they launched into the *NSYNC reunion portion of the performance because I wanted the dancers to keep going! Plus, it seems like they're having an absolute blast up there, which is a pleasure to watch. 

Lady Gaga. Well, Gaga's dancers at least. They're always awesome. I was sad not to see Mark Kanemura up there with her, but thrilled to see longtime favorite Gaga dancers Montana Efaw and Sloan Rabinor getting their "Applause" on. One of my other favorites, Karen Chuang, was there, too! Well done, dancers, and way to nail those costume changes for your leading lady!

Katy Perry. Honestly, I thought her "Roar" performance was kind of "meh," but I appreciated the hyper-choreographed routine and dug the Legally Blonde: The Musical-esque jump roping portion of it.
Everything else about the night was pretty forgettable, in my opinion. Taylor Swift and Selena Gomez looked pretty, the guys of One Direction looked like they were ready to battle the boys (OK, grown men) of *NSYNC and Will Smith's family looked completely terrified of Miss Miley.
We felt the saaaaaame way, Willow.
All in all a somewhat decent show.
Your thoughts?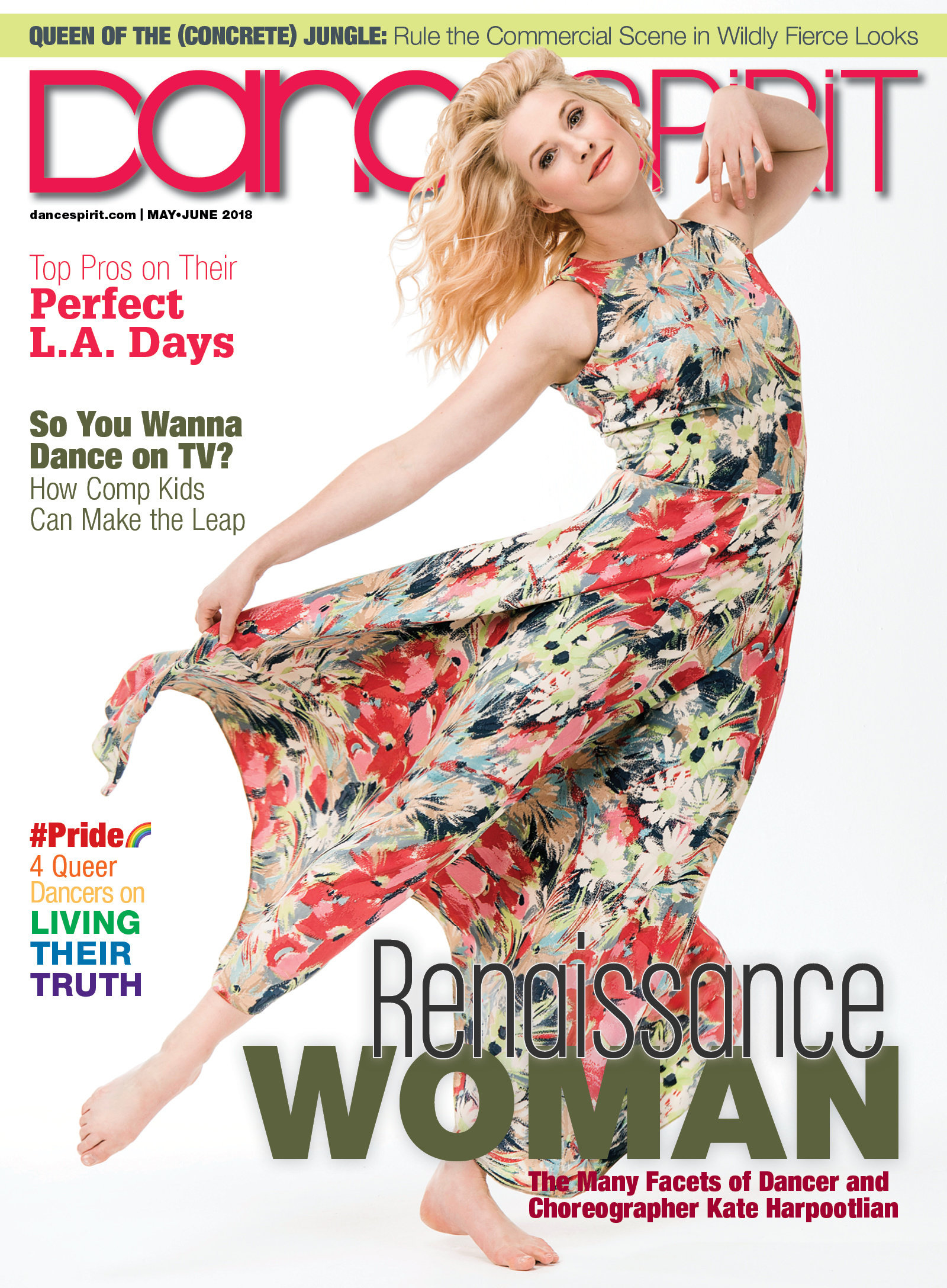 Get Dance Spirit in your inbox