NYCB's Georgina Pazcoguin and Amar Ramasar in Robbins' West Side Story Suite (photo by Paul Kolnik)
Jerome Robbins—the legendary choreographer who changed the way the world thought about both Broadway and ballet—would have been 100 years old next year. That's the kind of anniversary that calls for a great party. And New York City Ballet, one of Robbins' homes, definitely knows how to throw great parties.
NYCB will actually be honoring Robbins for three whole weeks during its 2018 spring season, dancing 19 different Robbins ballets. But the centerpiece of the celebration, the company just announced, will be a new work staged by Tony Award winner/all-around Broadway rockstar Warren Carlyle, who'll assemble extracts from eight (!) of Robbins' most famous musicals.
Keep reading...
Show less
The Season 11 finale of "So You Think You Can Dance" had it all: Amazing performances, musical guests, guest dancers and guest judges, and plenty of cute Cat Deeley hijinks to last until #SYTYCDSeason12. Oh, and we got the RESULTS! But before we get to the big reveal (hint: Chace Crawford's twin!), let's talk about the rest of the show. Here are the Top 5 moments of last night's spectacular episode: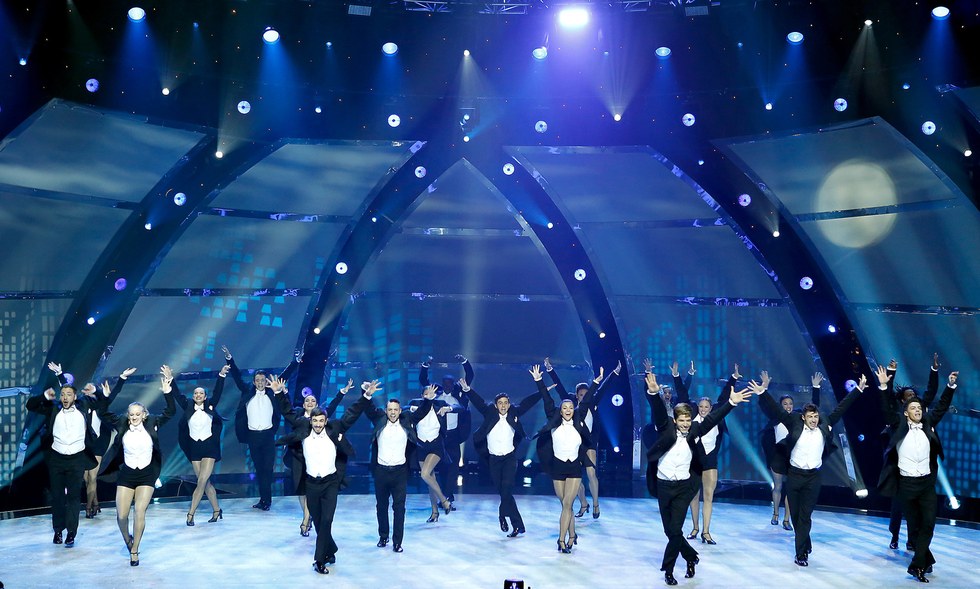 The Top 20 in Warren Carlyle's "Doctor Jazz" 
(photo by Adam Rose/FOX)
5. The opening group number. The evening started on a high note with Warren Carlyle's choreography to "Doctor Jazz" from Jelly's Last Jam. It was so great to see all the Top 20 dancers again (I'm still #TeamMarcquet)! And despite the vast amount of unison, the piece smartly showcased the Top 4 dancers without relegating the other 16 to the back of the corps, waving roses back and forth (I'm also still #TeamJodySawyer).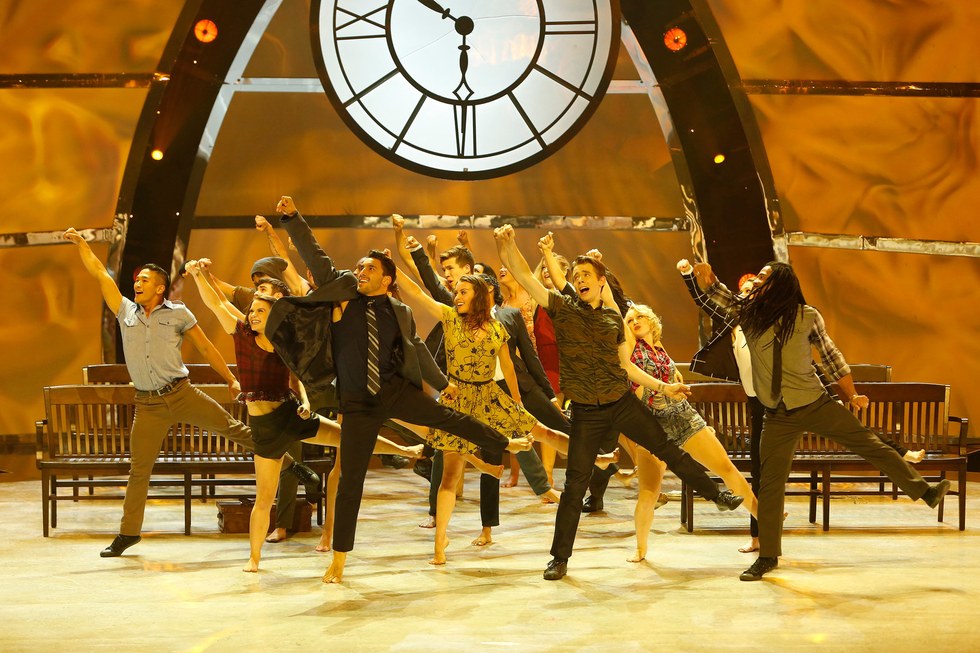 Sonya Tayeh and Christopher Scott's "Sweet Disposition"
(photo by Adam Rose/FOX)
4. Everything by Sonya Tayeh. The judges and the Top 4 dancers were asked to request encores of their favorite routines from the season, and three of them were from #TeamTayeh: Guest judge Jessica Dewan-Tatum chose Tayeh's "You Need" with Tanisha and Rudy; Zack selected to perform "Europe, After the Rain," the powerful duet with Amy Yakima; and Ricky brought back "Vow," his duet with Jessica. And as if that weren't enough, the group number, "Sweet Disposition," co-choreographed by Tayeh and Christopher Scott, really brought down the house. Set in a bustling train station, the piece combined Scott's ingenious use of storytelling with Sonya's impeccable eye for composition. Plus, we got to see the Top 10 dancers—and a few favorite All-Stars.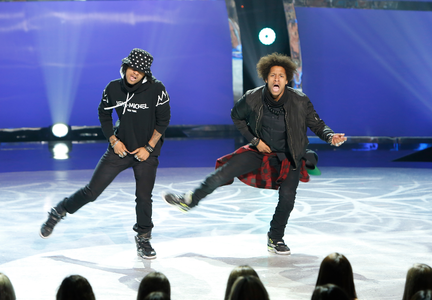 Les Twins being Les Twins
(photo by Adam Rose/FOX)
3. Les Twins' guest performance. These two. What can we say? We've been in love with Les Twins for a long time, and we're so happy they could take a quick break from killing it onstage with Beyoncé to appear on the show. Their duet was humorous, joyous and probably a little overheated—they were wearing so many layers!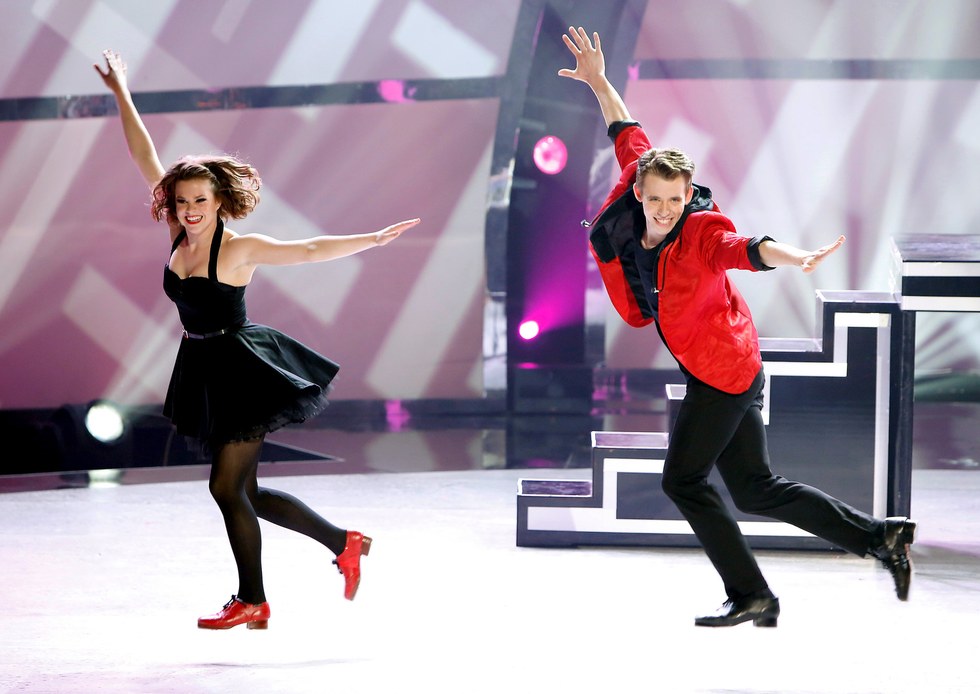 Valerie and Zack in Anthony Morigerato's tap routine "Sing"
(photo by Adam Rose/FOX)
2. #Teamtap's epic transformations. Zack and Valerie may not have been crowned America's favorites, but they earned a special place in our hearts for so daringly stepping out of their comfort zones and championing other disciplines. All the Top 4 dancers matured over the course of the season. (Jessica really developed and finessed her lines, as shown in tonight's soulful rendition of Travis Wall's "Like Real People Do" from earlier this season.) But Valerie and Zack didn't come into the competition with super-strong contemporary or hip-hop technique. So I'd like to take a moment to applaud their tenacity and their accomplishments on the "SYTYCD" stage.
OK, here it is! Drum roll, please...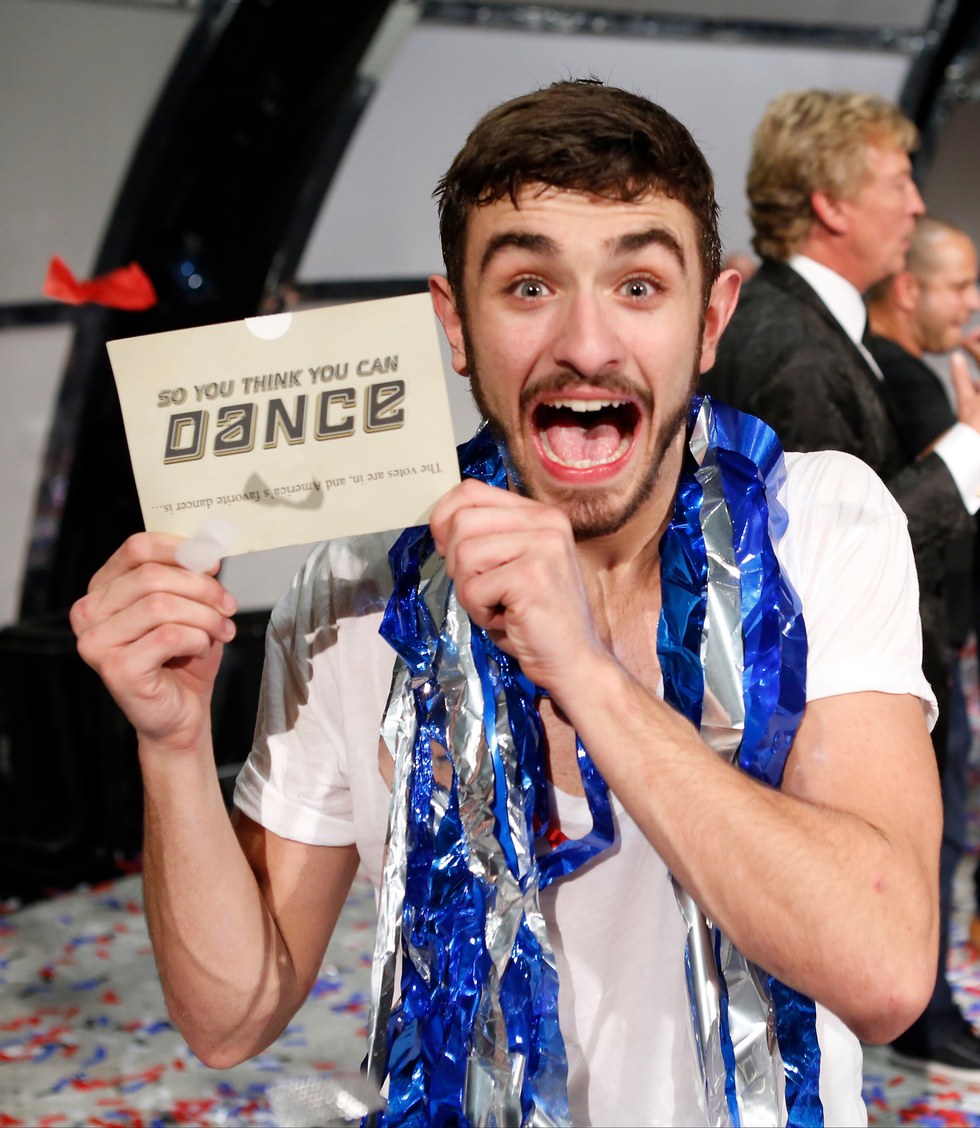 Ricky Ubeda!
(photo by Adam Rose/FOX)
1. Ricky Ubeda's moment of glory. From Dance Spirit Future Star winner to America's Favorite Dancer, 18-year-old Ricky Ubeda has grown into one heck of an amazing artist. We're so thrilled to celebrate his work and his spirit on the cover of our December issue, and we can't wait to see what awesome things he'll do next—that is, after dancing on Broadway in On the Town! Yay, Ricky!
Of course, we're sad to see Season 11 come to a close. Yet taking a cue from Nigel Lythgoe's on-screen and cross-network plug for #DWTS, we're happy dance won't be gone from TV too long—the ballroom competition starts September 15 on ABC! In the meantime, let us know what you thought of tonight's episode. And stay tuned for Dance Spirit's December issue. With Ricky on the cover, it's going to be an issue you don't want to miss. 
Hello, friends! Last night the Top 18 performed on "So You Think You Can Dance," and that means we had to narrow the group down from the super great to the incredibly, phenomenally great. I won't lie: Letting two contestants go was a little painful. But there were plenty of things to enjoy along the way. Here are my top five moments from last night's episode.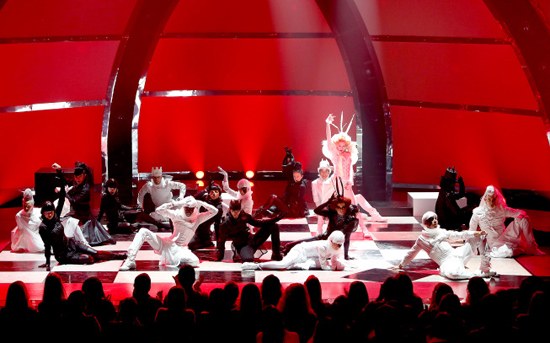 The Top 18 in Pharside and Phoenix's "How It's Done"
(photo Adam Rose/FOX)
1. The crazy-brilliant Elizabethan chessboard opening number. Top 18 dancers in funkified corsets and neck ruffs? Yes, please! The delightful little piece was choreographed by Pharside and Phoenix of Academy of Villains, and if that last name sounds familiar, it's because AOV is one of the finalists in this season's crew battle. (Speaking of the crew battle—can we get a Syncopated Ladies–choreographed number next week? But seriously?)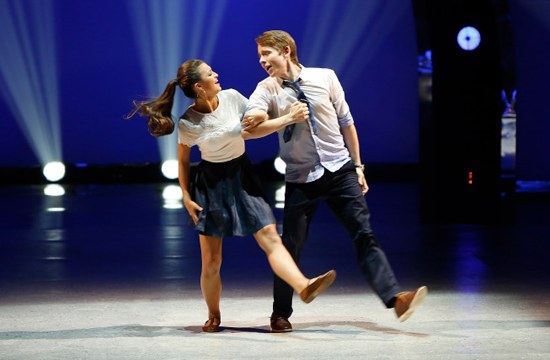 Jacque LeWame and Zack Everhart, Jr. in Keone and Mari Madrid's "Stay with Me"
(photo Adam Rose/FOX)
2. Keone and Mari are back! Oh my goodness, we cannot get enough of hip hop's cutest couple ever. Loved their routine for Jacque and Zack, who may or may not have nailed all of its technical intricacies, but definitely captured its earnest, joyful spirit.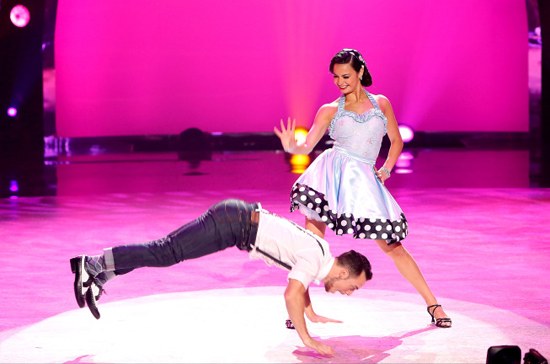 Emilio Dosal and Bridget Whitman in Anya Garnis and Pasha Kovalev's "Happy"
(photo Adam Rose/FOX)
3. Oh hey there, jive. There are few things better than a really, really good jive. Luckily for us, "SYT" superstars Anya and Pasha returned to choreograph a super-cute one for Bridget and Emilio. Since the jive is the happiest dance in the world, naturally they set it to Pharrell's "Happy," which made us feel...well, you know. And while Bridget and Emilio's leg action wasn't perfect, their performance was totally wonderful. (Shades of the fabulous jive Anya did with Danny during Season 3, am I right?)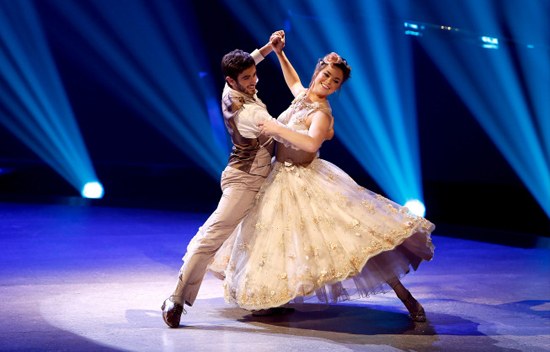 Ricky Ubeda and Valerie Rockey in Lacey Schwimmer's "I Won't Give Up"
(photo by Adam Rose/FOX)
4. Ricky and Valerie dominated the Viennese waltz. Yes, I felt a faint sensation of dread when I heard that these two were doing the Viennese waltz, which in past seasons has been the kiss of death. And yet Lacey Schwimmer—in her first time choreographing for "SYTYCD"!—pulled some amazing magic out of her ballroom hat. The routine was just lovely, and this charismatic pair sold the heck out of it.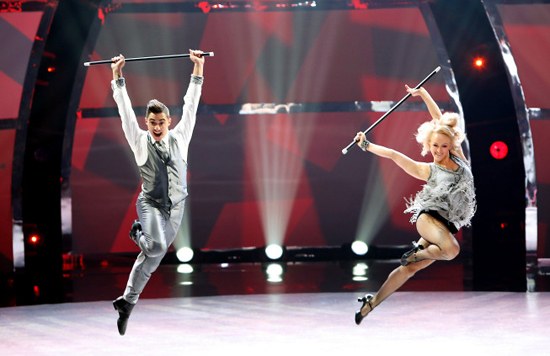 Rudy Abreu and Tanisha Belnap in "Sing, Sing, Sing," choreographed by Warren Carlyle
(photo Adam Rose/FOX)
5. War-ren Car-lyle (clap, clap, clap-clap-clap). Look: When you hear that Warren Carlyle, the 2014 Tony award winner for best choreography (that'd be for the showstopping After Midnight) is going to make a piece for "SYT," you know it's going to be darn good. But holy mother of Broadway, it was fantastic! Tanisha and Rudy lit up dancing Carlyle's soft-shoe-inflected number. They roared through the '20s, those two, and we loved every minute of it.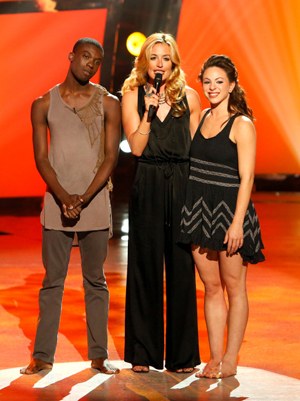 Hello, Cat Deeley in that fabulous jumpsuit. Goodbye, Stanley and Jourdan. We'll miss you!
(photo Adam Rose/FOX)
In the end, Stanley and Jourdan went home. I don't know about you all, but I am legitimately sad to see these great performers go. Particularly Jourdan—I've witnessed her fabulousness in person many a time at Complexions Contemporary Ballet. But [*sob*] I know they'll both go on to great things. You have bright futures ahead of you, Stanley and Jourdan!
What did you all think? Did the right people get booted? Let us know in the comments, and come back here next week for the recap of the Top 16 episode!
In case you missed the best night on TV—a.k.a the live broadcast of the Tony Awards—Dance Spirit's got your back. Here's a rundown of the show's highlights, a couple of its more cringe-worthy moments, and some of our favorite (and least-favorite) red carpet outfits.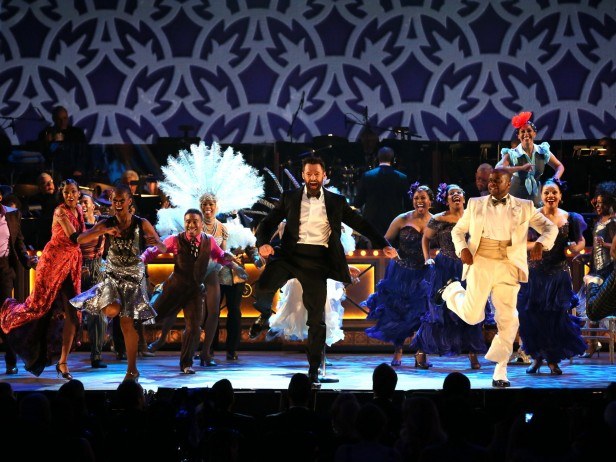 Hugh Jackman with the cast of After Midnight
(photo Sara Krulwich/The New York Times)
The Highlights: 
–Hugh Jackman as host. It's great to see Wolverine back on the Radio City Music Hall Stage, singing and dancing with the stars of Broadway. He even cut a rug with Dulé Hill and the fabulous cast of After Midnight. Sure, his opening number (with all that awkward hopping) wasn't as fabulous as NPH's extravaganza last year, but his serenading of the female best actress nominees—in both the play and musical categories—stole my heart.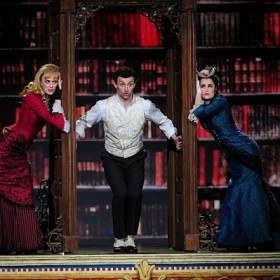 Bryce Pinkham (center) and the cast of A Gentleman's Guide to Love and Murder
(photo Heather Wines/CBS)
–The performances, obv. After Midnight, Aladdin and Bullets Over Broadway were especially impressive—so. much. tap. dancing.  And here's to genie James Monroe Iglehart's win for best featured actor in a musical. But I was especially enamored with the performance from A Gentleman's Guide to Love and Murder—the Tony winner for best musical. In case you chose to take your bathroom break during the number, you can re-watch it here. There's not much movement, but the witty trio really brought down the house.
–The crazy Music Man rap. My viewing party went pretty nuts when Hugh Jackman busted some rhymes from The Music Man—and then even more nuts when LL Cool J and T.I. joined in. The beats—commemorating the song "Rock Island" from 1957's The Music Man, supposedly the first-ever rap—came courtesy of Questlove of The Roots. (Pretty cool.) Here's the song in the 1962 film; compare it to the Tony Award shenanigans here.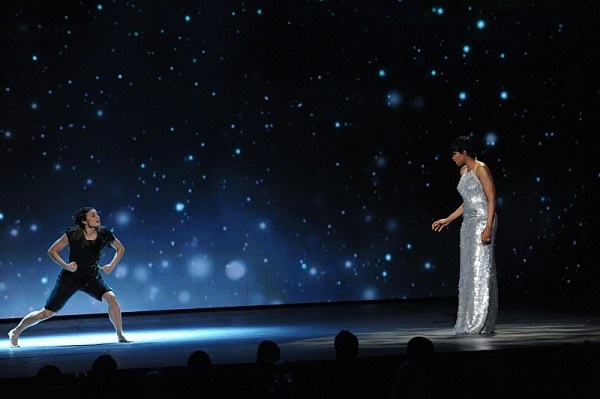 Melanie Moore with Jennifer Hudson in Finding Neverland. (photo Heather Wines/CBS)
–Melanie Moore as Peter Pan. When Finding Neverland hits the American Repertory Theater in Cambridge, MA, this summer, "So You Think You Can Dance" Season 8 winner (and DS cover star) Melanie Moore will get the opportunity to work with Mia Michaels again: Mama Mia will be choreographing the new musical. The full cast has been announced (helloooo, Jeremy Jordan!). Unfortunately, Jennifer Hudson, who sang in last night's preview, is not in the show.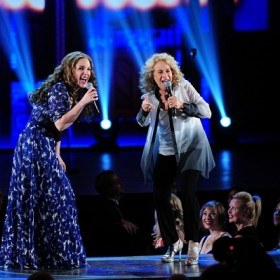 Jessie Mueller (left) with Carole King. (photo Heather Wines/CBS)
–Jessie Mueller and Carole King together (again) on one stage. I certainly felt the Earth move under my feet during this performance. Jessie Mueller is fantastic as the iconic singer/songwriter Carole King in Beautiful, and I suspect she'll be fantastic in roles to come. Congrats on your Tony for best leading actress in a musical, Jessie!
–The dreamy Matthew Bomer announcing a new Tony Awards partnership with his alma mater, Carnegie Mellon University. Next year the Tonys will celebrate one elementary, middle or high school theater teacher who really makes a difference. Know someone who you think deserves special recognition? Read about the new award here.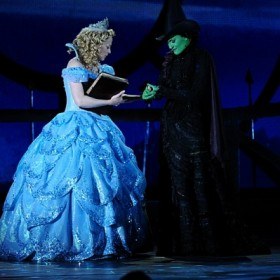 Jenni Barber (left) and Christine Dwyer (photo Heather Wines/CBS)
The Missed Opportunities:
–Wicked's 10th anniversary performance. Yes, Christine Dwyer and Jenni Barber sang an amazing rendition of "For Good." But weren't you just a little disappointed that Idina Menzel and Kristin Chenoweth didn't pop out to sing a line or two? I mean, we know Idina was there—she sang something from her new musical If/Then. Lame, Tony Awards. Lame.
–The absent-from-TV award for best choreography. Remember last year, when we got to see Jerry Mitchell accept his choreography award on TV? Apparently the producers forgot about that precedent, and After Midnight's Warren Carlyle received his award for best choreography during a commercial break. Boooooo! Maybe if we give his acceptance speech video a ton of online views, the producers will get the point for next year.
The Best Dressed: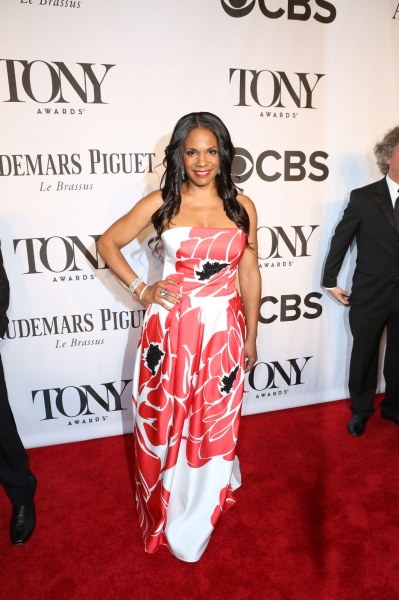 The history-making Audra McDonald, who took home her sixth Tony Award. She also became the first performer to win in all four acting categories (featured musical, featured play, leading musical and leading play). Yeah, she's legendary—and stylish to boot, in this pretty printed gown. (photo Walter McBride/Broadway World)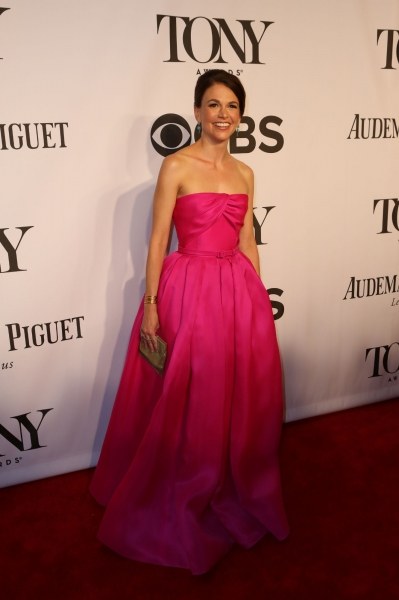 The always effortlessly gorgeous Sutton Foster. She didn't leave with a win, but her performance for Violet was strong.
(photo Walter McBride/Broadway World)
And the Worst: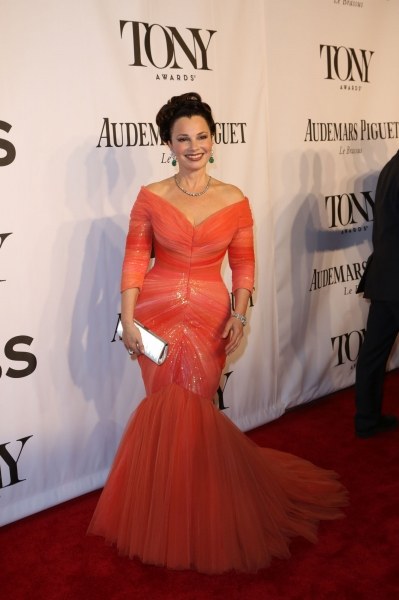 The flashy Fran Drescher. She may be on Broadway in Cinderella, but believe it or not, this over-the-top tangerine dress is not a costume.
(photo Walter McBride/Broadway World)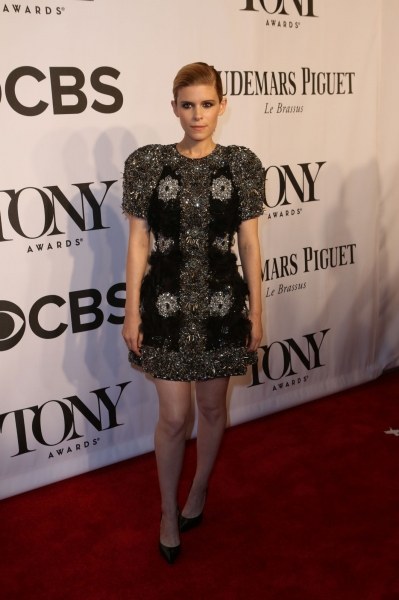 The weighed-down Kate Mara. This dress just looks heavy. Here's hoping Netflix turns "House of Cards" into a musical so Kate can redeem her look as a Tonys presenter next year.
(photo Walter McBride/Broadway World)
What did you think of the telecast? Which performance was your favorite, and who did you think was best dressed? Was any show or artist robbed of an award? We want to hear what you have to say!
The Tony Awards (airing this Sunday night!) recognize a lot of Broadway talent: actors, directors, sound designers, lighting designers, writers, composers, and our favorites, choreographers. But we all know that the true muscle behind every amazing musical is the dancers. And they rarely get Tony nominations. (Unless they happen to be the fabulous Karine Plantadit, who earned a best featured actress nomination in 2010 for her dance-heavy role in Come Fly Away.)
Enter the Fred & Adele Astaire Awards. Each June, the Astaire Awards recognize Broadway's best of the best—in jazz, tap, or character shoes. The 2014 ceremony was held last night in NYC, and the star-studded event didn't disappoint. Here are the best moments from the oh-so-dancey evening: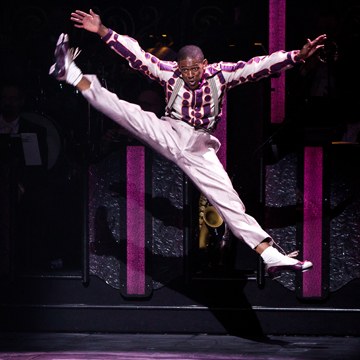 Jared Grimes in After Midnight (photo by Matthew Murphy)
1. Jared Grimes' performance. Grimes currently stars in After Midnight. He opened the show with a display of his signature lightning-fast tapping and hip-hop swag fusion that later earned him the Astaire Award for best male dancer. (After Midnight was the big winner of the entire evening: Plantadit and Dormeshia Sumbry-Edwards tied for best female dancer, and lanky Englishman Warren Carlyle won the award for best choreography. Seriously, go see this show!)
2. Angel Inniss' stellar layouts in her jazzy solo "Mr. Paganini." Man, can this senior dancer from Spotlight Studio of Dance in Maryland work a stage! Angel took home the New York City Dance Alliance Foundation's Adele Astaire College Scholarship. Congrats, Angel!
3. The presentation of the Outstanding Contribution to Dance Education Award to Luigi, the father of jazz dance (and the father of "5,6,7,8"!), and presentation of the Douglas Watt Lifetime Achievement Award to Patricia Birch. You know Patricia Birch for this choreography: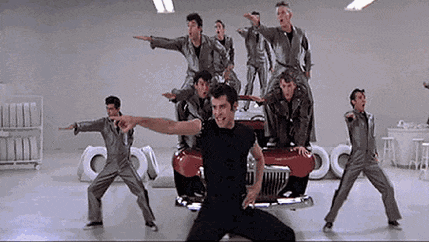 Greased Lightning! John Travolta and company in Grease
And this choreography:
Steve Martin and Gilda Radner cut a rug in "Dancing in the Dark" on "Saturday Night Live"
Of course, these are just two small snippets of this choreographer's CV, and Patricia Birch hasn't stopped moving (to quote Luigi) or choreographing. Her work can currently be seen on HBO's "Boardwalk Empire." Which brings us to top moment 4:
4. Legendary actor (and star of "Boardwalk Empire") Steve Buscemi making a surprise appearance to pay tribute to Patricia Birch for her work on the show. Best of all? We got to see a stage rendition of one of the acts from "Boardwalk." Take a look at the number in this clip from the show, and see if you can find our gal Chloe Arnold. Spoiler alert: Jared Grimes also performs!
5. Nancy Chippendale's Dance Studio tappers big finale. These teen dancers—there were more than 45 onstage!—from North Andover, MA, sure know how to stay in formation, while flapping and tapping in perfect unison. Their number "Glam" was the perfect finish to a truly glamorous event.
Let's hope Sunday's Tony Awards (8 pm on CBS) includes at least half this much dancing!
Feb. 13, 2013 10:56AM EST
Who doesn't love a good ballet company couple? New York City Ballet has bunches of them—Megan Fairchild and Andrew Veyette, Janie Taylor and Sebastien Marcovici, Teresa Reichlen and Justin Peck, Lauren Lovette and Daniel Ulbricht—but one of the troupe's cutest pairs is Tiler Peck and Robert Fairchild. Even before they were dating, we wanted to pinch their cheeks. Now, every time we see the two principals onstage together, we get all giggly and happy.
So we were thrilled to hear that the dynamic Peck-Fairchild duo will be performing in the New York Philharmonic's presentation of Rodgers & Hammerstein's Carousel, which runs Feburary 27 through March 2. Yes, since it's a Philharmonic production, it'll mostly be a celebration of the musical's beautiful score. But Peck and Fairchild's pas de deux to "If I Loved You" in the second act, choreographed by Warren Carlyle, is sure to be a highlight.
Here's the even better news, especially for non-New Yorkers: PBS will also telecast the show at 9 pm (EST) on April 26. Click here to find out more!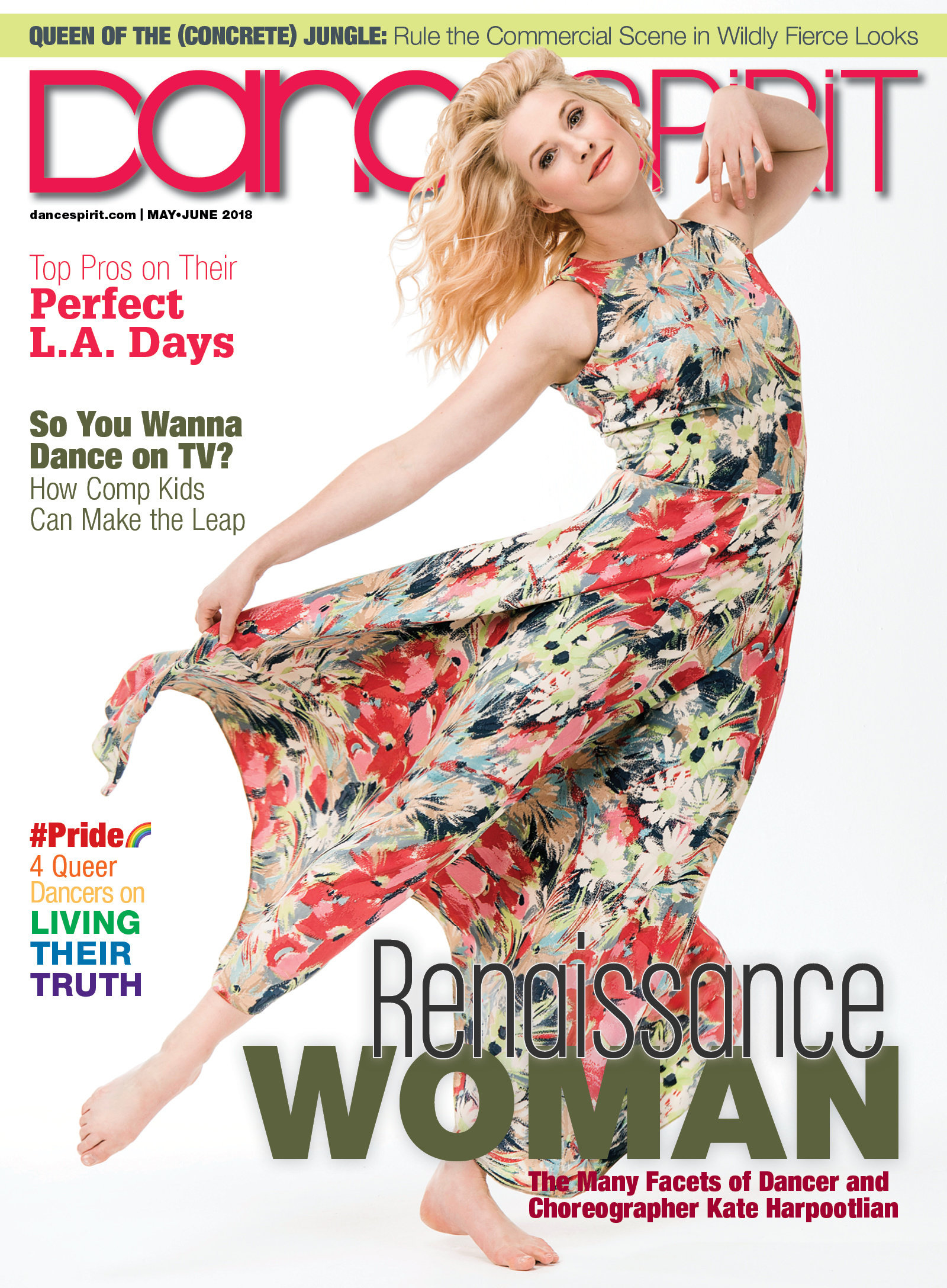 Get Dance Spirit in your inbox