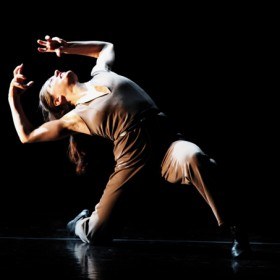 Christina Ilisije in a recent performance of Kate Skarpetwoska's A Stray's Lullaby (by Masato Kuroda)
I wish I could say I didn't fulfill the dancer-with-an-eating-disorder cliché, but I can't. My struggle started when I was a dance-crazed teenager, nitpicking more than just my technique in the mirror. As a type-A gal, I thought of losing weight as a way to take control of one more element of my life. Perfection was what I was after, and I thought every pound lost would bring me closer to it. My goal was to get into good shape, and to me that didn't mean improving my stamina or strength, but appearing more "dancerly."
The problem reached another level when I started as a dance major at Marymount Manhattan College. The summer before my sophomore year, I enrolled in a course on nutrition. The class opened up my mind to a better, healthier diet, but I took its lessons to an extreme. I read every ingredient on nutrition labels and became tediously aware of serving sizes. I stopped listening to my body's signs of hunger and analyzed my meals as if I were being graded. Any time I absent-mindedly snacked on trail mix, I felt consumed by guilt.
I became extremely thin—too thin by anyone's standards. At 5' 5", I weighed about 100 pounds. Upon my return to Marymount in September, teachers took note of my deteriorating figure. "Christina, you look so thin. Don't lose any more weight, please." To me, this was a compliment. While it was easy for me to look at people with more severe cases of anorexia—their bones protruding harshly—and know they were sick, I was proud of my new figure. I was in denial, convinced there was nothing wrong with my body and that my pitifully constrained dinners were what a dancer should be eating. I'm scared to think how close I was to extreme anorexia—probably much closer than I realized.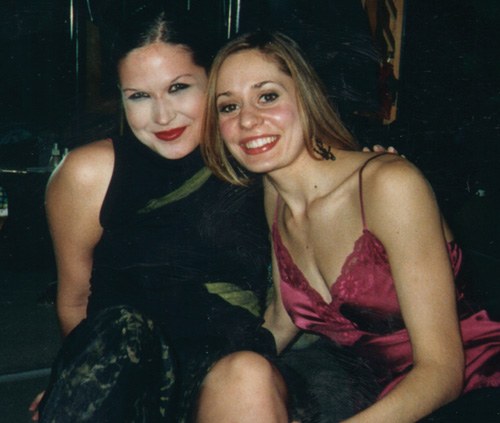 Ilisije (right) at her thinnest in college (courtesy Christina Ilisije)
The most tragic part? I felt great. I felt on top of my dance game when I was truly at the bottom. Once I knew I was skinny, I took class with a liberated state of mind, riding the wave of my positive body view. Finally, when I spotted myself in arabesque in the mirror, I didn't think, Ugh, that belly and thigh are a bit unfortunate. Instead, I was free to sail effortlessly in a promenade, focusing on luxuriating in my épaulement instead of scrutinizing my body. And as my college training continued, my technique got better, which in my mind proved my bogus equation: thinness = better dancing.
At the end of spring semester, my parents came to see me perform. After the show, they were near tears. They told me I needed to put on weight and they were going to get me help. Seeing their urgency about an issue I thought didn't exist made me reconsider what I was doing to my body. My parents were right. It had been nearly a year since I'd started my misguided efforts to get in "dancer shape," and I had become weak and withered. I hadn't had a period in nine months, and I knew in my gut that my body was shutting down. Gratefully, I accepted their intervention.
I saw a therapist to help sort through the emotional turmoil and wrap my mind around the seriousness of the issue. I realized that potentially ending my dance career—because of lost bone density and an increased risk of injury, both side effects of my dangerously low body weight—frightened me almost as much as putting on weight. My therapist repeatedly reminded me to view food as a source of nourishment and emphasized the importance of fueling my bones and muscles to allow them to do what I requested of them. I was never formally diagnosed with a disorder, but I became aware that my perception of my body wasn't aligned with reality.
I dove full force into my recovery, and when it came to food, I didn't limit myself. I increased my portions and didn't finish a meal until my belly felt full. Food still came with a whopping side of guilt, but I kept trying to convince myself that my new eating habits were necessary. Seeing the poundage creep onto my scrawny frame while maintaining a sense of self-pride was a challenge. Those five extra pounds made me feel like I was wearing a balloon suit.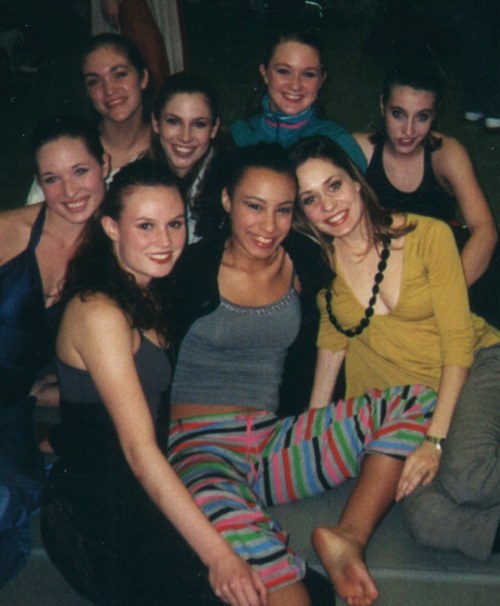 Ilisije (front right) with friends at Marymount Manhattan College (courtesy Christina Ilisije)
Along my road to recovery, I became heavier than I'd been before I was sick. I intuitively felt I would need to go further in the opposite direction before I could balance myself and feel my healthiest. But I let this new heavier body limit my dancing because I felt no pride in it. It was a distraction that took me out of the work and into the mirror, concerned with the appearance of my movement instead of the movement itself. The honest truth is my mind hadn't made as much of a shift as I had hoped.
But I repeatedly recited to myself, "I have to fuel my body. This is me, and I'm beautiful." With these self-loving mantras and a lot of patience, I started to believe the asexual, prepubescent look was not all that and a bag of chips (let's be real, it was no chips!). The clothes that once sagged on my wilted tushie had a field day with the comeback of my bubble butt. At first, I gawked in the mirror with a tinge of disgust at my new curves, but I gradually embraced that womanly figure. There was no "aha" moment. It took time before I was able to own my body and shed my mental balloon suit.
While I was in the midst of this mental battle, life threw me other tests. During a phone call with a director about an upcoming season, she asked if I planned on getting in shape for it—"You know, slimming down," she said. I went on the defensive and told her I wasn't willing to drop pounds and sacrifice my health. It was a proud moment, but the harsh reality was that I wasn't in my best shape. Negotiating the fine line between healthy eating habits and obsessive ones was too sensitive an issue for me. Slowly, I faced the fact that I needed to make sure my physique was strong, lean and functioning at its best for dance jobs.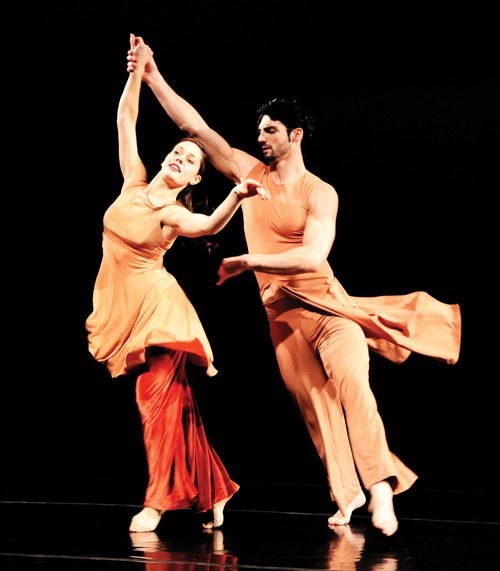 With Jason Macdonald in Parson's Swing Shift (by Masato Kuroda)
In 2010, I joined Parsons Dance. Now, for the most part, the physical work I do on a daily basis helps me achieve the necessary strength, stamina and flexibility. Other times I have to step up my game and fuel my body carefully to make sure I feel at my prime. I still consciously opt for nutritious foods. I eat when I'm hungry and stop when I'm full—for the most part. I eat chocolate, and I like it. Heck, I love it, and I may occasionally eat one too many Godiva truffles
in the confines of my apartment. Yes, there are still times when I mumble to myself, "Did you really need to eat that much?" However, these mental slip-ups are few and far between, and I have faith that one day they'll subside into my dark past completely. And these days, when I'm coming back from an off-season and notice my figure is a little rounder, I have deeper patience with myself. I'm well aware I'm a beautiful woman and artist at a healthy, ideal-dancer-weight-for-me of about 130 pounds (a guesstimate, since I don't step on a scale unless I'm at the doctor).
This is my challenge to other dancers who take drastic measures to change their bodies: Choose to see your beauty, and, for heaven's sakes, use the mirror as a tool to sharpen your technique, not to see if your thighs look fat. There has to come a point when you stop worrying and let dance take over. If you want to reach your fullest capacity as an artist and a person, working to maintain a healthy relationship with food is a battle worth fighting.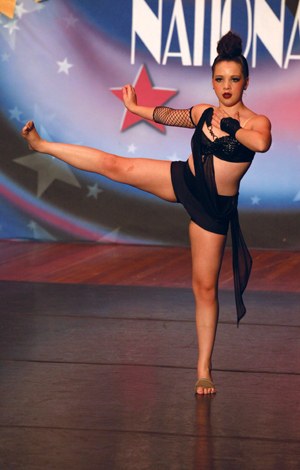 Hannah Epstein performs her solo, "House of Pain," at Starbound.
Paul Taylor Dance Company member Aileen Roehl is 5' 2" with powerful, strong legs. But growing up training in ballet, she felt lost in a sea of tall, slim ballerinas. After one summer program audition, she was in the director's office and caught a teacher pointing at her rear end. "I turned around and said, 'I know!' " she says. "I knew I had a larger butt—I didn't need the reminder."
So how did Aileen learn to embrace what made her different? "I learned to look at skinnier girls and think, I'd love to have her legs, but maybe she doesn't have the strength I have," she says. "What some people see as a flaw makes me the dancer I am." Now, as a professional, she loves her body: "I wouldn't be able to jump as high without my muscular legs," she says.
Having an unconventional body in the dance world isn't easy. You may have to work harder than your peers to be taken seriously. You may lose out on certain roles or jobs. You may get negative comments from peers and teachers. And even if you're in a nurturing environment, you may occasionally wish you looked like everyone else.
But while there are still standards for appearance—especially in professional ballet—the dance landscape is changing. You can be compact, muscular, curvy or even plus-sized and still find a place in the dance world. Here, an array of student and professional dancers share thoughts on having a body that doesn't fit the traditional mold.
The Criticisms
The pressure to be thin comes from all sides in the dance world. Sometimes it's from classmates. Fifteen-year-old Gabriella Leutzinger, who dances at Ballet Elite Dance Studio in Margate, FL, describes herself as "muscular, but not overweight," and remembers an embarrassing time in fifth grade when a fellow dancer "told me not to sit on a chair because I'd break it."
Teachers can also make you feel bad—intentionally or not. "I'm short and I have a swayback, and I didn't know how to use my abdominals properly for a long time," says Alden LaPaglia, who trained at the School of Richmond Ballet in Virginia growing up and is now an independent performer and choreographer in NYC. "My favorite teacher [at SRB] used to joke that I'd had a big brunch before Saturday ballet. It wasn't mean-spirited, but I became very self-conscious." Seventeen-year-old Page Burns trains at Eastern Connecticut Ballet with former New York City Ballet soloist Gloria Govrin. "I'm taught that the Balanchine 'ideal'—tall and thin with long legs—is the correct body," she says. "But I'm 5' 3" and have big breasts. Even though I get soloist parts, it's a struggle not to compare myself to that model."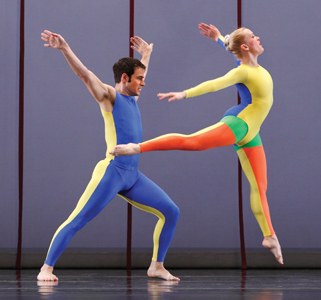 Aileen Roehl performs with fellow Paul Taylor Dance Company member Robert Kleinendorst. (Paul B. Goode)
Other times, parents can get in on the criticism action. If a parent in your studio is commenting on your body, follow the example of 12-year-old Hannah Epstein, a student at Stars Dance Studio and dancer on "Dance Moms: Miami." "I have a wider body type," she says, "and if people think it matters, that's their opinion. When the moms on 'Dance Moms: Miami' talk about [my body], I don't listen to them. I'm doing what I love—dancing."
The Dreaded Costume Fittings
Beyond the vocal criticisms, there's the nightmare of every dancer with an unconventional body: costume fittings. Eighteen-year-old Shannon Riley, who studies at Rockford Dance Company in Rockford, IL, recently performed in Cinderella. "All the girls in my class had costumes from storage, but they had to build a new one for me," she says. "They'd never needed a costume for someone busty!" L.A.-based performer and choreographer Justine Menter even remembers having to duct-tape her breasts down to fit into high school drill team costumes.
Sarah Hay, who dances with Semperoper Ballet in Dresden, Germany, developed breasts around age 13. Now a slender 5' 4" with a D-cup, Sarah struggled to feel comfortable in skimpy costumes. One of her lowest points coincided with a dream come true: She was thrilled to be cast in William Forsythe's In the middle, somewhat elevated with Pennsylvania Ballet. Then she saw the spaghetti strap leotard she'd be wearing. "I was horrified, and so uncomfortable," she says. "Even though the costume people built in a bra for me, I was crying before the show. I almost let it ruin my experience of performing that great ballet."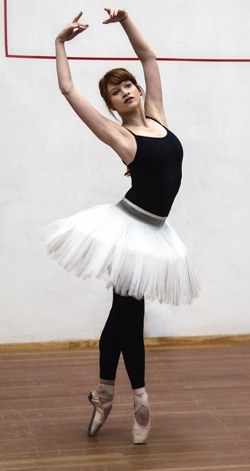 Sarah Hay in rehearsal (Ian Whalen)
The Change in Perspective
When you internalize external pressure—direct, implied or imagined—you might be tempted to take drastic steps to change your appearance or your feelings. Sarah admits that at times in her student and professional career, she wasn't eating properly or taking care of herself.
So how can you learn to accept your body as it is? Start by focusing on your strengths. In some instances, your body itself might be an asset. When Sarah appeared in the corps de ballet in the movie Black Swan, the production team loved that she looked feminine and highlighted her in several scenes. When Justine moved to L.A., she found herself auditioning alongside other dancers who had curves. "I've been able to create my own niche in L.A.," she says. "People in the commercial world want to see real women dancing." Justine also launched her own dance company, FLiRT, which accepts dancers of different ethnicities, body types and dance backgrounds.
It might take trial and error to find your place in the dance world. That may mean changing studios: Short and curvy 16-year-old Eleora Pasternack left her hard-core
ballet studio after fifth grade, saying, "They definitely had visions of a certain body type." She's now at Mass Ballet in Framingham, MA, where, she says, "Whether you have the 'right' body or not, whether you're going to be a professional dancer or not, you're trained the same way."
It took several world-class ballet academies and two professional company slots before Sarah found happiness in Dresden. "There is no 'type' here," she says. "There are girls who have figures and who are still extremely fit and beautiful. My director likes how I look, and I get a lot of compliments about appearing feminine and sensual onstage. Now I wear spaghetti strap leotards all the time!"
The Acceptance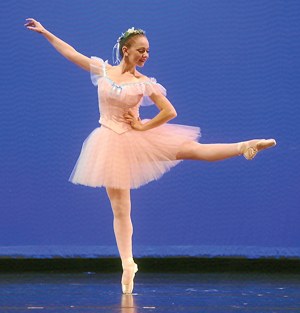 Page Burns performs a ballet solo. (Thomas Giroir)
Finding your place might also mean looking outside your genre. "With my strength, modern dance was natural to me," Aileen says. "You tend to have more body types in modern than in ballet." Alden also shifted her focus from ballet to modern, and then added musical theater to the mix. "My height is still an issue for theater, except for teenager roles," she says, "but my body doesn't hinder me the way it would have in ballet. And I've explored other things, like singing and acting." Meanwhile, Gabriella came into her own in contemporary class. "I wanted to be a ballerina, but I'd see people onstage who didn't look anything like me," she says. "In contemporary, I see dancers who look like me, and I think, 'I can do that.' "
There's no one-size-fits-all secret to finding success with a nontraditional body—or to learning to like your body and respect what it has to offer. It takes hard work, as well as a willingness to adapt and put yourself in new situations. It helps to have a supportive training environment. And perhaps there's an older girl in your studio who inspires you; Hannah looks up to a senior at her school who has a similar body. Or maybe you're built like Melanie Moore, Misty Copeland, Donyelle Jones or another talented, successful dancer who isn't pin-thin but still rocks onstage.
"You can't expect your body to turn into something it will never be, but you can work on it and improve your dancing until you find the right aesthetic for you," Sarah says. "The dance world needs art and artistry, more than another cookie-cutter body."
Changing What You Can, Living With What You Can't
You have no control over your height or how fast you build muscle. Other physical aspects are more open to change. The trick is knowing what you can and can't alter.
"You can do a lot with conditioning," says dancer and choreographer Alden LaPaglia. "When I found Pilates in college, I grew stronger and improved my alignment, which made me look longer and leaner."
If you have large breasts on a petite frame, the only real way to change that is to have breast reduction surgery—and that's not a decision to be made lightly. It's also individual to every dancer. L.A.-based dancer and choreographer Justine Menter had a breast reduction in high school. "Before, my chest hurt when I ran, and I had to wear two bras to rehearsal," she says. "I was self-conscious all the time. After the surgery, I had more confidence—and I'm still curvy, just proportionate." Ballerina Sarah Hay considered breast reduction surgery for several years, and was even told by one teacher to have the procedure done, but ultimately decided not to. Now, at Dresden's Semperoper Ballett, her curves are accepted and appreciated.
"Before, I was looking for any way to strap down my breasts and hide them,
but now I think I look fabulous," she says.
Did You Know? 
American Ballet Theatre soloist Misty Copeland is launching a new line of dancewear, M by Misty, designed with curvy women in mind! For more: mbymisty.com
Whether it's snowing in your neck of the woods or your winter conditions are a little milder, this is the time of year when foods high in fat are especially appealing and seem to lurk around every corner (hot chocolate with whipped cream, anyone?). The shorter days, cooler temps and more indoor time may be to blame for our enhanced desire for comfort foods and TV-watching, but don't despair! There are plenty of healthy foods that will give you a warm fuzzy feeling, even when Jack Frost is lurking outside your window. Here are eight tips for taking a bite out of winter weight gain:
1. Break the Fast
Breakfast is the meal of champions. It keeps your cravings for foods high in fat, sugar and calories under wraps. When the sun is on the rise, choose foods high in fiber and protein—low-fat yogurt topped with low-fat granola, a hearty bowl of oatmeal matched with a tall glass of milk, or a whole-grain bagel with a shmear of peanut butter.
2. Graze Like You Mean It
Don't be fooled: Skipping meals will not save you calories. The longer you go on empty, the more apt you are to choose foods bursting with fat and sugar in quantities meant for Paul Bunyan. Instead, eat 200-400 calories every three to four hours to keep one step ahead of your cravings. For longer satisfaction, think whole-grain breads, vegetables, lean protein (turkey, chicken, hummus, beans), and a sprinkle of healthy, unsaturated fats like nuts, seeds and avocados.
3. Pump Up the Protein
Cravings for comfort foods can be caused by an uneven distribution of protein throughout the day. Adding a little to each mini-meal or snack—low-fat cheese sticks, yogurt, almonds, hummus and whole-grain crackers—will send your sweet tooth into hibernation and encourage long-term hunger suppression.
4. Sweet by Nature
What could be sweeter than a succulent pink grapefruit, a bright red apple or a pear that's soft to the touch? A piece of fruit can pacify your sweet tooth while boosting your fiber, phytochemical and antioxidant intake.
5. Listen Up!
Have you ever spent hours preparing a delicious meal, and then eaten it so fast (or so mindlessly) that you suddenly looked down at your empty plate thinking, "Where did my food go?" Eating in front of the television, computer or while reading can spell disaster. Eat your meals and snacks free from distractions so you can fully enjoy your food—and recognize when you're full.
6. Drink Up!
A good old glass of water may be just what your body is craving when your energy levels tumble. Next time you feel a craving coming on, down a big glass of water and see if your cravings retreat.
7. Keep Moving
We all know that dancing works miracles, but did you know that exercise also calms cold weather appetites? It slows down the centers in the brain that control appetite and pumps out happy hormones called endorphins. Thirty to 60 minutes of moderate exercise three to five times a week can take a bite out of your cravings—so keep on dancing!
8. Brush Up!
As the day winds down, cravings can pick up speed (hence the midnight snack!). This is a great time to grab your toothbrush and send your hankering for a Hostess Ho Ho down the drain.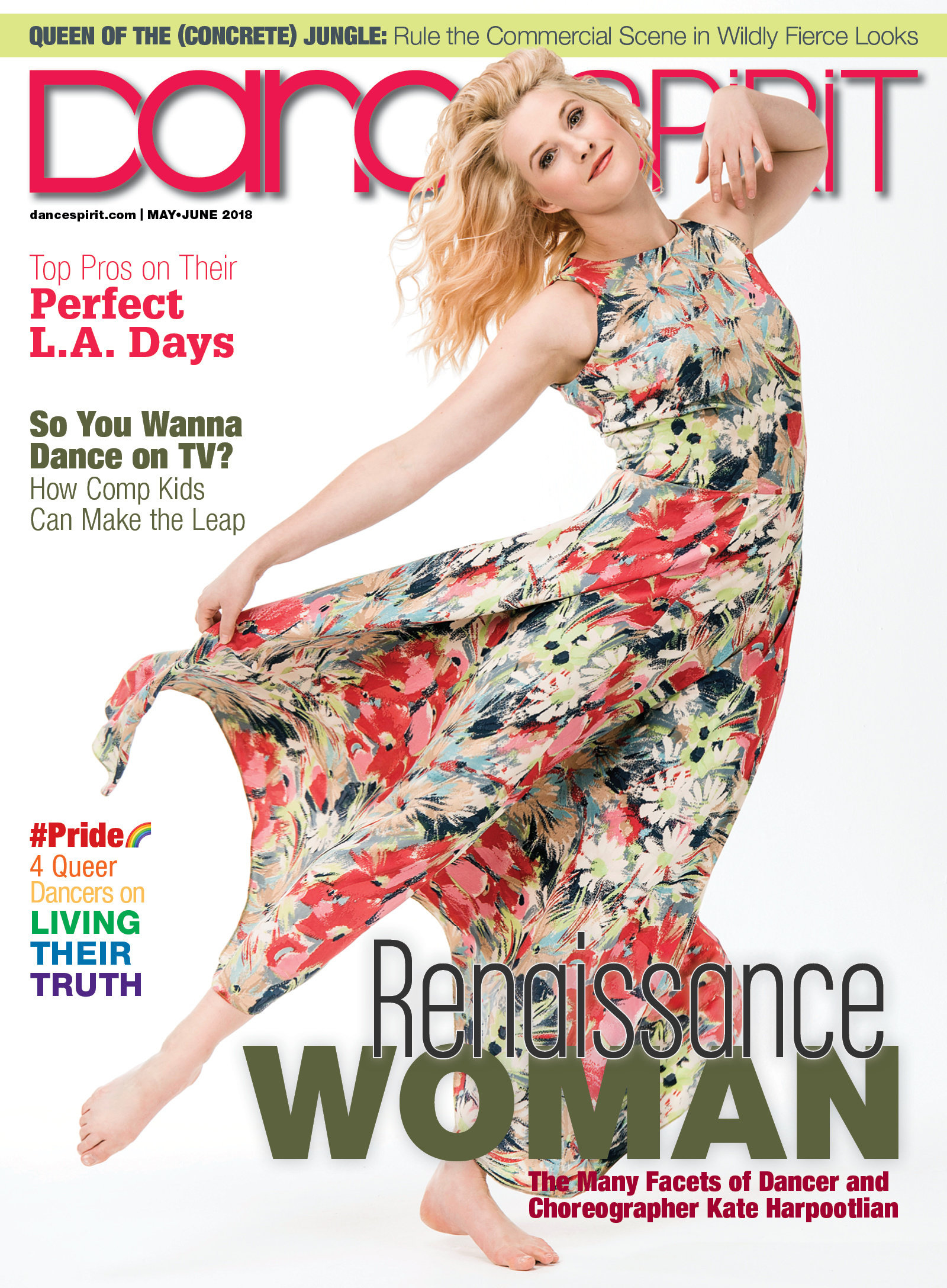 Get Dance Spirit in your inbox