All us normal humans are currently struggling through the tricky what-should-I-get-my-studio-friends-for-the-holidays tap dance.* But we can give up right now, because former New York City Ballet prima/perpetually extraordinary person Wendy Whelan just won the present game forever: She gifted her advanced Ballet Academy East students her own leotards.
Picture that for a second: Wendy Whelan, a dance goddess, a living legend, just handed you a lovely leo that has been on her own superhuman body. And now you—you!—can benefit from all its amazing juju. It's like getting to wear a tutu that the dancer you idolize once donned, except in this case you can take the thing home and maybe (we won't judge!) sleep with it under your pillow.
We have to give snaps to the BAE ladies for maintaining an extremely chill façade in the face of all this, because we have a feeling they're squee-ing like crazy inside:
Wendy Whelan is, was and forever will be #allthegoals.
*Psst: Our Gift Guide might help!
The annual Fire Island Dance Festival took place in New York last week and raised a record-breaking amount for its worthy cause: Dancers Responding to AIDS. This year also featured five new world-premiere works and more than 30 professional dancers.
Highlights included ballerina Wendy Whelan in choreographer Brian Brooks' piece First Fall, a MADBOOTS Dance piece in response to the Orlando tragedy titled For Us and the first U.S. performance of Cuba's Ballet Contemporáneo de Camagüey. Dance Theatre of Harlem also debuted Equilibrium (BROTHERHOOD) by Darrell Grand Moultrie and Dorrance Dance performed a jaw-dropping tap piece.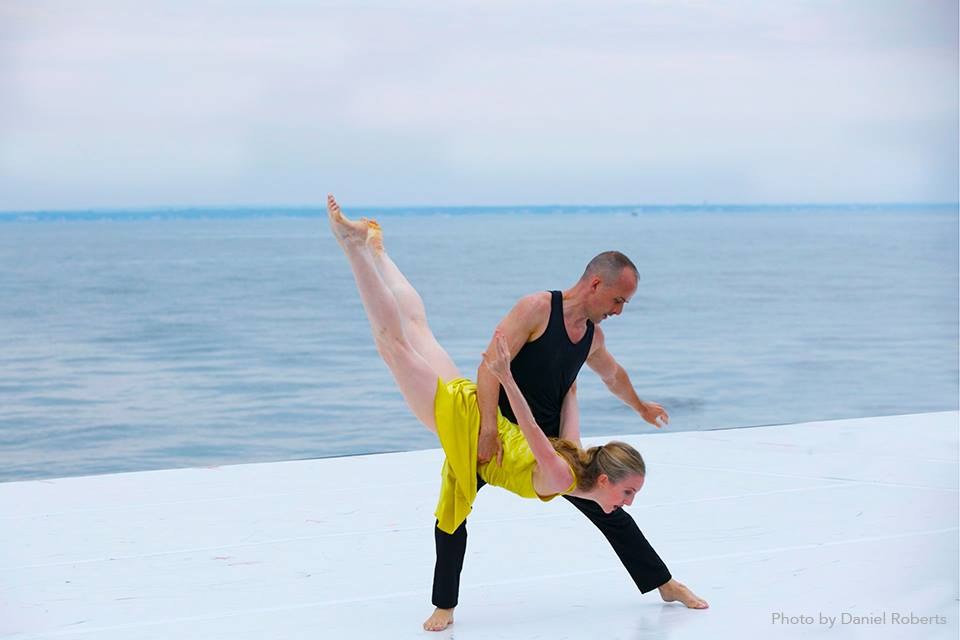 Wendy Whelan and Brian Brooks perform First Fall. (Photo by Daniel Roberts via Facebook, Dancers Responding to AIDS)
The fest's iconic stage, overlooking the water, makes for a pretty stunning venue. And thankfully, for those that missed out, some of the dances have made their way to YouTube. Check out the highlights video first, then scroll down for a full-length performance of Al Blackstone's upbeat "Gay Paree" (a re-imagined piece from his recent hit Freddie Falls in Love) and appearances by Dance Theatre of Harlem, MADBOOTS Dance and Gallim Dance.
Season 2 of "city.ballet."—the AOL On series that gives an insider's look at New York City Ballet—is live now! We're recapping one episode per week. Watch all 12 at dancemagazine.com.
The ballet world is ruled by the young. Young bodies are just better suited to its crazy demands, which means that it's not uncommon for a dancer to join a company at 16 and retire at 30. But ballet's veterans—those who've been around for 10, 15, 20 years—bring a wealth of wisdom and experience to their performances. The eleventh episode of "city.ballet." looks at some of New York City Ballet's seasoned stars. Here are five things we learned from the ep.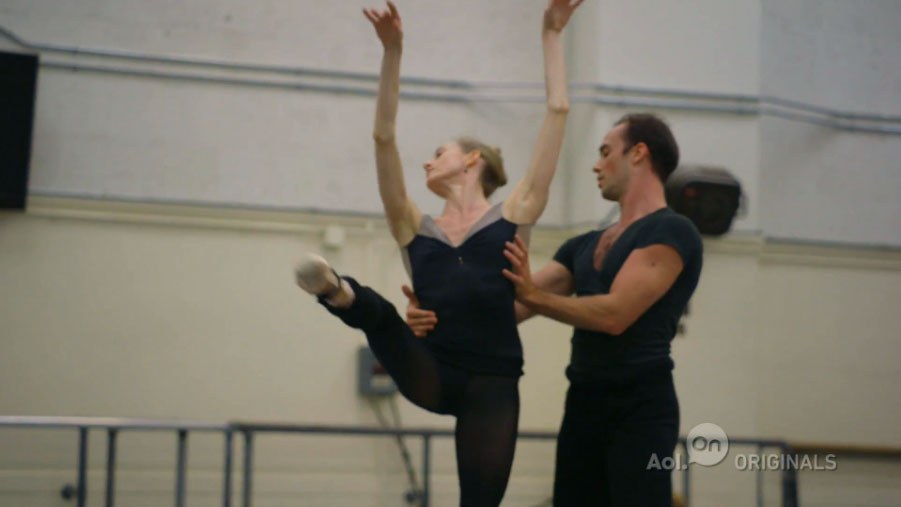 Veteran/goddess Wendy Whelan rehearsing with Tyler Angle in a still from "city.ballet."
1. In the ballet world, you feel ancient when the rest of the world still thinks of you as young. Principal Andrew Veyette, who's in his early 30s, had an epiphany about age while watching a basketball game. "I remember turning to my wife [that'd be fantastic fellow principal Megan Fairchild] and saying, 'You realize most of these guys are younger than us.' All of a sudden, you're 15 years in and 10 years older than you think you are."
2. Veteran dancers learn to look at ballet differently. "As you get older, you get smarter," soloist Craig Hall says. "You have to be more efficient, because you can't just do it day-in and day-out without feeling something. You have to find tricks that allow you to do less physically and more mentally."
3. But the best dancers age like fine wine. Wendy Whelan, who until she retired in October was the company's senior ballerina, is a goddess. Not that we learned that from this video—we've known it for years, along with the rest of the ballet world! But the footage of her rehearsing and performing Alexei Ratmansky's Pictures at an Exhibition (at 3:06 and 5:19) is sublime. She's 47 going on ageless.
4. OMG, these dancers have gorgeous families. We get to meet the husbands of both Hall and principal Maria Kowroski, and—surprise, surprise!—these two extraordinarily beautiful people are married to two other extraordinarily beautiful people.
5. With age comes new challenges, yes—but also new opportunities. "What's interesting is that now, at this late time in my career, I'm getting to do all these ballets I've always wanted to do," Kowroski says. "I feel like there's a maturity I can bring to these roles now. Having more life experience brings a different kind of a depth to them."
Click the image below to watch the full episode!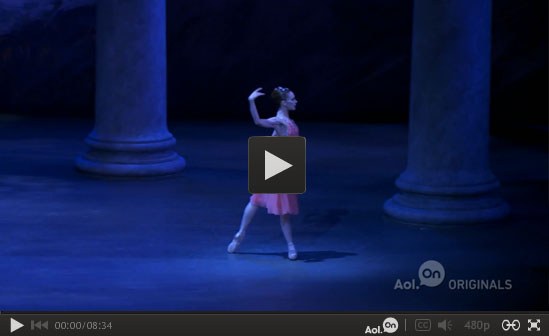 I'm also thankful for dancing turkeys. Thank you, dancing turkeys, for dancing. And being turkeys.
What are you thankful for this year? Finally hitting that 6 o'clock penchée? Being cast in your dream Nutcracker role? Getting your first pair of pointe shoes?
Here at Dance Spirit, we have a Thanksgiving tradition: Each year, everyone on staff expresses appreciation for the dance-y things that make our world a little brighter. And since being a member of the DS team comes with pretty amazing dance-related perks, we always have a lot to be thankful for. Here's what everyone had to say this time around.
"I'm thankful for the many web series about dance, like AOL On's 'city.ballet.,' Teen Vogue's 'Strictly Ballet' and Dance Spirit's own 'Road to Nationals.' Whenever I need a break at the office, I can grab my headphones, sit back and watch an inspiring episode—and it still looks like I'm doing work!" —Jenny Dalzell, managing editor
"I'm thankful to get to interview some of the youngest dancers featured in DS for our 'You Should Know' column. I'm constantly inspired by their passion, optimism, humility and gratitude—not to mention their insane talent!" —Maggie McNamara, assistant editor
"I'm thankful to be surrounded by amazingly gifted dancers. I always have inspiration to work harder." —Nicole Loeffler-Gladstone, assistant editor
"I'm thankful for artists like Misty Copeland, Tiler Peck and Wendy Whelan, who show dancers everywhere that there are so many options beyond a traditional stage performance career." —Meggie Hermanson, fashion editor
As for me? I'm thankful to be living in NYC, a city with more dancers per square foot than anywhere else in the universe. Every single day, I have opportunities to experience these artists' energy and passion—onstage, in the studio, at DS photo shoots, on the subway (it happens!). I love you, NYC—almost enough to make me forget how much rent I'm paying.
Happy Turkey Day!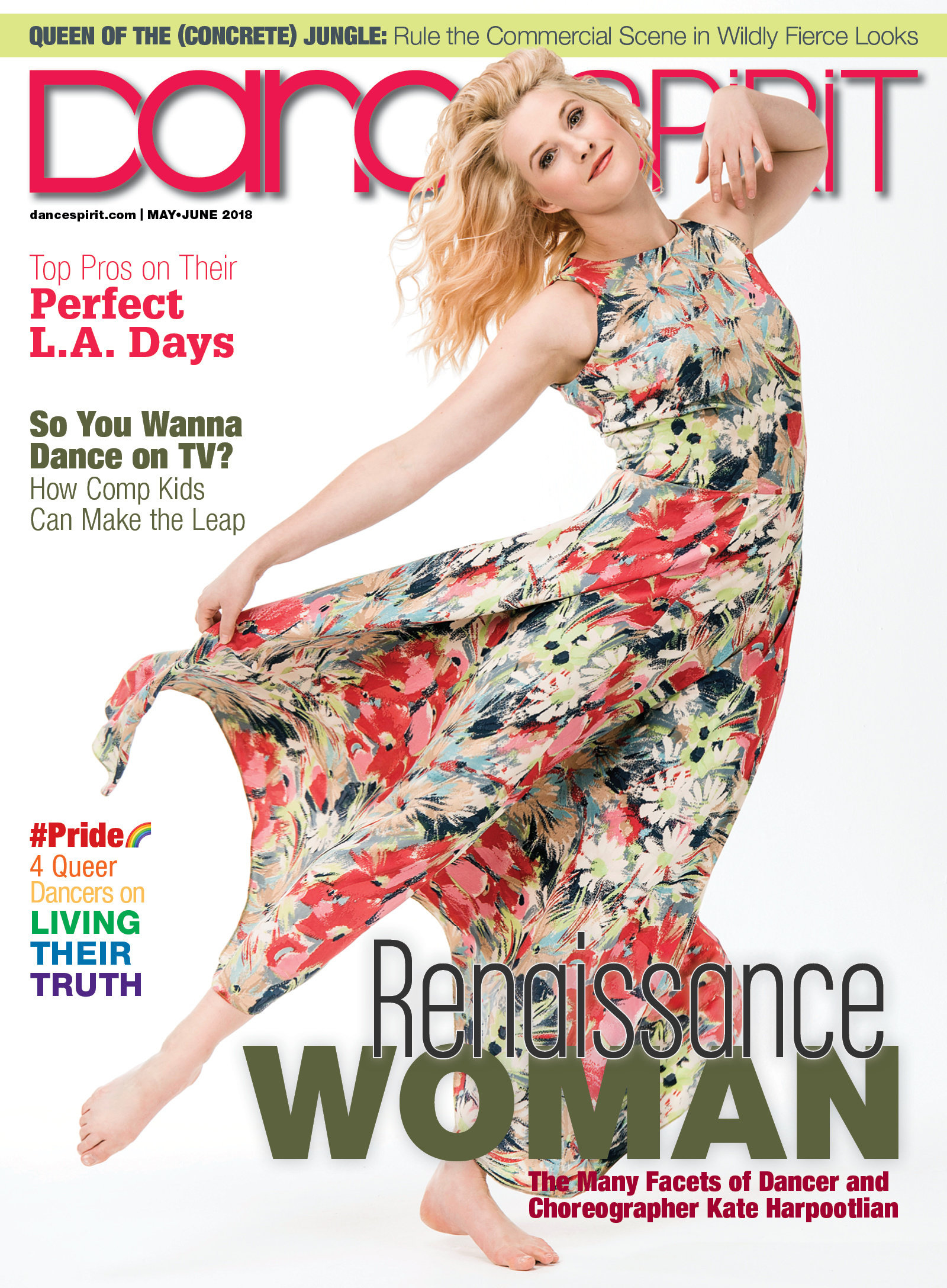 Get Dance Spirit in your inbox