Oct. 01, 2019 11:45AM EST
A promo shot of the new West Side Story film cast (Amblin Entertainment)
Dance Videos
Aug. 24, 2019 08:45AM EST
Michelle Dorrance. Photo by Jayme Thornton
What do Percy Jackson, Princess Diana and Tina Turner have in common? They're all characters on Broadway this season. Throw in Michelle Dorrance's choreographic debut, Henry VIII's six diva-licious wives and the 1990s angst of Alanis Morissette, and the 2019–20 season is shaping up to be an exciting mix of past-meets-pop-culture-present.
Here's a look at the musicals hitting Broadway in the coming months. We're biding our time until opening night!

Musical Theater
Jun. 17, 2019 12:14PM EST
Apr. 16, 2019 02:56PM EST
Maddie Ziegler will play one of the Jets. (photo by Lucas Chilczuk)
This is huge news, so we'll get straight to it:
We now (finally!) know who'll be appearing onscreen alongside Ariana DeBose and the other previously announced leads in Steven Spielberg's remake of West Side Story, choreographed by Justin Peck. Unsurprisingly, the Sharks/Jets cast list includes some of the best dancers in the industry.
Dance News
Apr. 10, 2019 12:16PM EST
Quinn Wharton
It's been a crazy few years for dancer, singer, and actress Ariana DeBose. After performing in Hamilton's original cast (where she earned viral fame as The Bullet), she scored a Tony nomination for her portrayal of Disco Donna in last year's Summer: The Donna Summer Musical. Now, she's set to play Anita in Steven Spielberg's remake of the iconic West Side Story movie, which starts filming this year.
DeBose's star turn is coming at a time when true triple threats have become a rarer breed on Broadway, with shows favoring dancers who dance and singers who sing. But the multifaceted DeBose has always defied categorization—and her versatility has proved to be the key to her success.
Cover Story
Jan. 15, 2019 10:37AM EST
It includes this familiar face! (Erin Baiano)
Something's coming, I don't know when
But it's soon...maybe tonight?
Those iconic lyrics have basically been our #mood ever since we first heard a remake of the West Side Story film, directed by Steven Spielberg and choreographed by Justin Peck, was in the works. THE CASTING. THE CASTING WAS COMING.
Well, last night—after an extensive search process that focused on finding the best actors within the Puerto Rican/Latinx community—the WSS team finally revealed who'll be playing Maria, Anita, Bernardo, and Chino (joining Ansel Elgort, who was cast as Tony last fall). And you guys: It is a truly epic group.
Dance News
Dec. 22, 2018 07:31AM EST
Every day is another day closer to the new West Side Story film remake and TBH, we can barely contain our excitement! Who will star in those dance-tastic roles? Here are 10 dancers who need to be cast in it.
Popular
Dec. 07, 2018 02:32PM EST
Every scrap of news coming from the highly-anticipated West Side Story remake has been nothing short of thrilling, tbh. First, there was the open casting call here in NYC for dancers to play the Jets and Sharks. Next, we heard the unsurprising-yet-awesome news that Justin Peck will choreograph the new movie. Now, there's possibly the most exciting news flash yet: You (yes, YOU) could play the star-making role of Maria opposite the dreamy Ansel Elgort as Tony!
Dance News
Sep. 06, 2018 10:12AM EST
A still from the 1961 film version of West Side Story
Dance News
Mar. 05, 2018 11:00AM EST
Moreno winning everything (Giphy)
Rita. Moreno. Is. A. Legend.
As if we weren't already deeply in love with this rainbow unicorn of a human being—a dance and film icon probably best known for her epic, Oscar-winning performance as Anita in the film version of West Side Story—her appearance at last night's Academy Awards made us fall even harder.
Why? Oh, let us count the ways.
Dance News
Get Dance Spirit in your inbox
Jan. 08, 2018 03:16PM EST
Photo by Lee Gumbs, courtesy Ryan Steele
Ryan Steele has become a Broadway mainstay, thanks to his powerful technique and commanding stage presence. He's been a part of the original casts of hit shows, including Newsies and Matilda, played a Lost Boy in Peter Pan Live!, and performed in the first national tour of An American in Paris. A Walled Lake, MI, native, Steele started dancing at Dance Dynamics Performing Arts Center at 6. He began studying ballet seriously at 11, and was about to sign with Ballet Austin when he was offered a role in the 2009 revival of West Side Story on Broadway. This summer, you can catch him playing Jerry on tour with An American in Paris in Asia. —Courtney Bowers
Dancer to Dancer
Mar. 23, 2017 08:09AM EST
Tonight at 8 pm, Symphony Space will host Impressions IV—an evening celebrating all-things-dance. Performers include Taeler Cyrus (After Midnight), Jess LeProtto (Newsies), Michael Rosen (West Side Story), Amelia Lowe ("So You Think You Can Dance"), Phoenix Project Dance and ICONic Dance Crew ("America's Best Dance Crew"), to name a few.
Oh, and did we mention that the magnificent Chaz Buzan—assistant to Mia Michaels and DS January 2013 cover star—will perform solos throughout the evening?
Chaz Buzan (right), with Mia Michaels and fellow assistant Ryan Ramirez on the set of the DS January 2013 cover shoot (Photo by Joe Toreno)
If you've never seen Buzan perform, tonight's your chance to find out why Mia Michaels affectionately calls him a "freak of nature." (If you have seen him perform, then we don't really have to convince you...do we?)
Impressions IV is tonight at 8 pm at the Peter Jay Sharp Theatre at Symphony Space. Click here for more info and to buy your tickets. Portions of ticket proceeds benefit St. Jude's Children's Hospital.
And to tide you over in the meantime, here's a video of Chaz Buzan performing "My Heart," choreographed by TOKYO, at the KARtv Awards in Las Vegas:
Mar. 23, 2017 06:13AM EST
What do you do after you win "So You Think You Can Dance" and become super famous?
You go on to star in a dance movie, of course.
Plenty of our favorite "SYTYCD" vets (and former DS cover stars) have taken to the big screen—Kathryn McCormick and tWitch had starring roles in Step Up Revolution, and the dance casts in Step Up 3D, Footloose and Fame were packed with familiar faces.
Now, three more "SYTYCD" alums, including two former winners, are graduating from the small screens to the silver ones: Russell Ferguson (Season 6 winner), Chehon Wespi-Tschopp (Season 9 winner) and Witney Carson are all set to star in the upcoming East Side Story film, produced by David Winters. Plus, Brandon Bryant (Season 5) choreographed for the movie.
A bit of background: David Winters knows his stuff. He was in the original West Side Story production on Broadway and now he's making this film to show off an "all-star dance cast." The plot is based off Shakespeare's Romeo & Juliet, and it looks like the movie will be part Dirty Dancing, part High School Musical, part West Side Story and part who-cares-these-dancers-are-awesome.
The film is still in its infant stages and some casting is still being done as scenes are filmed. (We suggest following the film's Facebook page—casting announcements are posted regularly—and checking out the East Side Story website.)
Here's a local news clip about the film featuring our December 2012 cover boy, Chehon!
Apr. 01, 2014 01:30PM EST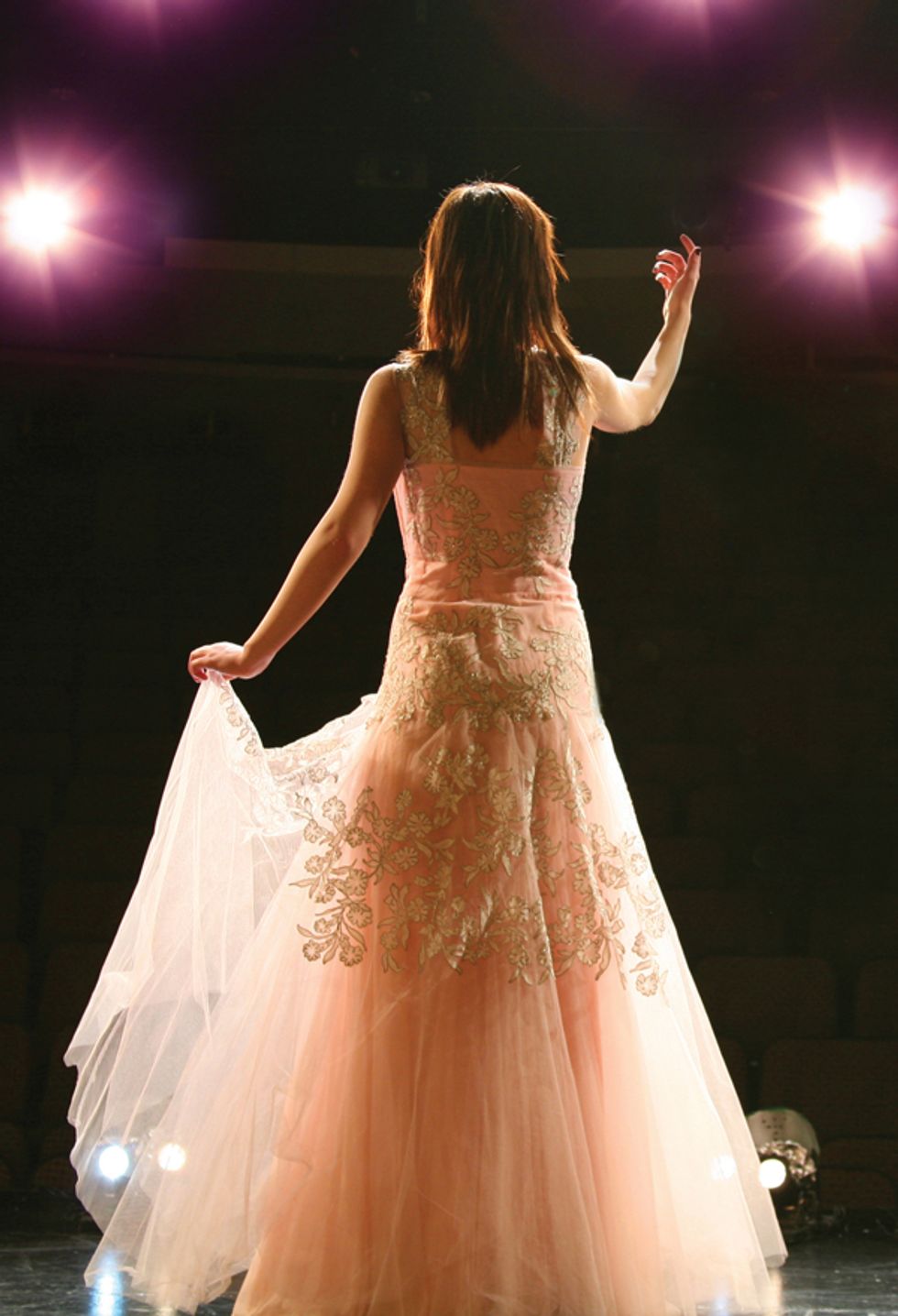 (Photo by Tracy Whiteside/thinkstock.com)
1. Your teacher asks you to freestyle at the end of class. What's your go-to showstopper?
A. A huge shimmy followed by a big body-roll
B. Time steps, pullbacks and wings until your taps nearly fall off
C. The quadruple pirouette your teacher didn't even know you'd mastered
D. Sky-high extensions with perfect turnout and pointed feet
2. At lunch, you're most likely to be surrounded by…
A. …all the boys.
B. …the girls you've been best friends with since kindergarten.
C. …no one. You kind of do your own thing.
D. …dance friends one day, jocks another. You bounce from group to group.
3. Your school's big homecoming dance is this weekend. What are you wearing?
A. Something bright, flirty and spotlight-worthy
B. Whatever's clean—everything goes great with a smile.
C. A black dress. I stick with what works.
D. Something that coordinates with my friends' outfits
4. What's your karaoke song?
A. "Roar," by Katy Perry
B. "Royals," by Lorde
C. "Born This Way," by Lady Gaga
D. "Love Story," by Taylor Swift
5. You're competing this weekend. Which routine are you most looking forward to?
A. My solo. When I'm onstage alone, I don't have to worry about showing up my teammates.
B. The small group jazz routine my friends and I have been working on all season. It's not too complicated, but it's tons of fun.
C. I was gunning for a solo, but it went to another girl at my studio, so I'll be in the audience watching and learning.
D. My duo. My partner and I have tons of chemistry, and we can't wait to show it off.
6. Your birthday's coming up. Any fun plans?
A. I'm throwing a big party—the whole grade is invited!
B. I'm secretly hoping for a trip to NYC with my parents. But if that doesn't happen, maybe a movie with my friends.
C. A quiet night in. I doubt my classmates even know it's my birthday.
D. I'm planning to show off my new look—I'm getting a birthday makeover!
7. If you were a superhero, what would your power be?
A. Mind reading. I'd love to hear all the wonderful things people are thinking about me!
B. The ability to talk to animals. I know they have a lot to say.
C. Flying. Sometimes you just have to get away.
D. Time travel. I wouldn't mind reliving last summer—it was amazing!
8. What's your best subject in school?
A. public speaking
B. home economics
C. science
D. English
9. There's a rumor going around school—about you! How do you handle it?
A. I laugh it off and confront the big talkers. People are just jealous. Plus, all attention is good attention, right?
B. I ignore it. It'll all blow over by tomorrow.
C. I'm embarrassed at first, but then I move on. I don't need validation from others.
D. I cry and go straight to my friends for support.
10. You're in a crowded convention class with your favorite teacher. Where do you stand?
A. Front and center. I want to see her, and I definitely want to make sure she can see me.
B. I lead my studio friends toward the front of the room, but off to the side where there's room for us to stay together.
C. It doesn't matter, as long as I have enough space to dance full-out every time.
D. My friends have usually staked out a spot by the time I get there, so I join them.
Scroll down for your results...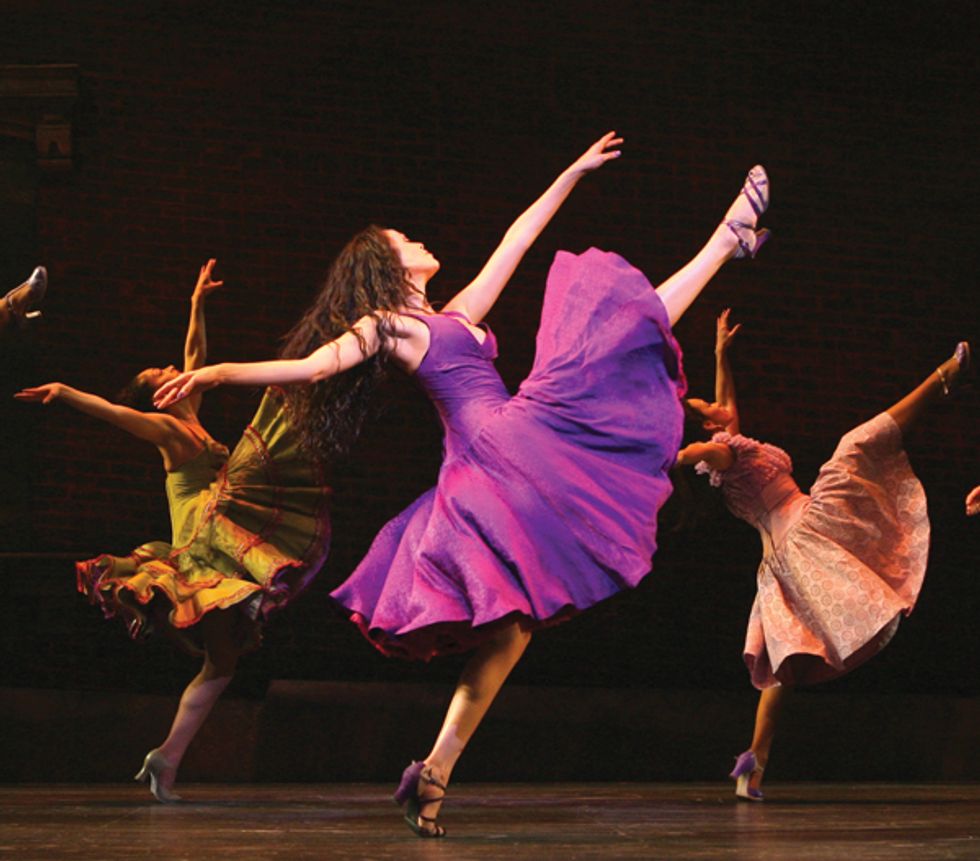 (In purple) Karen Olivo as Anita with the Shark girls in West Side Story (Photo by Joan Marcus)
If you scored mostly A's, you're Anita from West Side Story.
You love being the center of attention, and you're not afraid to show off for a crowd. The more sparkles on your costume, the better!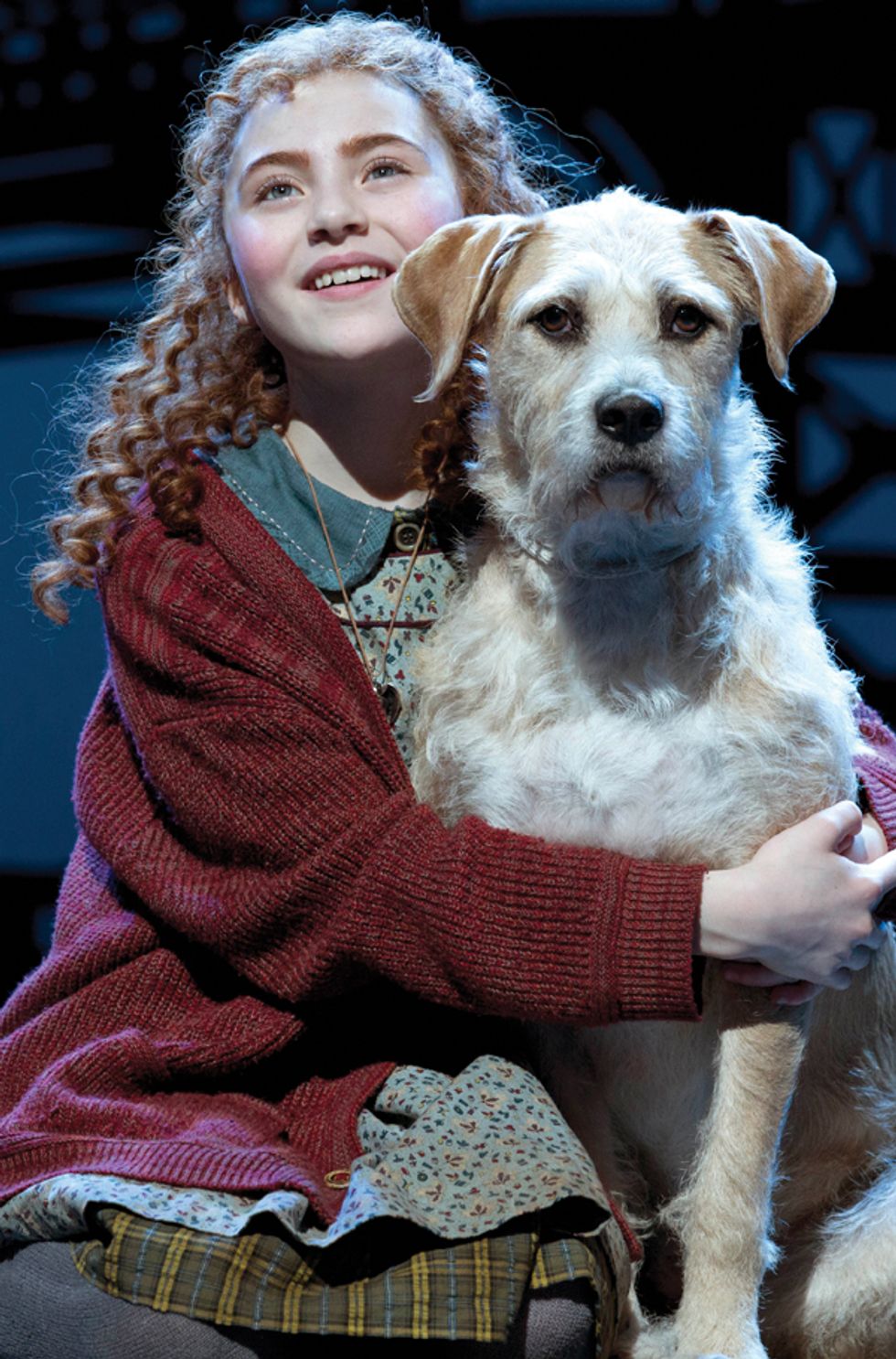 Lila Crawford as Annie with Sunny (photo by Joan Marcus)
If you scored mostly B's, you're Annie from Annie.
You're a loyal friend, and you're always thinking about what's best for your entire team. You're endlessly optimistic—if you don't nail that tough combination today, you'll get it tomorrow.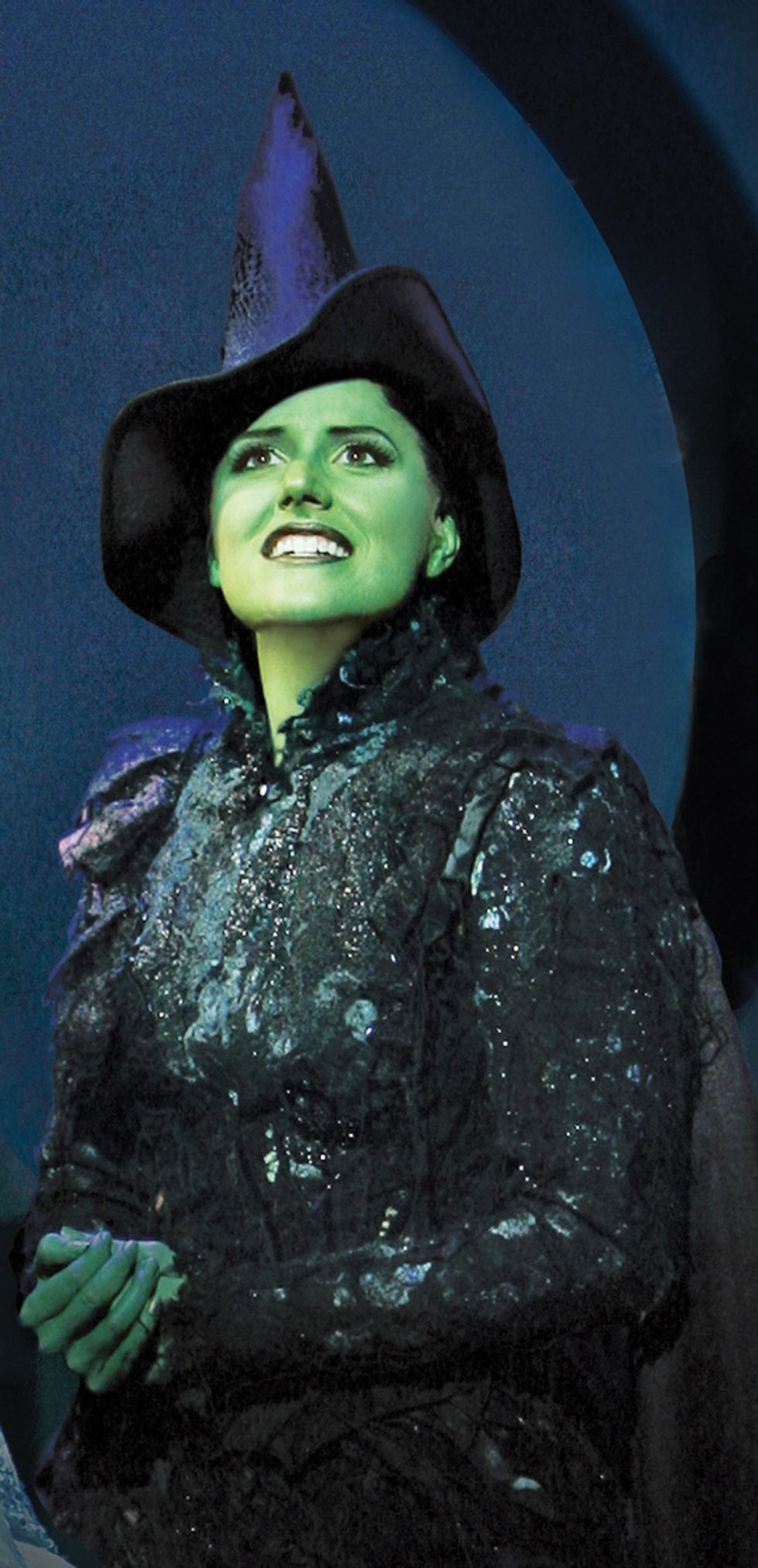 Nicole Parker as Elphaba in Wicked (photo by Joan Marcus)
If you scored mostly C's, you're Elphaba from Wicked.
You're strong-willed, independent and willing to work hard for what you want—even if that means flying solo sometimes. Your determination will pay off in the end.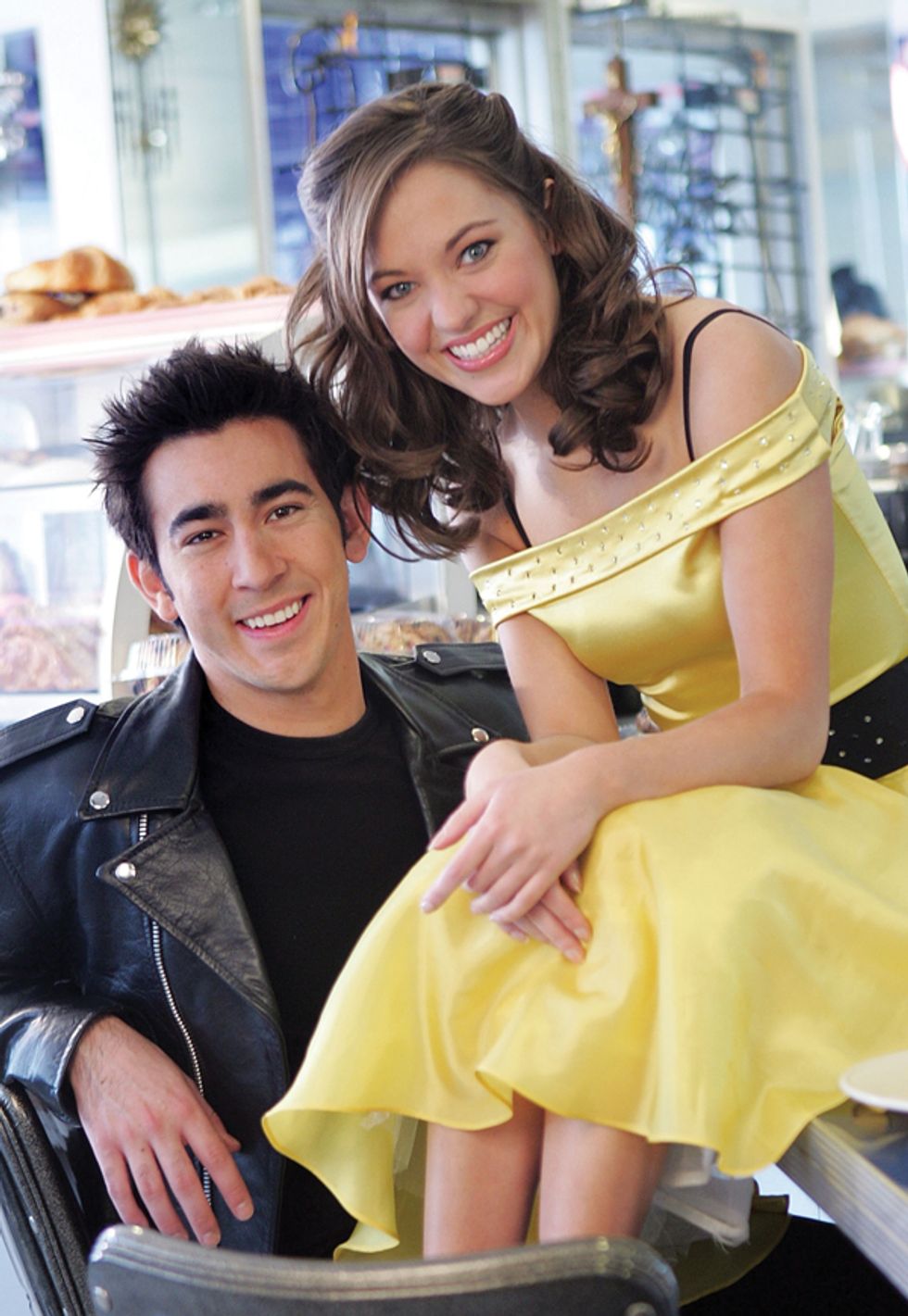 Max Crumm and Laura Osnes as Danny and Sandy in Grease (photo by Scott Gries)
If you scored mostly D's, you're Sandy from Grease.
You're perky, preppy and a hopeless romantic. You're a perfectionist in the studio, and you have big dreams for the future.
Jan. 01, 2014 06:50PM EST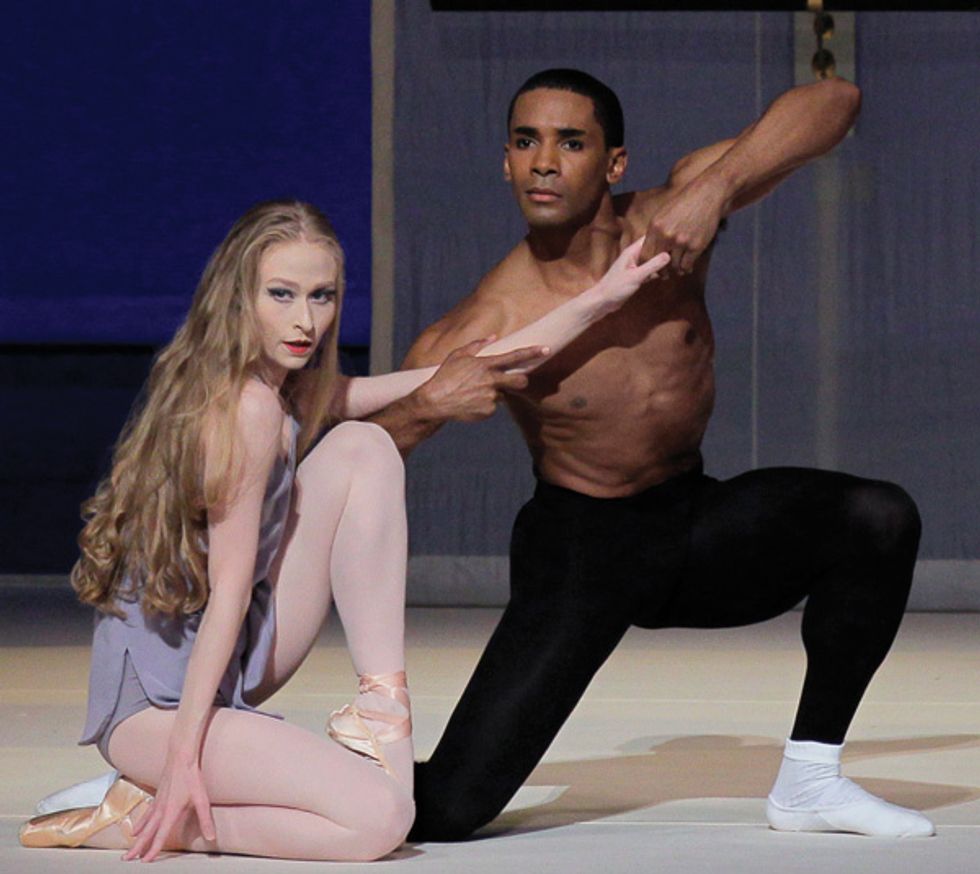 New York City Ballet's Janie Taylor and Craig Hall in Robbins' Afternoon of a Faun (photo by Paul Kolnik)
I've just made my entrance in Jerome Robbins' Afternoon of a Faun, stepping onstage into a set designed to look like a ballet studio—with the audience where the mirror would be. I don't acknowledge my hundreds of viewers. Instead, my partner and I gaze into the darkness and pretend we're studying our own reflections. In true Robbins fashion, we dance as if no one's watching.
Performing Robbins' ballets can be tricky, especially if you're used to engaging actively with an audience. They aren't about how big you can grin—or how high you can get your leg, for that matter. To stay true to his style, you need an honest, thoughtful approach. "If what you're doing doesn't feel like a genuine human reaction," says Pacific Northwest Ballet artistic director and former New York City Ballet principal Peter Boal, "it's wrong." Humor, emotion and atmosphere are already built into the choreography. The challenge for performers is to trust the steps to speak for themselves.
The Man Behind the Moves
Robbins created more than 60 ballets, mostly for NYCB and Ballets USA (his own company, formed in 1958 but disbanded a few years later). He also directed and choreographed for theater, music and television, earning six Tony Awards for Jerome Robbins' Broadway and two Academy Awards for West Side Story. "West Side was one of the first things I saw that made me want to dance," says Georgina Pazcoguin, a NYCB soloist known for her interpretation of Anita in Robbins' West Side Story Suite (a shortened concert version of the dances from West Side Story). "I watched the film when I was in eighth grade and was stuck to the screen."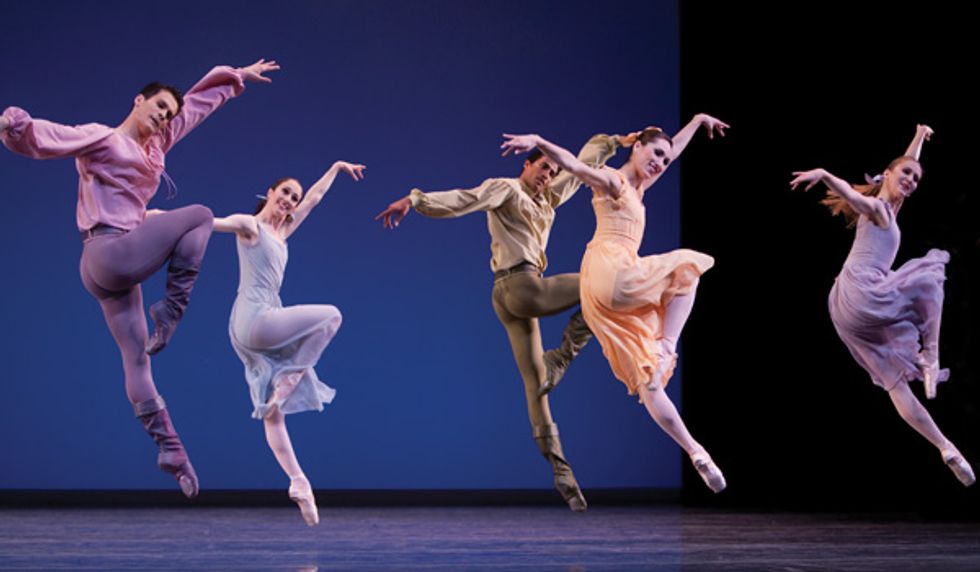 Pacific Northwest Ballet in Robbins' Dances at a Gathering (photo by Angela Sterling)
Throughout his career, Robbins surrounded himself with inspiring artists. He collaborated with famed composer Leonard Bernstein (Fancy Free, West Side Story), and worked side by side with George Balanchine, first as associate artistic director of NYCB and then as ballet master (a title he and Balanchine shared). But Robbins didn't only rub elbows with the elite. He found inspiration in young students at the School of American Ballet (2 & 3 Part Inventions) and was known to pluck dancers from the corps and put them in starring roles. Robbins was most interested in individuality and talent, regardless of age or prestige.
Robbins' Style
From Broadway to ballet, Robbins' style is diverse—and timeless. "There's something about it that seems of its time, current and ahead of its time all at once," says Damian Smith, principal at San Francisco Ballet. The content of his work often reflects real life. In the Night and Dances at a Gathering are about regular people's relationships and interactions; Fancy Free and The Concert have a mix of everyday and eccentric characters. His dancers relate to each other onstage in unmannered, natural ways.
Robbins was very particular and notoriously tough to work for. (He expected his dancers to remember many versions of the same phrase, and to be able to repeat, reverse or rearrange them whenever he asked.) "He pushed us to our maximum and made us better than we thought we were," Boal says. "It wasn't so much about pointing your foot or turning out, but about the character you were playing."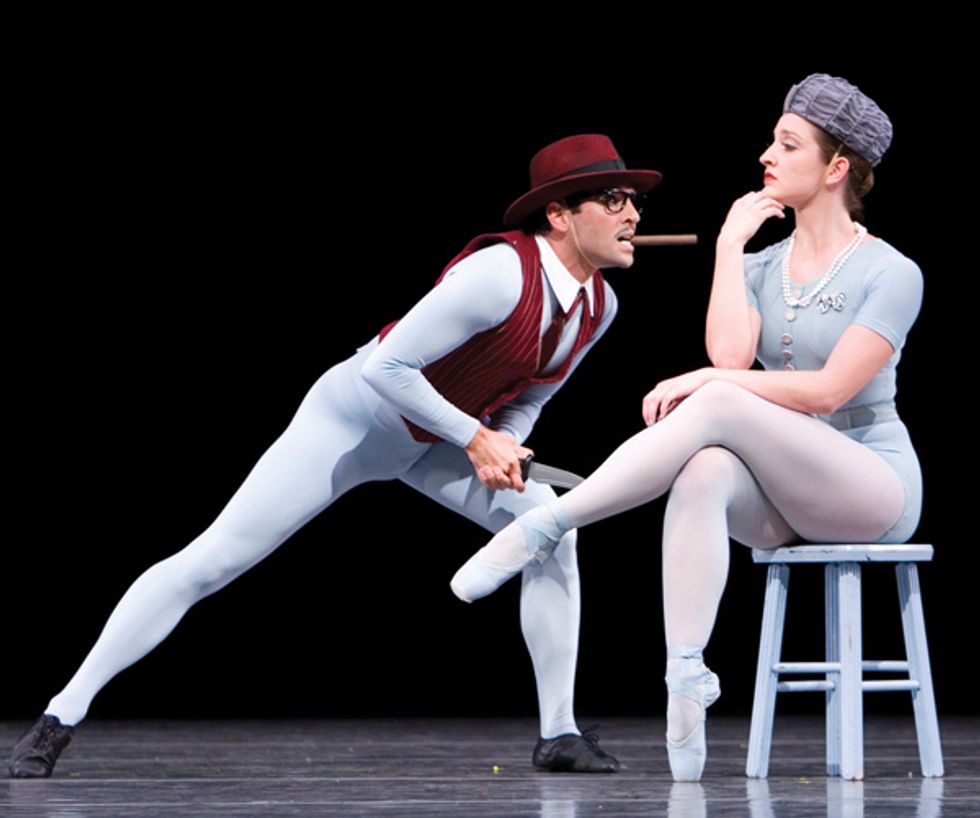 (L to R) PNB's Carrie Imler and Jonathan Porretta in Robbins' The Concert (photo by Angela Sterling)
How to Do It
Robbins' ballets don't need a hard sell. He wanted his dancers to be people onstage, not performers playing for laughs or sighs. "It's as if the people watching are looking through a window at what's going on," says Christine Redpath, a Robbins repetiteur and ballet master at NYCB. "He'd always scream, 'Easy baby!' It's not about playing to the public."
To get the right feel, Pazcoguin has to rein herself in. "I tend to be 125 percent onstage," she says. "Robbins' work is extremely athletic, but you're not supposed to make that apparent to the audience. It's about finding the subtleties." Every time she revisits a role like Anita, she likes to bring something different to it. The choreography, though specific in terms of counts, steps and spacing, allows for that kind of individuality.
When Redpath stages Robbins' ballets, she finds that most dancers worry too much about technique and being in a perfect fifth position. They don't relax and move without inhibition. "When you're a kid, and you hear music that brings a smile to your face, you dance and you're not aware of what other people think," Redpath explains. "I encourage people to take that approach within the framework of the choreography."
How To