Travis Wall dancing in moving LGBT tribute (via Shoshana Bean on YouTube)
Dance legend and choreographer Travis Wall is championing the LGBT community in one of the most brilliant and moving ways possible: Through dance. In a music video (which Wall conceived, directed, produced and choreographed) for the acoustic cover of "This Is Me" from The Greatest Showman, broadway star Shoshana Bean sings as Wall performs a heartfelt dance that pays tribute to the LGBT community. Wall dances with homophobic insults written all over his face and chest, which are then replaced with words of affirmation and empowerment.
Keep reading...
Show less
Mar. 23, 2017 06:52AM EST
From fairy godmothers to lions, witches and outrageous wardrobes, the Great White Way has something for everyone. Here's your guide to the greatest—and danciest—hits.
New & Noteworthy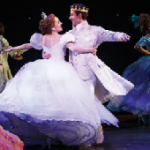 Cinderella (by Carol Rosegg)
Cinderella: You know that story where a dowdy (but beautiful) young girl meets her prince charming and gets to rock a pair of glass slippers? The first Broadway production of Rodgers and Hammerstein's musical has furiously fast onstage quick changes, a flying fairy godmother and two hilarious stepsisters.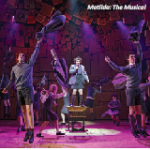 Matilda: The Musical (by Joan Marcus)
Matilda: The Musical: Roald Dahl's story comes to life as Matilda, the bookwormiest kid in her class, discovers she has supernatural powers, bringing the audience into a fun and mischievous world of imagination.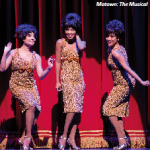 Motown: The Musical (by Joan Marcus)
Motown: The Musical: Think VH1's "Behind The Music," stage-style, in this awesomely soundtracked show about Berry Gordy, the man who launched the careers of Diana Ross, Michael Jackson and Stevie Wonder.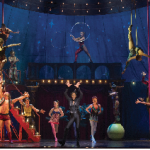 Pippin (by Joan Marcus)
Pippin: The circus comes to Broadway! Kind of. In this remake of the 1972 Bob Fosse classic, young prince Pippin embarks on a soul-searching journey—and director Diane Paulus has brought some acrobats along for the adventure. Expect tons of high-flying action on top of Chet Walker's Fosse-inspired choreography.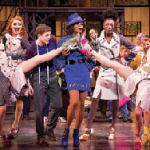 Kinky Boots (by Matthew Murphy)
Kinky Boots: A straight-laced shoemaker's son and a flamboyant cross-dresser team up in this ode to unexpected friendships. You'll love the chorus of dancing men in dangerously high heels belting Cyndi Lauper tunes, plus you'll learn an important lesson about acceptance.
The Classics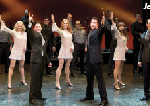 Jersey Boys (by Joan Marcus)
Jersey Boys: Learn how Frankie Valli & The Four Seasons hit the big time while dancing in your seat to the killer soundtrack, which includes hits like "Rag Doll," "Sherry" and "Can't Take My Eyes Off Of You."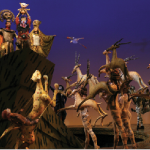 The Lion King (by Joan Marcus)
The Lion King: You already know the Disney story of Simba and his jungle buddies—and the Broadway version doesn't have a happier beginning (R.I.P. Mufasa). But the cast members in life-sized hyena, elephant and giraffe costumes will blow your mind. Hakuna matata!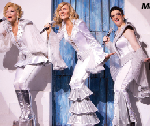 Mammi Mia! (by Joan Marcus)
Mamma Mia!: If you liked the Meryl Streep movie, you'll go dancing-queen–crazy for the original stage version, set to ABBA's greatest hits.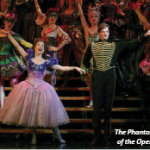 The Phantom of the Opera (by Joan Marcus)
The Phantom of the Opera: It's the longest-running show on Broadway and Act I ends with a bang (really): They drop a crystal chandelier from the theater's ceiling onto the stage!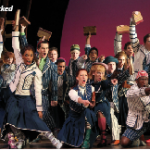 Wicked (by Joan Marcus)
Wicked: This show is consistently at the top of Broadway's "most likely to sell out" list, and for good reason: The sets and costumes are lavish, the flying monkeys will keep you on the edge of your seat and the heartfelt tale of how Elphaba and Glinda—the Wicked Witch and the Good Witch, respectively—grew up together just may get you to shed a tear.
Fun for the Whole Family…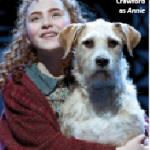 Lilla Crawford as Annie (by James Lapine)
Annie: An orphan girl meets her Daddy Warbucks, and suddenly it's not such a hard-knock life. The cast of cute kids—and a dog!—will get you singing along and beaming from ear to ear. After all, you're never fully dressed without a smile!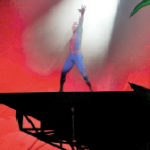 Spider-Man: Turn Off the Dark (by Jacob Cohl)
Spider-Man: Turn Off the Dark: High-flying adventure, a love story and an original score by U2's Bono and The Edge? Sold!
...or Not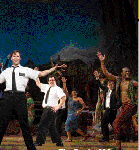 The Book of Mormon (by Joan Marcus)
The Book of Mormon: The F-bombs may fly at rapid speed, but the tap-dancing missionaries are adorable and Casey Nicholaw's choreography makes this 2011 Tony winner for Best Musical unforgettably fun. Just proceed with caution: The show, created by "South Park" masterminds Matt Stone and Trey Parker, isn't for the easily offended.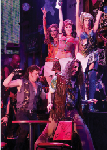 Rock of Ages (by Joan Marcus)
Rock of Ages: It's the ultimate jukebox musical that'll make you want to sing along—you just may not want to do so alongside your parents. The "small-town girl meets rocker boy" material is mostly PG, save for a few raunchy scenes involving a bathroom stall. We say take your girlfriends—or pas de deux partner!—instead.
Go for the Dancing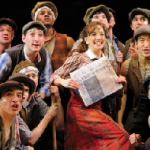 Newsies (by Deen Van Meer)
Newsies: Arguably the danciest show of them all, Newsies burst onto the scene last year to rave reviews and standing ovations (plus a DS cover story!). The boys in this cast jump so high, turn so fast and sing with such heart that you'll be tempted to leap onstage yourself. Hey, seize the day!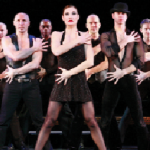 Chicago (by Paul Kolnik)
Chicago: It's sexy, it's scandalous—it's Bob Fosse on Broadway. You know the songs and you've danced your own version of the "Cell Block Tango"; now it's time to catch the fishnet-filled original.
How To
Mar. 08, 2016 02:32PM EST
Lee Cherry (courtesy Break the Floor Productions)
Al Blackstone is one of the fastest-rising choreographers in the industry, creating one successful piece after another. After making his Broadway debut as a dancer in Wicked, Blackstone won the 2011 Capezio A.C.E. Award for Choreographic Excellence, which gave him the opportunity to direct and choreograph a full-length production, Happy We'll Be. For the last three years, he's worked as Sonya Tayeh's associate choreographer, and his work, which often has a musical-theater slant, has also been featured on "So You Think You Can Dance." DS caught up with Blackstone to see what inspires his thoughtful and dynamic choreography.
Keep reading...
Show less
In case you missed the best night on TV—a.k.a the live broadcast of the Tony Awards—Dance Spirit's got your back. Here's a rundown of the show's highlights, a couple of its more cringe-worthy moments, and some of our favorite (and least-favorite) red carpet outfits.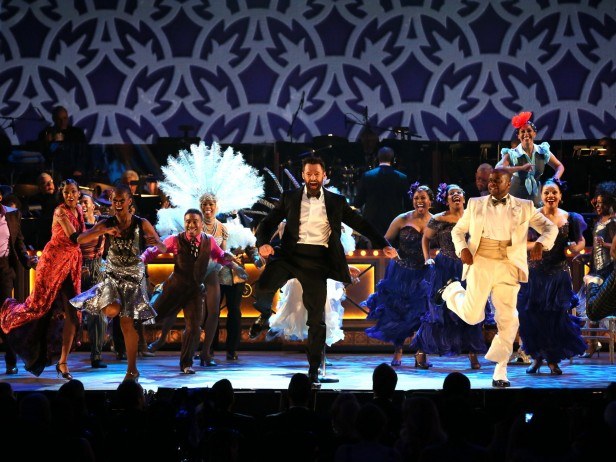 Hugh Jackman with the cast of After Midnight
(photo Sara Krulwich/The New York Times)
The Highlights: 
–Hugh Jackman as host. It's great to see Wolverine back on the Radio City Music Hall Stage, singing and dancing with the stars of Broadway. He even cut a rug with Dulé Hill and the fabulous cast of After Midnight. Sure, his opening number (with all that awkward hopping) wasn't as fabulous as NPH's extravaganza last year, but his serenading of the female best actress nominees—in both the play and musical categories—stole my heart.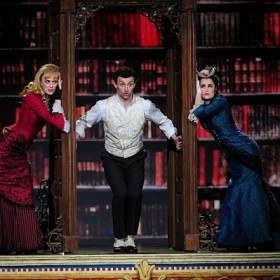 Bryce Pinkham (center) and the cast of A Gentleman's Guide to Love and Murder
(photo Heather Wines/CBS)
–The performances, obv. After Midnight, Aladdin and Bullets Over Broadway were especially impressive—so. much. tap. dancing.  And here's to genie James Monroe Iglehart's win for best featured actor in a musical. But I was especially enamored with the performance from A Gentleman's Guide to Love and Murder—the Tony winner for best musical. In case you chose to take your bathroom break during the number, you can re-watch it here. There's not much movement, but the witty trio really brought down the house.
–The crazy Music Man rap. My viewing party went pretty nuts when Hugh Jackman busted some rhymes from The Music Man—and then even more nuts when LL Cool J and T.I. joined in. The beats—commemorating the song "Rock Island" from 1957's The Music Man, supposedly the first-ever rap—came courtesy of Questlove of The Roots. (Pretty cool.) Here's the song in the 1962 film; compare it to the Tony Award shenanigans here.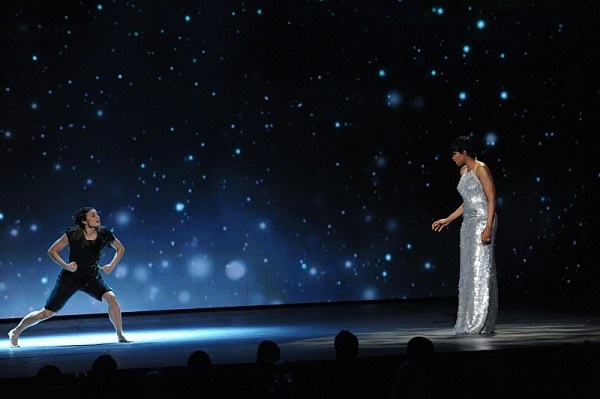 Melanie Moore with Jennifer Hudson in Finding Neverland. (photo Heather Wines/CBS)
–Melanie Moore as Peter Pan. When Finding Neverland hits the American Repertory Theater in Cambridge, MA, this summer, "So You Think You Can Dance" Season 8 winner (and DS cover star) Melanie Moore will get the opportunity to work with Mia Michaels again: Mama Mia will be choreographing the new musical. The full cast has been announced (helloooo, Jeremy Jordan!). Unfortunately, Jennifer Hudson, who sang in last night's preview, is not in the show.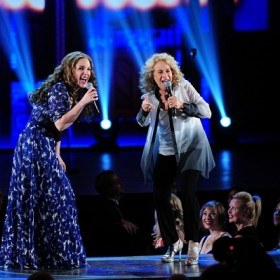 Jessie Mueller (left) with Carole King. (photo Heather Wines/CBS)
–Jessie Mueller and Carole King together (again) on one stage. I certainly felt the Earth move under my feet during this performance. Jessie Mueller is fantastic as the iconic singer/songwriter Carole King in Beautiful, and I suspect she'll be fantastic in roles to come. Congrats on your Tony for best leading actress in a musical, Jessie!
–The dreamy Matthew Bomer announcing a new Tony Awards partnership with his alma mater, Carnegie Mellon University. Next year the Tonys will celebrate one elementary, middle or high school theater teacher who really makes a difference. Know someone who you think deserves special recognition? Read about the new award here.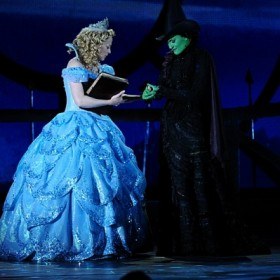 Jenni Barber (left) and Christine Dwyer (photo Heather Wines/CBS)
The Missed Opportunities:
–Wicked's 10th anniversary performance. Yes, Christine Dwyer and Jenni Barber sang an amazing rendition of "For Good." But weren't you just a little disappointed that Idina Menzel and Kristin Chenoweth didn't pop out to sing a line or two? I mean, we know Idina was there—she sang something from her new musical If/Then. Lame, Tony Awards. Lame.
–The absent-from-TV award for best choreography. Remember last year, when we got to see Jerry Mitchell accept his choreography award on TV? Apparently the producers forgot about that precedent, and After Midnight's Warren Carlyle received his award for best choreography during a commercial break. Boooooo! Maybe if we give his acceptance speech video a ton of online views, the producers will get the point for next year.
The Best Dressed: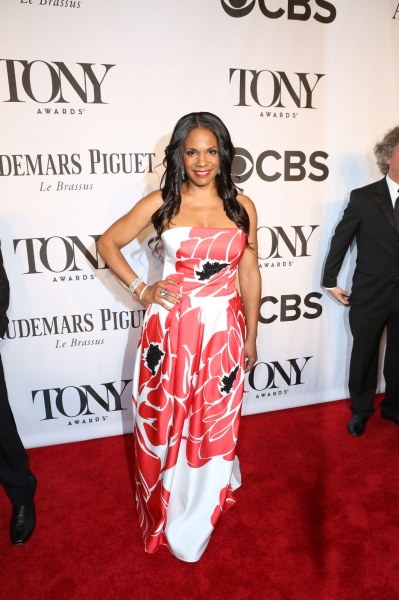 The history-making Audra McDonald, who took home her sixth Tony Award. She also became the first performer to win in all four acting categories (featured musical, featured play, leading musical and leading play). Yeah, she's legendary—and stylish to boot, in this pretty printed gown. (photo Walter McBride/Broadway World)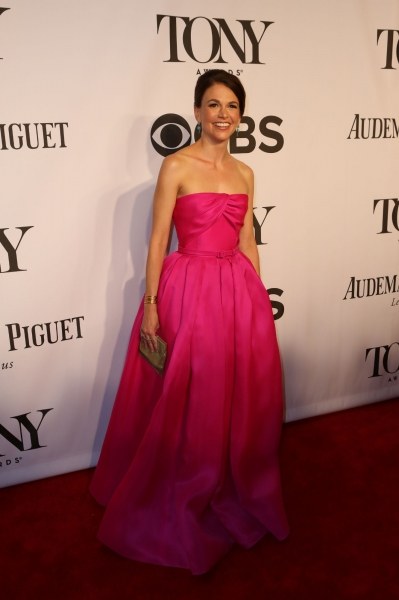 The always effortlessly gorgeous Sutton Foster. She didn't leave with a win, but her performance for Violet was strong.
(photo Walter McBride/Broadway World)
And the Worst: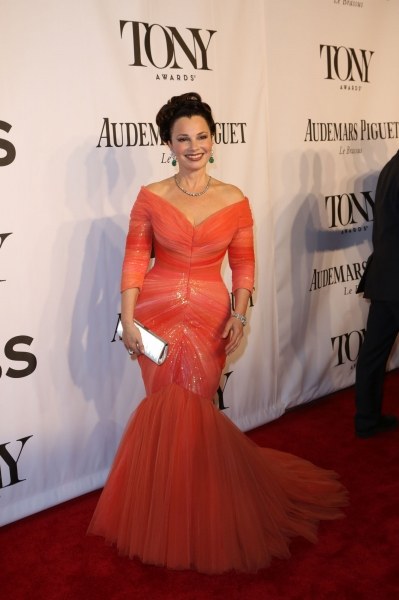 The flashy Fran Drescher. She may be on Broadway in Cinderella, but believe it or not, this over-the-top tangerine dress is not a costume.
(photo Walter McBride/Broadway World)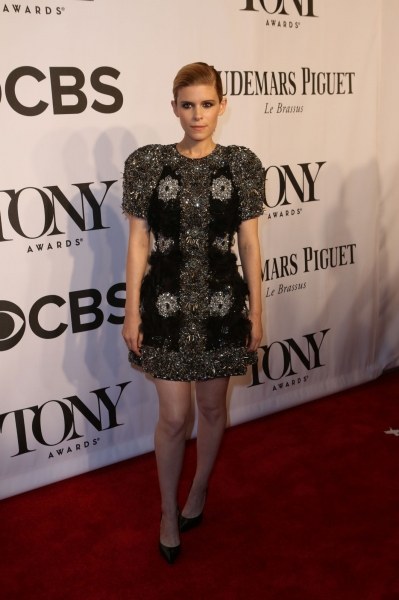 The weighed-down Kate Mara. This dress just looks heavy. Here's hoping Netflix turns "House of Cards" into a musical so Kate can redeem her look as a Tonys presenter next year.
(photo Walter McBride/Broadway World)
What did you think of the telecast? Which performance was your favorite, and who did you think was best dressed? Was any show or artist robbed of an award? We want to hear what you have to say!
Apr. 01, 2014 01:30PM EST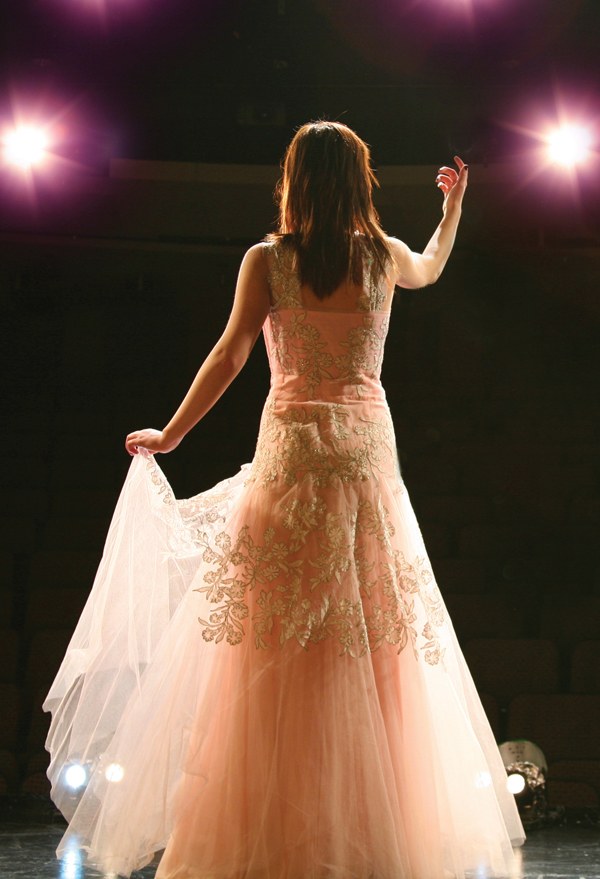 (Photo by Tracy Whiteside/thinkstock.com)
1. Your teacher asks you to freestyle at the end of class. What's your go-to showstopper?
A. A huge shimmy followed by a big body-roll
B. Time steps, pullbacks and wings until your taps nearly fall off
C. The quadruple pirouette your teacher didn't even know you'd mastered
D. Sky-high extensions with perfect turnout and pointed feet
2. At lunch, you're most likely to be surrounded by…
A. …all the boys.
B. …the girls you've been best friends with since kindergarten.
C. …no one. You kind of do your own thing.
D. …dance friends one day, jocks another. You bounce from group to group.
3. Your school's big homecoming dance is this weekend. What are you wearing?
A. Something bright, flirty and spotlight-worthy
B. Whatever's clean—everything goes great with a smile.
C. A black dress. I stick with what works.
D. Something that coordinates with my friends' outfits
4. What's your karaoke song?
A. "Roar," by Katy Perry
B. "Royals," by Lorde
C. "Born This Way," by Lady Gaga
D. "Love Story," by Taylor Swift
5. You're competing this weekend. Which routine are you most looking forward to?
A. My solo. When I'm onstage alone, I don't have to worry about showing up my teammates.
B. The small group jazz routine my friends and I have been working on all season. It's not too complicated, but it's tons of fun.
C. I was gunning for a solo, but it went to another girl at my studio, so I'll be in the audience watching and learning.
D. My duo. My partner and I have tons of chemistry, and we can't wait to show it off.
6. Your birthday's coming up. Any fun plans?
A. I'm throwing a big party—the whole grade is invited!
B. I'm secretly hoping for a trip to NYC with my parents. But if that doesn't happen, maybe a movie with my friends.
C. A quiet night in. I doubt my classmates even know it's my birthday.
D. I'm planning to show off my new look—I'm getting a birthday makeover!
7. If you were a superhero, what would your power be?
A. Mind reading. I'd love to hear all the wonderful things people are thinking about me!
B. The ability to talk to animals. I know they have a lot to say.
C. Flying. Sometimes you just have to get away.
D. Time travel. I wouldn't mind reliving last summer—it was amazing!
8. What's your best subject in school?
A. public speaking
B. home economics
C. science
D. English
9. There's a rumor going around school—about you! How do you handle it?
A. I laugh it off and confront the big talkers. People are just jealous. Plus, all attention is good attention, right?
B. I ignore it. It'll all blow over by tomorrow.
C. I'm embarrassed at first, but then I move on. I don't need validation from others.
D. I cry and go straight to my friends for support.
10. You're in a crowded convention class with your favorite teacher. Where do you stand?
A. Front and center. I want to see her, and I definitely want to make sure she can see me.
B. I lead my studio friends toward the front of the room, but off to the side where there's room for us to stay together.
C. It doesn't matter, as long as I have enough space to dance full-out every time.
D. My friends have usually staked out a spot by the time I get there, so I join them.
Scroll down for your results...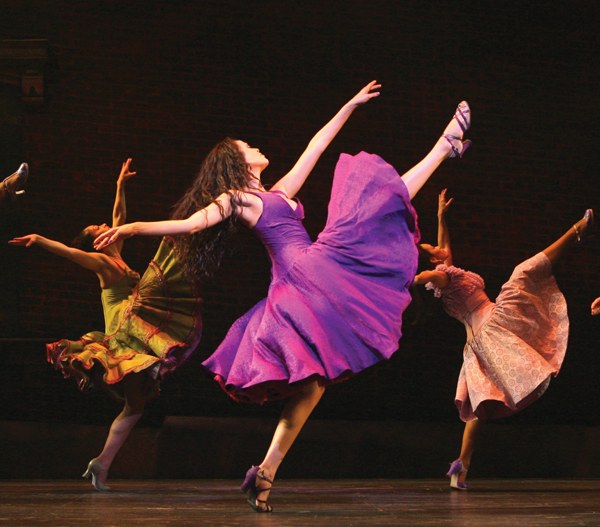 (In purple) Karen Olivo as Anita with the Shark girls in West Side Story (Photo by Joan Marcus)
If you scored mostly A's, you're Anita from West Side Story.
You love being the center of attention, and you're not afraid to show off for a crowd. The more sparkles on your costume, the better!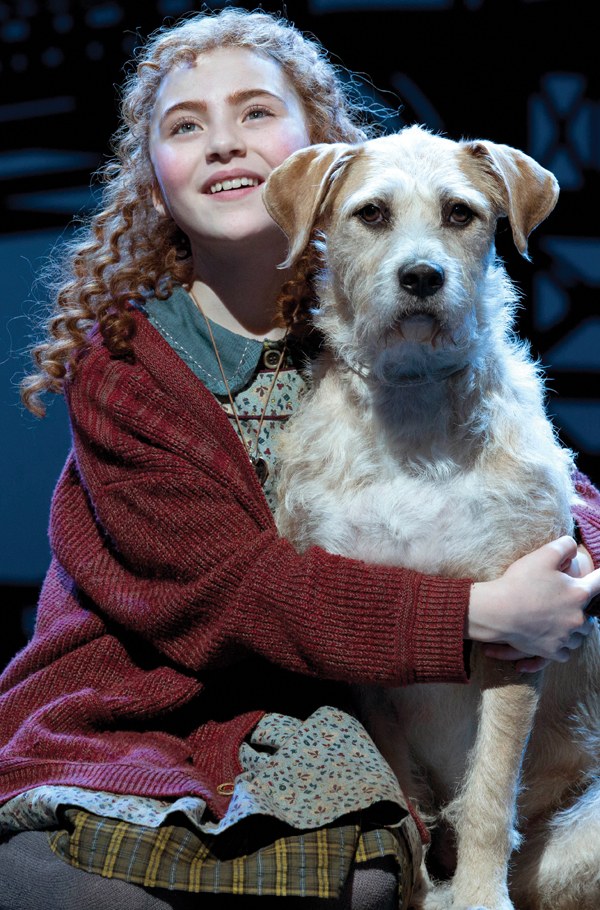 Lila Crawford as Annie with Sunny (photo by Joan Marcus)
If you scored mostly B's, you're Annie from Annie.
You're a loyal friend, and you're always thinking about what's best for your entire team. You're endlessly optimistic—if you don't nail that tough combination today, you'll get it tomorrow.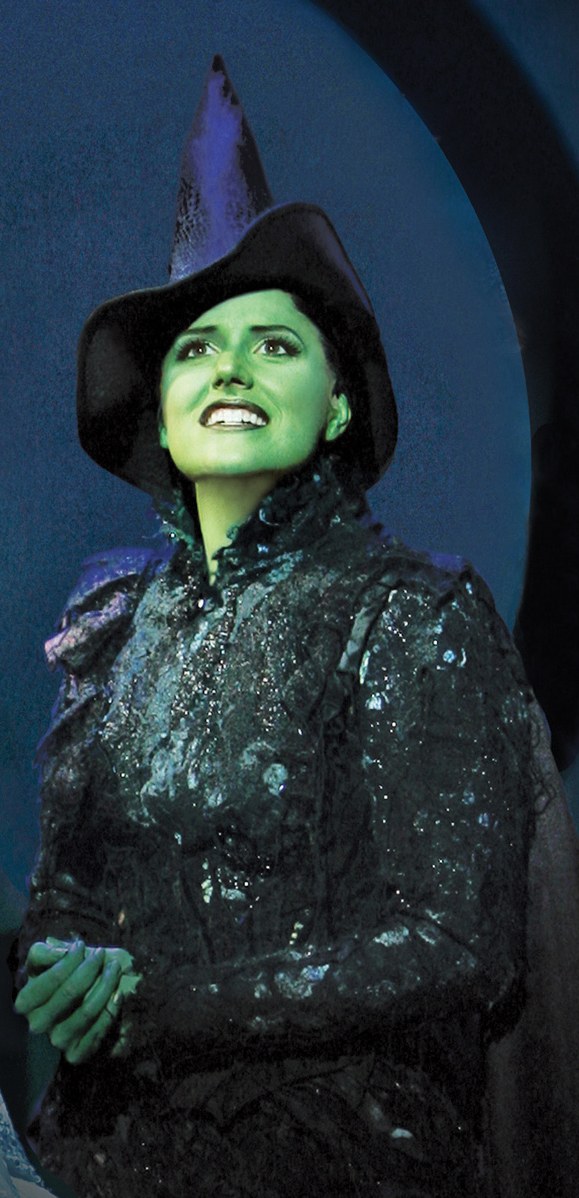 Nicole Parker as Elphaba in Wicked (photo by Joan Marcus)
If you scored mostly C's, you're Elphaba from Wicked.
You're strong-willed, independent and willing to work hard for what you want—even if that means flying solo sometimes. Your determination will pay off in the end.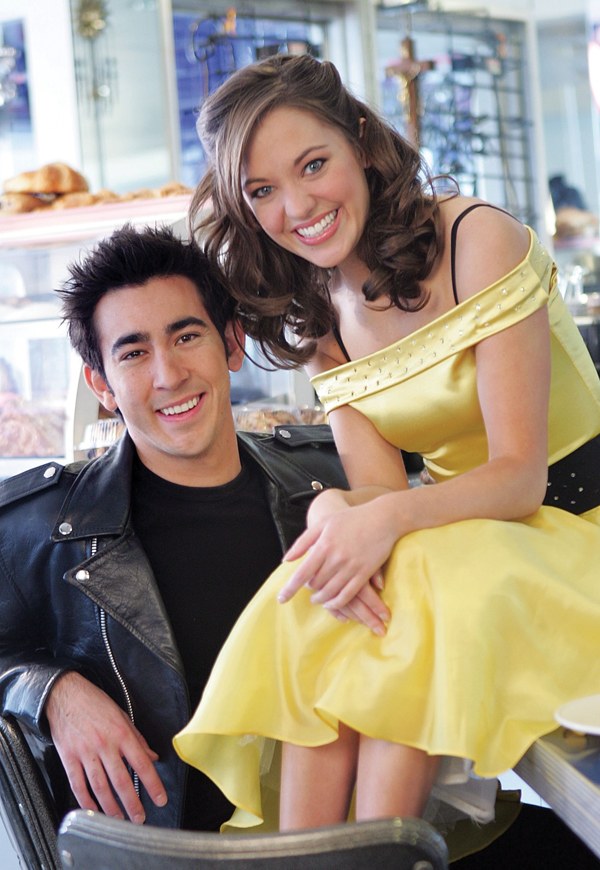 Max Crumm and Laura Osnes as Danny and Sandy in Grease (photo by Scott Gries)
If you scored mostly D's, you're Sandy from Grease.
You're perky, preppy and a hopeless romantic. You're a perfectionist in the studio, and you have big dreams for the future.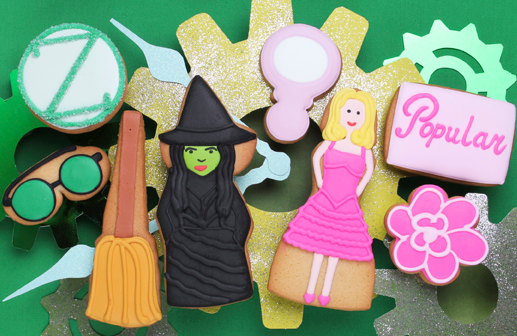 Broadway + cookies = my dream come true (Photo courtesy elenis.com)
Bummed that Halloween is over? I say Halloween lasts all weekend long, and I'll be dressing up in costume for as long as I can get away with it. If you need help getting back into the witchy spirit, turn to Broadway—because it's Wicked's 10th anniversary! (That's a long time to stay on Broadway, folks. Only 10 other productions in history have hit this milestone.)
Among the many celebratory happenings, a special Wicked Deluxe Edition CD will be released this month, a new line of Wicked nail polish is available at Sephora, and Eleni's is offering a special gift box including cookies shaped like Elphaba and Glinda. Translation: Now may be a good time to stock up on holiday gifts for fellow Broadway lovers.
To kick off the celebration, the cast performed on The Today Show. Check it out:
Another fun fact: The American Airlines Terminal at JFK Airport looks a whole lot like Oz this month—it even features a replica of Glinda's bubble and a special "Behind the Emerald Curtain" museum display.
Sounds like it's time to "defy gravity" and fly to NYC for the full Wicked experience!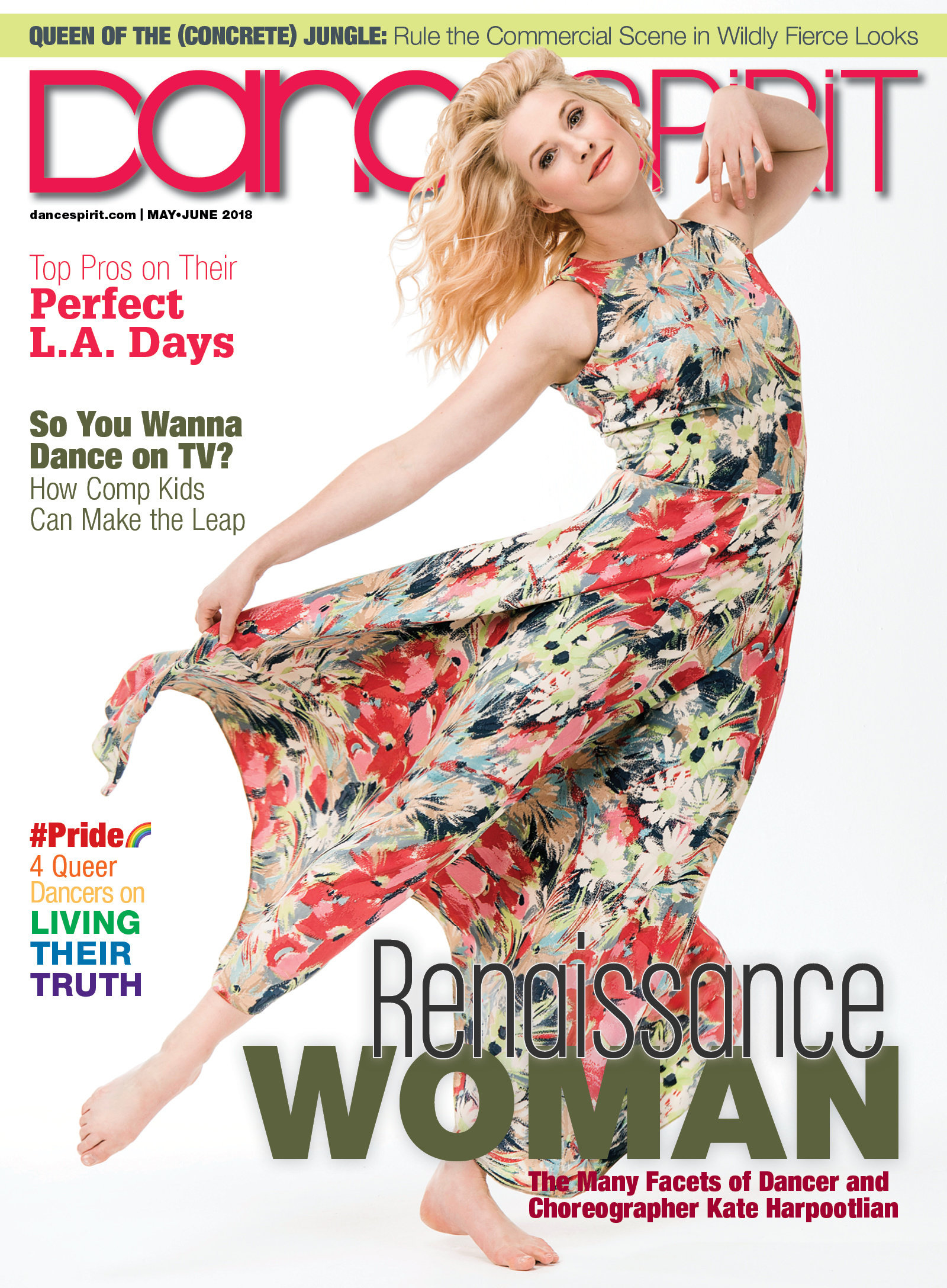 Get Dance Spirit in your inbox