URGENT. Stop whatever you're doing, grab some leftover holiday cookies and watch Larsen Thompson and Taylor Hatala's latest amazing video. These two powerhouses, who we all know and love as the Fraternal Twins, teamed up with SweetyHigh for their latest production, which is directed by Veronica Zelle and creative directed by Janelle Ginestra and Will "WilldaBeast" Adams. We saw a sneak peek of the vid in the first episode of Ginestra and Adams' "Making the Beast," and oh my goodness it does not disappoint.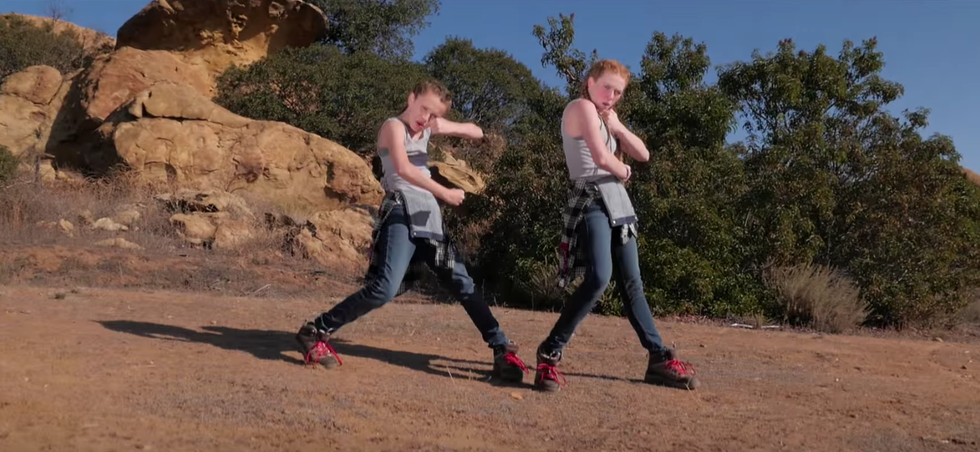 Obsessed. (Screenshot via YouTube)
This video is the first of what we hope will be many from SweetyHigh's "Dance Haul" series, which focuses on #GirlPower, and features some of today's most inspiring young dancers. Check it out below!
By now, it's pretty much a given that anything involving #immaBEAST—the company founded by Will "WilldaBeast" Adams—is going to be mind-meltingly amazing.
Case in point: Have you met the latest crop of #immaBEAST dancers yet? No? Well, let them introduce themselves to you in true beast fashion—i.e., via an EPIC DANCE MEDLEY.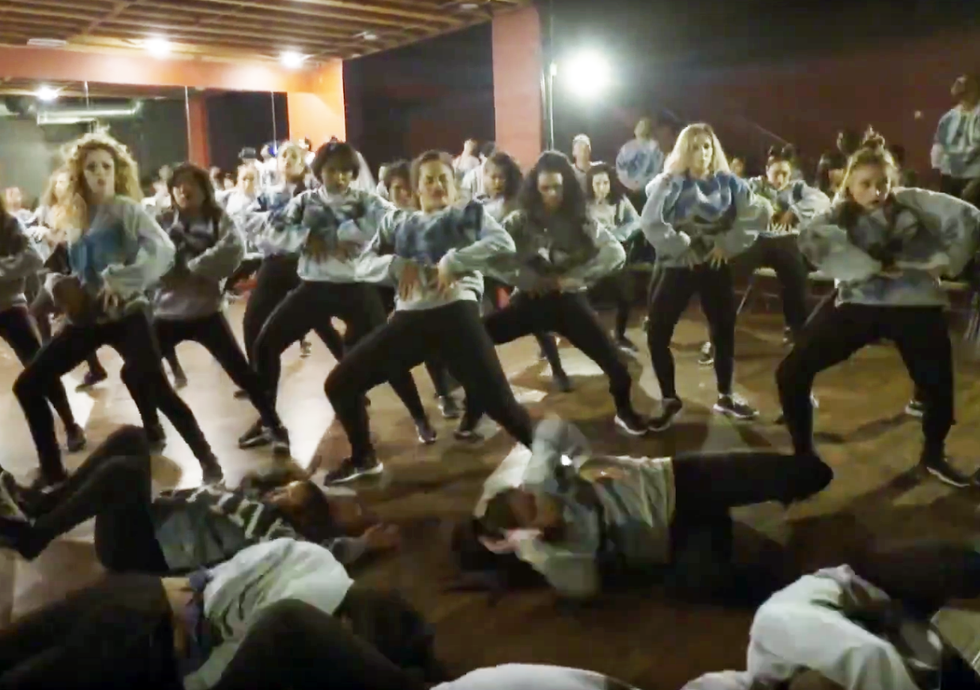 Beasting. (screenshot via YouTube)
Choreographed by Adams and the equally formidable Janelle Ginestra (adorable couple alert!), the just-released "Trap Queen Medley" features, yes, Fetty Wap, along with some truly great throwback hits (oh hey, Joe Budden). It's a four-and-a-half-minute marathon display of the incredible skills of the #immaBEAST dancers, including the #lilBEASTS and #babyBEASTS (adorable kids alert!).
Basically, it's the video equivalent of one of those #MotivationMonday inspirational quotes.
So many hashtags. So many #goals.
OK, I know it's a little bit early for this, but I'm gonna go ahead and tell you guys my New Year's resolution: In 2015, I resolve to be half...no, a third as cool as the girls of Will "WilldaBeast" Adams' LilBeasts.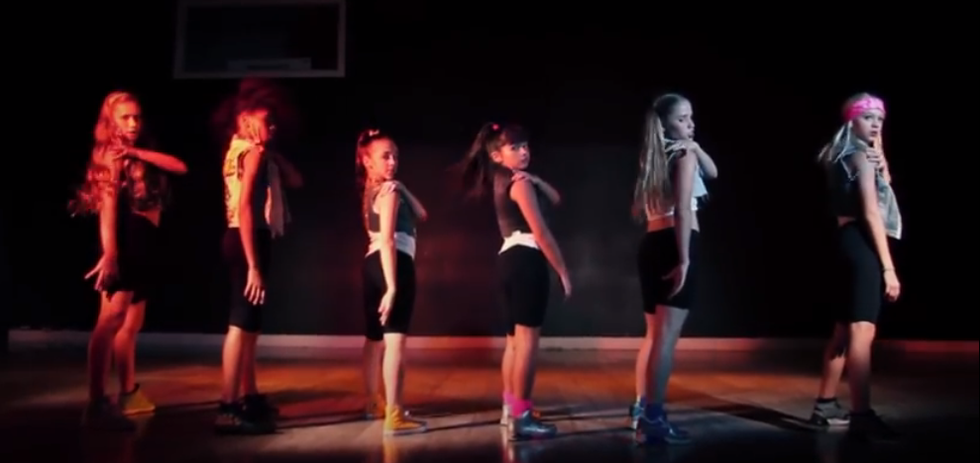 Yaass, ladies.
You know we've been all about the LilBeasts for a while now. So many of the hip-hop minis catching our eyes these days turn out to be WilldaBeast disciples. (Exhibit A: Taylor Hatala.) He sure has a gift for finding and cultivating swag in its earliest of stages.
So why the sudden, new-found need to declare my love and admiration for the lady LilBeasts, in particular? A couple weeks ago, WilldaBeast posted a new video to Ciara's "That's Right," featuring Sydney Rosefsky, Jordyn Jones, Tati McQuay, Kyndall Harris, Kaycee Rice and Lexee Smith. Um...it's amazing.
Got to go start practicing. 2015 is just around the corner!
If you're in the L.A. area tomorrow, don't miss your chance to see WilldaBeast make his TEDx debut. Wait, say what?
According to an Instagram from the other day, our favorite choreographer/dancer/entrepreneur/all-around dance revolutionary WilldaBeast has been invited to speak at TEDx Watts, an independently organized all-day conference showcasing "ideas worth spreading."
Keep reading...
Show less
You guys, it's happening! It's really happening! Remember when we first found out Step Up 6 was a thing but we didn't have tons of details? Behold, tons of details. (And these details are 🔥🔥🔥.)
Willdabeast, who's serving as choreographer of the project, posted these behind-the-scenes videos on his Instagram page and they're filled with tons of dance-y goodness, plus a discussion with the creative team (which includes Janelle Ginestra 🎉).
The clips also feature lots of our fave dancers like Jade Chynoweth, Simrin Player, Dominique Battiste, Noah Tratree, Jake Landgrebe and Jalen Preston.
Still no word yet on whether or not we'll be able to see the film in the States, but for now, let these tide you over:
Happy Monday!
Sooooo we just found out this year's BET Awards nominees. But rather than simply telling us who might be taking home the honors for Best Collaboration, Best Male Hip Hop Artist and Best Female Hip Hop Artist, BET decided to show us just how great all the nominees in those three categories were—and they asked none other than Will "WilldaBeast" Adams to help them do it, via an epic dance video featuring 16 pieces of choreo, an assist from WilldaBeast's on- and offstage partner Janelle Ginestra and the artists of the incredible #immaBEAST team.
THIS. THIS. SO MUCH THIS.
We spy Taylor Hatala, Kaycee Rice, Tati McQuay, Will Simmons, Gabe De Guzman, Sean Lew, China Taylor, Miles Brown and, of course, WilldaBeast and Ginestra themselves. And that's just on a first viewing.
The video debuted last night—on a giant screen in the heart of Times Square, naturally: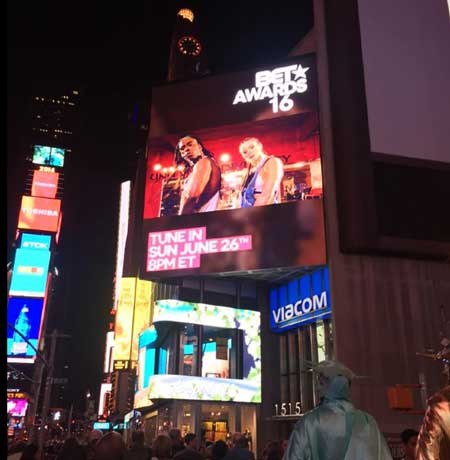 Oh hi! (via WilldaBeast's Facebook page)
We'd like to propose that every awards show take a tip out of BET's playbook here. Because there's no better way to get people hyped about your nominees than to commission some world-class dance showcasing their amazingness.
Happy Friday, friends. Don't forget to tune in to the BET Awards on Sunday, June 26 at 8 pm EST.
Want more Dance Spirit?
We all know that Will "Willdabeast" Adams and Janelle Ginestra are choreographic geniuses (I mean, Fraternal Twins? City Ghouls?). We also know they work super hard. But we didn't realize how hard—until now. The duo (who are also dating IRL <3) just released the pilot episode of their new series, "Making the BEAST," a behind-the-scenes, personal look at the effort that goes into their jam-packed dance careers.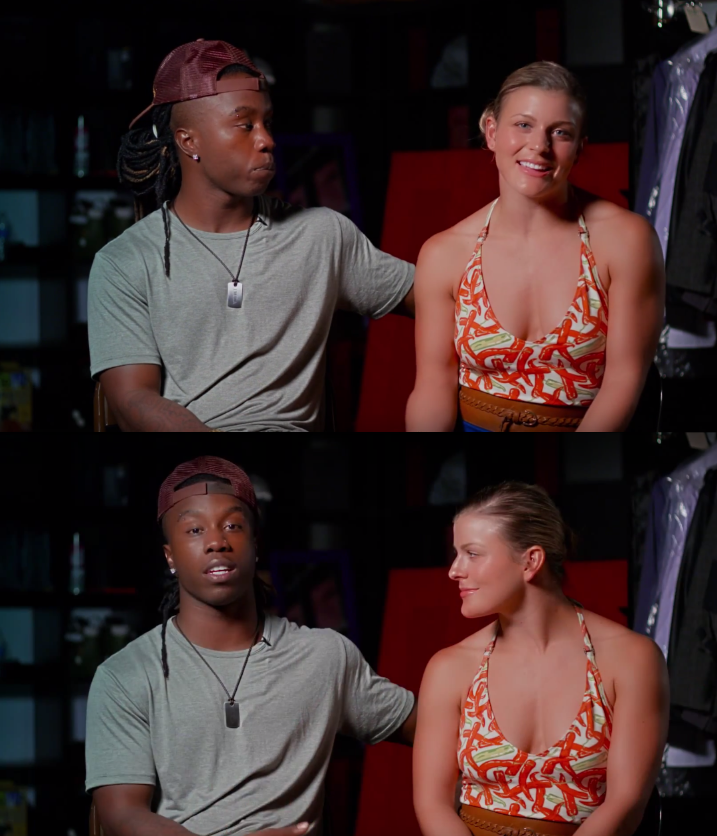 Awwww #DynamicDuo (Screenshot via YouTube)
From waking up at 4 a.m. to shoot a new Fraternal Twins video, to a weekend travelling from LA to Toronto and back again to teach classes at a convention, "Making the BEAST" is as real as it gets. And we absolutely love it. Not only does it emphasize the level of commitment required to make it in such a competitive industry, but it gives us yet another reason to love and admire these two inspiring individuals. Adams and Ginestra care so much about their dancers, and in turn, the dancers give 110% every time.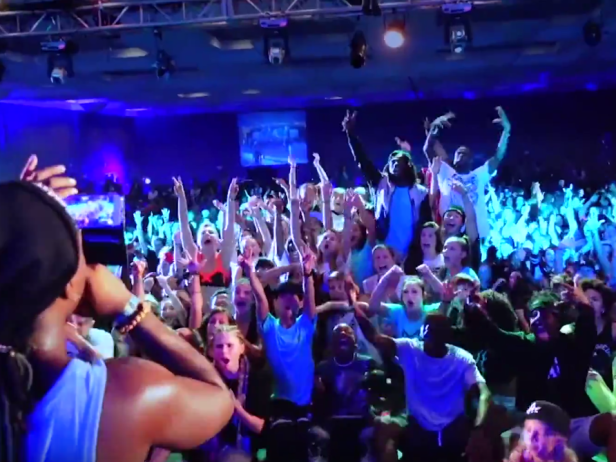 The high energy convention led by Willdabeast and his #immaBeast movement.
So far, only the pilot's been released. But it's safe to say that here at DS, we'll be keeping a close eye out for Episode 2 (and we hope it's coming soon!). In the meantime, catch Episode 1 below:
Heyyyyy, everybody. How have your summers been so far? Fun? Relaxing? A little bit lazy?
Well, while all us normal humans have been lounging by the pool,* the superbeings of the 8 Flavahz crew have been crazy productive. In the month of July alone, they've given us two new videos—delicious nuggets of dance goodness that are the perfect distraction for these long summer afternoons.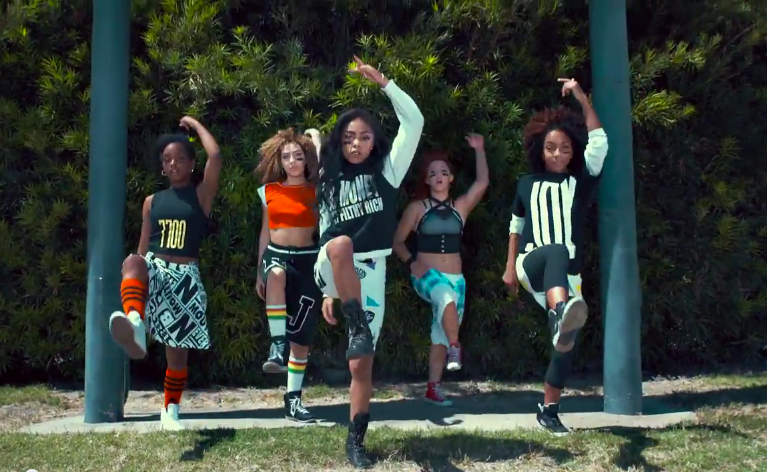 Love. These. Ladies. (screenshot from "Let It Go")
First came "No Flex Zone," choreographed by Will "WilldaBeast" Adams and Janelle Ginestra. It's a compilation of choreo snippets set to all the most earworm-y songs from the past few years ("No Flex Zone," yes, but also stuff we'd forgotten how much we loved, like "Chicken Noodle Soup" and "Get Your Freak On"). We were especially happy to see Camren Bicondova—who's been busy with her starring role on a little show called "Gotham" recently—back with 8 Flavahz for this one.
And then they gifted us with "Let It Go," a Brian Friedman–choreographed extravaganza set on a high school football field. Why that location, aside from all the amazing choreo opportunities presented by bleachers? The clip is actually a promotion for #EastLosDanceBattle, a contest linked to the July 15 season premiere of Hulu's high school soap "East Los High." If you submit a dance video set to Chonique Sneed's "Let It Go," you could win a year's subscription to Hulu. So, get on that, everybody!
Happy summer, guys. May the amazing 8 Flavahz ladies inspire us all to spend more of it dance class.
*Jokes! We know you've been working your buns off in summer intensives and at Nationals. You've earned your pool time.
Who inspires you to dance? It's a tough question—because there are so many possible answers. Here at DS, Misty Copeland encourages us to be ourselves, and to never let the phrase "I can't" pop into our heads. Ricky Ubeda makes us want to stretch for days in hopes of coming close to his gorgeous extension. Kyle Hanagami inspires us to be courageous and honest as artists. Justin Peck motivates us to exercise our creative brains on a daily basis. Chloé Arnold inspires us to harness our #girlpower. Seriously, we could go on for ever...
For many dancers, it's their teachers who inspire them the most. This is definitely the case for the students of Will "WilldaBeast" Adams. (And unless you've been under a rock for the past year or so, you know WilldaBeast is on our inspiration board, too.) Just a quick scan through his Twitter feed will give you a sense of just how many hip-hoppers look up to him, from his crew of LilBeasts to his fellow pros.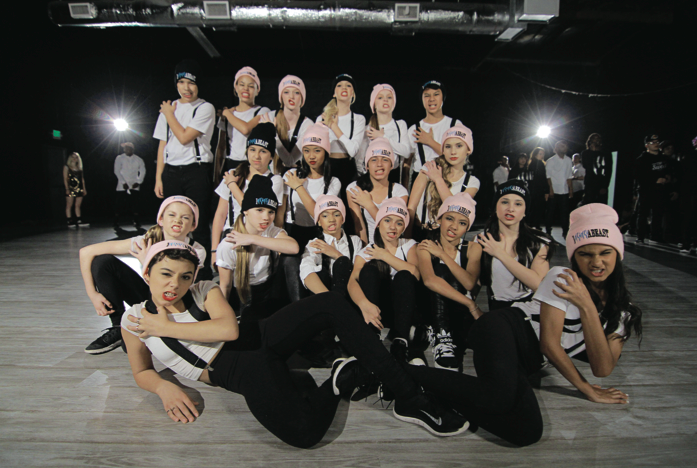 WilldaBeast's LilBeasts (photo by Helton "Brazil" Siqueira)
So who inspires the great inspirer (please pretend that's a word)? This week, WilldaBeast released a video answering that question. It opens with the quote:
"Michael Jackson inspired me to inspire others. This project is made out of the respect and love for him and Janet. Show love not hate. Enjoy." —WilldaBeast Adams
The video is a remake of Michael and Janet's 1995 music video "Scream." Janelle Ginestra plays the Janet to WilldaBeast's Michael, and the two pay homage to the original choreography for much of the video. The bottom left corner of the frame plays the original music video, so you can see how the remake matches up. But we couldn't resist the opportunity to have a little fun with Photoshop.
We've got WilldaBeast and Michael...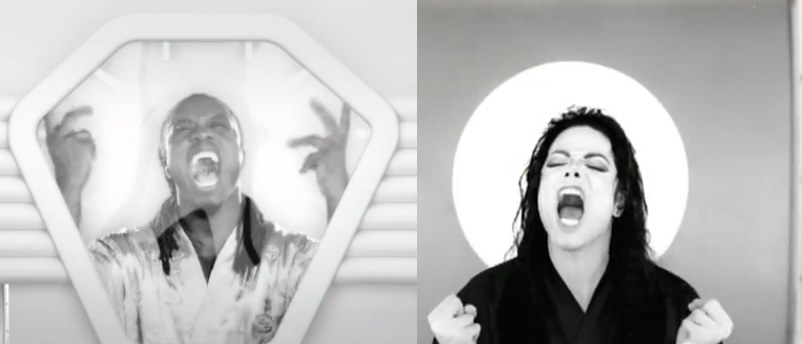 ...Janelle and Janet...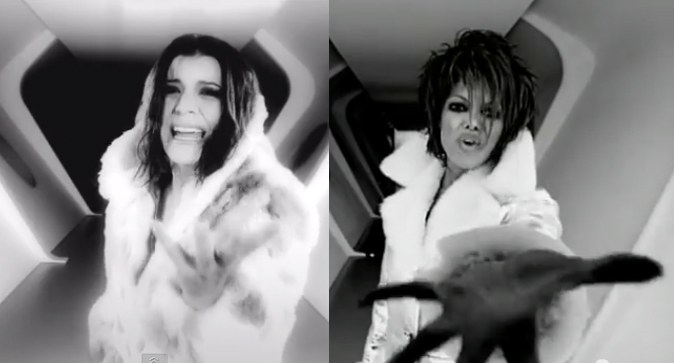 ...some classic MJ choreo...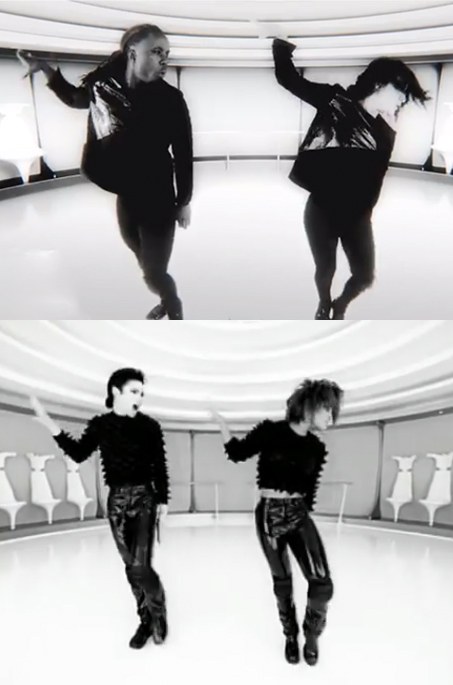 ...and just utter fierceness.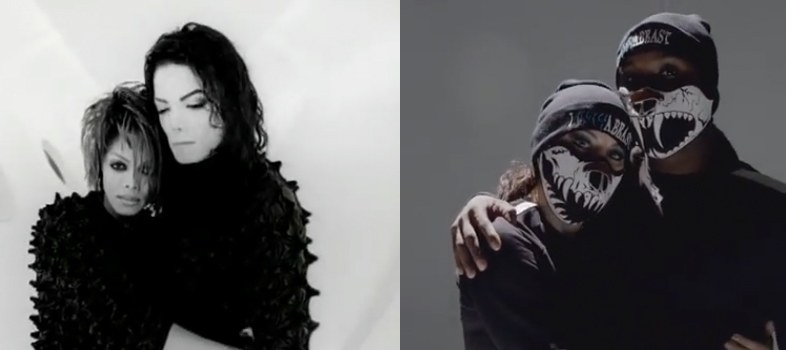 Notice how that last picture of WilldaBeast and Ginestra is in color? That's because about a minute through the video, they break away from the original choreo to really make it their own. And, tbh, that's my favorite part. Enjoy!
Get Dance Spirit in your inbox
Now that we're done collectively freaking out about the questionable pointework in Ciara's new video (YEEPS), let's celebrate two dancers who are absolute masters of their craft, shall we?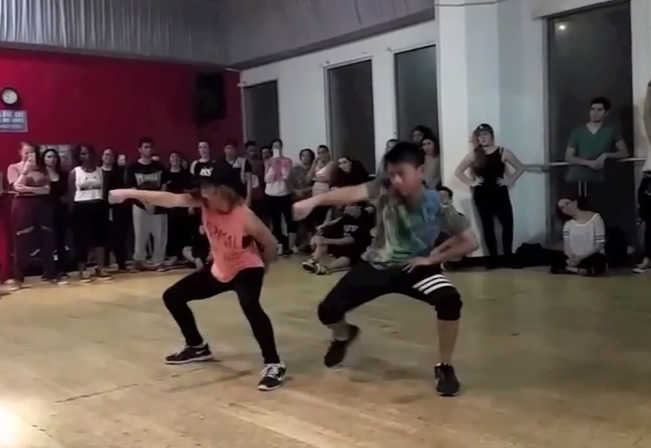 Meet Bailey and Kenneth!
I'm talking about Bailey Sok and Kenneth San Jose. The California-based young'uns—Kenneth is 12, and Bailey is just 11—have kind of unbelievable hip-hop skills. But you don't have to take my word for it. Watch this new video of them taking down a routine to Meek Mill's "Monster," choreographed by Matt Steffanina:
Bailey and Kenneth are part of a growing group of littles—including Charlize Glass, Sean Lew, Soni Bringas, Gabe De Guzman and Taylor Hatala, to name just a few—who seem to be taking over the hip-hop industry, thanks in part to their appearances in videos like this one. They are insanely good, you guys. And they have some impressive grown-up mentors, too. Steffania, the genius responsible for the choreography above, is the same guy who brought Taylor Hatala viral fame, for example, and nearly all the kids listed above are members of Will "WilldaBeast" Adams' fantastic LilBeasts crew.
Let's just say we're definitely not complaining about the trend. More on that in our April issue!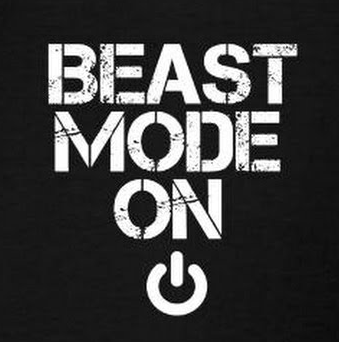 It's Friday...and we're going #BEASTMODE.
No, we didn't miraculously transform into gym rats overnight. Although we must ask: Bro, do you even lift??
Sorry, couldn't resist. But back to dance—because when us dancers talk about #BEASTMODE, we're not talking about pumping iron at the gym. We're talking about the #BEAST of hip hop himself: #WilldaBEAST.
Will "WilldaBeast" Adams is dominating the hip-hop scene these days, and the good news is, he wants you to join him. This summer, Adams' company #immaBEAST will hold its first-ever convention. The first 800 dancers to register will get to spend four gloriously dance-packed days learning from Adams and other top hip-hop choreographers. And get this: On the fifth day, #immaBEAST will hold its third annual audition, which is exclusive to dancers who've participated in the convention.
The convention will take place in L.A. from July 28 to August 1. Registration hasn't opened yet, but you can sign up on #immaBEAST's website to receive updates—which we highly recommend, since it probably won't take long for those 800 spots to fill.
Finally, to celebrate the first-ever #immaBEAST convention, let's #throwback to Brooklyn Fullmer and Casey Askew performing Adams' choreography on "So You Think You Can Dance" Season 11. Happy #BEASTMODE Friday!
Hip hop and contemporary can seem like opposite ends of the dance spectrum. But if you think about it, they actually have a lot in common—like their groundedness, emotional intensity, isolations and accenting.
Will "WilldaBeast" Adams clearly had these similarities in mind when he choreographed his latest project, a music video for JP Cooper's "When the Darkness Comes" (directed and edited by Tim Milgram). You guys know we've been WilldaBeast super-fans for a while now, but MAN, has 2015 brought us WilldaBeast 2.0, or what.
In the video, his choreography seamlessly transitions between styles—so much so that you can't really say "this is the contemporary section and this is the hip hop section." It's just dance. My favorite example of this is when (at 1:43) the male lead lands a double tour en l'air with a sort of half-coffee-grinder unwind—something reminiscent of breaking. It doesn't seem forced. It just plain works.
Way to go, WilldaBeast. If this is any indication of what 2015 has in store for you, we can't wait to watch. Happy Friday!
When I was hanging out at Dancerpalooza last week, I couldn't get over Will "Willdabeast" Adams' classes. First of all, dude is an insane dancer—super clean, so that every movement reads with perfect clarity. ("So You Think You Can Dance" loves him, too: Last week, he choreographed for the show for the first time.) But he's also a talented teacher, able to break down his intricate steps in a way that even the youngest dancers can understand.
Which probably explains why he's so popular with some of hip hop's tiniest talents. In fact, Willdabeast has a crew of these fantastic kids—the LilBeasts—and the group just released a new video.
It's got Beyoncé. It's got John Legend. It's got Lil' Jon. And, most importantly, it's got some of our favorite littles, including Sean Lew (who makes the world's cutest emcee) and Larsen Thompson.
In Sean's words: Welcome to the #immaBEAST show.