Mar. 23, 2017 01:41PM EST
YEP, you read that right—Wade Robson is BACK! It's been faaaaar too long since we've witnessed his choreographic genius, but it's fine because his latest video in collaboration with CLI Studios, "Flight," is everything we could've hoped for and then some.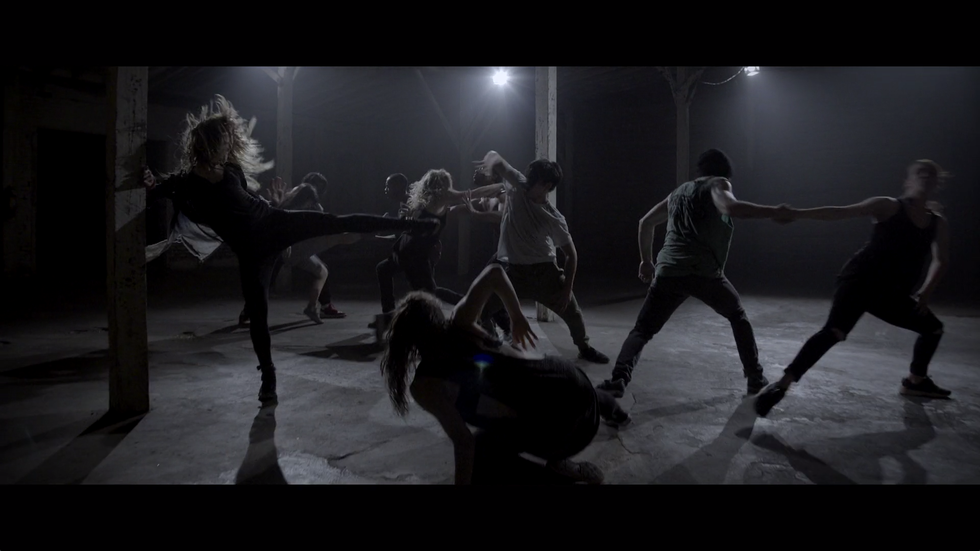 Dancers in "Flight" don't hold back. (Screenshot via Vimeo)
I mean, Allison Holker + William Wingfield + Teddy Forance + Robson's directorial eye? There's literally no way you could go wrong with that equation. Naturally, the result is a stunning series of powerhouse performances. The choreo (to which all the dancers contributed) is raw, passionate and edgy, addressing some pretty heavy subject matter in a beautifully moving way.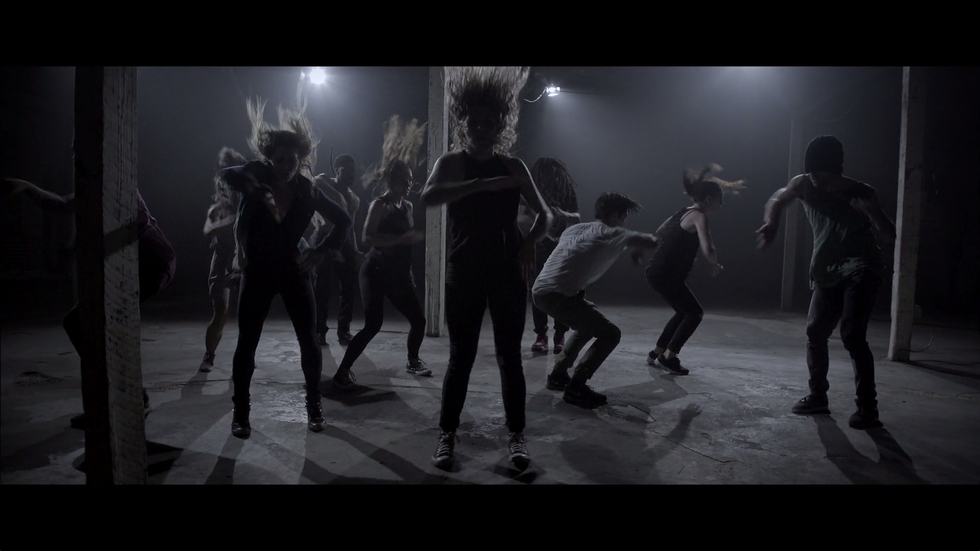 Whip that hair. (Screenshot via Vimeo)
Robson's directorial vision is crystal-clear, with everything from the costumes, to the casting, to the chilling lighting adding to the video's power. I don't want to give too much away, because "Flight" is well worth a watch (or two, or three). Check it out below—but keep in mind that some of the content may be a bit dark.
Dance News
Apr. 29, 2015 12:16PM EST
What makes music-video magic? For Sia, it's a blonde wig and a certain tiny dancer. For Carrie Underwood, Shaping Sound plus a shallow pool of water did the trick. Megan Trainor utilized the magnificent powers of Les Twins—plus lots and lots of lips. Are you sensing a pattern here? Dancers make music videos AWESOME.
British rock band MUSE is the latest musical entity to capitalize on this fact, with their magical formula combining dancers Kathryn McCormick and Will Wingfield, choreographer Tessandra Chavez, a ton of chalk dust and suuuper creepy contact lenses.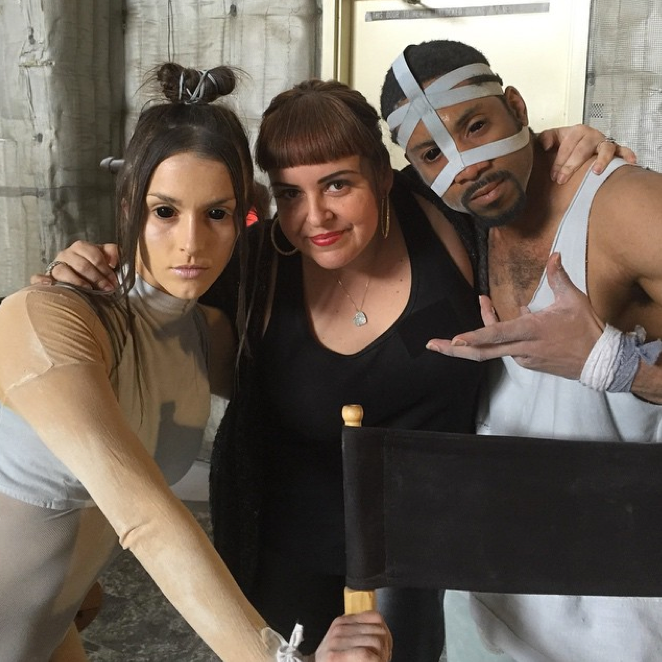 (L to R) McCormick, Chavez and Wingfield on the set of MUSE's "Dead Inside" (photo via Instagram)
The resulting music video, "Dead Inside," is deliciously dark and creepy—and somehow, it managed to exceed our already high expectations. Chavez's choreography expertly walks the line between musical and abrasive, effective and emotionless. And both dancers do that choreography justice, perfectly embodying a possessed, contorted and somehow hauntingly beautiful quality throughout. The excellent camera work doesn't hurt either (shout out to director Robert Hales).
We were particularly impressed with McCormick's transformation. Sure, she's no stranger to being a choreographer's muse (pun intended)—but this project strays so far from the beautiful tragic heroine she often portrays. Guys, Kathryn gets evil. This face may or may not show up in my nightmares tonight, and I'm totally OK with that.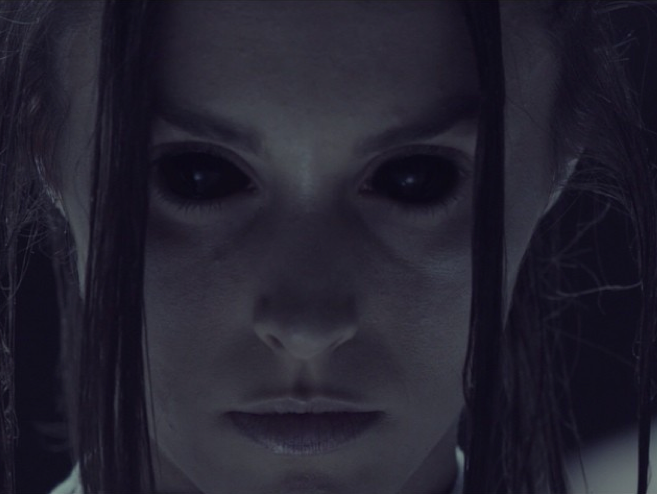 OK, maybe I'm not so OK with that... (photo via Instagram)
I think it's past time I stopped gushing and let you guys experience this beautiful monster for yourselves. Enjoy! (And maybe sleep with a nightlight tonight.)
Dance News
Dec. 11, 2013 10:35AM EST
Yesterday was the big day—and it looks like #bosswedding2013 was just as magical as, well, pretty much every moment of Allison Holker and Stephen "tWitch" Boss's too-cute-for-words courtship!
The nuptials were full of "So You Think You Can Dance" love: Not only did the couple have their ceremony at producer Nigel Lythgoe's vineyard, but Will Wingfield and Joshua Allen were among tWitch's groomsmen, and Allison's bridesmaids included Courtney Galiano and Kathryn McCormick. (She also had two "bridesmen": Shaping Sound's Teddy Forance and Travis Wall, who wore a very fetching veil of his own.)
Here are the shockers of the century: 1) tWitch and Allison looked fabulous (Allison wore a gorgeous strapless dress with organza flowers by Watters Hollywood) and 2) the duo did not disappoint on the dance front. After a first dance to Adele's "One and Only," they performed a hip-hop routine to Justin Bieber's "Somebody to Love" along with Allison's adorable daughter Weslie, who apparently helped with the choreography. All together now: D'awwwwwwwwww.
Congrats, you crazy kids! And for those of us not lucky enough to make the guest list, here are some Instagram highlights. Enjoy!
[portfolio_slideshow nowrap=0 thumbs=true timeout=4000 showtitles=true showcaps=true showdesc=true]
Apr. 05, 2013 07:00AM EST
I don't like magic.
Card tricks confuse me and I don't like it when I can't figure things out.
And yet, I loved the most recent Macy's Stars of Dance performance on "Dancing with the Stars," which was filled with visual trickery and was, well, magical.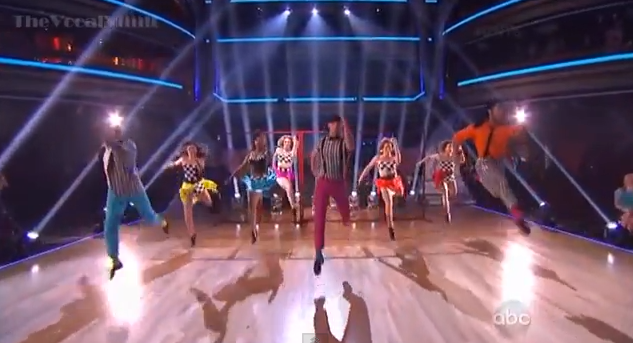 My first thought during this performance was, "I want a checkered outfit." My second thought: "OMG WHAT ARE THEY DOING???"
The routine, choreographed by RJ Durell and Nick Florez, featured a few of my favorite dancers, including Jaimie Goodwin (she tends to steal that spotlight time and time again with her picture-perfect side tilt extension, doesn't she?), Taja Riley and Will Wingfield. But more importantly, it just blew my mind.
This piece wasn't about amazing technique or fancy choreography—it was all in the special effects.
Check it out and help me figure it out! I'm thinking some of it was pre-taped and then it's being played backward. Criss Angel, a little help, here?
Dance News
Sep. 10, 2012 05:18PM EST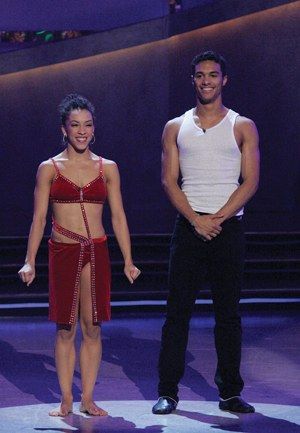 Sabra Johnson, who didn't begin training until age 16, beat out former professional ballet dancer Danny Tidwell on Season 3 of "So You Think You Can Dance."(Kelsey McNeal/FOX)
Picture this: Two dancers are up for elimination on "So You Think You Can Dance." One's been training since age 3 and is technically stunning. The other started dancing a few years ago and has struggled to learn new styles, but works hard and has a certain spark onstage. Who will the viewers and the judges save? You might be surprised.
"SYTYCD" is a dance competition, but since Season 1, the producers have made it clear that the winner is "America's Favorite Dancer," not "America's Best Dancer." Sometimes the best technical dancer does win—look at Season 8's Melanie Moore—but just as often, astonishingly good ballet and contemporary dancers go home early on, after failing to inspire viewers to pick up the phone. Clearly, the secret to "SYTYCD" success goes beyond sky-high extensions, multiple pirouettes and years of classical training.
What's the magic ingredient? "It's God-given, I'm afraid," says executive producer and judge Nigel Lythgoe. "People call it the 'X' factor, or charisma, or magnetism. A wonderful personality grabs people and gets them to vote."
The good news is you don't have to be an over-the-top extrovert to have a winning personality. Dance Spirit talked to two of the show's choreographers and four super-technical former competitors about the importance of personality on "SYTYCD"—and how a trained dancer can become the total package.
Breaking Down the Vote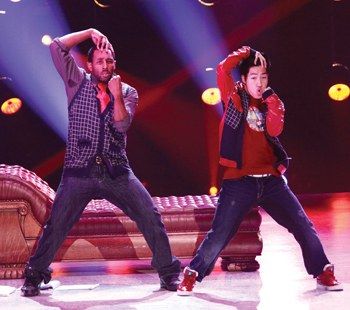 Ballet dancer Alex Wong (R, with All-Star partner Stephen "tWitch" Boss) won fans over with his personality—and his hip-hop moves—in Season 7.(Kelsey McNeal/FOX)
Do audiences consistently vote for personality over technique? Yes and no. "For viewers, it comes down to performance," says Season 4's Katee Shean. "Whether you're a technical dancer or a street dancer, if you can captivate the audience, you'll get votes. People relate to seeing emotion onstage."
"You might have a street dancer who's never pointed his feet, but you see something beautiful inside him when he dances," adds choreographer Mandy Moore. "And then you'll have someone who's classically trained, a gorgeous mover and athlete, but who doesn't have that light coming from inside. Dancers understand lines and stretched feet, but the majority of people watching the show connect more to the life in someone's eyes."
Both Mandy Moore and fellow choreographer Sonya Tayeh are quick to point out that even dancers with great personalities in real life can have trouble getting their joy and sense of humor across on TV. "Sometimes it feels like the technical dancers aren't exuding passion and effort, but they truly are," Tayeh says. "Trained dancers take dancing very seriously, and unfortunately, seriousness can be off-putting on camera." Season 3 contestant Danny Tidwell's intense focus, for example, was misread by some viewers as arrogance.
The Underdog Factor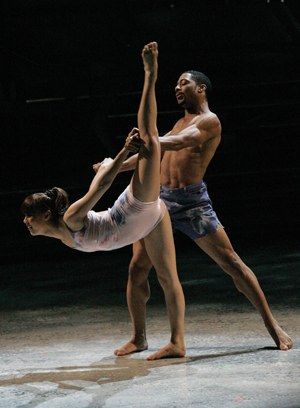 Katee Shean and Will Wingfield showed off impressive ballet training in Season 4, but lost to charismatic hip hopper Joshua Allen. (Kelsey McNeal/FOX)
Highly trained dancers can soar from episode one, while dancers with less formal training may initially struggle to learn choreography and adapt to styles outside their genre. But in almost every season, there comes a point where those less-trained dancers are showered with praise for their hard work, while certain performers who have been consistent all season start to lose votes. Why does that happen?
"Audiences love an underdog," Mandy Moore says. "Plus, it's definitely easier for viewers to see growth in someone who didn't start out strong, even though the technical dancers are growing and changing, as well." Season 6 runner-up Jakob Karr agrees. "There's an expectation that trained dancers can nail everything. That's why people who haven't trained can have such an explosive, exciting night: They blow everyone away because people aren't expecting them to excel."
But just because you've been dancing since you could walk doesn't mean you can't have your own underdog moment. Some technical dancers have been criticized for not showing enough emotion, and those who went on to have an emotional breakthrough were wildly applauded. A ballet or contemporary dancer can also be an underdog in hip hop or ballroom. In Season 7, ballet-trained Alex Wong set the stage on fire with a hard-hitting hip-hop routine, and had he not gotten injured, that performance might have helped him win the season.
Learning to Shine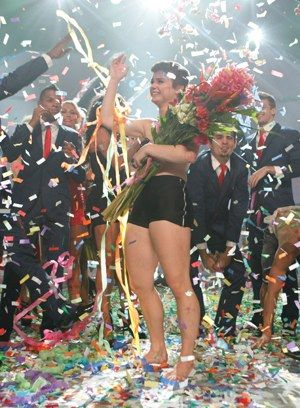 Melanie Moore, the Season 8 winner, was one of the only technical dancers to triumph on the show.(Adam Rose/FOX)
So what can classically trained dancers do to make their personalities shine as bright as their technique? Finding your own "X" factor is easier than you might think. And take note—these tips can help you succeed not only on "SYTYCD," but also throughout the professional dance world.
Be Yourself. Yes, the judges and viewers want to see personality. But that doesn't mean you should act like something you're not. "Honesty is so important," Tayeh says. "Be truthful about who you are, whether you're shy or outgoing. Embrace what makes you unique."
It can be nerve-racking to present your true self on TV. Even bubbly, extroverted Melanie Moore took a few weeks to adjust. "I'm naturally giggly, but at first I was very reserved on camera because I didn't want to come off as an airhead," she says. "As I got more comfortable, I realized, this is my personality, and I want people to know who I am so they can vote for me as a person as well as a dancer."
Be Humble. Confidence is good, but overconfidence is off-putting. "Never give in to arrogance," Karr says. "If you think you're the best at what you do and you don't need to get any better, you should throw in the towel."
"I don't believe technical perfection exists," adds Season 5 winner Jeanine Mason. "There are so many ways to improve as a dancer, technically and artistically. If you think the level you're at is good enough, you aren't working hard enough—and you won't succeed on the show. And if you're gracious about feedback from the judges, viewers will see and respond to that."
Be Open. Even if you've won hundreds of awards in your own style, "SYTYCD" requires versatility—and being versatile requires an open mind and heart. Just as the judges expect the street dancers to take ballet class, classically trained dancers need to take hip-hop and ballroom classes. Not only will you have a better chance of succeeding on the show, but you'll also have a greater appreciation of your fellow competitors' skills.
Show audiences you understand your own weaknesses—and that you recognize the other contestants' strengths. Melanie Moore remembers Broadway dancer Jess LeProtto coaching hip-hopper Wadi Jones through a pirouette, and then several hip-hoppers assisting LeProtto and others with hip-hop choreography. "We all helped each other reach a higher level," she says. "Everybody had something to give."
To some extent, it's impossible to predict who will win "SYTYCD." Favorites go home shockingly early, while underdogs become contenders. Votes can be lost based on a single poor performance, a judge's harsh critique or an unflattering video package. As far as technique goes, the bar gets raised higher each year—not only for classical/contemporary dance, but also for ballroom and hip hop. What's the take-home message? While personality plays a big role in who wins, it's far from the only factor. That's what makes it exciting.
Get Dance Spirit in your inbox