Jun. 26, 2019 11:21AM EST
Darrion Sellman competing at Youth America Grand Prix (Siggul/Visual Arts Masters, courtesy YAGP)
At age 15, Darrion Sellman already possesses the traits that make his idols—The Royal Ballet's Steven McRae and American Ballet Theatre's David Hallberg—such world-class dancers. Darrion has McRae's easy grace and controlled turns, plus Hallberg's noble movement quality and super-archy feet, and he's taken those gifts and run with them. The talented dancer has earned merit scholarships to summer intensives at Canada's National Ballet School and San Francisco Ballet School, and won YAGP's Youth Grand Prix Award three times in a row. And in 2017, Darrion was recognized by The Royal Ballet School's International Scholars Programme as an exceptionally talented ballet student from outside the UK.
Rising Stars
May. 09, 2019 07:00AM EST
Photo by Eva Nys, courtesy Ellison Ballet
Keaton Gillespie has the expressive face of a silent film star. Add in her soaring extensions, elegant port de bras, and gorgeous feet, and it's no wonder this 15-year-old is turning heads. Currently in her second year at Ellison Ballet in NYC, Keaton made the big move up from South Carolina on her own at 13, after crafting a PowerPoint presentation to convince her parents that the school's intense Vaganova curriculum was what she needed to take her dancing to the next level. (Her parents will join her in NYC this summer, now that her brother has finished high school.) Keaton's 2018 wins included junior grand prix at ADC/IBC and top 12 classical at the Youth America Grand Prix NYC finals. But she's not in it for the trophies. "I love ballet for the artistic challenge," Keaton says. "You're doing something so physically demanding, but you have to portray a character at the same time. I want to impact people with my artistry onstage."
Rising Stars
Apr. 19, 2019 03:37PM EST
Gabriel Figueredo in a variation from Raymonda. VAM Productions, Courtesy YAGP.
This week, over 1,000 young hopefuls gathered in New York City for the Youth America Grand Prix finals, giving them the chance to compete for scholarships and contracts to some of the world's top ballet schools and companies. Roughly 85 dancers made it to the final round at Lincoln Center's David H. Koch Theater on Wednesday. Today, the 20th anniversary of YAGP came to a close at the competition's awards ceremony. Read on to find out who won!

Dance News
Feb. 09, 2019 07:00AM EST
Images by Norelle, courtesy Jennifer Falcione
When we asked what her proudest accomplishment so far is, Kiarra Waidelich paused for a moment. That's because she has so many to choose from: In the past two years, Kiarra's earned Mini and Junior Female Best Dancer at The Dance Awards, snagged Youth America Grand Prix's Hope Award, and made it to the divisional finals on Season 2 of "World of Dance." Equally gifted in ballet ("I love the mental and physical challenge") and contemporary, it's the latter that made Kiarra realize dance was her passion. "If something bad or stressful happens in my day, I use contemporary as a way to express and release what I'm feeling," she says. "Dance is a way for me to emote and let things go."
Rising Stars
Mar. 23, 2017 03:22PM EST
Chehon Wespi-Tschopp, courtesy Elizabeth Gay
Avery Gay's chameleonlike abilities have earned her comp-world celebrity. In a testament to her versatility, she won the 2015 Hope Award—a prize reserved for the best classical and contemporary dancer in the pre-competitive age bracket—at the Youth America Grand Prix Las Vegas semifinals. Then she won it again at the 2016 Austin, TX semifinals.
Dancer to Dancer
Mar. 23, 2017 09:43AM EST
It seems like these days, if you wanted to spend all of your free time watching dance on TV, you probably could—not that we recommend it (everything in moderation, right?). But think about it: Just this spring/summer, we've welcomed Teen Vogue's "Strictly Ballet," Hulu's "The Next Step" and Ovation's "Young Marvels" to the dance TV family. Not to mention, we've blocked off our Wednesday evenings for a glorious two-hour feast of "So You Think You Can Dance."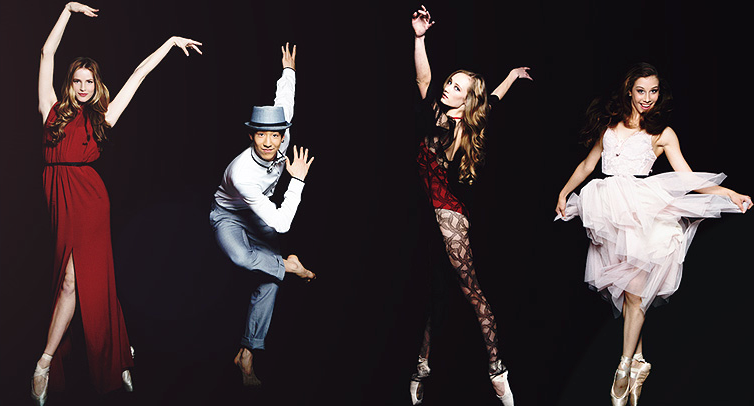 (L to R) Madison, Lex, Sage and Andrea (photo via danceon.com)
Whelp, "SYT" executive producer Nigel Lythoe knows a thing or two about fans of dance TV—namely, they just can't get enough of it. That's why he's introducing two new web series this year, starting with "Dance School Diaries." This docu-series will follow four young ballet dancers—Andrea, Lex, Sage and Madison—as they prepare to compete in the prestigious Youth America Grand Prix. We're not quite sure what to expect. Will the promised drama be juicy or over-the-top? Will it be reality TV or "reality" TV? Normally, I'd say we'll just have to wait and see, but this time we don't have to wait—the series premieres today! There will be 14 episodes in total, airing on YouTube each Friday until mid-September.
Check out the trailer below, then make your way over to YouTube to watch the first episode. And let us know what you think in the comments!
Dance News
Feb. 06, 2015 11:41AM EST
Happy Friday, ladies and gents! Does it feel like this has been an especially long week? It does, right? I have this theory that the colder it is, the slower time passes.
Anyway, here's a little something to reward you for making it through: a #FouetteFriday video!
Our friends over at TenduTV recently posted this INSANE clip of San Francisco Ballet principal Maria Kochetkova flying through the 32 fouettés at the end of the Don Quixote Act III pas de deux. (It's from the Youth America Grand Prix film Ballet's Greatest Hits, which is fantastic—go get it.)
Here's the thing about Masha: She's not just tossing these guys off. Her form is pristine. Look at that placement! It's perfect, turn after turn. Naturally, she sprinkles the series with doubles—complete with fan action—and caps the whole thing off by repeatedly changing her spot, like the total boss she is. Basically, our fouetté dreams are her fouetté reality:
*bows down*
Have a happy, dance-y weekend!
Dance News
Jan. 06, 2015 10:18AM EST
Every dancer dreams of the day she'll get her first tutu. Her first real tutu, that is. Not a puffball of pink tulle designed for pre-ballet class—though, hey, when you're 5, those are pretty great, too—but a big, glorious platter skirt with a corseted bodice. Ballerinas wear many tiaras over the course of their careers, but putting on that first tutu is the true crowning moment of a young dancer's life.
And the people who create tutus are seriously accomplished artists. Recently, L.A. Weekly introduced us to California-based seamstress Sara Bacon, who makes many budding ballerinas' tutu dreams into beautiful realities.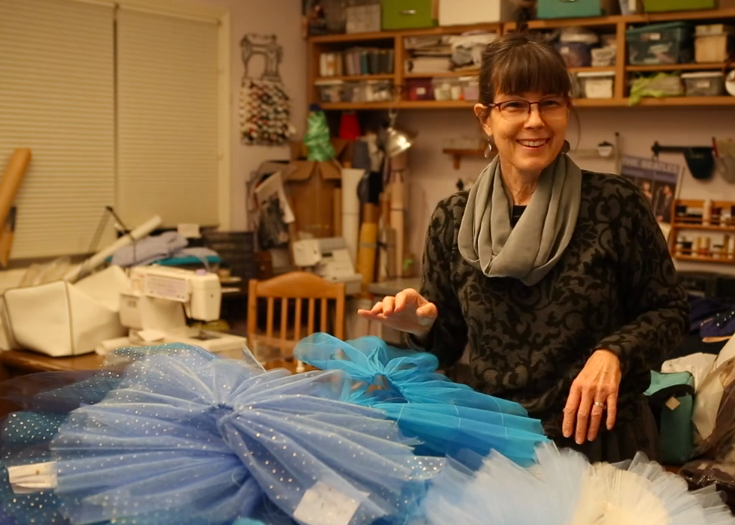 Sara in her workshop with a tutu-in-the-making (still from L.A. Weekly video)
Yes, you probably already know that constructing a tutu is a long, labor-intensive, complicated process. But L.A. Weekly's story and video about Bacon hammers home just how much love goes into each costume. She only has time to sew handful each season—this year, she's working on five—which means that they basically become her babies. "And just like children, I love them all equally," she says in the video. Aww!
Bacon makes a lot of tutus for Youth America Grand Prix competitors, and the video follows the creation of one YAGP hopeful's colorful costume for her Le Corsaire Odalisque variation. We see time lapse footage of the patternmaking, the layers upon layers of ruffles being stitched together, the fittings, and finally the dancer rehearsing in the finished product. It's fascinating.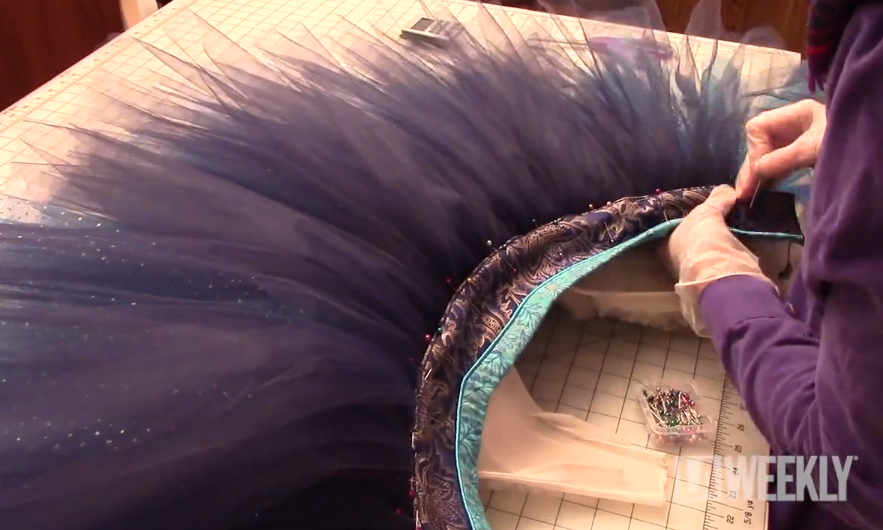 Prettyyyyyyyy (still from L.A. Weekly video)
Take a look—and check out the accompanying story here.
Dance News
Apr. 10, 2014 11:54AM EST
NYC is bursting with promising ballet dancers this week, thanks to the Youth America Grand Prix finals held at Lincoln Center's Koch Theater. To all the competitors (at YAGP and beyond), we're shouting a big "Merde!!" your way.
We can't wait to see what amazing things these kids will do next. Don't believe us? Just take a look at these teens competing in the '90s and early '00s. They sure turned out (more than) OK.
Before she was New York City Ballet principal Sara Mearns, she was simply the amazingly talented 15-year-old Sara Mearns, competing at YAGP:
Recognize this guy? It's none other than the dreamiest of all American Ballet Theatre principals, Marcelo Gomes, competing at the Prix de Lausanne in 1996.
Here's international ballet superstar Alina Cojocaru at the Prix de Lausanne in 1997:
No surprises here: ABT soloist Sarah Lane's port de bras was just as glorious in 2002!
And San Francisco Ballet soloist Simone Messmer was just as regal at 16, competing at YAGP regional finals in 2001:
It's hard to imagine Diana Vishneva before she was a start of the Mariinsky Ballet and ABT. Nevertheless, here she is in 1994, competing at the Prix de Lausanne:
And finally, here's a special treat: Alex Wong in leopard booty shorts at the Prix de Lausanne in 2004. Go ahead, watch it sixteen times. We have.
Dance News
Apr. 01, 2014 09:30AM EST
In a pair of pointe shoes, she's effortlessly regal—but take those pointe shoes off, and Jasmine Cruz will show you her spunky side. The 12-year-old's solid technique and infectious personality helped her snag a gold medal at the World Ballet Competition in 2012, and earn first place in both classical and contemporary for the pre-competitive age division at 2013's Youth America Grand Prix Semi-Finals. Last year, Jasmine also won New York City Dance Alliance's National Mini Female Outstanding Dancer title.
"While I enjoy dancing variations, I love learning contemporary choreography. For me, the best part has always been getting to see the journey of a new dance."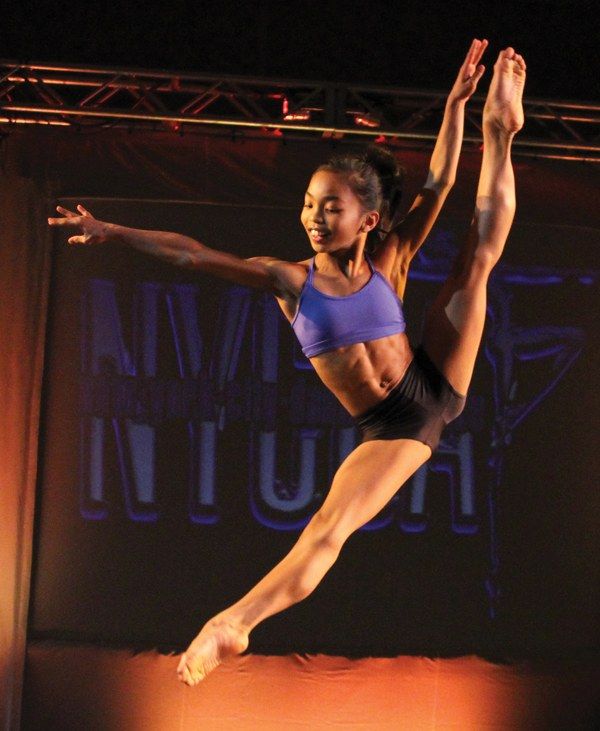 (Photo by Allison Schultz/New York City Dance Alliance)
Fast Facts
Birthday: January 31, 2002
Hometown: San Francisco, CA
Studio: Westlake School for the Performing Arts
Favorite dancer of all time: American Ballet Theatre soloist Misty Copeland
Favorite food: frozen yogurt
Dance idol: San Francisco Ballet principal Maria Kochetkova. "She's petite like me, and she's broken a lot of boundaries in the dance world."
Favorite dance movie: First Position
Dream dance role: Kitri in Don Quixote or Swanilda in Coppélia
Dancer to Dancer
Get Dance Spirit in your inbox
Mar. 01, 2014 11:42PM EST
Joe Toreno
In the summer of 2012, Juliet Doherty gave a talk at a TEDx conference in her hometown of Albuquerque, NM. She was the only teenager to speak that day—and, in a ballet costume and pointe shoes, the only person not wearing a suit. After her speech, during which she encouraged listeners to "be great," Juliet performed a solo. That was the day she got her first standing ovation. "The amazing thing," she says, "is that it wasn't just about my dancing. It was about the message I was trying to put out there."
It's safe to say that won't be Juliet's only standing ovation during her ballet career. Now 16, Juliet is a student in the San Francisco Ballet School's pre-professional training program, and she's already collected a handful of professional performing credits (as Clara in the Radio City Christmas Spectacular and in San Francisco Ballet's Nutcracker) and competition wins (she won gold at the Youth America Grand Prix finals when she was 14). Earlier this year, Juliet competed at Prix de Lausanne in Switzerland. She talked to Dance Spirit about ballet competitions, Broadway and "being great."
By the time this issue comes out, you will have competed at Prix de Lausanne, which was a longtime goal of yours.
Juliet Doherty: This will be my first overseas competition. When I came to San Francisco Ballet two years ago, I talked to Patrick [Armand, the associate director of the SFB School] about it. He said I could compete right away, but I chose to train for a year with the school first so I could get the full experience without the added stress of competition. After a year of training, I filmed my competition application video. In November, I found out I had been selected to compete. Since then it's been a lot of rehearsing, working on my variation, learning my contemporary solo and adding my own artistry to the pieces.
Which pieces did you prepare?
JD: My age division had 10 variations and four contemporary selections to choose from. I chose the Swanilda Scene 1 Act 1 variation from Coppélia, and for my contemporary I picked "Saraband," from Vasos Comunicantes. Most of the contemporary options were a minute long, but this one is almost three minutes. I wanted to be challenged.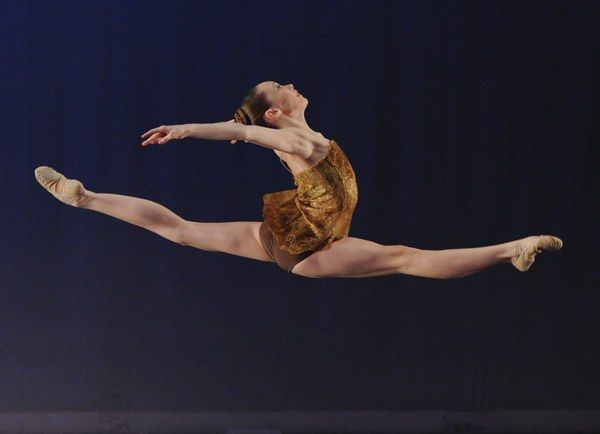 Performing at the Youth America Grand Prix finals in 2012 (courtesy Juliet Doherty)
Not everyone in the ballet world is on board with competitions. What's your take?
JD: When you're dancing in a company, you're constantly under the pressure of performing and being looked at. I think the best way to get a taste of that at a young age is through competitions. Then, down the road, you can think, "OK, this has happened before. I know how to handle it."
I try to bring everything I've learned at competitions into my performances. I have a solid technical base; my competition experiences won't hinder that.
The SFB School is a big supporter of ballet competitions. Did that factor into your decision to attend?
JD: Yes. I was competing at the YAGP finals in NYC in 2012 and took the scholarship class on the last day of the competition. That's when Patrick offered me a summer scholarship. I was 14 and starting to consider moving away from home to a pre-professional school. I got a few different offers that day, but I had a good feeling after talking to Patrick.
I spent the summer at SFB and I loved it, so I stayed for the entire year. Now I'm back for my second year. I've also been lucky enough to perform with the company for two years as Clara in Nutcracker.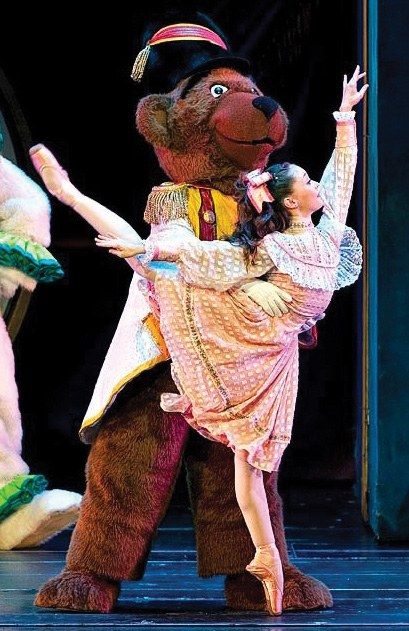 As Clara in the Radio City Christmas Spectacular in NYC (photo by Gene Schiavone)
How'd you get that role?
JD: People just came into class for five minutes with a clipboard and watched us during barre combinations. Then four of us got calls later saying we'd been cast.
It's neat because I got to work one-on-one with Helgi Tomasson [SFB's artistic director]. As a student, we're always looking at Helgi wondering, "Who is this mysterious guy?" The first time we ever danced in front of him, he said, "Are you nervous?" We were hesitant to say yes, so we just nodded, and he said, "OK, you should be."
But dancing Clara with SFB wasn't your first time being Clara.
JD: I was Clara in the Radio City Christmas Spectacular for three years—two years on tour, and one year in NYC. Dancing at Radio City Music Hall, on that huge stage, was incredible. During our first dress rehearsal, we were doing our center bows, and I had to run off after my bow. I didn't realize how far I actually had to run to get into the wings! I could hear the director, Linda Haberman, yelling at me, "Keep running, keep running!" It took me so long to get offstage.
Have you always known you wanted to be a ballerina?
JD: No! I've danced my entire life—I grew up dancing at my great-grandmother's studio, Fishback Studio of the Dance—but even when I was doing Radio City, I wasn't set on ballet. I thought I might want to sing and act more. It was my mom's idea to take me to YAGP—she was my main teacher and coach until I was 14—so I went for the first time when I was 9.
I was a brat then. I never wanted to practice my variation. But that summer, something clicked. I realized I had to change my attitude or no one would work with me. From then on, I decided I would pursue ballet, and I've become a totally different person.
"I look back at when I was 6 years old and I had no idea how to do a jazz square. I was just onstage having fun. That's what audiences enjoy. They don't come to see a perfect performance—they come to be moved and to feel something."
—Juliet Doherty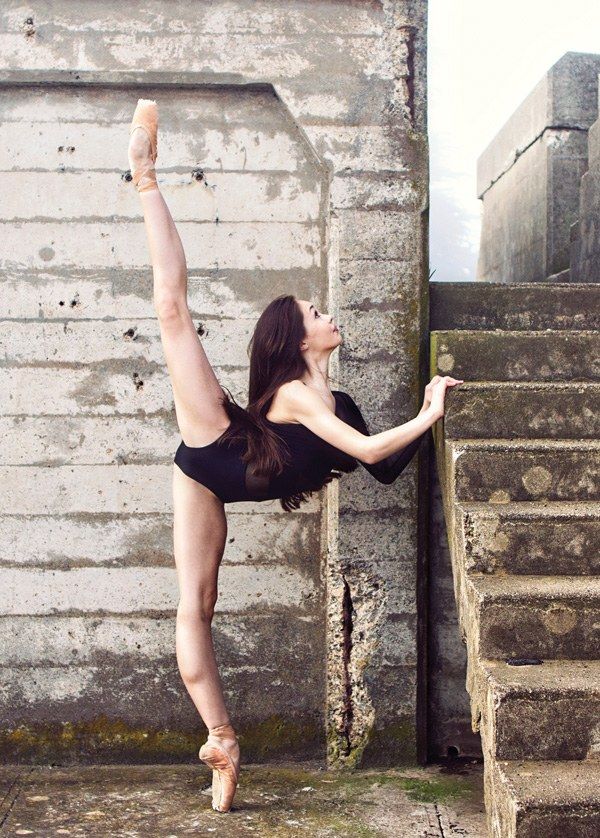 (Photo by Oliver Endahl/Ballet Zaida)
Walk us through a day in your life.
JD: I wake up around 7:30 am. I live in the student residences at the SFB School. The first thing I do in the morning is make my breakfast, which is usually a green drink.
I take the public bus to get to SFB. I usually start with technique class or floor barre, then pointe or pas de deux, or special extra rehearsals. Each class is 90 minutes to an hour and 45 minutes.
After my last class, I go about my day. I shop for groceries, do laundry or clean my room. Then I'll cook my dinner and squeeze in some schoolwork. I go to sleep between 10:30 and 11 pm. Any later than that and I can't function the next day. I have one class on Saturdays at 9:30 am, but I have the rest of the weekend free.
How do academics factor in?
JD: I'm doing an independent study online. I read a lot, and my work doesn't have due dates. I want school to be a part of my life, but it's not my main focus right now.
What's your dream role?
JD: Juliet in Romeo and Juliet!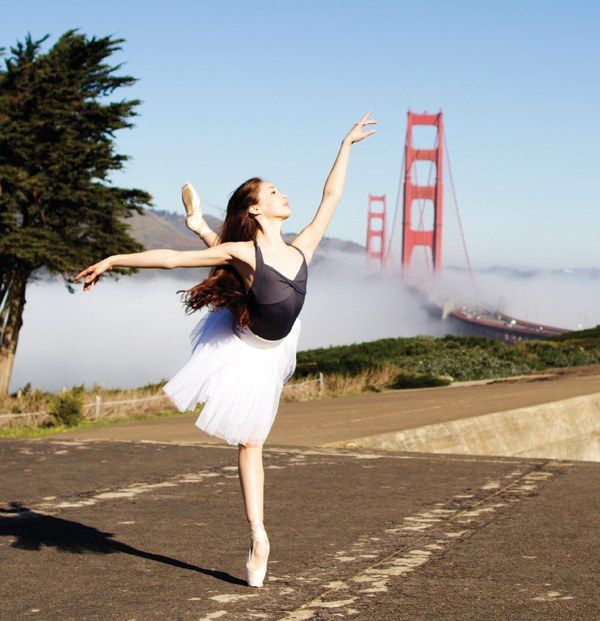 (Photo by Oliver Endahl/Ballet Zaida)
Any idea which company you'll be doing that with?
JD: I'd love to go to Europe—not necessarily with one company, but to dance on multiple stages, working with as many choreographers as possible.
You were part of the workshop for Susan Stroman's Little Dancer in 2012. Now the show is potentially coming to Broadway, starring New York City Ballet principal Tiler Peck. Might we see you on the Great White Way someday?
JD: It's really cool seeing dancers cross over into acting. I love when dancers are versatile and get opportunities to do more than just one thing. I don't think they've had auditions yet for the part I was workshopping, so I'm considering going out for it—we'll see!
What's the most valuable advice you've ever received?
JD: Every dancer struggles with being in her head. There's always that voice saying, "You're not good enough." Before competitions, my parents will remind me, "You're your own biggest competitor. Let go of everything you're holding on to. It will just get in your way. The only person trying to pull you down is the little voice in your head." Once I remember that, everything gets easier. It's an ongoing thing with me. Some days are horrible. But some days I exude all the confidence in my dancing that I want to have. It's just about quieting that voice.
"You are already good enough to get where you want to go. You have greatness inside of you and it can be discovered at any moment. You don't need to be at a certain level to say, 'OK, now I'm great,' or, 'If I add this one thing to my repertoire, then I'll be good.' You're born with greatness. All you have to do is recognize that."
—Juliet Doherty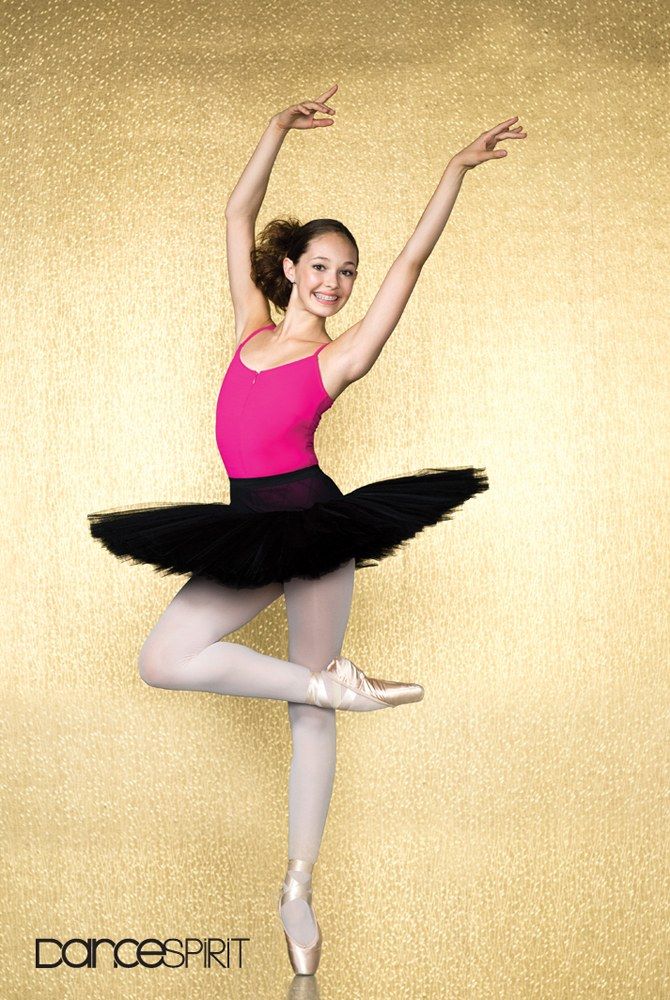 (Photo by Joe Toreno)
Ready, Set, Juliet
Must-see TV: "Even though it kind of corrupted Albuquerque, I watch 'Breaking Bad' when I miss home. But since that show is so emotionally draining, I also like to watch 'The Carrie Diaries,' 'The Mindy Project' and 'New Girl'—I don't have to get involved, I can just follow along and laugh."
If you were a superhero, what would your power be? "I just want to fly."
Your go-to stress reliever: "Calling my parents at the end of the day."
Strangest thing in your dance bag: "A banana holder. It's a hard, yellow plastic banana-shaped thing and it prevents your bananas from getting bruised. It's an amazing invention and I always have it with me."
Favorite dancer of all time: Natalia Makarova
Performer you'd die to work with: Steve Kazee, who originated the role of Guy in Once on Broadway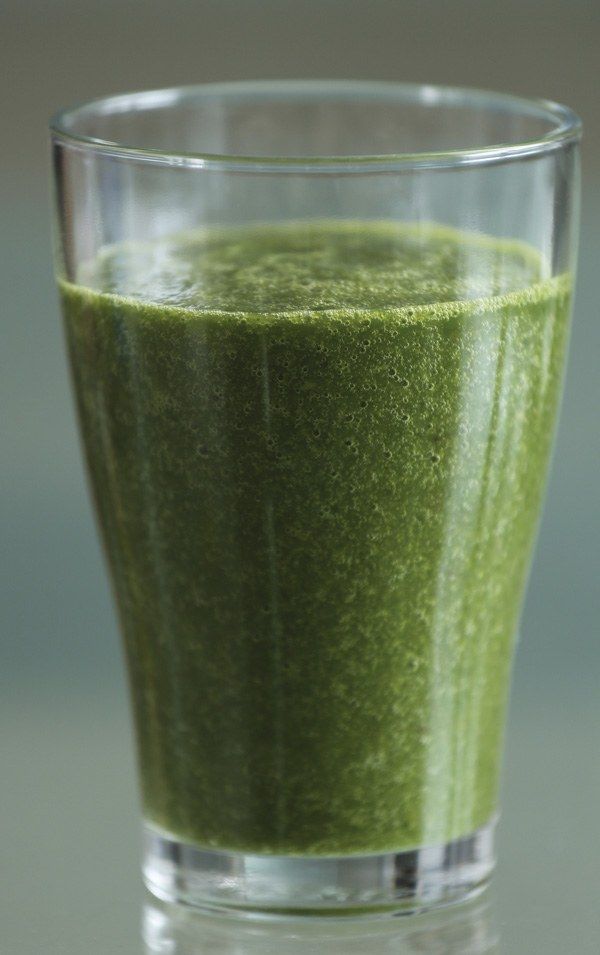 (Vasst/Thinkstock)
Breakfast of Champions
Start your day like Juliet—who follows a plant-based vegan diet—with this recipe for her "Super Green Smoothie."
Combine a handful of kale, a handful of spinach, half a cup of any frozen fruit (she likes mango or mixed berries), a banana, 4 ounces of apple juice, 8 ounces of water and some flaxseeds in a blender. "The greens may seem scary at first, but trust me, the fruit makes it naturally sweet," Juliet says. "You'll feel energized and ready for whatever challenges the day may bring.
Feb. 12, 2014 12:28PM EST
Mar. 29, 2013 10:44AM EST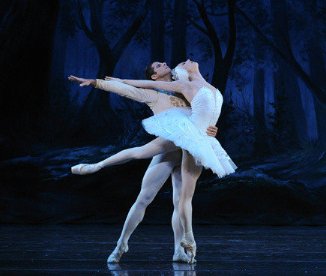 ABT's Veronika Part and Marcelo Gomes in "Swan Lake," part of the gala program. (photo Siggul/Visual Arts Masters)
Nobody puts on a ballet gala quite like Youth America Grand Prix. Their must-see performances routinely feature bold-faced names from all over the world. Watching all those ballet superstars sharing a single stage is one of those experiences that'll give you goosebumps.
Well, here's your chance to see one of the competition's most impressive galas for the price of a movie ticket. Emerging Cinemas—which has been broadcasting some seriously impressive shows recently—will beam YAGP's "Ballet's Greatest Hits," performed earlier this year in Tampa, FL, to movie theaters nationwide this Sunday, with an encore showing on Tuesday.
You don't want to miss this, guys. The lineup includes New York City Ballet's Ashley Bouder and Daniel Ulbricht, Alvin Ailey American Dance Theater's Alicia Graf Mack and Antonio Douthit, San Francisco Ballet's Maria Kochetkova and Taras Domitrio, American Ballet Theatre's Veronika Part, Marcelo Gomes, Hee Seo and Stella Abrera, National Ballet of Canada's Greta Hodgkinson, Dutch National Ballet's Matthew Golding and Boston Ballet's Alejandro Virelles. Phew!
Not enough starpower there to tempt you? a) You be crazy, and b) wait! There's more: The broadcast will also be hosted by "So You Think You Can Dance" producer Nigel Lythgoe and feature interviews with soon-to-be Paris Opéra Ballet director Benjamin Millepied and the ever-awesome ABT soloist Misty Copeland.
Visit the Emerging Cinemas website to find a participating theater near you!
May. 14, 2012 12:17PM EST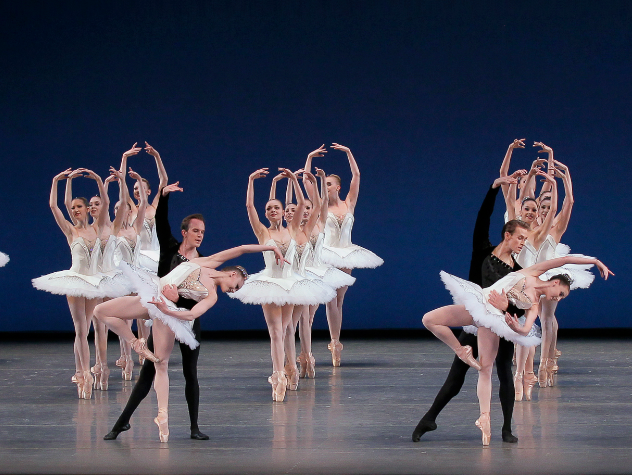 For most New Yorkers, the arrival of spring means long afternoons in Central Park, deciding to walk to the subway stop that's a few blocks farther away, eating brunch alfresco.
But for some lucky bunheads, spring means something else entirely: It's ballet gala season!
For a few glorious weeks in April and May, dance editors clutch their much-coveted single tickets and enter glamorous alternative universes: the Youth America Grand Prix gala, the New York City Ballet gala, the American Ballet Theatre gala. Yes, these glitzy events are opportunities to rub elbows with the sparkly people—ballet celebrities and celebrity celebrities both—and that's kind of fun. But they also feature a ridiculously high concentration of exciting ballet dancers onstage. How often do you get to see Ekaterina Kondaurova, Herman Cornejo, Misty Copeland, Tamara Rojo and Sergei Polunin on a single program (the YAGP gala)? How about an evening featuring nearly the entire NYCB roster, costumed by the likes of Rodarte and Gilles Mendel (last week's NYCB gala)?
Tonight is the ABT gala, and its lineup looks fantastic: nearly all the company's principals plus the likes of Polina Semionova, Diana Vishneva, Alina Cojocaru, Natalia Osipova and Ivan Vasiliev. I get a little shiver of happiness just listing all those names in the same sentence.
And though us editors don't even try to compete with the fancy people who'll make the best-dressed list, we still have a little fun with our outfits, too. After all, it's not every day that I have the opportunity to wear a floor-length pink silk skirt. Thank you, gala season!
Mar. 13, 2012 01:15PM EST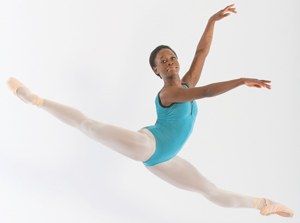 Michaela DePrince (Rosalie O'Connor)
Ballerinas aren't often described as powerful. Strong? Maybe. Dynamic? Sure. But when you watch 17-year-old Michaela DePrince, a student at The Jacqueline Kennedy Onassis School at American Ballet Theatre, powerful is the first word that comes to mind. While her technique is elegant and fluid—particularly her expressive, eloquent port de bras—underneath the surface there's a turbo-charged engine. You can almost hear it revving as she flies across the floor, tossing off supersized sauts de chats and triple pirouettes and finishing with an endless balance in arabesque.
Most dancers trace their fascination with ballet back to their first time seeing The Nutcracker or a dance special on TV. But Michaela's story is dramatically different. Born in war-torn Sierra Leone, she lost both parents at a very young age, and was taken in by an orphanage. When she was 4, she found a European magazine lying outside the orphanage gates. "It had a picture of a woman standing on her tippy toes," Michaela says. "I didn't know it then, but she was standing on pointe." Fascinated, she ripped out the page and put it in her underwear for safekeeping. "I decided that if I ever got adopted and made it to America, I would dance like the lady in the magazine," she says. A few months later, an American couple did adopt Michaela, and she moved to Cherry Hill, NJ. Though she spoke little English, she showed her adopted mother the magazine photo. Before long, Michaela was enrolled in ballet classes at The Rock School in Philadelphia, where she continued to train until she was 15.
Michaela developed a formidable technique at The Rock, which led to a slew of awards when she began competing at Youth America Grand Prix as a teen. Film director and producer Bess Kargman took notice of Michaela's competition success and selected her to be one of the young dancers featured in the 2011 documentary about YAGP, First Position. The film follows Michaela's path to the 2010 NYC finals of the competition, a journey that concludes with a beaming Michaela accepting a scholarship to the JKO School.
Now, Michaela is adding polish and finesse to her technique at JKO. "My teachers here have shown me that it's not all about the tricks—about how high your leg goes or how many pirouettes you do," she says. "They've helped me focus on artistry." What does the future hold for the talented dancer? After a guest performance in the Netherlands last winter, she started dreaming about joining a company like Dutch National Ballet.
"I took class with the company when I was over there, and I just loved the way everyone danced," she says. "They express themselves in a unique, exciting way. I want to be part of something like that."
Dancer to Dancer