"Step Up: High Water" cast photo (courtesy Jaccara Jenkins/Rogers & Cowan)
It's the day we've all been waiting for—"Step Up; High Water" has officially launched on YouTube, and everything about this series (from the dancing to the drama) is completely #savage. The show captures all the elements that made us fall in love with the original "Step Up" almost eleven years ago, while also introducing fresh and exciting new components.
We especially love how the creators use the show to shine a spotlight on real life issues teens struggle with, that aren't always addressed in mainstream media. Characters deal with everything from disabilities to coming to terms with their sexual orientation and finding self-acceptance. Creating a dance series that incorporates such weighty subject matter also adds another dimension to the dancing.
Keep reading...
Show less
Photo by Jayme Thornton
Harper Watters is a ballet dancer for today's generation. A social media maestro and a charismatic performer, the Houston Ballet soloist is equally at home in front of the camera hosting his hit YouTube series, "The Pre Show"; interacting with fans on his crazy-popular Instagram account; or showing off his beautiful classical technique onstage. It's a multifaceted identity that's proven to be invaluable to his career—and it's taking him to places he never even dreamed of.
Keep reading...
Show less
A scene from "Step Up: High Water" (via YouTube Red)
We got not one but two presents from the "Step Up: High Water" team today: a new trailer that is all kinds of 🔥 🔥 🔥 , and an official release date for the YouTube Red series. Happy merry everything!
Keep reading...
Show less
Double leg amputee, Eric Graise dancing (via Youtube)
When you think of a dancer, a double leg amputee may not be the first thing that comes to mind. But Eric Graise, who's one of the stars of the upcoming "Step Up: High Water" YouTube Red series, hopes to change that. Graise, whose legs were amputated as a child due to missing fibula bones, will play a character named King in the new dance series, set to debut early next year.
Keep reading...
Show less
Much of Janelle Ginestra's career has been about helping others shine. She's dedicated herself to supporting and cheerleading her partner, WilldaBeast Adams; the emerging talents in their dance company, ImmaBEAST; and the countless dancers she inspires at master classes and conventions. Her YouTube channel has become a launching pad for young talents like "Fraternal Twins" Larsen Thompson and Taylor Hatala, thanks to viral videos featuring Ginestra's creative vision.
But Ginestra's a skyrocketing success in her own right—an in-demand choreographer, a social media influencer, and a dance entrepreneur, building a legacy one eight-count at a time. It's time for her turn in the spotlight. And she's more than ready. "I want to be a legend in whatever I do," she says. We'd argue that she already is.
Keep reading...
Show less
Erin Baiano
Tate McRae has that inexplicable, mysterious, can't-put-your-finger-on-it quality that separates superstars from us mere mortals. Which is why we could literally watch her dance for hours on end. Luckily, she just announced a new project which promises lots more Tate time: a weekly YouTube series titled "Create with Tate," which will feature dancing vids, footage of her own choreography, lots of singing, and much more. 🙌 🎉 😍
Keep reading...
Show less
Every ballet dancer knows the time, sweat, and occasional tears the art form demands. But many non-dancers are clueless about just how much work a ballet dancer puts into perfecting his or her dancing. So when the mainstream crowd recognizes our crazy work ethic, we'll accept the round of applause any way it comes—even if it comes via four men in tutus. Yep, we're talking about "The Try Guys Try Ballet" video.
Keep reading...
Show less
Jade Chynoweth in the "Step Up: High Water" trailer (via YouTube)
In case you were wondering whether Channing and Jenna Dewan Tatum knew how to cast a dance show, surprise! THEY DO, GUYS. And the new trailer for the upcoming series "Step Up: High Water," which #TeamTatum is executive producing, proves it.
Keep reading...
Show less
via YouTube
Keep reading...
Show less
We've obsessed over adorable daddy-daughter moments before. (#FlashbackFriday to that epic father-of-the-bride tap dance.) There's just something so irresistibly awww-worthy about a dad who's willing to look a little silly for his baby girl.
This week, a new viral video called "Daddy Daughter Dance Off" broke the internets (and our hearts). A young girl decided she wanted to make up a dance to Ariana Grande's "Problem." Seems like a productive summer afternoon activity. But her only problem (see what I did there?) was finding a dance partner. That's where dad comes in. She taught him the moves, they set up a camera and performed and BAM! Instant YouTube sensations.
Seriously guys, this is just about the cutest thing I've seen all summer. Enjoy!
Get Dance Spirit in your inbox
It seems like these days, if you wanted to spend all of your free time watching dance on TV, you probably could—not that we recommend it (everything in moderation, right?). But think about it: Just this spring/summer, we've welcomed Teen Vogue's "Strictly Ballet," Hulu's "The Next Step" and Ovation's "Young Marvels" to the dance TV family. Not to mention, we've blocked off our Wednesday evenings for a glorious two-hour feast of "So You Think You Can Dance."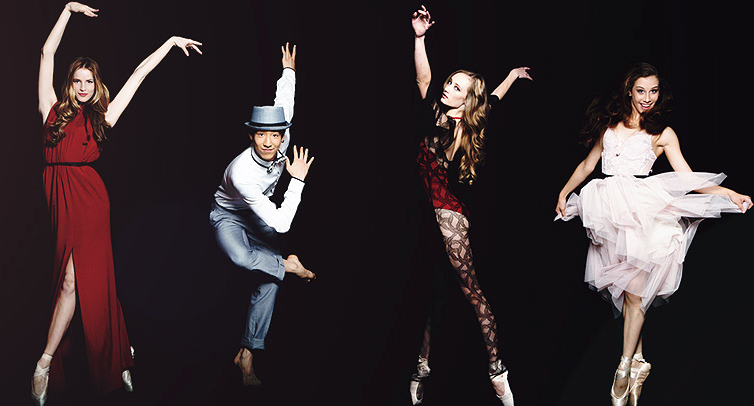 (L to R) Madison, Lex, Sage and Andrea (photo via danceon.com)
Whelp, "SYT" executive producer Nigel Lythoe knows a thing or two about fans of dance TV—namely, they just can't get enough of it. That's why he's introducing two new web series this year, starting with "Dance School Diaries." This docu-series will follow four young ballet dancers—Andrea, Lex, Sage and Madison—as they prepare to compete in the prestigious Youth America Grand Prix. We're not quite sure what to expect. Will the promised drama be juicy or over-the-top? Will it be reality TV or "reality" TV? Normally, I'd say we'll just have to wait and see, but this time we don't have to wait—the series premieres today! There will be 14 episodes in total, airing on YouTube each Friday until mid-September.
Check out the trailer below, then make your way over to YouTube to watch the first episode. And let us know what you think in the comments!
Happy New Year, friends! Wondering who's already winning 2017, not quite three days in? That'd be Maddie Ziegler—who, let's be real, also kind of won 2016 and possibly 2015 and arguably 2014 too.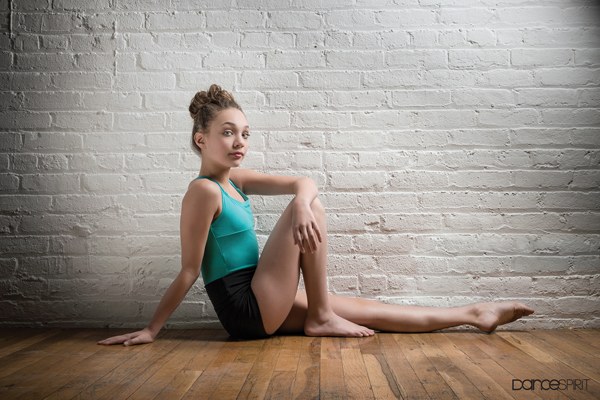 Photo by Lucas Chilczuk
Anyway, the reason Maddie's on top at this particular moment is because she just launched her own YouTube channel, a welcome and long-overdue development. In her first sweet, simple video, which went up yesterday, Maddie explains that this is something she's been putting off for a while because of her crazy schedule. (What? Between starring in Sia videos and judging on "SYT" and writing a memoir and starting a clothing line—and, you know, school, because she's still only 14—she hasn't had the time? SLACKER.)
So, what can we expect from YouTube Maddie? Not a dance showcase, she says, but a lifestyle channel. There'll be makeup tutorials, fashion advice and up-close-and-personal vlogs giving us an insider's look at her busy, endlessly fascinating world.
Just one day and one video into the project, she has nearly 25,000 subscribers. You should be one of them, of course. Watch Maddie's first video below, and then visit the channel to follow her every move.
Is there anything our friend Kathryn Morgan can't do? Besides dispensing advice in DS and on her own YouTube channel and website, she also provides makeup tutorials that are like small miracles to makeup-challenged people everywhere (Me!). Oh, and she also directs her own career and has tons of exciting projects coming up.
Need a look for a holiday party, or for attending The Nutcracker? Morgan's tutorial from last year, along with the one from this year, should give you plenty of guidelines to follow or play off of. Of course, we can't all have glowing skin and naturally captivating eyes like she does, but makeup helps.
English National Ballet first artist (and Cover Model Search finalist!) Madison Keesler has a new YouTube channel, and it's everything we've come to expect from our favorite ballerinas/life coaches. (Obviously, Kathryn Morgan has set the bar pretty high.)
A recent back injury gave Keesler the time she needed to learn the ins and outs of filming, editing and producing her own videos. Everything she's made so far has been super professional, and her fun personality shines through. Check out her very thorough stage makeup tutorial and directions on how to make an elegant, low bun. You can also follow her on Instagram at Mad's Pointe. We can't wait for more!
Nov. 11, 2015 03:13PM EST
Photo by Joe Toreno
From YouTube to the boob tube, Keone and Mari Madrid seem to be everywhere these days—and that's just the way we like it. Recent highlights for the husband and wife team include choreographing for "So You Think You Can Dance"; receiving an MTV Video Music Award nomination for their choreo for Kendrick Lamar's "Never Catch Me" vid; and continuing to break the internet with their dance shorts and class choreo clips.
Even though their careers have taken off in a big way, the Madrids are still the humble, adorable couple that won our hearts on "The Ellen DeGeneres Show" back in 2013. And that wasn't too long after they fell in love themselves: They first met at an Urban Legends dance workshop back in '08 and married in 2012 following an uber-romantic surprise proposal from Keone. The pair have stayed true to their roots, opening a new dance studio called Building Block in their hometown of Carlsbad, CA. And they haven't deviated from the upbeat, fun-loving, smooth dance style that put them on the map.
Since Keone and Mari know each other better than anyone, we asked them to have a conversation rather than doing a typical Q&A. Find out what they had to say about their secrets to success…and whether a mini-Madrid might be on the way!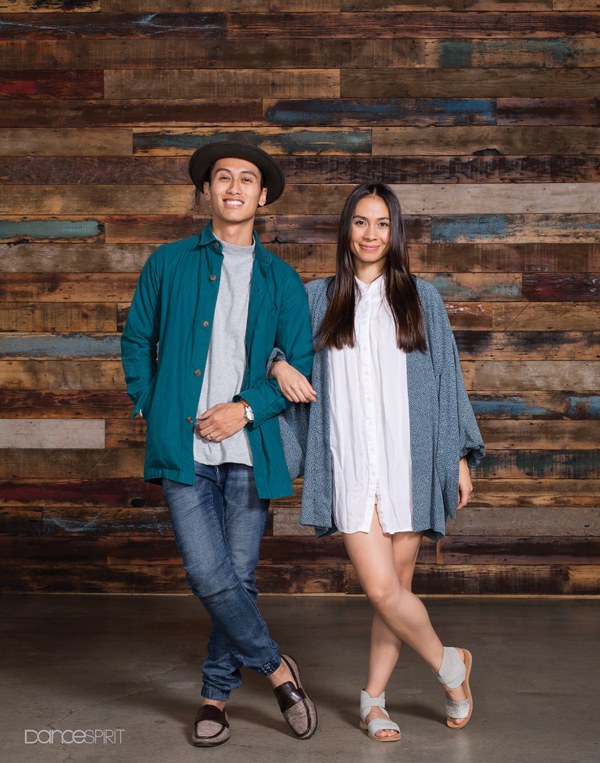 (Photo by Joe Toreno)
Keone: We have so many memories from working together—what's your favorite so far?
Mari: It would have to be the Hyundai commercial. We just thought we were making a YouTube commercial, but…
K: …a few months later, we got a Tweet from someone saying, "Keone and Mari are in Times Square!" It ended up being on a huge electronic billboard that played 24/7, right underneath the Coca-Cola sign. It was incredibly humbling, and pretty wild for us to have that opportunity.
M: I'd say the most challenging job we've done was definitely "The X Factor."
K: Same here, because it's live television. There were several times when we had to change the choreography on the stage, on the spot—in a span of 30 seconds. It caused some stressful moments, but also helped us to be prepared for the worst if we're ever presented with that challenge in a different dance setting.
M: It's also difficult to separate our work and our personal life. They tend to blend into each other.
K: That's the hard part—since we work together not just creatively, but also business-wise.
M: We always say we should relax and not talk about work, and then it turns into, "Did you answer that email?" Being married three years, we realize we have to make our personal life a priority.
K: That's why the Fourth of July this year was so great—we decided to just stay home with our dog, watch Netflix all day and have our own mini barbecue.
M: With Chicago-style hot dogs!
K: But 80 percent of the time, we're working or dancing. How would you describe our choreographic process?
M: Usually, we'll talk a little bit first and then just start moving; sometimes, we'll map out a piece to make sure it has good ups and downs.
K: Yeah, it's definitely a good mixture of freestyle and pre-planning. It's almost like a game of Twister, putting together different 'pictures.'
M: Yes on Twister! Sometimes I'll be in a terribly uncomfortable position while we figure out the arms, and I'll have to take a little breather. But it's all worth it.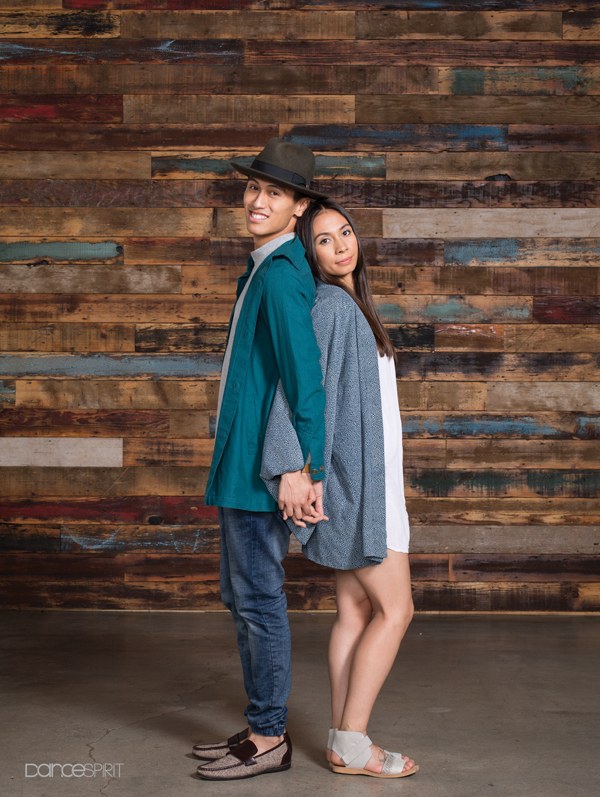 (Photo by Joe Toreno)
K: I'd describe our choreography as urban dance—it's a fusion of styles with a strong base in hip hop, but definitely not pure hip hop. Storytelling is a big part of it.
M: It's also rooted in musicality, with lots of detail and precision.
K: Our choreography is all about grooves! The feeling is the most important. We brainstorm moments we want to bring out of the song, but a lot of times, the flow creates itself and new ideas come to the table.
M: One of the pieces I'm proudest of is "Orphans," which we performed with our dance team Cookies at the VIBE XX Dance Competition in January. We got first place and donated our winnings to World Vision, a huge charity organization dedicated to helping children and families. There was a ripple effect, with the team that won second place also deciding to donate. It was such a cool moment, seeing what dance can do beyond the stage.
K: Our faith plays a big part in the choices we make, the songs we choreograph to and the messages we decide to share. With "Orphans," it felt good to raise awareness and give a voice to people who don't have one.
M: Looking ahead, what would be your dream dance job?
K: It's hard to say—I think we're living it right now! We're getting into theater, doing more film stuff and traveling and teaching, so I can't complain. But having a family will be the ultimate prize. That's what all this dance stuff and the opportunities we take are for—to provide our family with a better future.
M: Yeah, that's the next big step, and the real dream job: being a mom and dad.
The Next NappyTabs?
It's no wonder people are constantly comparing the Madrids to Tabitha and Napoleon D'umo (aka "NappyTabs"). Married couple that works together? Check. Sick choreography? Check. "So You Think You Can Dance" creds? Check. "We totally get it, since they're also married and do hip hop and partnering," Keone says. "But we're in different worlds—they're very much in the industry, while we're somewhere in between the industry, the competition/community scene and YouTube."
Even though they draw a distinction, Keone and Mari are extremely flattered by the comparison. "We respect and are inspired by them, especially seeing how hard they work for everything they have," Mari says. "They've also shown us it's possible to have a family and work in choreography!"
In the House
For Keone and Mari, the creativity doesn't stop on the dance floor. Their home in Carlsbad, CA (near San Diego), is full of touches that show just how artistic these two are—from a wedding portrait Mari drew herself to artwork they picked out together. "Our place has everything from a poster of Marty McFly in Back to the Future to a giant map of the world to pictures of our dog," says Keone. "It's a mixture of things we enjoy and things that inspire us."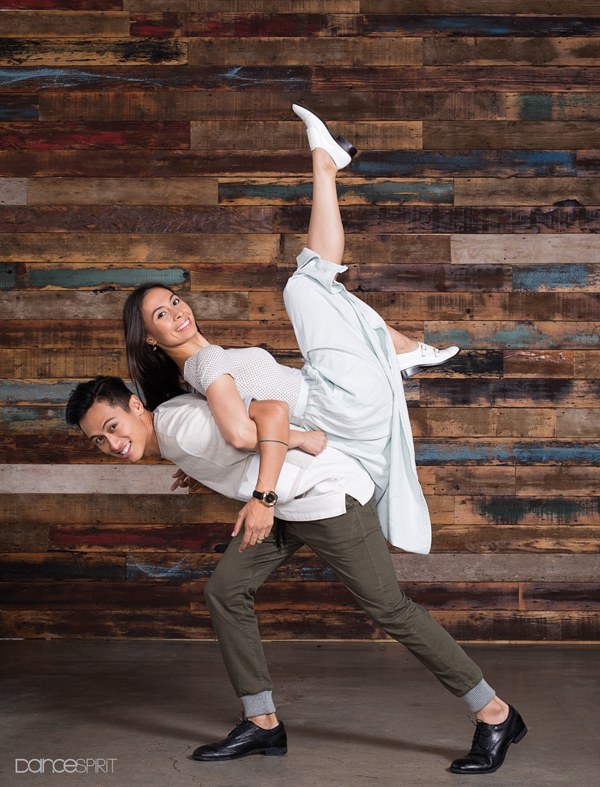 (Photo by Joe Toreno)
Opposites Attract
As with any successful partnership, Keone and Mari both bring different strengths
to the table—which make their work that much more awesome. Mari says Keone is particular, which helps take their ideas to the next level, while Keone says Mari helps him stay calm, cool and collected.
Mari: "Keone is a good initiator when we get stuck—he's always pushing to find out what the piece is supposed to be. He has a very high standard. At moments when I'd just settle for something, he'll push to go a little bit further."
Keone: "Mari is all about patience and allowing the space to just figure things out. She's really good with keeping things in perspective, and that translates to our personal life, too."
Mari on Keone
What's Keone's biggest food craving?
Meat and rice, always.
If Keone weren't a dancer/choreographer, what career would he have chosen?
Sports medicine
What's Keone's biggest phobia?
Heights
What song would Keone say is "yours" as a couple?
We have several, but Frank Sinatra's "The Way You Look Tonight" was our first dance at our wedding.
If Keone were a superhero, what would his power be?
Flying, pending he gets over his fear of heights.
Who would play Keone in a movie?
Haha, James Franco.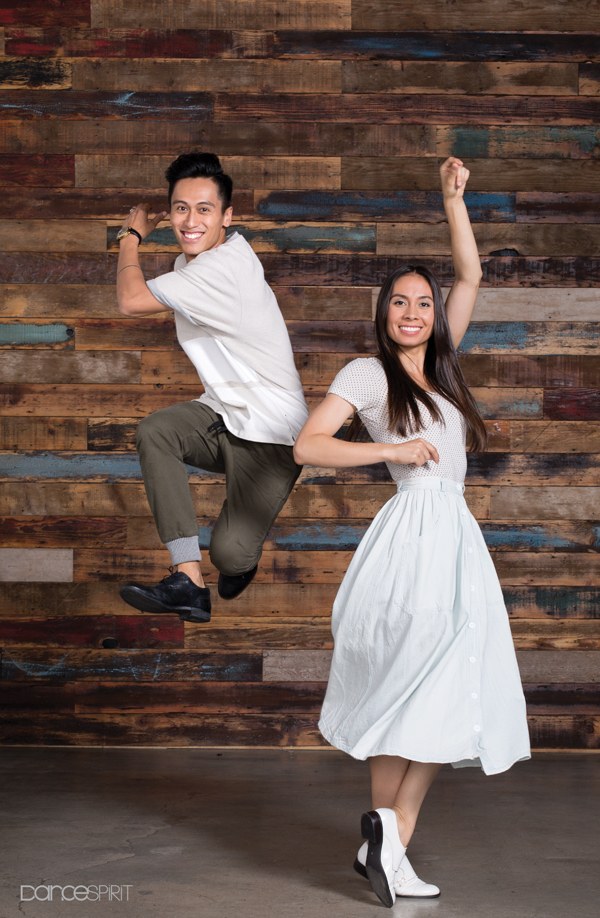 (Photo by Joe Toreno)
Keone on Mari
What's Mari's favorite flower?
Rannunculus
What's Mari's biggest pet peeve?
Grammar, specifically "you're" versus "your" and "apart" versus "a part." And when I'm on my phone.
What item(s) of your clothing would Mari like to steal for herself?
My hats and hoodies.
What's Mari's hidden talent?
It's not really hidden, but cooking and writing.
What does Mari think is the best gift you've ever given her?
The "Raff the Giraffe" story book I made her. And marriage.
Photo Galleries
Oct. 14, 2015 09:06AM EST